After almost being dealt for Harden, Ben Simmons is back under the microscope
Jesse D. Garrabrant / NBA / Getty Images
The prospect of a trade between the Philadelphia 76ers and Houston Rockets had been rumored from the moment Daryl Morey became president of basketball operations for the Sixers.
As word spread of James Harden's discontent in the wake of Morey's departure from the Rockets in October, Philly instantly seemed like a natural trade partner. Harden's stylistic evolution in Houston had been Morey's brainchild, and the two had built a close relationship over their nine years together. Furthermore, Harden could address Philly's most glaring flaws, and the Sixers happened to employ a young All-Star who clashed stylistically with their franchise player.
Though the ever-diplomatic Morey publicly quelled the notion of trading Ben Simmons before the start of the season, the Sixers continued to be cited as front-runners to land Harden.
But when Harden finally forced the Rockets to trade him, Philly's offer didn't get it done. The bidding ultimately came down to the Sixers and Brooklyn Nets, and by now you know which bid won out. By all accounts, the Rockets could've had Simmons if they'd wanted him. In the end, they preferred the Nets' pick-heavy package - in which the only player of consequence they acquired was Victor Oladipo, a 28-year-old fringe star on an expiring contract.
That feels telling. Even with the bounty of picks and swaps the Rockets got from Brooklyn, it's far from a sure thing they'll end up drafting a player of Simmons' caliber. Oftentimes, the right approach is simply to take the proven commodity rather than the theoretical one. But when that proven commodity has also proven to be fundamentally flawed as a franchise cornerstone, the calculus changes.
Building around Simmons comes with challenges, and it wasn't unreasonable for the Rockets to decide they didn't want any part of them. And so, Harden's a Net and Simmons is still a 76er. He may yet be a trade chip down the road; he may still be a pillar of the future. Either way, this near-trade has shoved him back under the microscope.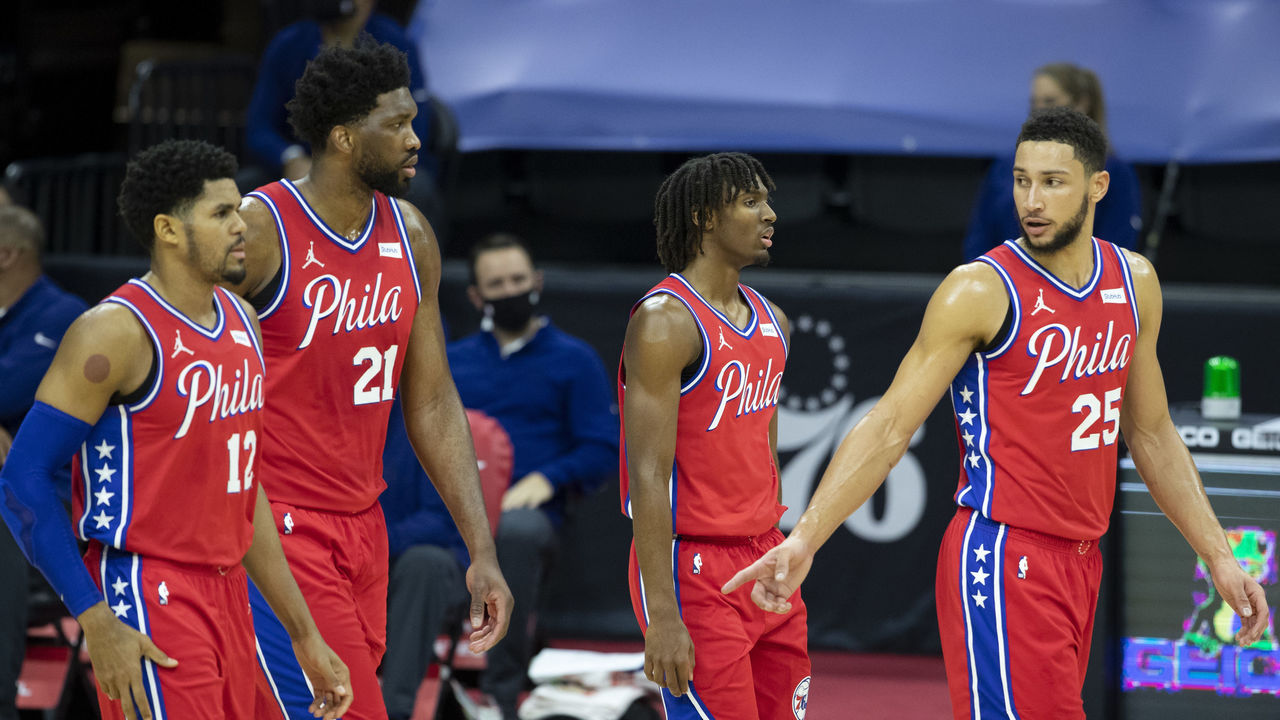 Failing to trade a 24-year-old All-NBAer in the first year of his rookie-scale extension for a scenery-chewing 31-year-old who's two years away from free agency isn't a bad outcome in a vacuum, especially given that the Rockets reportedly pressed for several additional assets in the negotiation. Pairing Harden with Embiid would've posed its own fit challenges at both ends of the floor and placed immense pressure on Philadelphia to win a championship in the next two years. All the same, this may come to represent a haunting missed opportunity for the Sixers. The downside isn't just that they failed to acquire Harden, it's that one of their conference rivals acquired him instead.
"I think Philly missed an opportunity and now is stuck being in the middle of the East," an Eastern Conference executive told HoopsHype's Michael Scotto. "They're not as good as Brooklyn, Milwaukee, Boston, and in the end, Miami. They might just be a No. 5 seed by end of the season. Ben Simmons has not improved in one area of his game at all since coming into the league. He's the same player today as he was in his rookie year, and teams have figured him out in the playoffs. He's why they won't go far."
That's a tad harsh, and these Sixers are good enough to win a playoff round or even two this year. This roster makes more sense than last year's outfit, with far more shooting and wing talent around Embiid and Simmons. New import Seth Curry has been an absolute flamethrower, siphoning attention away from the post and burning teams that load up on Embiid. Before contracting COVID-19, Curry was toying with a 60/60/100 shooting split, and the Sixers have a plus-19 net rating with him, Embiid, and Simmons on the floor.
Curry, Shake Milton, and first-year guard Tyrese Maxey have all looked at times capable of initiating the offense and making plays off the dribble. Rookie gunslinger Isaiah Joe has been as willing and effective a shooter as advertised. Tobias Harris has played some of his best, most decisive basketball, attacking off the catch with newfound vigor. The Sixers have found ways to stitch together a cogent crunch-time offense, and the improved roster balance has allowed them to thrive again when their two stars play together:
| On/off | Net rating |
| --- | --- |
| Both on | 10.8 |
| Embiid on/Simmons off | 0.5 |
| Simmons on/Embiid off | -11.8 |
And still, so many familiar issues persist for the Sixers. They're still getting smoked with Embiid on the bench; they're still heavily reliant on his post-ups and lack a go-to ball-handler who can create advantages in the halfcourt. Despite running about five more of them per game than it did last year, Philly still ranks near the bottom of the league in pick-and-roll frequency, according to Synergy.
Embiid has allayed those concerns to some degree with his sterling offensive play this season. He's mashed in the low post, splashed threes and mid-range jumpers, and made sharper reads and more accurate passes out of double teams.
But asking him to be a primary offensive fulcrum in the playoffs with this little off-the-dribble creation around him is asking a lot, especially given the burden he carries at the defensive end. As currently constructed, it's hard to imagine Philly emerging from the Eastern Conference gauntlet, let alone winning the title.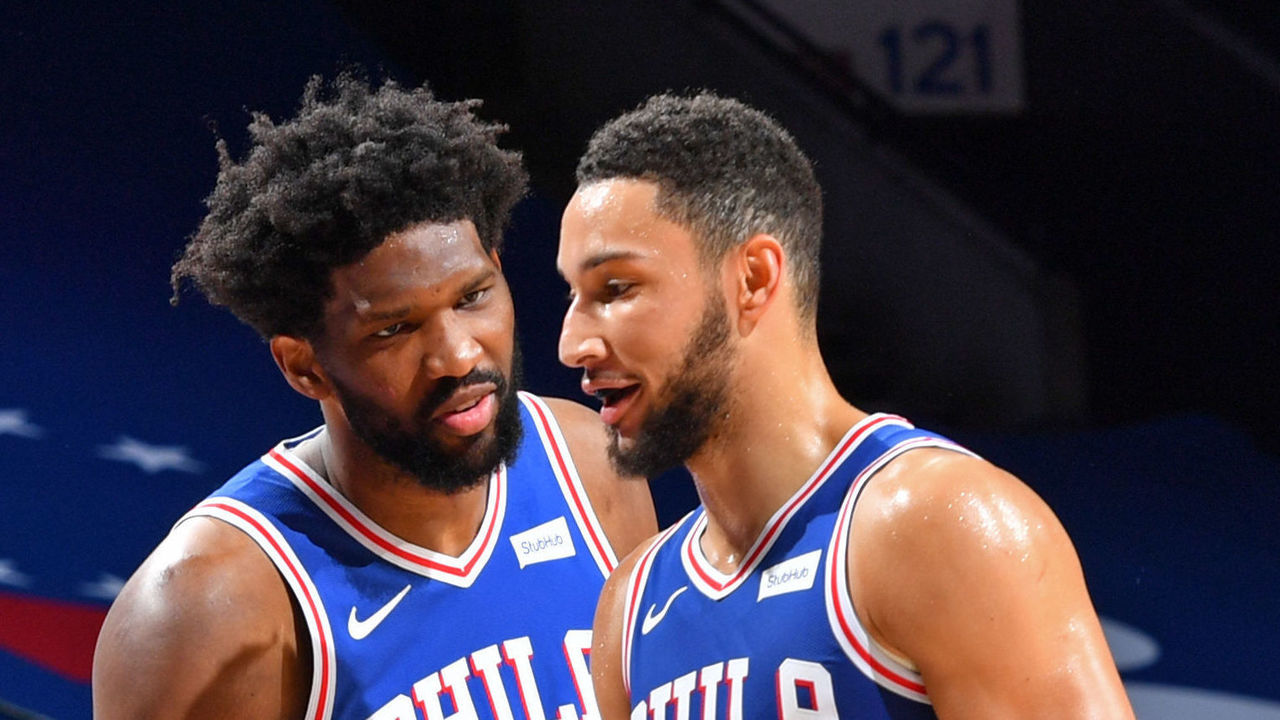 That doesn't mean moving on from Simmons is a no-brainer. He's still a uniquely talented player who has looked like a functional Embiid co-star. Three playoff letdowns and some front-office mismanagement have taken a lot of the shine off their partnership, although we didn't get a chance to see it in last year's playoffs because Simmons was out with a knee injury. A huge part of the reason the Sixers got swept by the Celtics is that without him, they didn't have anyone who could match up with Jayson Tatum. Trading Simmons would lop off one of the two pillars holding up Philly's defensive structure.
Though he can get lost off the ball at times, Simmons is an on-ball terror who can lock down every position one through four, possessing the speed to corral almost any guard on the perimeter and the strength to deal with the league's best power wings. He has incredible anticipation, with a knack for climbing post players' shoulders to steal entry feeds and for jumping point-to-wing passes. He's a turnover-generating machine, which creates a positive feedback loop because of how devastating he is in the open floor.
But Simmons' offensive weaknesses are real, and they go well beyond the fact he doesn't shoot threes. Outside of a semi-reliable short-range jump hook, he doesn't have much in the way of a post game. His floater is even shakier (he's shooting 6-of-30 from that range this season), and he has no mid-range game whatsoever. The in-between space is functionally a dead zone for him. Even his dribble-drive game gets stilted in the halfcourt. He's an outstanding playmaker and an effective attacker when he gets the ball on the move, and the Sixers run plenty of pitch plays to get him rolling downhill with a head of steam. But without a head start, he can't create his own offense.
While Simmons has a solid handle for a player his size, he doesn't have the side-to-side wiggle to break a defense down off the bounce when forced to initiate from a standstill. Part of the issue is that his defenders lay so far back they usually have enough time to process his driving angles and cut them off. He frequently aborts his rim-runs and either picks up his dribble in no-man's land or leaves his feet to pass. He's passing the ball on 51.5% of his drives, with those passes leading to nearly as many turnovers as assists, according to NBA Advanced Stats.
Too often, he doesn't embrace or power through contact at the rim. Consequently, he doesn't have the kind of free-throw rate you'd expect from a 6-foot-10 ball-handler who derives so much of his offense from drives. (That aversion may owe something to the fact he's shooting 62% from the stripe.) His usage rate is down to a career-low 19.3% this season, despite the fact he's turning the ball over more frequently than ever. He's averaging just over 11 shooting possessions per game.
He's still being used sparingly as a screener in the pick-and-roll - which is partly a consequence of Philly's lack of a premium pick-and-roll initiator - so his off-ball utility remains suspect. It's not that there isn't value in having a leaper like Simmons lurking as a lob threat in the dunker spot or making the odd weak-side cut, but that isn't a role befitting Simmons' status as a max-salaried franchise linchpin. And the really troubling thing, to that anonymous executive's point, is how little growth he's shown in those problem areas over the course of his four-year NBA career.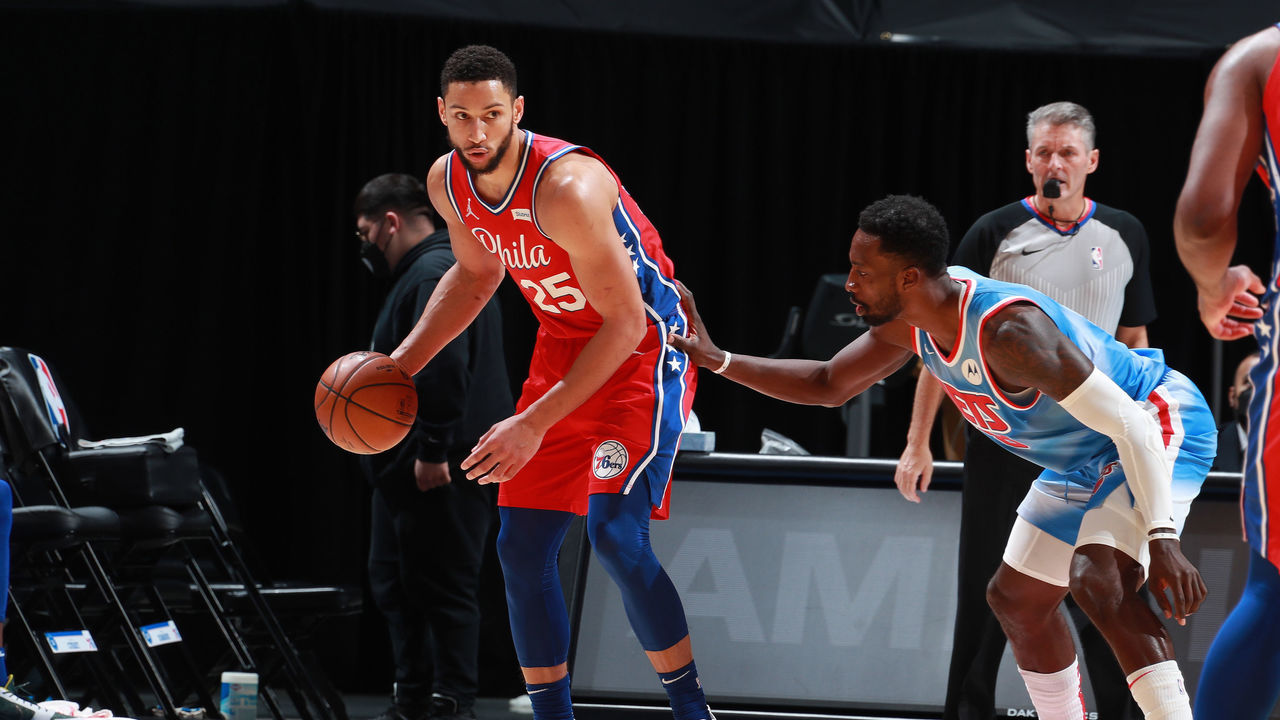 So what happens with Simmons now that the Sixers have dangled him in trade talks just three weeks into the season despite Morey insisting he wasn't going anywhere? Simmons is apparently "ecstatic" to still be in Philadelphia, according to The Undefeated's Marc J. Spears, which may help quiet concerns about the fractured trust between player and team. He churned out a 10-10-12 triple-double in a blowout win over the Heat on Thursday night, and after the game he toed the standard "this is a business" line while expressing his commitment to helping the team reach its potential.
But that doesn't mean the Sixers won't jump at the opportunity to trade him for the next star guard who becomes available. And there will be other opportunities. Bradley Beal may well be on the block soon, and there's a case to be made that, despite being a plainly inferior talent, he'd be a cleaner fit with the Sixers than Harden. He's considerably younger (at 27, just a year older than Embiid) and arguably a better stylistic complement given his off-ball acumen and willingness to shoot jumpers off the catch. In exchange for Beal, the Wizards might demand the same package the Sixers offered for Harden. Would Philly be willing to put that offer back on the table? Can they afford to stand pat?
Simmons' career is still young, and he's in the first season of a five-year contract. But if his development continues to stall, eventually there will be diminishing returns (if we aren't seeing them already). There's still a chance he can improve his flaws, and the Sixers would be selling low by dealing him this season. But there's also a chance he'll never be as appealing to other teams as he is now.
The Sixers (9-4) are also playing as well as any team in the East, so there's a case to be made that the front office should give it some time. On the other hand, there's a track record of this setup not working in the playoffs, and one could argue the fact that Embiid is healthy and playing the best ball of his life should only serve to crank up the sense of urgency. There's no telling how long his body will hold up. This is his prime. And the question of what becomes of that prime boils down to what becomes of Simmons.
Comments
✕
After almost being dealt for Harden, Ben Simmons is back under the microscope
  Got something to say? Leave a comment below!