Sizing up the NBA's title contenders: Part 1
Photo illustration by Nick Roy / theScore
The NBA may get back to being a superteam's league once the dust settles on 2021 free agency, but for now, there's an uncharacteristically large number of teams with paths to contention. Over the next three days, we're breaking down the reasons to believe in those contenders - and the reasons to doubt them.
First up, the four teams that best fit the NBA's traditional definition of championship hopeful. Part 2 covers the East's other contenders; Part 3 examines the West's.
Los Angeles Lakers
Reasons to believe: They're the defending champions, they still employ LeBron James and Anthony Davis, and they've surrounded those two superstars with more shot creation and depth than the team enjoyed in the duo's first season together.
I said after the Lakers' Finals triumph that I truly believed L.A.'s roster during Year 1 of the James-Davis partnership would be the worst of their time together. That seems even more apparent now.
Wesley Matthews can replace most of what Danny Green provided last season, and he can guard bigger wings when the team wants to save James some wear and tear. Dennis Schroder and Montrezl Harrell give the Lakers one of the best benches in the league; Schroder, in particular, provides Los Angeles with the type of on-ball creator it sorely lacked last year when James wasn't on the floor.
LeBron remains the most dependable and inevitable player in the game. Davis' skill set fits James in ways no other teammate's ever has, and the efficacy of their partnership should only increase. The Lakers already won a title without fully leveraging the most unstoppable play in basketball: the James-Davis pick-and-roll.
With Davis in the fold, L.A. remains matchup-proof. Slide the star big man to center, and the Lakers can not only play bigger teams without sacrificing interior size, but they can also play smaller teams without sacrificing mobility.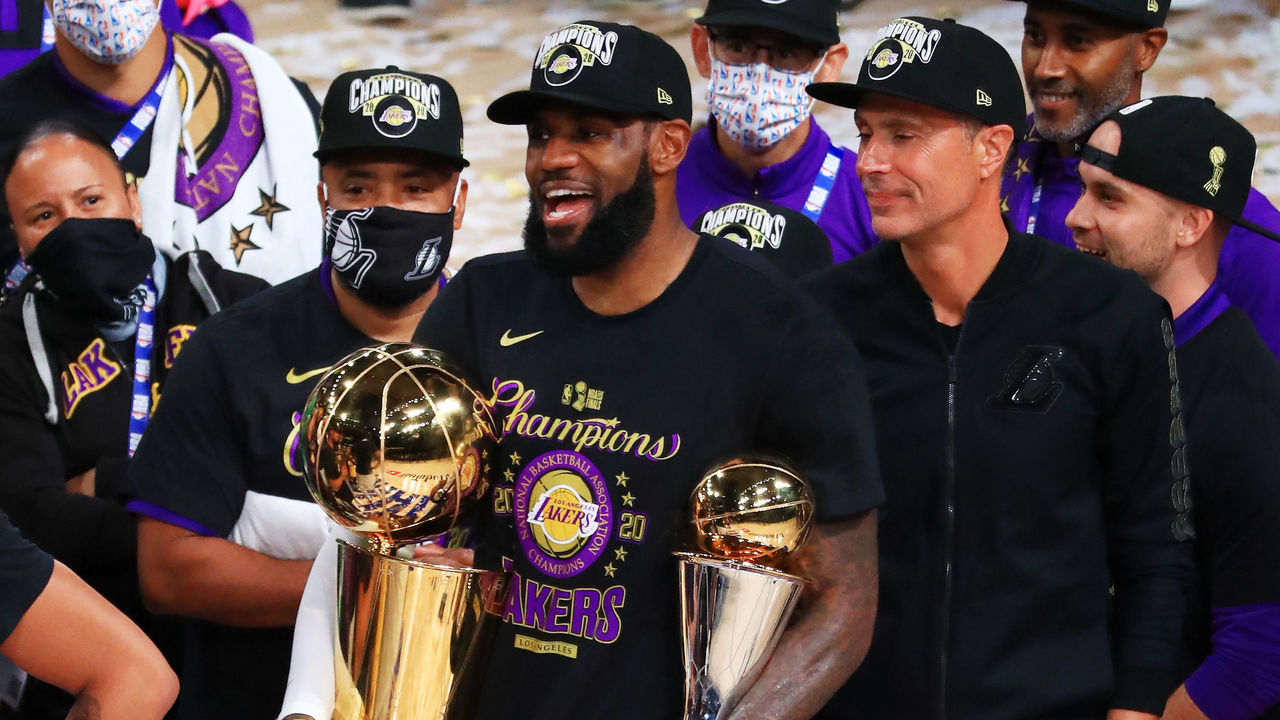 Reasons to doubt: The worst-case scenario would see James - Father Time's most challenging foe - finally start to feel the toll of 59,000 NBA minutes played. Opponents shouldn't count on it, though.
One realistic weakness is Los Angeles' new collection of centers: If Marc Gasol continues to regress or Harrell's defense makes him unplayable in crunch time, frontcourt depth could suddenly become an issue. The Lakers may be at their best with Davis at center, but both player and team would prefer him at power forward for most of the season to reduce his mileage.
There's also the fact the 2019-20 Lakers were the first team in 10 years to win a title without ranking top 11 in regular-season 3-point percentage. They were 21st, so the team will likely have to shoot the ball better than it did last season to repeat. Having said that, Schroder, Matthews, and Gasol combined to shoot 36.4% from deep on 770 attempts last year, so we might be grasping at straws to find reasons to doubt the champs. - Casciaro
Los Angeles Clippers
Reasons to believe: After the utterly humiliating end to last year's campaign, the offseason fallout that included a coaching change, the departure of Sixth Man of the Year winner Harrell, and myriad behind-the-scenes reports about their dysfunctional locker room, the Clippers enter 2020-21 with a lot to prove. As underwhelming as their playoff performance was, they certainly possess the talent to succeed in their quest for redemption.
Kawhi Leonard is still the second-best player in the conference and an individual matchup problem for every team, including the Lakers. Paul George, another year removed from double shoulder surgery, should more closely resemble the MVP finalist of 2018-19 after a late start and catastrophic finish to his first season in Los Angeles. Leonard and George remain unquestionably the best wing tandem in the league, with very few teams capable of matching up when both are rolling.
The Clippers also improved in the offseason. Serge Ibaka is a significantly better interior defender than Harrell, and that defense fills a more pressing need than Harrell's scoring did. Ibaka's also a pretty effective scorer in his own right, one who can stretch the floor in a way Harrell could not.
Replacing Landry Shamet with Luke Kennard also represents an upgrade. Shamet's off-ball movement and gravity were important for a Clippers team featuring ball-dominant players in Leonard, George, and Lou Williams. But Kennard is far more dynamic with the ball in his hands. Whatever redundancies that may present, there's no such thing as too much shot creation. After all, the Clippers' offense fell off a cliff when Leonard hit the bench last season. And for what it's worth, on top of being the better playmaker and pull-up shooter, Kennard also shot better on spot-ups than Shamet in 2019-20.
The Clippers have the personnel to play multiple styles, and new head coach Tyronn Lue has vowed to make use of that flexibility. They'll play a lot of traditional lineups with either Ibaka or Ivica Zubac at the five and Marcus Morris at the four, but they also have the wing depth to play small with Morris at center in switchable five-out looks. They can even go jumbo, putting Zubac and Ibaka on the floor at the same time - a possible counter to the Lakers' two-big lineups.
Don't let recency bias cloud the fact this team finished second in offense, fifth in defense, and second in net rating last season. They didn't get to take a crack at their intracity rivals, but the matchup still comes with certain advantages for the little-brother Clippers. If any team in the West can unseat the reigning champs, it's them.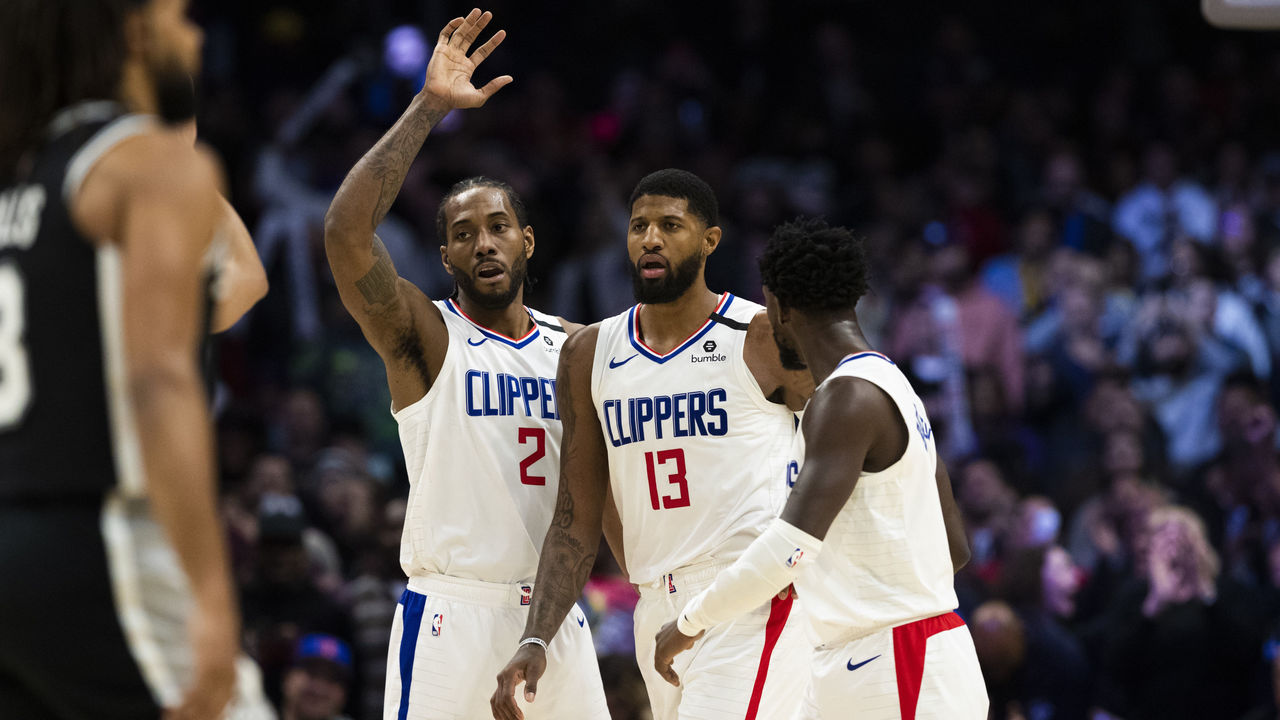 Reasons to doubt: For all their marginal changes, the Clippers didn't address their most glaring concerns this offseason. Their lack of a primary facilitator led to a stilted, iso-heavy offense last year and placed an outsized playmaking load on Leonard's shoulders, which is why he angled for the team to add a point guard. That was always going to be a challenge given the Clippers' cap constraints and lack of trade assets, but coming away with zilch on that front (with apologies to Ky Bowman) is a tough look.
The front line also remains a question mark. Ibaka should help shore up the interior defense, but he doesn't really solve the Clippers' Anthony Davis problem - nor their Nikola Jokic problem for that matter. In truth, Ibaka has been slipping on that end for a while, and his offense could also be primed to dip since he's an extremely dependent scorer and the Clippers don't have a passer of Kyle Lowry's caliber to set him up. For a team that already struggled to put pressure on the rim, Harrell's departure could hurt more than expected. Zubac has made a strong case for an expanded role, but he still has a long way to go to prove he can be the preeminent rim-protector on a championship team.
As for the chemistry issues, there's no telling how or if they get solved. The pressure the Clippers are under to win now could pull them together or drive them further apart. It's hard to feel overly confident in a team this disjointed. - Wolfond
Milwaukee Bucks
Reasons to believe: Unless or until Kevin Durant returns in something resembling peak form, Giannis Antetokounmpo is the best player in the East. He's an elite defense and dominant transition attack unto himself, not to mention the most unstoppable interior scorer in the NBA. The Bucks posted a 97.4 defensive rating and outscored opponents by 15.4 points per 100 possessions with him on the floor last season.
Nobody cares what this team does in the regular season - the playoffs are all that matters. And as shambolic and disappointing as their offseason turned out to be, acquiring Jrue Holiday undeniably makes the Bucks a better postseason team. He gives them another much-needed half-court initiator, someone who can allow Giannis to move off the ball when playoff defenses are loading up on him and stymieing his battering-ram drives.
Holiday should also help Milwaukee's spacing - he's hit 37.3% of his catch-and-shoot threes over the last three seasons - while providing point-of-attack defense as rugged as Eric Bledsoe's but with more positional versatility. Even if the trade cost was exorbitant, it was an objectively excellent addition.
Holiday joins a group that lapped the field in defensive efficiency to a near-historic degree, ranked among the greatest paint-protecting teams of the three-second era, and posted the league's best record for a second straight year. Brook Lopez remains one of the NBA's top rim-protectors while providing just enough offensive stretch to keep opposing defenses honest. Khris Middleton has become an elite three-level scorer and perhaps the game's best wing shooter. Losing out on Bogdan Bogdanovic obviously hurts, but holding on to Donte DiVincenzo isn't a bad outcome. He's a gritty defender, an improving shooter and playmaker, and a sneaky-good rebounder.
That fivesome will almost certainly be the best starting unit in the conference, particularly defensively. Even if their halfcourt offense remains somewhat choppy, the Bucks can be stingy enough at the other end to win the title.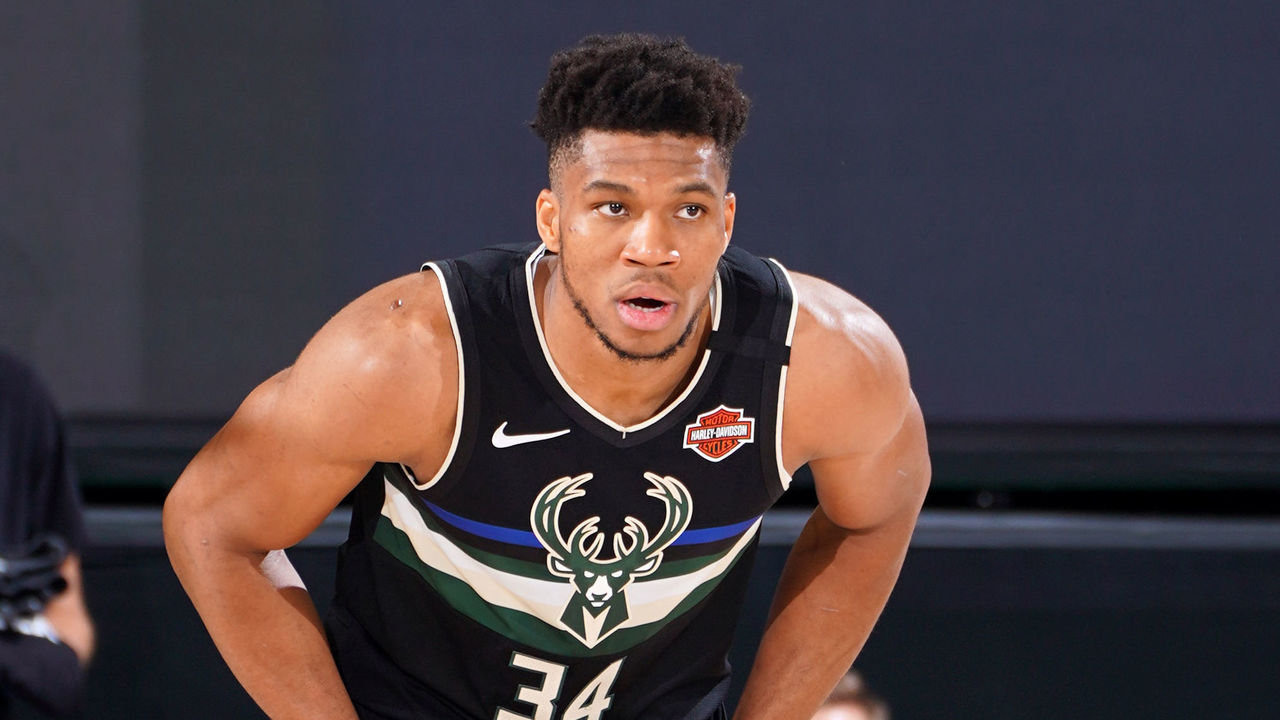 Reasons to doubt: "My shit doesn't work in the playoffs," MLB executive Billy Beane once famously said. You could just as easily apply that quote to Mike Budenholzer.
The Bucks need more schematic variability at both ends of the floor to get over the hump, but Budenholzer has repeatedly shown he can't be trusted to proactively diagnose problems or make in-game adjustments when it matters most. His rigid principles have helped make Milwaukee a regular-season monster, but he has a nasty habit of treating the playoffs as an extension of the regular season. His refusal - or inability - to adapt on the fly and his insistence on going 10 deep in his rotation while suppressing his best players' minutes have contributed significantly to the Bucks' last two series losses.
Giannis has also yet to prove he can sustain his MVP-level play in the postseason. He still doesn't have enough half-court counters for defenses that pack the paint and wall him off at the nail. His jumper remains unreliable, and he lacks a credible in-between game to fall back on. His reads and kickouts out of double-teams are still a tick slow, while his free-throw percentage bizarrely drops from 72% in the regular season to 63% in the playoffs.
For a team that depends heavily on the long ball to keep driving lanes open for Giannis, the Bucks still have a troubling lack of trustworthy shooters. They finished 18th in 3-point percentage last regular season and 11th among 16 playoff teams, and they've lost three of their five best marksmen in George Hill, Kyle Korver, and Wesley Matthews. Newcomers D.J. Augustin and Bryn Forbes can fill it up from deep, but they're both such defensive liabilities that they'll probably be unplayable in high-leverage moments.
In fact, all of Milwaukee's offseason additions outside of Holiday are one-way players: Augustin, Forbes, Bobby Portis, and Torrey Craig. Losing Matthews leaves the Bucks overly reliant on the svelte Middleton and the 6-foot-3 Holiday to guard premier opposing wings. Craig can help in a pinch, but his offensive limitations will make it hard to play him alongside Giannis. The Bucks also re-signed Pat Connaughton, which means Budenholzer will probably find a way to play him in crunch time during a must-win playoff game at some point.
Giannis, meanwhile, could be a year from unrestricted free agency as his supermax extension offer collects dust a week from the signing deadline. He can say this isn't a championship-or-bust season because it really isn't for him. But it's a very different story for the Bucks. With Antetokounmpo's future hanging in the balance, it feels, at the very least, like Finals or bust for Milwaukee. Can this roster rise to the occasion? Can Budenholzer? Those are frightening questions ahead of perhaps the most important season in franchise history. - Wolfond
Brooklyn Nets
Reasons to believe: Kevin Durant and Kyrie Irving are surrounded by a ton of depth and creativity, and if that depth is decimated, the Nets will likely be in pursuit of James Harden to complete a superstar trio.
No one's come closer to challenging LeBron James for his throne over the last decade than Durant. If he returns anywhere near his peak, Brooklyn's an immediate contender, no questions asked. Give Durant a second fiddle as offensively devastating as Irving and a deep supporting cast that includes Caris LeVert, Spencer Dinwiddie, Joe Harris, Jarrett Allen, DeAndre Jordan, Taurean Prince, and Landry Shamet, and that team will win a ton of games on its worst days.
Steve Nash lacks coaching experience, but there are reasons to believe he might be the perfect man to connect with the mercurial Irving and Durant. Exploring lineups with Durant at center will also allow Nash to harness the full offensive power at his disposal.
No Eastern Conference team can match Brooklyn's talent level or overall ceiling.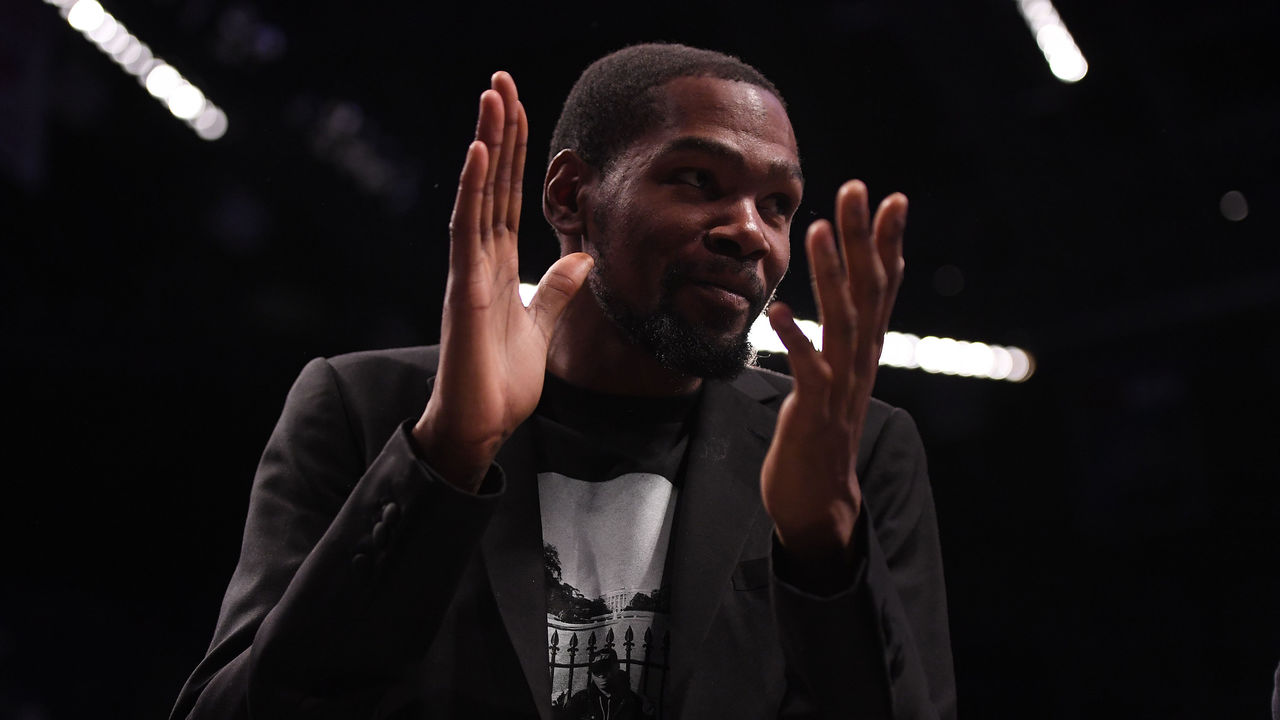 Reasons to doubt: Durant is 32 years old, nearly 7 feet tall, coming off an Achilles injury, and hasn't played in a year and a half. It's not pessimistic to assume the former MVP's best years are behind him.
Irving played only 20 games last season, and the performances of both the Boston Celtics and the Nets with and without him lend credence to the question of whether his spectacular production is merely empty calories. If Durant misses time or simply can't carry a team the way he once could, and Irving is left to lead the Nets, is this team's outlook any different than it was last year?
Assuming they stay relatively healthy, the Nets should cruise to elite offensive numbers. But replicating last season's top-10 defense will be a taller task, especially with Irving defending the point of attack.
There's also the question of Irving's impact on a locker room. The star guard's humanitarian efforts off the court should be lauded, but reports of chemistry issues have followed him at every stop. He's already made headlines for saying he doesn't really see the Nets as having a head coach, as well as for a media boycott that has cost him and the team $25,000 each.
Though Brooklyn's talent is undeniable, the locker room contains a lot of volatility for a rookie head coach to manage. Will Nash start Allen over Jordan, as he should, or will Jordan's connection to Irving and Durant force Nash's hand?
The Nets could be no-brainer contenders, but they could also be a dysfunctional train wreck. - Casciaro
Comments
✕
Sizing up the NBA's title contenders: Part 1
  Got something to say? Leave a comment below!