What makes Steve Nash the right coach to solve a complicated Nets equation?
Tyler Kaufman / NBA / Getty Images
The NBA playoffs are in full swing, endless chatter about the reigning MVP's contract status is about to take control of the league, and we still don't know when next season will tip off as the world continues to navigate a global pandemic.
And yet, the most mysterious subplot of the 2020-21 season revolves around a team already eliminated from the 2020 bubble.
With Kevin Durant and Kyrie Irving returning from injury, the Brooklyn Nets were already going to be fascinating next season. Then they shook up the basketball world by hiring Hall of Fame point guard Steve Nash to be their new head coach, adding another layer of interest to a star-studded, overnight contender.
The stunning announcement of Nash's hire is now a week old, but the 46-year-old was officially introduced to the media Wednesday. And there are still so many questions to explore.
How will Nash, who has no official coaching experience, fare as the lead man of a team with championship ambitions? What will his team look like on the court, and how will he connect with mercurial stars like Irving and Durant?
The stakes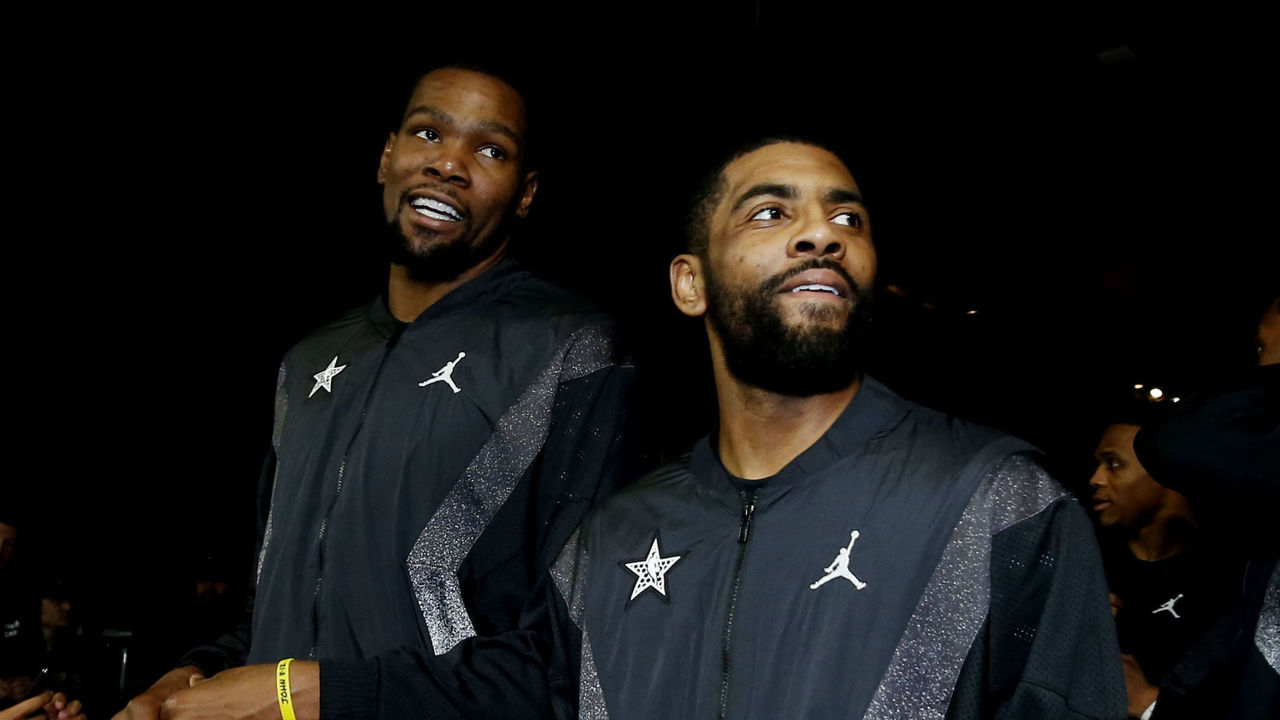 Nash isn't the first former player-turned rookie coach to make the leap without a stint as an assistant, and he's not the first rookie head coach to take over a perceived contender, but this is still a very unique situation.
No one outside of Oracle Arena viewed the Golden State Warriors as a serious championship threat when Steve Kerr took over from Mark Jackson until the 2014-15 season tipped off and Kerr began working his magic. Derek Fisher may have jumped into the Madison Square Garden pressure cooker back in 2014, but he also took over a Knicks team coming off a 37-win season. New York would've been content with a mere playoff appearance but the team won only 17 games instead.
The most comparable situation to Nash's might be when Jason Kidd took charge of a new-look Nets team that had just acquired Kevin Garnett and Paul Pierce back in 2013.
Like that all-in Nets team seven years ago, this current iteration also believes it has the goods to compete for the franchise's first title. Kidd's Nets, though, were devoid of further team-building assets; Brooklyn today has the young talent to dangle in its efforts to bolster the lineup around Durant and Irving.
If the Nets' two stars are healthy - a big if given Irving's lengthy injury history and Durant's recovery from a torn Achilles - the combination of Nash's inexperience and Brooklyn's immediate expectations will be unprecedented. Even Nick Nurse took over the Finals-or-bust 2018-19 Toronto Raptors after years as an NBA assistant and with international head coaching experience.
The expectations may be lofty, but they aren't unfair. Durant is one of the greatest scorers to ever grace an NBA court. Irving is a generational offensive talent. With Caris LeVert, Spencer Dinwiddie, and Jarrett Allen, among others, there's enough supporting talent around for two stars to win with. And that's not even taking into account what some of Brooklyn's talent and assets might fetch on the trade market.
The Nets believe they have the perfect man for that high-stakes job.
"There's no one I've been around that's wanted to be pressure-tested on the spot quite like Steve," Nets general manager Sean Marks said Wednesday. "He's never shied away from a moment. This guy has never run from anything. He wanted the ball in his hands at the end of games and his career spoke for itself. He's made the right decision more times than not."
The style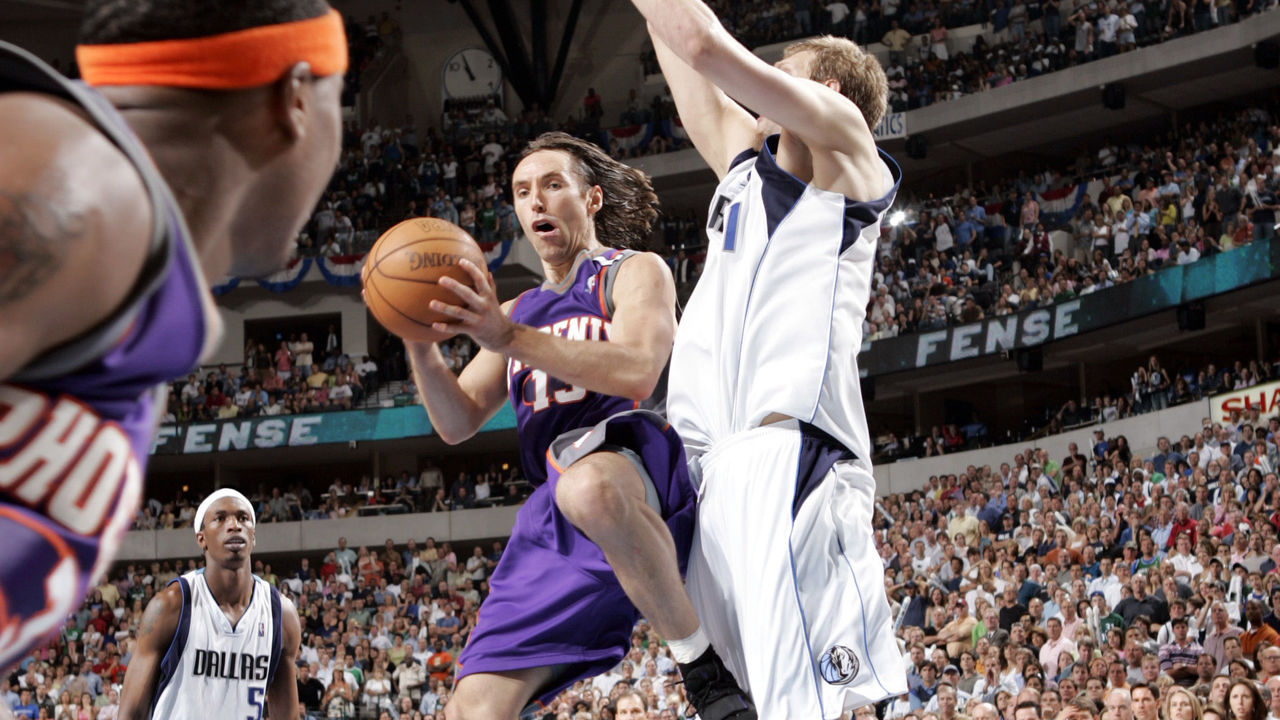 One of the most fascinating aspects is trying to decipher how the Nets will play under Nash.
As a point guard, the two-time MVP was as selfless a star as we've ever seen.
"I always approached the game like, if … everyone's a part of the game, we're a much better team. I always wanted the team to feel well as a whole, and to be at its elevated best," Nash told me earlier this year.
It's not surprising a disciple of coaches Mike D'Antoni and Don Nelson would be so committed to team basketball and the belief that ball movement breeds success. But Nash's roster features two transcendent isolation superstars.
How will that work? Will Nash's Nets find a balance between sharing the ball, off-ball movement, and deferring to an iso star, the way Kerr's Warriors did with Durant in the fold? Will Nash take lessons from what old pal D'Antoni has done in Houston, where the Rockets are a forward-thinking, 3-point shooting team that revolves around James Harden's isolation brilliance?
"It's probably a foolish exercise to try to fit a team into the image of a former team," Nash said Wednesday. "I want to be open and understand the players, how they connect, and what they're good at, and what their values are. That can only happen in real time. It's kind of a living organism that we have to continually define, judge, challenge, test, and grow. It's premature for me to make a correlation to a prior team, but I'm sure there will be some DNA from those teams that I played on that you can feel on this team as well.
"I definitely have my principles and my preconceived notions, but this is a collaborative effort," Nash added. "It's something I'm gonna build with my staff and with the roster we have. We definitely want to use the talent, speed, athleticism, and versatility of our players, (who) are able to make plays for each other. The skill is profound on our roster, and we want to put them in a position where they can express themselves in a way where they can be very difficult to cover, make teams make a lot of decisions, and therefore, potentially, a lot of mistakes."
The Nets already played at the 10th-fastest pace this season and ranked fifth in 3-point attempt rate. Brooklyn was also seventh in the percentage of shots taken early in the shot clock (15-18 seconds left). Given Nash's own history, the offensive talent at his disposal, and the fact that more possessions benefit the superior team, expect Nash to build and expand on those favorable strategies.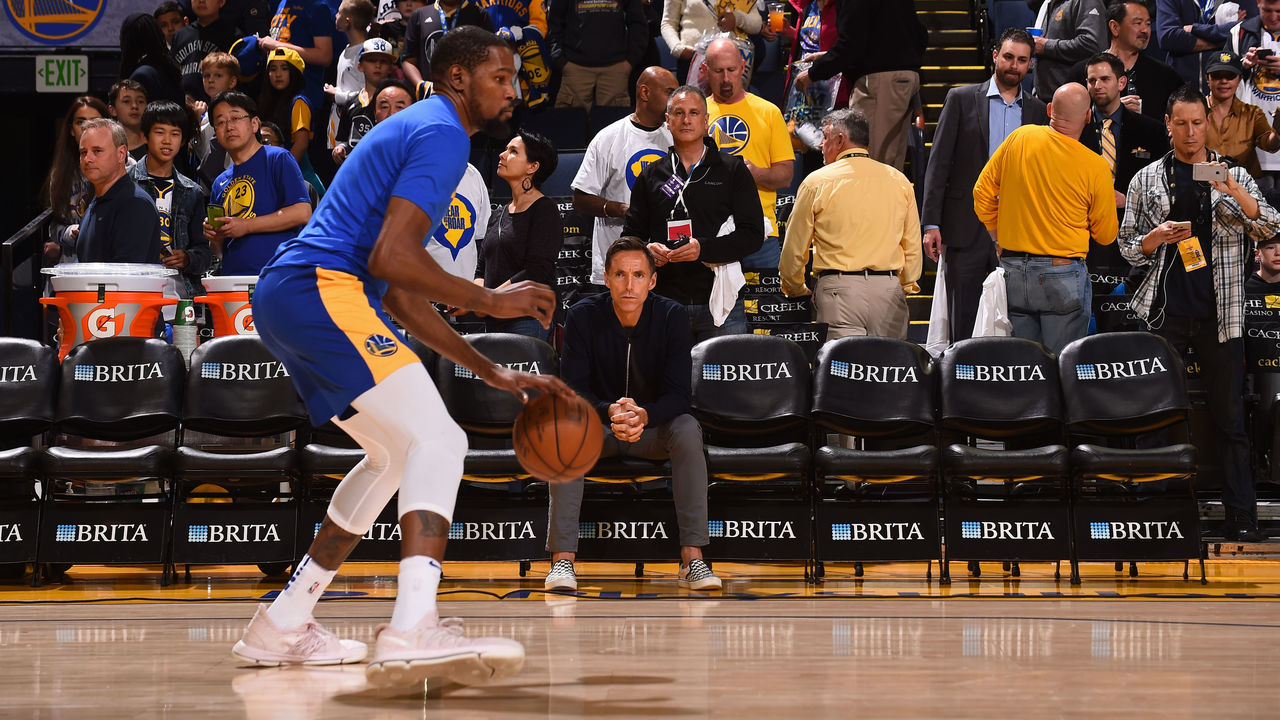 Perhaps the more important question, for now, is whether Nash's on-court vision translates as a coach.
The eight-time All-Star saw the game with an uncommon understanding, and it's tantalizing to think Nash could use that to unlock greater potential from his players. He could visualize things lesser basketball minds simply can't.
But it's never that easy.
Hyper-competitive visionaries and former greats can't always make the seamless transition to the sidelines. Perhaps no athlete in sports history saw their field of play at the advanced level that Wayne Gretzky saw the ice, yet that didn't necessarily translate to the bench during Gretzky's four seasons as the Phoenix Coyotes' head coach. The Great One's teams won only 143 of 328 games and never made the playoffs.
Those who have witnessed instances of Nash in a teaching role say there are signs that he can impart his wisdom.
Nick Hauselman - affectionately known as "Coach Nick" of BBall Breakdown - is one of the few outsiders who has witnessed Nash working with NBA stars, and Hauselman came away convinced Nash's vision for the game will translate.
"He's got that presence - calm, reasoned, but with a competitive fire - and the players on just know he's real," Hauselman told theScore.
"I had seen him help install 'Pistol' action with the Warriors a few years ago," Hauselman continued. "He had really great little details, like telling the ball-screener to change his angle toward the elbow first, which would cause his defender to drop down an extra half step, before then breaking back to the wing to set the inside ball screen. I've seen 'Pistol' taught countless times, but I had never seen this detail or even considered it.
"It's clear he had developed these things from actually running it. Since the whole league has adopted the '21 series' from D'Antoni (which begins with the two-guard handing off to the one-guard into a ball screen), and (Nash) was running it to perfection in Phoenix 15 years ago. He's well-suited to (coach) the modern NBA game."
The connection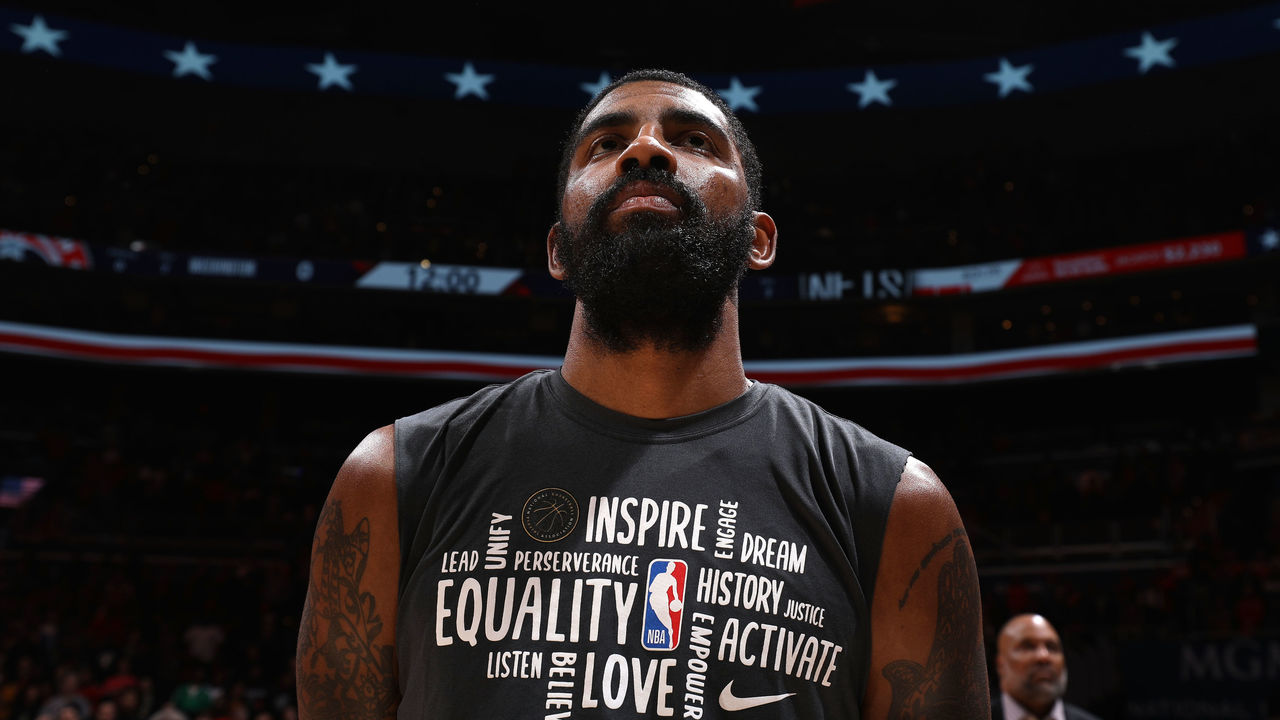 Anyone who's followed Durant's and Irving's careers knows how important it will be for Nash to forge a strong off-court bond with his two stars.
Nash has prior relationships with both: past offseason training with Irving, and a stint as a player development consultant for the Warriors during Durant's tenure there. You can bet that Nash wouldn't have been hired without the approval of Brooklyn's two stars.
But Nash, who's more a believer in the sum of a team's parts, will have to continually massage those relationships with Durant and Irving - two modern stars who very much understand their own powers at the height of the player empowerment era.
That said, Nash's natural disposition may make him the perfect fit for Durant and Irving.
"His basketball IQ is off the charts. What makes him special is his EQ (emotional intelligence), which I think people will gravitate to," Marks told Adrian Wojnarowski on a podcast last week.
Over his 18-year playing career, Nash earned the reputation as the ultimate teammate and an emotional leader, which he expounded on in his introductory media conference.
"I feel that it's not about the (player's) status," Nash said. "It's about the human being. Getting to know and understand people was always something that I enjoyed. You need your teammates on the floor, but off the floor, I just needed them as friends. I wanted to come to work every day and understand my teammates. I wanted to like them. I wanted to build a fabric between us that made it enjoyable, where we could laugh and joke but also push each other, give each other a hard time, and make the season shorter, make it a really great experience.
"That's kind of the start and the finish for me. I understand that there's levels to this game and that some people have a higher profile and higher importance, but a team is a team, and a person is a person. To understand people, to genuinely care and want to get to know them, that's it for me."
Nash's hiring less than a week ago was astonishing - the rare piece of NBA news that appears without warning. But as the dust settles, as you listen to both Nash and Marks discuss the partnership, and as you consider everything the Hall of Famer stood for during his remarkable career - both on and off the court - questions like, 'How did this happen?' 'Why did this happen?' or, 'Will it work?' begin to fade.
If you think about it more, you might suddenly find yourself asking, instead, "Who is better for this job than Steve Nash?"
Joseph Casciaro is theScore's senior basketball writer.
Comments
✕
What makes Steve Nash the right coach to solve a complicated Nets equation?
  Got something to say? Leave a comment below!