Sun Rise, Part 2: The oral history of Steve Nash's 2005 'revenge tour'
In Part 1 of our oral history, Mark Cuban and the Dallas Mavericks balked at Steve Nash's free-agent offer from the Phoenix Suns, then watched as Nash turned himself into an MVP, and turned Phoenix into the NBA's best team in 2004-05.
Read Part 1: "Somebody outspending Mark Cuban wasn't something we considered"
Come playoff time, the top-seeded Suns easily swept No. 8 Memphis in the first round. The fourth-seeded Mavericks needed seven games to defeat the fifth-seeded Rockets. That set up a second-round clash with the Suns only 10 months after the split between the Mavericks and Nash.
Phoenix won the season series 2-1, but the teams split the two games Nash appeared in, with the Suns' star averaging 18 points and 14.5 assists in those contests. They were sensational numbers, but nothing like what Nash had in store for the postseason.
The Matchup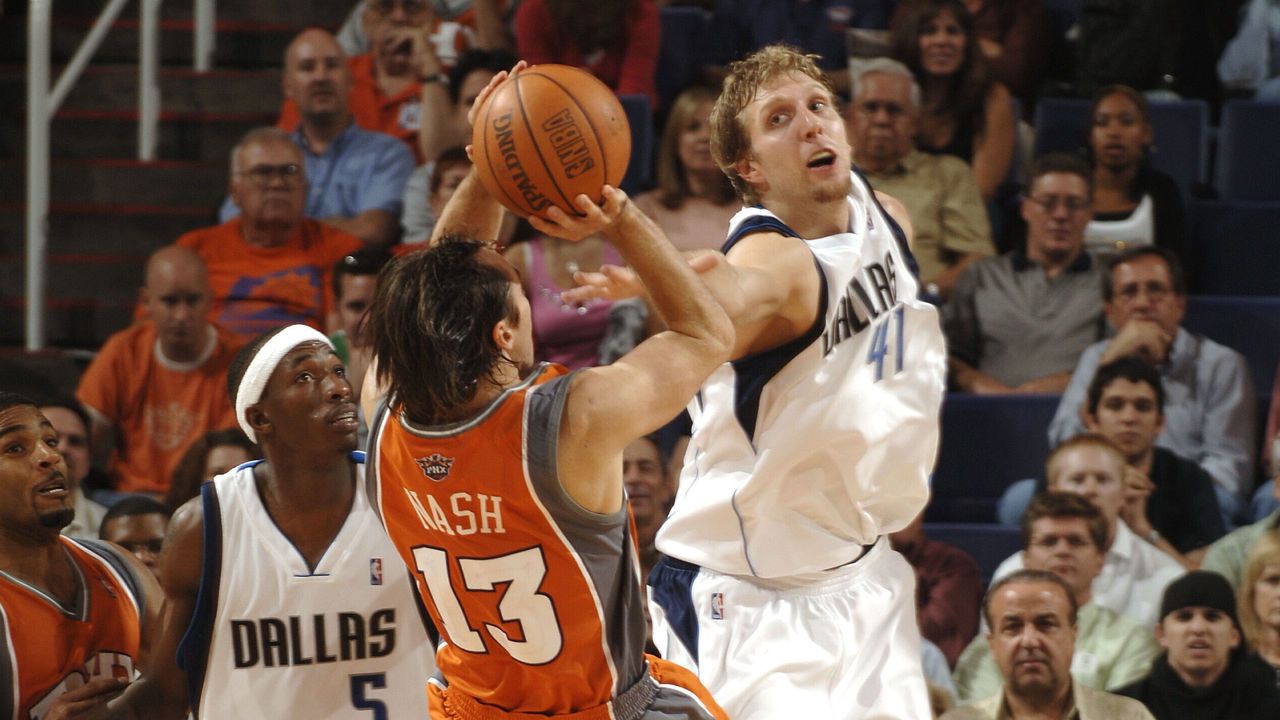 David Griffin (then Suns VP of basketball operations): We talked a lot about it, organizationally and among the other players. We discussed it pretty openly, in terms of its impact. There was genuinely a sense from the players' perspective of, "We need to do this for Steve." Quentin Richardson was the ringleader of that to a huge degree.
Quentin Richardson: Steve didn't have to say anything. As his teammates, we saw stuff in the media after he left (Dallas). They thought he had a bad back and was on the down side of his career. As players, we're aware of those stories.
Steve Nash: I could see that my teammates wanted it for me. I never like to make things about me. I'm self-motivated in all scenarios, so I didn't need the extra motivation. I just wanted to keep my head down, lead my team, and prepare the same way we always did. I just wanted to have a good series, regardless of who we were playing. But I think my teammates wanted to bring that little bit of extra juice. I'm grateful that they did. It's a great feeling when your teammates want something for you. I appreciated that they cared.
Paul Coro (then writer at The Arizona Republic): Steve was way too media savvy and intelligent to let on to it, but he absolutely was on a revenge path. He later on would tell me that it was never vindictive. He just said it was personal. That's sort of a blurred line, but for him, it was a lot more about pride.
Nash: While I was upset with Mark, I understood where he was coming from, so it wasn't really vindictive, but you could say it was personal in the sense that they moved on, and that hurt. To not be wanted back, or not be valued the way that I was hoping for, I definitely didn't want to lay down and get beat up by the team that put me out to pasture.
Richardson: When we landed in Dallas to play them for the first time that season, cameras were out there and fans were out on the tarmac where the plane lands. I told Steve, "You the president, bro. This ain't even your city no more, but they still love you."
By the time we got to the playoffs, Jason Terry had won Dallas fans over, and rightfully so. He was the replacement and it was kind of prickly at first, but he played that well that he won the fans over. So when we walked into that playoff series, that atmosphere, that tension, knowing the competitor Steve was, he was gonna let it be known that "I'm the better guy here."
Art Garcia (then Mavs beat writer for the Fort Worth Star-Telegram): Obviously, the vibe was all about Steve. Even with Avery Johnson taking over (as coach) and getting the Mavs out of the first round - which was a story - it was still all about Steve coming back and proving a point against Cuban. As great as that first-round series was against Houston, in the media, all we wanted to talk about was Steve, and talk to Steve about what this all meant to him. Even Dirk was always bombarded with questions about Steve. I think we (the Dallas media) spent more time in the Suns' locker room than the Mavs' locker room.
It felt like The Finals to us. Even though the Mavs had been in the conference finals a couple years earlier, this was going to be the biggest playoff series of the Mark Cuban era up to that point. It was a referendum on Mark's decision, and whether Steve was too old or not. You could see that Steve was up for it, was relishing the moment, and was supremely confident. I don't think the Mavericks were ready for what would end up being his revenge tour.
The Series (May 9-20, 2005)
As if seeing Nash become the best player on the league's best team wasn't already enough, the Mavs watched Nash raise the Maurice Podoloff Trophy as league MVP in a pregame ceremony before Game 1 in Phoenix.
Nash: I don't love being singled out like that. So while I was very proud of the award, being awarded it in the arena, on national TV, before the game was not necessarily my No. 1 choice. I don't want that distraction for my team. We just want to have a good performance and get going, so anything like that, which could hype up the other team or cause your team to lose focus, isn't asked for. But that's part of being a professional athlete. You never know what it is that can throw your team off, and you have to have the mental toughness and approach to stay focused.
Dirk Nowitzki: I remember being happy for him. From a little guy from Canada, to will himself and work so hard to get to that mountaintop, was an incredible story. It's still an incredible story. He's a good dude, a good friend, and he deserved everything he got. But then knowing that we had to go out there to face him - the player that he was now - was obviously going to be super tough.
Game 1
Nash posted a solid line of 11 points and 13 assists in 31 minutes, but the real star of Phoenix's 127-102 romp was Amar'e Stoudemire, who finished with 40 points and 16 rebounds. The remainder of the series, though, was packed with fireworks.
Game 2
The game's most memorable moment came late in the second quarter, when Mavericks forward Jerry Stackhouse raced back to prevent a dunk by Joe Johnson. The Suns' swingman fell flat on his face after losing his grip on the rim. Johnson left the game with an obvious and disturbing eye injury. He missed the rest of the series with a fractured orbital bone.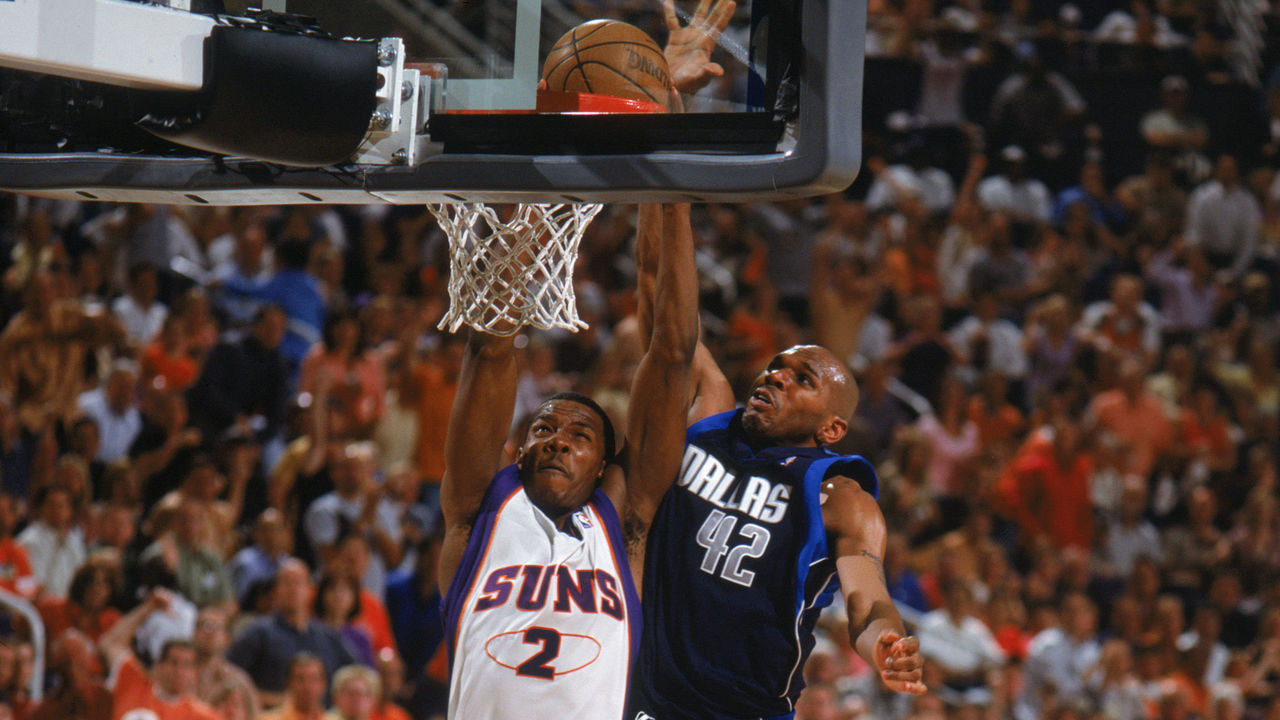 Nowitzki: It was super, super scary. That was a tough scene. You don't ever want to see a guy hurt himself in a game that you play in or watch.
Griffin: We were just heartbroken for Joe, because he's such a great kid and he had played so incredibly well. He had an unbelievable season, and we were really confident. We played Dallas really well in general, but when Joe played in Game 1, we won by 25 at home, and we were on a five-game playoff winning streak at that point.
Coro: All season, you're kind of just waiting for something to go wrong. The Suns were playing a real short rotation, so they didn't have a ton of depth. They're going super small, and now you lose a big guard who has made up for a lot of your frontcourt size. There was a lot of questions about whether that was gonna be the end of the road now.
Nash posted 23 points and 13 assists, but struggled shooting the ball in a 9-of-22 performance. After playing from behind all night, the Suns rallied without Johnson, and Nash tied the game 106-106 on a free-throw line jumper with 27 seconds remaining. Nowitzki responded with one of his patented, one-legged fadeaways over Richardson to restore the lead. Richardson missed a potential game-winning 3-pointer on the other end.
Nash: I think Dirk's quote to me afterwards was, "I'm just glad I could get The Matrix (Shawn Marion) off of me." Dirk's a matchup nightmare. He gets that ball in the mid-post, on the right side by our bench. That's a tough, tough matchup when he gets the ball there. You know he's going to get a good shot, and he got one.
Richardson: That was a tough game for us, and for me in particular. Dirk hit the game-winner over me in the post. I'm (6-foot-5) trying to contest one of the greatest fadeaway shots in the history of the game. And then I missed a three for the game. And then add the fact that we lost Joe, who was so huge for us.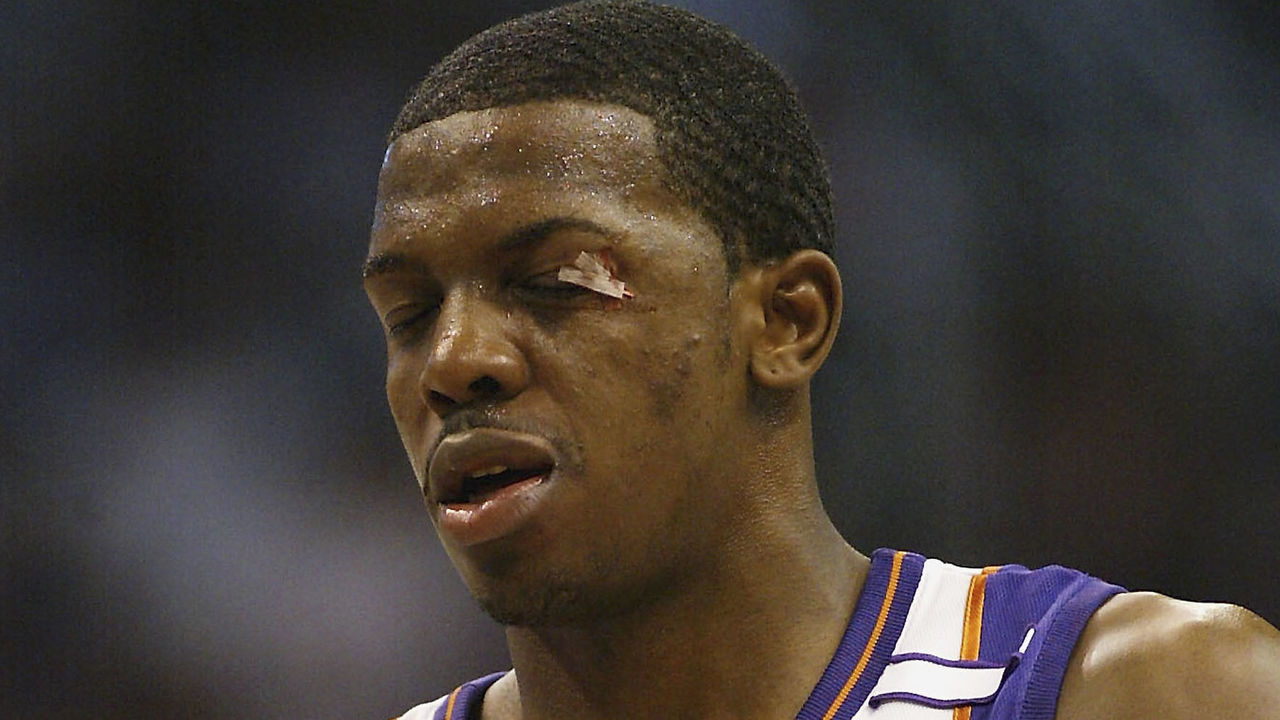 Nash: I remember being devastated that Joe got hurt because he was just improving all the time. By the end of that year, we were thinking, "This guy's a future All-Star." So to lose him - such a versatile player - was devastating.
Griffin: To say it was unsettling and would've rocked most any other team to their core would be an understatement. It was a gruesome injury to see happen, and our guys were really close to each other. They were young, they had not been through a great deal of adversity, and many of our kids hadn't seen an injury that traumatic.
Nowitzki: Obviously we were happy to hear that he was going to be OK, but we thought it was a break for us. Joe was already a great player, even though he was still young.
Garcia: The Mavs finished that season on a 16-2 run after Avery (Johnson) took over, and then they won a first-round series after losing the first two games at home. So for them to split on the road in Phoenix, with Joe Johnson now out, they had all the momentum in the world. Coming back to Dallas, I think they thought they had the series right where they wanted it.
Mike D'Antoni (Suns head coach at the time): That (injury) manifested itself later. Jimmy Jackson came on and played great, so that mitigated a lot of that disadvantage without Joe. We went from an eight-man rotation down to seven, because we didn't have anybody that could really replace Joe. So Jimmy got a lot more minutes, and it worked against Dallas. Because of what Jimmy Jackson did, that series was fine.
But in the long run, I think that injury cost us a legitimate chance for a championship, because what it did was put a lot more pressure on Steve Nash to be even more of the primary ball-handler. Joe could also handle the ball and make plays, and he was more or less our backup point guard. Without that, Dallas put a lot more on Steve. In the short run, it was OK, because Jimmy played well and Steve just took more shots. But in the long haul, it hurt us quite a bit not to have that depth.
Game 3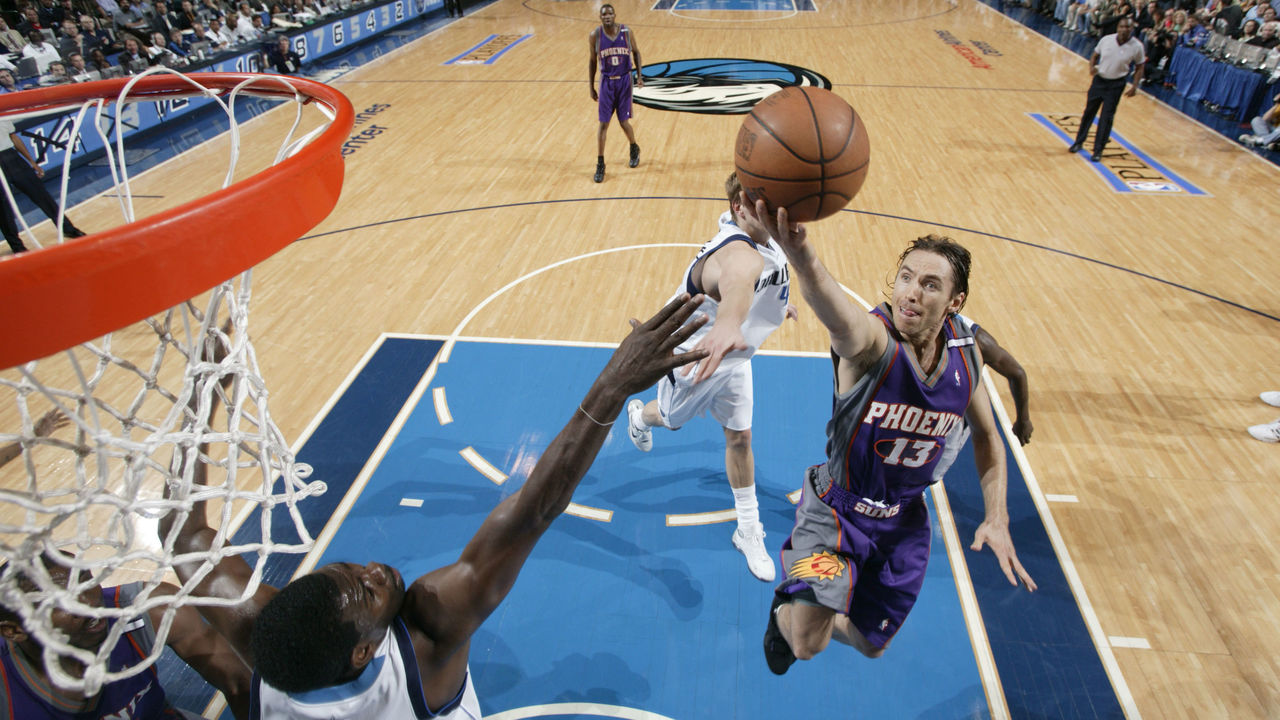 Though he hadn't played up to his capabilities through the first two games, Nash willing the Suns back into Game 2 down the stretch was a sign of the type of individual greatness to come.
Coro: For Steve, it was almost like a slow build throughout the series. He had some good early moments, but from the time Joe Johnson went out in that series, Steve looked like the best player on earth.
Richardson: We knew we had Jim and Leandro (Barbosa) to step up, but we had to dig down deep going out there to Dallas, man. I think that's when you saw the greatness of Steve Nash come into full picture.
The game swayed back and forth, but Nash answered every Mavs run with a mesmerizing pick-and-roll with Stoudemire, or by knocking down an impossible shot of his own. Nash's 27 points and 17 assists helped the Suns pull away for a 119-102 victory to wrestle back home-court advantage. In the 15 years since, only Chris Paul has matched those numbers in a playoff game.
Nash averaged 14.3 assists through three games, but his jumper was inconsistent; he posted an effective field-goal percentage of just 49.3, thanks largely in part to his uncharacteristic 2-of-12 shooting performance from 3-point range. Avery Johnson's Mavericks decided to force Nash - a selfless facilitator and somewhat reluctant shooter - into being a score-first opponent rather than allowing him to beat them with his playmaking.
Nowitzki: Where Steve was so good was on the pass ahead, making guys better on the break, and driving and dishing off to Amar'e and Matrix. I think we tried to switch everything, and if he takes our bigs one-on-one all night long, then so be it. We were hoping that would wear on him, and that also the rest of his team would not be in a good rhythm. If he just stands there and dribbles, and goes one-on-one over and over, maybe he gets tired, and then the other guys, when they do get the opportunity, maybe they're not in rhythm like they normally were.
Griffin: Our staff was fearful all along that the best way to play us was that if you shut everyone else's water off, you have a better opportunity to stop us.
Game 4
The Mavericks opened with Josh Howard - instead of Terry - guarding Nash, and kept bigger bodies on him all night. Nash accounted for only five assists compared to nine turnovers in a game Dallas controlled throughout. Nash, though, authored one of the greatest scoring performances in NBA playoff history: 48 points on 20-of-28 shooting. No other Suns player scored 20.
D'Antoni: One of the discussions (in the huddle) was that they were giving Steve Nash a 17-foot pull up every time. We discussed it, and I thought, "Let me get this straight, their strategy is to give the best shooter in the history of the game a wide open 17-foot shot?" And I go, "Well, if he has to take a hundred of them, let him take a hundred. We're not going to get a better shot than that."
We're not gonna force something else that isn't our best option. If he goes for 50, 60, or 80 points, so be it. I remember telling him, "Steve, this is what they're giving you, and if that's what they're giving you, this is the best we can do." He did it, and it was an unbelievable performance.
Nash: What I remember about that night is, even though I shot and scored the ball well, we didn't win. In the end, we lost that game, no matter how many points I scored. It was frustrating. They weren't bringing the extra guy. They were trying to stay home, and I was trying to score. That was always difficult for me, because that's just not my nature, or the way our team was set up. It's funny, the way my brain works, I had 48 points, but I was still trying to pass.
D'Antoni: I've talked about how my mistake with that team was not making Steve score even more.
Richardson: If Steve would've shot more, he could've averaged 25 points if he wanted.
Nowitzki: The thing with Steve, sure he was a great passer, but he could also score. That gets overlooked sometimes. He's still one of the best shooters the league has ever seen. He could pull up from three, but he also had the mid-range, the spins, and the fades. And then when he got to the basket, he's got those little twist shots and floaters. His runner was unbelievable. When he didn't wanna go all the way, he could kind of pull up from the mid-range with a runner, and it was money.
He had a lot of stuff in his repertoire. You couldn't just say, "We'll switch," or "We'll keep him in front and everything's fine." He could hurt you in a lot of ways.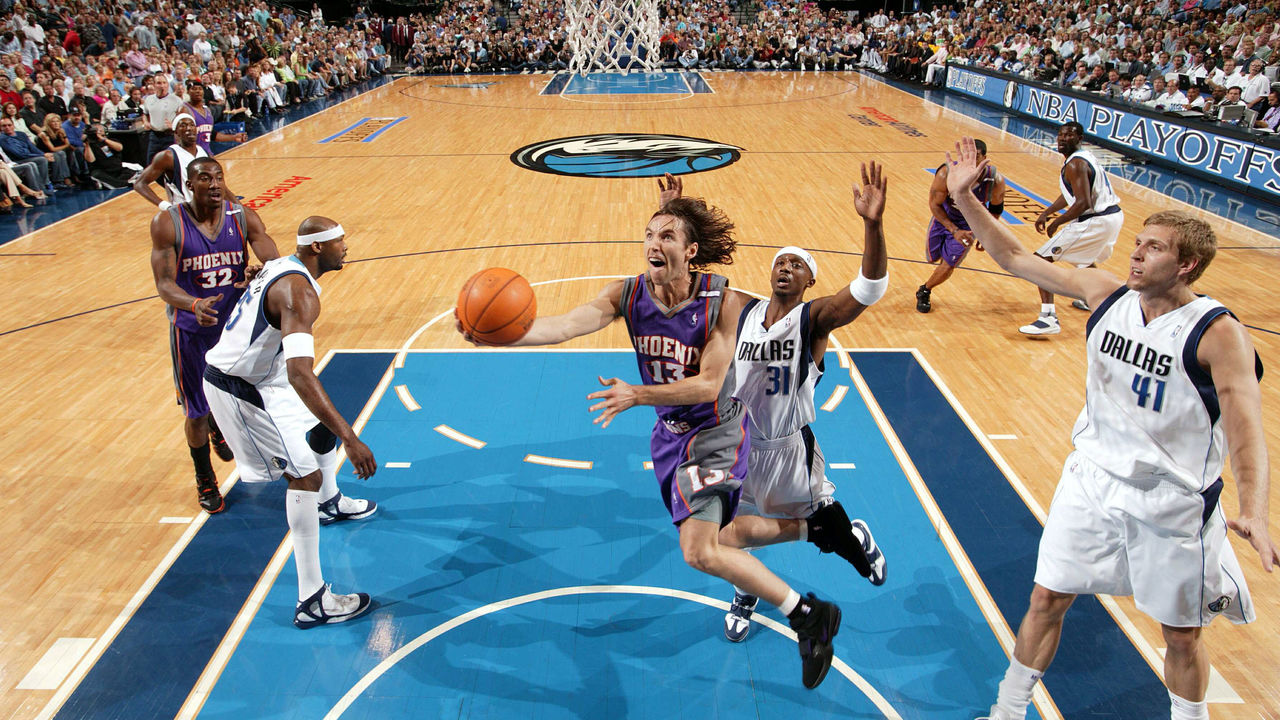 Nash: I always approached the game like, if I'm aggressive and causing problems for the defense, and everyone's a part of the game, we're a much better team, which is why I didn't take a ton of shots in my career. I always wanted the team to feel well as a whole, and to be at its elevated best. At the time, I didn't feel like me going for 25 a night, or having outbursts like that, was the best thing for our team.
Richardson: Anytime Steve shot the ball, shit, I was cool with it. He doesn't take bad shots, he's the smartest dude on the court, and he doesn't really miss. He's a gym rat. Everything you see him do, he works on it ad nauseam. Those little runners in the lane, where you see him hit the lane and fade back looking like he's about to lay out on the couch? He would practice that and do it 10, 20 times in a row. Everything we saw him do (that night), we had seen him do a million times before (in practice).
Coro: If you ever watched his pregame routine, it was immaculate the way he practiced every possible shot he would take in games. Every level of the floor, he had a shot for it. He had such a great reputation as a playmaker and was known as being an unselfish player that I don't think anyone knew he had that alpha in him to just take over games. I think people forgot that he was the best shooter in the game at the time.
The Mavericks evened the series with a 119-109 victory, but Nash's performance remains one of only three in NBA playoff history where a player scored at least 48 points on 70% shooting.
Garcia: This would come back to bite the Mavs in The Finals the next year against Dwyane Wade. There were times when Avery just wouldn't double people. I think it goes back to a lot of what he learned (as a player) in San Antonio - the mentality there about individual defense and being tough-minded. The Mavs still won (Game 4), but it obviously ended up backfiring, because you don't wanna give a guy like Steve Nash even more confidence and more reason to come after you. I'm sure he thought that they were disrespecting his game, especially in the gym he had so much success in.
Griffin: He was minus-8 in the 48-point game. The Mavericks' approach worked. The plan worked. It absolutely took us out of the game, and it required a great deal on the part of the staff to re-envision the offense as quickly as they did, and make the changes they did to enable him to be a playmaker again (in Games 5 and 6).
Game 5
The Mavs entered the swing game in Phoenix with the same strategy against Nash; starting center Eric Dampier opened the game defending him.
Unlike Game 4, however, Nash found balance in Game 5, blending his newfound willingness to fill the bucket himself with the playmaking prowess he displayed in the first three games. The results were spectacular: 34 points (on 50% shooting), 12 assists, and a career-high 13 rebounds in a 114-108 victory that pushed Dallas to the brink.
Nash: For me, the way I'm wired, I always wanted to get my teammates going, make them feel empowered, and put the defense in a position where they have to deal with a lot of balance, and the defense feels like there are many things they have to cure. I just remember that I kept attacking, trying to make plays, and for whatever reason, the balance shifted between games (4 and 5).
Griffin: When you look at that (48-point Game 4) performance, and then you follow it up with a 34-point triple-double, that's as good a pair of games as an organization can get out of a point guard.
Avery Johnson (to reporters after Game 5): We had no answers for him. We tried everything humanly possible. You can't let a guy run around and score at will. It's ridiculous. We tried to cut off his passing angles. But we did not follow the game plan. They just shredded us. Absolutely shredded us. I am so disappointed.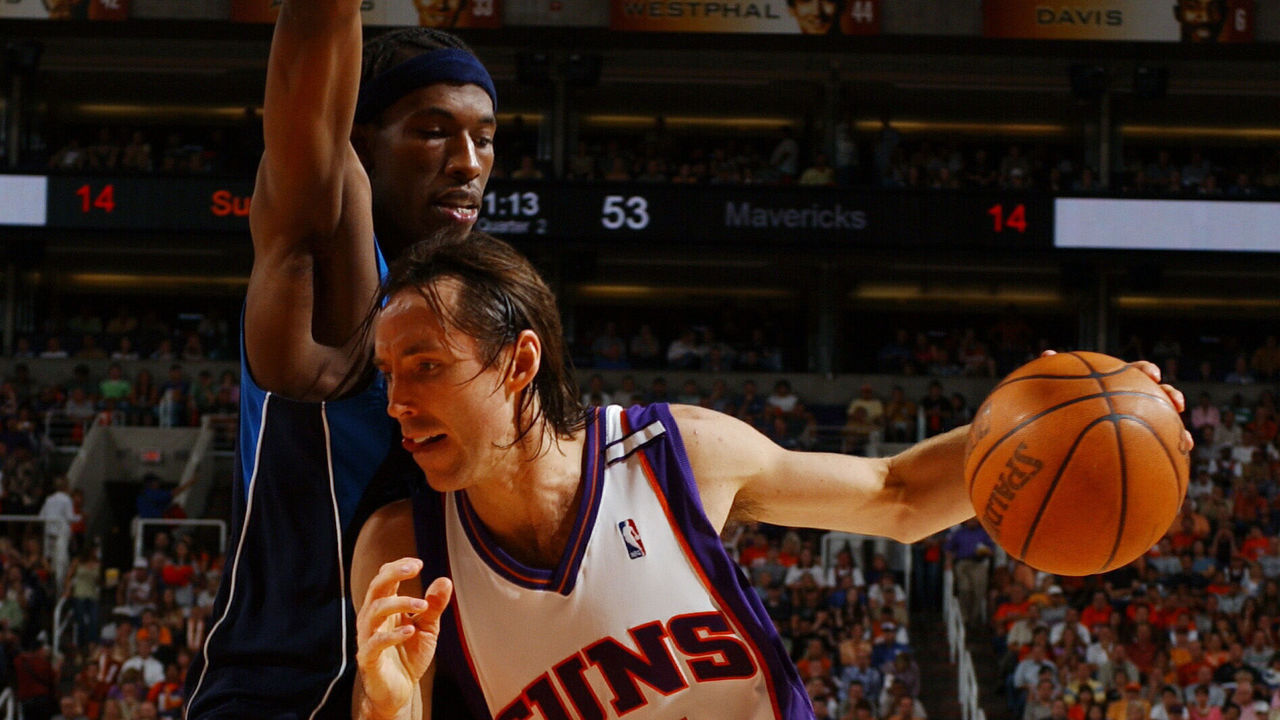 Nowitzki: He's a smart player. His IQ was out of this world, and he took what we gave him. That night (Game 4) when the pass wasn't there, he went to work and scored himself. And then nights where it presented itself a bit more, he got the ball on the break and pushed it up, and got the other guys the ball. He was one of the smartest players to ever play.
Griffin: I remember going up to his parents and his wife, who were all together in the Suns' family room, and pointing out to them, "This isn't normal. What you're watching isn't normal. What he's doing is impossible." I was just awed by what he was doing.
Game 6
For much of the night, a Game 7 appeared all but certain, as the Mavs jumped out to a nine-point halftime lead and built a 16-point cushion with four minutes remaining in the third quarter.
The Suns rallied behind Nash and Marion as the third quarter wound down. You could sense something special happening in the arena in Dallas, could hear that sound an increasingly anxious crowd makes as an opposing superstar begins to take over. Listen to the Mavs' crowd as Nash walks into an open 3-pointer that trims Dallas' lead to six.
With 1:45 to play in the fourth quarter and the Mavs ahead by five, Terry clanked a contested 3-pointer that likely would've been the dagger. Instead, Nash found Marion with a breathtaking full-court pass, and Marion hit the and-1 free throw to cut the lead to two.
The Suns inbounded the ball to Nash down by three with 11.5 seconds on the clock. D'Antoni failed to get the timeout he was looking for, and Nash took the ball the length of the court. He pulled up on a backpedaling Terry, splashing a three in the young guard's face. Tie game.
Nash: We got it in bounds pretty quick, and it allowed me to gain some momentum getting down the court. I brought it up the left side, took a hard dribble to my right, was able to get my defender on his heels, pulled up and got a good look. That's a rhythm shot for me.
Richardson: I remember he was running up the court and I was even thinking, "Pull up, pull up!" And then I remember him hitting it, and Dirk completely going off.
D'Antoni: I remember Dirk looking back at Terry, like, "What are you doing?" But Steve was just so good, like, what are you gonna do? We hit so many big shots, as every team does when they go on a playoff run, but that was an unbelievably big-time shot.
Nowitzki: I remember Game 6 pretty vividly, because that's a game we felt like we should've won. We were up three, just a little bit to go, and Jet's on Steve. We're up three, and instead of pushing up (on Nash), Terry backs up, backs up, backs up, and Steve just pulls up and shoots a three. That was one of the most frustrated moments I ever had, because I was like, "How could you let him shoot a three?!"
Coro: Dirk probably felt the way Suns fans did losing to the Bulls in The (1993) Finals, wondering how the Suns left (John) Paxson open on that shot. It was like, "What are you doing leaving him?!"
Richardson: I'm telling you, I remember it like yesterday. Dirk was going off. Curse words, hand motions, and everything. In my mind, I was like, "Yes, they're frustrated. They're mad. Dirk does not ever get like that. We've got them."
Nash: We had momentum at that point, so in many ways, I think that shot was a gut punch for them. They probably felt like, "Man, we had these guys, and now they're back in it." Psychologically, I think it took a toll on them.
Nowitzki: I think I learned a lot from that situation about being a leader. I took a lot of flak for that afterwards, yelling at teammates. And Jet's my guy, we sometimes did that, but on that big stage, people were like, "Oh my God, he shouldn't have done that."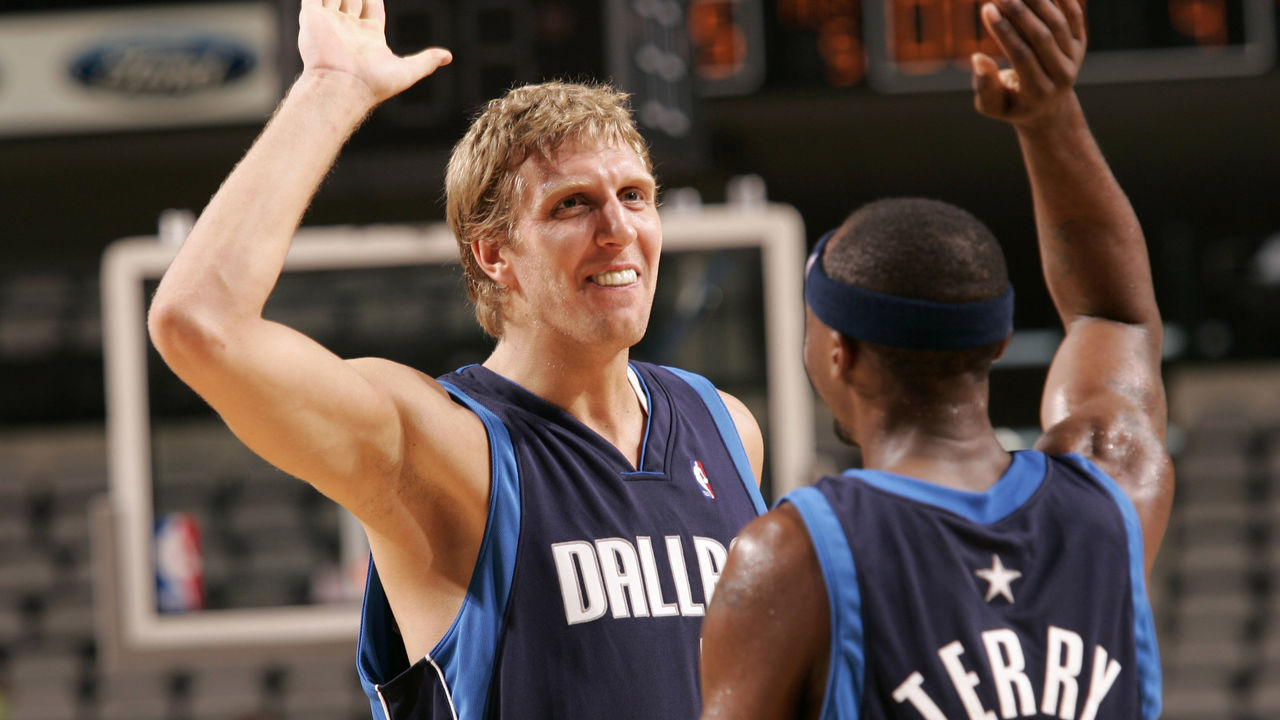 Garcia: The big takeaway for us after that game was Dirk's frustration with Terry. One of the things they had to work through in the following years was that Dirk really questioned his basketball IQ. He never mentioned Terry by name, but he mentioned the basketball IQ of his teammates, and it was a clear reference to Terry.
It's one of the things that several of the guys had said about Jet at the time, that he's got unbelievable talent and he's a great shooter, but he didn't understand basketball at that point in his career as well as he should've, especially being on a team of that caliber with title aspirations. It all circles back to them losing Steve.
Coro: The part that gets overlooked is that Terry was their point guard at the time. You basically fed the other team the MVP, and you detracted from the position, too, because Terry's not a natural point guard.
Garcia: Steve was never a great defender, but he understood angles, and his anticipation was great. He had a feel for the game that you can't teach, so for Dirk to see Terry fall for the same move, or stutter step, over and over again, had to be frustrating. He wasn't learning game to game, and Dirk could see that stuff coming.
Nowitzki: I just knew when he did his little dribble up, and that little kind of wind up, I knew that it was going in. It just had to.
Garcia: In Terry's defense, there were times in that series Dirk got matched up with Steve on mismatches, and Steve made Dirk look ridiculous as well.
Coro: Still, with that many points scored, you almost felt like whichever team took the last shot was gonna win, because you almost expected Dirk to do something just as phenomenal.
That wasn't the case, as Nash and the Suns dominated overtime despite Stoudemire and Jackson fouling out. Phoenix won 130-126, eliminating Dallas.
Nowitzki: I didn't play well in OT at all, so I took that, a lot, on myself, and I was super, super frustrated. But, you know, at the end of the day, after a few weeks passed, I was happy for Steve. I was happy that he played that well, and that he showed what he's made of.
Over the final 6:41, Nash scored or assisted on 22 of Phoenix's 31 points, while connecting on all five of his field-goal attempts. His final tally: 39 points (on 58% shooting), 12 assists, nine rebounds, and a block in 50 minutes.
Mike Tirico (on the ESPN broadcast): It's hard to remember any player having consecutive playoff games like this. He's got three in a row now.
Nowitzki: We thought for sure we were going back to Phoenix for a Game 7, where anything's possible. And then within a few minutes, everything gets turned around. I gave Steve a big hug and said, "Congrats, go all the way." But of course, in that moment, you're so emotional, and I was so frustrated. I didn't really wanna stand there and talk for too long. I was too overwhelmed at the time, and the frustration was a little too deep. I just gave him a quick hug, I remember, and told him that he played a heck of a series, and then I had to just walk off and be by myself.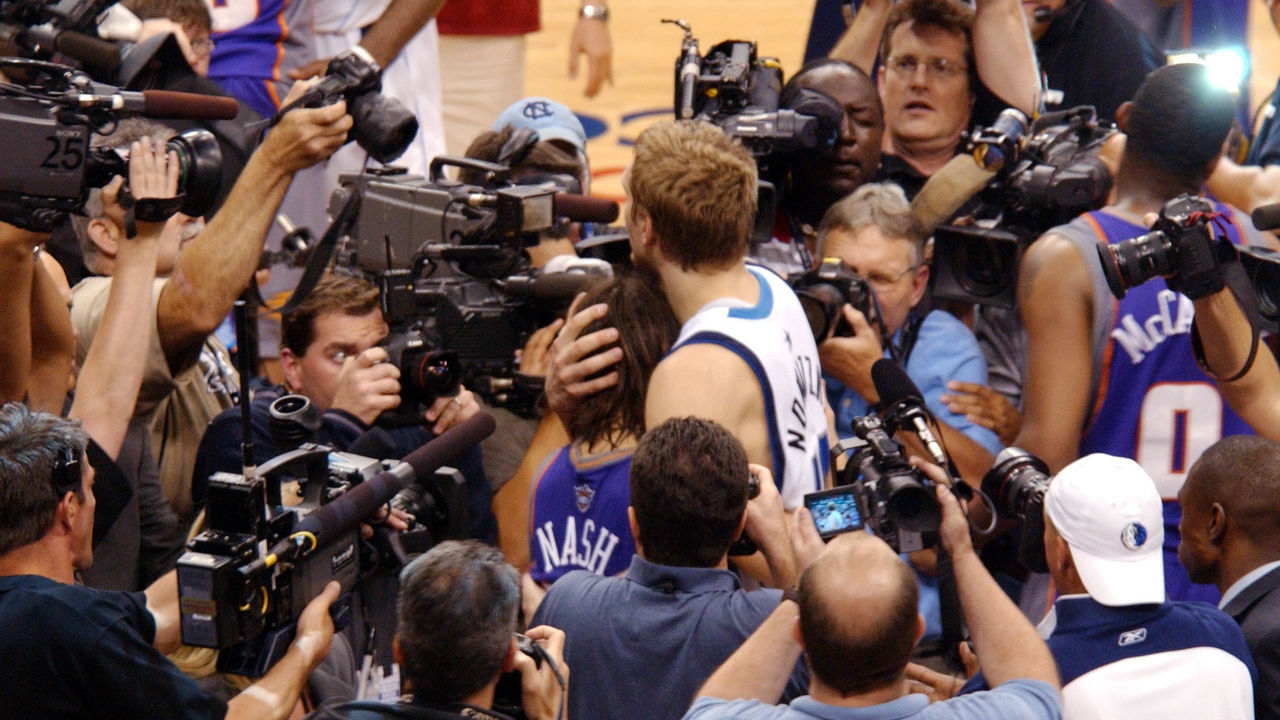 Nash (to Jim Gray in his walk-off interview, when asked if there's any sweetness to the win): It's a heck of a lot better than losing, so I'm just gonna say that. I always wanted to finish my career a Maverick, but I've had an incredible time, and these guys are a lot of fun to play with. I'm having as much fun as I've ever had.
Griffin: I was in the tunnel as the team walked off the court, and as they're going to the locker room, Quentin Richardson walks by me, gives me a high-five and says, "I told you, Griff! That little motherf----- wasn't gonna let us lose."
Coro: I remember after Game 6 in the locker room, Quentin Richardson saying, "I don't know why they would let that guy go, but I'm glad he's on my team."
Nash: Q was a great teammate. We only got to play together one year, but he still feels like a really important teammate to me, because that one year was such a pivotal and influential year. He was always kind of my biggest fan, and also my mouthpiece at times. It's great when your teammates believe in you, care, and want to see you do well. That's the makings of a great team.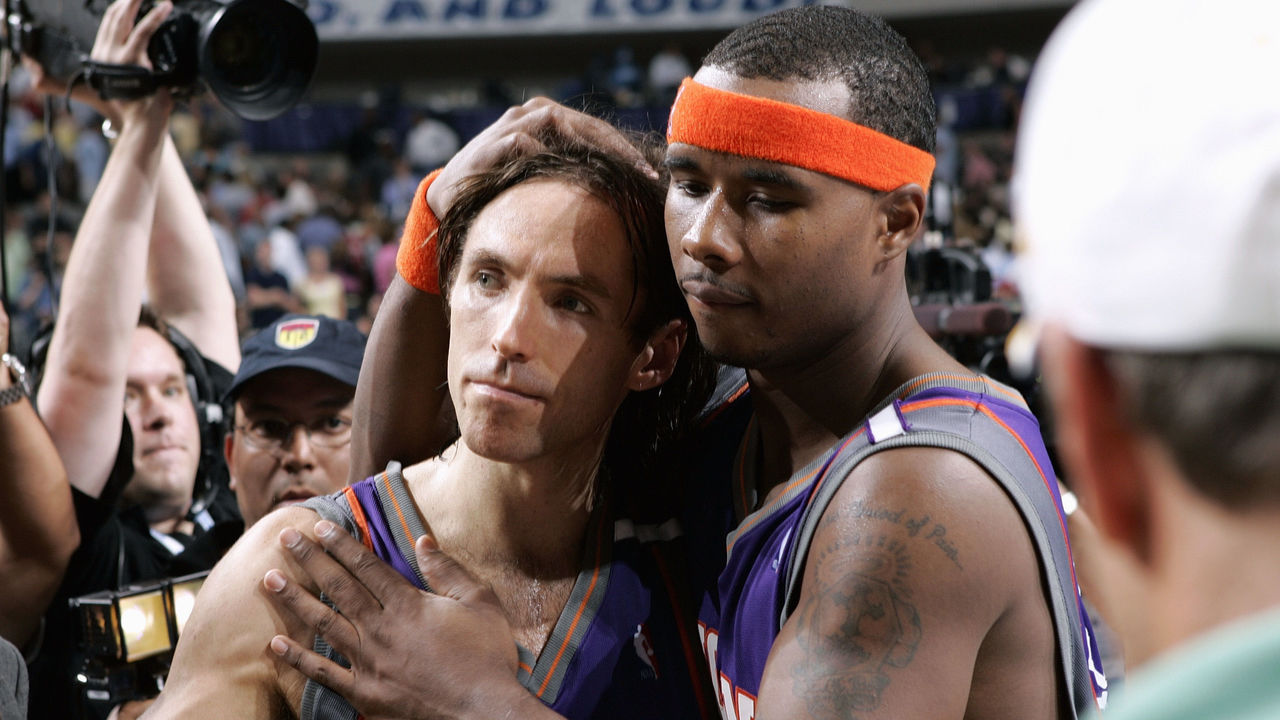 Richardson: We were ecstatic at the time, because we just advanced, but the underlying backstory to that whole series was the Dallas Mavericks and the mistake they made letting Nash go. He was the MVP.
Us playing them in the playoffs a year after what you can say was a controversial departure - a lot of the fans there still loved him and the organization just assumed he would be there - I felt like I wanted to say what I knew Steve wouldn't say. Steve is the nicest dude, and he's got the most class ever, but I felt like, somebody needs to say this. They made a mistake. They were wrong. And this (series) is the proof.
Garcia: Mark (Cuban) dug his heels in that the Mavericks had made the right move and that they would eventually be proven right, because Mark was gambling on Steve's age. But I don't think there was anyone within that Mavs locker room - from the players to the coaches on down - that thought it was the right decision to let Steve go.
Cuban (to David Letterman in 2006): Steve's a great guy and I love him to death, but why couldn't he play like an MVP for us?
Continue to Part 3: "The man revolutionized the way the game was played"
Joseph Casciaro is theScore's senior basketball writer
Comments
✕
Sun Rise, Part 2: The oral history of Steve Nash's 2005 'revenge tour'
  Got something to say? Leave a comment below!