Sun Rise: The oral history of Steve Nash joining Phoenix and becoming MVP
Imagine, for a moment, the following story unfolding in the modern NBA, at the height of the social media era, when every highlight could become a viral sensation and every personnel decision is litigated in real time:
A star point guard plays for a perennial contender that's convinced a troublesome back means his career is almost toast. That team balks at matching a lucrative, long-term free-agent contract offer from a lottery team. At 30 years old, the two-time All-Star's age is greater than the number of wins the lottery team recorded last season (29).
With his new team, the point guard almost instantly transforms from an All-Star into an all-time great, and he wins the league's MVP award for turning that 29-win misfit into a 62-win juggernaut.
The day he receives that award, he begins a second-round playoff series against his former team. Over the next two weeks, the newly crowned MVP plays the best basketball of his Hall of Fame career, eviscerating and eliminating the team that let him walk 10 months earlier.
This all happened 15 years ago, before social media could deem it historically "savage," and the Hall of Famer at its center is Steve Nash. What follows here is an oral history of the entire episode; the first chapter examines the leadup to the 2005 Western Conference semifinals that pitted his Phoenix Suns against the Dallas Mavericks, the team he left behind.
The prelude (1996-2004)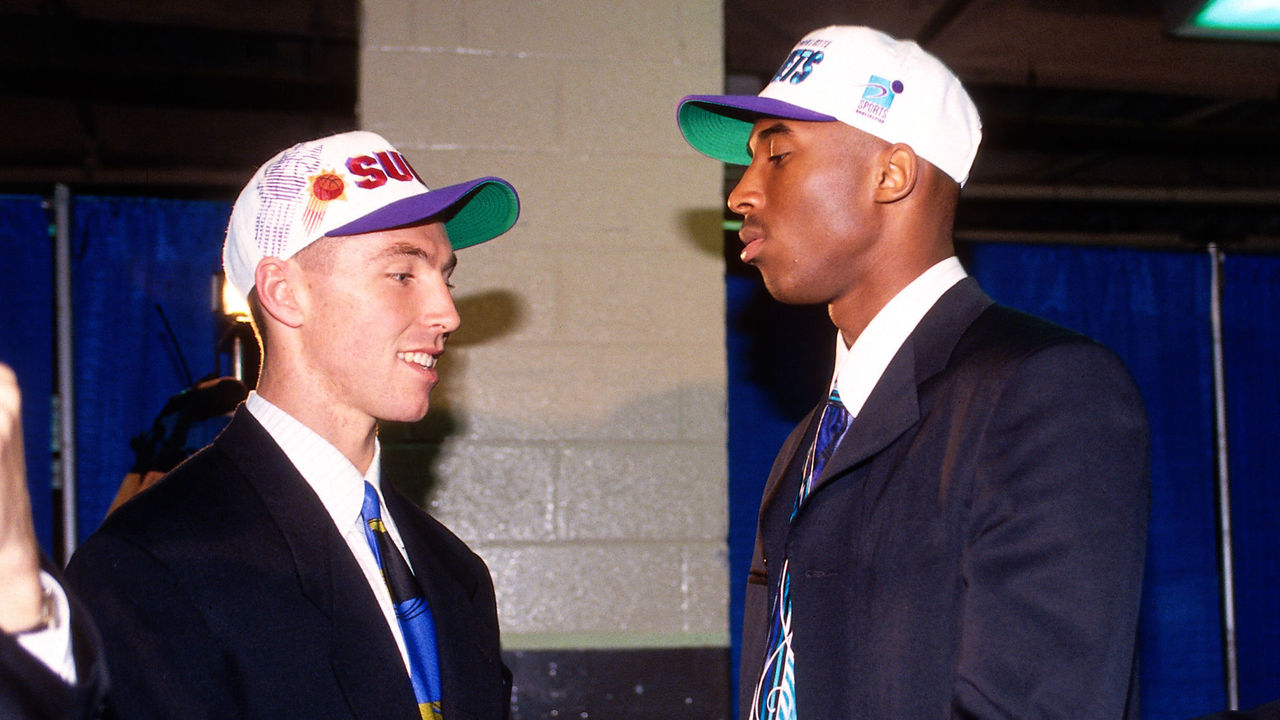 Nash was selected 15th overall by Phoenix in the legendary 1996 NBA Draft.
David Griffin, now the New Orleans Pelicans' executive vice president of basketball operations, spent 17 seasons with the Suns, advancing from public relations intern in 1993 to senior VP of basketball operations by the time he left Phoenix for Cleveland in 2010. Griffin was there when the franchise drafted Nash, traded him to Dallas in 1998, and reacquired Nash as a free agent in 2004.
David Griffin: When Steve was drafted, I had literally just joined basketball operations, and I wasn't involved in the decision-making process. I was essentially a glorified basketball intern, but I do remember being at the draft and our fans booing that we didn't draft John Wallace out of Syracuse. The team had perennially wanted a big man and fans thought John Wallace was the answer, but I remember the reaction of (head coach) Cotton Fitzsimmons and all of the staff to getting Steve was utter joy. As someone who trusted their judgment as blindly as I did, I could not wait for Steve to get to town. Unfortunately, Steve joined a backcourt that included Jason Kidd and Kevin Johnson, so he didn't get a lot of run.
After he averaged 6.4 points and 2.8 assists in under 17 minutes per game over his first two seasons behind Kidd and Johnson, the Suns traded Nash to Dallas in 1998.
Griffin: I remember being in a room with all of our staff when we were talking about the possibility of trading Steve. I remember Scott Skiles, who was an assistant coach at the time, saying, "I think you're trading our best point guard." And remember, we still had Jason and KJ! Scott was very strongly in Steve's corner, and what Steve became did not surprise Scott in the least.
But frankly, you'd have to say that the trade worked out well for us, because we traded (Nash) for the pick that eventually turned out to be Shawn Marion. Shawn became one of the all-time greatest Suns and, I think, had a very under the radar, Hall of Fame-like career.
Nash was given the reins as the starter upon his arrival in Dallas for the lockout-shortened 1998-99 campaign. During that first season with the Mavs, his battle with persistent back issues began. He played through a vertebral stress fracture that wasn't detected until the end of the season.
An ankle injury robbed Nash of another 26 games in 1999-2000, but it was during that season that Nash, along with a second-year player named Dirk Nowitzki and veteran swingman Michael Finley, began to jell under the guidance of head coach Don Nelson. The '99-'00 campaign also marked the beginning of Mark Cuban's majority ownership of the franchise.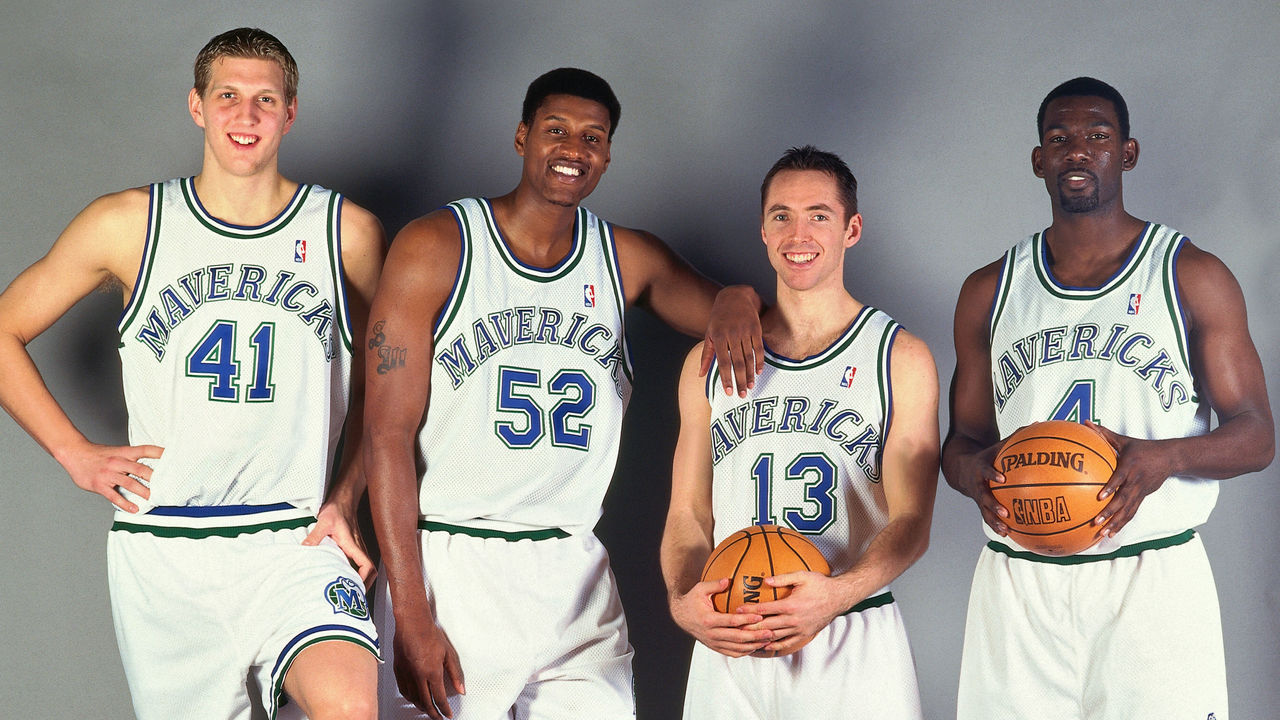 Nash, Nowitzki, Finley, and the Mavs broke through as a playoff team in the 2000-01 season. Over the next four years, Nash established himself with two All-Star selections, and the Mavs reeled off campaigns of 53, 57, 60, and 52 wins, respectively. Nash missed just 16 games combined over that four-year run.
However, Dallas was never able to get over the postseason hump, falling short in the conference semifinals in 2001 and 2002 and the conference finals in 2003. Then the Kings bounced the Mavs in the first round in 2004.
Dirk Nowitzki: I thought we were going to finish our careers together. Things were starting to get good. We were having fun. Steve, Mike (Finley), and myself were getting better every year. We had a really good team there. Before that last year together - Steve's contract year - we made a risky gamble to trade for Antawn Jamison and Antoine Walker. Both were great players, but it was just a funky mix. We had some good games and figured it out at times, but it was just a strange year for all of us. Antawn, Antoine, and myself were really the same position, and we didn't have a clear five, so that was tough.
That all played a role in us not having the best season in Nash's last year. And then we lost to Sacramento. We had a few shots to win a couple games in that series, but we didn't, and 4-1 looks pretty clean on paper.
Art Garcia (Mavs beat writer for the Fort Worth Star-Telegram at the time): The Mavericks were extremely frustrated after the Sacramento series. They outscored the Kings in that series and somehow managed to lose it 4-1. It was a weird season, and you could kind of sense the end was near, but more so with Nellie (Don Nelson) than with any of the players. We just didn't think that big three of Steve, Dirk, and Finley was close to being broken up. Finley was the oldest of the three (31), so if anyone was gonna be gone, maybe Michael, but certainly not Steve or Dirk.
Steve Nash: I guess I had a little bit of anxiety or nerves over how my free agency would resolve itself, but I fully expected to finish my career in Dallas playing with Dirk and Mike Finley, finishing what we started. We had a great thing going, so I expected it to continue.
Garcia: The thinking was that Steve would sign for another four or five years and make sure that duo stayed together through their primes. Of course he was going into free agency and was going to test the waters, but I don't think anybody close to the team actually considered what was about to happen. I actually took a vacation to Hawaii to coincide with free agency, thinking that nothing huge would happen.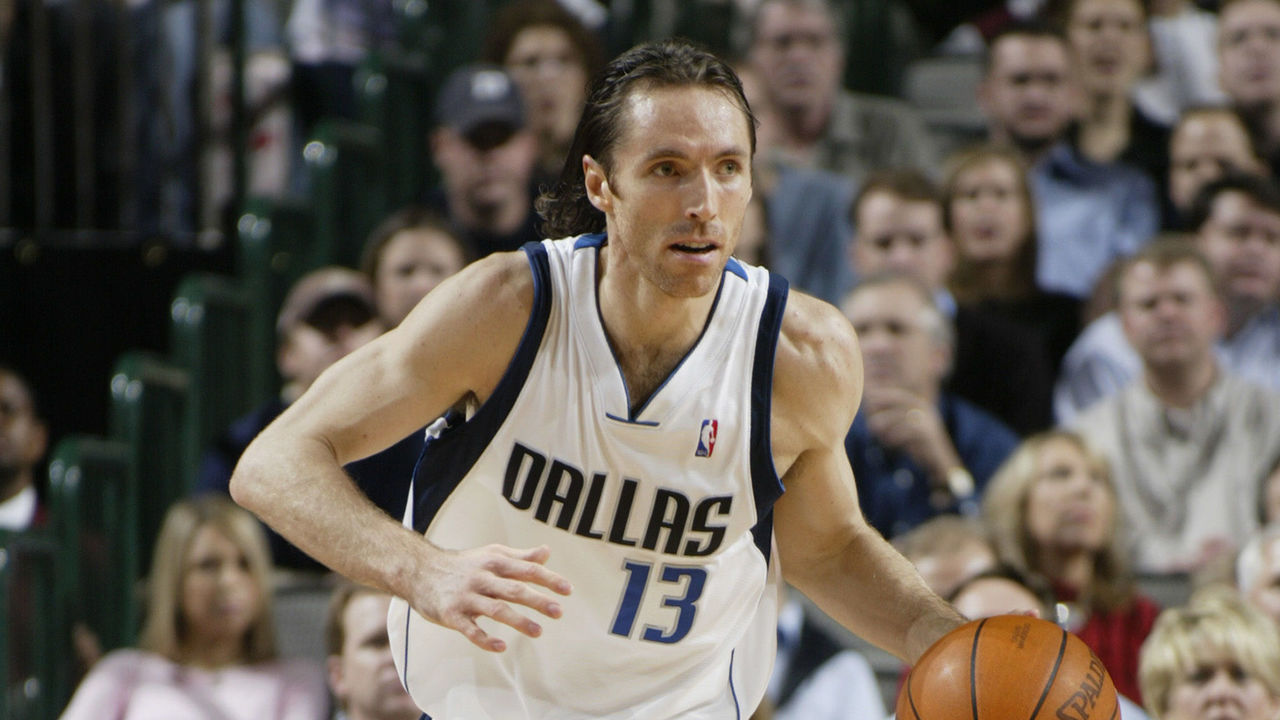 While the Mavs were considering how to enhance and extend their window of contention, the Suns were stumbling through a 29-win season in 2003-04, the franchise's worst in 16 years.
Unbeknownst to the rest of the NBA, however, Phoenix was positioning itself for a rapid rebuild. Head coach Frank Johnson was fired and replaced by assistant Mike D'Antoni 21 games into the 2003-04 campaign. The Suns also made a blockbuster midseason trade, sending big-money point guards Stephon Marbury and Penny Hardaway to the Knicks in exchange for a package that included the expiring contract of Antonio McDyess.
Suddenly, a Suns team brimming with young talent such as Marion, Amar'e Stoudemire, and Joe Johnson had significant cap space - and a glaring need at point guard.
Nash's free agency
Nash: I knew there were a couple teams that were gonna be there - Phoenix being one of them - but to be honest, it was my wish that I wouldn't need any of those other teams as options because I would just re-sign with Dallas and finish my career there.
Griffin: When we created the opportunity to have that much cap space, we believed all along that Steve was the No. 1 target.
Mike D'Antoni: It first started when Steve would come to Phoenix's practice facility (in the offseason), and he would play pick-up ball with our guys. We couldn't coach or talk to him or anything like that (because he was still with Dallas), but just sitting back and watching him play, he demonstrated an immediate ability to make everybody better.
Griffin: Mike was brilliant in that way - and still is - in seeing it before any of the rest of us did. What Steve did that was so unique, and you could see it even in pick-up games … Jason Kidd could create any shot he wanted for someone else, but you could make Jason Kidd take shots he couldn't make. You couldn't make Steve Nash take a shot he couldn't make. His skill set and feel were so good that on every single possession, he was going to get someone a shot or take a shot he could probably make.
What that did from an efficiency standpoint was make it so we could play a little more recklessly and faster, because Steve was going to make such good decisions.
D'Antoni: We would just set up in the stands and watch them play pick-up, and it was easy to realize how valuable he is to a team. You could see everybody getting better playing with him. That happened for a couple years in a row, where he was still with Dallas but he would come back (to Phoenix) and play pick-up ball. … That was the first time we thought, "If we ever get a chance, we've gotta go after him."
Now a 29-win Suns team with money to spend just needed to get a meeting with Nash.
Paul Coro (covered the Suns for The Arizona Republic at the time): A lot of the reason Steve even considered Phoenix was because Rex Chapman, who was a Suns scout at the time, was one of his good friends. He might not even have taken a meeting with the Suns if it wasn't for his relationship and trust with Rex Chapman.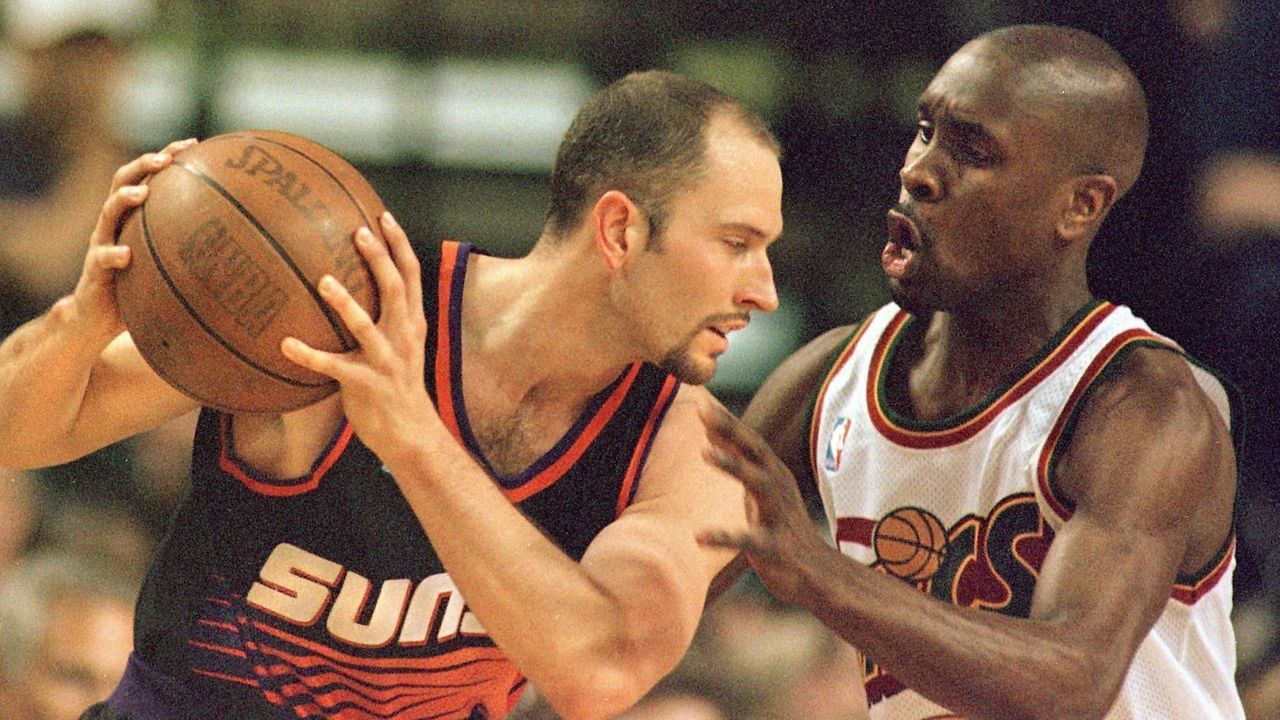 Griffin: I believe Steve would've met with us, regardless, out of respect for Jerry Colangelo, but where Rex was really important was his role in the meeting. He made Steve very comfortable. Our new owner (Robert Sarver) was present with Jerry Colangelo. As our conversation continued, Rex blessing the new regime the way he did and believing in Robert the way he did, I think that was meaningful to Nash.
Nash: Rex was my teammate. He was my vet when I was a rookie. We became really close friends, so him being involved with that group was important to me. He was the person I communicated with out of that group that included Suns ownership and front-office staff. It was important in many respects and did make me feel more comfortable.
The Suns offered Nash a five-year contract in the neighborhood of $65 million, with a sixth-year team option. At a time when the salary cap was less than $44 million, a five-year deal with an average salary in the $15-million range was significant.
Nash brought the offer back to the Mavericks, who were set to pay Nowitzki and Finley a combined $27.2 million in 2004-05. According to reports at the time, Cuban was reluctant to make an offer longer than four years because he didn't believe Nash could play more than 32 minutes per game.
In the four seasons prior, Nash averaged 34.3 minutes per game while starting 355 games (regular season and playoffs). In his first seven years back in Phoenix, Nash averaged 34.1 minutes per game and never missed more than eight games in a season.
Nash: I understood how someone could have Mark's opinion, as far as thinking my best years were behind me. I was a 30-year-old point guard at the time that played a pretty reckless, helter-skelter style, in a sense. I attacked the basket, got out in transition, and really threw my body around. Having said that, I was a really hard worker that was obsessed with the game and getting better, and I thought those things meant something. I really thought that I still had my best years ahead of me.
Mark Cuban (to the Fort Worth Star-Telegram in 2012): I'll say it now - if you would have told me Steve would have been playing eight years later, I would have bet any amount of money you'd be wrong. But some guys do a great job of taking care of their bodies and taking advantage of the new technology that's come along. The thing about Steve is his discipline. I knew he was disciplined, but I thought he would fall apart before it mattered. All the advice I got from everybody we had is that he was going to fall apart. He proved us wrong - and more power to him.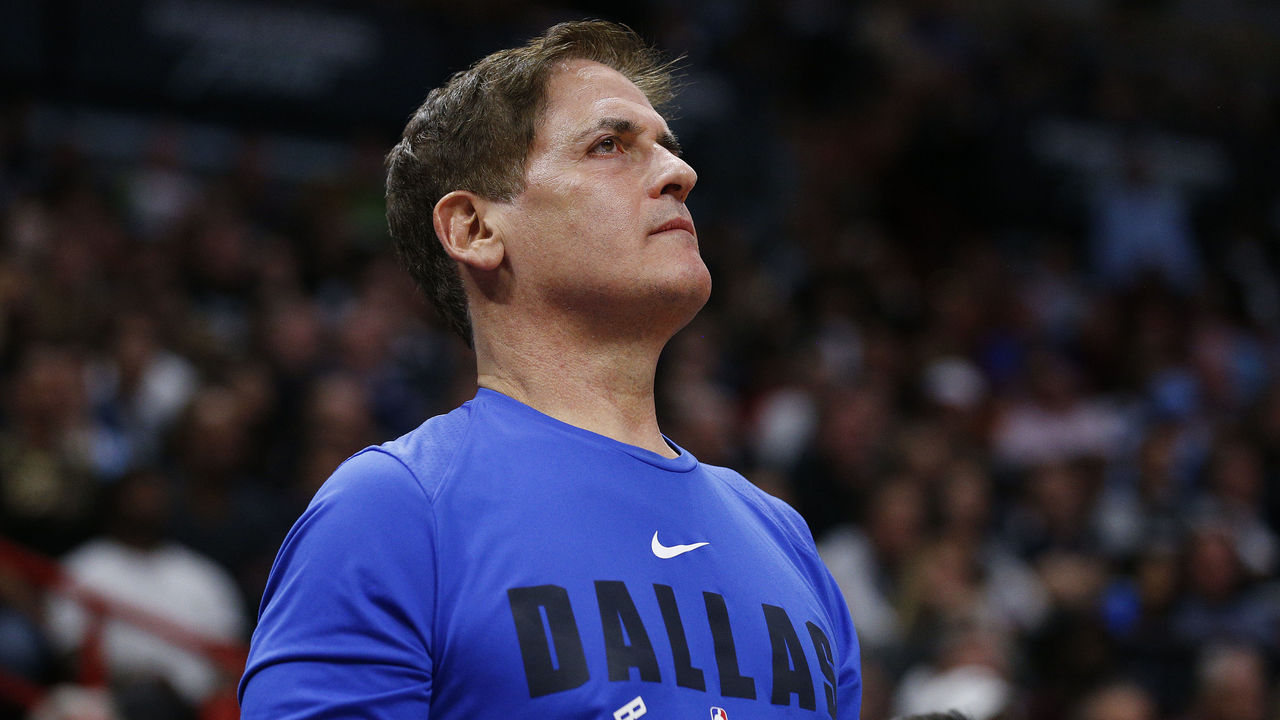 Nowitzki: I honestly think five or six years scared Mark at the time. Steve had just come off a back surgery from, I think, his first or second year in Dallas. Mark didn't think he was gonna hold up. He obviously read that completely wrong, which happens.
Garcia: I remember it being a storyline in the 2003-04 season that Steve was turning 30 and what it meant for his longevity and career. Nowadays you don't really think about players turning 30, but back then, for whatever reason, that was a storyline. I remember talking to Steve in the locker room on his 30th birthday, and him saying, "It's just a number. It's no big deal."
You also have to consider that Mark was spending money. Somebody coming in and outspending Mark Cuban wasn't something any of us considered.
Nowitzki: If we had a better year in Steve's last year, I think Mark Cuban might've really thought a little harder, but he thought Nash's body was breaking down, and he decided to let him walk. Not once did we even talk about it that last year. We thought we were gonna finish our careers together. That's how tight we were, and that's how much fun we were having.
Garcia: I got a call while I was in Hawaii that Steve was going to Phoenix. I just remember being in shock that he was gone. We didn't know any of the details yet, that Phoenix was there at his doorstep at 12:01 a.m. Eastern, or whatever the rules were at the time.
Coro: In Phoenix, it was considered a "nice" signing. There was some sentimentality from him being drafted there, but there had been some mild buzz that the Suns would go after Kobe (Bryant), who was also a free agent that summer. Kobe would've been a pie-in-the-sky sort of thing, so when Nash signed, it was kind of like, "Huh, OK, well that's a good signing."
But there was never any inclination from Suns fans that he was gonna flip the franchise like he did or that he was gonna reach this other level. It was more just talk that he's been a good player, but he's getting a little bit older. It's funny in hindsight that we were talking about him getting older then, because he ended up playing another decade and winning MVP awards.
When the league's moratorium was lifted July 14 and free agents could officially sign their new deals, Nash handed out his first big assist as a member of the Suns - more than three months before the season began.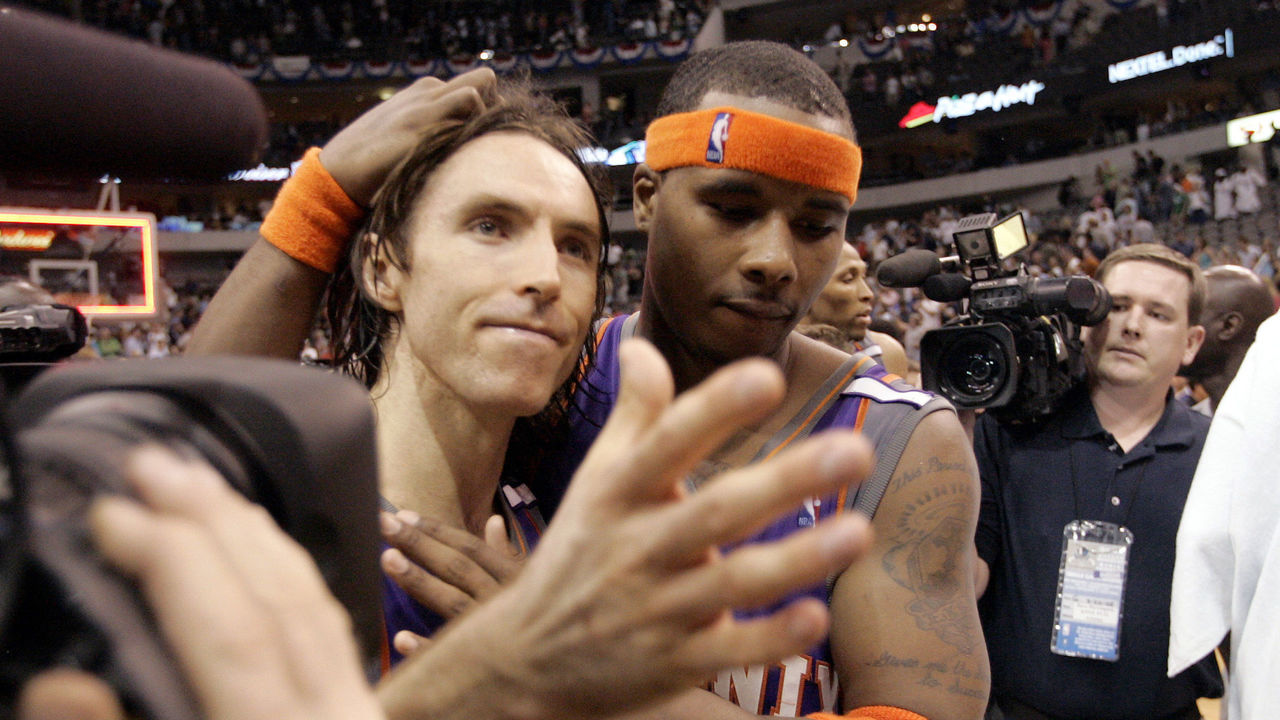 Quentin Richardson: Steve was an unrestricted free agent. I was restricted, so the Clippers had however long to match the deal, but they ended up not matching. So now fast-forward to the first day after the (moratorium): We're sitting in the Suns' offices at America West Arena waiting to officially sign our deals.
We had agreed to deals based on predictions of what they thought the salary cap was gonna be, but the cap came in lower ... and they literally found this out while we were sitting there waiting to sign our deals. So now they're in the offices scrambling while me and Steve are chilling and thinking, "What's going on? They're kind of taking a long time." We just wanted to sign and get out of there, hit the bar, have some drinks and celebrate. Rex Chapman comes in and tells us he's not sure what they're gonna do, but that one of us is gonna have to take a haircut. He told us not to go for it. Me and Steve are like, "What the hell is he talking about?"
So then David Griffin and (general manager) Bryan Colangelo come in and explain the scenario to us. I called my agent and he was like, "No way, you're not taking a haircut." Steve speaks up and says, "Is that what we're waiting for? Take it off mine and let's go have drinks. Me and Q have been sitting here for an hour trying to figure out what the hell is going on. We could've been out of here if we knew that was the situation."
Nash: There was a slight difference in the cap, and the two deals we had agreed to wouldn't fit under the cap, so I just said, "Take the difference out of my salary" so that Q didn't have to take a haircut. No big deal. Looking back, obviously money is money, but it's not like it changed my life or anything. I just wanted to help resolve the situation, make everyone happy, and move forward. I was just excited to get to work.
Richardson: My mouth was on the floor. At this point, I didn't know Steve other than competing against him. That was one of the craziest things I've ever been involved in, as far as a guy being a teammate. To this day, I wish I knew the amount of money it was. I don't know what it was exactly, but I know for a fact it was over $1 million. The gesture was unbelievable. My agent was like, "You better make sure you take care of him."
The 2004-05 season
In D'Antoni's first full season as Phoenix's head coach, the "Seven Seconds Or Less" Suns were born. They raced out to a 31-4 start en route to a franchise record-tying 62 wins that landed them the No. 1 overall seed. Nash, Stoudemire, and Marion were named All-Stars, while Johnson and Richardson combined to average 32 points per game.
Phoenix performed 14.9 points per 100 possessions better with Nash on the court and posted a negative net rating with him on the bench. The team also went 2-6 with Nash out of the lineup. He averaged 15.5 points and 11.5 assists on 50-43-89 shooting while flawlessly orchestrating D'Antoni's symphony. The duo earned MVP and Coach of the Year nods, respectively.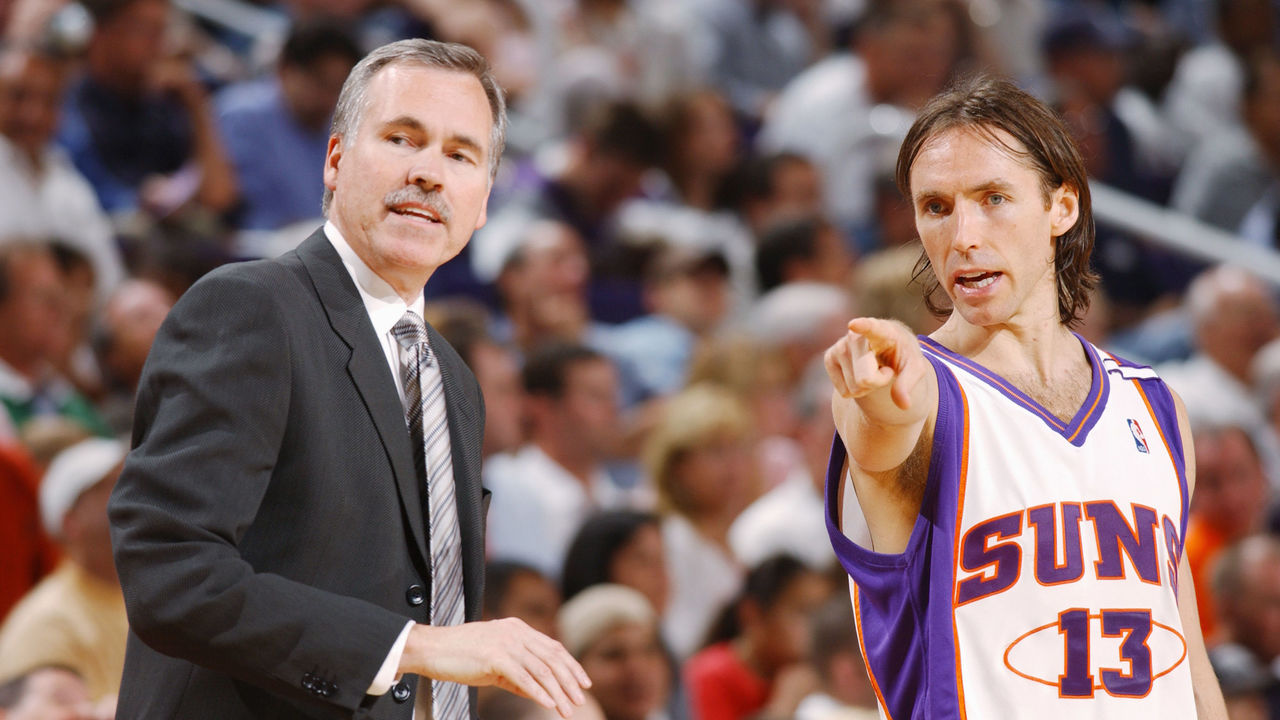 Nash: There weren't any expectations, but then when you get three or four weeks into the season, and we're 15-2 or something, you start realizing this isn't a fluke, and it's something sustainable. It felt like we were still growing as a team, too, so to have that kind of early success when we had only been playing together for a few weeks since training camp was obviously a good sign. Somewhere between Thanksgiving and Christmas, I think we realized this success wasn't a fluke.
D'Antoni: It's gradual. It's not like it just hits you like a ton of bricks. We thought, "We're gonna be OK." And then during the preseason, we're going, "I think we're gonna make the playoffs this year." And then probably about 10 games in, it was like, "Oh, we're really good." We realized this was the real deal. It just exploded, and we were beating most teams at halftime by 20 points.
Richardson: We were picked to finish last in the division. We weren't supposed to make the playoffs or do anything. Everyone was wondering if we were for real, and in the beginning, we were surprising ourselves. We would look at each other - five or six minutes to go in the fourth quarter and we were all iced down on the bench because it was always blowouts, and we were amazed.
By the time we got to Seattle (when Phoenix was 19-3), it was almost starting to feel easy. We would be down but always believed we were gonna come back. We would talk about "turning it on," and we believed it because we did it so many times. It was probably a detriment, but we had a little arrogance about it. Even 20 down, we thought we were gonna come back. I really realized we were good when we went to Seattle (who were 18-4, 10-1 at home) early that season and beat them.
Griffin: You could tell emotionally that we were a completely different team, and there was a belief. Everything that had been pitched to Steve - in large part by Amar'e Stoudemire, by the way - everything he had been led to believe about his fit with the team became very apparent early on. ... But I don't think any of us really bought into it until we went from 13-3 to 24-3. We won 11 straight, culminating in the day after Christmas. The 11-game win streak is when we all started to believe.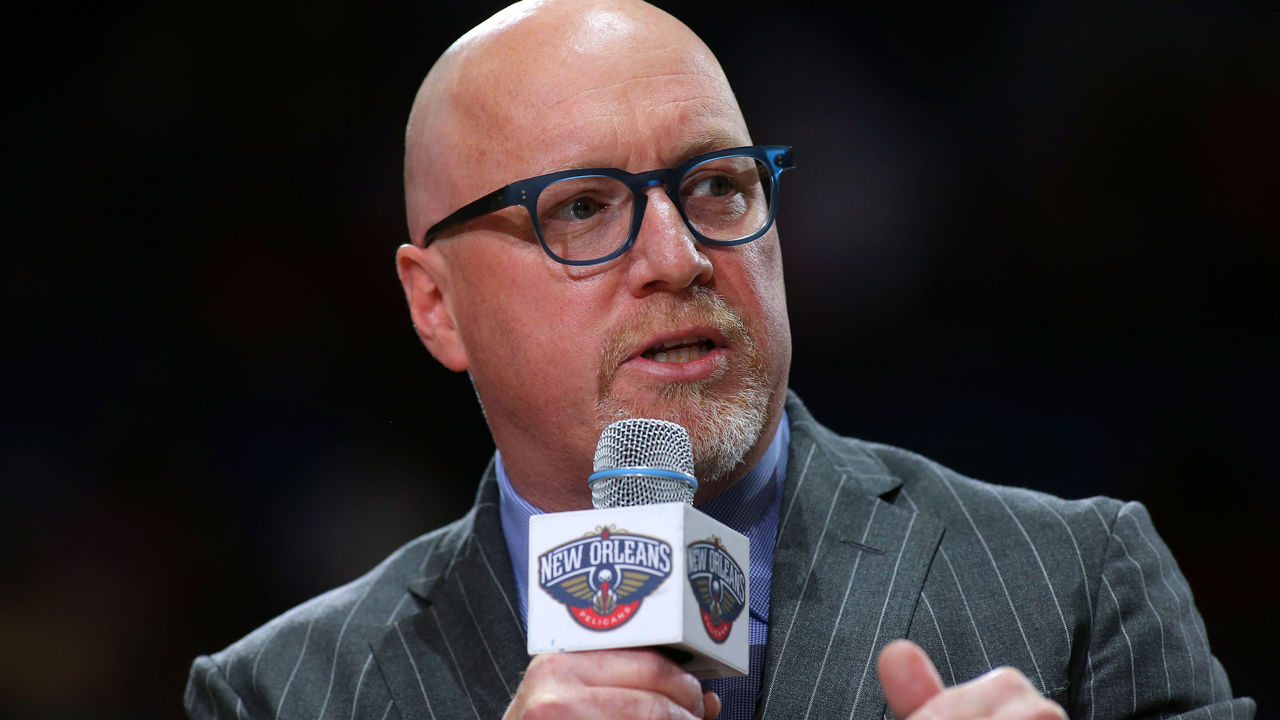 If the new-look Suns were a "cheat code," as Richardson and Marion dubbed the team on a recent episode of Richardson's podcast, then Nash was the game's greatest manipulator.
D'Antoni: I don't know how many decisions a point guard has to make over the course of a season, but he made maybe only a handful of bad decisions all year. Always the right pass, the right guy, and the right timing. We may have missed the shot or it didn't work out, or whatever, but he always seemed to make the right decision, and that was incredible, given how much he handled the ball.
Richardson: The thing that made him special was his intuition about his teammates. We had a lot of egos and things to manage as far as our personalities. Guys wanted the ball and the shine, but Steve was on another level as far as being able to read us, no matter what was going on.
It was like, "If Q's upset, I'm gonna get him the ball next." It was like a magical wand he could wave, where he could be like, "I know this play is for you Amar'e, but I'm gonna make this read instead and it's not gonna upset you that I got Q the shot, because it's gonna be the right play." It was amazing. He just knew the temperature of his crew and how to keep guys satisfied.
Nowitzki: I knew he was a great point guard, but he took his game to another level. D'Antoni's system was just perfect for him. The pace and the running mates he had there were just awesome. It fit. He had the lob guy and a roller with Amar'e and Shawn above the rim. He had the shooters around, with Joe Johnson and the crew. I just feel like he had the perfect support system.
Garcia: There was always an eye - from afar in Dallas - on what Steve was doing. No one wanted to see Steve go, so it wasn't like a situation where a guy spurned the team and then they wanted to see him fail. Steve had made it really clear that he wanted to stay in Dallas, and the players made it really clear that they wanted him to stay in Dallas. I think they were all happy for him.
Nowitzki: I was happy for him, but it was also really strange seeing him there in a different uniform and playing so super well. But more than anything else I was happy that he was healthy and playing at an MVP level.
Meanwhile, the Mavericks weren't far off Phoenix's pace. Behind Dirk's continued rise to superstardom, plus contributions from players like Finley, Jerry Stackhouse, Josh Howard, Erick Dampier, and young guard Jason Terry (whom the Mavs had acquired from Atlanta to replace Nash), they went 58-24 to finish fourth in the Western Conference.
Dallas did encounter some bumps along the way, though. Nelson stepped down as coach with less than a quarter of the season remaining (but stayed on as GM for the rest of the campaign), naming assistant Avery Johnson his successor. Under Johnson, the Mavs finished the regular season on a 16-2 tear that concluded with a nine-game winning streak.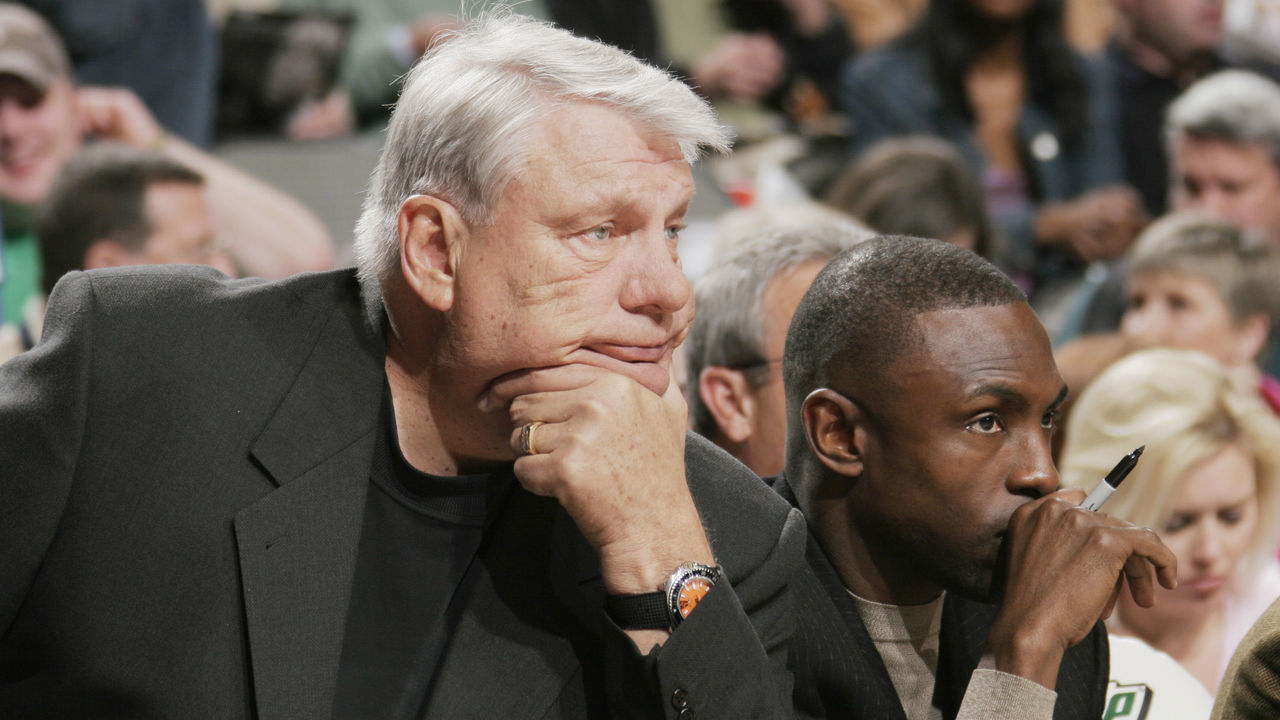 Garcia: The one that (Nash's departure) impacted most was Nellie, because he had really come to rely on Steve running the show. And then he inherited Jason Terry, Marquis Daniels, and a rookie Devin Harris being made the point guards. It took a toll on Nellie. He was the one who was most vocal about Steve leaving.
Don Nelson (to the Associated Press in 2004): I never dreamed we'd lose Nash or any other player of his magnitude. It's not like a trade where you get something back. There is no adjustment here. We lost a big part of our team and we don't have anything to fill it. It's a setback.
Nowitzki: Playing against Steve during that season was always weird. It just didn't feel right at the beginning. It definitely was a little bit of a bitter taste in my mouth for sure, and I'm sure for the (Dallas) fans as well, after watching him become one of the best players in the league. That was super tough. But you know how it is. As an organization, you try to make educated decisions, but nobody's always right. I think it took Mark a few years and then he finally admitted that it was a mistake letting Steve go, but that year was definitely tough … and then sure enough, we end up playing them in the playoffs.
Continue to Part 2: "That little motherf----- wasn't gonna let us lose"
Joseph Casciaro is theScore's senior basketball writer.
Comments
✕
Sun Rise: The oral history of Steve Nash joining Phoenix and becoming MVP
  Got something to say? Leave a comment below!