Sizing up the NBA's title contenders: Part 3
Photo illustration by Nick Roy / theScore
The NBA may get back to being a superteam's league once the dust settles on 2021 free agency, but for now, there's an uncharacteristically large number of teams with paths to contention. Over the next three days, we're breaking down the reasons to believe in those contenders - and the reasons to doubt them.
We've already examined the league's four true contenders and the Eastern Conference's second tier. Today, we're looking into the West's second tier of championship hopefuls.
Denver Nuggets
Reasons to believe: As long as Nikola Jokic is healthy (which he always is), the Nuggets are going to boast an elite offense. Jokic is quite simply the most unguardable big man in the league, with a combination of post scoring and passing ability that presents opponents with the lose-lose proposition of either double-teaming him or taking their chances in single coverage. Denver averaged 1.11 points per possession last season when Jokic either shot or passed directly to a shooter out of the post, according to Synergy.
What raised the Nuggets' ceiling in the bubble is that Jamal Murray joined Jokic in the superstar stratum, shooting the bejeezus out of the ball while tightening his handle and manipulating defenses with his increasingly deceptive passing. Murray already had balletic chemistry with Jokic, but his six-week scoring barrage helped the two reach a new level of symbiosis. The danger Murray posed as a pull-up shooter prompted more switches from defenses hoping to take away his daylight, in turn providing Jokic more opportunities to go to work against smaller defenders.
If Murray can carry over and sustain something close to his postseason level, and Michael Porter Jr. can build on his own eye-opening bubble breakout, and Gary Harris can rediscover his shooting stroke, this has the potential to be the best offense in the league. The Nuggets can create headaches for even the stoutest, most matchup-proof defenses - including those of the Clippers and Lakers, the teams they'll almost certainly have to go through in order to win the West.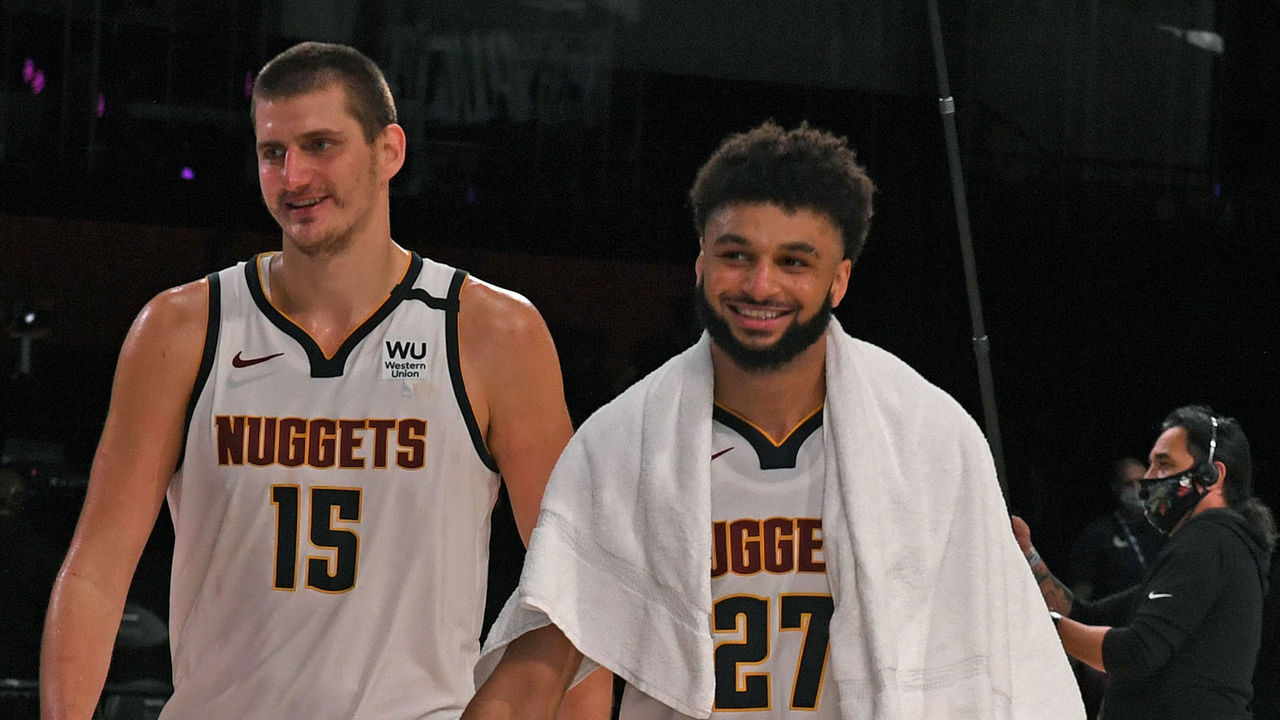 Reasons to doubt them: This team just has too many defensive holes.
Big picture, the Nuggets probably caught a break when Jerami Grant opted to take the Pistons' three-year, $60-million offer rather than return to Denver for the same money, but when it comes to their hopes of contending this season, losing Grant was a big blow. His defense on Kawhi Leonard was key to their comeback against the Clippers, and their hopes of upsetting the Lakers hinged on his ability to passably defend Anthony Davis or LeBron James.
The Nuggets also lost defensive specialist Torrey Craig, who, for all his offensive limitations, was a handy ace in the hole. Those two departures leave them with precious few options to throw at opposing power wings, the kind commonly found in Los Angeles. Harris is probably their best option, but at just 6-foot-4, he'll be giving up a lot of size to the likes of James, Leonard, and Paul George. Will Barton offers slightly more height but weighs in at a willowy 180 pounds.
The frontcourt will present its own set of challenges. Porter's development figures to be a priority, but his disastrous defense saw him get played off the floor at various points in the playoffs. And Paul Millsap, who's arguably been Denver's most important team defender over the past three years, is entering his age-36 season after looking a step-and-a-half slow in the bubble.
Add it all up and there's not much of a force field around Jokic, who isn't a deterrent at the rim and needs all the protection he can get. The Nuggets managed to scrape together a league-average defense last season, which still wasn't good enough. That will be even more difficult this year. - Wolfond
Dallas Mavericks
Reasons to believe: Luka Doncic is the real deal.
An MVP-caliber superstar is the NBA's greatest equalizer, and in Doncic, the Mavericks employ one of the few players capable of balling out at that level. He averaged 28.8 points, 9.4 rebounds, and 8.8 assists on 58.5% true shooting as a 20-year-old sophomore. What might be in store after his first taste of playoff basketball just a few months ago?
Kristaps Porzingis was rounding into form and playing some of the best basketball of his career before being sidelined by another knee injury in August, averaging roughly 27 points, 10 rebounds, two assists, and two blocks over his final 21 games. For the season, he shot better than 35% from deep on more than seven attempts per game and was one of the league's most effective rim-protectors.
The Mavs have expressed confidence in Porzingis' recovery and expect him back in January. If he can finally stay healthy and finds the same form down the stretch of the season, Dallas will possess a pretty devastating one-two punch, and the lethality of Doncic's pick-and-roll game will only increase. In the meantime, the return of Dwight Powell means Dallas should be able to better survive without Porzingis.
Losing Seth Curry will hurt, but the Mavs already owned the most efficient offense ever last season, and the acquisition of Josh Richardson gives them a more balanced roster. Richardson's a career 36% 3-point shooter with some playmaking chops who can guard the opposing team's best perimeter players.
Tim Hardaway Jr. has emerged as a dependable role player, while Maxi Kleber, Jalen Brunson, Dorian Finney-Smith, Boban Marjanovic, Willie Cauley-Stein, Wes Iwundu, and Trey Burke - who resurrected his career in the bubble - complete a roster that's about 12 deep.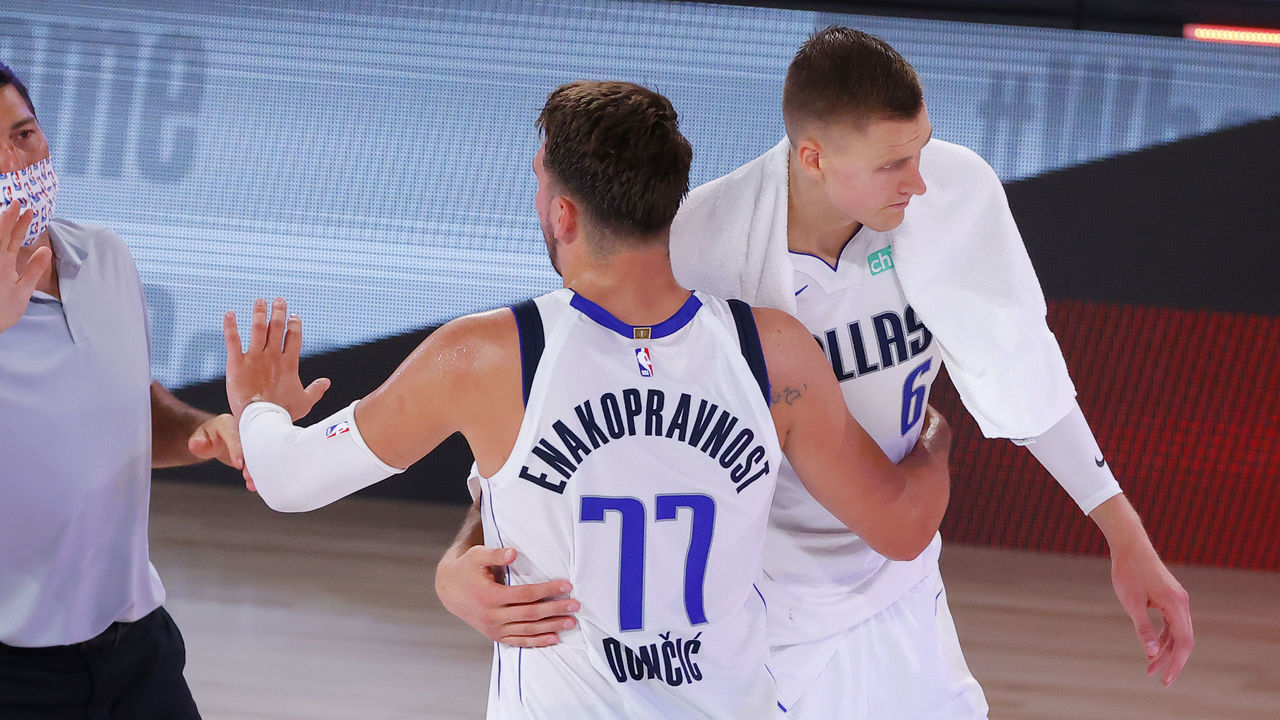 Reasons to doubt them: If relying on Porzingis to stay healthy is a key component of your championship formula, you might be in trouble, as the big man has had surgeries on both knees within the last three years. In a stacked West, the Mavs can't afford for their second-best player to always be playing catch-up.
The Mavs may be deep with rotation-caliber talent, but if you take Porzingis out of the equation, the drop-off from Doncic to the rest of the roster is a lot more dramatic than is usually the case for legitimate contenders.
There's also the issue of defense. Richardson's an obvious upgrade over Curry, but is he really going to be the difference between an 18th-ranked defense and one that's staunch enough to power a title contender? Not to mention that neither Richardson nor Finney-Smith is big enough to guard players like LeBron or Kawhi, which could be the death knell in any playoff series against the Lakers or Clippers. - Casciaro
Portland Trail Blazers
Reasons to believe: Damian Lillard is virtually an elite offense unto himself. He's the most prolific pick-and-roll scorer in the league, a defense-warping pull-up shooter, and an elite playmaker who adds new wrinkles to his game every year. He and CJ McCollum - one of the game's best secondary ball-handlers and self-creators - are paragons of durability. And this year, that high-scoring backcourt will be complemented by the best supporting cast it's ever had.
The Blazers can bank on some positive regression on the health front after slogging through a hellish season of injuries. Having Jusuf Nurkic in the fray from Day 1 will be a huge boon to their offensive dynamism, interior defense, and rebounding. (Portland went from first in the league in rebound rate in 2018-19 to 21st last season without Nurkic.) He struggled to defend in space in the bubble after returning from a 16-month absence, but the rest of his game seemed to have hardly skipped a beat, and one expects he'll be moving a bit better after an offseason of work.
With Nurkic in the middle, Robert Covington and Derrick Jones Jr. arriving to shore up the forward spots, and burgeoning on-ball menace Gary Trent Jr. set to step into a bigger role after breaking out in the bubble, Portland, at long last, appears to have struck the right balance between offense and defense. Their wing situation is as good as it's been at any point in the Lillard era.
Covington, in particular, is going to completely change the shape of this team. He's the kind of help defender who can cover for Lillard and McCollum and give Jusuf Nurkic some cover in the pick-and-roll. There may not be a better player in the league at blowing up drives and rolls by pinching in from the wing. Add in his effectiveness and willingness as a spot-up 3-point shooter, and he will fit like a glove. He and Jones also give the Blazers the kind of lineup and schematic flexibility they've lacked throughout the Lillard era.
If Portland can pair its presumably elite offense with even a slightly above-average defense, watch out.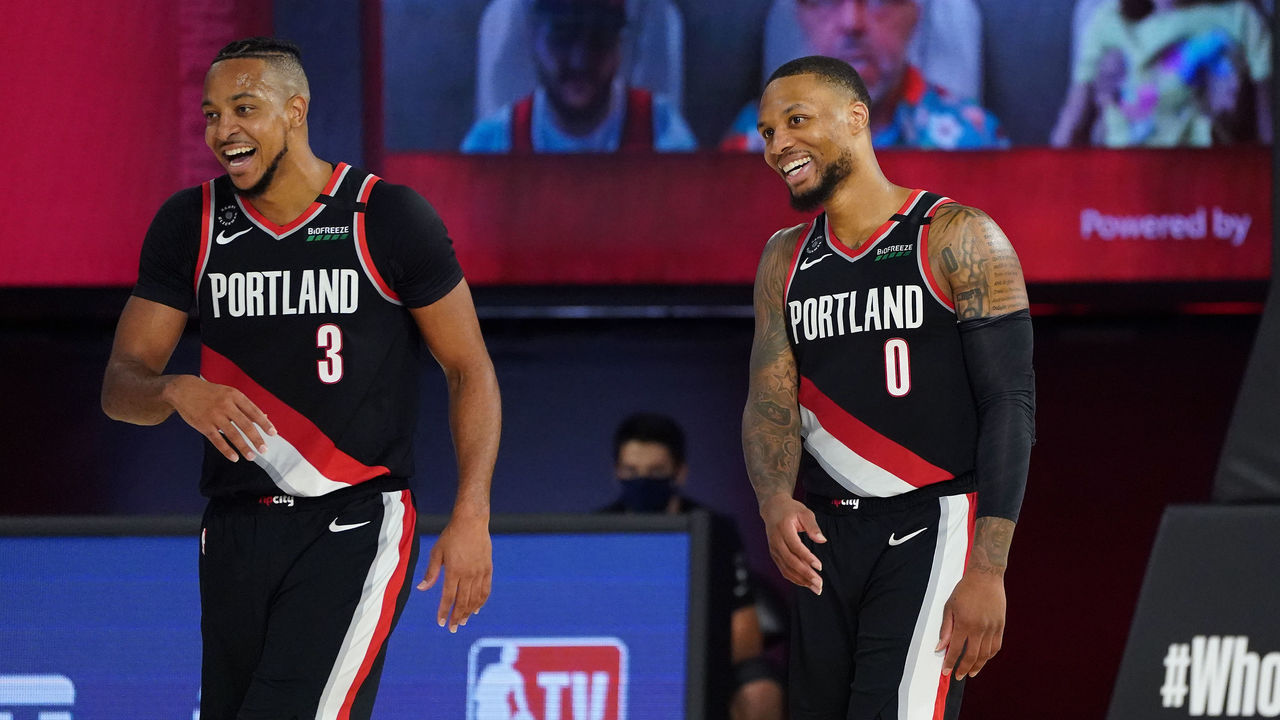 Reasons to doubt them: For as much as the Blazers improved on defense, it's still a long climb from last year's 28th-ranked catastrophe. And as with most teams in the West, they don't really have great options when it comes to guarding the L.A. teams.
As disruptive and versatile as Covington and Jones are as team defenders, neither is elite on the ball. Trent is probably the team's best one-on-one stopper, but his size makes him better suited to defending guards than forwards.
Generally speaking, it's really difficult to build a legitimate contender around a backcourt as diminutive and defensively deficient as Lillard-McCollum. Despite all the memorable playoff moments he's authored and all the improvements he's made when it comes to dealing with hard traps, Lillard's overall productivity consistently dips in the postseason.
Bottom line: Most of the league's elite teams are going to have an easier time slowing down Portland's offense than vice versa. - Wolfond
Phoenix Suns
Reasons to believe: If you think jumping from 10-year playoff drought to fringe title contenders is too optimistic a projection for the Suns, I'll remind you that Chris Paul's teams have won at least 60% of their games in each of the last nine years.
The Point God joins Devin Booker in what might instantly be the league's best backcourt. Paul and Booker's collective scoring, playmaking, and shooting abilities - and the fact both can comfortably thrive off the ball - are a match made in guard-pairing heaven. In addition, Paul's game management, basketball ingenuity, and defensive prowess should expedite Booker's journey toward becoming a more complete star, while also helping Phoenix come out on the victorious side of close games.
Deandre Ayton's offense will come easier now that he gets to finish pick-and-rolls orchestrated by Paul, but it's his defensive potential that truly unlocks Phoenix's upside. The plodding big man made massive strides on that end last season, and if he can prove a capable anchor behind defensive problem-solvers like Paul, Jae Crowder, and Mikal Bridges, the Suns might be able to pair a surprisingly stout defense with what should be an elite offense.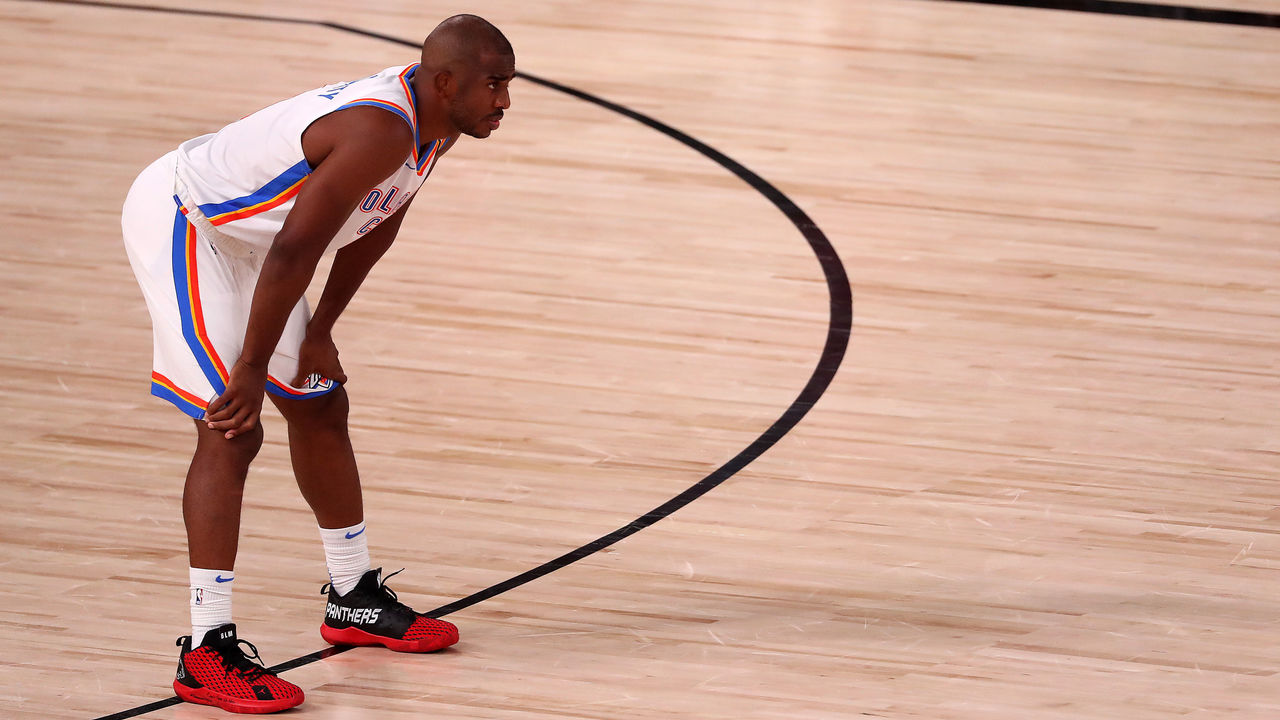 Reasons to doubt them: Before suiting up for 70 of Oklahoma City's 72 games last season, Paul missed 69 games due to a variety of injuries over the previous three seasons, with his overall impact diminishing in 2018-19. If last year's durability proves to be a blip rather than the new norm attributed to his vegan diet, and Paul misses a quarter of the season or begins to regress, the Suns will look rather ordinary.
Expecting Ayton to anchor a contending-level defense, meanwhile, may simply be too much, too soon, given where he was on the defensive end just a couple of years ago.
Finally, while a bench consisting of Cam Johnson, Jevon Carter, E'Twaun Moore, Dario Saric, and Cam Payne seems solid enough behind what should be an outstanding starting five, it's not exactly surefire. The backcourt depth, especially, will become a problem if Paul or Booker misses time.
Rather than contending, the Suns somehow could find a way to extend their decade-long playoff drought. - Casciaro
Utah Jazz
Reasons to believe: After years of riding its defense to strong regular seasons but falling short in the playoffs due to a lack of offensive artillery, Utah tilted its roster in the opposite direction last season.
In a way, it worked. The Jazz ranked ninth in offensive efficiency, their highest finish in eight years. They carried that over to the playoffs, where they scored an insane 120.3 points per 100 possessions in the first round against the Nuggets and came within a halfway-down Mike Conley buzzer-beater of knocking off the eventual Western Conference finalists despite playing without Bojan Bogdanovic.
The problem was that pursuing a more offense-oriented approach came at the expense of their defense, which slid all the way to 12th after three straight top-three finishes. So Utah made a point of re-establishing its defensive identity this offseason, namely by reacquiring old friend Derrick Favors and signing Shaq Harrison. Harrison will help tighten things up at the point of attack. Favors will back up Rudy Gobert, but the Jazz also have the option of playing the two together in certain matchups. For all their offensive-fit issues, that's been a reliably dominant defensive frontcourt over the years.
The offense, meanwhile, should remain very good. Donovan Mitchell looks primed for another leap after an incendiary playoff performance, and Conley looked infinitely more comfortable by the end of his first season in Utah than he did at the beginning. It's quite difficult to defend a spread pick-and-roll with Gobert diving, one of Mitchell or Conley handling, and Bogdanovic and Joe Ingles (who shot 42.6% and 44.2% on catch-and-shoot threes last year, respectively) spotting up. Bench scoring also won't be as big an issue as it was for most of last season, since the Jazz re-signed microwave man Jordan Clarkson.
In short: this team's going to be a handful on both ends.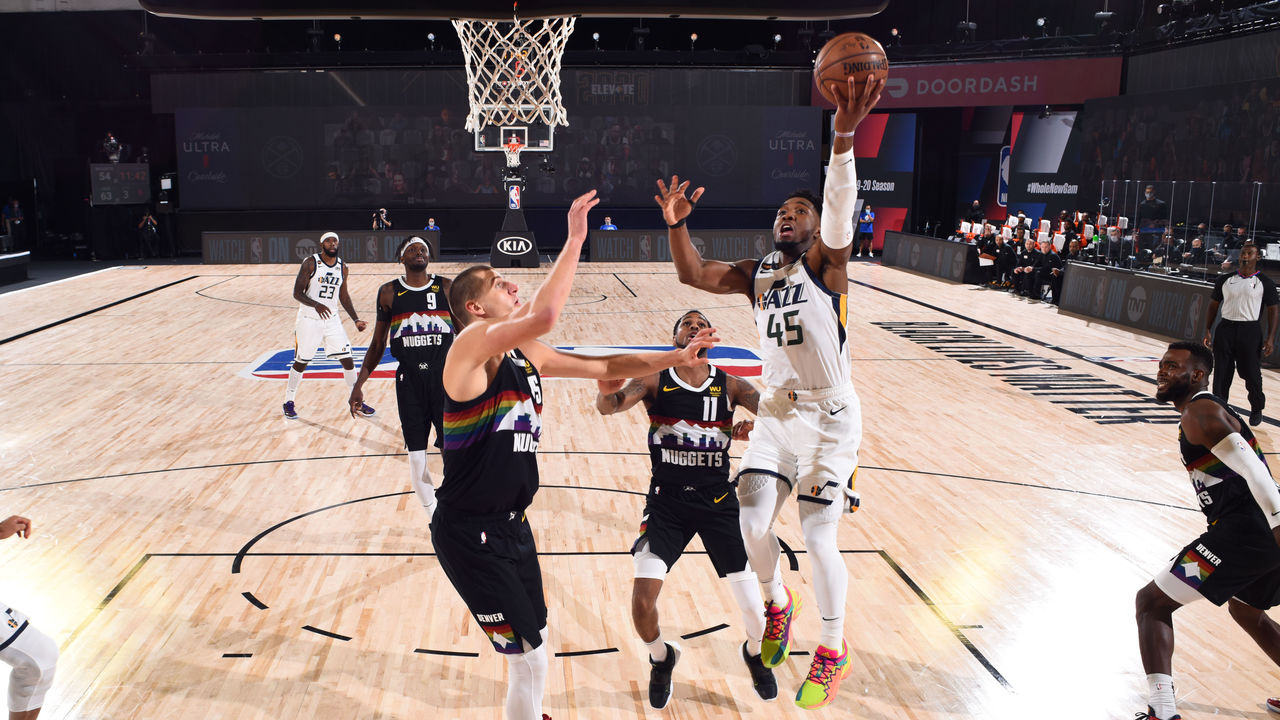 Reasons to doubt them: The Jazz are a high-floor team designed to rack up a bunch of regular-season wins, but it's still hard to buy into their playoff upside. They're balanced and well-coached and can do a bit of everything, but when it comes to top-end talent, they're operating at a deficit compared to their rival contenders.
A lot of this comes down to Gobert, whose impact has historically been blunted in the playoffs. Any team that doesn't rely heavily on interior scoring and has the versatility to go five-out can mitigate his rim protection. Gobert limited Nikola Jokic in the post in their first-round showdown, but Jokic responded by pick-and-popping him to death. Gobert's lack of offensive skill and inability to take advantage of mismatches in the post also makes Utah susceptible to switching defenses.
The Jazz have a decent amount of secondary playmaking, but they're still a bit light on self-creation, which leaves a bit too much on Mitchell's shoulders. Mitchell, for his part, has a penchant for taking the entirety of Utah's offense upon himself. (His outrageous 37.5% usage rate last postseason might've ruffled some feathers if he hadn't paired it with a .529/.516/.948 shooting line.)
And that's to say nothing of the uneasy relationship between Mitchell and Gobert, and how Gobert's impending free agency might further strain the team's fragile chemistry. After butting up against its playoff ceiling for three straight years, this core might be nearly out of time. - Wolfond
Golden State Warriors
Reasons to believe: Losing Klay Thompson to another season-ending injury before training camp was obviously devastating, but have people forgotten how good Steph Curry is?
He's a two-time MVP only two years removed from averaging 27.3 points on 47-44-92 shooting, and his mere presence can completely warp an opposing defense. His injury absence last season was only due to a hand issue, and though he's 32 years old, it's not like his game is predicated on being the most athletic player on the floor.
There's little reason to doubt Curry will be back to superstar production this season, and as we've repeated throughout this series of previews, that type of talent is the backbone of contention.
It's also not like Thompson's injury leaves Curry on an island. A rested Draymond Green with something to play for should concern the rest of the league. Kelly Oubre is a great 3-and-D fit. Andrew Wiggins is an eternal enigma, but it's not outrageous to imagine him settling in as a solid second or third option in The Bay. Eric Paschall was a revelation last season. James Wiseman's rim-to-rim game fits this roster like a glove.
If Curry is anything close to his best, the Warriors have enough talent around him to contend.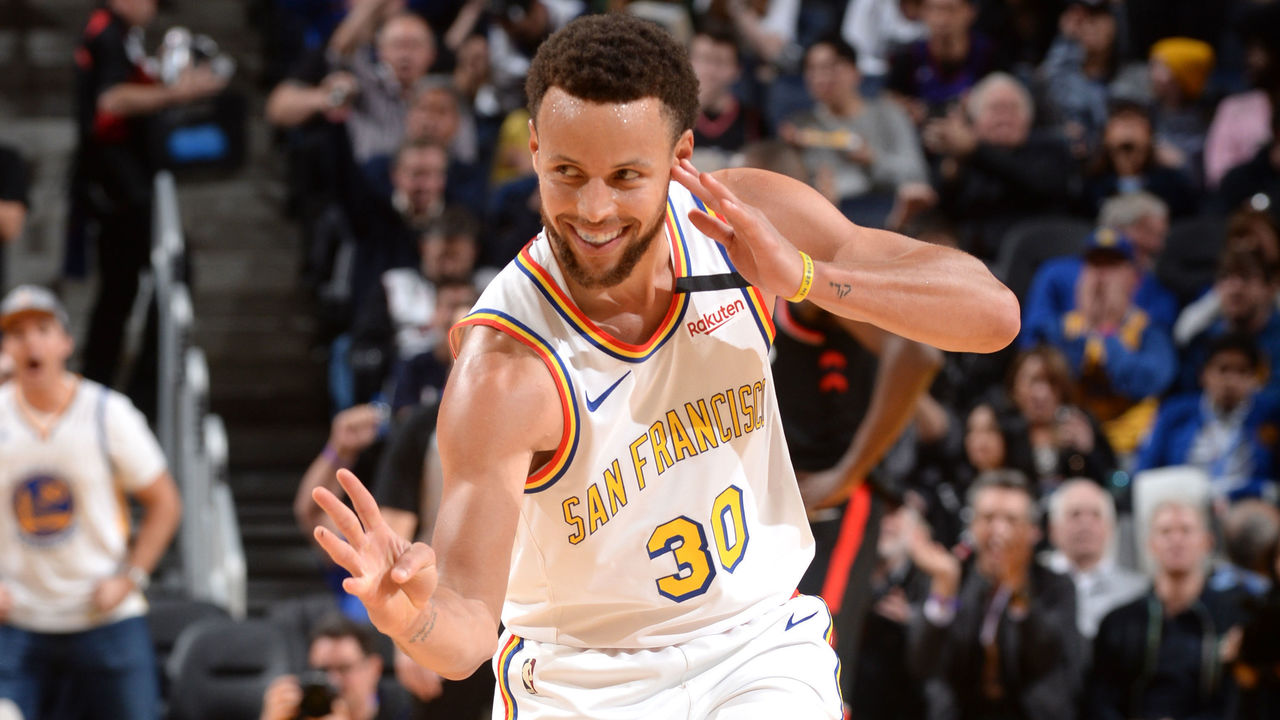 Reasons to doubt them: It's possible five straight trips to The Finals broke the Warriors in ways that even a year and a half of low-impact ball couldn't fix. If Curry's no longer capable of consistently harnessing his transcendent gifts, or if Green has simply lost a step he'll never regain, this team's upside is a lot less exciting.
In this scenario, Wiggins remains a volume scorer on underwhelming efficiency without doing enough of anything else, Wiseman reminds us that expecting positive-value play out of rookie bigs is a fool's errand, and the Warriors look more like the team that got shellacked in the five games Curry played last season than the dynasty of yesteryear. - Casciaro
Comments
✕
Sizing up the NBA's title contenders: Part 3
  Got something to say? Leave a comment below!