In an ideal world, the NBA would be playing the conference finals right now.
We don't know how the standings might have changed if the regular season had continued. We don't know if we'll ever get to see a conclusion to the 2019-20 campaign. But in the spirit of what would've been the final four, we're breaking down the matchups as determined by our hypothetical first-round and second-round predictions.
No. 1 Lakers vs. No. 2 Clippers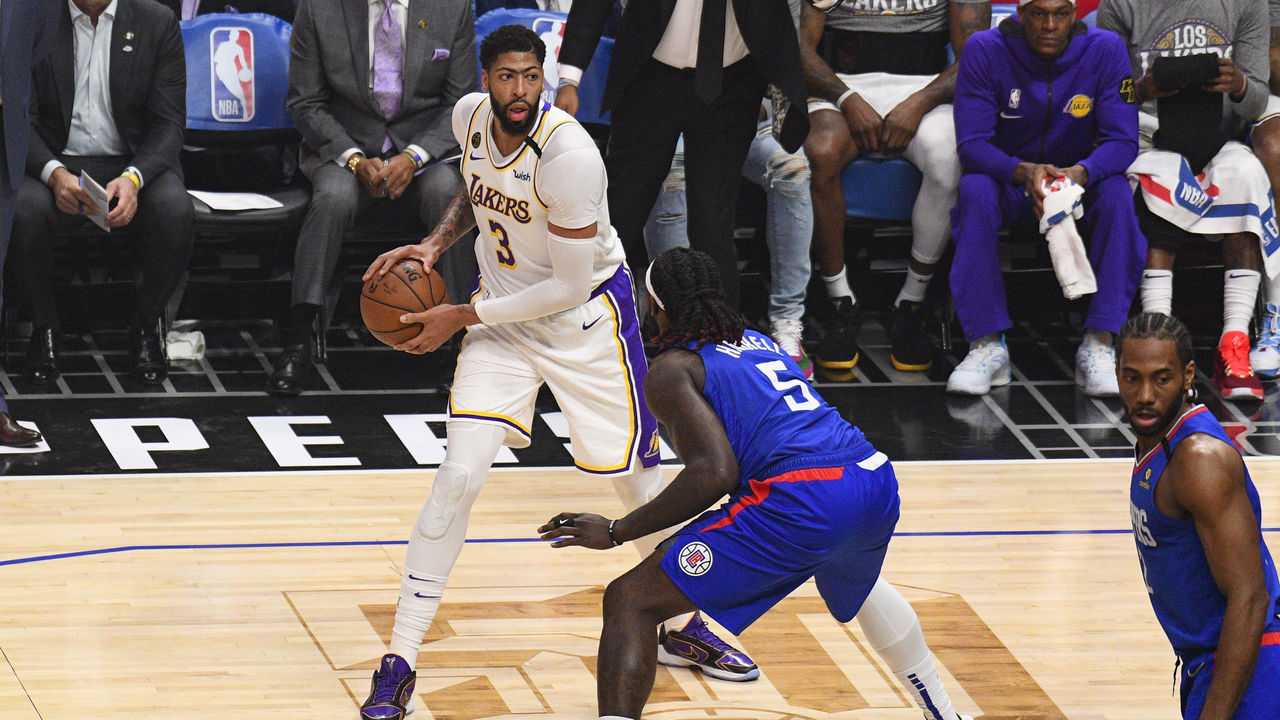 It's the postseason matchup fans have envisioned since July, with the rest of the Western Conference's quasi-contenders playing mere background roles to this main attraction. Four superstars, one city, one arena, and seven games to determine which team represents Los Angeles in the NBA Finals.
The Clippers took two of three regular-season meetings, including a season opener without Paul George in the lineup. But it was the Lakers who finished atop the conference standings, more than five games clear of their intracity rivals.
The most mouth-watering component of this series? For the first time since the 2014 Finals - and for the first time since Kawhi Leonard established himself as a legitimate superstar - fans would be treated to a postseason duel between Leonard and LeBron James.
Leonard was made out to be The LeBron Stopper after the 2013 and 2014 Finals, with one clip in particular - James appearing perturbed when Leonard checked back into a game - held up as evidence. Nevermind the fact James was unbelievably prolific and efficient in both of those Finals matchups, or that James' negativity in that now-famous highlight may have simply been a reaction to his missed free throw or to waiting for substitutions before shooting his second attempt.
Nevertheless, Leonard is as formidable a foe as exists for James in today's game. Until a March matchup in which James took over the game - and the challenge of attacking and guarding Leonard - there were some who questioned whether James wanted any piece of Leonard.
It's a mostly balanced clash between two apex stars, but I'd give James the slight edge based on the two-way commitment he displayed this season. Assuming a Lakers-Clippers battle goes the distance, ask yourself this question: In a one-game, winner-take-all setting, would you really take Leonard - or any other player, for that matter - over James?
The counterargument is that it's two teams playing, not two players, and the Clippers have the deeper roster. That may be true, but onlookers have underestimated the Lakers' depth and ceiling all season.
Avery Bradley and Danny Green may not be as loud as Patrick Beverley, but the Lakers' defensive duo can make life hell for opposing guards and perimeter threats. Both players can guard Lou Williams and spend some time checking George. Kyle Kuzma, Kentavious Caldwell-Pope, and Markieff Morris could also see some time on George, and while the Lakers may not have an ideal George-stopper when James matches up with Leonard, that's not their biggest concern in this series.
The Lakers don't play anyone nearly as defensively vulnerable as Williams is for the Clippers, who should be far more concerned about handling Anthony Davis than the Lakers should be about slowing George.
Ivica Zubac is an underrated defensive big man, but he's too slow to hang with Davis. If the Clippers downsize with Montrezl Harrell or Marcus Morris at the 5, Davis will absolutely feast inside. Davis is also uniquely capable of matching size and mobility with almost any opponent on the defensive end, which is what makes the Lakers so matchup-proof.
Davis' potential dominance against the Clippers was on full display in that aforementioned March meeting; he turned the game during a second-half stretch while James sat on the bench and both Leonard and George were on the court.
The Clippers are a fantastic team led by two stars with a well-built supporting cast. But a series against the Lakers is the one matchup in which they wouldn't have the best player, their depth advantage would be minimal, and their opponents would be on the right end of the biggest mismatch.
Prediction: Lakers in 7 - Joseph Casciaro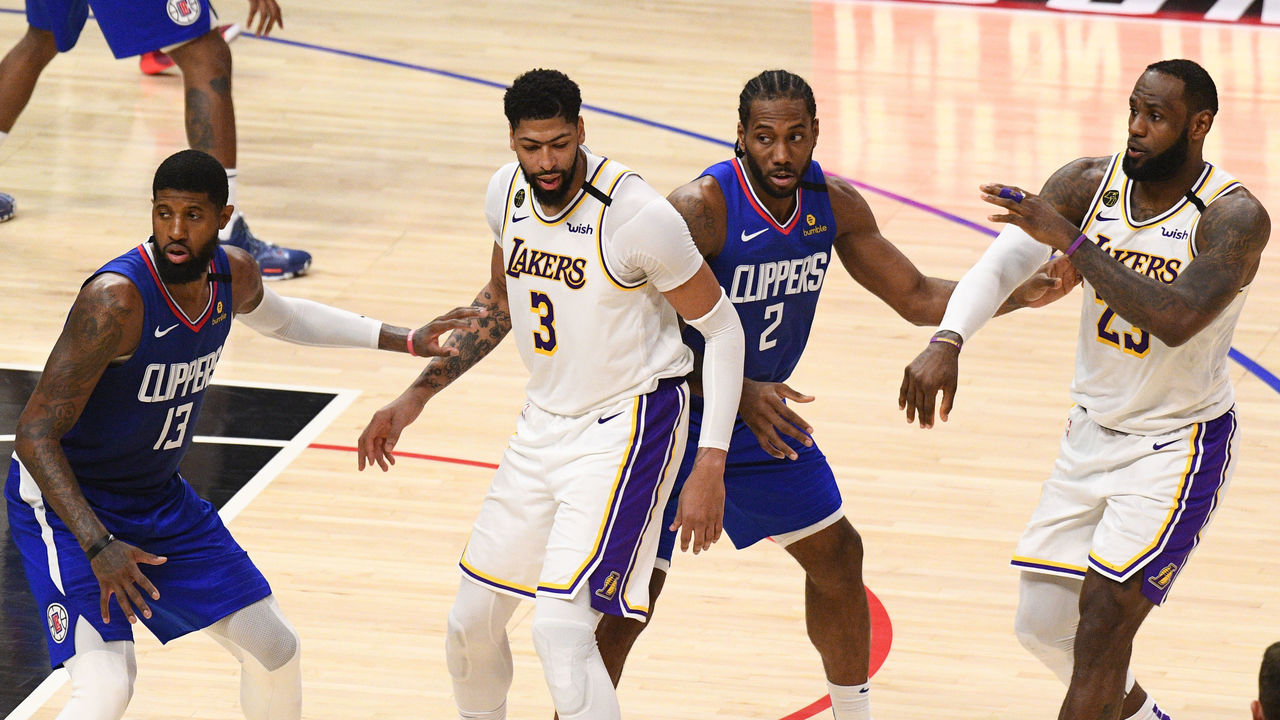 We probably should've seen this bizarre scenario coming the moment it became likely the Clippers would make a conference final. I'm still having a hard time picturing it.
All kidding aside, I'm not sure I buy that the Clippers would be the more defensively vulnerable team in this matchup. True, they don't have a natural defender for Davis, but the Lakers don't really have natural defenders for the Clippers' big playmaking wings. To me, that's a more difficult hole to paper over. Davis is still a dependent scorer in many ways, and while he was an incredibly effective post player against the Clippers this season, he did very little damage as a roll man or lob threat.
I definitely think the Lakers would have to play Davis at the 5 more than they did during the regular season. Whenever they ran the LeBron-AD pick-and-roll in the two-big configuration, the Clippers switched it and trusted there would be additional help in the lane to mitigate any resulting mismatch.
I also think the Clippers would do well to give Zubac a bit more run in this matchup. Say what you will about his slow feet, but he's quietly become a hell of a rim protector - he ranked third in the NBA this season with a 46.2% defensive field-goal percentage in the restricted area - and the Lakers' offense is extremely interior-oriented. The Clippers' shaky back-line defense would be more concerning if the team wasn't so airtight on the perimeter.
Instead, I'd be more worried about the Lakers' lack of viable defensive options for Leonard. Physically, LeBron is the obvious guy to guard him. But making Leonard his primary defensive assignment is asking an awful lot of the 35-year-old, especially given the load he's carried for a team with precious little in the way of secondary playmaking. The Lakers' other wings just can't physically bother Kawhi. Bradley is too short, Caldwell-Pope is too slight, Green is too slow, and none of them is strong enough to keep Leonard from getting exactly where he wants to go.
I do think Williams' defense would be an issue in spots, but the Clippers would have no problem rolling with a closing lineup of Beverley, Leonard, George, Marcus Morris, and one of Harrell or Zubac while making substitutions as needed. They weren't able to do so in that March loss, but the Clippers generally have enough rangy help defenders to cover for one liability. Enough to allow their more balanced attack to win out.
I'm not saying it's wrong to give LeBron the edge over Kawhi. I would trust the latter to guard the former more than I would the inverse, but I don't see this series as a referendum on where they stand in relation to one another (though I'm sure many would view it that way). I just think the Clippers are slightly more complete and slightly better built for the postseason. I'd expect them to squeak through.
Prediction: Clippers in 7 - Joe Wolfond