In terms of regular-season litmus tests, you couldn't have prepared a tougher one than what faced the Los Angeles Lakers this weekend.
The Western Conference's top seed beat the league-leading Milwaukee Bucks on Friday night before handing the rival Los Angeles Clippers their first full-strength loss of the season Sunday afternoon.
Here are five takeaways from the Lakers' most impressive 48 hours of the season:
King James still reigns
It's important not to get too caught up in small sample sizes. Kawhi Leonard is still the reigning Finals MVP. Giannis Antetokounmpo's still the reigning regular-season MVP, an honor bestowed on the NBA's most consistently excellent player for six months at a time. But it's difficult to have watched what unfolded this weekend and come away thinking LeBron James isn't still the best basketball player on the planet when he needs to be.
All told, James totaled 65 points, 17 assists, 15 rebounds, and three steals in 72 minutes against the Bucks and Clippers, shooting 50% from the field in the Lakers' two victories.
It wasn't just the numbers, though. It was James' willingness and determination to dominate as many seconds as he could on both ends of the floor that perhaps offered a glimpse into what life will be like for opponents come springtime.
On Friday, James flummoxed Antetokounmpo, turning the Greek Freak into a hesitant jump shooter instead of the rim-destroying terror we've become accustomed to watching. Antetokounmpo scored seven points on 2-of-8 shooting when James guarded him.
On Sunday, in a matchup skeptics have insinuated James shied away from in the past, LeBron guarded Leonard from the opening possession. Leonard still finished with 27 points on 50% shooting, but he also didn't leave as many fingerprints on the game as he usually does, and Kawhi was a game-worst minus-17 in his 37 minutes.
When the games needed a closer down the stretch, James barreled his way to the rim and free-throw line, then calmly converted from the one area of the floor - the charity stripe - that has given him issues in recent years. Between Friday and Sunday, James knocked down 24 of 29 free-throw attempts.
In the dying minutes against the Clippers, James scrapped for a loose ball on the floor with Montrezl Harrell, then stepped in to attempt drawing a charge on a driving Marcus Morris. If LeBron's engaged enough to be hitting the deck and outgrinding Harrell in March, the rest of the league should be very afraid about what that means come April, May, and June.
James is averaging 25.7 points, 7.8 rebounds, and a league-leading 10.6 assists in just under 35 minutes per game at age 35, with more than 58,000 minutes under his belt. This is just remarkable to witness.
On that note ...
No. 1 overall seed and MVP are back on the table
Given Antetokounmpo's two-way dominance for a Bucks team on pace for 70 wins and an all-time point-differential, it appeared the Greek Freak was coasting to a second straight Maurice Podoloff Trophy as recently as late last week. This weekend has at least cracked the window open for James, a four-time MVP in his own right, who hasn't won the award in seven years.
Don't look now, but the Lakers are suddenly only three games behind the Bucks - and only two back in the loss column - for the league's top record, with Antetokounmpo sidelined to nurse a sprained knee.
It's still an uphill climb for James and the Lakers, but if they can creep past Milwaukee down the stretch with James continuing to play his best regular-season basketball in years, the power of his excellence, his narrative, and of recency bias might just be enough to propel him to the most unlikely MVP of his illustrious career.
AD at center is Lakers' trump card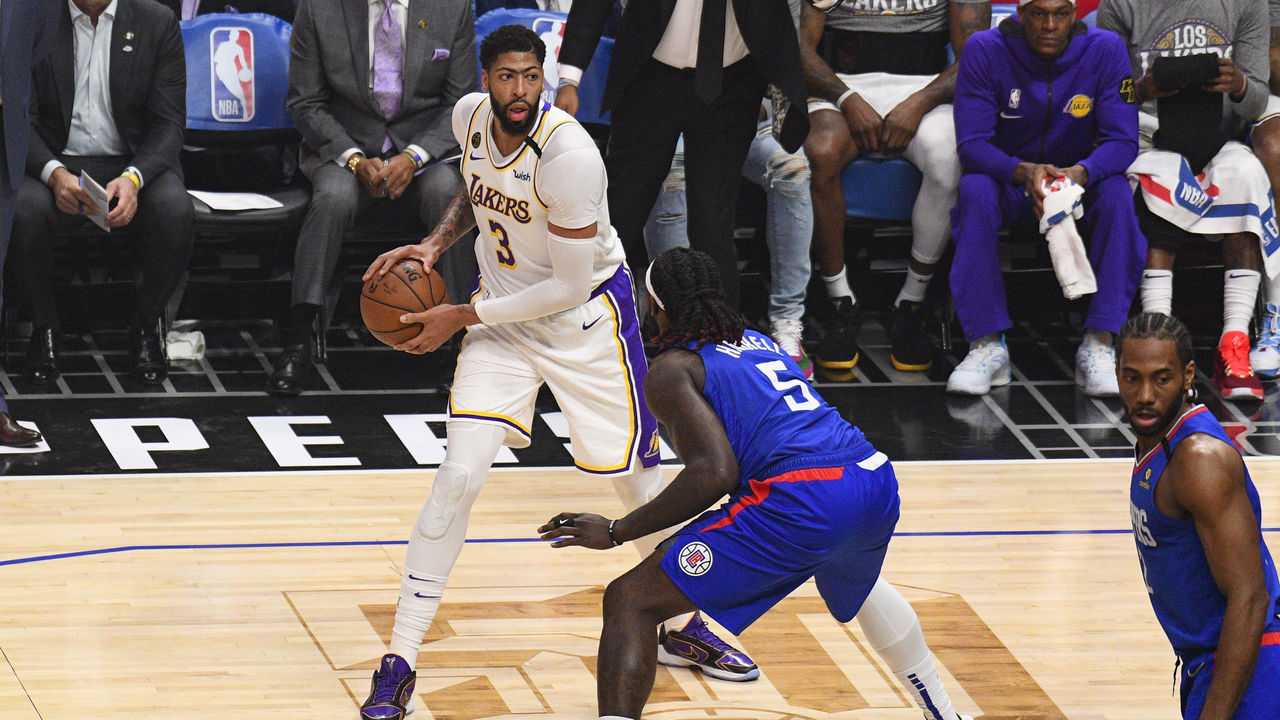 The Lakers continue to start huge lineups that include Anthony Davis sharing the frontcourt with JaVale McGee, and Davis has spent much of the season playing alongside one of McGee or Dwight Howard.
That's fine, as long as Frank Vogel and his staff are doing it with the knowledge that come crunch time - and especially come the playoffs - the Lakers' best chance to win means moving Davis to center in lineups featuring James, Danny Green, Avery Bradley, and one other non-center, depending on the matchup - whether that's Kyle Kuzma, Alex Caruso, Kentavious Caldwell-Pope, or Markieff Morris.
It was a Davis-anchored lineup that turned the game for the Lakers on Sunday while James rested late in the third quarter - against a Clippers lineup featuring both Leonard and Paul George, no less.
Ivica Zubac is probably better than either McGee or Howard, but he's got no chance against Davis. When the Clippers downsize and go with Harrell or Marcus Morris at the five, meanwhile, Davis is quick enough to hang with them on the defensive end and strong enough to bully them in the paint on the offensive end.
That's the advantage of having a big man with Davis' unique talents in a league where small ball now rules crunch time. He can punish teams on one side without giving anything up on the other end. Pairing Davis with James in lineups without McGee or Howard clogging the lane also provides the Lakers a path to unleash what should be one of the most unstoppable, go-to actions of the postseason: a James-Davis pick-and-roll, which Vogel hasn't relied on as much as we thought he would during the regular season.
McGee and Howard have each given the Lakers positive value, and both have contributed to the team's top-three defense, but they'll likely have to watch the game's deciding moments from the bench if the Lakers want to win on the biggest stage.
Lakers don't need shooting to beat Bucks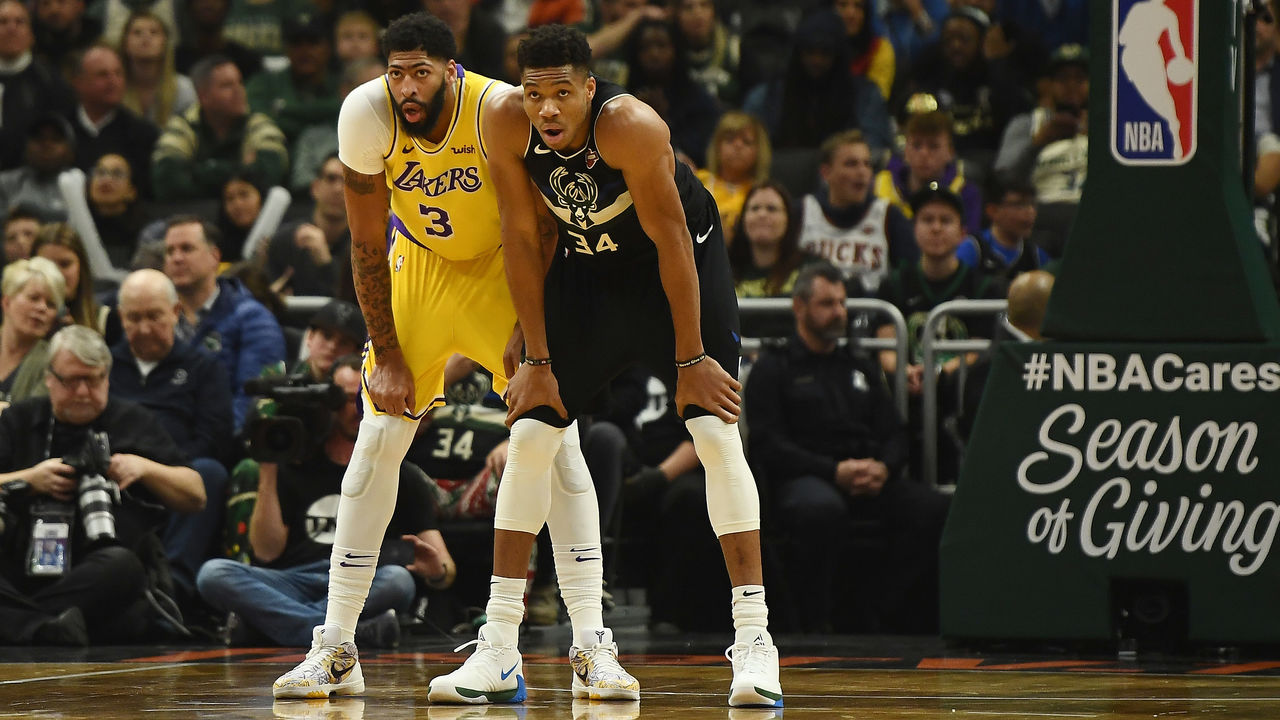 Given the way the Bucks protect the rim and concede jumpers, it's become something of an assumption that you need to be able to shoot your way past them to have any chance of getting a win. The Lakers turned that notion on its head Friday, beating Milwaukee by 10 points despite shooting 6-of-32 (19%) from deep.
The Lakers might be uniquely qualified to beat the Bucks in a different way. In James and Davis, L.A. presents an interior challenge unlike any other in the league right now, and that was on full display Friday night at Staples Center.
Los Angeles scored 50 points in the paint against a Bucks team that came in surrendering less than 39 per game, and L.A. got to the free-throw line 38 times as Milwaukee tried to reach and hack its way out of trouble. The Bucks shooting 12-of-43 (28%) from downtown also helped the Lakers' cause, but look at the big picture.
James can slow Antetokounmpo, and between LeBron, Davis, Howard, and McGee, the Lakers can make it difficult for the Bucks superstar to rampage his way to the rim. James, Bradley, and Green, meanwhile, can trouble Milwaukee's shooters on the perimeter. On the other end, James and Davis can help the Lakers bully the Bucks inside in ways perhaps no other team can.
The Lakers will have to shoot better than 19% from deep to beat Milwaukee four times out of seven, but they're also built to survive against the Bucks without needing to catch fire from three the way other teams do.
Picking on Lou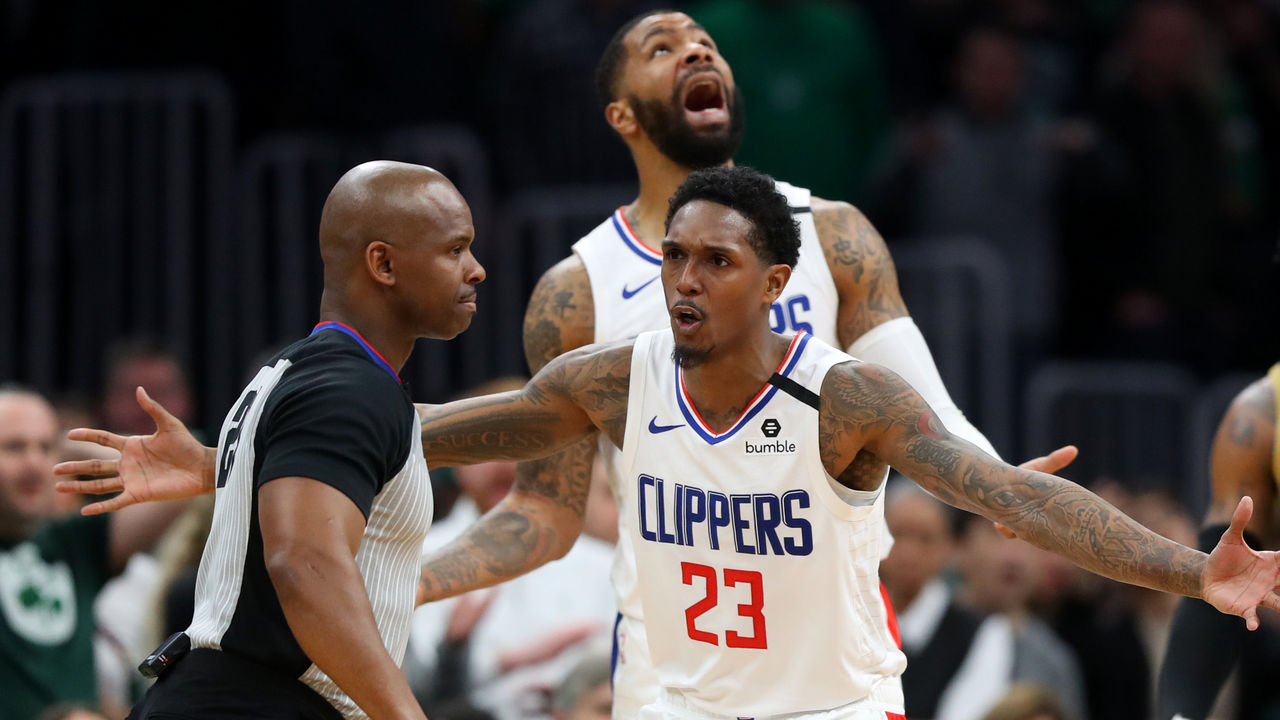 Lou Williams' offensive brilliance and instant punch off the bench are well-known commodities that are integral to the Clippers' success, but keeping him on the floor against elite teams - who present fewer spots to hide him on defense - in crunch time might not be viable.
The Lakers ruthlessly hunted and attacked Williams down the stretch Sunday, putting the Sixth Man of the Year in a steady stream of pick-and-roll actions he just isn't equipped to defend.
The Clippers are deep enough to roll with better defensive options when they need to, and they will need to at some point in close playoff games, especially against the Lakers, whose best five-man lineup won't include any glaring defensive liabilities.