In an ideal world, the NBA would be playing the first round of the postseason right now.
We don't know how the standings might have changed if the regular season had continued. We don't know if we'll ever get to see a conclusion to the 2019-20 campaign. But in the spirit of what would've been the opening week of the playoffs, we're breaking down the first-round matchups as they looked on the day the season was suspended, starting with the Western Conference.
No. 1 Lakers vs. No. 8 Grizzlies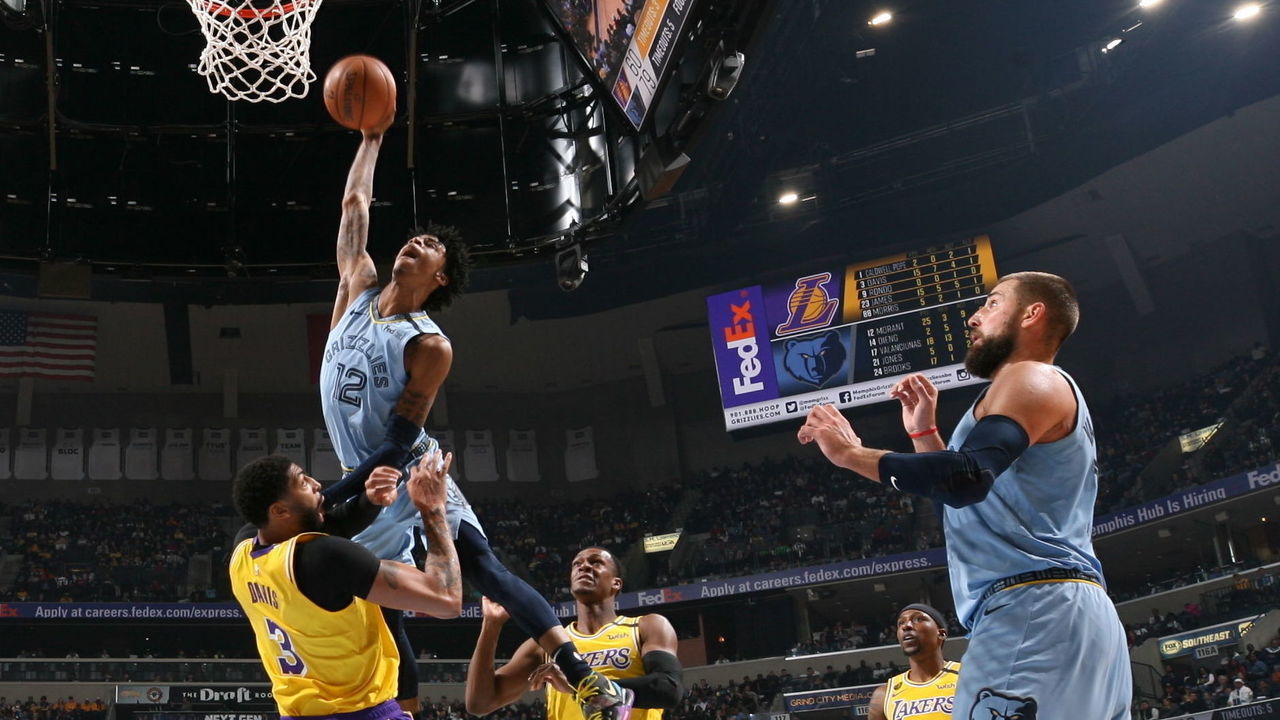 What this first-round matchup might lack in competitiveness, it would surely make up for in flair. On one side, one of the veteran-laden championship favorites - LeBron James back in the postseason with that unflinching, man-on-a-mission death stare plastered on his face.
On the other, one of the league's most surprising teams of the present and perhaps its most promising of the future, led by 20-year-old rookie Ja Morant, who's far too brash to be overwhelmed by the moment.
The frontcourt matchups would be fascinating, as Jaren Jackson and Brandon Clarke allow the Grizzlies the opportunity to match athleticism with Anthony Davis, while Jonas Valanciunas' presence means Memphis can also feel comfortable staying big when Davis is paired with Dwight Howard or JaVale McGee. The Lakers, however, have the perimeter defense, led by Avery Bradley and Danny Green, and the overall team defense to frustrate Morant in his first taste of playoff basketball. The Grizzlies lack the type of wing defender needed to at least trouble James, who would mercilessly pick Memphis apart in a Lakers sweep.
That said, Morant would ensure Memphis takes the Lakers down to the wire in a couple of games, and would almost certainly announce his postseason arrival with a handful of loud highlights. Morant often risks life and limb on a random, midseason night in January - imagine the audacity he'd play with on a late-April evening in Los Angeles, with the world watching.
Prediction: Lakers in 4 - Joseph Casciaro
No. 2 Clippers vs. No. 7 Mavericks
One of the juiciest lingering questions this season was how Luka Doncic would fare in his first postseason. Had the standings held, he and the upstart Mavericks were going to face a monumental task in the first round, going up against arguably the most talented team and the best corps of perimeter defenders in the league.
Doncic would have his hands full whether he was seeing aggressive traps, smothering single coverage from a combination of Kawhi Leonard, Paul George, and Patrick Beverley, or L.A.'s sneakily effective knuckleball of a 2-3 zone. And that's to say nothing of how the Clippers - particularly Kawhi - would target him at the other end of the floor.
Doncic made the leap this season from rookie phenom to top-five superstar, and a series against the preseason title favorites would tell us a lot about how far he's already come and/or how far he still has to go.
He'd have to be ridiculously good to carry his team to a series win because beyond him, the Mavericks wouldn't have any advantages to leverage in this matchup. The Clippers' biggest weakness is their flimsy interior defense, but Dallas' bigs don't really do their damage inside. And while Doncic's ability to finish at the rim has been a huge part of his improvement, he'd have a difficult time getting there with the Clippers' cadre of perimeter stoppers stapled to him.
Meanwhile, Dallas' biggest weakness is its paucity of big wing defenders. Dorian Finney-Smith is long and strong, but Leonard can still physically overwhelm him, and George can still shoot over him. If Finney-Smith was guarding one of those guys, who would guard the other? Would the Mavs dust off Michael Kidd-Gilchrist? They've relied on the likes of Tim Hardaway Jr. and Seth Curry, but the Clippers don't offer enough hiding spots for those guys and Doncic. The Mavs posted the best offensive rating in recorded history this season, but the Clippers are still better equipped to defend them than vice versa. I think this one would've been a backbone-building learning experience for Doncic and the Mavericks.
Prediction: Clippers in 5 - Joe Wolfond
No. 3 Nuggets vs. No. 6 Rockets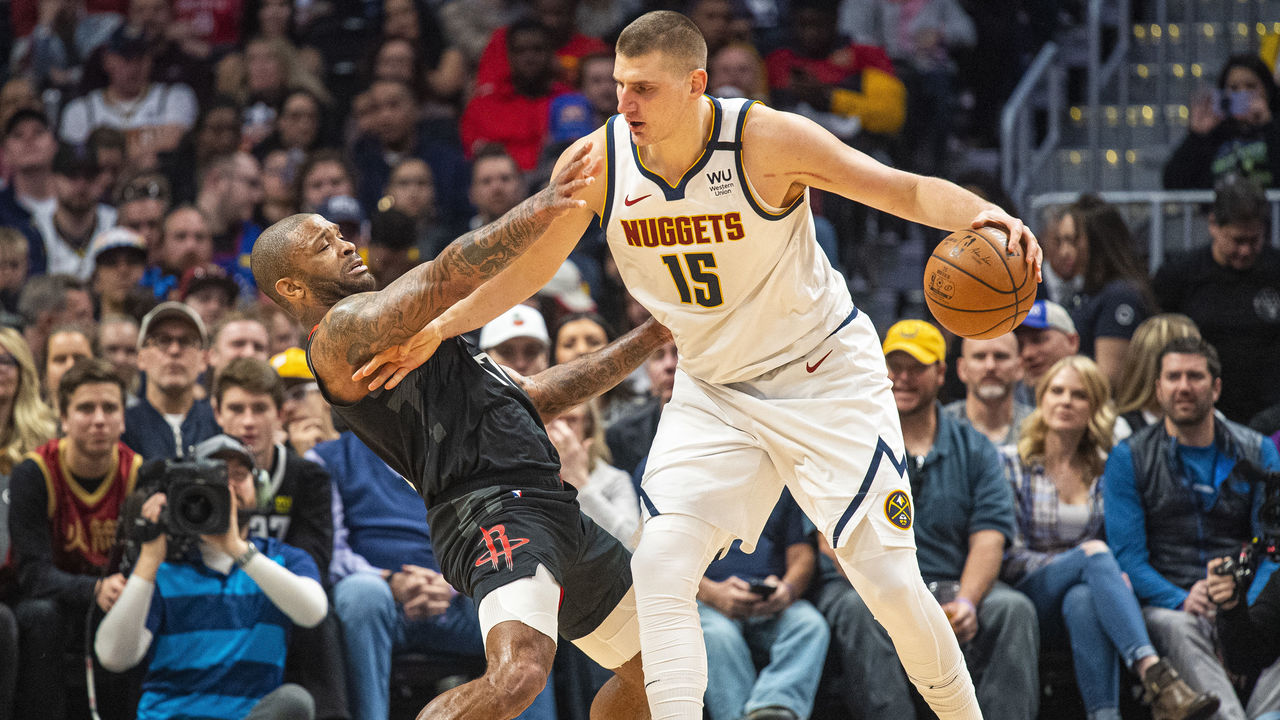 This would be the most fascinating stylistic matchup of the first round. The two teams split the season series, but Clint Capela was a healthy member of the Rockets in all four matchups. You can make a case for either team being the bigger beneficiary of Houston's decision to go all-in on small ball.
The Rockets' gambit was founded on confidence in their ability to outscore teams with their five-out, drive-and-kick offense. If that meant conceding a few inches of height in the frontcourt, so be it; they'd happily trade 2-pointers for 3-pointers and let simple math work its magic over the long haul.
Part of the rationale was rooted in the belief that post-ups are generally inefficient, and that any opponent who deigned to attack a size mismatch that way would be playing into Houston's hands.
The switch-happy Rockets are rife with sturdily built post defenders who can hold their own even when they're out of their weight class, but Nikola Jokic's post game is as much about finesse and touch as it is about power. Let him get within 10 feet of the rim and he can murder you with an array of push shots, baby hooks, and high-arcing one-legged fadeaways. The Rockets use speed to mitigate their size disadvantage, double-teaming the post and then recovering out to shooters. But sending two to the ball is a dicier proposition against Jokic than it is against any player this side of LeBron.
Beyond eviscerating smaller guys in single coverage, Jokic delights in surgically dissecting defenses that are overloaded in his direction. He anticipates defensive rotations and sees passing lanes a beat before they open up. Denver averaged 1.1 points per possession this season when Jokic either shot or passed directly to a shooter out of the post, per stats from Synergy Sports Technology.
The Nuggets would also be able to generate a ton of extra possessions. They ranked second in the league in offensive rebound rate, while the Rockets after the Capela trade ranked dead last at securing opponents' misses.
That doesn't mean Houston wouldn't pose just as many problems for Denver at the other end. The Nuggets have struggled against the Rockets throughout the Jokic era, and have never had much idea what to do with James Harden. This matchup would stretch them to their breaking point, forcing Jokic to defend in space on every possession and putting their hard-hedging, scrambling scheme through the wringer.
The trendsetting blitzes they threw at Harden early in the season wouldn't work nearly as well with Russell Westbrook playing the way he played in the second half. And though it's been a rough couple years for Playoff Russ, Houston's system and Harden's magnetism gives him a lot more runway than he's had in the past.
So, I waffled between Rockets in 6 and Nuggets in 7. I was tempted to pick the more experienced team with more top-end talent. But ultimately, I think the Nuggets would have enough working in their favor to prevail and send the Rockets into another offseason of soul-searching.
Prediction: Nuggets in 7 - Wolfond
No. 4 Jazz vs. No. 5 Thunder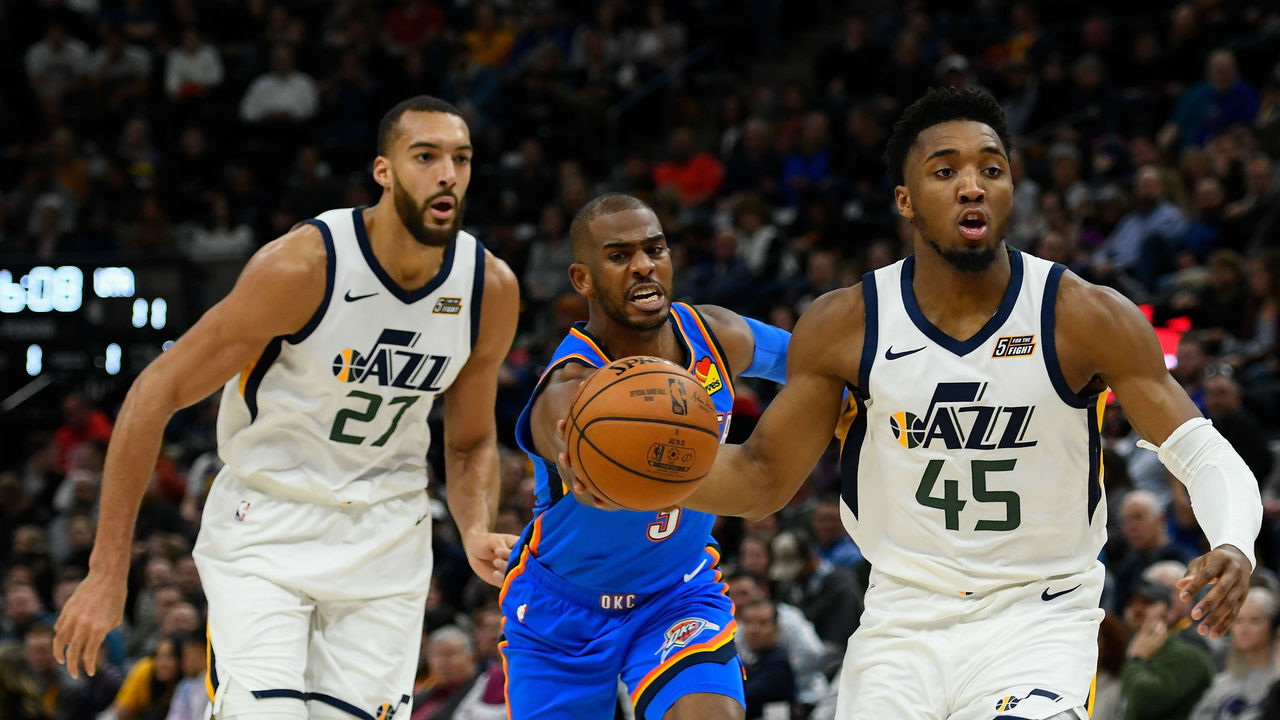 The fourth-seeded Jazz enter as a disappointing fringe contender that survived an up-and-down season to earn home-court advantage in a playoff series for the first time in 12 years. The Thunder enter the postseason as the NBA's most pleasant surprise - a happy accident of a team that likely would have won 50 games during an attempted rebuild.
A big key in how this series unfolds might simply lie in how Thunder head coach Billy Donovan deploys the various lineup combinations at his disposal. The three-guard lineup of Chris Paul, Shai Gilgeous-Alexander, Dennis Schroder, Danilo Gallinari, and Steven Adams proved to be the best performing lineup in the league over the last two years, but that same lineup with either Terrance Ferguson or Luguentz Dort in place of Schroder - which has been OKC's starting lineup all year - has been consistently outplayed.
If Donovan sticks to the script and brings Schroder off the bench, the Thunder would likely find themselves playing from behind all series. If Schroder starts, Oklahoma City would own the advantage from the jump, putting the pressure on Utah to adjust.
At some point in the series, the Jazz would likely have to once again wrestle with whether to start Joe Ingles or continue to bring the Aussie off the bench, where his play has been somewhat stifled this season.
How Gallinari and Bojan Bogdanovic would be put to use and perhaps targeted by the opposition would be a fascinating subplot of its own.
The Jazz are deeper and have a much higher defensive ceiling, but they've trudged through the type of season in which, for whatever reason, things just never click. Disappointing regular-season teams rarely find a postseason remedy for what's ailed them all year - last season's Thunder are a good example of that.
The resurgent Paul would be the best player in the series, and the Thunder boast a perfectly cohesive lineup that understands and makes the most of its identity. Paul, Gilgeous-Alexander, and Schroder - a surprisingly intimidating defensive trio - wouldn't let Donovan Mitchell or a slumping Mike Conley beat them. Adams could bang with Rudy Gobert on one end, and Paul would surely try to put Gobert in pick-and-roll actions on the other.
This would play out like the season: The Jazz would find moments of brilliance where they appear ready to get over the hump, but they'd fail to get there consistently enough against a resilient, poised OKC squad led by a future Hall of Famer. Paul and the Thunder come home with a 3-2 series lead and put a confounding Jazz team out of its misery with a Game 6 win in Loud City.
Prediction: Thunder in 6 - Casciaro