The NBA's Western Conference playoff race looks a bit different than it did when the Disney restart tipped off last Thursday.
The eighth-seeded Grizzlies haven't won a game in Orlando and lost Jaren Jackson Jr. for the season to a knee injury Tuesday. Zion Williamson and the Pelicans haven't quite hit the gear we expected them to. Meanwhile, the Suns are one of the hottest teams in the bubble, the Spurs' chances of extending their 22-year playoff streak have been resuscitated, and the Blazers have gotten a boost from a big man who hadn't played in 16 months. Also, the Kings are … here … somewhere. De'Aaron Fox got a haircut.
Let's size things up for the six teams fighting for one spot.
Grizzlies losing grip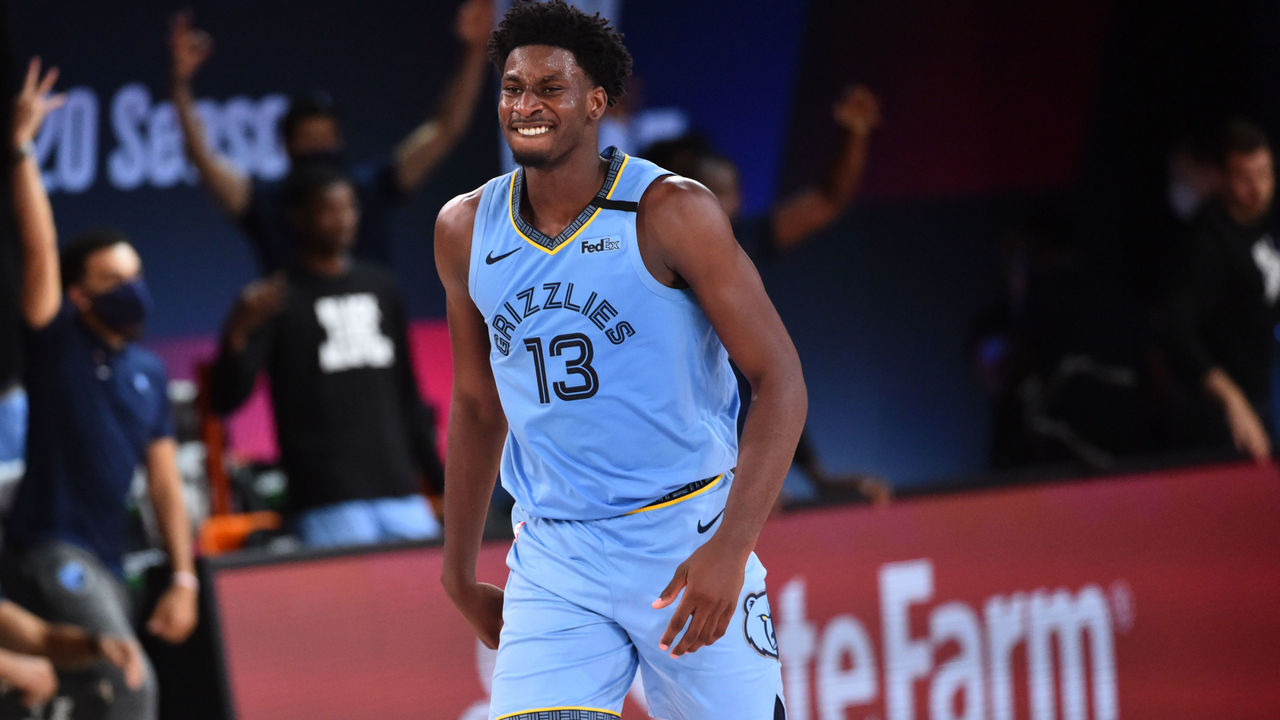 Remaining schedule: Jazz, Thunder, Raptors, Celtics, Bucks
With 12 seconds left to play in Sunday's game against the Spurs, with the Grizzlies trailing by three and set to inbound the ball in the frontcourt, Jaren Jackson started to cut through the middle from the ball-side corner. When he reached the charge circle, he wheeled around, darted back toward that same corner, and caught the inbounds pass along the sideline with his back to the basket. Then, in one swift motion, he turned, toe-tapped his way behind the 3-point line, hoisted a high-arcing rainbow over the outstretched arms of Rudy Gay, and tied the game.
That was one of 10 3-pointers Jackson made in his three games during the restart, on a ridiculous 28 attempts. Jackson's frame designates him as a "big man," but that belies what he truly is: a 6-foot-11 shooting guard. While the Grizzlies have labored through some miserable shooting stretches in Orlando, the 20-year-old's often been their saving grace, skittering around the court and launching quick-trigger jumpers. Throw in some quality rim protection at the other end, and Memphis has been 34.1 points per 100 possessions better with him on the floor over those three games. His season-ending meniscus tear is the cherry on top of the trash sundae this team's been served at Disney.
The Grizzlies are 0-3 in the bubble, with all three losses coming to teams chasing them in the standings. (They lost that game against the Spurs when Dillon Brooks bit on DeMar DeRozan's pump-fake a few seconds after Jackson's miracle shot.) They also have the most difficult remaining schedule of any team.
It's possible they'll get bailed out by a couple of the teams at the tail end of their schedule who may be locked into playoff spots and decide to rest starters. It's also possible that after entering the bubble with a 3.5-game lead on the pack of teams aiming to usurp them for the No. 8 seed, the Grizzlies won't even be one of the two teams duking it out in the play-in tournament. They lead the 10th-place Spurs by two games, and the 11th-place Pelicans by 2.5, and surrendered the tiebreaker to both.
The Grizzlies were already hurting without backup point guard Tyus Jones, whose absence left them with precious little playmaking off the bench, causing their once-potent reserve units to crumble. Justise Winslow's pre-restart hip injury left a gaping hole on the wing, and no one's stepped up to capably fill in. Ja Morant, for all his playmaking genius, hasn't found his jumper in the bubble, shooting 2-for-19 from deep as opponents repeatedly duck under screens and dare him to punish them for it. Brooks' shot selection and overall decision-making has been a hot mess. The team's struggled mightily to space the floor, and that's going to be doubly difficult without Jackson.
The Grizzlies' future is still bright, but their feel-good season may be ending on a decidedly feel-bad note. - Joe Wolfond
Nurkic boosts Blazers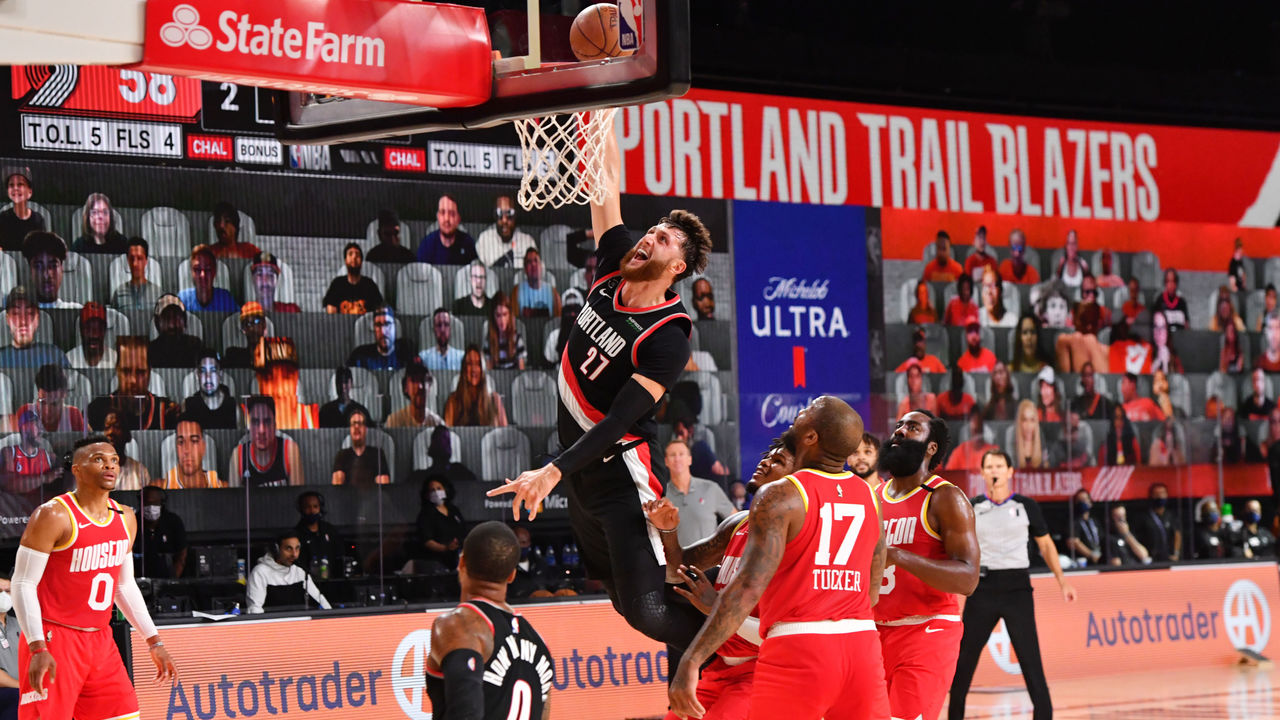 Remaining schedule: Nuggets, Clippers, 76ers, Mavericks, Nets
It's true that by on/off net rating, Jusuf Nurkic's been a net negative so far in Orlando, but that's mostly due to the fact the Trail Blazers' thin bench - led by Hassan Whiteside and the scorching hot Gary Trent Jr. - is somehow killing teams. Portland's 2-1 in the bubble, with wins over Memphis and Houston, yet Zach Collins is the only starter currently posting a positive net rating.
Look at Nurkic's overall production, though, or watch footage of the big man through three games of his comeback following a 16-month layoff because of a gruesome broken leg, and you quickly realize the advanced impact stats will soon follow.
The Bosnian center, whose return pushed Whiteside to the bench, is averaging 22 points, 12.3 rebounds, 4.3 assists, 3.3 blocks, and 1.7 steals on 60.7% true shooting in over 31 minutes per game. It's worth repeating: he's doing this after missing 16 months.
Nurkic's presence helps rebalance the Blazers, unlocking the potential to reach a higher ceiling on both ends.
While the defensive results aren't there on a team level - Portland owns the fourth-worst defense in the 22-team bubble - Nurkic should prove a steadying force. Remember, this is the guy whose rim protection and solid positional play was perhaps the only reason the Blazers owned even a respectable defense last season (it ranked 16th). One of Nurkic's standout moments from Tuesday's win saw him stymie a James Harden drive with perfect verticality, then reject P.J. Tucker in the same possession.
On the offensive end, Nurkic's playmaking, screening, and efficient interior game help ease the load on Damian Lillard and CJ McCollum, and should elevate the play of Portland's star guards.
The Blazers are only 1.5 games back of Memphis with five games to play. With Nurkic back in the fold, Portland should be considered the favorite not only to reach a play-in, but to be the advantageous 8-seed in that play-in. - Joseph Casciaro
Spurs shake things up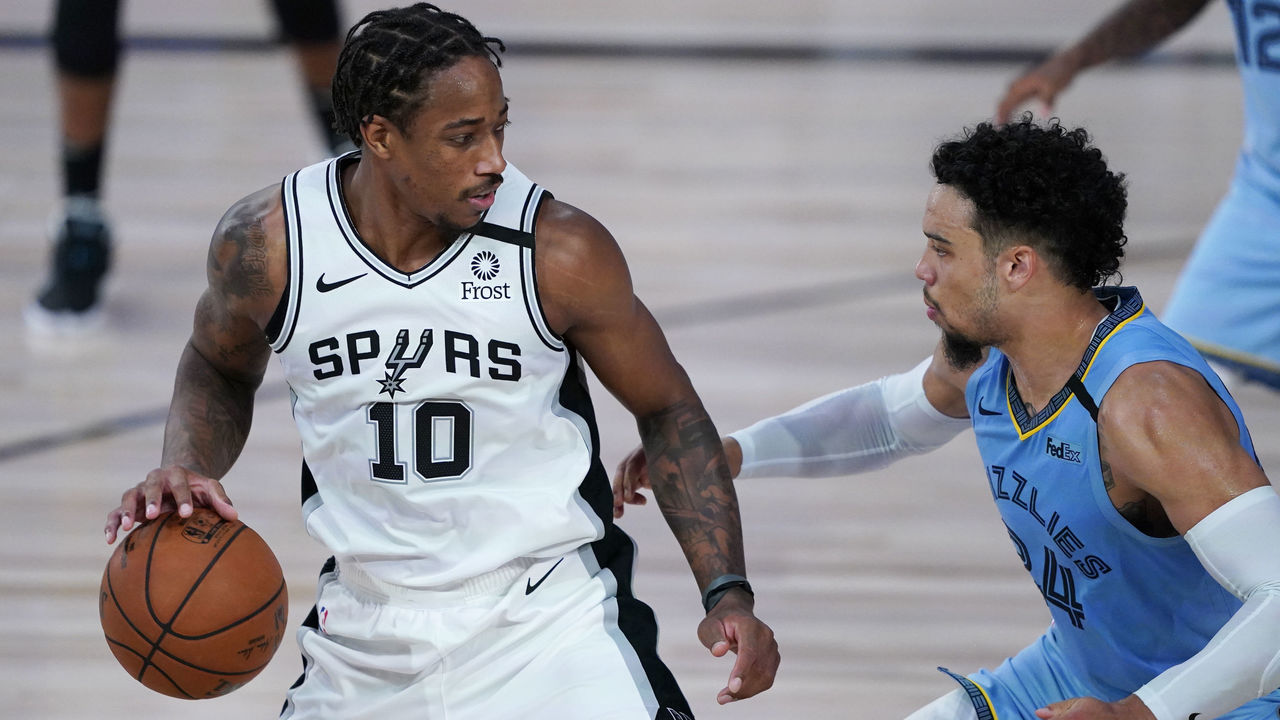 Remaining schedule: Nuggets, Jazz, Pelicans, Rockets, Jazz
The Spurs were the definition of "blah" throughout the regular season, but high-scoring wins over the Kings and Grizzlies, and a valiant near-comeback against the 76ers, have reinvigorated their chase for a 23rd consecutive playoff berth. So, too, has the new identity they've been forced to adopt in Orlando.
As reliable and solid as LaMarcus Aldridge has been for San Antonio, the team's morphed into a far more interesting unit without him. The Spurs have had no choice but to finally commit to their youth movement. They're playing super small and super fast, with far less rigidity to their offense and a more switch-happy defensive approach.
Aldridge's absence has bumped everyone up a position and cracked the rotation wide open. DeRozan's a power forward now, and while that's far from optimal defensively, it makes a good deal of sense for him at the offensive end, where he can go to work on slower players and be more judicious in picking his spots. Gay's a backup center making hay in the pick-and-pop. Second-year chaos agent Lonnie Walker is starting at the 3. Fourth-year center Jakob Poeltl is finally getting a chance to test his mettle against opposing starters.
Perhaps most significantly, with shooting guard Bryn Forbes also dealing with an injury, Derrick White and Dejounte Murray are finally starting together in the backcourt and flashing all the two-way promise they hinted at in their respective sophomore seasons. White, in particular, has been a revelation in the bubble, after previously failing to build on his promising 2018-19 campaign (thanks in part to a lack of opportunity). He's assumed a big chunk of the playmaking duties and is bombing away from long range with newfound abandon, all while showcasing his uncanny ability to keep his check in front of him at the defensive end and drawing seven charges in three games.
The Spurs have used speed and activity to mitigate some of their size disadvantages, with help from Poeltl's screening and rim protection. They're somehow still grabbing 53% of available rebounds. But the defense hasn't been great overall, and it's likely going to continue to be a problem. They're liable to get overwhelmed by big wings and power forwards, and while Poeltl is a good helper and pick-and-roll defender, jockeying against post brutes isn't his forte.
The Spurs allowed 132 points to the Sixers, and the damage could've been worse if Philly had been willing to run more of its offense through Joel Embiid on the block. (Shake Milton's game-winning three was made possible because Murray left him open in order to crowd Embiid and prevent an entry pass.) It's unclear how the Spurs will guard Nikola Jokic and Zion in the coming days. They're already allowing more shots in the restricted area than any other team in the bubble.
Still, they've put themselves in striking range, and their remaining schedule is difficult but not unworkable, especially given how wobbly the Jazz have looked in Orlando so far. The streak may yet survive. - Wolfond
Can Zion make a difference?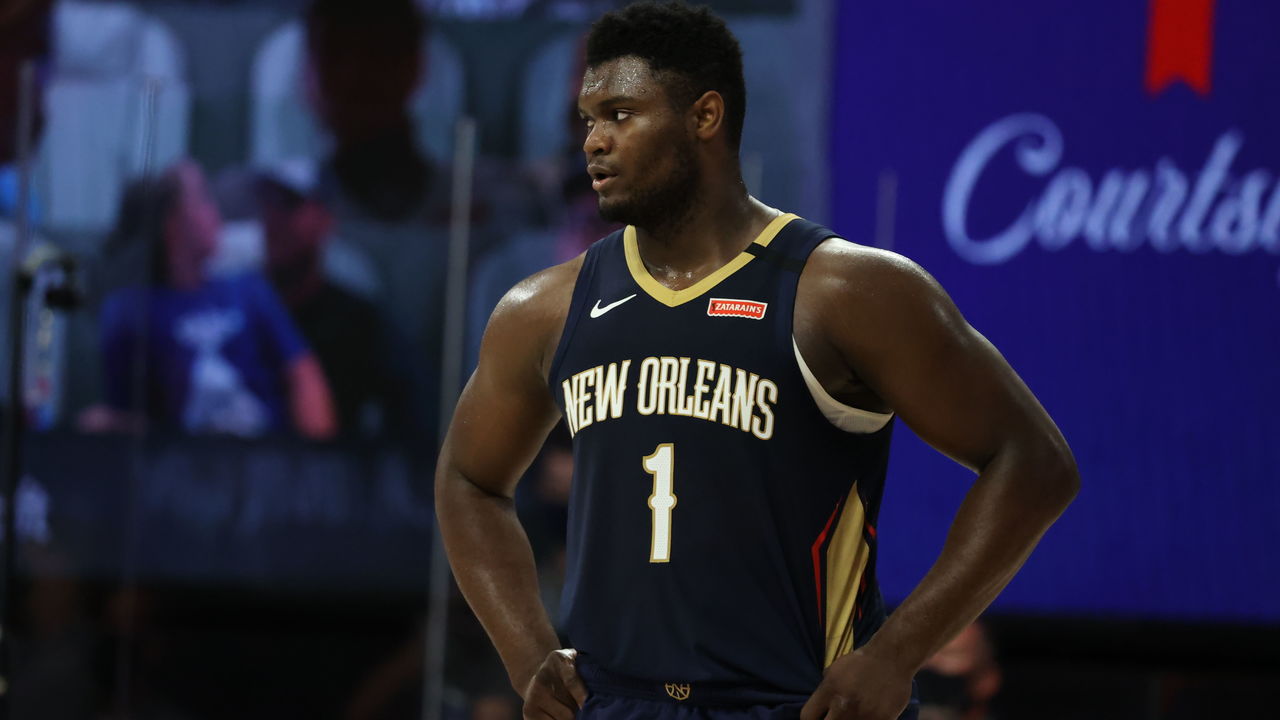 Remaining schedule: Kings, Wizards, Spurs, Kings, Magic
The Pelicans got off to a rough start in the bubble, blowing a 16-point lead to the Jazz on reopening night and then getting absolutely rolled by the Clippers. But after dispatching the Grizzlies in a bounce-back performance Monday, they're still in prime position to at least reach the play-in stage thanks to their cupcake of a remaining schedule.
Probably the biggest question looming over this team right now is where Zion's conditioning is at, and how much he's going to be able to play. He's been eased back in after missing nearly two weeks, and saw his minutes cap raised to 25 from 15 for the Memphis game. That game was also his best of the restart, as he was finally able to play in crunch time and came through with six big points in the last three-plus minutes.
That said, Williamson's looked sluggish and out of sorts at the defensive end, and the Pelicans have surrendered 30.3 more points per 100 possessions with him on the floor than with him on the bench. That may go hand in hand with his conditioning, but if he's compromising their defense that badly, it may not make sense to play him much more than 25 minutes.
Outside of Zion's minutes, New Orleans has actually been surprisingly stout defensively. They still haven't really been able to stop anybody at the rim, but they've done a fantastic job of preventing opponents from actually getting there. Credit Jrue Holiday, who's been maybe the best perimeter defender in the bubble. It's the offense, despite bursts of brilliance from Brandon Ingram, that's looked disjointed.
All told, the Pelicans can probably be considered a slight disappointment so far, given their expectations coming into the bubble. But they've also dealt with mitigating circumstances, and with their only two plus-.500 opponents in the rearview, these next five games should give them every opportunity to coalesce and play their way into the postseason. - Wolfond
Suns catching fire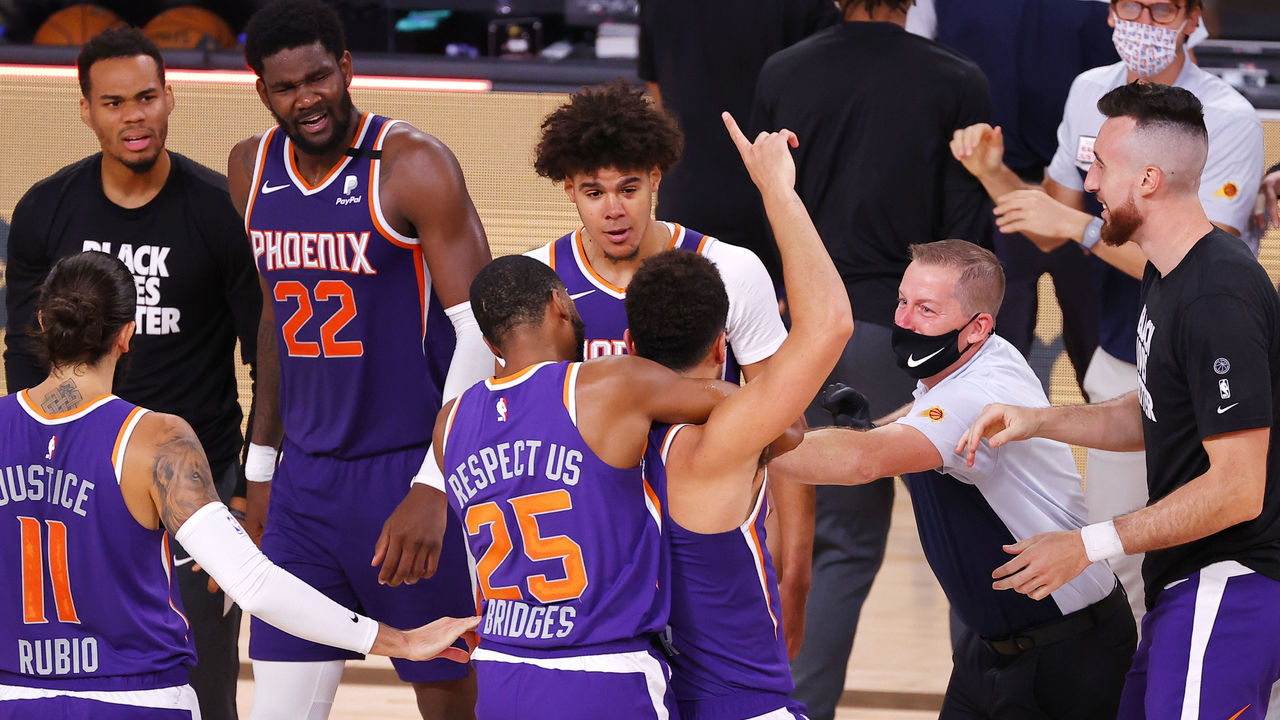 Remaining schedule: Pacers, Heat, Thunder, 76ers, Mavericks
The Suns are three games behind Memphis and need to leapfrog three other teams just to get into play-in territory, but the fact we're even talking about Phoenix as a legitimate playoff contender three games in already feels like a Cinderella story.
This franchise hasn't made the playoffs in 10 years and went five years without cracking 25 wins until this season. This is a team that entered Disney in 13th place, six games behind the final playoff spot. And the Suns have already beat playoff teams like Dallas and the Clippers - a legit championship heavyweight - just to get to this point.
Yet here we are. And what's most promising for Suns fans is the fact that what Phoenix is accomplishing right now teases a potentially bright future.
Devin Booker's gone shot for shot - and then some - with Dallas' and the Clippers' superstars. Deandre Ayton looks like a smarter, more committed two-way player, and the Booker-Ayton pick-and-roll looks like a long-term weapon. Mikal Bridges has the makings of a solid two-way wing. Ricky Rubio, under contract for two more seasons, continues to provide the steady play at the point Booker and the Suns have needed for years.
With the toughest remaining schedule of any team in this race, perhaps it's asking too much of this 29-39 team to actually make up the ground necessary to end its postseason drought. But Phoenix is worth keeping an eye on, both in the short and long term. - Casciaro
What to make of the Kings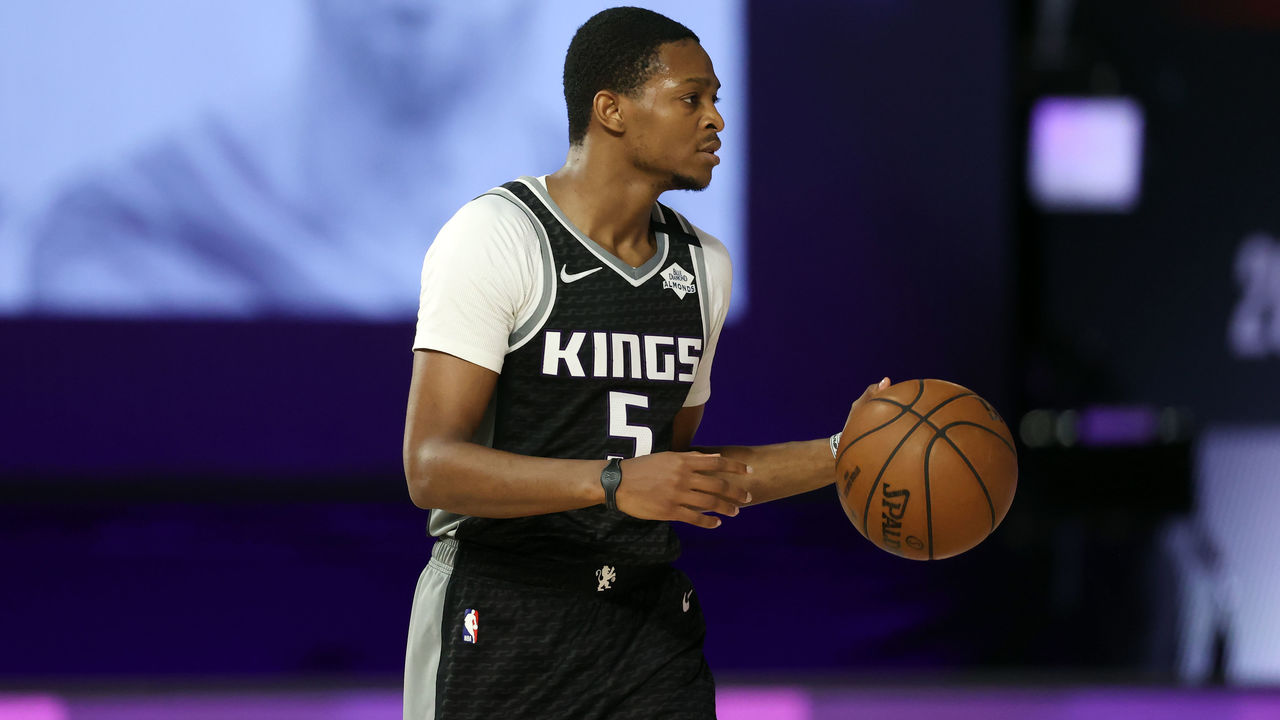 Remaining schedule: Pelicans, Nets, Rockets, Pelicans, Lakers
They're only a half-game back of Phoenix, yet the Kings feel like the one team that's no longer really in this race.
An opening loss to the Spurs, followed by a listless performance in a loss to Orlando, and then a crushing overtime defeat to a Mavs team that was previously incapable of winning close games feels like too much to overcome. It appears the second-longest postseason drought in NBA history will hit 14 seasons.
And unlike Phoenix, the Kings don't really have much to take from the bubble. Fox has mostly done his part, but he's gotten little help.
Buddy Hield and Harrison Barnes, who will earn nearly $155 million combined over the next four years, have teetered between invisible and downright awful, with Hield shooting under 33% from the field, and Barnes averaging 9.3 points in 31 minutes.
Bogdan Bogdanovic, who's trying to earn a big payday as a pending restricted free agent after turning down a four-year, $51.4-million extension, is shooting 30% from the field and averaging more field-goal attempts (14.3) than points (13) in the bubble. He was 1-for-15 in a game the Kings lost by four to Dallas on Tuesday.
Marvin Bagley, meanwhile, is already done for the season. For all intents and purposes, so are the Kings. - Casciaro