With the 2019-20 season set to restart after a hiatus that ran longer than a typical offseason, we have plenty of questions about the 22 teams that are about to pick up where they left off in March. We've winnowed it down to one question per team, and after addressing the Eastern Conference field, we're on to the 13 teams from the West.
Here's what we want to know:
Lakers: Do they have enough backcourt depth left?
Without Avery Bradley, the Lakers are down a starter and key perimeter defender, who - like backcourt mate Danny Green - was more than comfortable guarding the opposing team's best perimeter scorer. Rajon Rondo may be a heady, competent playmaker who can handle the ball, and who seems to magically rediscover his youthful defensive vigor every spring (see: Playoff Rondo), but he's a shell of his former self. Still, losing Rondo until at least the second round because of thumb surgery is nothing to gloss over.
With LeBron James serving as more of a point-forward anyway, the obvious way to remedy the absences of Bradley and Rondo would be if Alex Caruso and Kentavious Caldwell-Pope combine to replace Bradley's two-way production. Both are capable. Caruso can handle the ball some, is a smart off-ball mover and possesses great defensive upside. Caldwell-Pope rebounded from a terrible start to the season to become one of the team's most dependable shooters.
But performing well in your role is a lot different than being able to match or even top that performance as your minutes and responsibilities increase. The question must be asked: can you win a championship in 2020 with a guard rotation consisting of Green, Caruso, Caldwell-Pope, and whatever's left of Rondo when he returns to the lineup?
A thinner backcourt means an opportunity for JR Smith and Dion Waiters. Perhaps Waiters' ability to handle the ball will come up big for L.A. in a pinch, or Smith will get hot from behind the arc for a week or so to help push the Lakers through a playoff series. But given how tight potential playoff matchups with the Clippers or Bucks might get, would you really want to rely on Smith or Waiters for even a few minutes in a season-defining game? - Joseph Casciaro
Clippers: How will they manage their center rotation?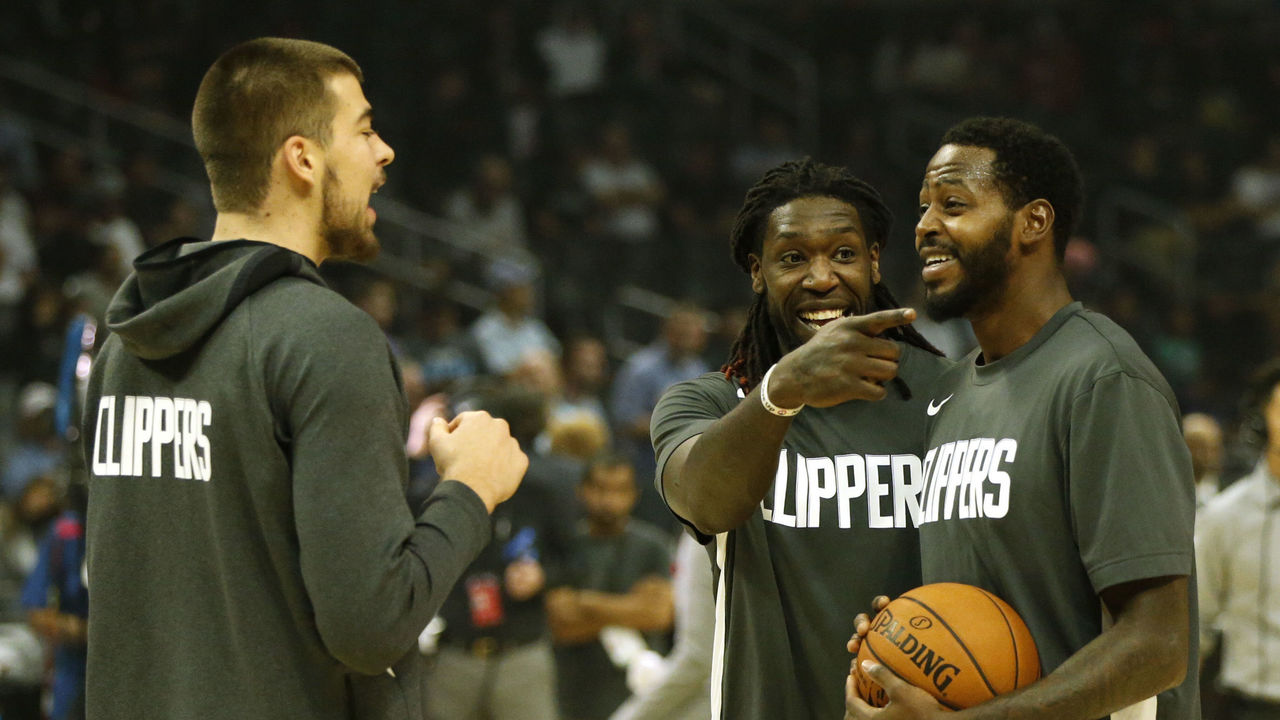 The Clippers are as well constructed for the playoffs as any team. They have top-end talent, depth, stylistic versatility, and answers to virtually any question at either end of the floor. One of the only qualms about their roster is that their interior defense looks a tad vulnerable on paper.
Montrezl Harrell soaks up the vast majority of their minutes at the 5 but is severely undersized for the position at 6-foot-7. The more traditionally built Ivica Zubac - who starts, but plays just 18 minutes a game - doesn't quite have the foot speed to play the switchy scheme the Clippers seem to favor. Overall, the team's paint defense has held up fine, with both Zubac and Harrell posting some of the stingiest at-rim defensive field-goal percentages in the league. But there are a couple of potential playoff matchups that might put their center rotation to the test.
Harrell is too small to guard Anthony Davis or Nikola Jokic for big minutes. If the Clippers make The Finals and see Milwaukee, he can't serve as an effective back-line anchor against Giannis Antetokounmpo. Zubac's somewhat limited as a defender in space, but he's the Clippers' most effective deterrent at the rim, and Doc Rivers may need to show more trust in him in a matchup against the Lakers, Nuggets, or Bucks. Rivers may even need to deploy Joakim Noah in a pinch.
These aren't insurmountable problems. Harrell and Zubac are both good, and Noah is a nice luxury as a third center. It's also possible the Clippers' perimeter defense - led by Kawhi Leonard, Paul George, and Patrick Beverley - will provide such a powerful force field that they won't have to worry too much about what happens on the back end. Still, how they allocate their center minutes in the playoffs will bear monitoring. - Joe Wolfond
Nuggets: Is Jamal Murray a true No. 2?
We've seen what Jokic is capable of in a playoff setting. He averaged 25.1 points, 13 rebounds, and 8.4 assists on 59.6% true shooting in his first postseason last year. He's a bona fide stud. But for the Nuggets to make any inroads in the West, they need a complementary star to take some pressure off him.
The Nuggets pinned their hopes on Murray with last summer's max deal, and he's getting close. He cuts and relocates beautifully around Jokic, and the two have a balletic offensive chemistry - particularly in dribble-handoff and inverted pick-and-roll scenarios. He's improved in meaningful areas this season, particularly as a passer and point-of-attack defender. But something still hasn't fully clicked into place. His shot selection remains frustratingly erratic, his 3-point stroke remains pedestrian, and he still doesn't get to the rim or the free-throw line nearly enough. His offensive numbers this year are nearly identical to last year's.
In a slowed-down playoff setting against set defenses, Jokic can't handle all the responsibilities as a primary off-the-dribble creator. To take the next step, the Nuggets need to be able to entrust more of their offense to a high-end initiator. Murray's game has the right shape, but hasn't quite filled out the mold just yet. Can he elevate his play when his team needs it most? - Wolfond
Jazz: What to make of the Mitchell-Gobert situation?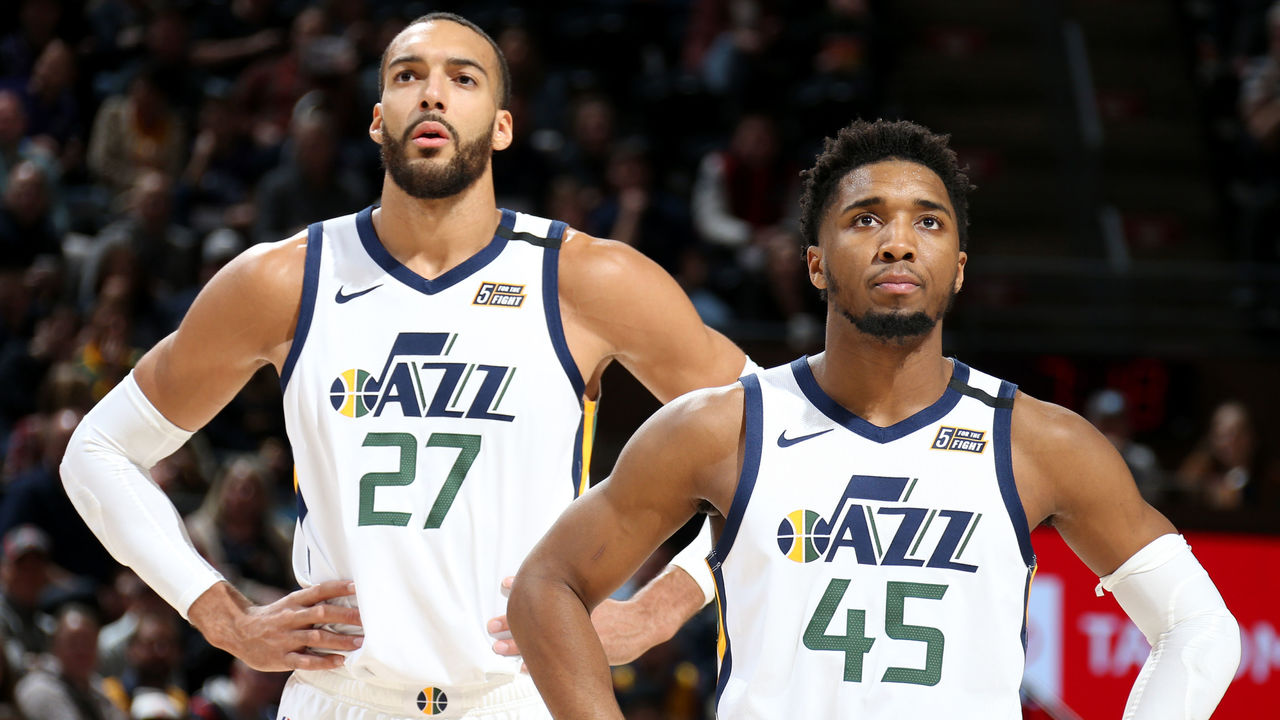 Between his reckless actions back in March and some misinformed tweeting since, Rudy Gobert's been an easy target and social media punching bag during the shutdown. But his actions might have consequences for the Jazz as a team, too. It's not hard to read between the lines of recent comments and realize that his relationship with star guard Donovan Mitchell may never be the same.
Winning cures all in pro sports, and if the Jazz hit their ceiling and go on a deep playoff run, perhaps all will be forgotten. But a disappointing Utah team that looked out of sorts all season now enters the restart without 20-point scorer Bojan Bogdanovic, lost to wrist surgery. It's tough to see the Jazz finding much consistency or success in a compacted conclusion to the season, and if the playoffs end in disappointment - as expected - it'll be worth questioning whether this is the beginning of the end for the once-promising Mitchell-Gobert duo. - Casciaro
Thunder: Can their best lineup beat the best?
Over the last two seasons, 217 different five-man lineup combinations across the NBA have logged at least 100 minutes together. None of them - not even Golden State's Hamptons 5 lineup last season - have been as dominant as Oklahoma City's best lineup this season, featuring Chris Paul, Shai Gilgeous-Alexander, Dennis Schroder, Danilo Gallinari, and Steven Adams. That lineup outscored opponents by an unfathomable 29.9 points per 100 possessions in 177 minutes together.
Paul is the hyper-efficient, two-way genius leading the way, but the five-man combo makes so much sense as a collective. Paul, Gilgeous-Alexander, and Schroder essentially give OKC three capable point guards, while the trio's collective defensive length and instincts mitigate potential size issues that come with starting three guards. Gallinari - who's averaged 19.5 points on 45-42-90 shooting over the last two seasons - is the perfect complementary scorer. Gallinari can score in just about every conceivable way, while also being a foul-drawing magnet, and the Thunder surround him with enough defensive problem-solvers to hide his shortcomings there. Adams serves as a defensive anchor who also happens to be an elite screen-setter and offensive rebounder.
The questions now is whether the surprising Thunder and their world-beating lineup can actually be world beaters. How does that perfectly cohesive lineup perform when matched up in a do-or-die series against one of the L.A. teams? - Casciaro
Rockets: Can their small-ball O overcome their small-ball D?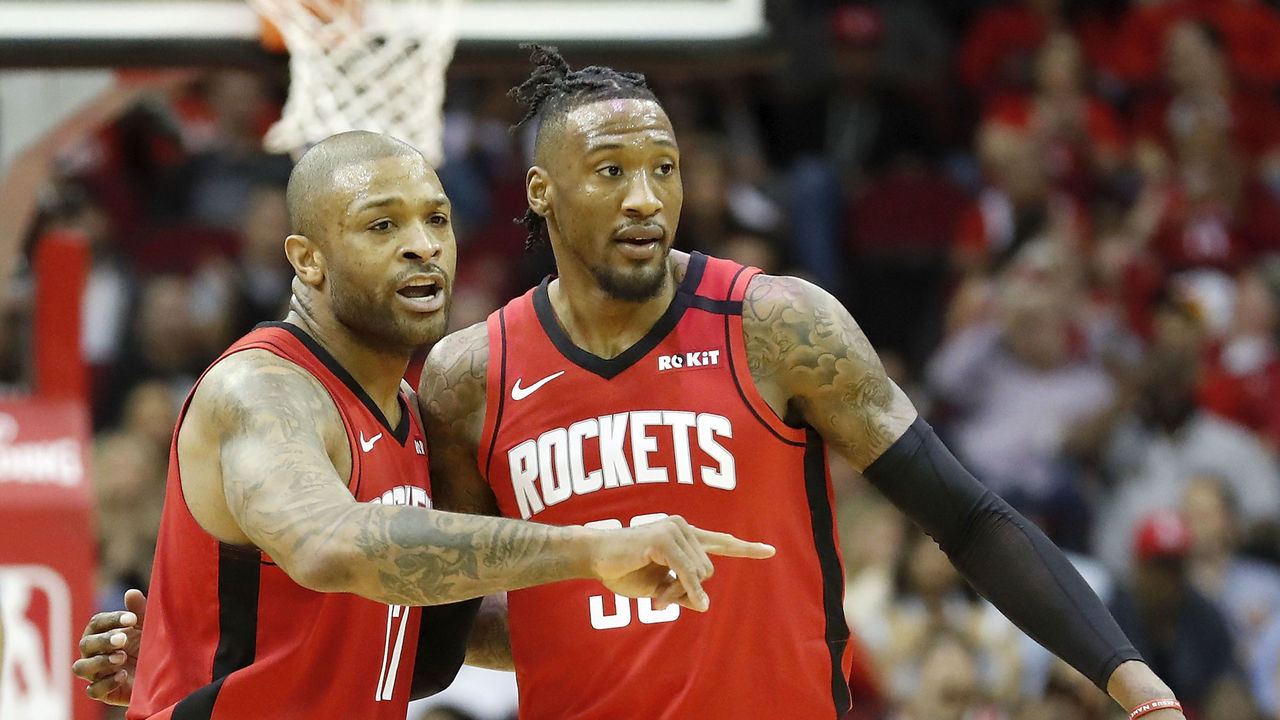 Houston, already known for pushing the boundaries of modern basketball, went all-in on the small-ball revolution when it traded starting center Clint Capela during deadline week.
With the paint cleared of a traditional big man, the Rockets' best lineup can look just about impossible to stop at times. Beyond James Harden's all-around offensive creativity, Russell Westbrook once again committed to rim-rampaging rather than shooting, and the Rockets could leverage the shooting potential of Robert Covington, Eric Gordon, and P.J. Tucker. The question is whether this star-studded contender can get enough stops - and then rebounds - to hang with the likes of the Lakers and Clippers in a seven-game series.
Deeming Houston undersized is actually a bit misleading. Westbrook, Harden, Gordon, and Covington aren't exactly small for their positions, all are solid screeners, and Tucker possesses freakish strength to man the 5. Harden's underrated strength also makes him a surprisingly stout post defender, and Covington's defensive range makes him a surprisingly capable rim-protector. In 379 minutes with both Tucker and Covington on the court, Houston produced a more-than-capable 107.4 defensive rating.
The problem is on the glass, where the Rockets were the league's worst defensive rebounding team after the deadline. That's especially concerning given potential first-round matchup Denver is an offensive rebounding machine. You also don't want to be giving teams like the Lakers and Clippers multiple shots every trip down the floor. - Casciaro
Mavericks: How good can the Doncic-Porzingis combo be?
Luka Doncic is already playing at an MVP level and the Mavs were already one of the league's most pleasant surprises this season, which makes it all the more exciting that they can still get so much better.
The key to improvement during the restart may lie with Kristaps Porzingis. The former All-Star returned to the court this season after being sidelined for 20 months because of a devastating knee injury, and the results were promising. Porzingis' offense came along more slowly than his defense did - he was an elite rim-protector again the moment he stepped foot on the court - but there were signs The Unicorn was rounding back into form before the shutdown.
Before two terrible shooting games to conclude the first portion of the schedule, Porzingis went on a 13-game tear, averaging 27.7 points on 50-40-83 shooting. He was also a two-way monster for Dallas in games Doncic missed this season. Most interesting is what the Mavs looked like with Porzingis serving as the team's lone big man, with Dallas scoring 123 points per 100 possessions in those scenarios, according to ESPN's Zach Lowe. Without Dwight Powell or Willie Cauley-Stein in Orlando, those should become Rick Carlisle's go-to lineups. - Casciaro
Grizzlies: How will they fill the vacuum on the wing?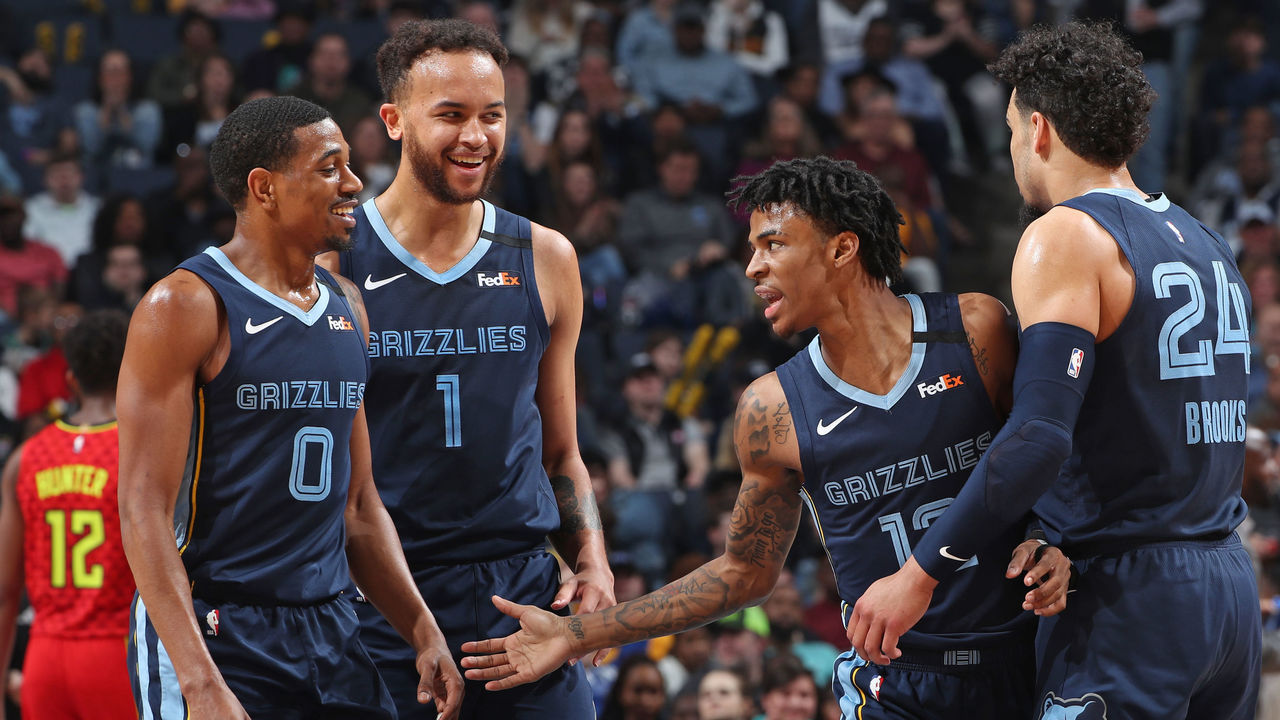 The Grizzlies took some short-term lumps when they dealt Jae Crowder and Solomon Hill - who both capably ate a ton of minutes for them on the wing - in exchange for an injured Justise Winslow at the trade deadline. But as a long-term play, the deal was plainly worth it because Winslow is a uniquely versatile young player who fits their development timeline and has All-Defensive upside.
Winslow had recovered from his bone bruise and was set to play in Orlando. Seeing how he fit with his new team would've been one of the most fascinating things to watch during the restart. But then he suffered a hip injury that will keep him out for the rest of the season. It'll leave the Grizzlies scrambling to figure out how to fill those minutes on the wing. Winslow was presumably going to start at the 3 alongside Ja Morant, Dillon Brooks, Jaren Jackson, and Jonas Valanciunas. Who will that job go to now?
In the games between the deadline and the shutdown, wedging the shooting-challenged Kyle Anderson into the starting lineup proved challenging. De'Anthony Melton, who's had a wonderful season as a reserve, fit a bit better. He loves to play with pace and offers a bit more spacing, along with his disruptive, long-tentacled defense. But because he lacks off-ball gravity and is a middling on-ball playmaker, he's still probably better suited to a bench role. Josh Jackson had a pretty encouraging stint after being recalled from the G League, but he's far from a reliable shooter and offers less playmaking than the other two. Trusting him to play high-leverage minutes would be dicey.
The Grizzlies are in pole position for the No. 8 seed in the West, with a 3.5-game lead. Their ability to hold it may depend on the kind of production they're able to cobble together on the wing. - Wolfond
Pelicans: What's their optimal lineup configuration?
The Pelicans' depth is one of those good problems - they have near-infinite lineup combinations with which to mix and match, can play small or big, and can tilt offense- or defense-heavy as necessary. But that still leaves the question: What is their best five-man group? Who's going to be on the floor in a tie game down the stretch? We can be reasonably assured that Jrue Holiday, Brandon Ingram, and Zion Williamson will be out there in crunch time, but the other two spots are uncertain. Lonzo Ball? Derrick Favors? JJ Redick? Josh Hart? E'Twaun Moore? Nicolo Melli?
New Orleans ransacked opponents with just about every lineup featuring Williamson this season, but some of those lineups will face bigger challenges against playoff-level competition. Playing Williamson at the 5 figures to be the team's most devastating offensive look, but that configuration will be hard-pressed to get stops. Favors has been instrumental to the Pelicans' success all season, and he's by far their best interior defender, but sophisticated defenses will make it difficult to feature two non-shooters up front when the backcourt shooting around them is only so-so (as it would be when Holiday and Ball are out there together). Just ask the Sixers. Floor spacers like Redick and Melli can pump oxygen into the offense, but not without compromising the defense. Hart profiles as something as a happy medium.
Again, these aren't necessarily bad problems to have. The Pelicans will probably play things situationally. Their lineup decisions will be fluid and matchup-dependent. Watching coach Alvin Gentry tinker and experiment with all the different tools at his disposal is going to be one of the more fascinating subplots in Orlando. - Wolfond
Trail Blazers: Who will guard the opposing team's best perimeter player?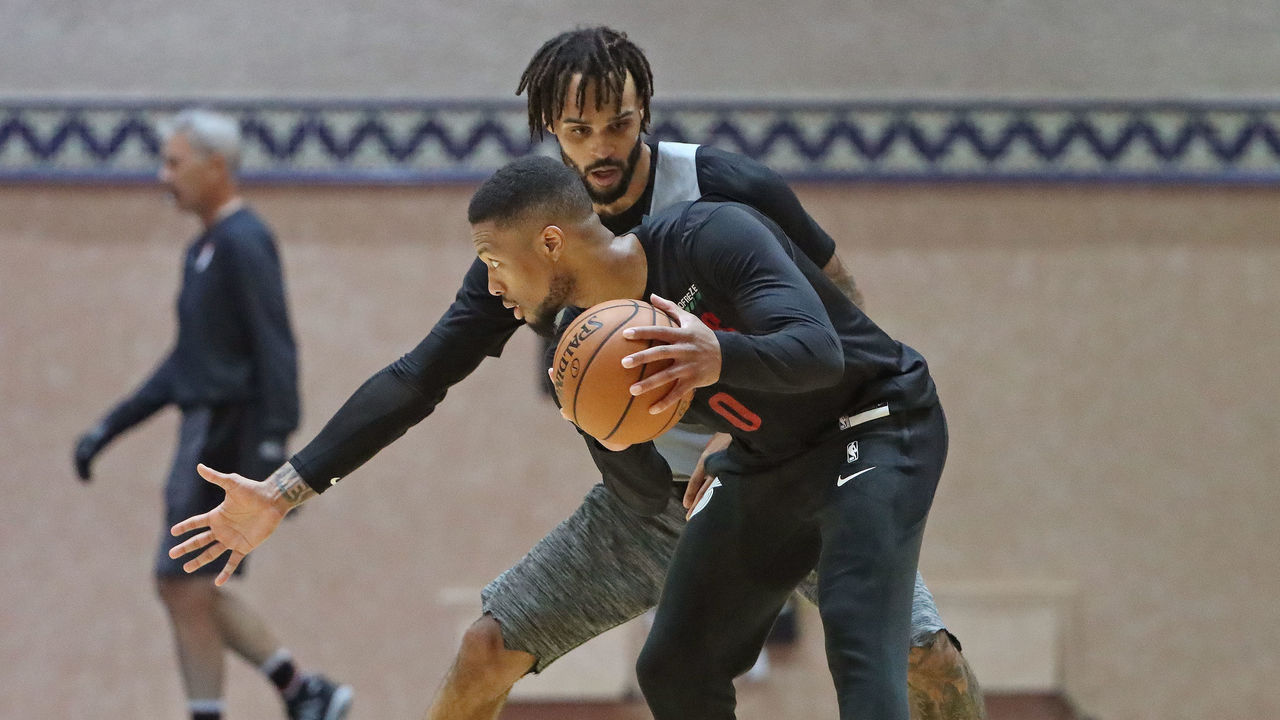 The returns of Jusuf Nurkic and Zach Collins will be welcome and should help shore up the Blazers' lackluster rebounding and 27th-ranked defense. But those two can only put out so many fires on the back end, and odds are they're going to be faced with a litany of five-alarm blazes given who will be defending in front of them.
The Blazers were a league-average defense last season, but the return of Nurkic, rightly seen as the linchpin of that defense, won't bring Portland back up to that level because this is not the team it was when he last suited up. With Al-Farouq Aminu and Moe Harkless long gone and Trevor Ariza opting out of Orlando, Portland doesn't have much in the way of perimeter resistance left. Those guys were able to provide some cover for Damian Lillard and C.J. McCollum, who both fight hard on defense but are ultimately limited by their lack of size and length as a backcourt (and by the workloads they bear on offense). Carmelo Anthony offers no such insulation. Collins can defend reasonably well in space, but that applies more to stretchy 4s than ball-handling wings.
So, which Blazer is going to tackle the toughest perimeter assignments? Gary Trent Jr. showed some very encouraging flashes as a guard defender late in the season, and Nassir Little at least has the physical profile to bang with some bigger wings. But those guys are inexperienced, and it's unclear if coach Terry Stotts is prepared to roll with them in high-leverage situations. Even if the Blazers squeak into the playoffs, they look likely to get bulldozed by LeBron James in the first round. - Wolfond
Kings: What will Bogie's market look like?
If the Kings miss the playoffs again - they're currently 3.5 games back of eighth place, along with Portland and New Orleans - their postseason drought would reach 14 seasons, making it the second-longest in NBA history.
Bogdan Bogdanovic should be an obvious part of the Kings' future, but after turning down a four-year, $51.4-million extension in October - the maximum extension available at the time - and betting on himself to earn a bigger contract as a restricted free agent in a weak class, his future in Sacramento looks murky.
From a performance standpoint, the 27-year-old Serbian sharpshooter is in the middle of his finest season yet, averaging 14.5 points on an effective field-goal percentage of 54.1. He's also a career 37% 3-point shooter despite being a volume shooter from deep and is an underrated playmaker. Throw in the fact his importance in the Disney restart has been amplified due to the absence of Marvin Bagley, and it would seem like everything is lining up for Bogie to further prove his worth to the Kings in Orlando.
But in a shortened offseason with a potentially suppressed salary cap and general financial uncertainty around the league, and with the Kings already having big, long-term money committed to Buddy Hield and Harrison Barnes - and future extensions surely to come for De'Aaron Fox and Bagley - paying Bogdanovic what he's worth may no longer be a no-brainer. So will he shoot his way to a big offer sheet over the next eight games? Will he make the Kings grit their teeth and pay up? Or does he dare play next season on a $16.2-million qualifying offer and enter the summer of 2021 as an unrestricted free agent? - Casciaro
Spurs: Will Poeltl's production translate to a starter's workload?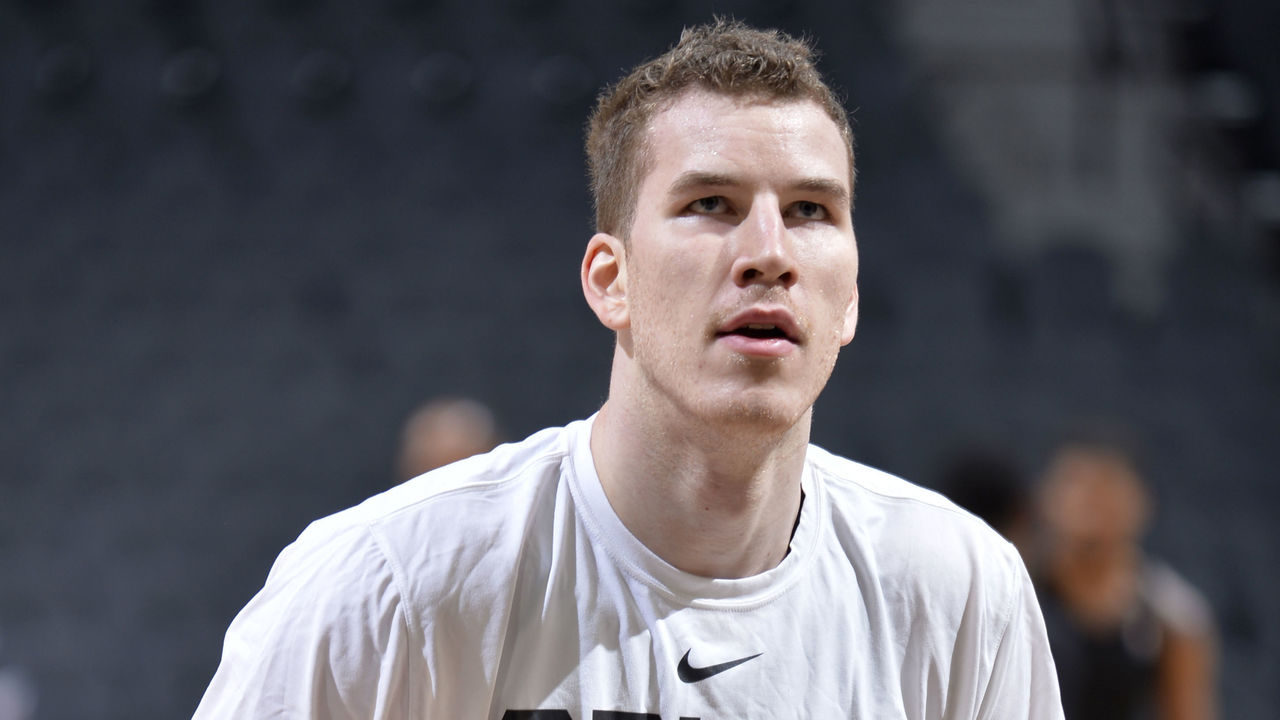 Since he arrived in San Antonio two years ago, Jakob Poeltl's been a crucial part of the Spurs' consistently excellent bench. He owns the best on-court net rating of any of the team's regulars this season - the Spurs have been 7.6 points per 100 possessions better with him on the floor - with the bulk of that impact coming at the defensive end. His combination of size, mobility, smarts, and nimble footwork make him a versatile pick-and-roll defender and an excellent rim-protector. Opponents have shot just 51.3% against him at the basket this year, an elite figure. At the other end, Poeltl is a voracious offensive rebounder and a canny screen-setter, with soft hands and refined passing chops.
The caveat is that the fourth-year center has been doing that work in fewer than 17 minutes a game, mostly against opposing bench units. It's been easy enough to extrapolate his impact stats and raw numbers to a starter's workload - he's averaged 10.3 rebounds, 3.4 assists, 2.8 blocks, and one steal per 32 minutes - and make a case that he should be playing far more. Things are rarely that simple, but the restart will finally give us a chance to see what Poeltl can do in extended minutes. San Antonio is without LaMarcus Aldridge and Trey Lyles in Orlando, and devoid of any other traditional bigs save emergency signing Tyler Zeller. It's going to be Poeltl time a lot of the time.
That's important for both him and the Spurs, because the 24-year-old is about to become a restricted free agent and plans to seek out a situation that offers him a bigger role. These eight games (or more) will help determine how the market values him, and whether or not the Spurs want to invest in him long term. - Wolfond
Suns: How good can Booker and Ayton be together?
The chance Phoenix leapfrogs four teams and makes up enough ground on Memphis to even force a play-in are slim to none. But the Suns took baby steps forward this season, and the aim in Orlando should be to continue that progress. Remember, this is a franchise that hasn't even cracked the 30-win mark in five years. Heck, it took Devin Booker five seasons in Phoenix to even reach 25 wins.
In meaningful late-season games - something the Suns obviously aren't used to - it'll be interesting to watch the growing chemistry and effectiveness of Booker and sophomore big man Deandre Ayton. The latter made some impressive defensive strides this season, and while he may not be a modern, spacy big, Ayton's interior dominance can still be extremely useful as a complement to Booker's game.
If Phoenix's two franchise pillars can further their chemistry, their offensive intuition, and overall partnership while playing for something in Orlando, that's a win for the Suns. With Ricky Rubio, Kelly Oubre, and a number of intriguing youngsters locked up through at least next season, this team may not be as far off as its recent records indicate.
With Booker, Ayton, Rubio, and Oubre on the court at the same time, the Suns outscored opponents by 11.6 points per 100 possessions. Of the 100 most frequently used four-man combinations this season, that whopping net rating ranked 18th.
Perhaps a year from now we're talking about one of the league's most promising young teams, and reminiscing about our first visions of that promise coming at Disney World. - Casciaro