With the 2019-20 season set to restart after a hiatus that ran longer than a typical offseason, we have plenty of questions about the 22 teams that are about to pick up where they left off in March. We've winnowed it down to one question per team, starting with the nine Eastern Conference squads inside the Disney World bubble.
Here's what we want to know:
Bucks: Is their supporting cast championship-level?
Giannis Antetokounmpo - on track to become the first player in 54 years to average 29 points, 13 rebounds, and five assists in a season - is good enough to keep his team in contention with minimal support. The Bucks have done an excellent job surrounding The Greek Freak with complementary pieces and shooters in Mike Budenholzer's 4-out system; it's the reason the Bucks were cruising to their second consecutive 60-win season. But racking up regular-season wins and getting to the conference finals is one thing. Antetokounmpo and the Bucks have their sights set on something bigger and shinier. So is Milwaukee's supporting cast truly good enough to help him get it?
Khris Middleton's become one of the NBA's most consistent secondary stars, and he's flirting with joining the 50-40-90 club while averaging better than 21 points per game. But other than torturing the Celtics, he still has plenty to prove as a playoff performer. The Bucks will need to get Middleton's best in the postseason; they'll need Eric Bledsoe to be more confident with the ball in his hands, and let it fly; and Brook Lopez will need to find the shooting touch that's abandoned him since last year's East finals. If not, a shortened 2020 offseason will feel much longer in Milwaukee. - Joseph Casciaro
Raptors: Can their crunch-time success translate to the playoffs?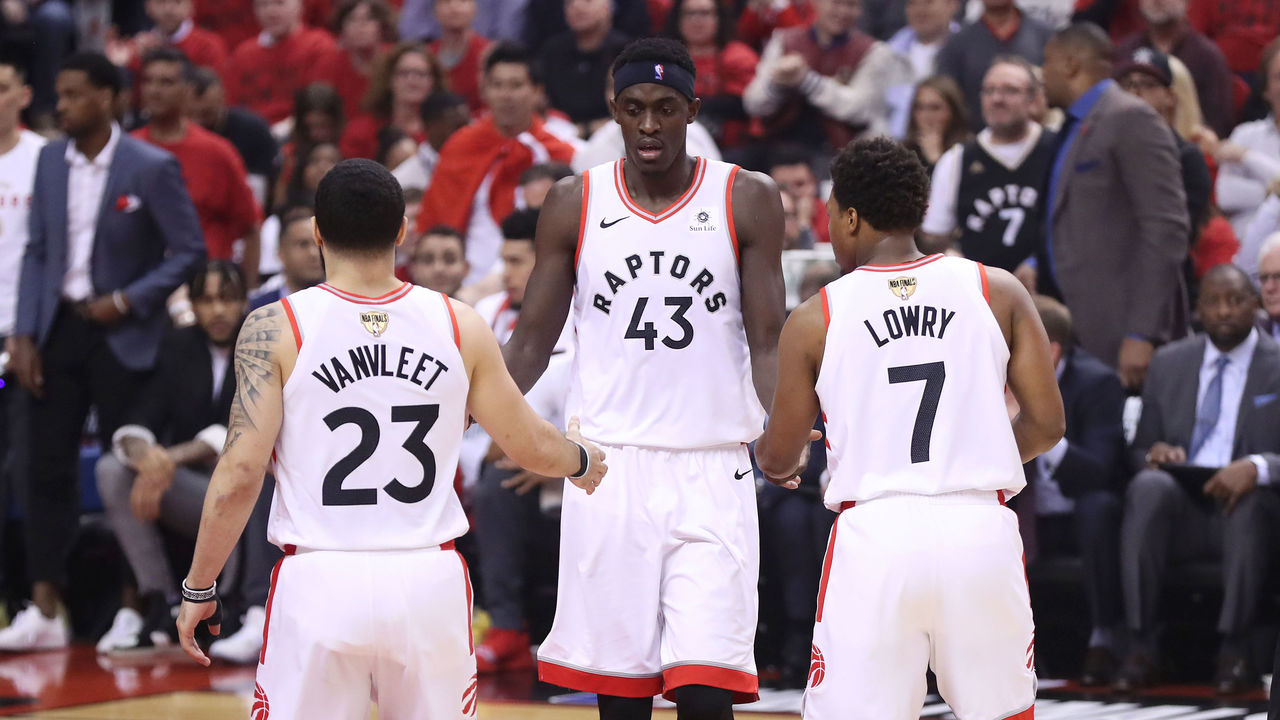 One of the biggest questions the Raptors faced coming into this season was how they would fare in crunch time without one of the game's most prolific isolation scorers. In 2018-19, Kawhi Leonard averaged 36.7 points per 36 minutes while using 40% of Toronto's possessions during clutch time. No one else on the roster had a usage rate above 18.9% in those situations (defined as possessions when the score is within five points and there's under five minutes left in the game).
Far from suffering without him, their crunch-time offense has been flat-out ridiculous this season, producing a 121.5 offensive rating that far exceeds last year's mark (109.5) and ranks second only to the Thunder. So Toronto's more democratic, equal-opportunity late-game approach has had considerably more success than the clear-out-for-Kawhi show. In the regular season, at least. Can that carry over to a playoff setting, when defenses lock in and one-on-one play becomes more important?
The crunch-time success has been powered primarily by Pascal Siakam, Kyle Lowry, and Fred VanVleet, who all have usage rates of at least 22.4% and true-shooting marks of at least 60.8% in the clutch. A ton of the Raptors' high-leverage possessions have simply been inverted pick-and-rolls involving Siakam and one of Lowry or VanVleet, utilizing the guards' unique screening ability - and the threat of them popping to the 3-point line - to either force switches that create favorable mismatches for Siakam, or open seams that lead to driving lanes for Siakam or threes for Lowry or VanVleet.
That probably won't work as well against more switchable playoff defenses that can prevent Siakam from getting those mismatches. What happens then? Lowry and VanVleet are big-time shot-makers, but their strengths don't lie in creating separation or breaking defenses down off the dribble. Siakam's evolved into one of the highest-volume isolation players in the league this season, but he's scored at just a 54th-percentile rate on those isos, per NBA.com. Toronto's hopes of repeating may rest on his ability to create for himself in the tightest moments. - Joe Wolfond
Celtics: Is Tatum really this good?
Poor shot selection and decision-making saw Jayson Tatum fall off a bit as a sophomore after a stupendous rookie campaign. This season, however, he committed to being wiser on offense. After an unlucky start to the season in which he missed a ton of makeable shots, Tatum exploded.
The 22-year-old - who's also grown into an excellent wing defender - averaged 27.9 points on an absurd 58.0 effective field-goal percentage over his last 23 games, emerging as the type of two-way alpha star the good-but-not-great Celtics have been missing during coach Brad Stevens' time at the helm.
If this is who Tatum is now, the deep, balanced Celtics have the goods to knock off any East contender, though the team's lack of size is still a concern. Between Tatum, Kemba Walker, Jaylen Brown, and Gordon Hayward, Boston has the one-on-one creation and pull-up game necessary to solve a defense like Milwaukee's. - Casciaro
Heat: Are they really Milwaukee's kryptonite?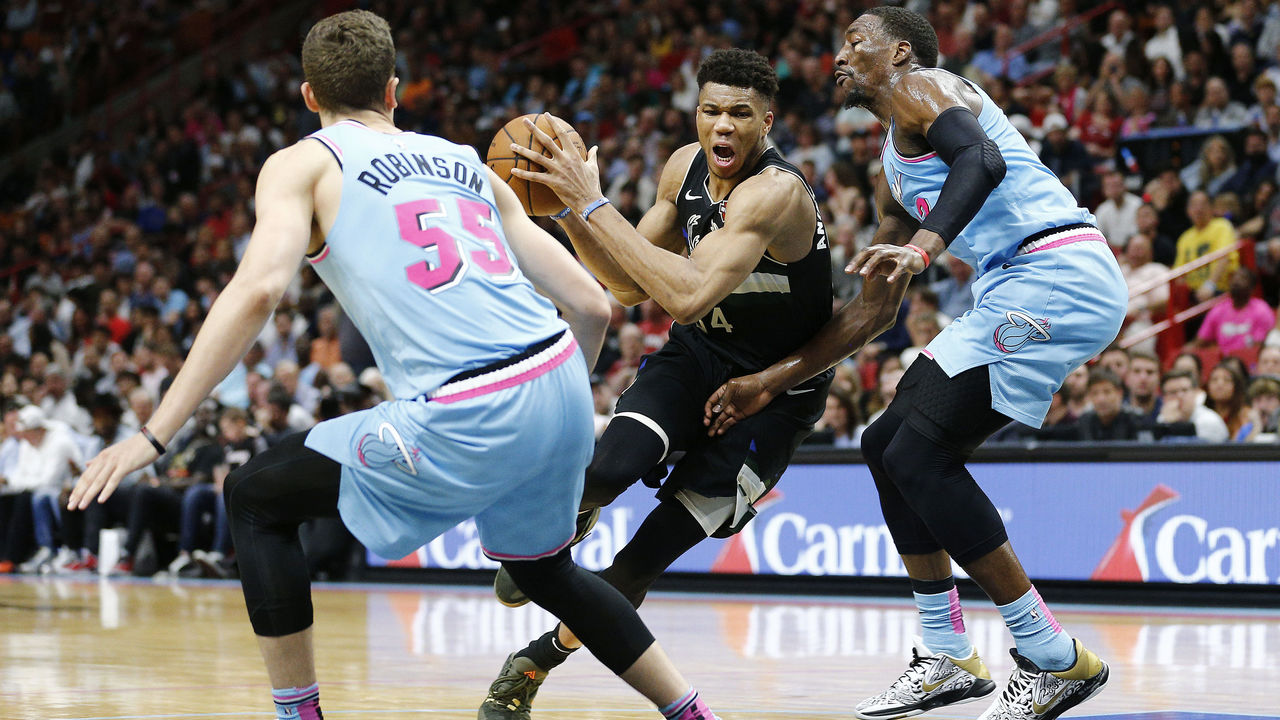 Miami's makeup is tailor-made to give the Bucks trouble. Bam Adebayo is one of the most capable Giannis defenders in the league. The Heat are capable of both beating teams from the perimeter (No. 1 in 3-point shooting) and by guarding the perimeter (No. 8 in opponent 3-point shooting) - a combo needed to punish Milwaukee's defense and slow the shooters around Antetokounmpo. Jimmy Butler gives the Heat the type of star, pull-up creator who can take advantage of the soft spots in the Bucks' defense.
Put it all together, and perhaps it wasn't a coincidence that the Heat were 2-0 against the 53-12 Bucks this season, beating them both home and away. The two teams will meet once again in the seeding games, and could potentially clash in the second round of the playoffs if Miami remains in the East's fourth or fifth spot. - Casciaro
Pacers: How much mileage can they get out of their 2-big lineups?
Even in this abbreviated season, the Pacers played about twice as many minutes with both Myles Turner and Domantas Sabonis on the floor together as they did in the previous two seasons combined. And while they were more successful in those minutes (plus-2.1 net rating) than in the past, they performed better still when either of those bigs played without the other.
The fit presents certain unavoidable challenges, but it's impossible for the Pacers to avoid significant overlap between the two, given how reliant they are on Turner as a rim-protector and on Sabonis as a playmaking hub. Indiana's opponents shoot far less frequently and less accurately from the restricted area with Turner on the floor, while Sabonis leads the team in frontcourt touches, and leads the league in both elbow touches and screen assists. These are the dilemmas you run into when two of your five best players play the same position.
The Pacers' struggles with their two-big look have largely come at the offensive end, but defense may become the bigger concern in the playoffs. Their most likely first-round opponents - the Heat and Celtics - like to play smaller, with wing players manning the 4. If those opposing lineups include a non-threatening perimeter scorer against whom the Pacers can stash either Sabonis or Turner on defense (like, say, Derrick Jones Jr.), it should be manageable.
But both teams - the Celtics, in particular - can trot out some killer 4-out small-ball looks that offer no natural hiding places for a second big. Sabonis is going to need to hold his own defending perimeter players and make smaller opponents pay at the other end in the post and on the glass. (A big reason Turner-Sabonis lineups have underwhelmed is that they've grabbed just 50.2% of available rebounds.)
With Jeremy Lamb injured and Victor Oladipo still considering whether to suit up, the Pacers likely won't have enough wing or guard depth to keep their two frontcourt stalwarts apart for very long. As things stand, the extent of their postseason success is going to depend in large part on how they perform when they play big. - Wolfond
76ers: Can their half-court offense get by without a lead ball-handler?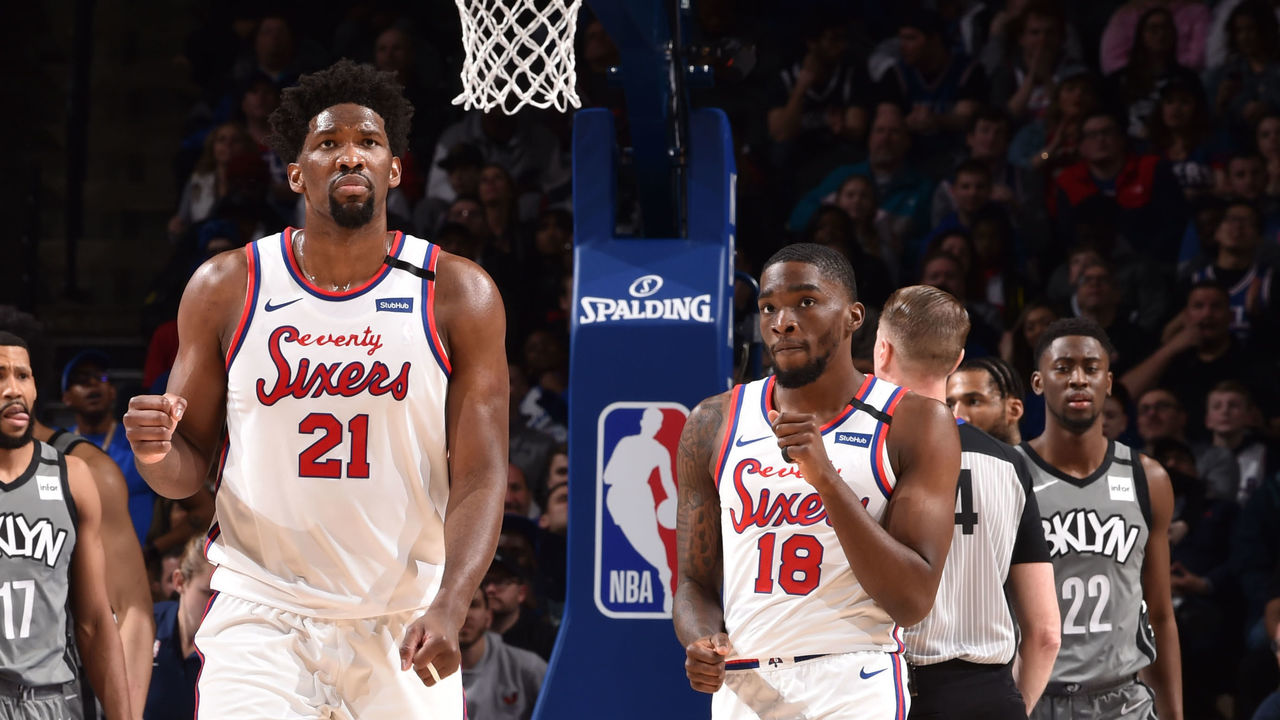 This has been the central question for the Sixers all season. While moving Al Horford to the bench in favor of Shake Milton - thus making Ben Simmons their nominal power forward - should give the starting lineup more oxygen and a bit more off-the-dribble juice, Milton doesn't address Philly's lack of a reliable half-court initiator. Tobias Harris and Josh Richardson can create reasonably well for themselves, but not so much for others. Simmons, for all his open-court brilliance, can only do so much in a confined space against a set defense that doesn't have to react to him when he's more than 10 feet from the basket.
If Joel Embiid has his way, the Sixers' answer to this problem will just be to run more of their half-court offense through him in the post. He already leads the league in post-ups, but lobbying for more of them makes sense when the Sixers average 1.13 points per possession when he either shoots or passes directly to a shooter out of the post - an incredible mark for any heavily used half-court play. Embiid draws heaps of fouls on the low block, and invites near-automatic double-teams that can crack open opposing defenses from the inside out.
Whether that can work over the course of a playoff series against a top defense is another matter. Though he's incrementally improved his passing out of the post over the years, his recognition still needs to be better. He still needs to show he can consistently make snap reads and invite those doubles without committing gobs of turnovers. Of course, having Simmons out there playing off the ball complicates things, as it gives the defense a logical place from which to send help.
There are workarounds to these issues for a team as talented as Philly, whether it's deploying dribble-handoffs, running inverted pick-and-rolls in which smalls screen for Simmons, using Simmons as a ball-screener and short-roll playmaker, or having him set weak-side pin-downs for shooters like Milton or Harris.
But there's still no replacement for the sense of structure and certitude that comes with having a natural half-court conductor in crunch time of a playoff game. How Philly answers this question may well determine how the Eastern Conference bracket shakes out. - Wolfond
Nets: Can they win a game?
The Nets - who parted ways with head coach Kenny Atkinson only days before the shutdown - lost Spencer Dinwiddie, DeAndre Jordan, Wilson Chandler, Taurean Prince, and Nic Claxton ahead of the restart. And they were already without Kevin Durant and Kyrie Irving. Heck, they even lost Michael Beasley, one of their pre-bubble signings added to fill in on a shorthanded team.
The Nets will rely on Caris LeVert, Chris Chiozza, Garrett Temple, and Jamal Crawford - plus Joe Harris' shooting - to keep their offense flowing. If LeVert and Jarrett Allen are your two best players, can you compete against teams with something left to play for?
Two games against the Magic and a meeting with the equally thin Wizards serve as Brooklyn's winnable games at Disney, but games against Milwaukee, Boston, Sacramento, the Clippers, and Portland could get ugly. Since it seems unlikely Washington will win enough games to force its way into a playoff spot, imagine the bloodbath it'll be when this ragtag version of the Nets has to face either the Bucks or Raptors in the first round. - Casciaro
Magic: What does Aaron Gordon's future hold?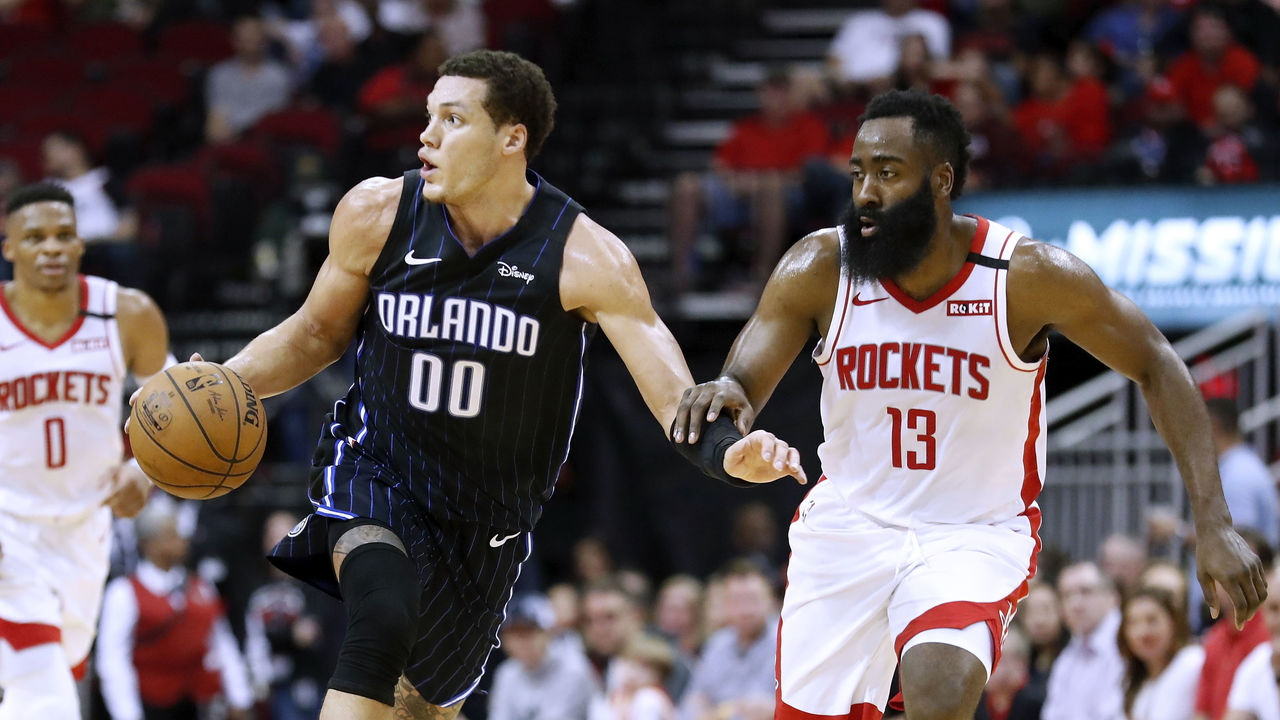 For all his physical tools - the size, strength, athleticism, and body control - Gordon's development has stalled out six years into his career. Despite sporadic glimpses of progress, his jump shot remains nonthreatening. His off-the-dribble game hasn't quite popped, held back by a so-so handle and a kind of mechanical predictability.
The possibility of what Gordon might yet become remains enthralling, though. He can guard all three wing positions at a high level, has evolved as a passer, and is still just 24 years old. He was also in the midst of an encouraging stretch of play before the shutdown in March, averaging 16.9 points, 8.8 rebounds, and - most notably - 6.3 assists over his last 15 games, as the Magic amped up their pace and empowered him to be their primary transition playmaker. Even if the self-creation never comes around, it's easy to imagine a long-term role for him as a slasher, rim-runner, short-roll passer, and flexible switch defender on a good team.
It's harder to envision that happening with Orlando. It increasingly feels like Gordon needs a change of scenery to realize his best self. When the team is fully healthy, the Magic's frontcourt logjam forces him to play nearly all of his minutes out of position at small forward, and their dearth of shot-creators overextends him as an initiator in an oft-cramped half court. He and Jonathan Isaac - the Magic's most prized young player - haven't played well together this season, perhaps because of their positional overlap. It's no fluke that Gordon's production spiked when he spent more time at power forward after Isaac went down with a knee injury.
Isaac's status for the restart is up in the air. If he plays, it'll be a chance to see whether he and Gordon can find a way to fit, though finding minutes for Isaac at the 5 will be difficult with Nikola Vucevic and a newly beefed-up Mo Bamba in the mix. If Isaac sits out, it'll be a chance for Gordon - who's on a moveable mid-sized contract with two years left after this one - to goose his trade stock while showcasing his abilities as a playmaking 4. - Wolfond
Wizards: What are we doing here?
The only real question the Wizards have to answer in Orlando is whether they can find some way, any way, to justify their inclusion in the field and make the trip worthwhile. This team lost almost two-thirds of its games this year, and that was with Bradley Beal and Davis Bertans in the fold. How bleak will things get for the Wizards now that they'll be playing without their two best players, in a condensed field that's filtered out most of the (other) bad teams?
Absurdly, Washington actually has a puncher's chance of playing its way into the playoff picture, because doing so will simply require making up two games in the standings on an undermanned Nets team. But the Wizards should approach this as development time for their young players, and nothing more. Chasing that playoff spot should be a distant second priority to, say, letting Troy Brown spread his wings and try to do a bit more with the ball in his hands, or giving Gary Payton II extended minutes to showcase his abilities as a perimeter defender, or allowing Rui Hachimura an infinitely long leash to work through mistakes.
It may not be particularly watchable nor convince anyone outside Washington that inviting the Wizards to Disney was a good idea, but perhaps some big-picture benefit can come of it. - Wolfond
Check back Friday for our Western Conference questions.