The Memphis Grizzlies are having a moment.
It's been a while since we've been able to say that - a while since this franchise has captured the public imagination and taken hold of the NBA discourse. But lo, the Grizzlies have become the league's "It" team, led by rookie phenom Ja Morant, the latest prospect to get the basketball cognoscenti drunk on notions of extrapolative possibility.
There are certain teams that develop associative traits over time, channeling a specific kind of energy or assuming recurring habits and patterns even as their coaching staff and large swaths of their playing personnel get turned over. The Grit and Grind Grizzlies were one such team. For a decade, they played methodical, rugged, plodding, interior-oriented, muck-it-up basketball. They had their own charm, but even in their iconoclastic heyday, those teams never inspired the kind of visceral thrill this year's Grizzlies do; that goosebump-inducing frisson one feels while watching the present and future dance on the same visual plane.
A cognitive disconnect comes with seeing players in Memphis uniforms play at the league's third-fastest pace, bomb away from deep, and pogo-stick their way around the floor - all coiled energy and unrestrained, borderline-reckless exuberance. The transformation took shape almost overnight. With some timely lottery luck and a few canny moves along the margins, the front office turned the league's fourth-oldest roster into one of its most promising collections of young talent.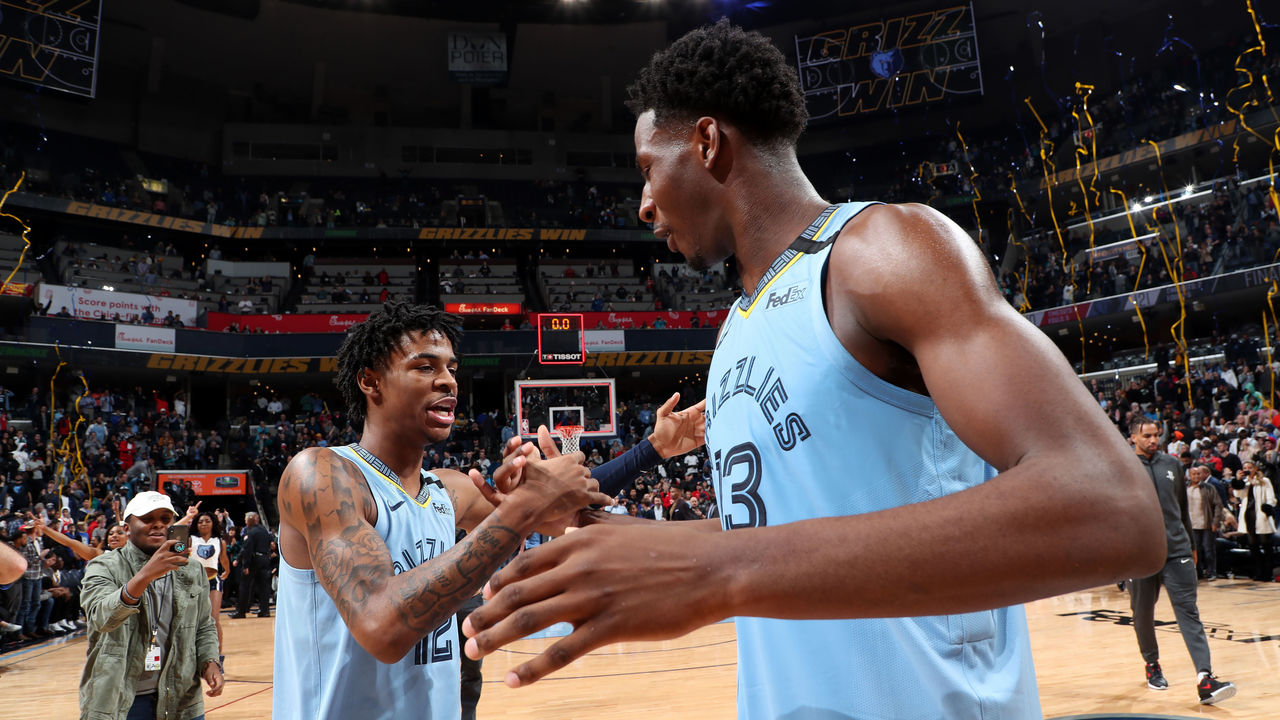 When I wrote about the Grizzlies' rebuild before the season, I noted how the front office had modernized the blueprint from the franchise's previous successful era. This version would come with more athleticism, more speed, more shooting on the wing, and ultimately, more upside. It would aim to succeed where the previous iteration had failed, and in the process would produce a more aesthetically titillating product.
In no way did I anticipate the returns looking this promising this early. The Grizzlies are 14-6 over the last six weeks after a 6-16 start. They have the league's fourth-ranked offense during that span. Just past the season's halfway mark, they occupy the eighth and final playoff spot in the Western Conference.
The foundation
If you're reading this, you likely don't need me to tell you why Morant is awesome. Odds are you saw what he did to James Harden and the Houston Rockets on Tuesday night, trash-talking the former MVP while hitting pull-up threes in his face en route to 26 points on 10-of-11 shooting. You've seen him savagely dunk on 7-footers and jump clear over Kevin Love. You've seen his ball-handling wizardry and his advanced passing feel. Perhaps you've seen him juke Robert Covington out of his shoes with a crossover, or send Jerome Robinson staggering into the third row with a step-back, or hoodwink Kawhi Leonard with a behind-the-back pass fake before beating him along the baseline for a reverse layup. If you haven't, here you go:
Some of this is stuff we expected to see from Morant in his debut season. We knew he was going to zoom up and down the court, play high above the rim, produce some "holy crap" highlights, and demonstrate a propensity for the spectacular. What's been most impressive is how refined and controlled his game already is, even when he's operating at breakneck speed. Despite all the terrifying landings, he has remarkable body control, which manifests not only in vertical but in horizontal explosiveness. Few players change direction as forcefully or unexpectedly.
Velocity makes Morant a terror in the open floor, but he's also proven adept at wriggling through narrow corridors in the halfcourt:
He ties together the Grizzlies' loosely structured offense with his peripheral playmaking vision, prescient reads, and ability to misdirect opposing defenders with his eyes before slinging passes to the spots he's just moved them from. He's turned Memphis into one of the nastiest pick-and-roll teams in the league.
On the other end of those pick-and-rolls you'll often find Jaren Jackson, the Grizzlies' other 20-year-old building block: a sophomore big man who looks like a near-perfect stylistic fit alongside Morant. Watch one of the rookie point guard's marauding rim runs and chances are Jackson is at the edge of the frame spreading the floor for him. Despite a wackadoo motion that sees him push the ball with both hands while letting his momentum carry his whole body toward the basket, Jackson's shooting in his second season has been totally off the charts. He's attempting 6.4 3-pointers per game and hitting 40.8% of them.
You'd be hard-pressed to find a big man who moves off-ball as effectively as he does, or shoots as comfortably off of movement. A ton of teams use their bigs as floor spacers these days, of course, but ordinarily, those guys are just spotting up or lifting out of the pick-and-pop. Jackson does plenty of that, but just as often he's darting to the corners, flying off second-side pin-downs, or taking dribble handoffs before stopping and popping on a dime, like a 6-foot-11 Klay Thompson:
This isn't a gimmick, or a random hot streak. Jackson isn't just a good shooter "for a big man." He's been one of the league's best high-volume 3-point shooters, period. Only 15 players have hit more total threes this season. Running with a twin-big look these days is generally seen as an anachronism, but while Jackson takes the form of a big, offensively he functions more as a wing (though his face-up game is still in its infancy). The Grizzlies just happen to have the luxury of also using him as a jumbo screen-setter, a drop-busting pick-and-popper, a rumbling dive man, and a backline defender.
That last bit is still admittedly iffy. Jackson's defense has largely been a disappointment this season, his rebounding remains suspect, and the Grizzlies surrender 7.4 fewer points per 100 possessions with him on the bench than they do with him on the floor. But as the season has gone along, he's become better at staying on his feet and not committing too early, cutting down his fouls in the process.
The reinforcements
Morant and Jackson are about as good as dual building blocks get. One of the big questions coming into the season was whether anyone else would pop and help the Grizzlies round out their long-term nucleus. Brandon Clarke, Dillon Brooks, and De'Anthony Melton have since entered the chat.
Brooks, who had a promising rookie season two years ago, is back on course after an injury interrupted his sophomore campaign. He complements his high-volume, high-percentage 3-point shooting with some secondary playmaking chops, and after adding some bulk to his frame, he's emerged as a capable tri-positional defender.
It's tempting to call Clarke an energizer, but that term feels backhanded, suggesting that the player in question has to rely on energy to compensate for a lack of skill. Clarke may be a spring-loaded leaper who tries to dunk and block everything within 5 feet of the basket, but he also has sharp ball skills and a soft touch, with a particularly deadly push shot off the short roll. He's scoring a bananas 1.53 points per possession as the roll man in pick-and-roll, shooting 74% at the rim and 58% from floater range. The Grizzlies as a team rank third in the NBA in roll-man scoring efficiency.
As much as anything else, Melton's introduction into the regular rotation helped turn the Grizzlies' season around. A relentless defensive disruptor with an evolving offensive skill set, the long-limbed combo guard leads the team by a country mile with a plus-12.6 individual net rating. Outside of garbage time, Memphis has performed 19.8 points per 100 possessions better with him on the floor, according to Cleaning the Glass.
Melton is averaging 2.7 steals and 5.1 deflections per 36 minutes, both of which rank third among all qualified players. His greatest defensive attribute may be his preternatural ability to navigate screens:
The Grizzlies' half-court offense has improved dramatically as the season's progressed, but the way they really thrive is by turning defense to offense. They're the league's third-fastest team on possessions after securing defensive rebounds and the fastest team off live-ball turnovers, with the 12th- and sixth-best scoring efficiency marks in those scenarios, according to Inpredictable.
Clarke and Melton, in particular, spur the team in transition, and usually do so in tandem. Either one is capable of pushing the ball up the floor and making plays for the other. Clarke more often serves as the finisher - and for good reason; he's averaging 1.43 points per transition possession - but he's also a heady outlet passer who can initiate the break:
If the Grizzlies improve their defense - if they don't have to pull the ball out of their own basket as frequently, or if they can force turnovers at a higher rate - they'll be that much more potent offensively.
The bruiser
Much as they've been powered by their youngsters, the Grizzlies have been stabilized by their cadre of vets, none more so than Jonas Valanciunas (who feels like he's been around forever but is still just 27). On top of providing a reliable source of hyper-efficient half-court scoring, the hulking Lithuanian has been by far Memphis' biggest deterrent of opponent shot attempts at the rim.
A lot of people envision Jackson as a full-time center in an ideal world, and the Grizzlies close most of their games with him at the five. But, while Jackson has performed miles better individually without Valanciunas (his effective field-goal percentage rocketing from 50.9% to 62.8%), the team's performance has been slightly better with him at the four, thanks to Valanciunas' superior rebounding, post play, and rim protection.
The switchable, five-out look with Jackson at center is enticing, but no player creates more space for Morant on screens than Valanciunas, and playing drop-back defense with Valanciunas walling off the basket area has proven every bit as viable as running a switch-ier scheme with a smaller lineup. Jackson's NBA destiny may ultimately be as a five, but for now, playing a large chunk of his minutes next to a bruiser has been healthy for both him and the team.
The same goes for Clarke, whose backline defense has a long way to go if he's to be a viable small-ball center. He and Jackson represent the frontcourt of the future, but the Grizzlies' most productive big-man pairing this season has been Clarke and Valanciunas (though they've seen just 154 minutes together so far). Memphis has produced a 56.4% rebound rate, a 96.6 defensive rating, and a 14.1 net rating with both of them on the floor.
The future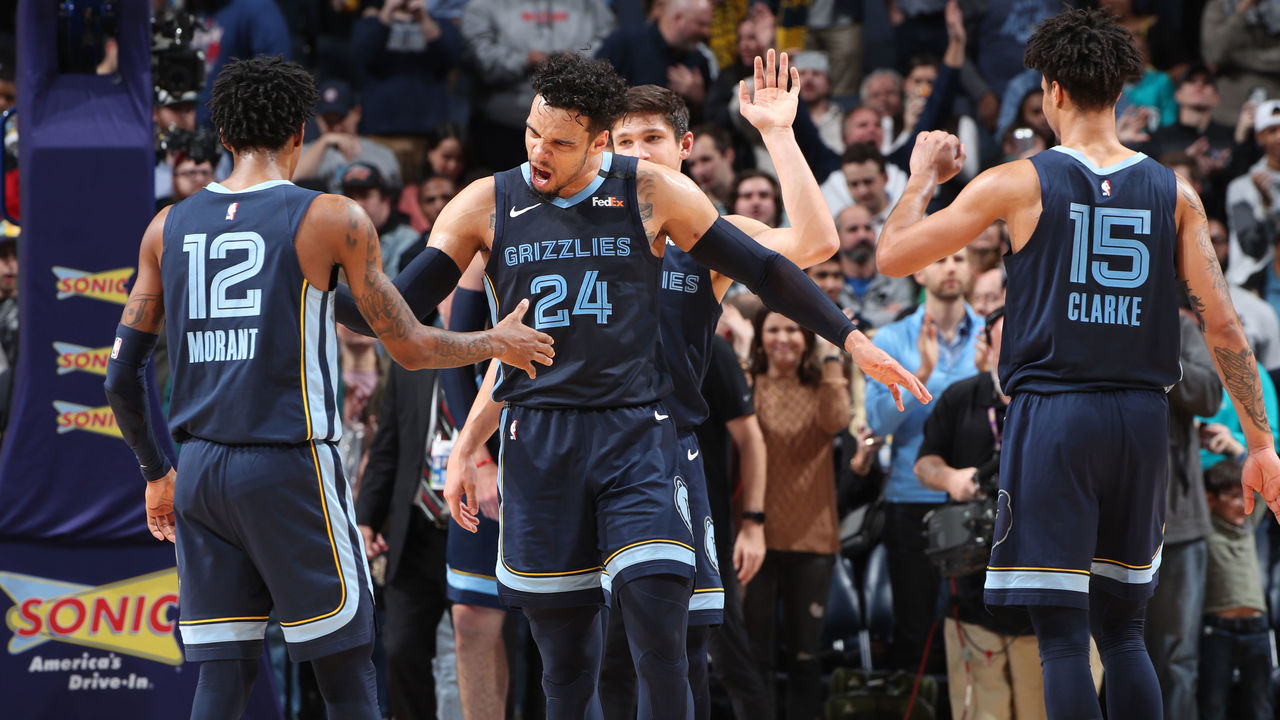 Even with a two-game cushion, holding onto the 8-seed is going to take some doing. The Grizzlies' tricky remaining schedule includes six more road games than home games, and they still have plenty of warts: Their defense is flimsy and error-prone; they don't get to the free-throw line, but they do send opponents there a ton; they cough up the ball a lot and don't generate many takeaways of their own (which is particularly galling given how often they foul).
Those all neatly fit the definition of young-team problems, though. For the most part, they're mistakes of commission rather than omission, and that's easier to stomach when the players in question are still exploring the limits of their capabilities. And the Grizzlies have been good enough at the nuts-and-bolts aspects of the game to suggest they'll remain in the thick of the playoff hunt, to say nothing of what the next few years could look like.
If all of this is undeniably exciting, we should also be wary of getting too far ahead of ourselves. Every year a new upstart emerges from the soil, looking poised to take root and grow into a monster. We glom onto these teams, eager to crown every semi-sprouted seedling the second coming of the late-aughts Thunder. Memphis wouldn't be the first rebuilding, small-market team to tease greatness before ultimately becoming a victim of its own outsized promise. Impatience is a hell of a drug.
But these Grizzlies are way ahead of schedule, and even if a postseason berth isn't in the cards, they're going to get an important taste of meaningful second-half basketball. Time is on their side. And for now, you can't really ask for much more than the fireworks displays they're putting on each and every game.
Joe Wolfond writes about basketball and tennis for theScore.