The bottom fell out of the Western Conference in the first half of this season, leaving a pack of sub-.500 squads in an East-like, tortoise-paced "race" for the final playoff spot.
The Lakers, Clippers, Nuggets, Jazz, Rockets, and Mavericks have all established themselves as contenders on some level. The surprising Thunder are five games clear of ninth place and should be a safe bet to make the playoffs if they keep their current core intact, as they should.
Bringing up the rear, the 9-34 Warriors lost Kevin Durant, Klay Thompson, and Steph Curry to either free agency or injury in the span of six games over four months, so they have no choice but to wait until next year.
In between, seven West teams with losing records will vie for one playoff spot in the second half of the season. And with No. 8 through No. 14 separated by just four games after Thursday's slate, let's check the pulse of each combatant (season records entering Friday in parentheses).
Memphis Grizzlies (19-22)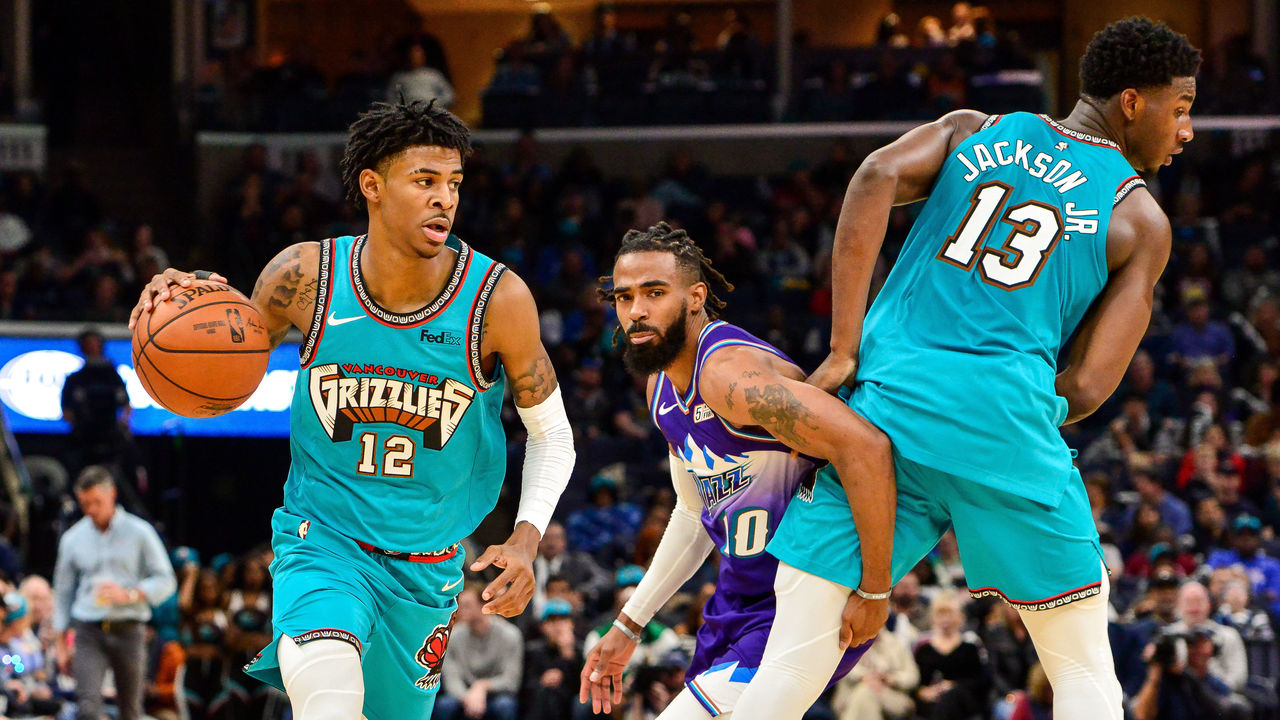 Of the seven teams in question, the Grizzlies are the most carefree in the short term and the most promising in the long run.
Only three years after the franchise's last postseason appearance, the dismantling of the Grit and Grind era roster has already borne fruit through lottery luck and sound draft decisions.
For starters, Ja Morant is the most impressive rookie point guard in a generation. Young players at his position are supposed to struggle, particularly when they play at such a high speed. What makes Morant so special is his ability to play at a relentless, breakneck pace one moment and then display the poise of a veteran floor general the next.
Morant recorded a number of highlight-reel assists among his eight dimes against Houston this week, but a couple of his lower-key helpers were just as impressive.
Those two assists (in the video below between 2:00-2:14) highlight the timing and nuance of Morant's playmaking. In the first instance, Morant's convincing attack fools P.J. Tucker - an elite defender - into believing a drive is coming, but the rookie is a step ahead of the veteran forward, and he begins to rise for an alley-oop pass the instant Tucker leaves Jaren Jackson Jr. on the baseline. In the second example, a simple Morant-Jackson pick-and-roll turns into an open 3-pointer for teammate Solomon Hill, as Morant leverages the attention of a rolling Jackson and calmly flows into an easy pass without breaking stride or picking up his dribble.
It's simple stuff, but most guards take years to master those subtle tricks. Morant has done it in a few months while averaging 18 points, 6.9 assists, 3.5 rebounds, and a steal on 49-41-80 shooting.
Meanwhile, Jackson has shown the ability to be a floor-spacing, rim-running terror on both ends of the court. Brandon Clarke should be an elite finisher and rim-protector for years. Dillon Brooks is a sharpshooter in the making and might be the perfect off-ball complement to Morant in the backcourt. De'Anthony Melton has been the prize of what was previously known as the "Josh Jackson trade."
Morant, Jackson, Clarke, Brooks, and Melton are all under the age of 24. The Grizzlies have won six in a row and 13 of 19. During that span, they've beaten the Rockets, Clippers, Thunder, and Heat. They owe a top-six protected draft pick to the Celtics, but they can easily cough that up this year without fretting about how it impacts their rebuild.
At this point, everything is gravy for the Grizz.
San Antonio Spurs (17-22)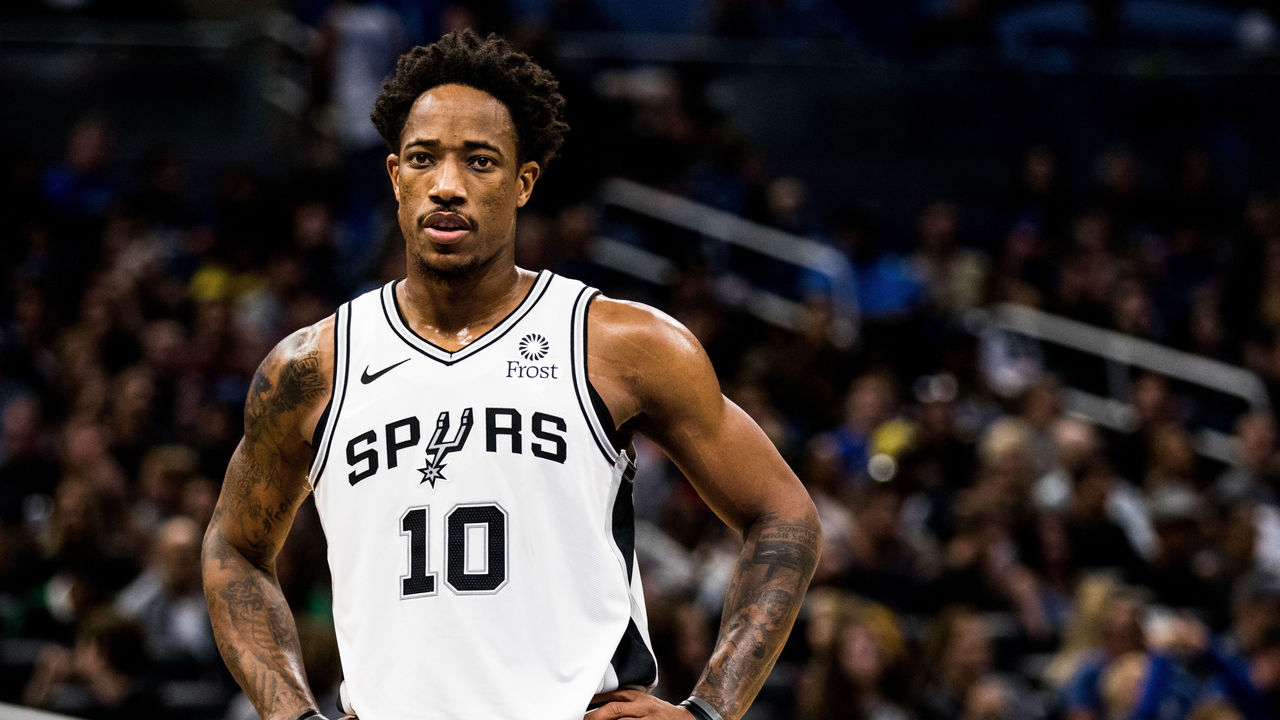 The Spurs have a 22-year playoff streak to contend with, but of all these teams, they should be the least enthusiastic about making a meaningless run to the eighth seed. Unlike Portland, which still fancies itself a contender, and unlike the young, small-market squads on this list that would love to host a couple of playoff games, San Antonio just doesn't need to.
The current stars - DeMar DeRozan and LaMarcus Aldridge - almost surely won't be part of the next great Spurs team, and these Spurs are miles away from true contention right now. If any team in this race for eighth should be leaning toward blowing it up and looking to move its veterans, that team is San Antonio.
Having said that, if the Spurs do keep this group together, they're worth monitoring due to a significant recent development.
One of their mid-range maestros, Aldridge, has suddenly started launching from deep with regularity, which could unlock a number of options for the offense. Aldridge becoming a floor-spacer opens up the lane for DeRozan - who's playing some of the best ball of his life despite his oft-cited limitations - and it could allow Gregg Popovich to play Aldridge and defensive big man Jakob Poeltl together since spacing would be less of an issue.
Still, don't expect the Spurs, who are dead last in 3-point attempt rate for the second straight year, to completely overhaul their offensive makeup. They don't have the personnel to do it, and as Popovich noted before last weekend's win in Toronto, you can't just assume other players will be able to become shooting threats.
"They'll definitely get better, but you can work as long as you want, and you're not going to be Steph Curry," Popovich said. "There's a limit for everybody based on a lot of things. If nothing else, just God-given physiological makeup. What kind of hands they have, what kind of release they have, what kind of timing they have, how coordinated their bodies are - it's different. Jakob Poeltl's probably never gonna shoot a three the way (Aldridge) does.
"But he'll probably eventually start to shoot (threes) because that's what the league is now. You have to shoot threes, or there's a good chance you'll lose every game."
If they want their remarkable postseason streak to continue, the Spurs will either need to reinvent themselves or hope Popovich's last statement is proven wrong.
Portland Trail Blazers (18-24)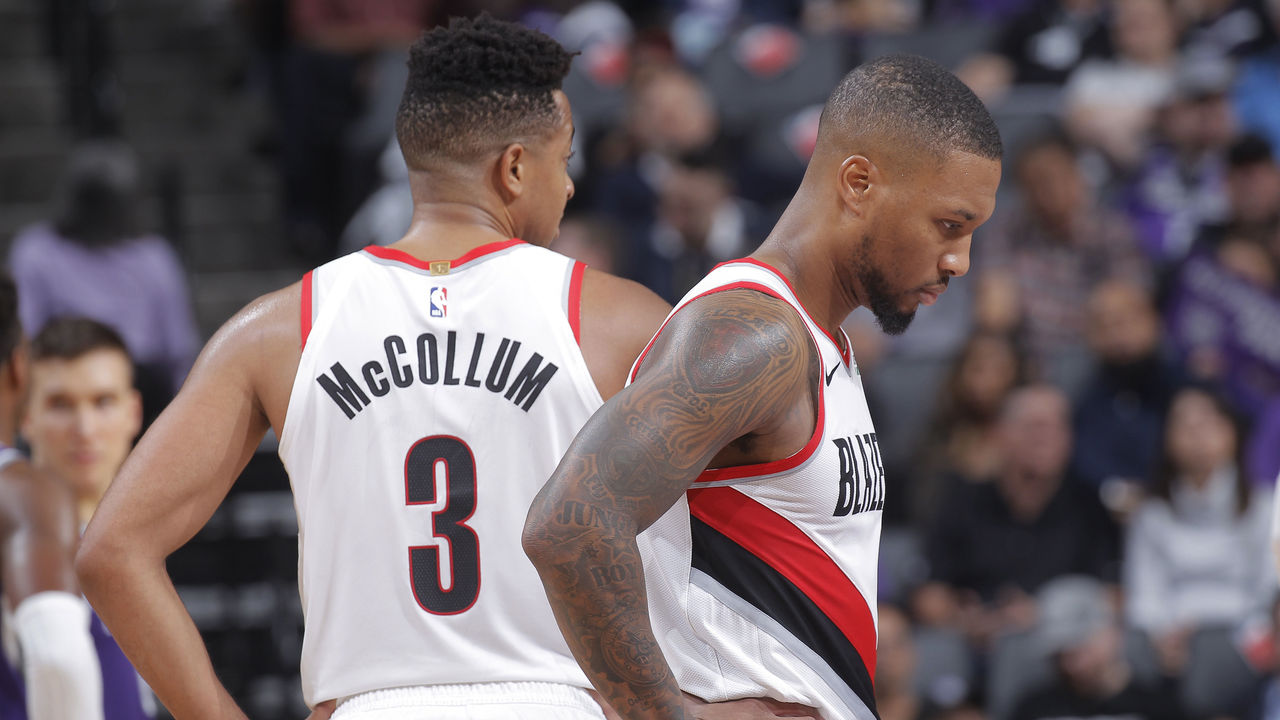 The most disappointing team in this group is the Blazers, who've followed up their inspiring conference finals run by starting 18-24 this season.
Portland owned the same record through 42 games three years ago before catching fire down the stretch and sneaking into the playoffs as a No. 8 seed at 41-41.
"Obviously, we're not where we want to be, but the takeaway from that (2016-17) season was we were not very good defensively in the first half, and we made a substantial jump defensively in the second half. That's what kind of propelled us," head coach Terry Stotts said on Jan. 7 in Toronto before noting that Portland's bench this year is made up of young players who often take longer to develop on defense.
"The communication and anticipation - veteran teams are better defensively because they've seen things and can anticipate things," Stotts continued. "That's one of the challenges we have, but we can (get there). Some of it might be schematic, Xs and Os, but a lot of it is just communicating and making each other better."
The Blazers actually rank in the top 10 in terms of effective field-goal percentage allowed (51.3%) this season, and they've done a decent job of running opponents off the 3-point line while posting elite rim-protection numbers (59.7% defensive field-goal rate at the rim, which ranks fifth).
But while the bigs have done a good job of forcing misses at the basket, Portland's perimeter players have allowed too much penetration in general, with 30.4% of opponent field-goal attempts coming within 3 feet of the basket. The Blazers are also a bottom-10 team when it comes to putting opponents on the free-throw line, and they don't force enough turnovers, which are both indicators of poor defense at the point of attack.
Jusuf Nurkic's likely return from injury in February could address Portland's woeful defensive rebounding (27th-ranked defensive rebound rate of 29.2%), but even if Nurkic returns in peak form - which is asking a lot from a big man who missed nearly a year because of a broken leg - he can't make up for the raft of defensive liabilities on this roster.
At least replacing Hassan Whiteside with Nurkic's playmaking in the middle of the floor should help Damian Lillard and CJ McCollum unlock Portland's 12th-ranked offense, and getting back to boasting an elite offense is as important for Portland as rediscovering its middle-of-the-pack defense.
Phoenix Suns (17-24)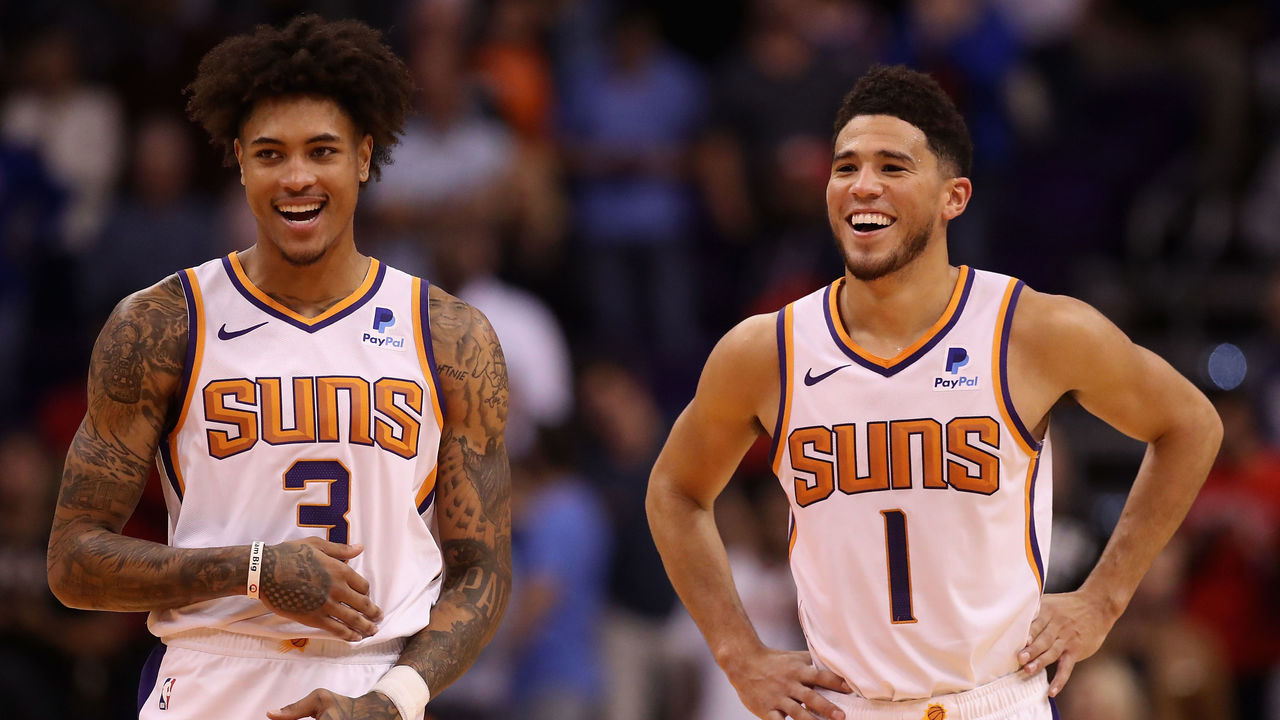 The Suns have tailed off dramatically since their stunning start to the season, but Thursday's lopsided victory over the lowly Knicks provided a reason for optimism: Deandre Ayton returned to the starting lineup and poured in 26 points while grabbing 21 rebounds.
Since coming back from a sprained ankle - which followed a 25-game suspension - Ayton had only started three of eight appearances as the Suns mostly rolled with veteran center Aron Baynes.
Baynes is a vastly superior defender, and it was through improved play on that end of the court that Phoenix teased a promising season during the opening month, but coach Monty Williams needs to consider the big picture here. Ayton was the No. 1 overall pick last season, the 33-year-old Baynes likely won't be around if and when this Suns core is ever ready to contend, and Phoenix needs to know what the Ayton-Devin Booker partnership can provide.
Booker, by the way, remains an offensive wonder who's averaging 26.2 points and 6.3 assists on 51-36-91 shooting this season.
When Booker is on the court, Phoenix's offense operates at a top-four level (113.4 rating). When he sits, the team's offensive rating of 99.6 is more than four points per 100 possessions worse than the 30th-ranked Knicks. And when Booker and Ayton share the court with Ricky Rubio - the competent two-way point guard Booker always needed - the Suns have outscored opponents by more than 20 points per 100 possessions.
Meanwhile, Kelly Oubre has turned himself into a good player on a team-friendly contract. Mikal Bridges remains intriguing. The Suns have the talent to hang in a weak playoff race this year and still build for the future. Booker has never cracked the 25-win mark in his five-year career, and Phoenix just desperately needs to play some meaningful late-season basketball.
New Orleans Pelicans (16-26)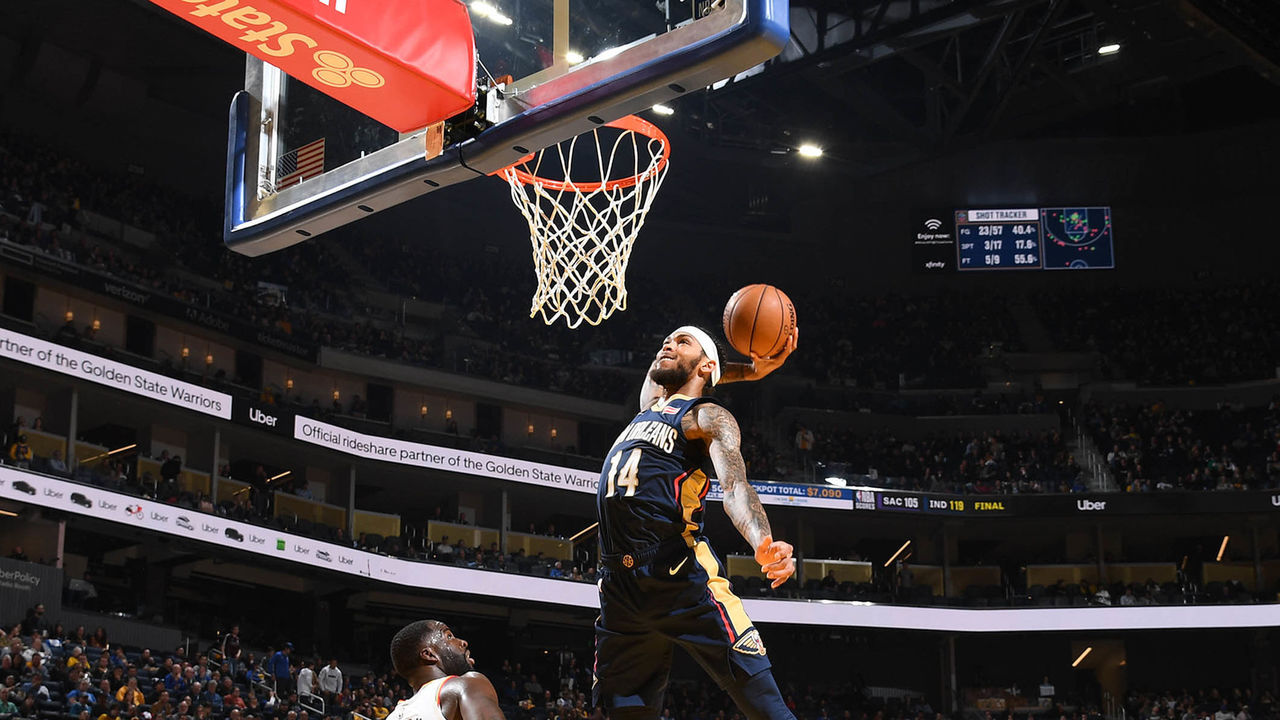 If you ruled out New Orleans when the Pelicans lost 23 of their first 30 games, it's time to pay attention again. They've won nine of 12 since then, including victories over Portland, Denver, Indiana, and Houston before ending Utah's 10-game winning streak Thursday night.
New Orleans is suddenly just 3.5 games back of eighth and the team will finally welcome No. 1 overall pick Zion Williamson to the lineup on Wednesday. It also has the easiest remaining schedule of the seven teams in this race. All of that helps explain why FiveThirtyEight's projection system now pegs the Pelicans as the favorite to snag the West's final playoff spot.
The biggest development of the first half, however, is that while the Pelicans were waiting for one franchise star to get healthy, they may have discovered a second one.
After a 49-point explosion in New Orleans' overtime win over Utah, offseason addition Brandon Ingram is now averaging 25.8 points, 6.8 rebounds, and 4.3 assists on 48-41-86 shooting in his first season carrying the offensive load. Only seven high-usage players in history have been as efficient as Ingram's been this season in one of their first four NBA campaigns.
What's most encouraging is that Ingram has looked like the complete offensive package. He ranks in the 85th percentile for isolation efficiency (1.06 points per possession) and in the 81st percentile as a spot-up scorer (1.16 PPP). He still needs to improve his post game, which should come with added physical strength, but he's been solid running pick-and-rolls as the ball-handler.
If Ingram is anywhere near this good over the long term and if Williamson approaches the lofty expectations placed on his broad shoulders, the Pelicans will feature arguably the most promising young duo in the league.
Jrue Holiday and JJ Redick would be key trade-deadline targets if your team is a contender that's looking for a piece to put it over the top, but it seems highly unlikely that New Orleans will fall out of playoff contention between now and Feb. 6.
Minnesota Timberwolves (15-25)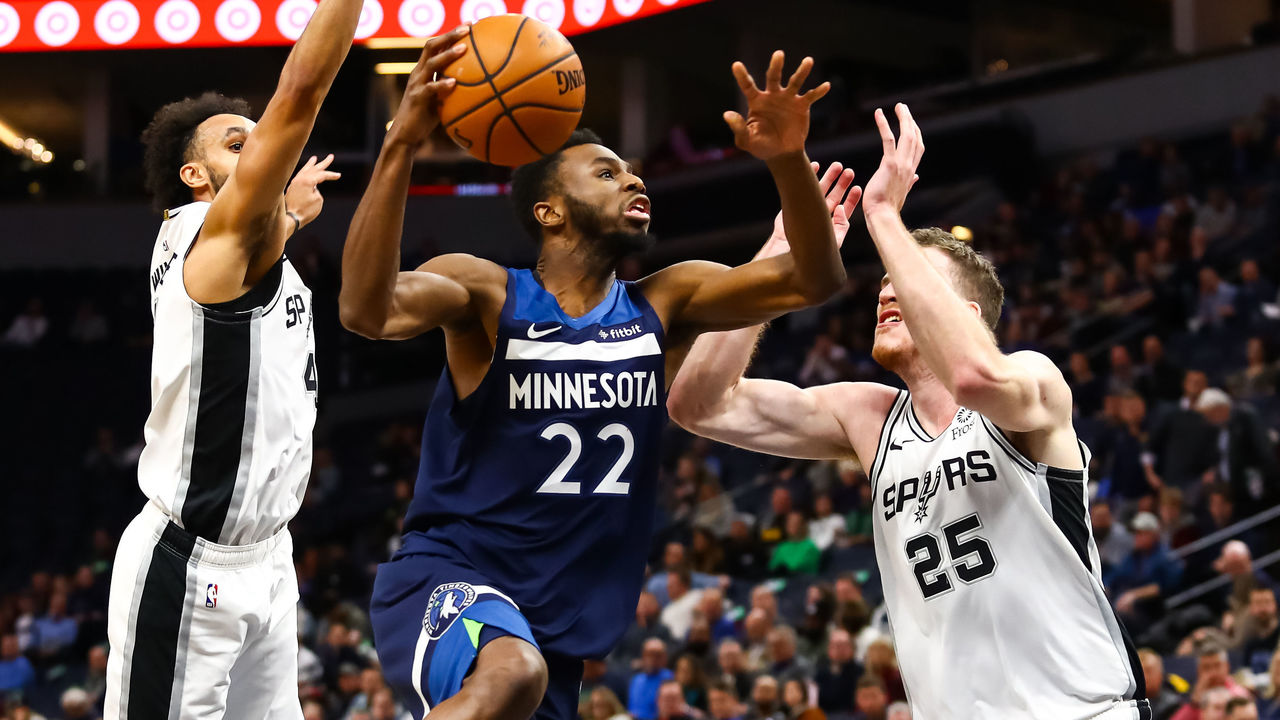 The Timberwolves feel like the inverse of the Pelicans, as Minnesota has dropped 17 of its last 22 games - including an 11-game losing streak - after a 10-8 start.
Minnesota also just made a somewhat confusing trade (unless it's the precursor to additional deals) by sending the expiring contracts of Jeff Teague and Treveon Graham to Atlanta for the expiring and inferior Allen Crabbe. The Timberwolves are now worse in the aggregate and possess less ball-handling than they did before the trade. Plus, they only saved about $2.1 million.
Andrew Wiggins' game has grown and Karl-Anthony Towns remains a transcendent offensive talent, but the Wolves are barely a positive net team when those players share the court (plus-1.4 points per 100 possessions). Meanwhile, there are still so many question marks surrounding the future construction of this roster.
Minnesota desperately needs a point guard of the future, but if the team moves Robert Covington to acquire that lead guard, it would be sacrificing the type of 3-and-D wing that glues a good roster together. Wolves fans may not want to hear it, but it's time to accept that this franchise needs yet another offseason to figure things out.
That's especially worrisome when you remember that Towns - who hasn't played in more than a month because of a knee injury and an illness - was reported to be unhappy in Minnesota as recently as a couple of weeks ago.
Sacramento Kings (15-26)
The Kings built up so much goodwill during their surprising 39-win campaign last year, but they've since squandered most of it. Currently 11 games below .500, Sacramento is well on its way to an unfathomable 14th consecutive losing season.
The maddening part for Kings fans - besides Marvin Bagley's litany of injuries (thumb, ankle, foot) over the last three months - is that while the core of last year's team has been solid, the players the front office spent money to acquire have dragged the 2019-20 edition down.
Harrison Barnes, who joined Sacramento last February and signed an $85-million contract in July, just doesn't impact the game at a level worthy of his big-money deal. The veteran trio of Trevor Ariza, Cory Joseph, and Dewayne Dedmon - players the Kings are paying a combined $37.5 million this season - have looked like shells of their former selves, with Dedmon recently being fined for publicly requesting a trade.
If those pricey deals play a role in the Kings losing Bogdan Bogdanovic to restricted free agency this summer, their fans will rightly be furious.
The only saving grace for Sacramento has been the backcourt of De'Aaron Fox and Buddy Hield, but even that dynamic duo won't save the Kings from what's coming. Sacramento is set to embark on a five-game road trip beginning in Utah this weekend, and 15 of its next 18 games will come away from home or against a winning team.
If you're looking for a squad that's primed to drop out of this race over the next few weeks, place your bet on the Kings. But given how impulsive owner Vivek Ranadive's organization has a reputation for being, that alone makes Sacramento worth watching leading up to the trade deadline.
Joseph Casciaro is theScore's senior basketball writer.