Top 10 soccer players of 2022
With 2022 coming to a close, it's time to celebrate the best that men's soccer had to offer over the past 12 months of club and international action. Below, we count down the top 10 footballers of the year.
10. Neymar 🇧🇷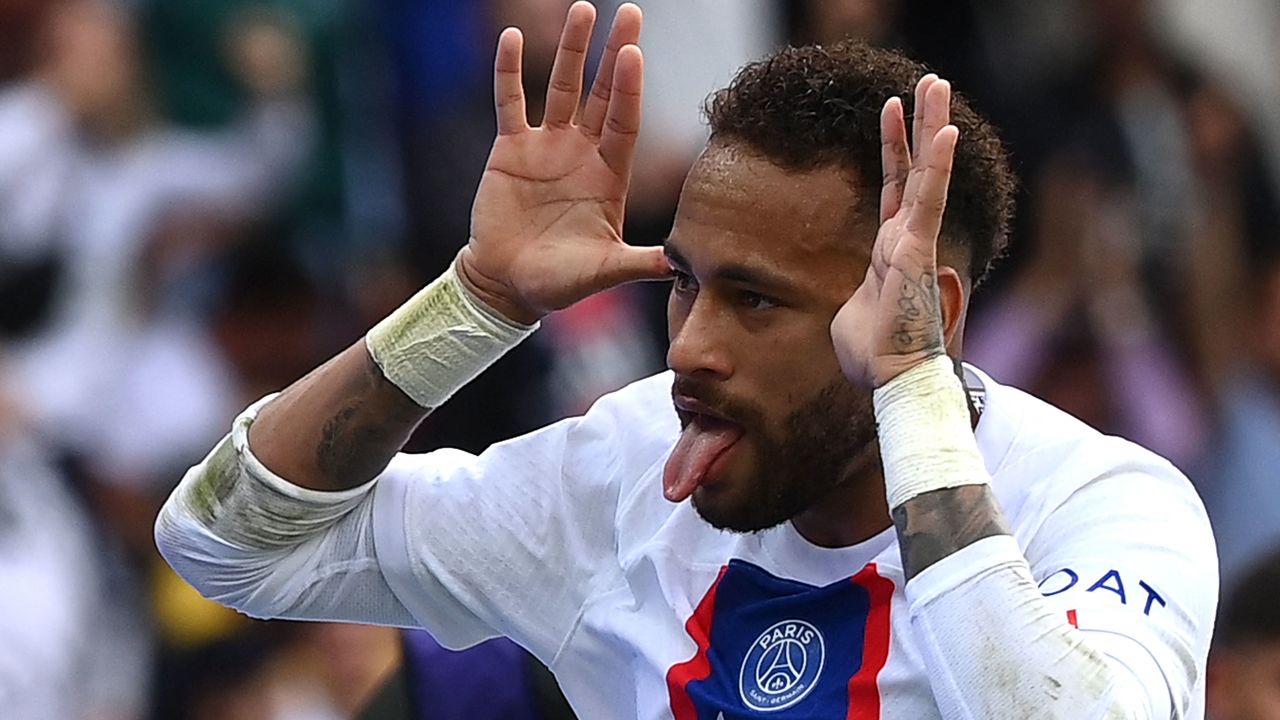 Club: Paris Saint-Germain | Age: 30 | Position: Forward
Neymar still hasn't reached iconic status in Brazil after failing to win it all at the 2022 World Cup. But he did manage to repair his image after ditching his reputation as a diver that he earned at the 2018 tournament. His bright start to the season at Paris Saint-Germain carried over to Qatar where he delivered strong performances and led a supremely talented Brazil outfit.
The 30-year-old etched his name in history after equaling Pele with his 77th international goal before bowing out of the World Cup in the quarterfinals. It was a bitter end to what might've been his best chance at winning the quadrennial event, but Neymar showed he still possesses the type of talent that could one day earn him his first Ballon d'Or award.
9. Rafael Leao 🇵🇹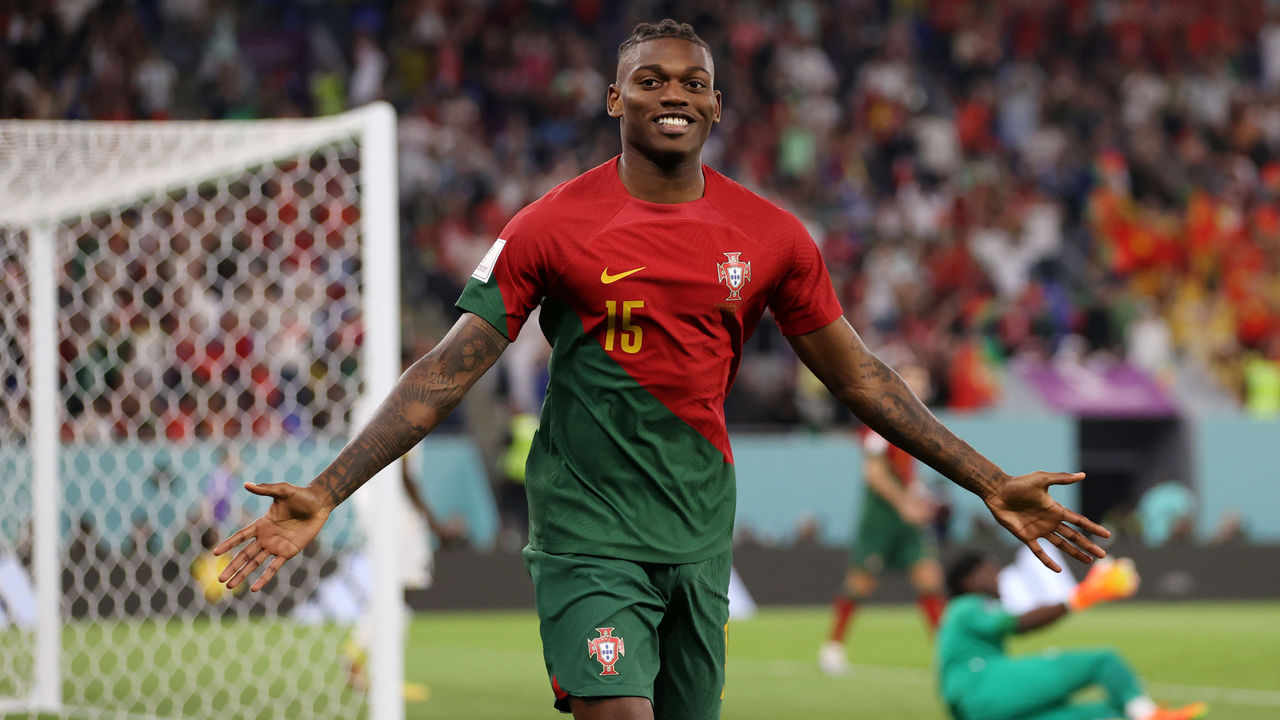 Club: AC Milan | Age: 23 | Position: Winger
Among the many gripes that Portugal fans should've had with now departed head coach Fernando Santos during the World Cup, omitting Leao from the starting lineup should be near the top of the list. The winger's knack for finding an extra gear mid-run and contorting opponents with his dribbling would've made him a valuable weapon in a tournament with an overall weak contingent of full-backs. His performances in Italy have also proved he's a reliable source of goals.
Leao was named Serie A's Most Valuable Player for the 2021-22 campaign after tallying 11 goals and eight assists as AC Milan won their first Scudetto in 11 years. He's been similarly potent this season with six goals and four assists over 14 Serie A appearances and will expect to make his mark in the Champions League knockouts as the Rossoneri prepare to face Tottenham Hotspur in the round of 16.
8. Sadio Mane 🇸🇳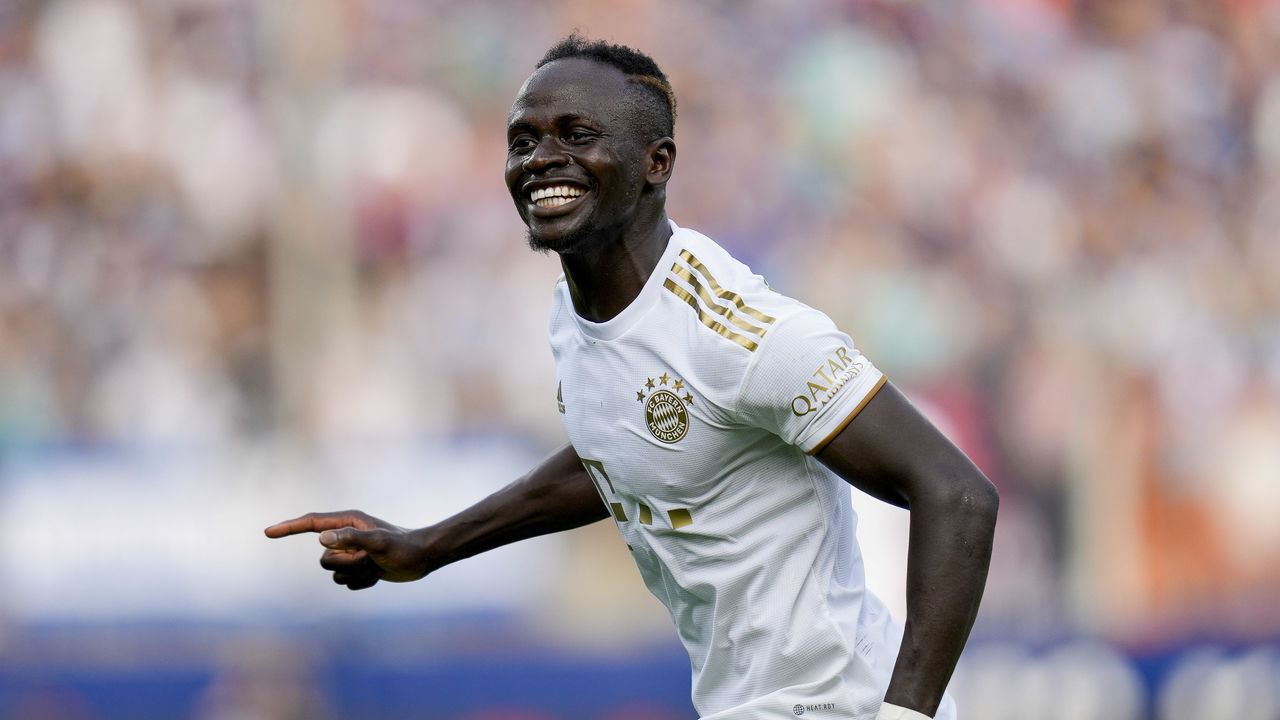 Club: Bayern Munich | Age: 30 | Position: Forward
Although 2022 ended on a sour note, there were certainly enough peaks to make it a memorable year for Mane. The 30-year-old continued to establish himself as one of the world's top players and was pivotal in helping Senegal enjoy unprecedented success while arguably surpassing Mohamed Salah as Africa's best player.
Mane started the year by breaking Salah's heart twice in less than two months on the international stage. After leading Senegal to its first-ever Africa Cup of Nations triumph with a shootout win over Egypt in the final, Mane scored the winning penalty against Salah's side again to secure his country's place at the World Cup. Mane also left Liverpool after six years for a new challenge at Bayern Munich, where he scored 11 goals in all competitions before suffering a leg injury that ended his hopes of playing in Qatar.
7. Robert Lewandowski 🇵🇱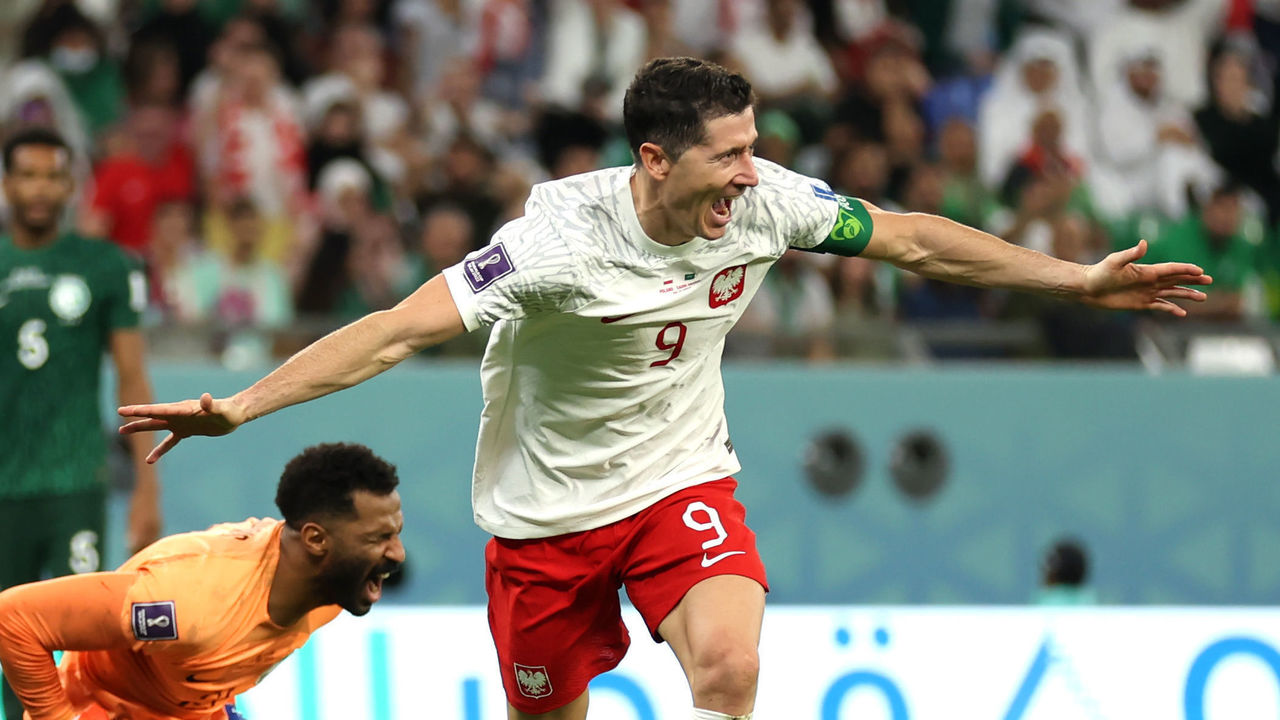 Club: Barcelona | Age: 34 | Position: Striker
Different club, same result: plenty of goals. Lewandowski hasn't skipped a beat since leaving the familiar confines of Bayern Munich for Barcelona this past summer. He closed out his bountiful spell in Germany by retaining the European Golden Shoe and scored 18 goals in just 19 appearances thus far between La Liga and the Champions League. Many things remain uncertain at Barcelona during a tumultuous time, but the guaranteed production of Lewandowski eases some fears and provides reassurance.
He's the leading scorer in Spain's top flight this season, sitting five goals clear of the nearest challenger. The Pichichi Trophy beckons. Some things never change. Lewandowski also realized a longstanding dream this winter by scoring his first World Cup goal, ticking off that outstanding box in what was almost definitely his final opportunity to do so.
6. Vinicius Junior 🇧🇷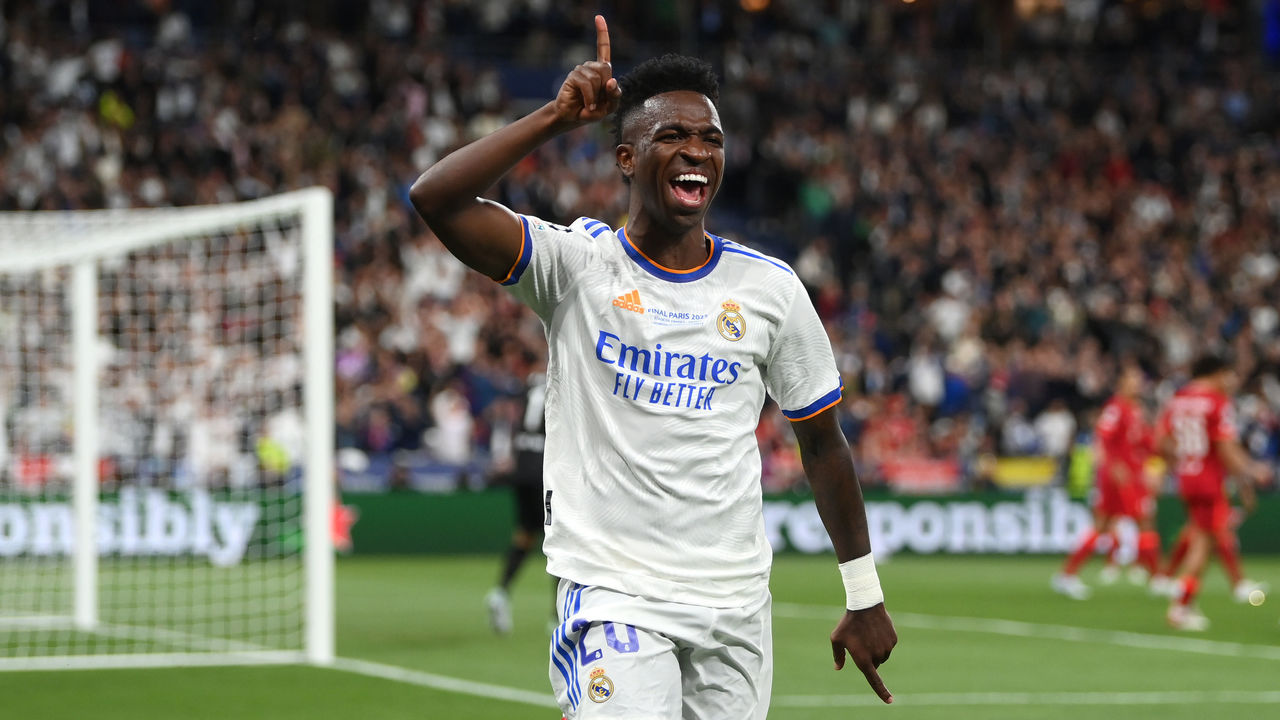 Club: Real Madrid | Age: 22 | Position: Winger
Vinicius Junior didn't light up the World Cup like some might've expected. But, the 22-year-old won't be affected by falling short of expectations; he's been dealing with adversity ever since his high-profile move from Brazil to Madrid in 2018. Vinicius has made impatient critics look foolish in the past as the winger has developed - at his own pace - into one of football's most electric players.
He's become a potent finisher after overcoming early scoring struggles at Real Madrid, and his confidence with the ball is unmatched, regularly provoking defenders with fearless footwork and blinding speed. He has all the makings of a global superstar, and his eventual arrival at that level will be worth the wait.
5. Kevin De Bruyne 🇧🇪
Club: Manchester City | Age: 31 | Position: Midfielder
Let's get this out of the way: He wasn't very good at the World Cup. Roberto Martinez's peculiar tactical choices and misguided loyalty to some Belgium squad members may have contributed to De Bruyne's subpar displays in Qatar, but witnessing the playmaker produce fewer key passes than Iran's Mehdi Taremi at the tournament was perplexing.
De Bruyne's performances for Manchester City are another matter. After overcoming the remnants of COVID-19 and injury during the first half of the 2021-22 season, he was unfortunate to miss out on a Champions League final while helping City outmuscle Liverpool in the Premier League title race. He's on course for a record-breaking campaign in 2022-23 - he already has nine top-flight assists - after instantly striking up a strong on-field understanding with Erling Haaland. De Bruyne habitually turns the tide for Pep Guardiola's side on his own: The more irritated he gets, the better he becomes.
4. Erling Haaland 🇳🇴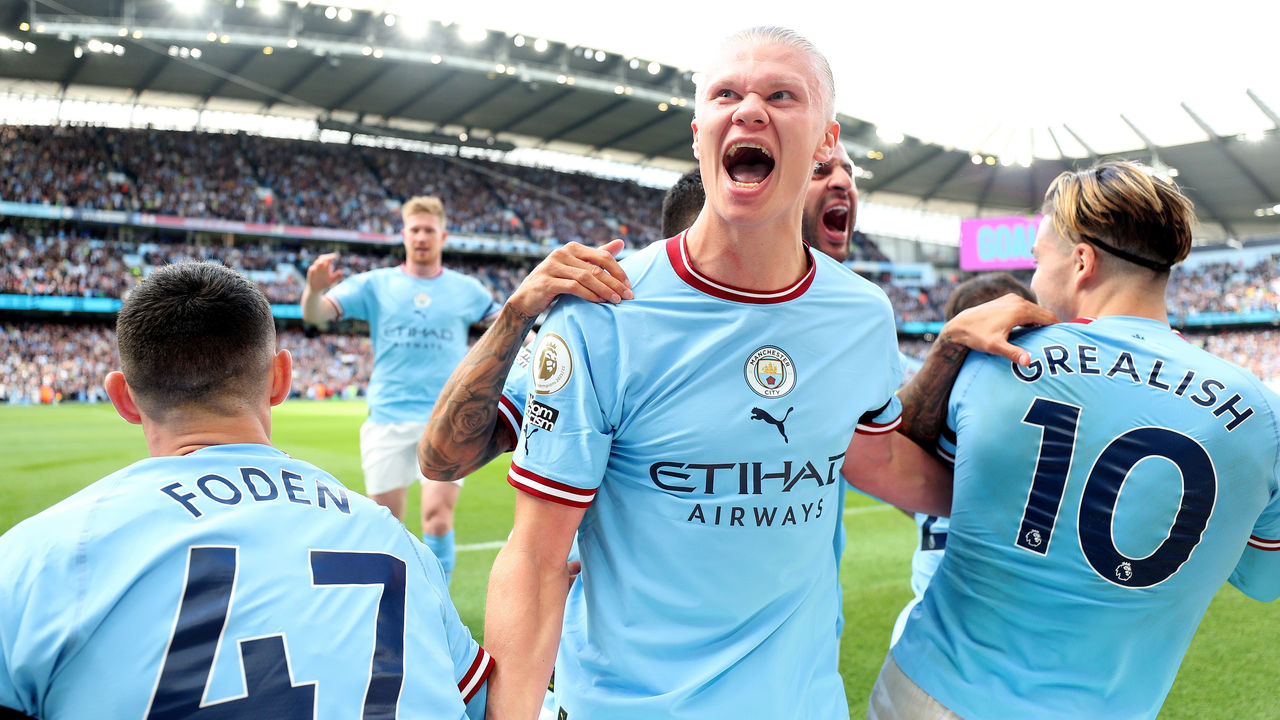 Club: Manchester City | Age: 22 | Position: Striker
Haaland is a one-man wrecking ball. He's exploded with 20 goals over his first 14 top-flight outings for Manchester City, putting him in the hunt for the most goals in a debut Premier League campaign. (Sunderland's Kevin Phillips scored 30 in 1999-2000.) He could also trouble the single-season scoring record: Salah hit an unrivaled 32 goals in a 38-game campaign in 2017-18, and Andy Cole and Alan Shearer struck 34 times when Premier League clubs each played 42 games.
Despite missing two matches and playing just 45 minutes on two other occasions, Haaland crammed in five goals during the 2022-23 Champions League group stage, taking his overall tally in the competition to 28. That puts the 22-year-old above Robin van Persie and level with Hernan Crespo in the all-time standings. Football appears primed for a head-to-head scoring battle between Haaland and the next player on this list for the next decade, and that should make for compelling viewing.
3. Kylian Mbappe 🇫🇷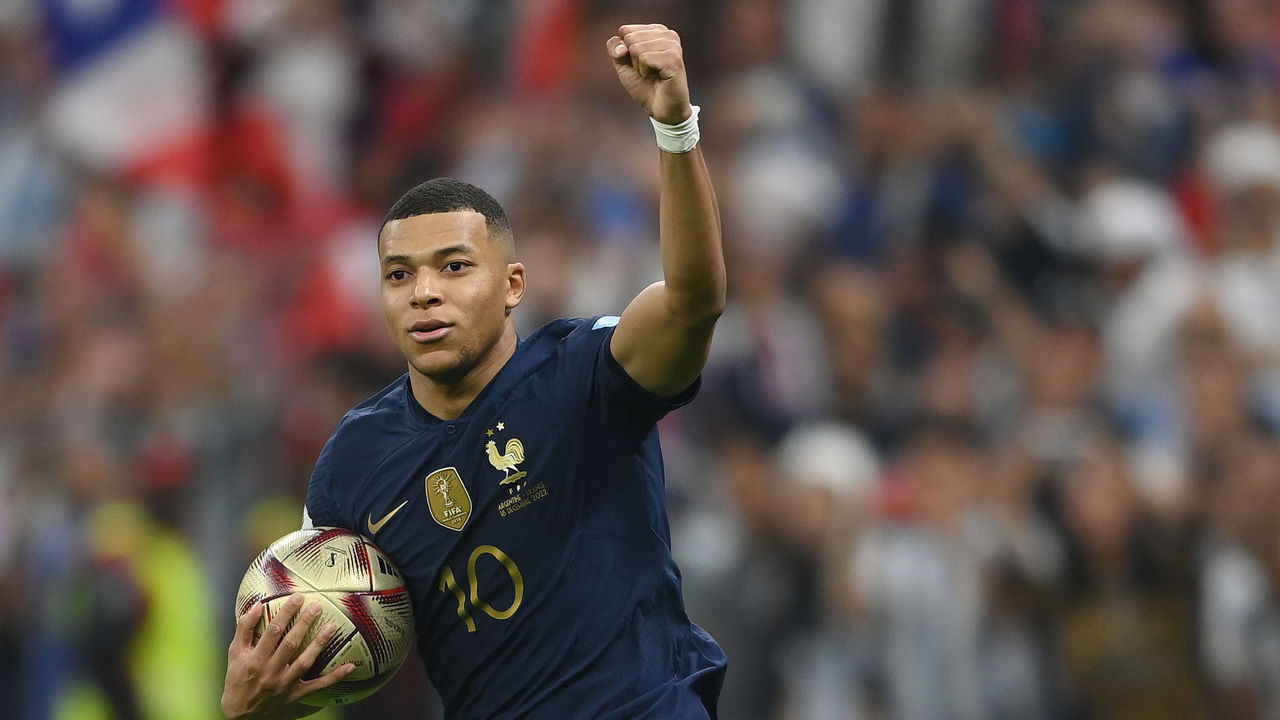 Club: Paris Saint-Germain | Age: 24 | Position: Forward
Heir to the throne as the best player on the planet, Mbappe continued his ascension in 2022. It was almost inconceivable to think that the French superstar could get even better this year, but somehow, that's precisely what happened. There's an inevitability about Mbappe now. Every time he touches the ball, fireworks follow in some form. In that way, he's already unrivaled.
Mbappe was the top scorer in Ligue 1 in 2021-22. He's the leading scorer this campaign, too, and nobody has found the net more times in this season's Champions League. In 21 combined matches between the two competitions, he's recorded 20 goals. Scoring goals is the hardest thing to do in the sport, and he makes it look pedestrian even when the opposition focuses so much attention and energy on trying to stop him. He almost ripped the World Cup title away from Argentina on his own, scoring a hat-trick in the final that punctuated his status as the ultimate game-breaker. Every scoring record that exists in world football could eventually belong to Mbappe.
2. Karim Benzema 🇫🇷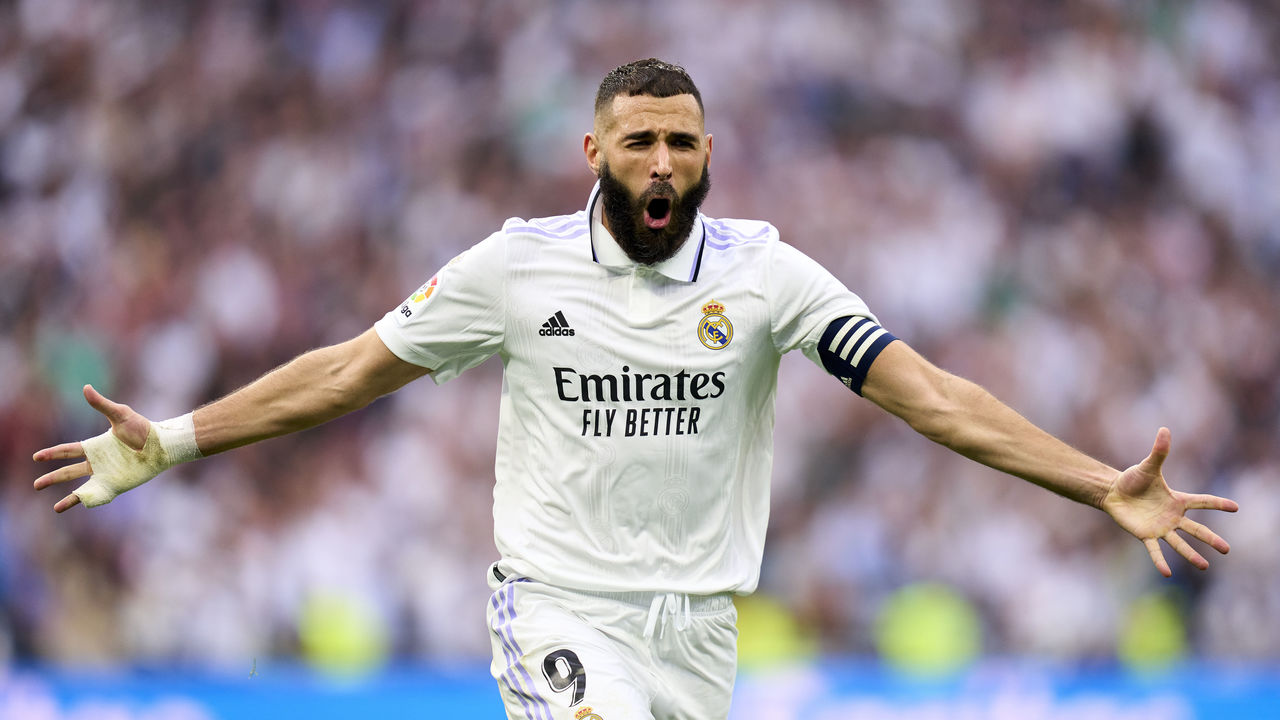 Club: Real Madrid | Age: 35 | Position: Striker
It's a shame an ill-timed injury robbed Benzema of his final opportunity to shine at the World Cup. Would France have defended its title with the Real Madrid striker leading the line? We'll never know. But that shouldn't take anything away from Benzema's achievements in 2022, a wildly prolific year in which he captured the Ballon d'Or for the first time. Benzema's scoring prowess in the first half of the calendar year was nothing short of legendary. He took home a maiden Pichichi Trophy after bagging 27 La Liga goals over the 2021-22 campaign, leading Real Madrid to the league title.
But it was in the Champions League where he moved mountains. Benzema delivered a pair of indelible hat-tricks in the round of 16 and quarterfinals - against Paris Saint-Germain and Chelsea, respectively - before tormenting Manchester City with three goals over two mesmerizing semifinal legs. He racked up a whopping 10 tallies in the knockout stage; in all, his tournament-best 15 goals powered Real Madrid to yet another Champions League crown. After so many years spent in Cristiano Ronaldo's shadow, Benzema towered over everyone else in the Spanish capital in 2022.
1. Lionel Messi 🇦🇷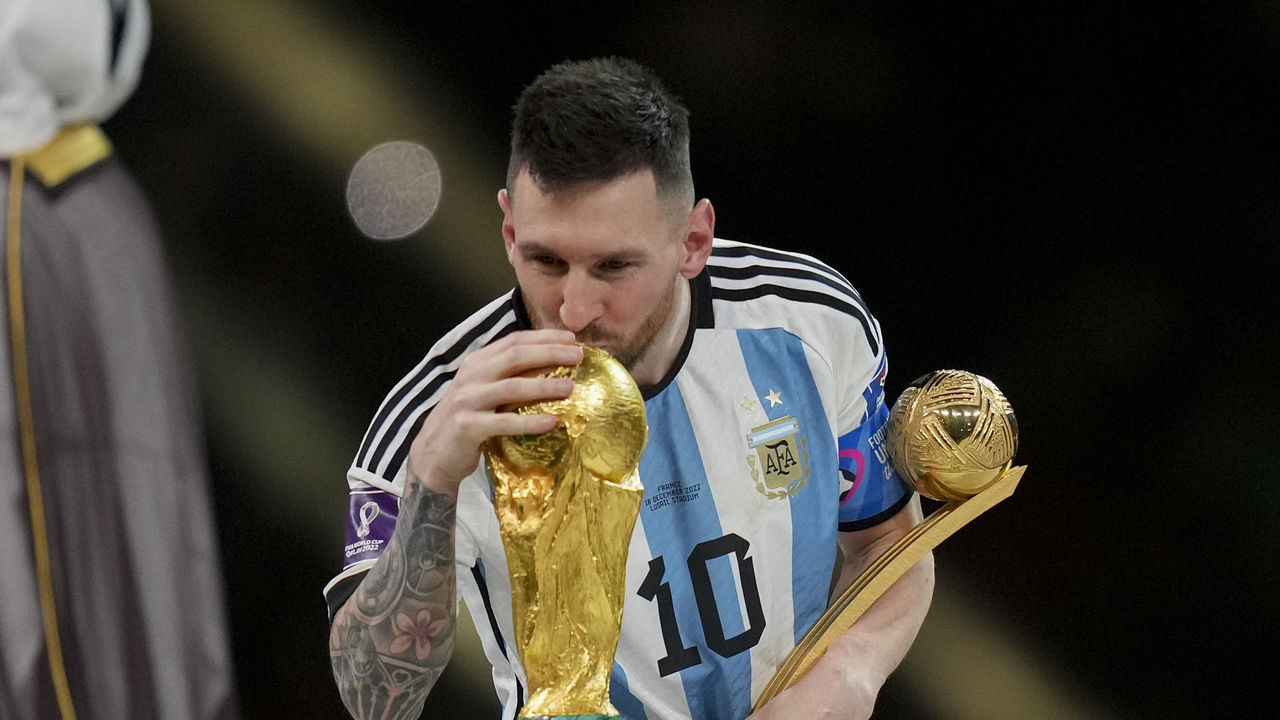 Club: Paris Saint-Germain | Age: 35 | Position: Forward
Who else? Messi, back to his scintillating best with Paris Saint-Germain after a transitional first season in the French capital, is atop the football world after leading Argentina to World Cup glory. The minuscule magician put on a clinic in Qatar, dazzling every step of the way. He scored in each round of the competition, including twice in the instantly iconic final, to silence any remaining - and misguided - doubters by hoisting the only trophy that had eluded him. This isn't a case of recency bias after his defining triumph in the desert, though. Messi has been conjuring up breathtaking moments throughout the calendar year for both club and country.
He's either at the top, or very close, in virtually every statistical category that measures attacking contribution; he leads Ligue 1 in assists this season and is tied for top spot with four helpers in the Champions League. Between the two competitions, he's already hit double figures in goals, too. But more than the raw numbers, nobody owned 2022 on the pitch like Messi. In any World Cup year, the tournament has an outsize impact on year-end reviews like this one. When we all look back on the past 12 months, Messi aloft with the golden trophy in his hands will be the defining image.