Of all the challenging situations Bianca Andreescu had already faced in her extremely young career - the battles with injuries, the finals at Premier tournaments, the high-wire showdowns against top-ranked opponents - none could measure up to this.
Serving for the US Open title, against Serena Williams, up 5-1 in the second set, Andreescu had earned championship point, and then blinked. Not a significant letup, just a momentary lapse where her precision wobbled and assertiveness gave way to passivity, something that happens to every player in virtually every meaningful match. But at that particular juncture, on enemy soil, against the greatest of all time, the little blip threatened to completely unravel the tapestry Andreescu had spent the previous hour and 20 minutes weaving.
All match, Andreescu had been undauntedly taking the fight to her daunting opponent. She'd dined out on Serena's second serves, rifling them back with deep, penetrating returns. She'd landed nearly every first serve of her own, denying Serena a toehold in the court-position battle. The vast majority of extended rallies had found her on the front foot: dictating with her forehand, changing the direction of the ball at will, and stubbornly refusing to get pushed off the baseline. Serena had done herself no favors by landing fewer than half her first serves and double-faulting on three separate break points, to say nothing of her messy footwork and error-riddled ground game.
But when that first championship point hit, it felt like the laws of cartoon physics came into effect: Andreescu looked down for the first time, realized she'd been impossibly floating through the air, and finally succumbed to gravity. Serena won that point with a return winner. Two points later, she broke Andreescu to extend the match, then rediscovered her serve in time to hold and extend it further. Andreescu served for the title a second time, committed a slew of unforced errors, and got broken at love.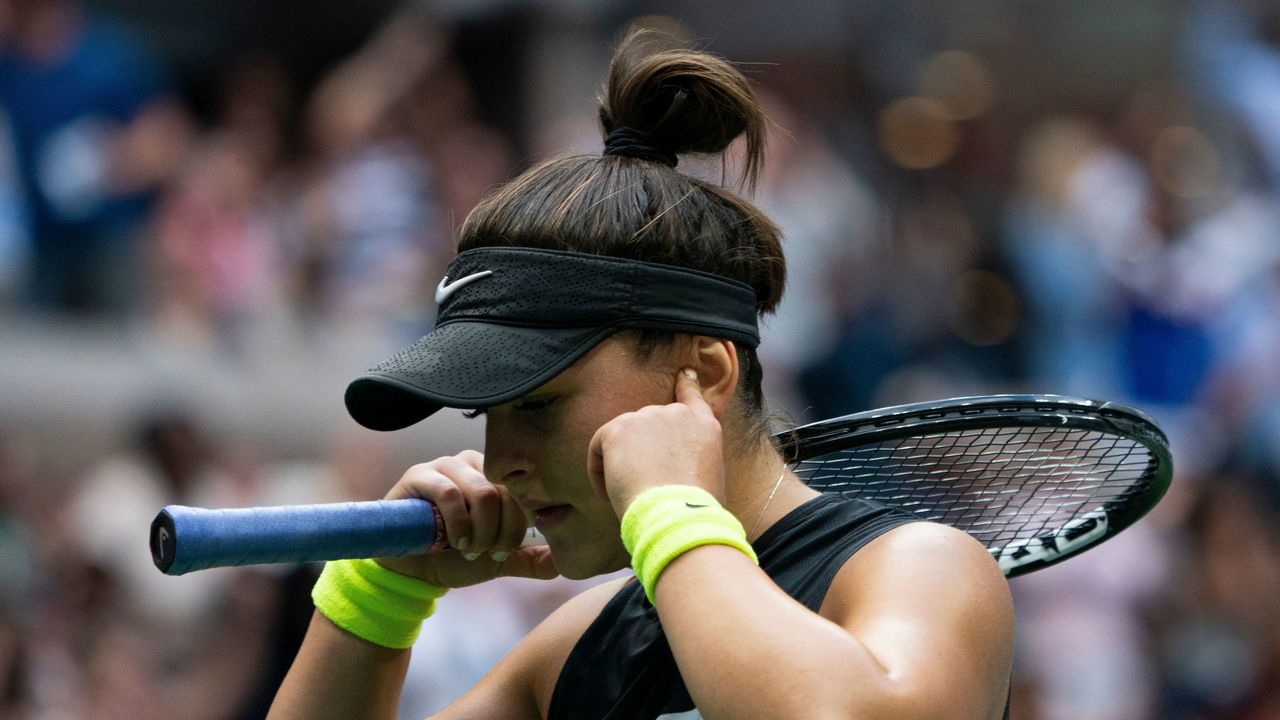 All the while, a tidal wave of sound swelled and swelled, and finally crested when Serena got herself back on serve. The wave slammed up against the closed roof of Arthur Ashe Stadium and crashed back down to court level. Some 23,000 fans were on their feet, lungs and throats full, trying to will Serena to complete the comeback, and thus, indirectly, willing Andreescu to fail. She had to jam her fingers in her ears to block out the noise.
"I could barely hear myself think," she told reporters after the match.
Imagine your 19-year-old self trying to navigate that situation. Imagine how terrifying and lonely it would be. Even with a runner-up cheque of $1.9 million standing as a worst-case scenario, no sane person would've envied her in that moment.
In tennis, disaster never feels like it's more than an arm's length away. No matter how well you're playing, there's a nagging sense that a trapdoor could be lurking just around the corner. You can be well ahead on the scoreboard and still feel envious as you watch your opponent go for broke and swing from the heels while your own muscles start to contract with the finish line in view. Andreescu tends to play most diabolically with her back against the wall. Front-running poses a different challenge.
"Sometimes I have more trouble when I'm up," she told theScore last month. "Because I'm like, 'Oh my god, I'm playing so well,' and then I get overly excited and things start going the other way."
In this one, she admitted she "had some doubts" when Serena started blasting away at her lead and the crowd started collectively frothing at the mouth. But steeling herself to survive moments of doubt has become Andreescu's signature, and so she gathered herself and did enough to get across the line. The nerves persisted until the end, but she closed it out by just letting go, clinching the title on her third match point with a searing forehand return winner. Maybe courage on a tennis court means rounding the corner to come face to face with whatever danger may be lurking there. Maybe it's being fully prepared to have the ground disappear from under you, embracing the fall and simply doing whatever it takes to land on your feet. There can be no bravery without fear, after all.
So here we are. Andreescu is now 8-0 against top-10 opponents in her career. She has won 24 consecutive completed matches, dating back to March 2. She's the first Canadian to ever claim a Grand Slam singles title, and the youngest player to win a Slam since 2004. A self-professed goal setter, she came into the season with the aim of earning direct entry into the French Open main draw. After winning Indian Wells and the Rogers Cup, she declared that her next goal was to crack the top 10 and make the WTA Finals. What now?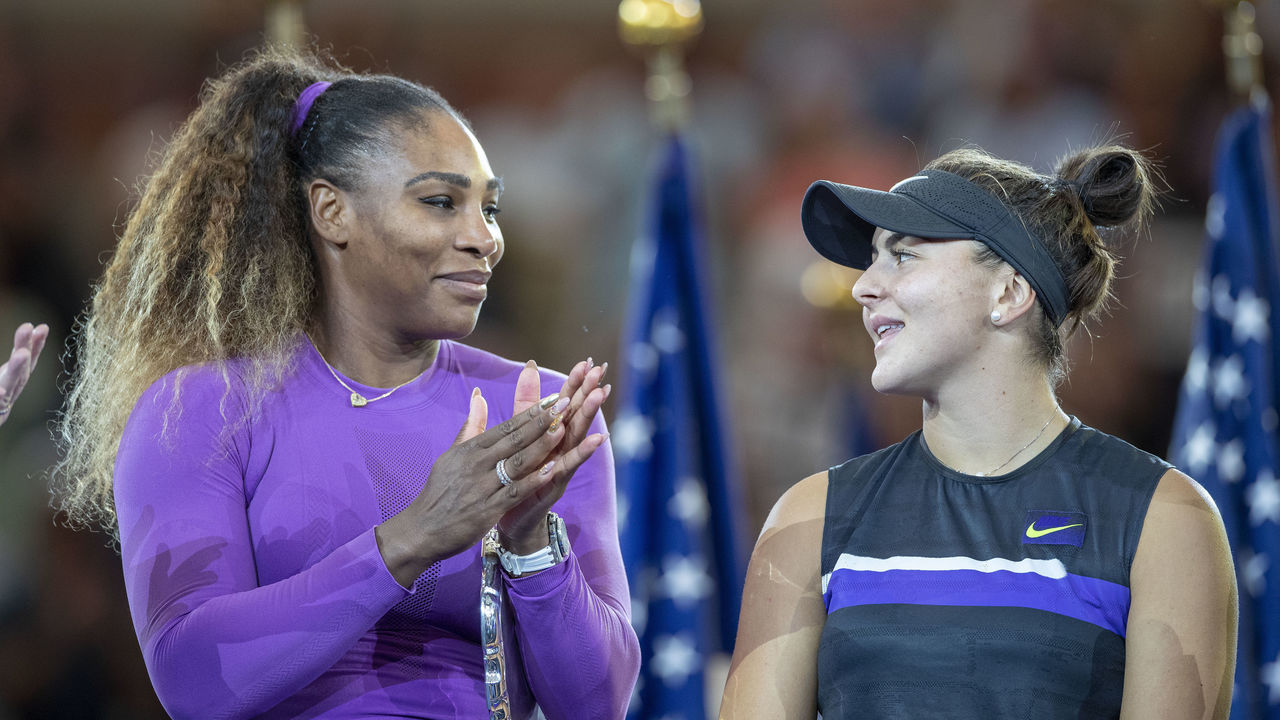 For Serena, it was another disappointing conclusion to another otherwise magnificent tournament, her fourth straight loss in a Slam final after winning in 23 of her first 30 appearances. She's been beaten by four separate opponents in those finals, and hasn't even won a set in any of them.
"I think Bianca obviously played well and I think her returns make me play better; it puts pressure on my serve," Serena told reporters after the match. "But at the same time, it's inexcusable for me to play at that level.
"All of it, honestly, is super frustrating," she added. "I'm like, so close, so close, so close, and yet so far away. But, I don't know what to say, I guess I've gotta keep going if I want to be a professional tennis player."
As for the manufactured drama surrounding her chase of Margaret Court's "record," Serena took sole possession of the mark that actually matters when she won her 23rd Slam at the 2017 Australian Open to eclipse Steffi Graf's Open-era tally. "I'm not necessarily chasing a record," she clarified, after the latest thwarted attempt at No. 24. "I'm just trying to win Grand Slams."
But, in the absence of other milestones to chase, records to break, and things to prove, that number gives her fuel. It provides a benchmark to keep striving for, as Serena herself has acknowledged. It still seems like she's destined to get there eventually. She just hasn't been able to close the deal yet.
After so many years playing final boss to the rest of the women's tour, and proving unshakeable in the highest-leverage situations, it's a little jarring to see her struggling so badly in the types of matches that have defined her career. Is it a mental block? Something physical? Age-related decline? It's difficult to say. Serena's game has always had a way of resisting diagnosis, maybe because her best tennis is efficient and clean to the point of sterility. In its purest form, her game isn't so much subject to the laws of nature as it is an extension of them; both intractable and perfectly rational. But watch her in these most recent Slam finals, and you'll see a human being: angsty, mistake-prone, and fallible.
To this point, there's been no negative pattern in Serena's career that she hasn't been able to reverse. The let-downs have all wound up looking in hindsight like inevitable, even necessary steps in her game's natural regenerative cycle. But Williams' title drought, coupled with her age and the various challenges pregnancy and motherhood have thrown her way in the past two years, would suggest that cycle may be slowing down.
It's cause for reflection.
Consider, for a minute, how improbable Saturday's final was. Andreescu started the year ranked 178th in the world, was playing in her first-ever US Open main draw - having lost in the first round of qualifying just 12 months prior - and missed four months in the middle of the season due to a shoulder injury. Serena, for her part, can somehow still cleave through her half of a Grand Slam draw without much issue, less than three weeks shy of her 38th birthday, and two years removed from having a child (and suffering a life-threatening pulmonary embolism in the process, followed by a bout of postpartum depression). She's also 20 years removed from winning her first Slam title, nine months before Andreescu was born.
"I feel like, in 20 years, I definitely will be like, 'Wow, that wasn't so bad!'" Serena said. "But it's really hard right now to take that moment in and say, 'You did OK,' because I don't believe I did. I believe I could've been more Serena today. I honestly don't think Serena showed up. And I have to kind of figure out how to get her to show up in Grand Slam finals."
Still, she's had to win 24 Slam matches just to get to those four finals to begin with, and each of those matches was as crucial as the next. Far more important than Serena's recent penchant for let-downs at the end of the road is the fact that she's still regularly giving herself these opportunities.
Not to mention the fact that, in so doing, she's helping make other players' dreams come true.
"This wasn't the only time I've visualized playing in the finals actually against Serena Williams," Andreescu said after her victory, tears welling in her eyes. "It's so crazy, man, I've been dreaming of this moment for the longest time."
Like Naomi Osaka before her, Andreescu found herself in the odd position of stymieing the ambitions of the player she grew up idolizing. The players who are rising up in today's game, and in some cases beating Serena, are players Serena helped inspire to become who they are. Those players are all part of her legacy.
"I've really strived to be like her," Andreescu said. "And who knows? Maybe I can be even better."
A fanciful notion, to be sure. But, as Serena might tell you, the striving is the whole point. And Andreescu's quest is off to a pretty decent start.