Did Arjen Robben set a World Cup record for speed?
Arjen Robben scored twice in the Netherlands' shocking 5-1 win over defending champions Spain. His second goal, a truly remarkable tally that saw Robben blaze past Spanish defender Sergio Ramos (no slouch when it comes to speed) , may have earned him a place in the record books.
Before we move on, let's take a moment to marvel at Robben's pace on the goal:
[Courtesy: CBC]
According to Amsterdam's De Telegraaf, Robben hit a top speed of 37 kilometers per hour during the run. That speed would be the fastest ever recorded by a player at the World Cup.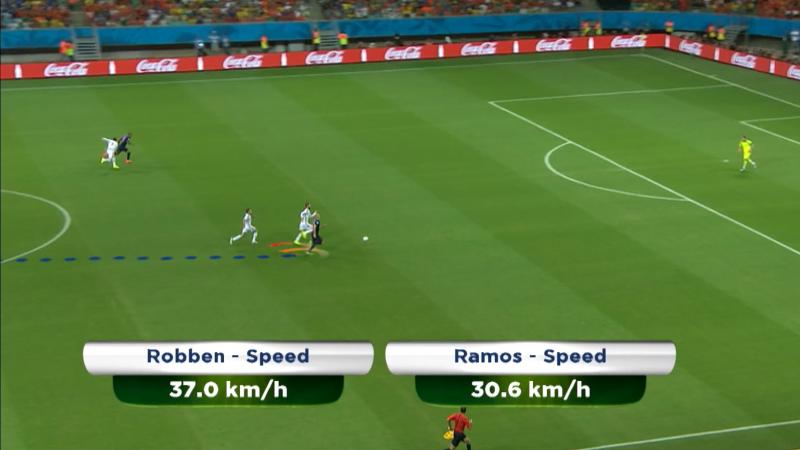 [Courtesy: nos.nl]
As De Telegraaf notes, if Robben maintained that pace over a full 100 meters he would clock in with a 100m time of 10.28 seconds - not far behind Usain Bolt and the world's best sprinters. 
So, is Robben really a world-class sprinter and a World Cup holder? Yes and no. FIFA's official statistics sheet (PDF) for the Netherlands-Spain match lists Robben as hitting a top speed of 31.03 km/h. It's still the fastest speed by any player on his team, and it's faster than the vast majority of humans on the planet can move, but it's a far cry from 37 km/h and it's not in the same category as Bolt and other Olympic sprinters.
Ask4Sports.eu lists the fastest speed ever recorded by a soccer player in a competitive match as Cristiano Ronaldo's 39.2 km/h (2011).
Yeah, that sounds about right: 
Comments
✕
Did Arjen Robben set a World Cup record for speed?
  Got something to say? Leave a comment below!