Germany's World Cup hopes could rest on a veteran and his successor
Marvin Ibo Guengoer - GES Sportfoto / Getty
He won't demand as much attention as Lionel Messi or Cristiano Ronaldo, but this is also likely to be Thomas Muller's final World Cup for Germany.
Ex-head coach Joachim Low vanquished the 33-year-old from the international scene in March 2019, but his reappearance over two years later underlined his importance to his country. Although his influence at Bayern Munich is waning - various fitness issues have restricted Muller to under 70 minutes of football since the end of September - the veteran's quirks are still among the first things noticed by a newcomer to the German camp.
"He finds the strangest ways," Wolfsburg's Lukas Nmecha, who has seven Germany caps, said about Muller to theScore. "His body just moves in a weird way, and it still ends up going in. I think his technique is something that you can't really copy."
Nmecha ranks Muller second, behind Sergio Aguero, as the best player he's witnessed in training for shooting drills and finishing crosses. But while his former Manchester City teammate's impeccable balance and precision made his strikes on goal appear effortless, Muller possesses uncommon characteristics that make him a unique attacker to contend with. He's ungainly. His legs reach like chameleons' tongues.
His greatest strength, meanwhile, is easier to discern, but it's much more difficult to prevent than his unpredictable, unwieldy limbs. It's the reason Muller calls himself "the space interpreter."
"From him mainly, it's not so much technique or the way he finishes that I think about or look at the most," Nmecha said. "It's his movement in the box.
"I think he's very good at anticipating where the ball's going to land. He scores what you'd say is, like, easy goals quite often, but it's just the fact that he's at the right space at the right time."
The next in line
Bayern Munich head coach Julian Nagelsmann stayed calm when Muller missed matches ahead of the World Cup. "Since we've got all the attacking players healthy now and have a lot of choice, it's not the sort of game where you need to play through the pain or take a risk," he explained earlier in November, no doubt reassured by the scoring exploits of Eric Maxim Choupo-Moting and others since Muller's playing time dwindled.
Germany boss Hansi Flick doesn't appear as comfortable dropping the player who performed so well for him during his own Bayern tenure. In the 2019-20 season - when Flick oversaw the Bavarians from November - Muller netted eight times and set up 21 goals in the Bundesliga. He racked up 11 strikes and 18 assists in the following top-flight campaign. It was the most productive spell of Muller's club career.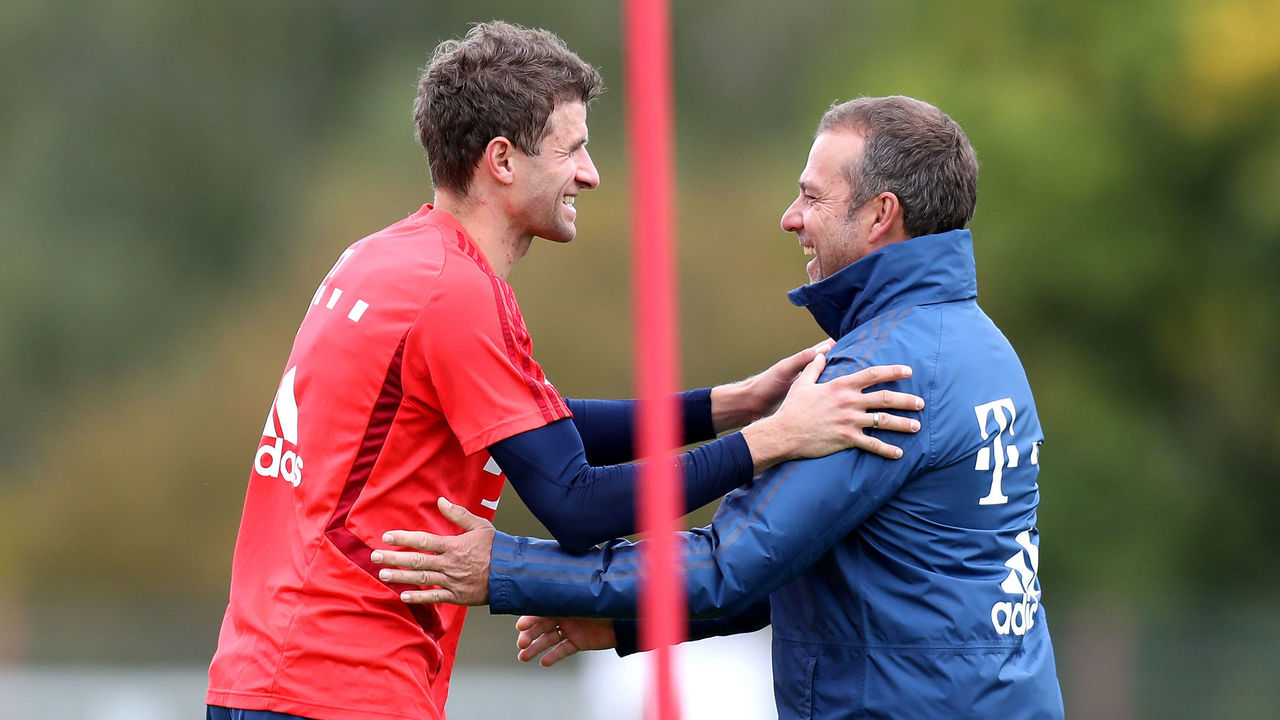 Flick continues to believe in the man who helped him quickly add two Bundesliga titles, the DFB-Pokal, the Champions League, and other major honors to his resume. With the exception of one international window when Muller was injured, Flick has used the experienced attacker in all of his competitive matches in charge - seven starts and two substitute appearances - and has credited Muller for how he helps Germany off the pitch. Timo Werner's absence with an ankle injury only increases Muller's value as a focal point in Qatar.
However, Muller's age and reduced minutes mean there must be a reliable alternative. Flick's claim that Muller is well prepared for Qatar isn't true. Germany would cram seven big matches into 25 days in a run to the World Cup final - a tough schedule for any player and a workload Muller is increasingly unfamiliar with.
As is often the case with tough selection choices with the German national team, the answer can be found at Bayern Munich.
"His style and his role will be irreplaceable," Jamal Musiala told Bild in January when asked about eventually replacing Muller in the Bayern side. "If I get the chance to play in his position, I'll bring my own style."
Musiala's style, like Muller's unorthodox scoring methods, caught Nmecha's attention in Germany training. Out of everyone in Flick's big-name roster, Nmecha was most impressed by the teenager and how easy everything looked for him.
"It's the way that he just glides past people," Nmecha said. "It looks like you could take the ball off him easily, but you just can't. It's so weird. He's got some sort of jelly body where he just goes through everyone."
Musiala, the London-raised teenager who's been capped 17 times, and Muller aren't entirely interchangeable on the international stage, but it's close. They've only started two Germany matches together but have replaced one another on four occasions. There's only room for one of them in the attack when Flick opts for his preferred 4-2-3-1 system, which usually features Leroy Sane and Serge Gnabry on either side of the No. 10.
Musiala and Muller made a case to work together in June's 1-1 draw against England. Musiala was the best player on the pitch for at least the opening hour of the Nations League fixture. On that occasion, Flick used his second-choice formation - a 3-4-2-1 - that allows two players to be positioned narrowly behind the frontman. But the two Ms have otherwise had little experience beside one another in this shape.
It's a conundrum gripping a nation, but it'll expire in around a month. Flick can deliberate over who Germany's main attacking midfielder is during the World Cup - and perhaps even select Kai Havertz as his No. 10. However, the conclusion will be obvious when the tournament ends: Musiala is the future, and the new Muller, of his national team.