Biggest winners and losers from the Champions League semifinals
The Champions League final is set, with surprise candidates Inter Milan and perennial contenders Manchester City advancing to next month's showpiece match in Istanbul. Below, we examine the biggest winners and losers from the semifinals.
Winner: Inter's airtight defense
AC Milan ran into a wall in the semifinals.
Inter's defense has looked fragile at times this season - they've conceded more than a goal per game in Serie A - but Simone Inzaghi's team neutralized its bitter city rivals over 180 resolute minutes. Outside of one golden opportunity for Brahim Diaz, and a dangerous chance that Rafael Leao concocted entirely on his own, Milan didn't fashion anything of note in the second leg.
They huffed and puffed to little avail, launching hopeful balls forward only for Francesco Acerbi and his teammates to send them right back. Milan, despite trailing 2-0 from the opening leg and needing to take risks, were stymied; they mustered just three shots on target over the two legs, and only two of those were from inside the box.
Inter were scrappy when necessary, fighting for loose balls in midfield, but they largely stayed composed despite playing inside the tinderbox that was the partisan San Siro.
Wing-back Denzel Dumfries typified their dominance and control. The Dutchman nullified Theo Hernandez, one of Milan's primary attacking cogs. Hernandez, a freight train rumbling downhill when he's at his best, rarely got forward and was visibly frustrated as Dumfries blocked his runs and consistently goaded him into committing fouls that played into Inter's hands. Hernandez finished the entire tie without a single touch inside the Inter penalty area, and Milan exited the competition with a whimper.
Loser: Stefano Pioli
Not so long ago, AC Milan fans were chanting Pioli's name to the tune of the popular Eurodance song "Freed from Desire." Now, they want the manager who delivered last year's Serie A title out on his backside.
The sudden change in tone isn't as ridiculous as it appears. Milan have played horribly in 2023. Though their Champions League semifinal run exceeded expectations, they compromised everything else to get there. Sitting fifth in the league with only two wins in their last nine matches, Milan may not even qualify for next season's competition.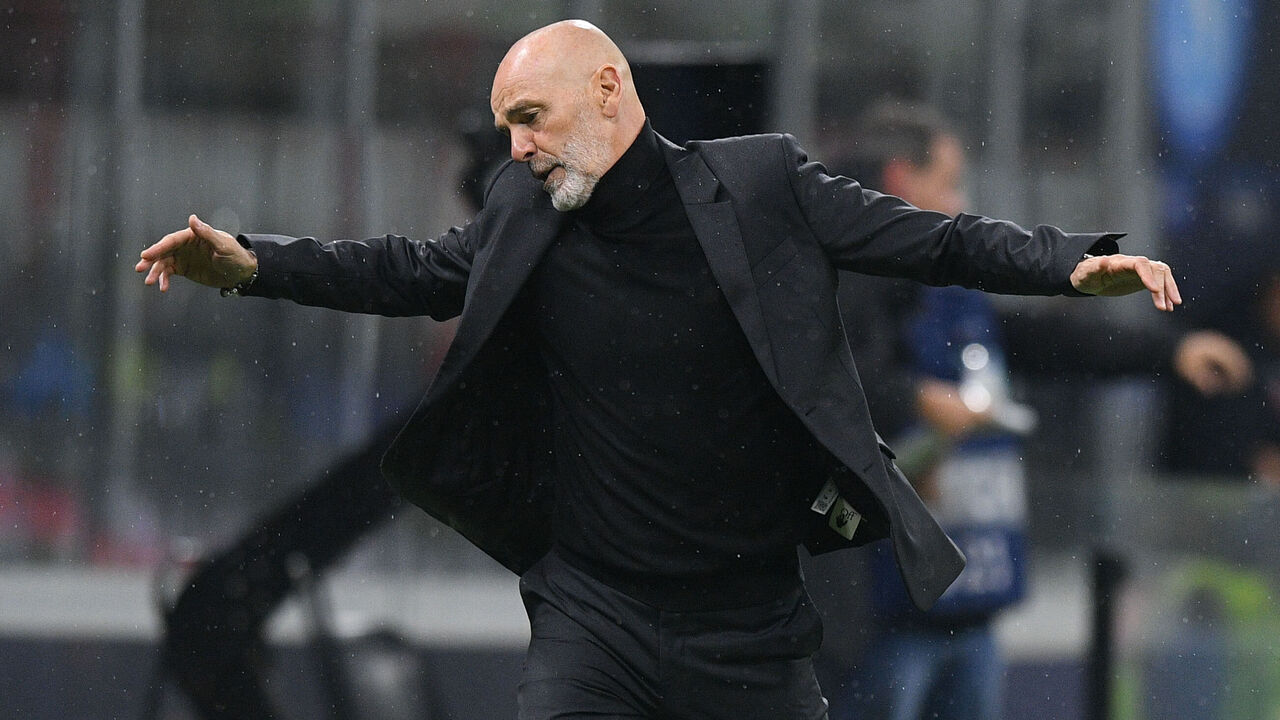 Pioli just couldn't find a way to balance all of Milan's obligations. Though his squad lacked depth, he still opted to rest his best players during league matches, preferring to save them for the Champions League. Even as Milan's underperforming second-stringers lost points and games in Serie A, the fans could stomach it, so long as Milan continued to cycle through the knockout rounds.
It was all for naught. Their title defense turned into a joke. And for what? A chance to embarrass themselves on the biggest stage the club has graced in 16 years?
Milan's sloppiness on set pieces re-emerged - a habit Pioli has struggled to correct - and Inter exploited it in the first leg. The 57-year-old continued to play right into his rivals' hands insisting on a risky high press that Inter bypassed with easy balls over the top.
In the end, the Rossoneri exited the Champions League with their tails between their legs, having lost each of their last four matches against Inter by a combined score of 7-0. Never before in their 115-year rivalry have they been shut out in four consecutive derbies.
Winner: Lautaro Martinez
Lautaro Martinez has his detractors. He can be streaky, rival fans often bemoan his propensity to flail around, and even some Argentines were thrilled when he was replaced in the starting lineup by Julian Alvarez during the country's successful World Cup campaign.
But when it matters most, he steps up for Inter.
Martinez scored the goal to seal his team's progression to the final, smashing the ball through the oft-impenetrable hands of Mike Maignan, but even before then, his influence on the game, and tie, was clear. Martinez sets the tone for Inzaghi's team, harrying opposing defenders when out of possession, dropping deep to carry out his defensive duties when Inter are under pressure, and then driving his men forward in the other direction.
Edin Dzeko and Romelu Lukaku have taken turns playing key roles as Martinez's strike partner during Inter's run to the final, but the big-bodied forwards are, ultimately, complementary pieces. The Argentine is the leader of the strike force and the team. It was fitting that Martinez, the primary scoring threat who doubles as the emotional talisman, was wearing the armband while spearheading the celebrations inside the San Siro.
He'll get a chance to establish himself as a club legend on June 10.
Losers: Napoli
What could've been.
Far and away the best team in Italy, Napoli would've relished the opportunity to play Inter in the semifinal. They just had to beat Milan to get there. But they struggled to create genuine chances against the Rossoneri and couldn't take the few that presented themselves. Khvicha Kvaratskhelia, Napoli's breakout left-winger, missed a crucial late penalty and Milan advanced 2-1 on aggregate.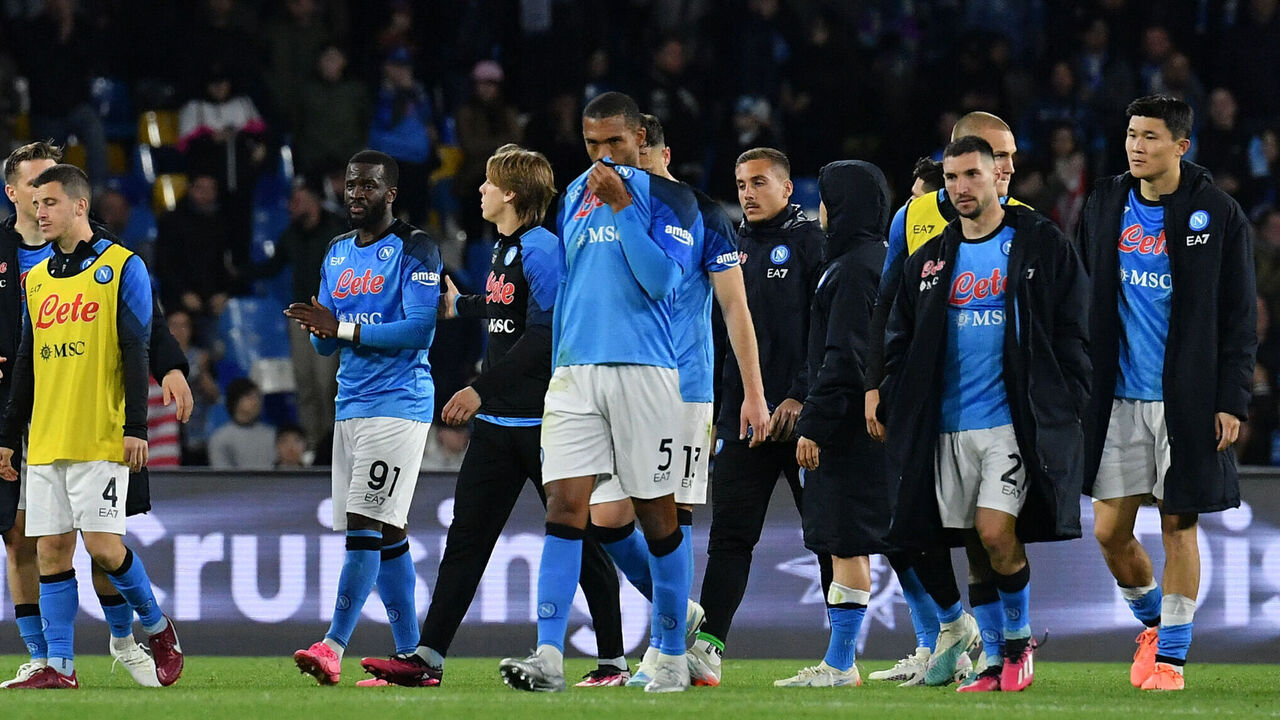 Napoli were also missing Victor Osimhen, Serie A's leading scorer, in the first leg, as well as backup strikers Giacomo Raspadori and Giovanni Simeone. Their usually potent attack fell flat with midfielder Eljif Elmas as a false nine. If Spalletti had his entire squad available, Napoli would've had the firepower to go with all of their possession against Milan. They likely would've advanced.
Spalletti's lack of rotation may have been to blame. Given Napoli had built an insurmountable lead in Serie A and the title had become a foregone conclusion, Spalletti could've afforded to rest some or all of his 11 core players. Instead, they began to disintegrate. Though they dominated the league, Napoli quite literally limped over the finish line and missed out on an opportunity of a lifetime.
Winner: Kyle Walker
Kyle Walker unsurprisingly had some trepidation about dealing with Vinicius Junior. That was heightened when the Brazilian attempted some tricks in last week's opening leg.
"I went to hug him because he tried to rainbow flick me, so it was like, 'Please don't try that again, I don't want to be a meme or anything!'" Walker quipped before the return fixture.
There were few signs of nerves in the much-anticipated sequel, though. Walker's crowning moment occurred in the 32nd minute of Wednesday's resounding 4-0 victory when Rodrygo slipped the ball behind Walker and into a gap ahead of Vinicius. Normally, this is a foregone conclusion. We've seen it so many times before: the winger pedals away, swerves into the box, and either tees up Karim Benzema or scores himself. But this time, he had Walker - who turns 33 later in May - on his tail.
Walker found an extra gear. He caught up with Vinicius, muscled him off the ball while turning away from his goal, and confidently rolled a short pass to a teammate. It's not supposed to be that simple.
Vinicius was restricted to one shot on target over the two meetings, and that occurred when he moved away from Walker and into a central position before unleashing his first-leg howitzer.
Walker's acceleration and strength were predominantly viewed as attacking traits before he moved to Manchester City, but they aren't refined enough qualities for Guardiola. The only player given full license to gamble with possession in the opponents' half is Kevin De Bruyne, but the ball can't be risked with Walker's one-on-ones and hopeful smashes on goal. Walker getting caught upfield would leave City vulnerable at the back. Instead, the Spanish tactician has better utilized Walker's qualities primarily in defense, where he and City's defensive midfielders provide crucial barriers to counter-attacks.
There's no other defender at City - and perhaps in world football - who can swipe the ball off a speedy winger's toes like Walker. He's vital.
Losers: The 'overthinking' critics
The "overthinking" criticism had long become a tired accusation to level at Guardiola. Sometimes, he seemed to give too much concern to the opponents' strengths rather than trusting his own team - like when Bayern Munich lined up with a three-man defense against Barcelona in 2015 and when City appeared overly conservative in the 2020 semifinal scuffle with Lyon. But "overthinking" was an overly simple way to sum up all of Guardiola's Champions League eliminations.
It was a lazy trope that discounted the other team's quality, the fact that the best side doesn't always win, and whether the fitness and form of Guardiola's players forced his hand when it came to selection. Whatever happened during the game, a defeat was considered Guardiola's personal failure.
Guardiola is certainly aware of the nitpicking. With a knowing smile, he acknowledged his critics during the prematch press conference.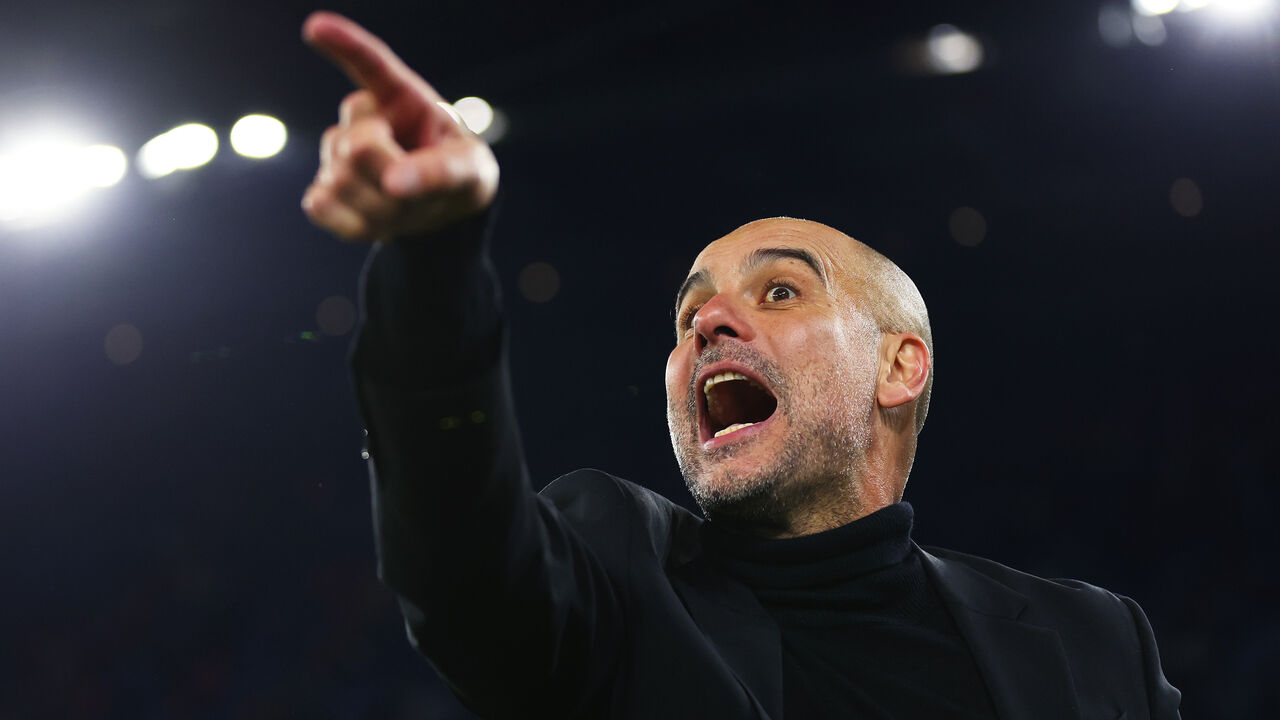 "Nothing special. I'm not overthinking, don't worry guys, nothing different to what we've done, just more fluid and play a bit better," Guardiola said before the decisive leg.
What is overthinking anyway? Guardiola is regularly deploying four center-backs, one of whom moves into midfield, while only Jack Grealish and Erling Haaland have discernible roles in attack. The formation is an ever-changing shape in and out of possession. The tactician must've taken a lot of thought to reach that shape and approach, but the critics have stayed silent because it's working.
This is the best City have played during Guardiola's tenure, and it's through some of the most innovative tactics he has attempted throughout his career. Let him think as much as he likes.
Winner: Rodri
John Stones deserves the recent acclaim. In recent months, he's doubled up as a right-back and midfielder. However, he hasn't just been a defensive midfielder, as his dangerous movements into the Nos. 8 and 10 positions against West Ham United earlier this month attested.
But Real Madrid's visit offered a reminder: Stones is a relative newcomer to midfield and still learning on the job; beside him, Rodri is a true master as City's nucleus.
Rodri in the second leg vs. Real Madrid:
| Stat | Figure | Match rank |
| --- | --- | --- |
| Touches | 124 | 1st |
| Passes | 113 | 1st |
| Key passes | 2 | 2nd |
| Accurate long balls | 5 | 2nd |
| Tackles | 3 | 1st |
| Aerials won | 2 | 1st |
It took a while for Rodri to settle at Manchester City. Spending time under his predecessor, Fernandinho, was meant to ease his transition into Guardiola's side, but the former Atletico Madrid man often looked ponderous and was caught in possession on numerous occasions for most of his opening 18 months at the Etihad Stadium.
But you can never write off a Pep project. City's team is full of players who took time to acclimate to Guardiola's methods but developed into world-class stars. Rodri is certainly among that group as he's learned to use his height and strength to great effect each weekend in the mud and nettles of English football, while he's superbly paired decisiveness and composure as he operates at the base of midfield.
It's time to appreciate that Rodri might be the planet's best No. 6.
Loser: Madrid's aging core
As Luka Modric exited the field Wednesday, Carlo Ancelotti went over to console Real Madrid's most reliable midfielder in a generation. Ancelotti removed Toni Kroos, another one of his trusted lieutenants, shortly after that. Twenty-year-old Eduardo Camavinga moved from left-back to midfield, and fellow youngster Aurelien Tchouameni came on to see out the remaining minutes of Madrid's Champions League title defense.
It seemed like the end, didn't it? Even if Modric and Kroos renew each of their expiring contracts, it's unlikely they'll ever have as big of a role in Madrid's success as they had in prior seasons. Los Blancos have put a succession plan in place, and if 19-year-old rising star Jude Bellingham joins the cause, it'll be time to hand the baton over to the prodigies with a point to prove and gas in the tank.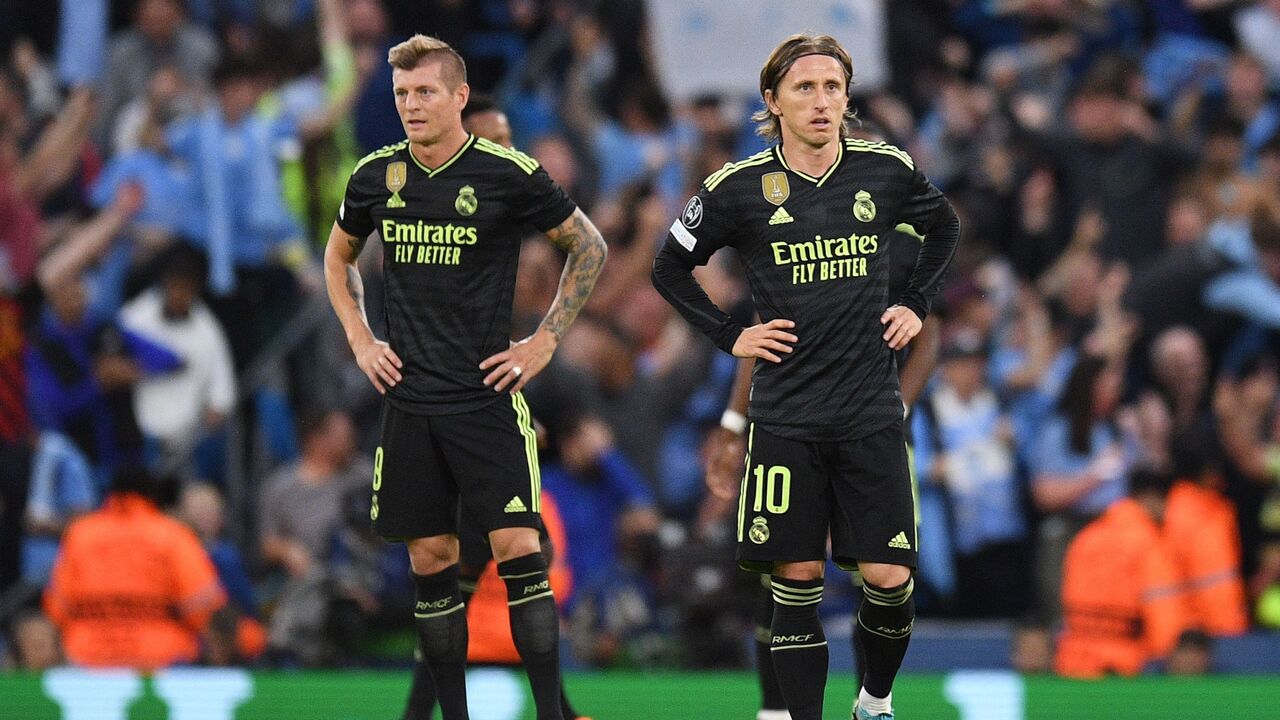 Not even Benzema was sharp. He lost possession in key areas and struggled to link up with Vinicius. The Ballon d'Or winner hasn't had a bad season - he's struck 29 goals in all competitions - but he's lacked the decisiveness that won him so many plaudits last year.
In the end, Wednesday's 4-0 loss to Manchester City could expedite Madrid's rebuilding process. And it may be bigger and more costly than they expected.