The NHL Redux: Would less games mean more goals?
Bill Wippert / National Hockey League / Getty
Scoring is down in the NHL, this I'm sure you've heard.
Well, to be fair, that's not entirely true. The NHL has experienced a shortage for a few seasons now. But the 2014-15 campaign is different: there's no 100-point scorer to quench our thirst and distract us from a product appearing to revert back to a problematic past. 
Proof? Sidney Crosby, having a ho-hum season by his lofty standards, is on pace to defend the Art Ross with 85 points. Should the projection hold firm, he'll capture the award with the lowest point total for an 82-game season in 53 years.
Yep.
So what gives?
Is this the parity we've longed for? Is this competitiveness ramping up on the ice and in the video and weight rooms? Are goalies evolving to a point where they can neutralize anyone - like a pitcher on the mound?
Here's a different theory. Maybe it's as simple as rest, or a lack of it. Maybe players are tired, overworked, desperate to conserve energy and taking a night off here and there.
Maybe our superstars are being taxed; their talents suffering. 
"We play too many games," Florida Panthers captain Willie Mitchell said in a stop through Toronto last week. "We're on one night, we gotta go to the next city, get in at two- to three-in-the morning, get up for the morning skate, go play again. Guys are exhausted."
"There's not enough rest," he added. "It drains players, and I think (you are starting to) see the problem."
You tell me. Are you at peak productivity on a few hours sleep with caffeine coursing through your veins?
This is life for an NHL player: Get up enough to compete at the highest level, then struggle to bring yourself down in the rare opportunity to place head to pillow and heal. 
Then repeat.
"You got practice in the morning. It's the warmup before the warmup, what we just did right now. There's a warmup tonight," Mitchell explained. "It drains you.
"It's a vicious cycle."
The 14-year veteran and two-time Stanley Cup champion isn't alone.
Cleveland Cavaliers superstar LeBron James, who moonlights as the vice president of the National Basketball Players' Association, has spoken out against the rigors of the NBA season, suggesting the volume and heavy travel schedule contributes to player injuries.
Mitchell isn't LeBron. But even the most influential athlete in the western world is without the pull to reduce the number of games. This is a business, and players' salaries are tied to league revenue, which depends on an extensive schedule.
He does have hope, though - confidence, even - that players will see a change in their on-ice requirements, and the NHL's product will improve as a result.
The "Bonanza," as Mitchell less-than-affectionately labeled the morning skate and media obligations attached to it, was the result of Europeans wearing skates and gloves to get a feel of the puck on game day. Monkey-see, monkey-do, this evolved, and now teams hold full-blown practices, as Mitchell describes, to keep up appearances. 
"Coaches, general managers and players want to put their best foot forward and say, 'Hey, look at me. I'm working hard,'" Mitchell said. 
"It's going to take a few people to step outside the box and say, 'You know what, less is really more right now. The players are fatigued, players are tired. I'm going to get more out of my players because they're actually going to come to the rink recharged and rejuvenated.'
"It's going to take one or two coaches to break that trend, and it'll go back the other way."
Is that in the direction of more goals? Recent history actually suggests otherwise. The league averaged more scoring in a schedule accelerated by the Olympics last season than the 48-game slate before it - though the lockout jammed those games together, too.
But consider this: The NHL's top five per-game scorers entering action last night - Sidney Crosby, Evgeni Malkin, Patrick Kane, Tyler Seguin and Pavel Datsyuk - will combine to miss more than 65 games to injury and illness this season. That missed time is promoted, not ascribed to the physical and mental stresses these players are under, but in considering games affected by injury, let's correct this number to 82. 
So if they maintain form through a full season at an injury-adjusted 1.1 points per game, it reveals 90 points unaccounted for.
Now that's a scoring race worth being excited about.
It's been a silly season for reasons running deeper than the season's most-efficient five scorers having missed time, the rise of the unsung goaltender and power plays becoming powerless. 
But I think we can all settle on a little more shut-eye.
"It's that simple."
The Next 48
Vancouver Canucks at Winnipeg Jets: Saturday, 3 p.m. ET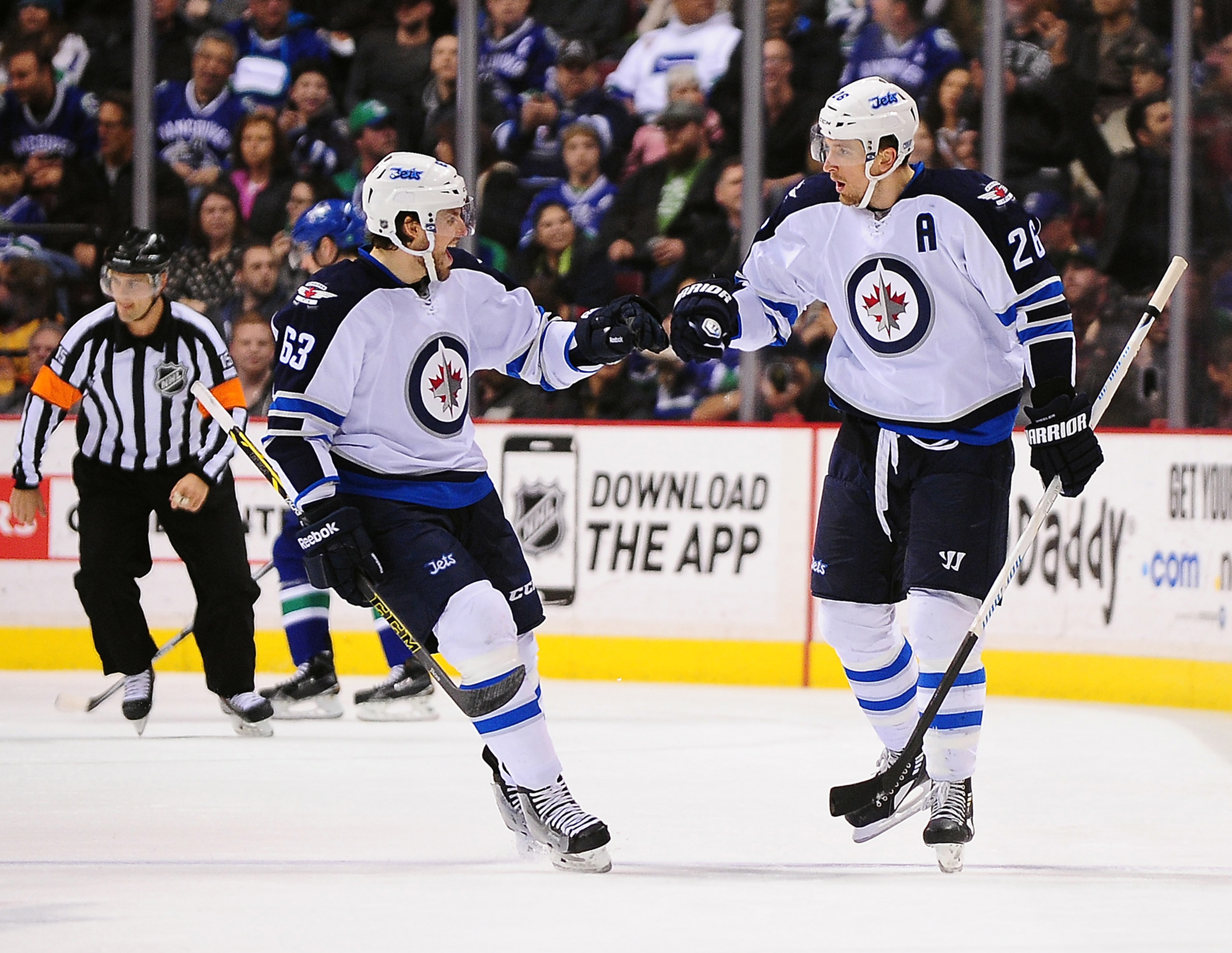 Here we go. 
The Jets face a first of five relative must-win games in an afternoon affair with the Canucks. 
It marks their first of four without Dustin Byfuglien, but it actually represents a really good spot. It's Vancouver's final road game, and one that concludes a four-game tour through the Midwest, where they put themselves in wonderful position for a postseason return with wins over the Nashville Predators and St. Louis Blues. 
We haven't seen postseason hockey in Winnipeg in 19 years. This will be the closest thing to it - unless the Canucks really have a let-down.
Washington Capitals at Detroit Red Wings: Sunday, 5 p.m. ET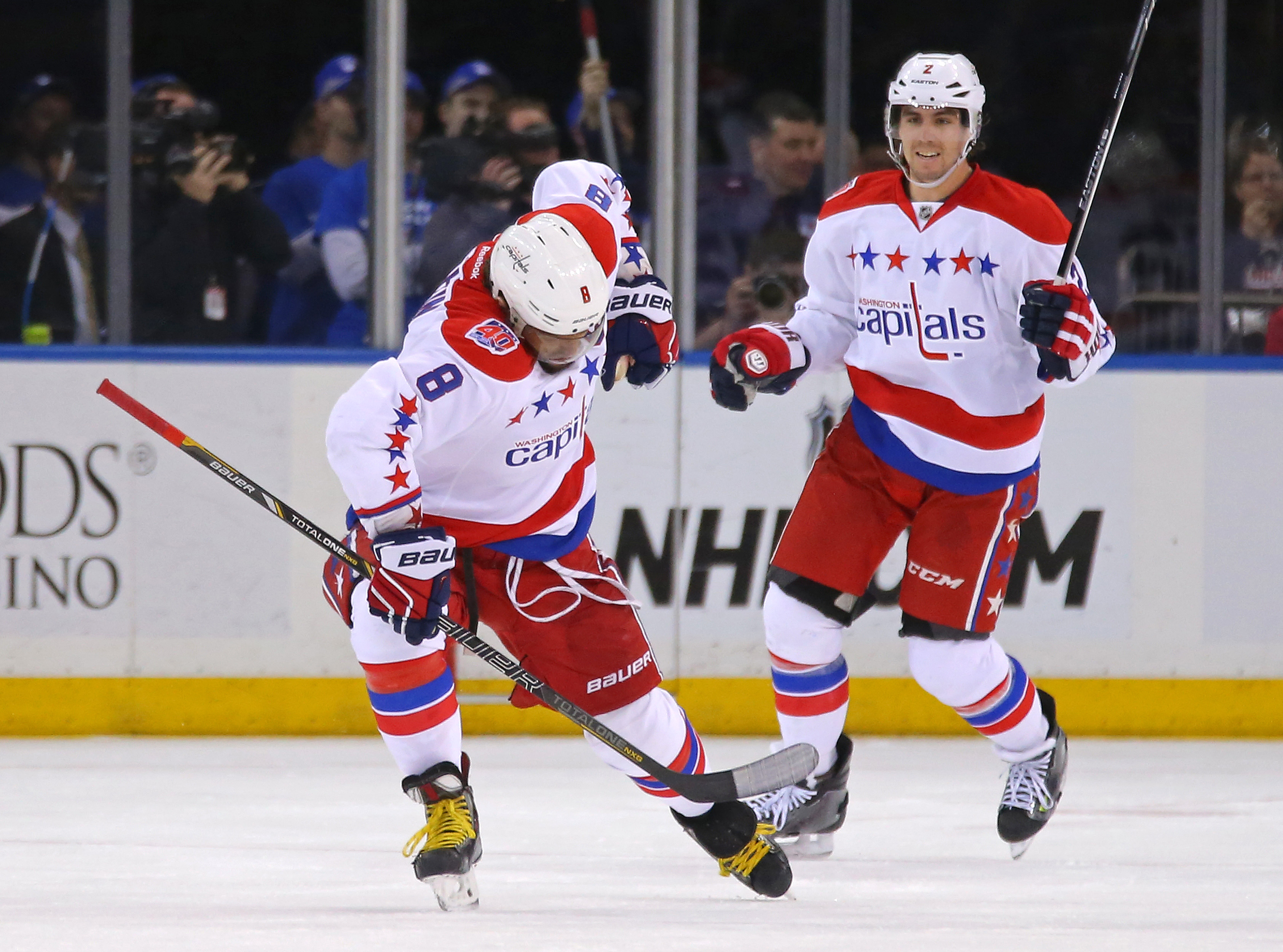 There are some moving parts here.
The Red Wings have lost their way, and if they don't find their footing, they're in serious danger of actually falling out of the playoff picture for the first time in 23 years. 
They're just three points up on the Ottawa Senators with five games to play and will meet the surging Capitals on the second half of a back-to-back with the Minnesota Wild. 
Meanwhile, the Capitals, who meet the Senators on Saturday, now in position to host a first-round series after residing the wild card position for most of the season. They have something real to play for, and that's awful news for the Wings and Sens.
The Pylon
We could tab Byfuglien here - that's easy. But let's direct aim at the judge, jury and executioner.
Four games simply isn't good enough, and the fact he'll be available when the Jets meet the Calgary Flames in a season finale (a game likely to decide the final playoff spot) smells bad. Real bad.  
And I understand Dan Carcillo's history, but targeting the upper arm isn't barbaric - the neck is.
Parting Shots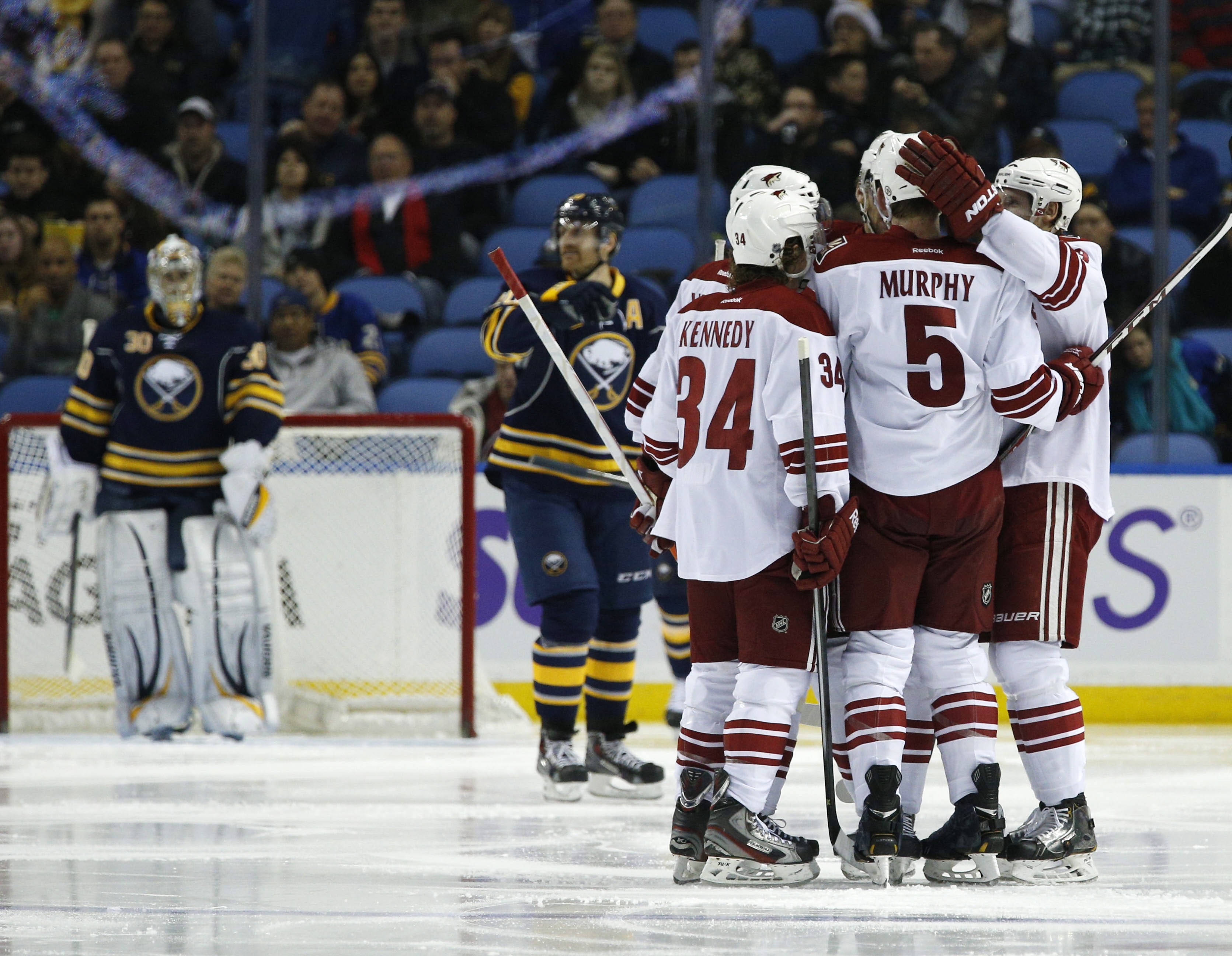 1) It's incredible that in the year of the tank, the team that does it second best will be in the worst possible position. Either the Buffalo Sabres or Arizona Coyotes will have 66 percent odds of showing nothing for it next season.
2) The Carolina Hurricanes are in position to finish as a top-10 possession team. The Metropolitan Division winning 105-point New York Rangers are in position to finish 19th.
3) With a franchise record-matching eight wins in a row, the Columbus Blue Jackets have played themselves into bleak lottery seeding, but what a spot that would be for Connor McDavid. He, Ryan Johansen, Nick Foligno, Scott Hartnell, Brandon Dubinsky, Boone Jenner, Marko Dano, Cam Atkinson, Artem Anisimov - that's a front nine.
4) Lamer duck? Detroit or Pittsburgh?
5) Alex Ovechkin has 138 more goals than the next best scorer since entering the league in 2005. Incredible. 
6) Barry Trotz knows: 
7) Sean Monahan joined some elite company in scoring his 30th goal at age 20, but he also leads his touted peers. His 52 goals, which are 13 times more than third-overall pick Jonathan Drouin, are most from the 2013 draft. 
8) Next up for Jaromir Jagr: Mr. Hockey. Gordie Howe sits 52 points up on the 43-year-old in third-place all time. 
9) If you're the Kings, how do you handle negotiations with Tyler Toffoli? He will have better offensive numbers than Nazem Kadri two years back, who commanded a near $6-million two-year bridge deal from the Toronto Maple Leafs. Not sure the Kings have that money. 
10) NBC/Sportsnet are just discarding the perfect opportunity to steal ratings. How can you not have a half-hour lottery special? Madness.
Comments
✕
The NHL Redux: Would less games mean more goals?
  Got something to say? Leave a comment below!