Systems Analyst: Teemu Selanne, and when 'flying the zone' goes wrong
Kirby Lee / Action Images
Now first off, calm down. I'm going to say some negative things about Teemu Selanne below, but they aren't about his character. He's a classy, charming, lovely man. But again, calm down - he's a human-like machine, and even human-like machines have some human blood which makes them prone to human-like mistakes.
The Kings scored a goal last night a little over eight minutes into the first period - one of their two, which were all they needed to win - and it came courtesy multiple defensive gaffes by the Ducks.
But y'know, it was mostly Selanne's fault.
***
In the first frame we see Sami Vatanen with the puck in the corner. The play has obviously just shifted sides, as his partner Bryan Allen is still coming out of the opposite corner, and Selanne is up on his man Jake Muzzin.
Anze Kopitar is forechecking Vatanen, but the latter knows if he can reverse it by Kopitar he's got a winger there, Patrick Maroon, who can make a play on it.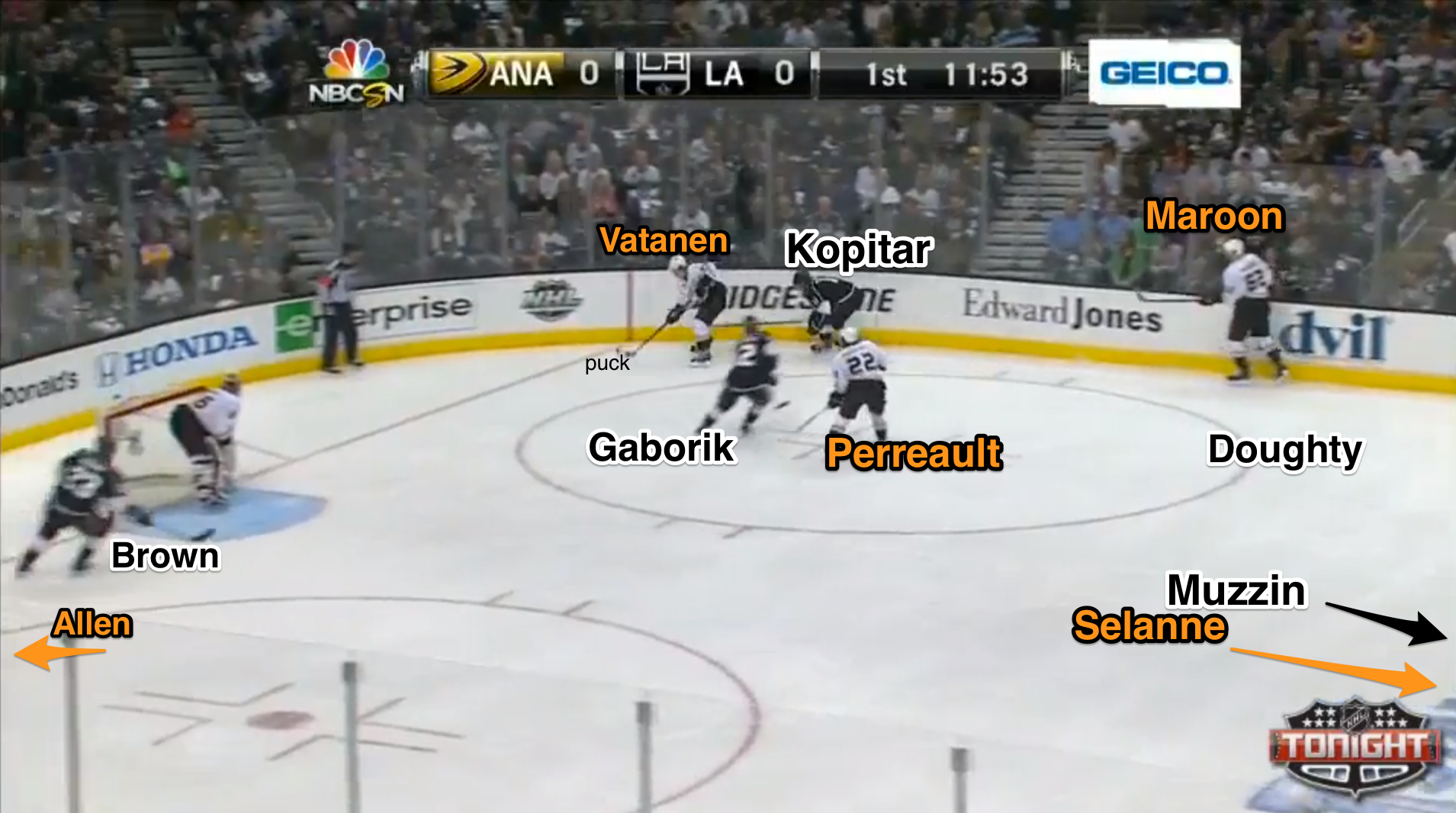 Marian Gaborik is acting as F2 on the play, and he reads the Vatanen reverse. As the offensively thirsty do, Gaborik tries to cut the puck off instead of taking the body on Maroon, because hey, having the puck is kinda good?
But, the puck sneaks just past him, and gets through to Maroon.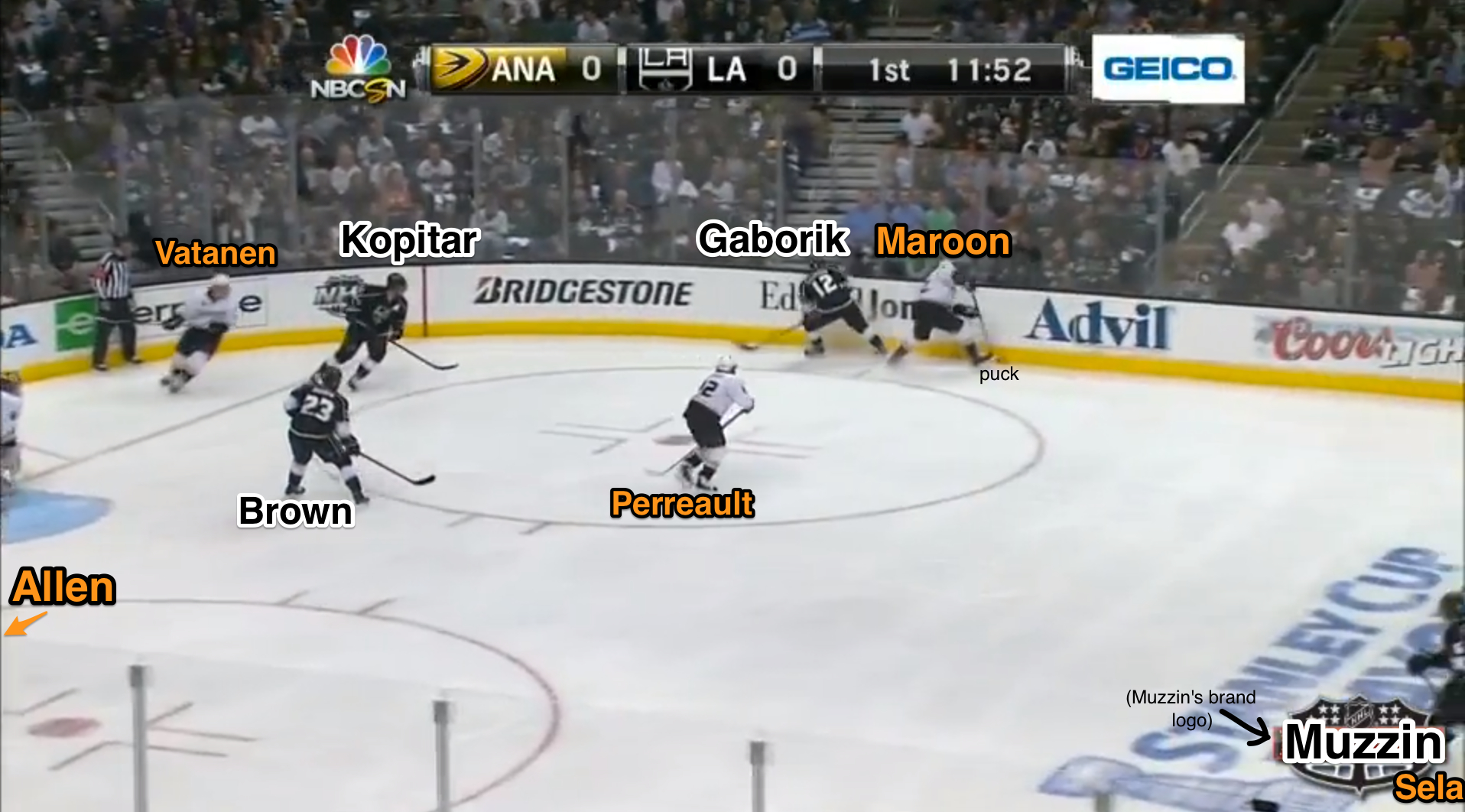 Selanne, who's been tangled with Muzzin at the point and has the offensive sense of a Jedi (and have you seen Jedi play hockey? My word, incredible), takes off. That's the anticipation I wrote about in this post "The art of flying the zone," where offensive players see plays developing and take off before their opponents can to create chances.
Only, Maroon, like a real maroon, kinda spaz-hands at the puck and whacks it up to his guy, Drew Doughty, and now it's panic time.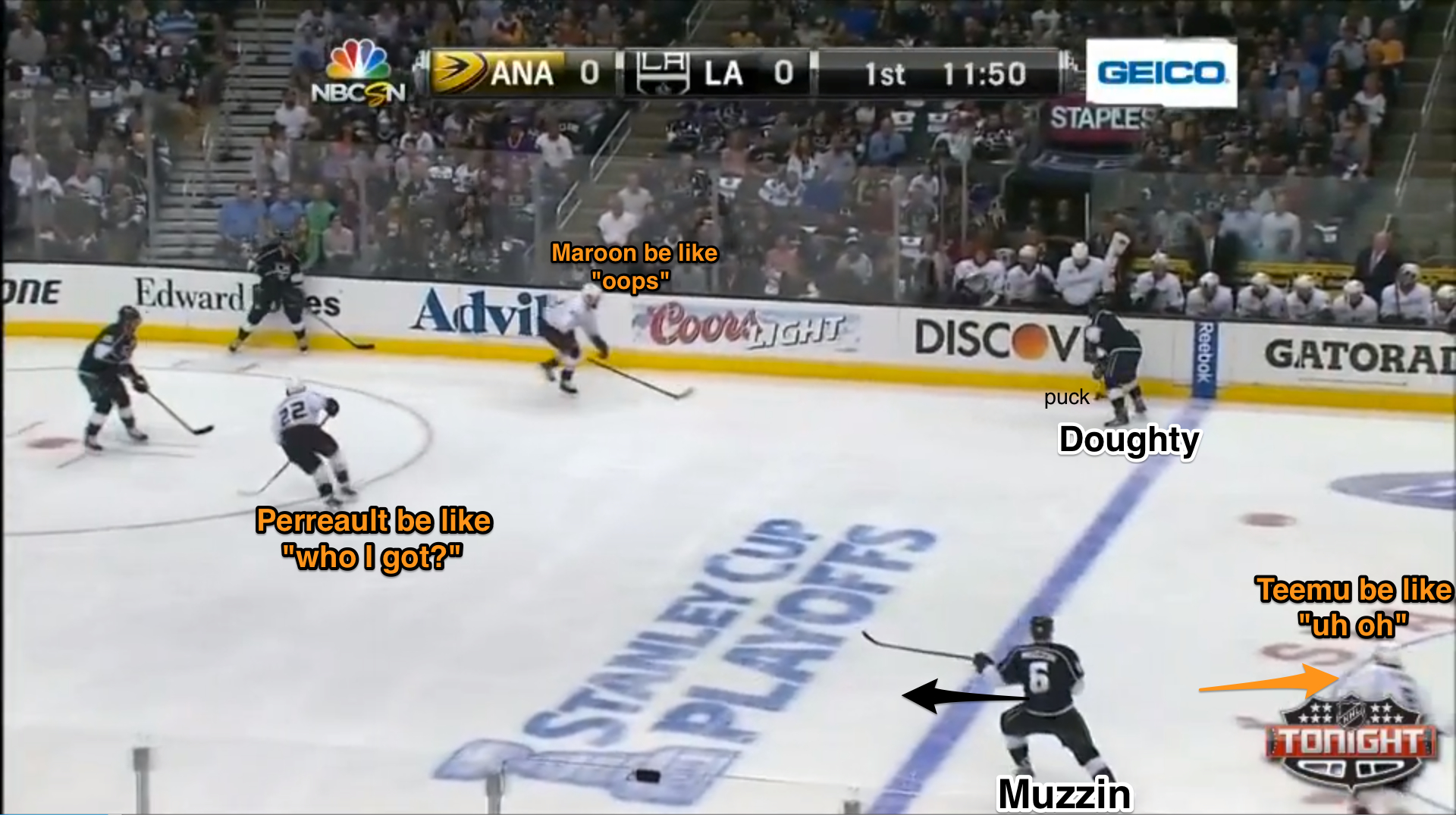 Selanne is caught heading to roughly Finland, and Muzzin knows it. Doughty has solid possession of the puck, and Maroon has to rush out to front him. Perreault has suddenly gone from good breakout support to a center in the d-zone trying to find his guy.
Maroon rushes out, and Gaborik has stayed on the boards as an option, where Doughty finds him.
The issues get compounded.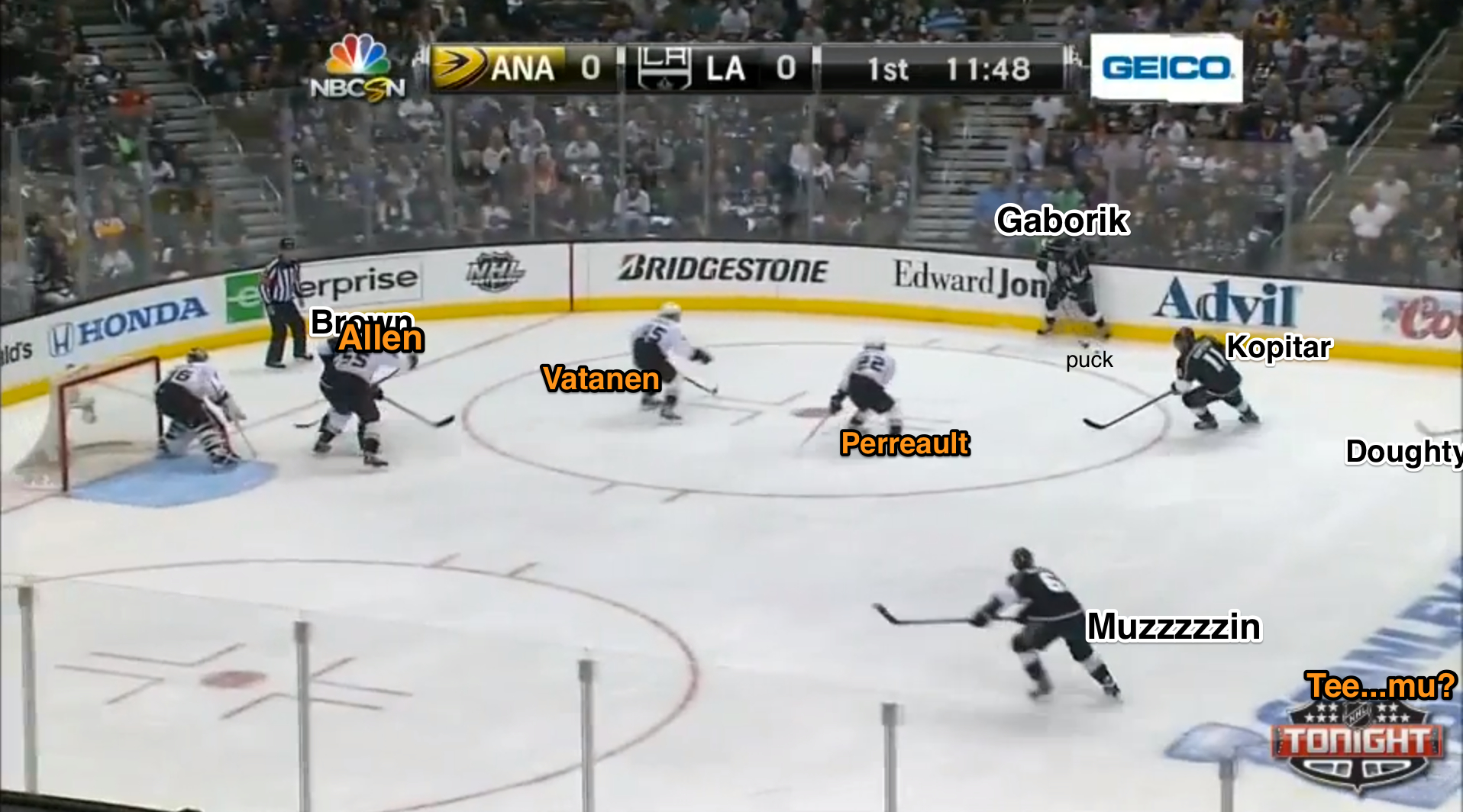 Vatanen is pointing at Perreault to check Kopitar. But unfortunately, pointing doesn't make a very loud sound, and Perreault is staring at the guy with the puck. Maybe Vatanen talked, maybe not, but they've both decided that Gaborik is their guy, and as it goes when the puck is low 3-on-3 versus two defensemen and a forward, that's a problem.
Oh, and there's also this whole Muzzin thing developing.
I'm kind of surprised Gaborik doesn't go right to Muzzin with a pass here, but maybe he doesn't have a lane. Either way, he tries to thread the needle to the also-uncovered Kopitar.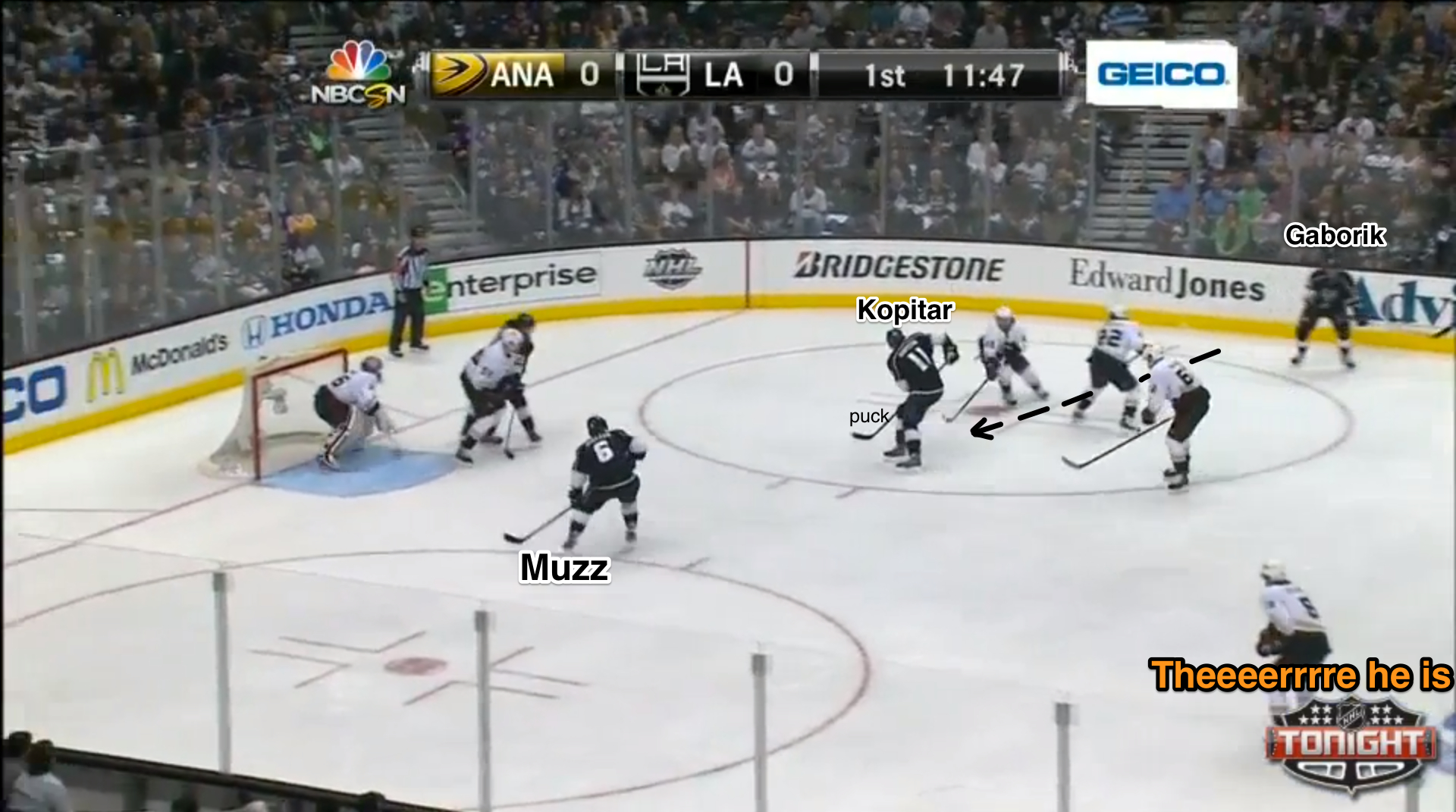 Skill players make skilled plays, and Gaborik manages to get the puck through, albeit barely. Kopitar works on picking up the puck, and has the vision to know Muzzin is alone to his left (maybe Muzzin yelled? I'm assuming he would here).
Selanne's just too far gone to get back in the play. Muzzin was already moving forward while he was heading the opposite way, and Allen isn't able to help him as he's tied up with Brown. Sorry, maybe that should read tied up by Brown, but whatever, he's unable to help.
Muzzin skates in a bit deeper than he probably should (because it puts the pass in jeopardy if Allen gets free). But hey, I guess if it works, it works.
Kopitar corrals the puck and slides it across….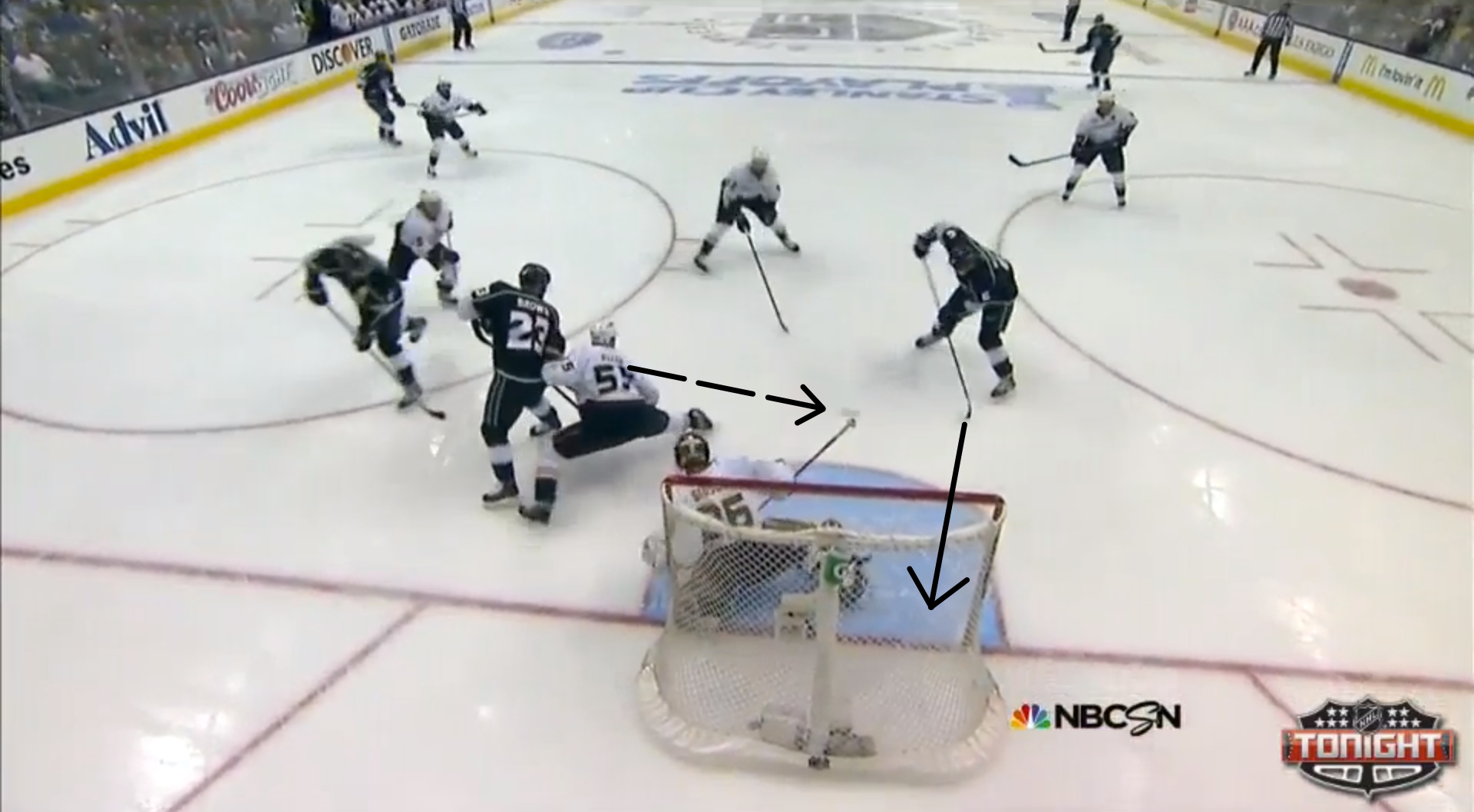 And it's in the back of the net.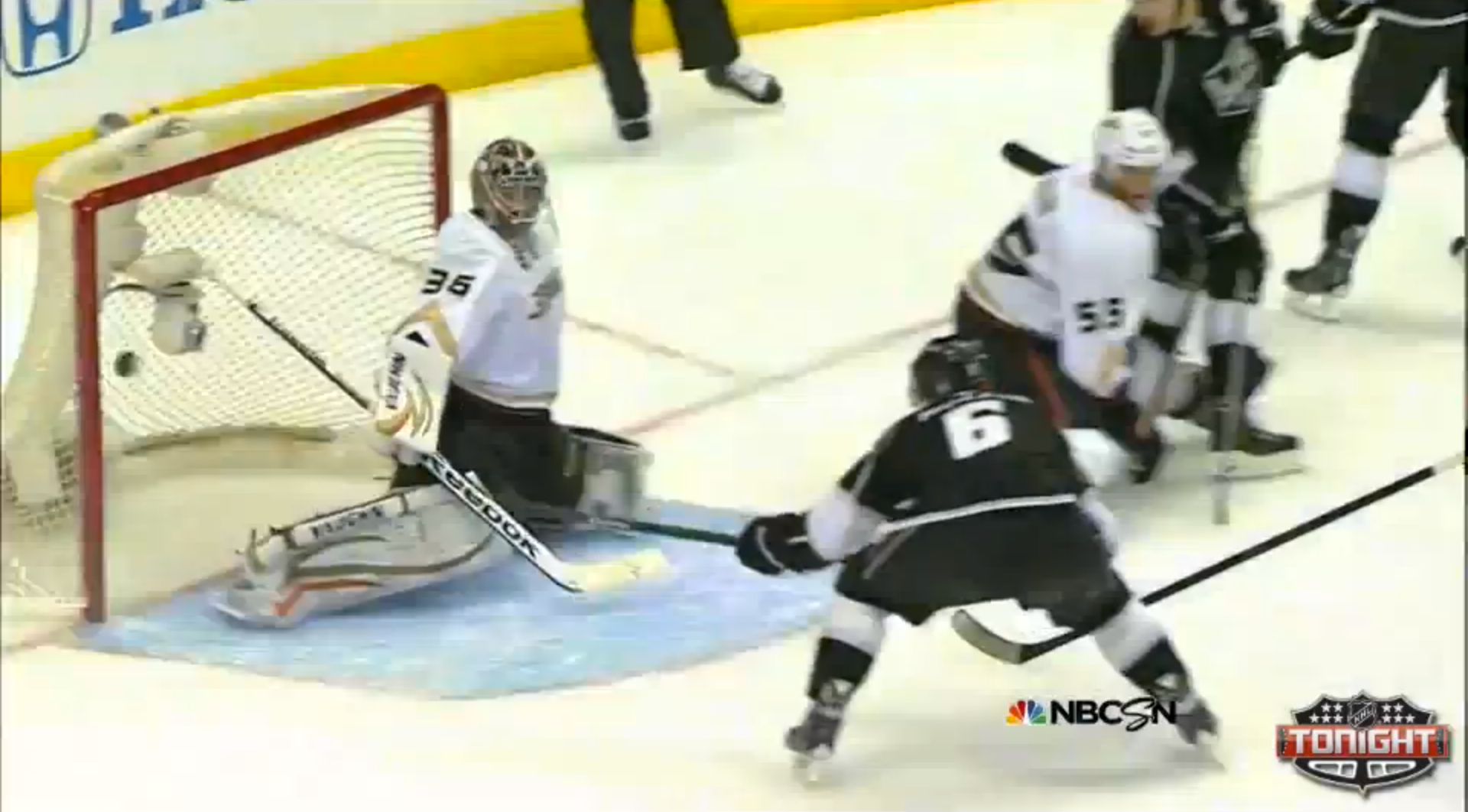 Gibson actually gets a good piece of it, but yeah: that's a goal.
There were a good handful of Ducks oopsies there:
* As winger, you never want to push the puck up to your own guy. You're better to eat it than do that.
* As a centerman playing in the D zone, you want to make sure you find a guy, and it's not necessarily the one with the puck.
* And as a D-man, you have to communicate with your centerman.
But most of all, when you're playing the game of risk/reward and flying the zone, you have to understand that it's not reward/reward. You won't believe this, but sometimes people lose when gambling.