Stellar Steve Mason makes 37 saves in Flyers Game 4 victory over Rangers
Eric Hartline / USA TODAY Sports
Philadelphia Flyers goaltender Steve Mason returned from injury Friday night, and put together a great performance in Game 4. Mason made 37 saves as the Flyers defeated the New York Rangers 2-1 to even up their opening-round Stanley Cup playoff series 2-2. 
Flyers forward Jakub Voracek scored the winner in the second period when he deftly tipped a Brayden Schenn shot up and over the shoulder of Rangers goalie Henrik Lundqvist. 
Star Performer
Mason stole the show in Game 4 with a sparkling 37-save performance in front of the home crowd at the Wells Fargo Center. The Flyers were outshot 16-6 in the first period and 28-17 through 40 minutes, but Mason stood tall. 
By the time the third period rolled around, the Flyers found their defensive footing and successfully stymied the Rangers attack to close out a victory and level the series. 
Turning Point
While Mason was stellar, the Flyers wouldn't have won this game without Voracek's solid work in front of the Rangers' net, when he deflected a Brayden Schenn shot past Henrik Lundqvist during a second period power play:
[Courtesy NHL.com]
Philadelphia most often lines up Voracek on the point with the man advantage, so this was a solid showcase of the Czech Olympian's stunning versatility.
Highlight reel
In a game filled with physical play, post-whistle scrums, and a pinch of old-fashioned hockey goonery, the biggest hit was thrown by Norwegian forward Mats Zuccarello, who stands only 5-foot-7. 
Zuccarello - heavy hitter? Zuccarello - heavy hitter!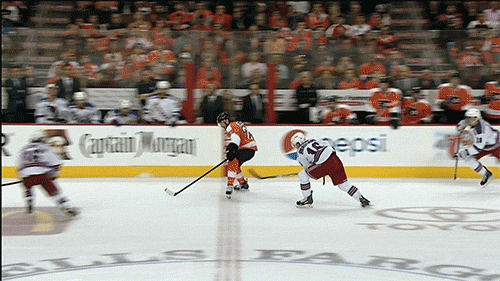 [Courtesy TSN2]
Quote of the Night
Mason enjoyed playing in front of the raucous home crowd and registered the first playoff win of his NHL career, but he'd like them to quiet down a bit ...
Series at a Glance
Game 1 Recap: Rangers 4, Flyers 1
Game 2 Recap: Flyers 4, Rangers 2
Game 3 Recap: Rangers 4, Flyers 1
Game 5: Sunday, April 27 at 12 p.m. ET
Comments
✕
Stellar Steve Mason makes 37 saves in Flyers Game 4 victory over Rangers
  Got something to say? Leave a comment below!