2022 NHL Mock Draft: Habs stick with Wright
Getty Images / Photo illustration by Nick Roy / theScore
With the 2022 NHL Draft set to begin Thursday night, theScore's Josh Wegman and Nick Faris are here to project all 32 first-round picks.
The draft is being held in Montreal and the Canadiens own the top selection plus the 26th pick, which could make it a monumental day for the franchise.
It could be another landmark night for the U.S. National Team Development Program, too. We project eight USNTDP players to go in the first round, tying the program record from the 2019 draft.
Also of note, we anticipate zero goalies will be taken in Round 1 for the first time since 2018.
Without further ado, here's our first-round mock.
1. Canadiens
Shane Wright, C, Kingston (OHL)
Scouts soured a bit on Wright after an underwhelming draft year; he scored fewer goals the season he turned 18 than he did the season he turned 16. Many believe Juraj Slafkovsky deserves this spot. But while Wright isn't overly flashy, he possesses tremendous smarts and a work ethic that'll help his game translate to the pros. Wright and Nick Suzuki would form a potent one-two punch at center as the Habs rebuild.
2. Devils
Juraj Slafkovsky, LW, TPS (Liiga)
Between the Winter Olympics and the world championships, Slafkovsky scored 10 goals and 16 points in 15 games against strong men's competition - and was named tournament MVP in Beijing. He's 6-foot-4 and physically ready for the NHL grind, plus he's a standout shooter and offensive initiator. The fact he put up a mere 10 points in Liiga won't stop New Jersey from seeking to unleash him next to Nico Hischier or Jack Hughes.
3. Coyotes
Logan Cooley, C, USNTDP U-18
Cooley is no consolation prize: Some observers cite his niftiness with the puck to argue he's worthy of the No. 1 pick. Wright's more polished and is better defensively, but Cooley executes creative plays at high speed and has the upside to become this draft's leading scorer. Arizona needs a dynamic talent like him, though he's bound for the University of Minnesota first.
4. Kraken
Simon Nemec, D, HK Nitra (Slovak Extraliga)
David Jiricek merits consideration, but the Kraken ultimately decide Nemec is the top defenseman they prefer. He's smart, mobile, cool under pressure, and heated up in the Extraliga playoffs (five goals and 17 points in 19 games) before shining alongside Slafkovsky at the men's worlds. Expect Nemec to munch minutes in the NHL as Seattle builds around him and Matty Beniers.
5. Flyers
Cutter Gauthier, C/LW, USNTDP U-18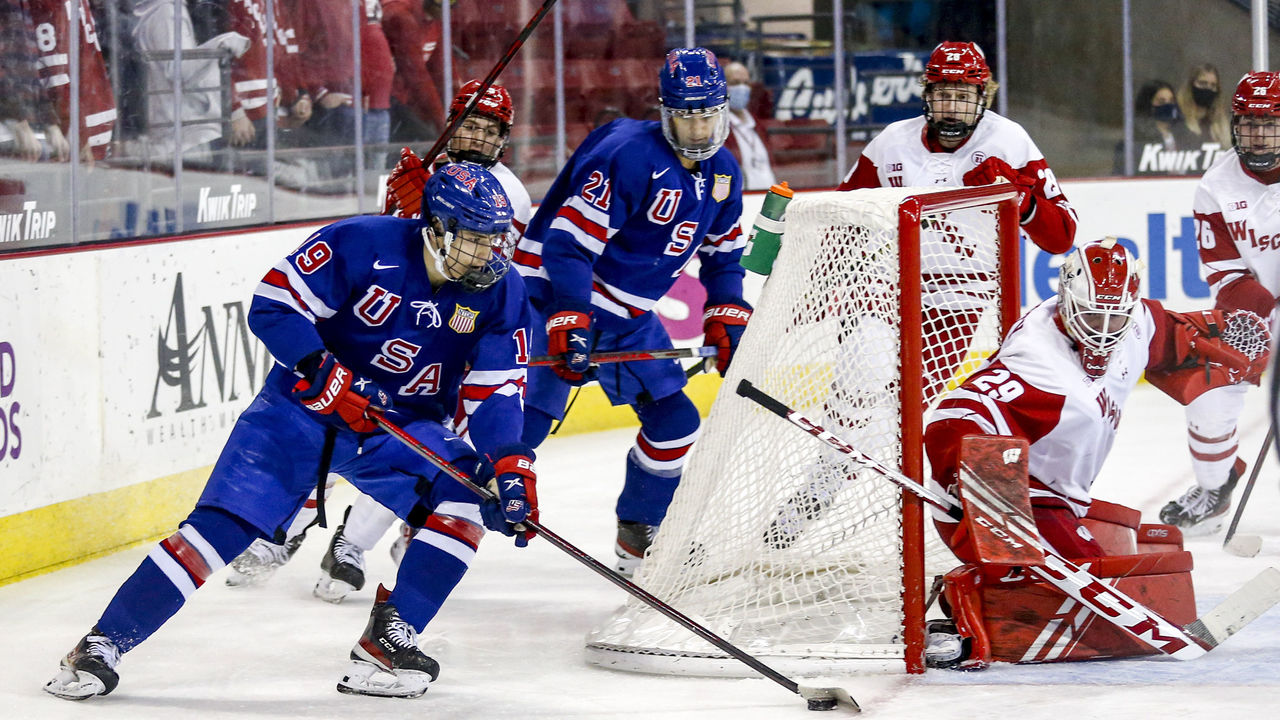 Philadelphia may be tempted to take Jiricek here, but Gauthier is more likely to make an NHL impact sooner, and this Flyers management group doesn't exactly exude patience. Gauthier has the makings of an elite modern-day power forward, which would make him an instant fan favorite in the City of Brotherly Love.
6. Blue Jackets (via Blackhawks)
David Jiricek, D, HC Plzen (Czech Extraliga)
This draft seems to have a consensus top six, so the Blue Jackets will likely take whichever one falls into their lap. They should be ecstatic it's Jiricek, though. The 6-foot-3 blue-liner has good enough mobility for his size and oozes offensive upside, making him a fitting long-term replacement for Seth Jones (who got Columbus this pick).
7. Senators
Rutger McGroarty, C/LW, USNTDP U-18
Choosing McGroarty here is a reach: He's widely considered a mid-to-late first-round prospect. But reaches happen in the top 10 and Ottawa's been known to diverge from public opinion, as with last year's Tyler Boucher pick. If Gauthier's gone and the Sens don't trade this selection for immediate help, they'll gamble on the USNTDP's captain and top goal-scorer and hope McGroarty improves as a skater at the University of Michigan.
8. Red Wings
Matthew Savoie, C, Winnipeg (WHL)
Detroit adds a gifted forward to a prospect pool already headlined by Simon Edvinsson and Sebastian Cossa. Savoie played center and wing and put up 90 points this season (the seventh-most in the WHL) while showcasing his high-end speed, agility, shot, and motor. Ice teammates attest he's strong for his 5-foot-9 frame.
9. Sabres
Joakim Kemell, RW, JYP (Liiga)
Buffalo's pipeline is deep enough that it can take the best player available, and at this point, that's Kemell, the reigning Liiga rookie of the year. The Sabres have two big centers to build around in Tage Thompson and Dylan Cozens, so a small, speedy winger who scored 15 goals in Finland this season is the perfect complement.
10. Ducks
Pavel Mintyukov, D, Saginaw (OHL)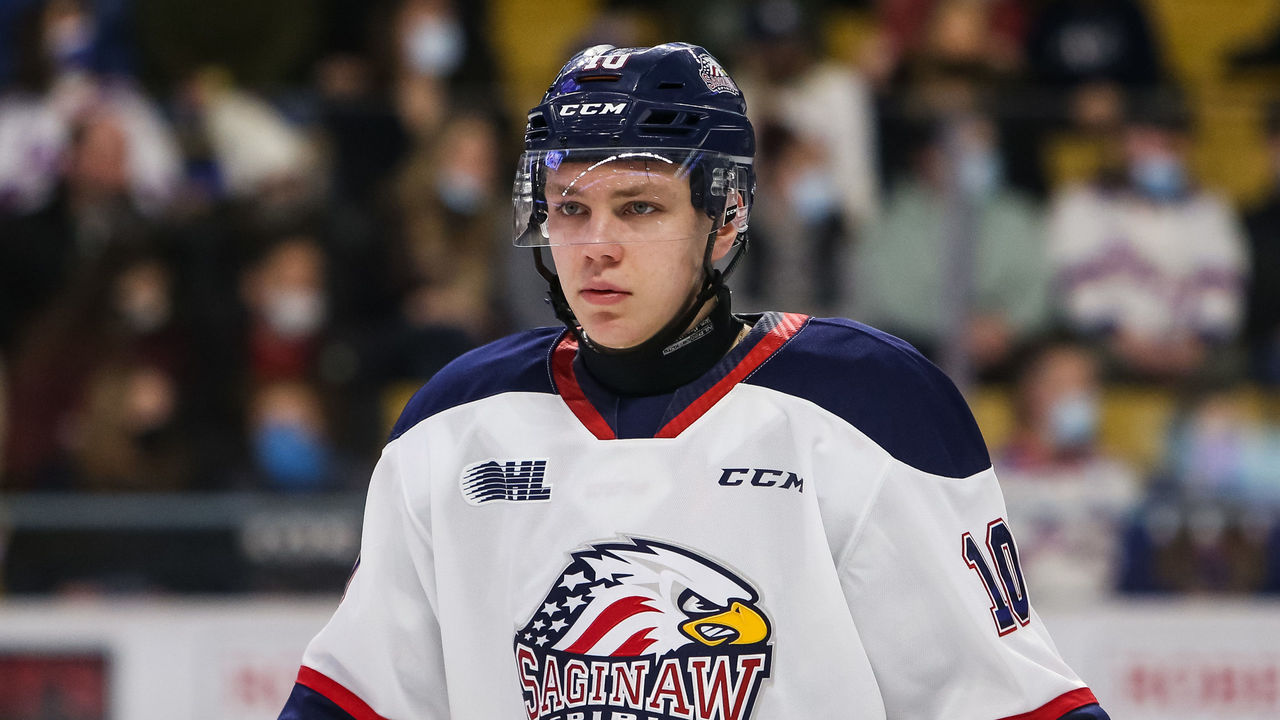 A future partner for Jamie Drysdale? Mintyukov shoots left, stands 6-foot-1, and has plenty of two-way potential. The Ducks could go in many directions, but with Trevor Zegras and Mason McTavish up front, bolstering the blue line seems wise.
11. Sharks
Jonathan Lekkerimaki, RW, Djurgardens IF (SHL)
San Jose nabs William Eklund's SHL teammate and potential future Sharks linemate. Lekkerimaki has a precise shot and went off for 15 points in six games to lead Sweden to gold at the Under-18 world championships. That prompted numerous USNTDP players to call him their toughest opponent in the draft.
12. Blue Jackets
Danila Yurov, RW, Magnitogorsk (KHL)
The Blue Jackets have not shied away from taking Russian prospects, selecting a Russian with one of their top two picks in four of the last five drafts. Yurov is an electrifying talent with some of the best hands in the class.
13. Islanders
Marco Kasper, C, Rogle BK (SHL)
The Islanders bypass Brad Lambert - head coach Lane Lambert's nephew - to take the Austrian center whose 200-foot game is mature. Kasper debuted in Sweden's top pro league when he was 16, scored a respectable seven goals this season, and held his own at the men's world championships.
14. Jets
Conor Geekie, C, Winnipeg (WHL)
At 6-foot-3, Geekie's bigger than Chaz Lucius and Cole Perfetti, the centers Winnipeg recently drafted high. He's also a visionary passer who protects the puck well and could become a physical force if he adds muscle. Bonus: He grew up in Manitoba and already plays in the Jets' backyard.
15. Canucks
Kevin Korchinski, D, Seattle (WHL)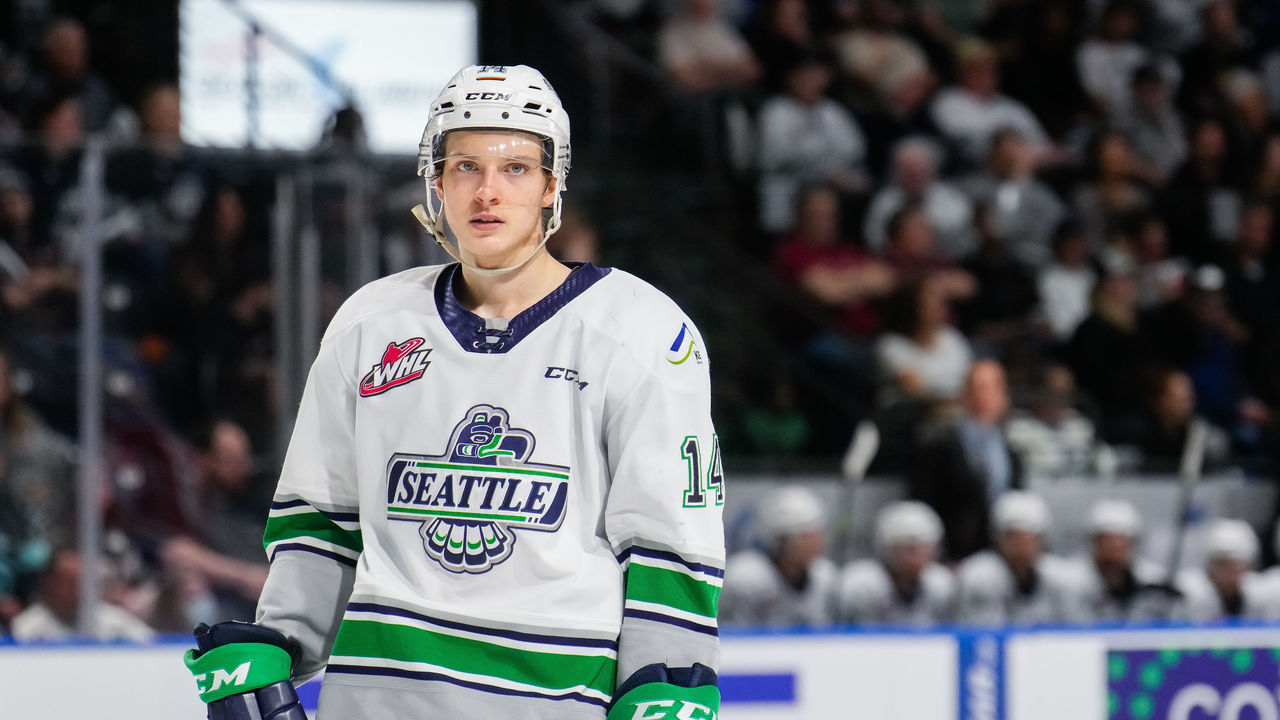 Korchinski is one of the biggest risers in this year's class after a breakout 65-point campaign with the Thunderbirds. He stands 6-foot-2 and is an excellent skater, and while there are concerns about his play in his own end, the Canucks need his type of upside in their defense pipeline.
16. Sabres (via Golden Knights)
Brad Lambert, C/RW, Pelicans (Liiga)
This is the Sabres' second pick of the round, so they can afford to take a swing, and perhaps no prospect has more boom-or-bust potential. Once a projected top-five pick, Lambert is considered the best skater in the draft, but there are questions about his compete level.
17. Predators
Denton Mateychuk, D, Moose Jaw (WHL)
Right after trading for Ryan McDonagh to bolster the left side of their defense, the Predators draft his potential successor on the second pair. Mateychuk's superb footwork makes him a capable defender at 5-foot-11, and his WHL production (13 goals and 64 points) rivaled Korchinski's this season.
18. Stars
Lian Bichsel, D, Leksands IF (SHL)
Bichsel is a towering 6-foot-5 defenseman who moves well for his size. He's also one of the most physically dominant players in the draft. There are questions about his offensive upside, but a future blue line featuring Bichsel, Miro Heiskanen, and 2019 first-rounder Thomas Harley has a lot of promise.
19. Wild (via Kings)
Frank Nazar, C/RW, USNTDP U-18
Speed and compete level are Nazar's strengths. His splendid skating and doggedness create scoring opportunities that he's able to convert with his wrist shot. He joins Matt Boldy and Marco Rossi as the ascendant young forwards Minnesota will count on to replace Kevin Fiala.
20. Capitals
Ivan Miroshnichenko, LW, Omskie (VHL)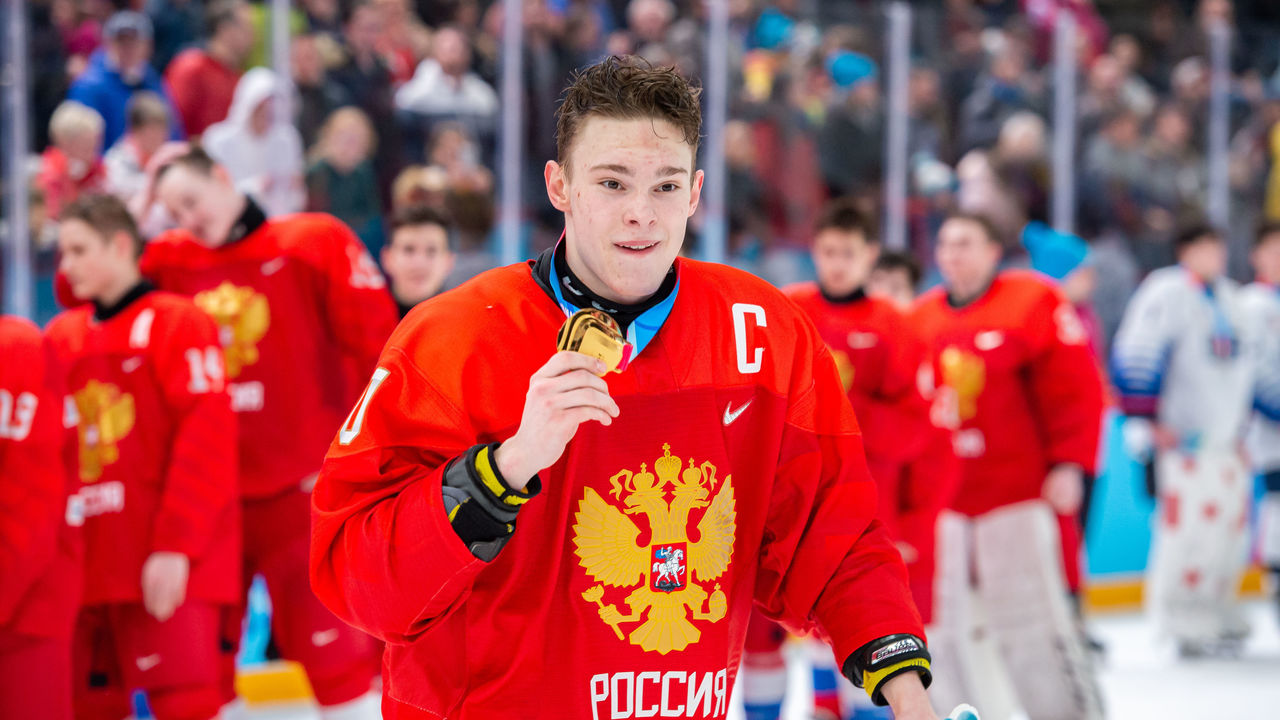 Based on talent and potential alone, Miroshnichenko should go much higher. The power forward was once a consensus top-five pick thanks to his well-rounded game, but he was diagnosed with Hodgkin's lymphoma this winter. His treatments have gone well by all accounts, but there's still risk involved.
21. Penguins
Isaac Howard, LW, USNTDP U-18
Remarkably, this is just the third time the Penguins have drafted in Round 1 since 2012. They make the most of this choice and add offensive skill by selecting the USNTDP's top points producer. Howard's puckhandling ability and quickness help him generate a lot of chances.
22. Ducks (via Bruins)
Jiri Kulich, C, HC Karlovy Vary (Czech Extraliga)
The Ducks took a defenseman with their first pick in this mock, so it's only fitting to snag a forward with their second. This isn't just a pick based on need, though - Kulich is arguably the best player on the board. The highly competitive center helped his stock at the U-18 worlds by tallying nine goals in six games as Czechia's captain.
23. Blues
Owen Pickering, D, Swift Current (WHL)
St. Louis hasn't drafted a defenseman in Round 1 since 2012 and is overdue to change that. Enter the 6-foot-4 Pickering, who grew 9 inches in the past few years, retained his signature smooth skating stride, and happens to be Mateychuk's cousin.
24. Wild
Ryan Chesley, D, USNTDP U-18
Chesley isn't flashy, but he's a reliable two-way defenseman and plays bigger than his 6-foot, 195-pound frame suggests. With Jared Spurgeon getting up there in age and Matt Dumba entering the final year of his deal, the Wild's blue line may need reinforcements on the right side soon - even after adding Brock Faber to the prospect pool.
25. Maple Leafs
Liam Ohgren, LW, Djurgardens IF (SHL)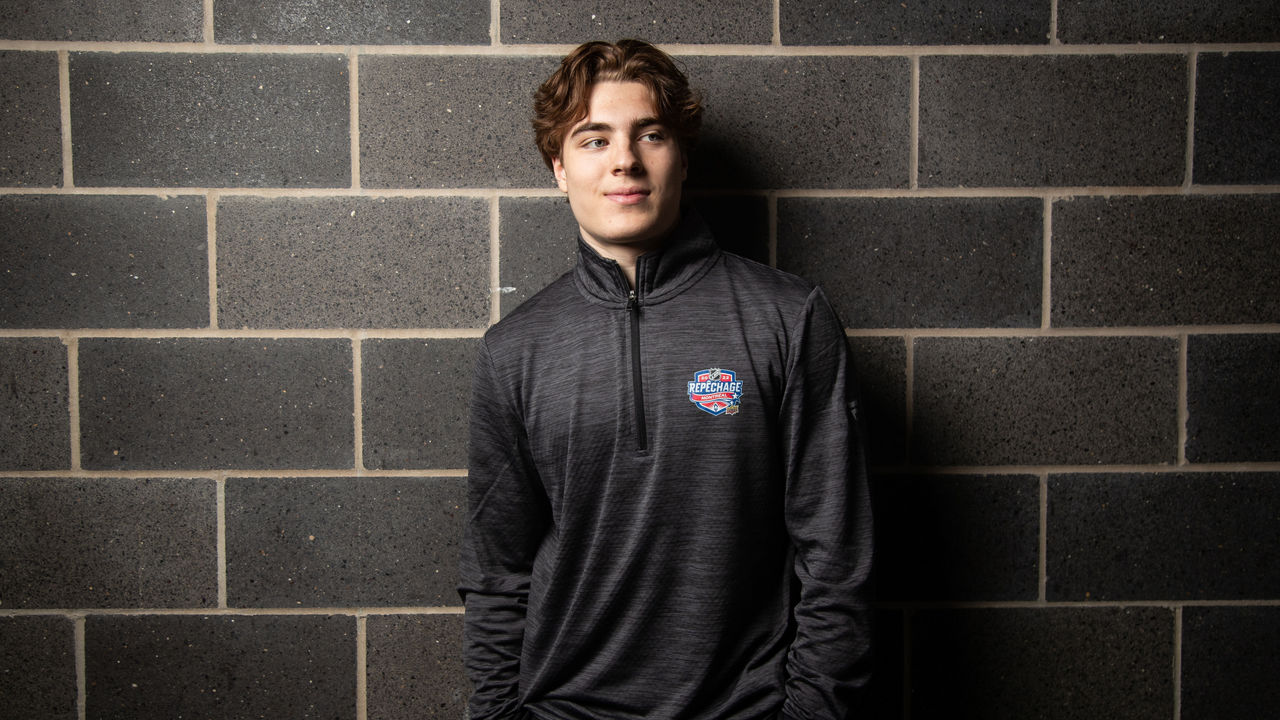 Ohgren lit up the Swedish junior ranks for 33 goals in 30 games and scored twice when Sweden beat the U.S. in the U-18 final. He fills the net from distance but also battles to get to the hard areas. The Leafs will be optimistic they can help Ohgren get faster.
26. Canadiens (via Flames)
Nathan Gaucher, C, Quebec (QMJHL)
If the Habs build around Wright and Suzuki as their top two centers, Gaucher could become the perfect No. 3 pivot behind them. While he lacks foot speed, he plays a heavy game at 6-foot-3 and 207 pounds, which could make him a valuable shutdown center. It doesn't hurt that he's from the Montreal area.
27. Coyotes (via Hurricanes)
Filip Bystedt, C, Linkoping HC (SHL)
Arizona's strategy mirrors Montreal's: add another center to the pipeline. The 6-foot-3 Bystedt is attentive defensively and impresses as a puck carrier - an enticing combination, though the rest of his offensive game needs refinement.
28. Sabres (via Panthers)
Tristan Luneau, D, Gatineau (QMJHL)
The Sabres already scooped up two forwards in this mock, so it's sensible to shore up their defense. With Rasmus Dahlin and Owen Power manning the left side for the next decade or so, Luneau, a right-handed puck-mover, could develop into an ideal partner for one of them.
29. Oilers
Jimmy Snuggerud, RW, USNTDP U-18
Snuggerud rode shotgun on a line with Cooley and Gauthier this season and has a complementary winger's skill set. He's not a great skater but does a lot well at both ends of the ice, including shoot and finish. Snuggerud could provide scoring punch in Edmonton's bottom six or ascend to Connor McDavid's flank in a pinch.
30. Jets (via Rangers)
Noah Ostlund, C, Djurgardens IF (SHL)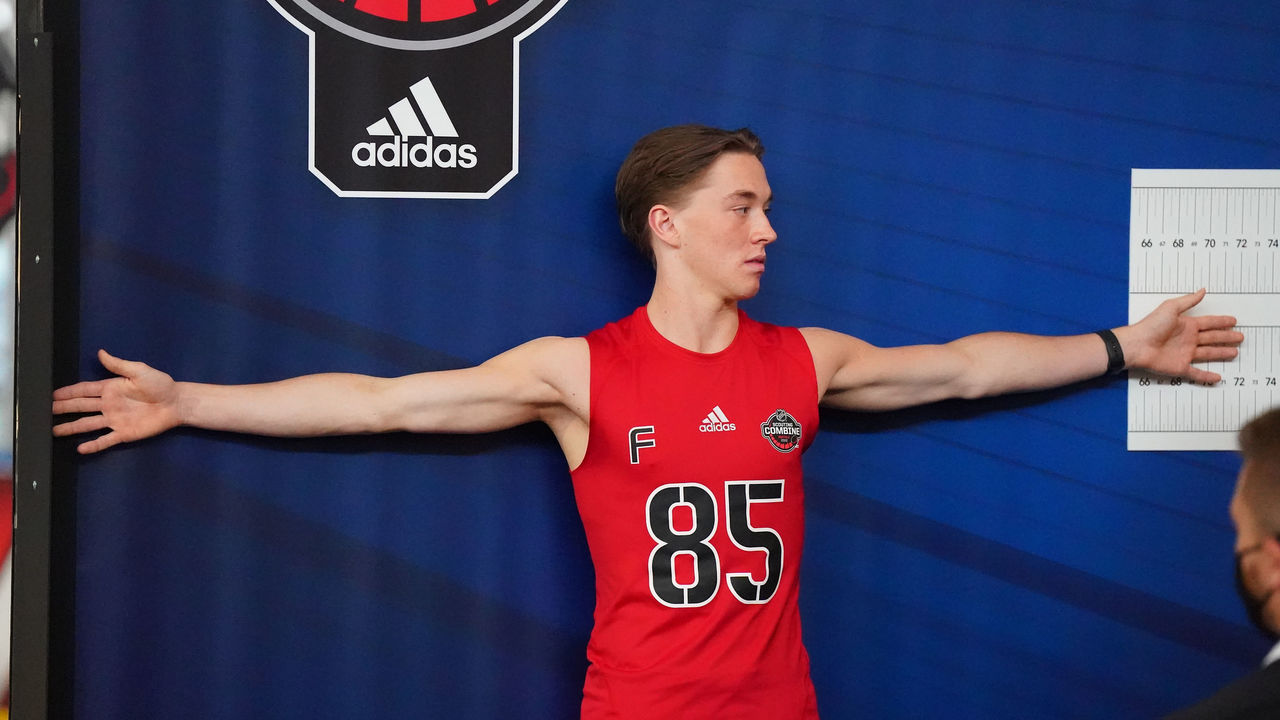 Ostlund is the third player from Djurgardens to go in the first round - a testament to the Swedish club's player development system. The skilled 5-foot-11 playmaker is the second center the Jets have drafted, but everyone knows there's no such thing as too much depth down the middle.
31. Lightning
Filip Mesar, RW, HK Poprad (Slovak Extraliga)
Mesar's stellar skating ability elevates him into Round 1, making this the first in the history of the draft to feature three Slovak prospects. The childhood friend of Slafkovsky and Nemec excels at handling the puck in transition. The Lightning haven't selected this high since 2019 and don't own another first-round pick until 2025, but they can be patient with Mesar's development.
32. Coyotes (via Avalanche)
Lane Hutson, D, USNTDP U-18
Hutson is one of the most intriguing players in the entire draft. He has arguably the best hockey sense in the class, and he's awfully skilled, but he comes with obvious defensive limitations as a 5-foot-8 blue-liner. Still, with the Coyotes' third pick in the round, it's worth taking a chance on his upside.
Comments
✕
2022 NHL Mock Draft: Habs stick with Wright
  Got something to say? Leave a comment below!