Complementary but different styles put Savoie, Geekie high on NHL draft boards
Getty Images / Photo illustration by Nick Roy / theScore
Matthew Savoie and Conor Geekie were together in Buffalo recently, browsing Apple products before their flight home from the NHL Scouting Combine, when Savoie grazed a pair of headphones on display and triggered the store alarm. It was an accident, but employees walked over to investigate the fuss.
"He was pretty panicked about that," Geekie said with a laugh.
Savoie is used to making others panic - he's a swift skater whose silky hands make him a nightmare to defend at top speed. Few Canadian junior forwards spark offense so easily. When the NHL draft gets going in Montreal next Thursday, Savoie, like Geekie, is expected to be chosen within the first 10 or 15 picks.
The parallels between them abound. The Winnipeg Ice swung trades to draft them first and second overall, Savoie then Geekie, out of bantam in 2019. Their powerhouse team put up the Western Hockey League's best record this past season. Their older brothers either already play in the NHL - Morgan Geekie is a Seattle Kraken center - or will soon now that Carter Savoie signed his entry-level contract with the Edmonton Oilers.
They differ in size and personality. Conor Geekie is 6-foot-3 and universally described as outgoing. Matthew Savoie is 5-foot-9 and introspective, representing the opposite way to be a good team guy and flash elite potential at center.
Savoie emphasizes that they share other traits, like confidence, diligence, and offensive pop. They clicked as occasional linemates in 2021-22, like when Geekie sprung Savoie for this breakaway a few months back and buried the rebound that his deke created.
"I'm more of a passer and a vision guy. I think Sav's more of the sniper and speed guy. When it comes to controlling pucks down low, I think that's more my forte," Geekie said in a recent interview.
"But Sav's obviously a great finisher. When I give him the puck on a breakout, it's pretty easy for him to get in the zone with his speed. Our characteristics link together."
Their partnership took time to materialize. When Geekie was a WHL rookie in 2020-21, Savoie played for the Dubuque Fighting Saints, guaranteeing himself ice time with the Iowa USHL franchise as the pandemic delayed (and ultimately shortened) Winnipeg's campaign. When Savoie joined the Ice this season, his 90 points ranked seventh in the league; Geekie supplied 70 in 63 games.
Savoie hails from the Edmonton suburb of St. Albert and admires the offensive dynamism of Mitch Marner and Brayden Point. "Explosive" sums him up in a word, Ice head coach James Patrick said. His first few strides are first-rate. When Canadian Hockey League draft prospects competed in testing before a spring All-Star Game, Savoie won drills that gauged agility and skating and weaving with the puck.
Savoie is smart and known to contribute in all situations - off the rush, on a power play's right flank, late in games that the Ice lead or trail by a goal. NHL Central Scouting director Dan Marr thinks he's one of the draft's purest finishers. Aspirationally consistent in 2021-22, Savoie compiled 13-game and 12-game point streaks and, from the start of November through the end of March, was never held scoreless in back-to-back contests.
He's also chippy and initiates contact, which Savoie said is vital at his height: "Just bringing that tenacity being a smaller guy."
"There are times you see the value of a bigger player," Patrick said, "but the way the game is played now and how fast the game is, for me, it's more about speed. I don't find his size one bit of a hindrance."
"Pound for pound, he's one of the stronger guys you'll see in the draft and in general," said Carson Lambos, the Ice defenseman and Minnesota Wild prospect who was drafted 26th overall last year. "He plays a fearless game."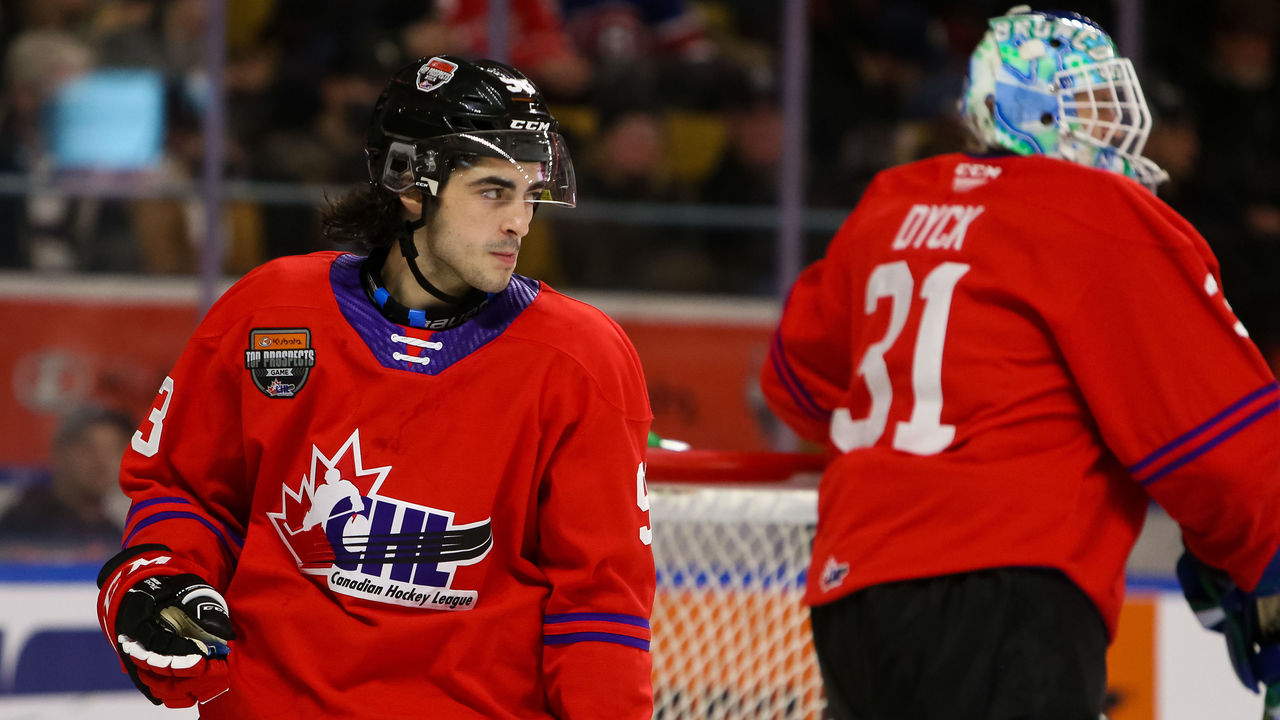 Lambos calls Geekie a unique player with a diverse blend of attributes.
Sized like a power forward - no forward at the NHL combine had a longer wingspan - Geekie's strengths include his vision and touch. He shrugs defenders off the puck and slings inventive passes through seams. His shot beats goalies from distance. Dashing up ice in three-on-three overtime as a rookie, Geekie embarrassed his defender and reached to retrieve the puck before he scored five-hole.
Praising Geekie's competitiveness in one-on-one battles and at the netfront, Marr said he can envision him outmuscling pros.
"All he needs right now is (greater physical) strength," Marr told reporters at the Buffalo combine in June. "If you've met him, he certainly has the confidence."
Geekie grew up west of Winnipeg on a farm in Strathclair, Manitoba, where his dad, Craig, a WHL defenseman in the early 1990s, possessed a key to the community arena. Geekie joked at the combine that cattle probably live in the rink now: "It wasn't the nicest." But it afforded him space to be creative and, between rounds of shinny, hone his quick release; Craig insisted his sons snipe 10 wrist shots top-shelf before they practiced slappers.
Sufficiently fast once he has a head of steam, Geekie said he wants to get quicker in order to win more short footraces. Doing that could help him make the most of his enticing tools. Patrick thinks about his skill set and lanky frame and sees untapped potential - "There's a lot of development or growth still left in his game" - while Savoie relays a key takeaway from one golf outing early in their friendship.
"He just absolutely smoked the driver, like, 350 (yards)," Savoie said. "I was like: holy. This guy's just a natural athlete."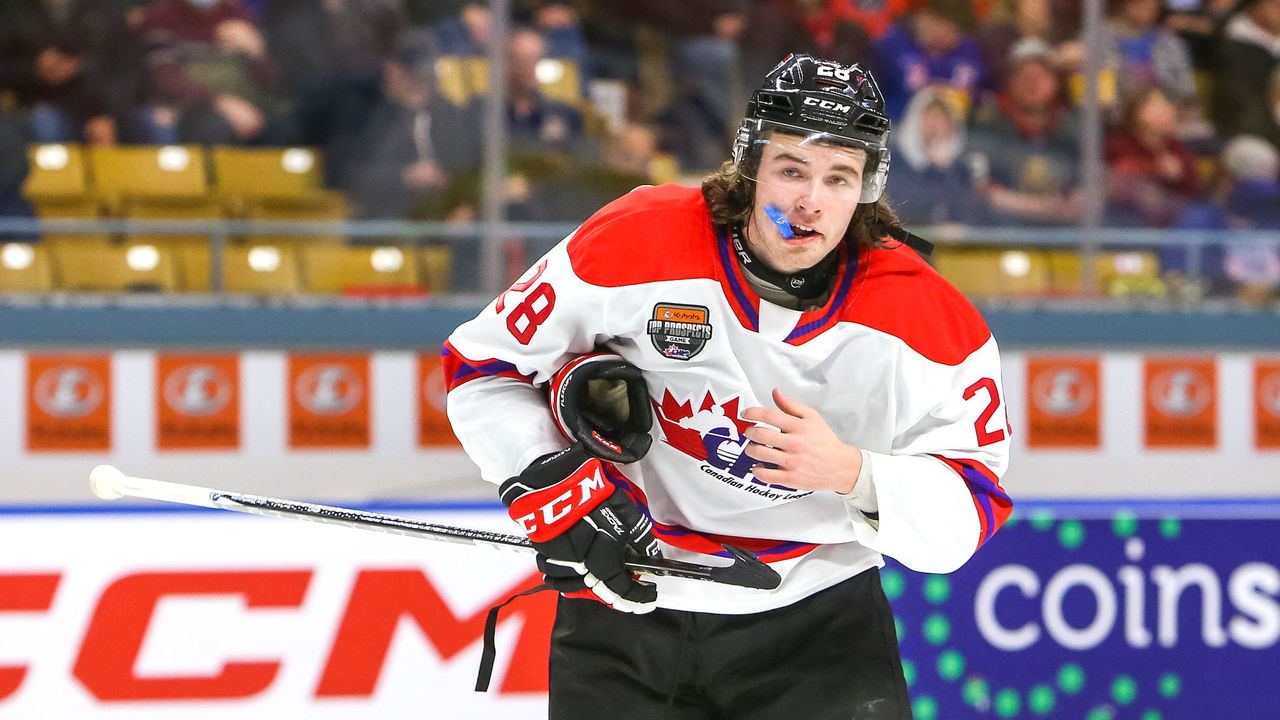 Savoie and Geekie helped power the Ice's first playoff run in Winnipeg. An emergent WHL juggernaut that relocated from Kootenay, British Columbia, three years ago, the Ice posted a .655 points percentage between 2019-20 and 2020-21, but both postseasons were canceled because of the pandemic. They went 53-10-5 in 2021-22, led the league in goals for (317) and goals against (152), and reached the conference finals.
Upset by the Edmonton Oil Kings in five games - Savoie exited the series in Game 2 with a shoulder injury - the Ice found consolation in 17-year-old Zach Benson's star turn.
Benson led Winnipeg with 23 points in 15 playoff appearances, signaling he's a legit top-five prospect for the 2023 draft. Patrick and Lambos laud his smarts, motor, and capacity to drive play, plus the defensive attentiveness that rounds out his game.
Patrick deployed Benson alongside Savoie and Geekie in the playoffs, stacking that line with speed and skill. He wanted them to exploit mismatches, force defenders to scramble, and set off alarms.
"That was the strength of the line: three good offensive players," Patrick said. "When you get those guys together on the ice, those types of players, they usually find a way to make something happen."
Nick Faris is a features writer at theScore.
Comments
✕
Complementary but different styles put Savoie, Geekie high on NHL draft boards
  Got something to say? Leave a comment below!