3 matchups to watch in Game 3 of the Avalanche-Blues series
Matthew Stockman / Getty Images
The Colorado Avalanche were the better team in Game 1, winning 3-2 in overtime. The St. Louis Blues flipped the script in a 4-1 Game 2. How might Game 3 unfold? Three matchups to watch as the series shifts to St. Louis:
Ryan O'Reilly vs. Nathan MacKinnon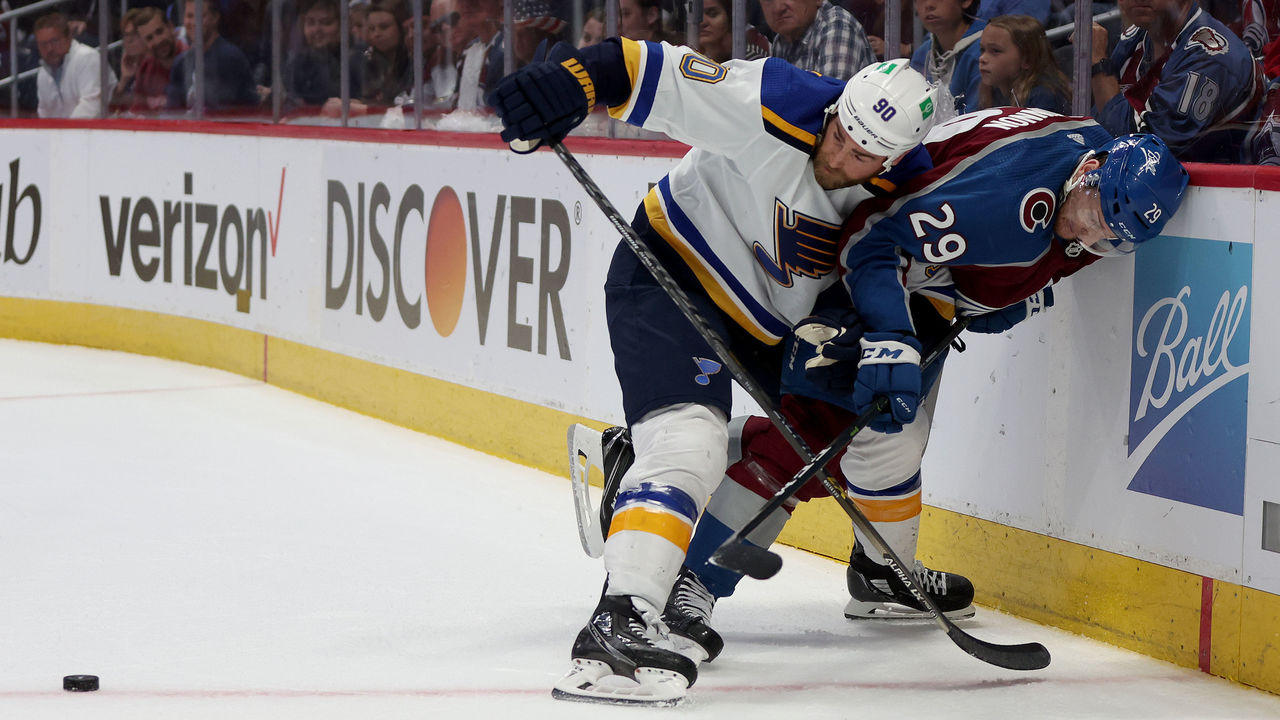 A 30-second sequence toward the end of the first period in Game 1 represented how the O'Reilly-MacKinnon battle has played out thus far.
The sequence started with O'Reilly tracking MacKinnon as the Avalanche center circled the Blues' zone with the puck. O'Reilly closed off MacKinnon near the blue line, and St. Louis moved play the other way. However, the Avs quickly regained possession and tried to break out of their zone. O'Reilly was there to intercept the exit pass. A few beats later, icing was called on the Avs.
O'Reilly, the Blues' heart-and-soul captain, single-handedly stifled Colorado's push. He's arguably the series' most important skater heading into Game 3.
In Game 1, the MacKinnon line throttled O'Reilly and his linemates in shot attempts and expected goals, yet O'Reilly had several moments of defensive brilliance and bagged the opening goal. In Game 2, the lines stacked up evenly overall, while O'Reilly recorded a primary assist at five-on-five and MacKinnon earned just a secondary assist on the power play.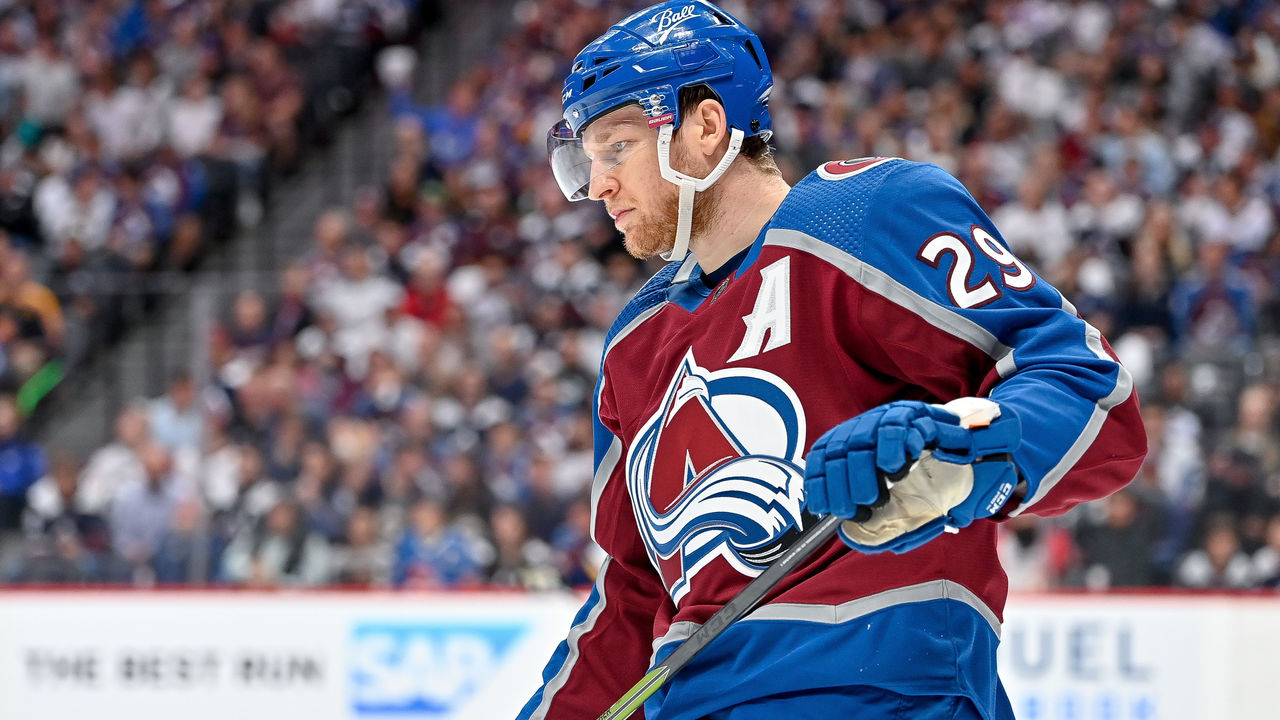 Considering MacKinnon has traditionally thrived in the playoff spotlight (77 points in 56 games), Game 2 will probably stand as an anomaly among strong performances. With his all-world offensive tools and relentless motor, MacKinnon has the juice to rebound and even win this head-to-head against O'Reilly.
That said, MacKinnon definitely won't be able to avoid O'Reilly anytime soon with St. Louis holding last change in Games 3 and 4. It's also unlikely MacKinnon outsmarts or lures him into penalty trouble. Part of O'Reilly's genius is his controlled style - smart stick, cool head - so the more isolated the matchup, especially along the boards, the more it favors the Blues.
The explosive MacKinnon can (and must) tap into his advantages in skating ability and lower-body strength to disrupt O'Reilly's defensive groove.
MacKinnon can't allow O'Reilly to dictate the terms of the matchup by, for instance, dumping the puck into the Blues' zone simply because his counterpart's applying pressure. With help from superstar winger Mikko Rantanen, MacKinnon must disorient O'Reilly with quick feet and hands. Challenge him one-on-one. Tire him out. Or regroup in the neutral zone and feed off Rantanen's matchup instead. Adjust. The key is to be proactive.
MacKinnon's at his best when he's assertive with and without the puck. If he doesn't bring that attack mentality for Game 3, he'll play right into O'Reilly's hands and the Blues' game plan in front of a hostile St. Louis crowd.
Darcy Kuemper vs. Blues' rush offense
The Avs have allowed six goals in this series, including one empty-netter. Of the five scored on goalie Darcy Kuemper, three have come off a Blues counterstrike.
St. Louis' power play turned a Colorado dump-out into the 2-2 goal in Game 1 thanks to an ill-timed line change by the penalty killers. Jordan Kyrou bagged that one, and the speedster struck again on the fast break in Game 2 to make it 1-0. The 2-1 goal in Game 2 - veteran David Perron's second of the night - was the direct result of an Avs turnover inside the Blues' zone.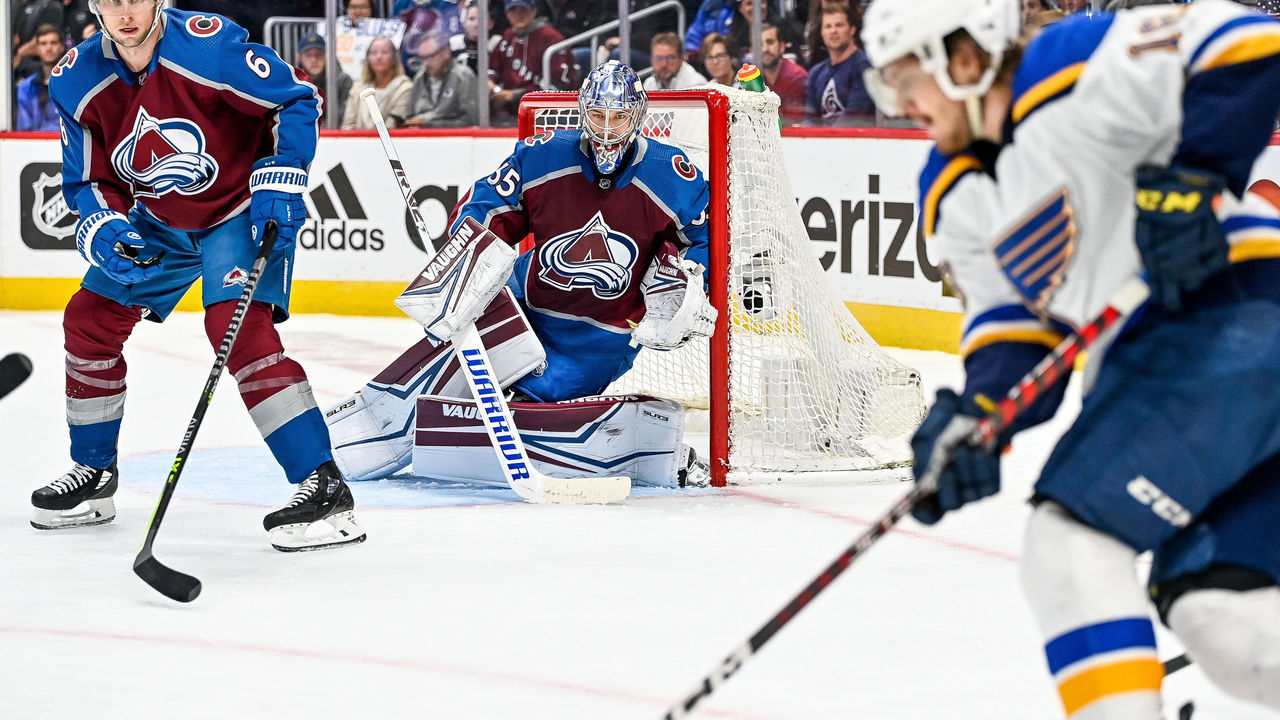 Kuemper, rocking a .923 save percentage through five playoff games, should have turned aside two of those counterstrikes. (The other, Kyrou's second goal, wasn't entirely his fault as an Avs defenseman tipped it.)
The Blues are so deep and versatile up front that these counterstrikes aren't suddenly going to disappear as the series chugs along. They finished third in goals in the regular season because they can generate scoring chances off the cycle on one shift and then do the same off an odd-man rush on the next.
Blues bench boss Craig Berube tossed his top-nine into a blender for Game 2, most notably putting Pavel Buchnevich on O'Reilly's wing and Kyrou on Robert Thomas' wing. But the overall product went unchanged - the same style.
All of this is to say Colorado's fate could rest on timely saves from Kuemper. Perhaps that's unfair to the 32-year-old, but championship teams need stops.
The flip side is that the Avalanche can also be incredibly effective off the rush. Just look at that high-flying, skill-infused lineup. Their blue line, in particular, has no peer with respect to mobility and willingness to either lead or join the rush.
Jordan Binnington vs. Avs' power play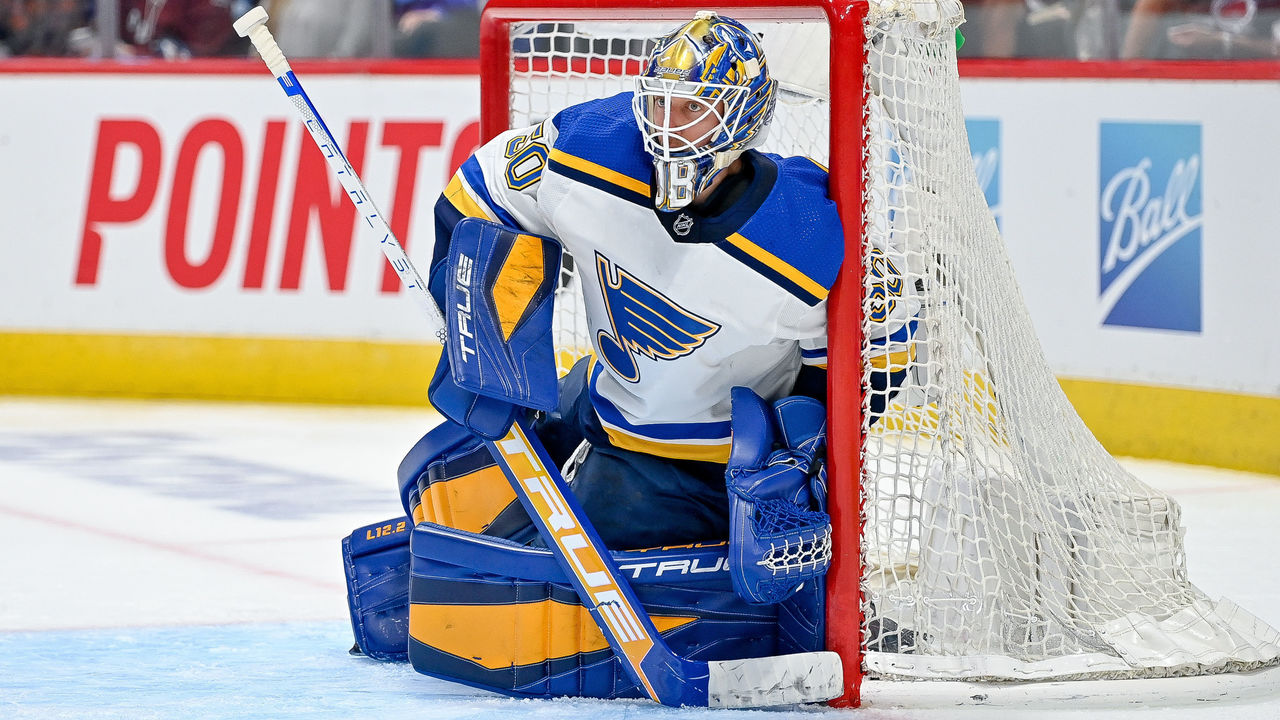 Speaking of the Avs' vaunted attack, it was on full display in Game 1. Colorado finished with 54 shots on goal, three posts, and two crossbars.
The Jared Bednar-coached club generated 31 shots in Game 2, but there was a serious lack of grade-A scoring chances. According to Natural Stat Trick, the Avs generated 1.5 expected goals in Game 2 compared to 4.4 in the opener.
At any rate, with Colorado scoring only four goals on 92 shots in the series, Blues netminder Jordan Binnington has undoubtedly been a difference-maker. After taking over for Ville Husso midway through the first round, Binnington has been especially stellar at even strength, stopping 139 of 145 shots.
That's exactly where the Avs' power play enters the conversation after finishing seventh in the NHL in the regular season and going 7-for-15 in Round 1.
A Game 2 shovel-in by captain Gabriel Landeskog is the lone tally through five opportunities against the Blues. It's possible Binnington rides this heater for months - like he did en route to a Cup in 2019 - and thus makes the even-strength goals even harder to come by for the Avs. Colorado could find itself relying on power-play production to advance to Round 3.
If that turns out to be the case, you couldn't ask for better personnel. MacKinnon, Rantanen, Landeskog, Cale Makar, and Nazem Kadri are arguably the most dangerous unit in hockey. Can they produce when it counts?
John Matisz is theScore's senior NHL writer. Follow John on Twitter (@MatiszJohn) or contact him via email (john.matisz@thescore.com).
Comments
✕
3 matchups to watch in Game 3 of the Avalanche-Blues series
  Got something to say? Leave a comment below!