The playoff upset that rattled a dynasty and put Gretzky's Oilers 'on the map'
The Montreal Canadiens' most recent dynasty was crumbling when Glen Sather, head coach of the NHL's next big thing, pressed play on the video hype montage in 1981. Sather's Edmonton Oilers had seized control of their first-round, best-of-five playoff matchup with Montreal, the era's dominant team and a Stanley Cup favorite now facing elimination on the road. That April 11, 17,499 fans packed Northlands Coliseum. They stomped and screamed as Game 3's 6 p.m. start time ticked by unheeded.
The Oilers were still in their dressing room, grouped for a rare pregame meeting that Sather called to praise his green but historically gifted young core. On the screen, Wayne Gretzky kept setting up teammates by the Montreal netfront for easy goals: Glenn Anderson first, Jari Kurri twice, Brett Callighen later for two more. Twenty-year-old Mark Messier got nose to nose in a scrum with big Larry Robinson, projecting fearlessness by jawing at the mustachioed future Hall of Famer.
The highlights played in slow motion, recapping Edmonton's Game 1 and 2 triumphs a few days earlier at the Montreal Forum. Tom Jones crooned the soundtracking song, "The Impossible Dream."
"We felt invincible at that point," Andy Moog, the Oilers' rookie starting goaltender in the series, told theScore recently. "They just had to drop the puck in Game 3, and we were destined to win."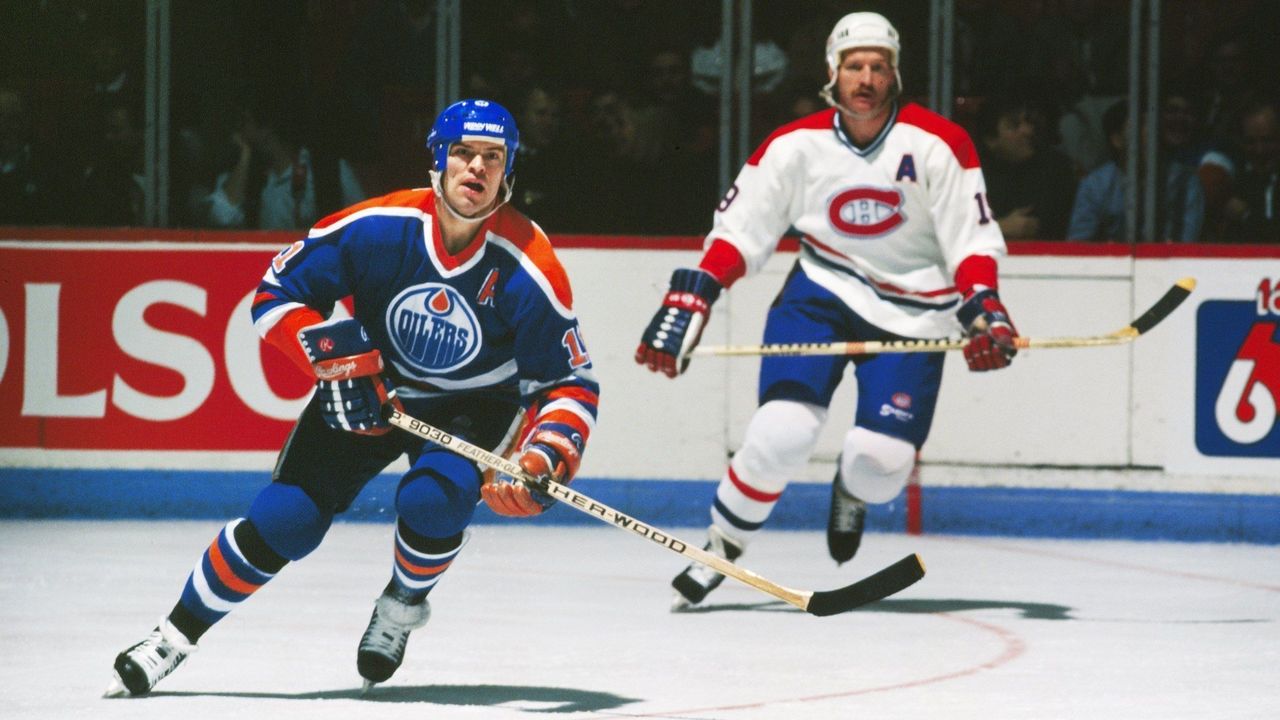 Edmonton's destiny doubled as a stupefying upset, a sweep that snuffed hope that Montreal, the Cup's sole owner from 1976 to 1979, would raise a fifth banner with the same core. The monumental result turned 40 this spring, and by its broadest parameters - Canadian club versus Canadian club - the series mirrored the setup we're about to see in the North Division.
Few hockey people, Canadian or otherwise, figured the Oilers would even threaten Montreal in 1981. Those Canadiens finished third in the NHL standings to Edmonton's 14th, pairing them in the first round under the 1-through-16 playoff format that lasted for two years after the NHL-WHA merger. Gretzky wasn't capital-G Great yet, though he was fresh off establishing his first single-season points record. Outside of Callighen, Gretzky's 27-year-old left winger, most key Oilers were barely clear of legal drinking age.
That cohort included Gretzky, Messier, Kurri, and Anderson, plus defensemen Paul Coffey and Kevin Lowe. All were rookie or sophomore NHLers with no experience to rival that of the Habs' stars, be they Robinson, a two-time Norris Trophy winner; Bob Gainey, the Selke Trophy winner four years running; Steve Shutt, one of 20 NHLers who's recorded 60 goals in a season; or Guy Lafleur, the NHL's last helmetless legend, twice its MVP, and another member of the 60-goal club.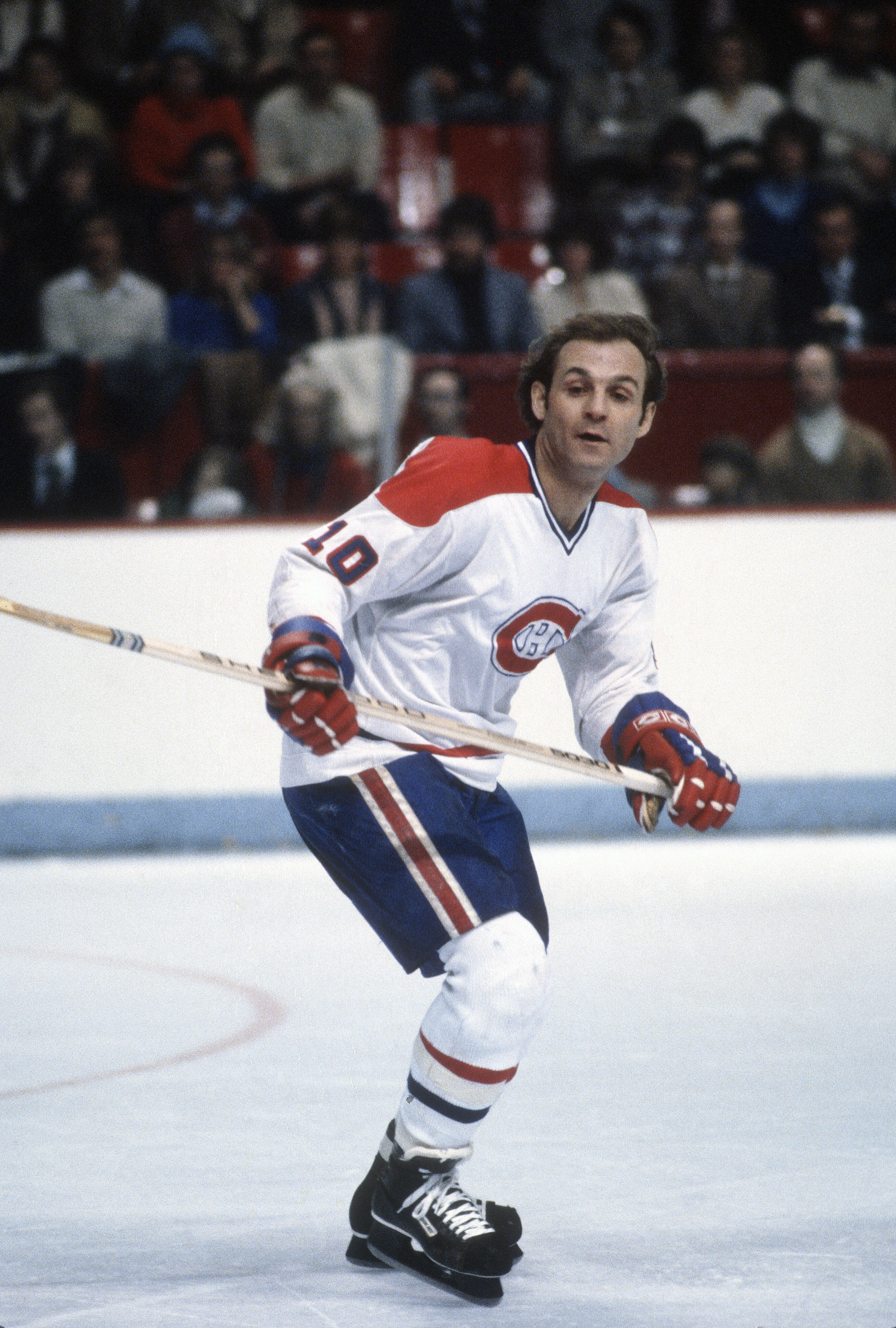 This mismatch produced a lopsided scoreline that only makes sense in retrospect: a 15-6 aggregate over three games to the dynasty-in-waiting.
"That series put Edmonton on the map," Callighen said in a recent interview. "It set a bar for the Oilers moving forward."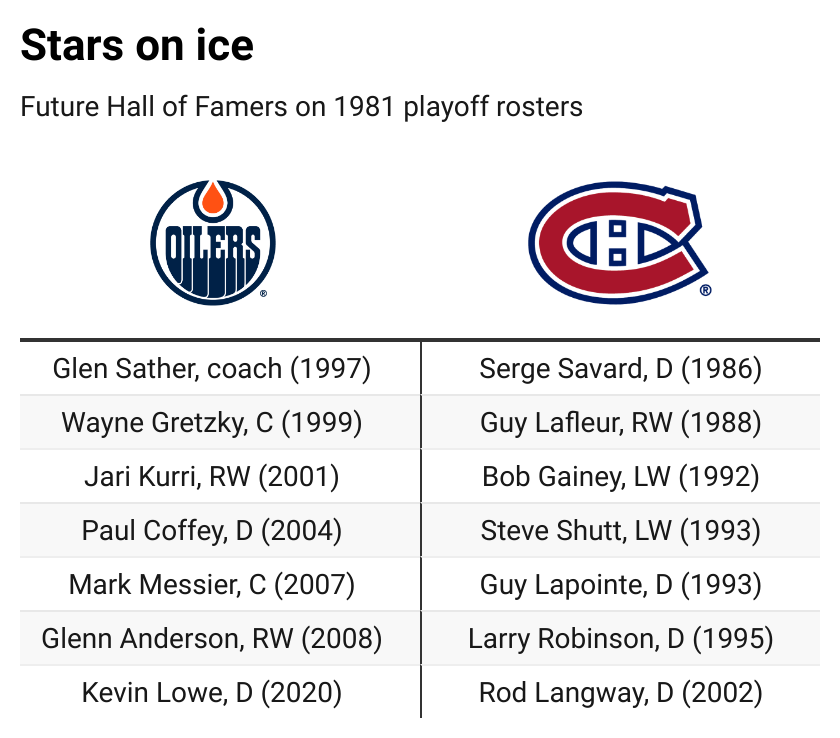 That happened sooner than expected. Once a strong World Hockey Association franchise, the Oilers' roster was broken up in 1979 in the WHA-NHL dispersal draft. What mattered was that they retained Gretzky, who in 1980 won the first of eight straight Hart Trophies, and walked away with consecutive entry-draft heists. In 1979, the Oilers nabbed Lowe 21st overall, Messier 48th, and Anderson 69th. They drafted Coffey sixth in 1980 and Kurri 69th, exposing the rest of the league's mistaken belief that he had Finnish military service to complete.
The Canadiens spent this time navigating a comedown from their latest heyday. Between 1975-76 and 1978-79, Montreal was 229-46-45 in the regular season, capping each campaign with a Cup parade. The retirements of Ken Dryden, Yvan Cournoyer, and Jacques Lemaire, combined with coach Scotty Bowman's departure for the Buffalo Sabres, left the Habs uncommonly vulnerable in the 1980 postseason. The Minnesota North Stars capitalized, bouncing them from the second round in seven games.
Lafleur missed that series with a bum knee, and injuries dogged him into 1981, when he fell short of scoring 50 goals and 100 points for the first time in seven years. On March 24, he nodded off while driving his Cadillac Seville and crashed into a signpost, which severed part of his right ear. Lafleur was hospitalized but healed in a week, in time for the Canadiens to cap a season-ending run of 26 wins in 27 home games.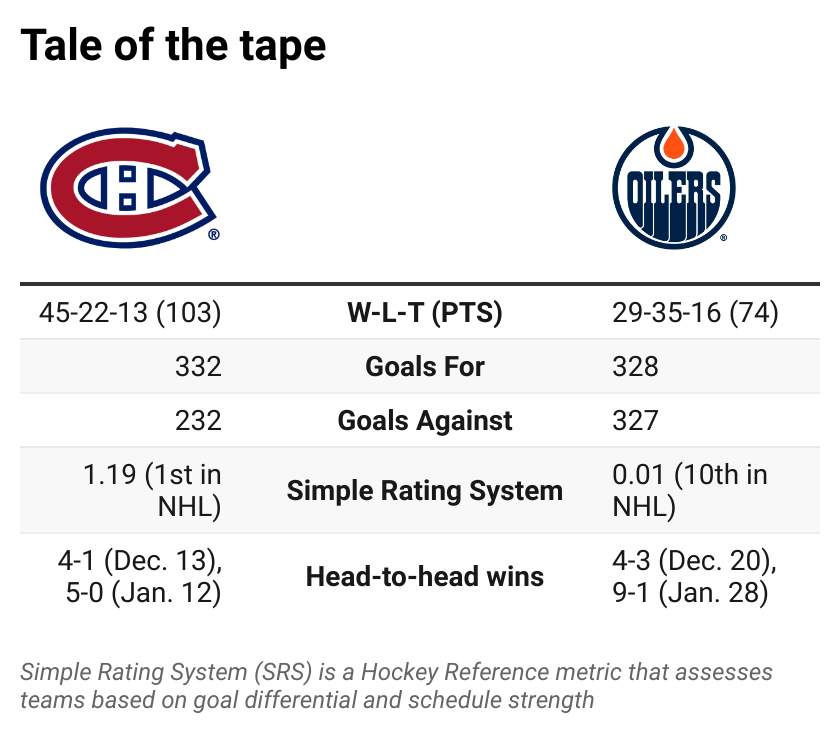 Several provinces westward, Gretzky's preposterous production that season set new assists (109) and points records (164). Kurri and Anderson potted 30 goals apiece; Messier scored 26 of his 63 points in the final month of the schedule. The Oilers were 8-3-6 in that span, a hot finish that offset a brutal start - they sat second last in the NHL on New Year's Day 1981 - and elevated them into the playoff field.
That wasn't a high bar in those days, when 16 of 21 teams were postseason qualifiers. Still, one columnist, the Toronto Sun's Paul Rimstead, bucked consensus ahead of the Montreal series by predicting an Edmonton sweep.
Other pundits, and the facts at hand, aligned behind the Canadiens. Heading into April 1981, Edmonton hadn't won an NHL game in Montreal. The Canadiens' roster boasted a massive edge (1,111 to 160) in career playoff games. Four Habs - Gainey, Lafleur, Robinson, and Serge Savard - had been Conn Smythe Trophy winners. Montreal goalies Richard Sevigny, Michel Larocque, and Denis Herron shared the 1981 Vezina Trophy, benefiting from the old rule that awarded it to the team with the fewest goals against.
Rimstead's leap of faith rated as laughable in Montreal, where people balked at comparing Gretzky to Lafleur, Jean Beliveau, or Maurice Richard. The same went for everywhere in Canada where Gretzky skeptics persisted. According to the author Peter Gzowski, Toronto sportswriter Dick Beddoes appeared on TV on the eve of the postseason and said that No. 99 would have played third-line center "on one of the good Leaf teams of the past."
There's a scene in "The Game of Our Lives," Gzowski's book that gazes behind the curtain of the 1981 Oilers, where Gretzky feeds an onrushing Kurri midway through the first period of Game 1 against the Habs. Shutt had just tied the contest 1-1 when Kurri kicked Gretzky's pass to his stick, waited a beat in the slot as Sevigny sprawled to the ice, and saucered the puck off the far post and in. Jeers pierced the silence at the Montreal Forum.
"I'm not sure (Kurri) knows enough to be nervous about this game," Billy Harris, one of Sather's assistant coaches, said on the Oilers bench, according to Gzowski.
Mulling the memory four decades later, Moog and Callighen said this innocence starts to explain how the Oilers pulled an all-time upset. ("The Great Reign Robbery," the Edmonton Journal branded the series win at the time.) Naive enough to be uncowed by pressure, Edmonton's young guns still took the Canadiens as seriously as their rich past warranted. And Montreal wasn't fully prepared to defend the slick and patient Oilers, whose offense prioritized puck possession and empowered the talent to take chances up ice.
Also: 164 points in a season somehow wasn't Gretzky's ceiling at age 20.
"He probably upped his game," Callighen said. "As we all did."
Though Beddoes' Gretzky take was more egregious, Sevigny, too, fanned flames ahead of the series by swearing Lafleur would put Edmonton's star "in his back pocket." The metaphor failed the Habs in Game 1, a 6-3 Oilers rout that Gretzky powered with five primary assists.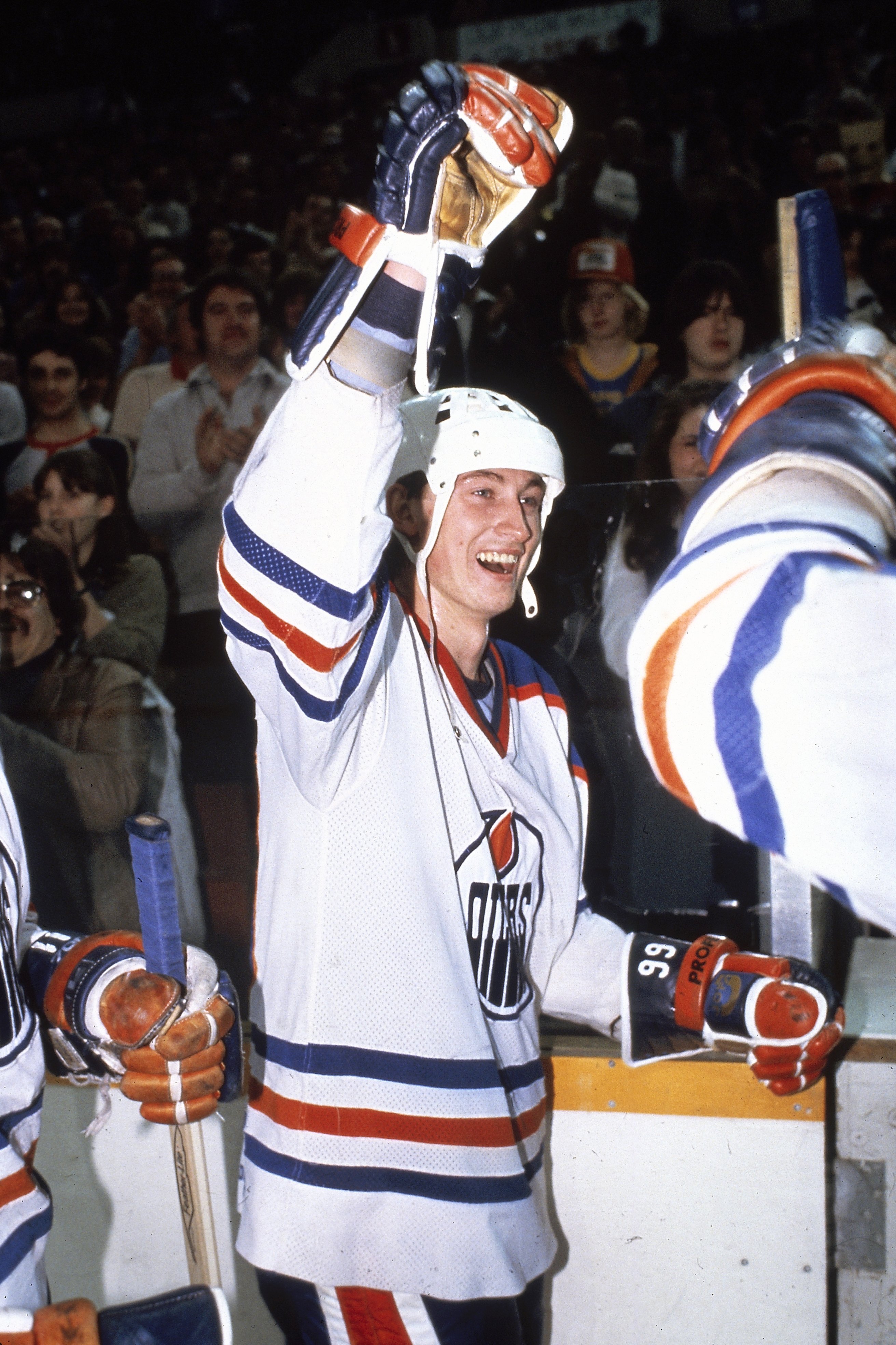 The win, an NHL playoff first for Edmonton, dented the Canadiens' stellar home record and the reputation of Claude Ruel, Montreal's Cup-winning head coach in 1969. Ruel returned to the Habs' bench the year after Bowman left but suddenly seemed in over his head, refusing to line-match Gretzky while Lafleur was shackled - pocketed, even - by Oilers checker Dave Hunter, a greybeard in Sather's lineup at the age of 23.
Edmonton's veteran goaltenders, Ron Low and Eddie Mio, were on the shelf with broken hands, but the club got 28 saves from Moog, who'd been the minor-league Wichita Wind's rookie backup until late March. Moog had drawn into seven NHL games when Sather informed him at morning skate that he'd start Game 1. The 132nd pick in the previous year's draft, this was his improbable shot to keep a cool head and prove he belonged.
Coffey and Kurri scored the next night, April 9, and Gretzky added two assists in Edmonton's 3-1 win at the Forum. Moog's heroics, meantime, squashed Montreal's spirit. Desperate to knot the series, the Habs pelted Moog with 41 shots in Game 2 yet only beat him on a power-play deflection. His best save came with an early 1-0 lead when Doug Jarvis, the shutdown center whom Ruel was slow to unleash, snapped a rebound off a point shot toward the gaping right half of Moog's net. The goalie stretched across the crease to steal the tying goal.
"The memory of that one was not so much (of) Doug Jarvis' face," Moog said. "Paul Coffey was standing there with his arms in the air, cheering the save."
The Montreal Forum crowd clapped for Moog at the final buzzer, effectively conceding the series was over, Sports Illustrated observed in its recap of the sweep. Two nights later, Northlands Coliseum was to host Game 3, for which Ruel dressed in a funereal black suit and before which Sather surprised his players by airing the highlights of their road wins.
That provided all the juice that Hunter's line needed to hound Lafleur another night. It moved Oilers captain Lee Fogolin to crunch and elbow Doug Risebrough in open ice and helped Moog stand tall on the ensuing penalty kill. The Canadiens took 13 shots in the first period but trailed 2-0 at the break and only managed 11 more from there. The Oilers disconcerted them, color analyst Mickey Redmond said on Hockey Night in Canada. During one intermission, Lafleur and Ruel bickered outside the visitors' dressing room.
Lowe, the 21-year-old blue-liner who idolized Robinson growing up in Quebec, later said that the second period, when Gretzky scored on a deke in close and again on a breakaway, is when he began to feel sorry for Les Glorieux. Sympathy didn't stop the Edmonton crowd from cheering the insurance goals that finalized a blowout. After Dave Lumley scored on an empty net to make it 5-2, Coffey's breakout pass helped spring Gretzky on the rush, and he beat Sevigny low to seal the hat trick with seven seconds on the clock.
It was his 11th point in three games. Not bad for a third-line center.
"I have covered nearly every major event this business has to offer, but no team has played better against greater odds than this team of wild, hungry, and marvelous Oilers," Hall of Fame sportswriter Red Fisher opined in the Montreal Gazette after Game 3, according to D'Arcy Jenish's book, "The Montreal Canadiens: 100 Years of Glory."
"The Canadiens obviously took the Oilers lightly and then panicked," the Edmonton Journal's Terry Jones wrote in his own series postmortem. "They put themselves into a hole and it became their grave."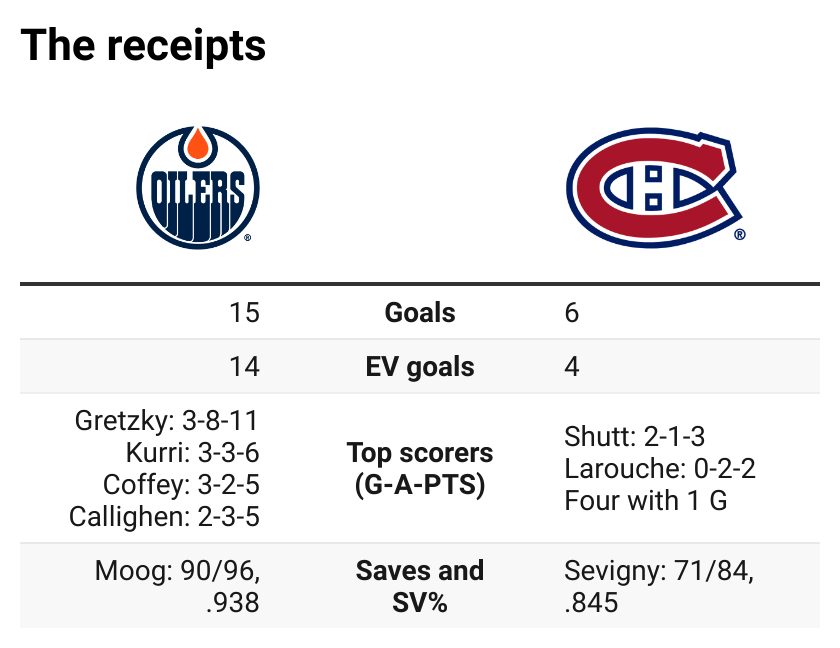 Dynasty buried, the teams split off late on April 11, 1981, the Oilers to face the reigning champion New York Islanders in Round 2 - Edmonton wound up losing in six - and Montreal to catch a red-eye home, where Ruel resigned as coach the next week. When the Canadiens checked out of their Edmonton hotel, a reporter overheard one hostess' inadvertently ruthless adieu: "Are you leaving us so soon?"
In the meantime, Sather tipped back a beer with his squad in the bowels of the Coliseum and then joined Peter Pocklington, the Oilers owner, for a private restaurant reservation. A few older, playoff-tested Habs had ducked into the home dressing room to shake hands and say good luck the rest of the way. Montreal was "a class organization," Sather said, according to Gzowski.
"Well, they're a beaten one," Pocklington replied. The owner, Gzowski reported, proceeded to lift his champagne glass.
Edmonton's victory wasn't so neat a bookend as to prompt an instant Habs rebuild. Lafleur's injury luck improved, Montreal's lineup remained deep and defensively stout, and the club placed third in the league again in 1982, though a shock first-round loss to the Quebec Nordiques tanked the resurgent goodwill. The '82 Oilers fell in Round 1, too, a step back from making the champion Islanders sweat. New York's intervening dynasty won four Stanley Cups before Edmonton finally slayed the Islanders in the 1984 final.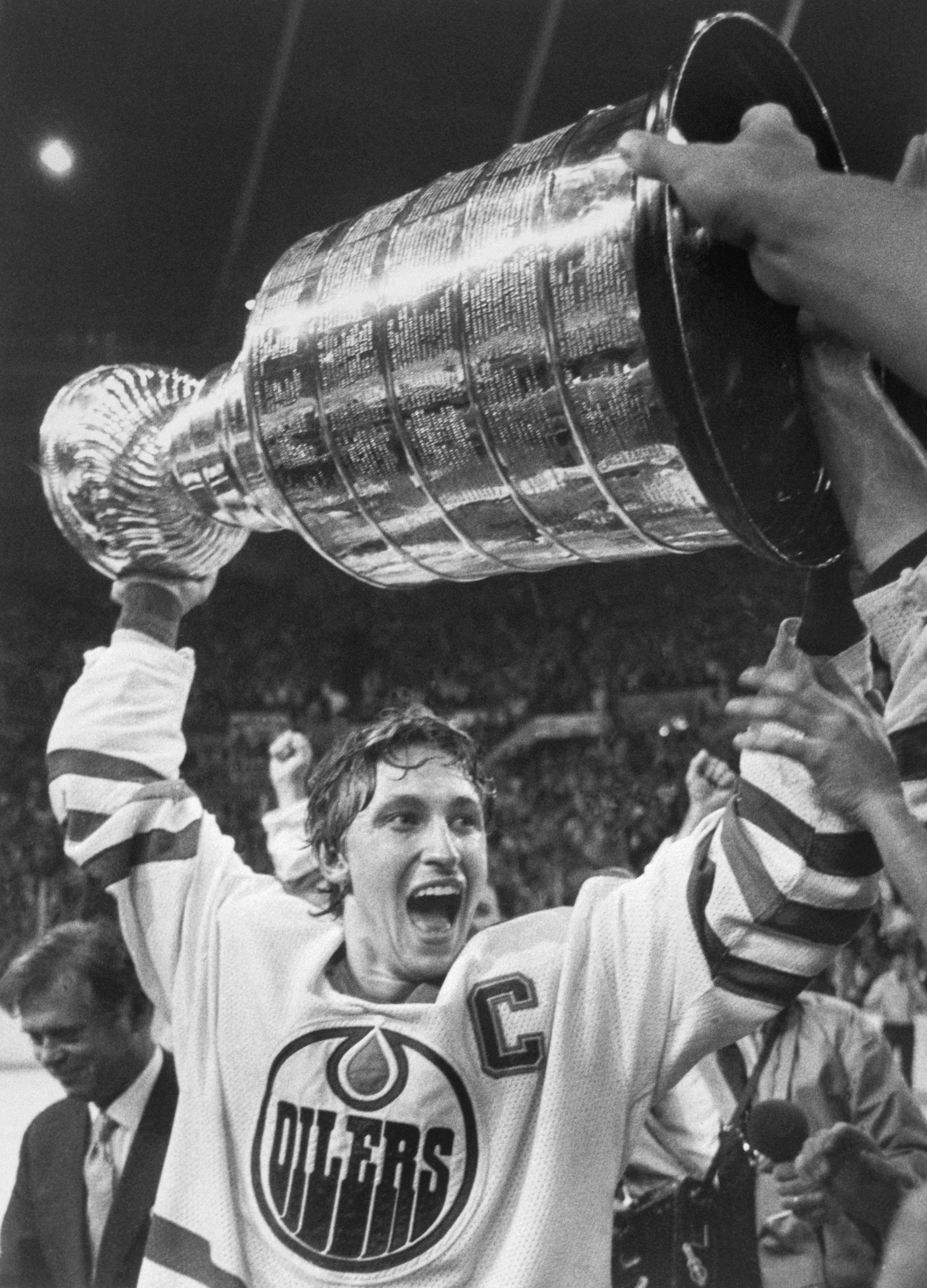 That said, the '81 series did demarcate eras, ending one and assuring hockey that Gretzky's rise wouldn't be repressed. Sweeping Montreal laid the groundwork for five Edmonton Cups in seven seasons and six players' Hall of Fame resumes. It also ensured Moog would stick in the NHL. Platooning in net with Grant Fuhr, Moog was an Oiler until 1987 and started in Boston and Dallas for another decade. As it happens, he retired as a Canadien.
All of that makes sense today. A while after that Game 3 triumph, Moog sat in his pads in Edmonton's mostly vacant dressing room, taking in the moment. He remarked to a few stragglers, including a New York Times reporter, that a year earlier he'd donned the pads in the junior Western Hockey League playoffs. Now he'd helped blank Lafleur.
The next morning, song lyrics led off a recap story in the Edmonton Journal:
To dream the impossible dream
To fight the unbeatable foe
To bear with unbearable sorrow
To run where the brave dare not go
"My entire tenure in Edmonton was all about winning Stanley Cups," Moog told theScore. "(Beating Montreal) instilled in me the understanding that winning was the priority. It was the only thing that mattered."
Nick Faris is a features writer at theScore.
Comments
✕
The playoff upset that rattled a dynasty and put Gretzky's Oilers 'on the map'
  Got something to say? Leave a comment below!