With the NHL trade deadline behind us, it's time to award winners and losers. Given that Monday was the quietest deadline day since 2000, we're considering every deal made from Friday and onward for this exercise.
Winners
Red Wings and Capitals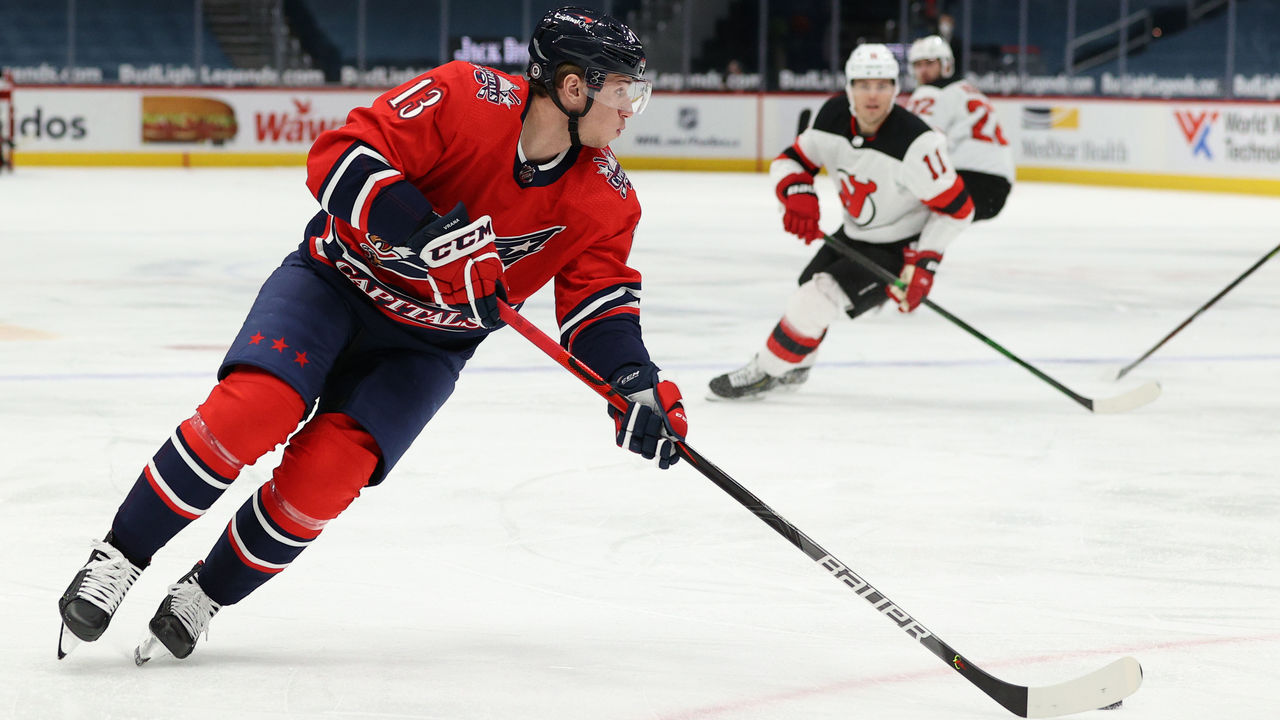 The Detroit Red Wings and Washington Capitals are both winners for adding some much-needed excitement to a rather stale deadline day after pulling off a blockbuster deal right at the buzzer. The full trade: Detroit sent forward Anthony Mantha to Washington for forwards Jakub Vrana, Richard Panik, a 2021 first-round pick, and a 2022 second-round pick.
Vrana, 25, has been a more efficient offensive player than Mantha, 26, since the 2018-19 campaign:
| Stat | Vrana | Mantha |
| --- | --- | --- |
| GP | 190 | 152 |
| PTS | 124 | 107 |
| P/PG | 0.65 | 0.70 |
| P/60 (5v5) | 2.49 | 1.94 |
| TOI/G | 14:25 | 18:14 |
The key is points per 60 minutes at five-on-five since Mantha has averaged nearly four more minutes per game than Vrana. By gleaning Vrana's production over first-line minutes, he has the potential to become a 70-plus point player. It's not always that simple, as first-line minutes generally come with tougher matchups. Whether he can handle that remains to be seen.
Points are not everything, though. Both players have posted exceptional underlying numbers over the past three seasons as well.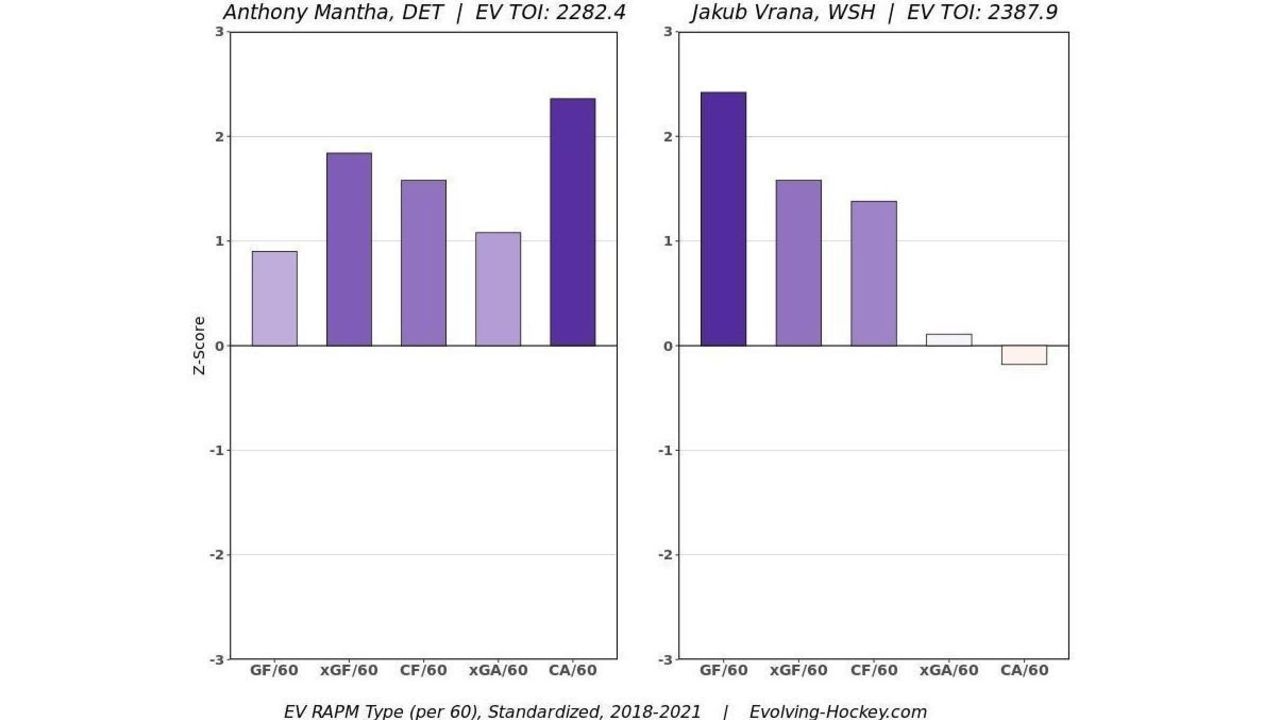 The biggest difference is Mantha's superior defensive metrics on the far right of the graph. The 6-foot-5, 234-pounder also passes the eye test as the better defensive player, considering how well he skates for his size.
However, the Red Wings are clear winners in this trade. GM Steve Yzerman gets a winger who's proven he can produce at a similar rate than Mantha, while also netting first- and second-round picks to help the rebuild.
Now, the deal could end up being a win for Washington as well - it's just not as much of a sure thing. Mantha is already a defensive upgrade from Vrana, and it's possible he could reach his full offensive potential as a 30-goal power forward while playing on a second line with Nicklas Backstrom and T.J. Oshie.
The Caps are getting cost-certainty with Mantha, too. He's signed through 2023-24 at $5.7-million per year. Vrana makes $3.35 million this year but is an RFA at season's end. His AAV probably won't approach Mantha's (likely in the $4-million to $5-million range), but Panik's deal is the difference-maker here. He's on the books for $2.75-million through 2022-23, which is far too much for a fourth-line player on a team up against the cap. For the next two seasons, Mantha is likely $1-million to $2-million cheaper than Vrana plus Panik combined. It may seem marginal, but that's huge for a contending team.
Washington is clearly in win-now mode given most of its core is on the wrong side of 30. If the Caps believe Mantha is a big enough upgrade over Vrana to help them win another Cup, it's worth sacrificing the draft picks.
Boston Bruins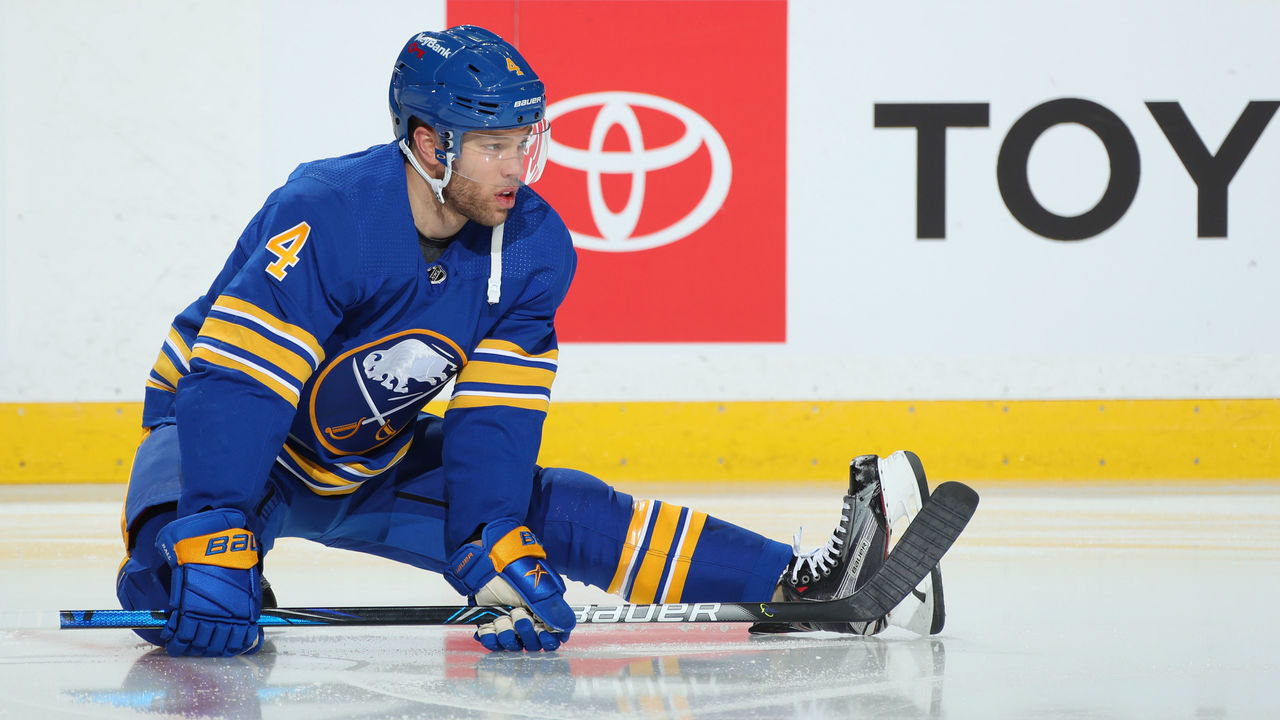 The Bruins landed arguably the top available player at a bargain price, acquiring Taylor Hall from the Buffalo Sabres - as well as fourth-liner Curtis Lazar - in exchange for a second-round pick and Anders Bjork.
A second-round pick for Hall is a flat-out steal for Boston. Other top rentals such as Nick Foligno, David Savard, and Kyle Palmieri all costed first-round picks. Hall came at a cheaper acquisition cost than Sam Bennett and Mattias Janmark. Yes, you read that correctly. That's some savvy work by Bruins general manager Don Sweeney. It also seems like poor market evaluation by Sabres GM Kevyn Adams, but it's possible he was left handcuffed due to Hall's no-movement clause.
Yes, Hall is having a miserable season, notching just two goals and 17 assists in 37 contests with Buffalo, but this is well worth the gamble for Boston. The former MVP has been severely unlucky this year, converting on just 2.3% of his shots. That's nearly 8% lower than his career average and the NHL league average of 10%.
It's not difficult to envision Hall breaking out of his slump on a far superior Bruins team while playing on a second line with David Krejci and either Craig Smith or David Pastrnak.
Meanwhile, Boston also shored up it's blue line by netting Mike Reilly from the Ottawa Senators for a third-round pick. The 27-year-old has recorded 19 assists in 40 games this season while posting extremely strong underlying numbers on a poor Sens team. He doesn't play difficult minutes, but his 51.3% expected goals share led all Ottawa blue-liners despite an offensive zone start percentage of just 35.6.
Reilly isn't the sexiest addition, but he fills a big need on a beleaguered Bruins blue line.
Bjork doesn't move the needle all that much. The 24-year-old has notched just five points in 30 games this season and his ceiling is likely capped as a third-liner, at best.
Columbus Blue Jackets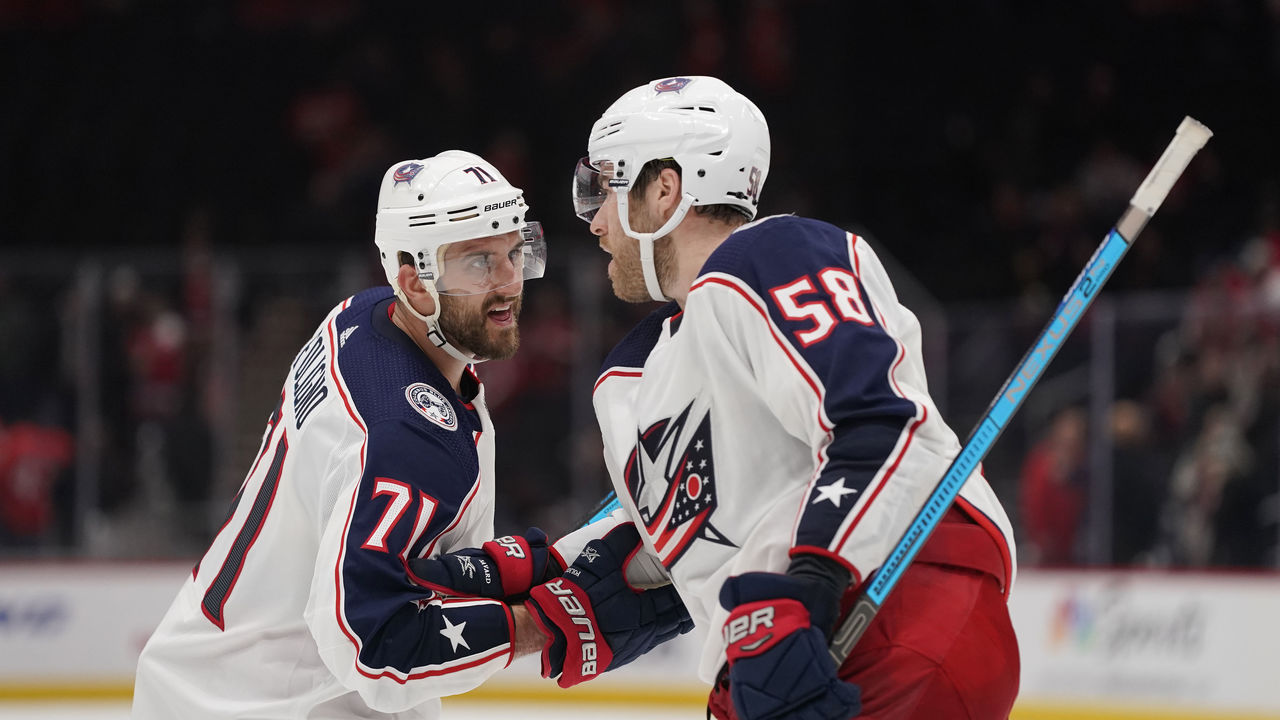 The Blue Jackets netted strong returns for their two biggest assets - Nick Foligno and David Savard. In exchange for both rentals, they landed two first-round picks, a third-round pick, and a fourth-round pick. During a trade-deadline period where only four first-round picks were moved, getting half of them is nice work by GM Jarmo Kekalainen.
Yes, those first-round picks will likely be near the bottom of the opening round in an unpredictable draft, but Columbus is undergoing a reset and did well to get the best returns possible. Remember in 2019 when the Jackets went all-in and didn't pick until the fourth round? With three picks in the first round this season, the Jackets will get a chance to replenish their prospect pipeline.
Losers
Winnipeg Jets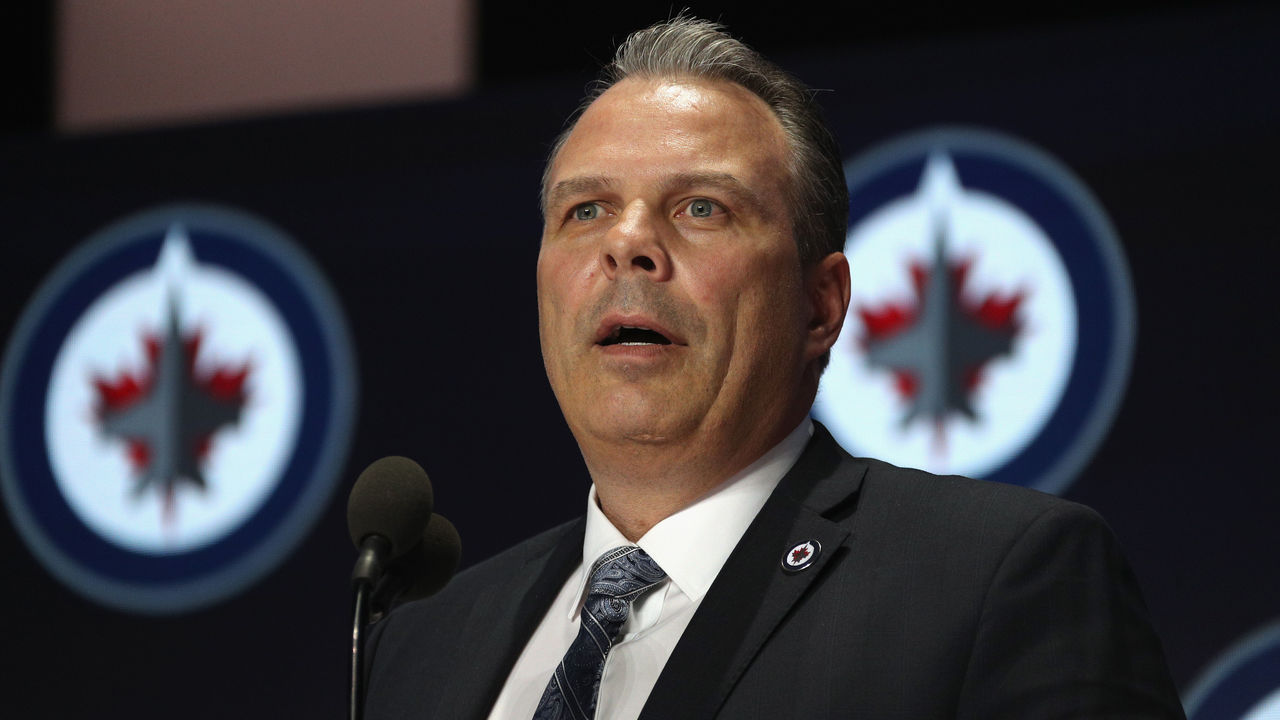 The Jets only made one move in the lead-up to the deadline, bringing in Jordie Benn from the Vancouver Canucks for a 2021 sixth-round pick. Benn is nothing more than a depth blue-liner and will have a hard time cracking a weak Winnipeg top six.
The Jets sorely needed a defenseman who can play in their top four, but failed to address it. If they weren't comfortable with surrendering first- and third-round picks for David Savard, there were far better options than Benn to help the blue line. Mike Reilly, Brandon Montour, Dmitry Kulikov, and Jon Merrill all would've been better additions, and none of them costed more than a third-round pick.
The Toronto Maple Leafs further separated themselves from the rest of the North Division by adding Nick Foligno, Riley Nash, Ben Hutton, and David Rittich. Winnipeg, likely Toronto's biggest competition in the division, could've closed the gap on the Leafs with upgrades on the blue line, but instead, the lack of aggressiveness from GM Kevin Cheveldayoff widened it.
Nashville Predators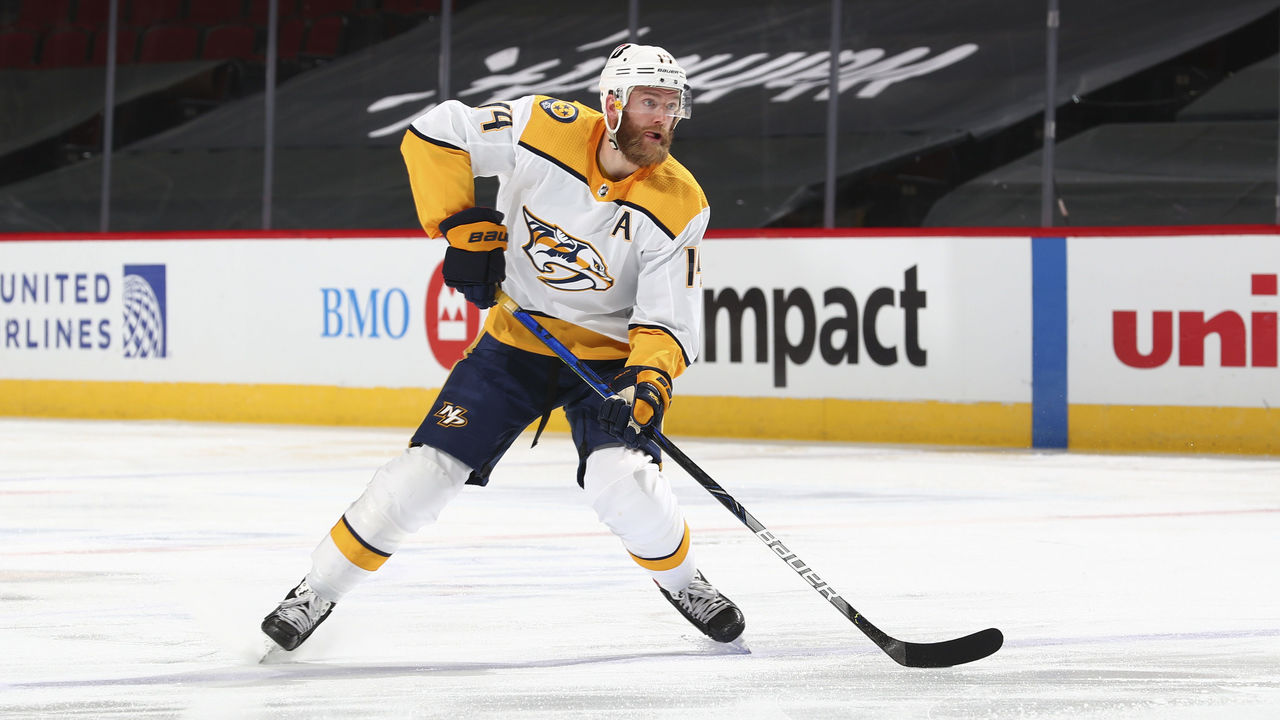 The Predators were widely expected to be sellers for over a month leading up to the deadline, but a six-game winning streak at the end of March vaulted Nashville back into playoff contention and changed GM David Poile's plans.
But should those plans have changed?
The Chicago Blackhawks entered Monday four points back of Nashville with a game in hand, while the Dallas Stars - who should get Tyler Seguin back soon - are six points back with three games in hand. Nashville will likely make the playoffs, but it isn't guaranteed.
Even if the Predators secure the 4-seed in the Central Division, a first-round upset over the Tampa Bay Lightning or Carolina Hurricanes seems highly improbable.
Now the Preds could lose pending UFA Mikael Granlund for nothing, and they likely missed their best chance at maximizing a return for Mattias Ekholm, a 2022 UFA.
The Predators did add rearguard Erik Gudbranson for a seventh-round pick, but his presence in the lineup arguably makes them a worse team.
(Analytics source: Natural Stat Trick, Evolving-Hockey)
(Cap source: CapFriendly)