NHL Power Rankings: Every team's biggest surprise
Francois Lacasse / National Hockey League / Getty
This is the fourth edition of theScore's NHL Power Rankings for the 2020-21 season. Check back for updated rankings every second Monday during the regular season.
In this edition, we examine the biggest surprise for each team thus far.
1. Toronto Maple Leafs (14-3-2)
Previous rank: 4th
The Leafs have been carried by a dominant attack for the entirety of the Auston Matthews era, and while Toronto's offense is still quite potent, ranking top 10 in shots against per game is a significant shake-up.
2. Carolina Hurricanes (12-3-1)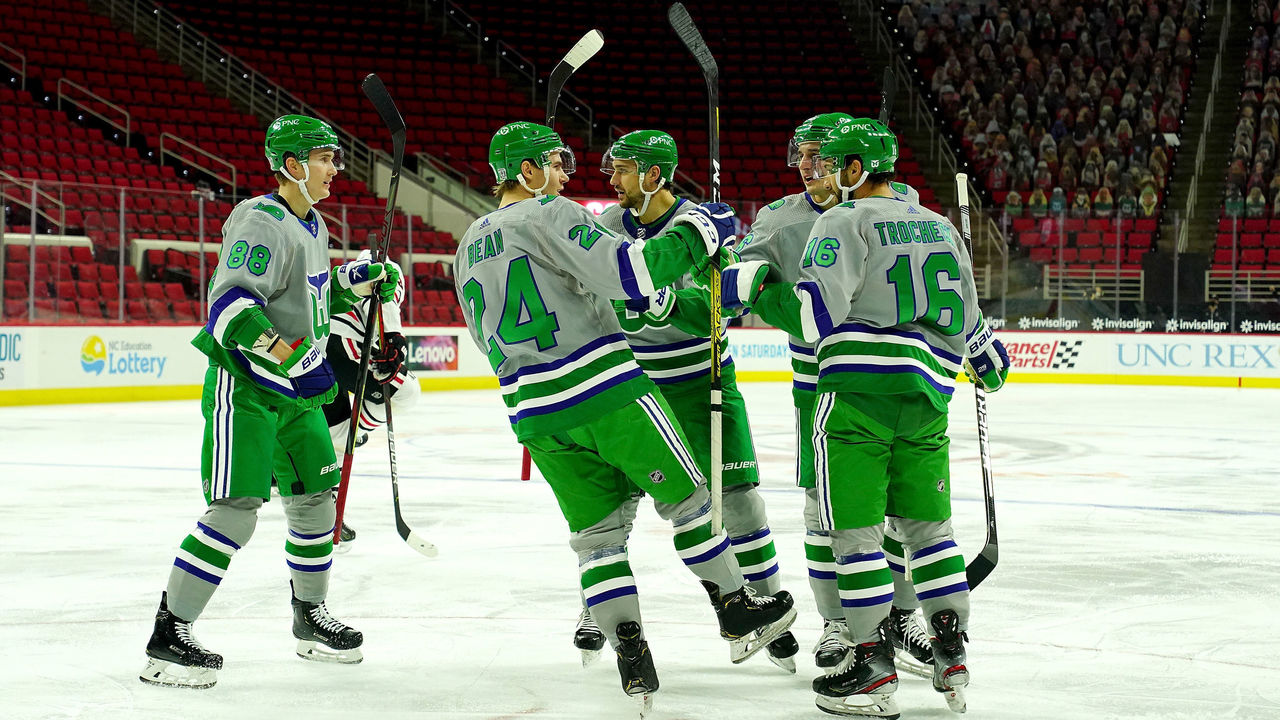 Previous rank: 8th
After scoring 31 goals and 75 points in 2017-18, Vincent Trocheck seems to have finally regained his scoring touch with the Hurricanes. He's currently tied for both the most goals (9) and points (16) on the team and his 82-game pace has him on track for the best season of his career.
3. Colorado Avalanche (9-4-1)
Previous rank: 6th
Goaltending was considered the Avalanche's weakness entering the season, but Philipp Grubauer has silenced the critics. He's posted a .936 save percentage and a 1.67 goals-against average while starting all but two of Colorado's games with backup Pavel Francouz sidelined.
4. Tampa Bay Lightning (10-4-1)
Previous rank: 1st
The defending champs have suffered injuries to numerous key forwards this season, but Mikhail Sergachev emerging as an offensive contributor is a notable surprise. The 22-year-old defenseman ranks fifth on the club in scoring and currently boasts a career-best 0.73 points per game.
5. Boston Bruins (11-3-2)
Previous rank: 3rd
Despite losing defensemen Torey Krug and Zdeno Chara, the Bruins remarkably entered Sunday as the league's best shot-suppressing team at five-on-five.
6. Florida Panthers (11-3-2)
Previous rank: 7th
Carter Verhaeghe's hot start is one of the most surprising in the NHL. The 25-year-old entered the campaign with only 52 career regular-season games under his belt - most of which were spent on the Lightning's fourth line. He's now tallied seven goals and six assists in 16 games while riding shotgun on the top line with Aleksander Barkov. Not bad for a two-year, $2-million UFA signing.
7. Vegas Golden Knights (10-4-1)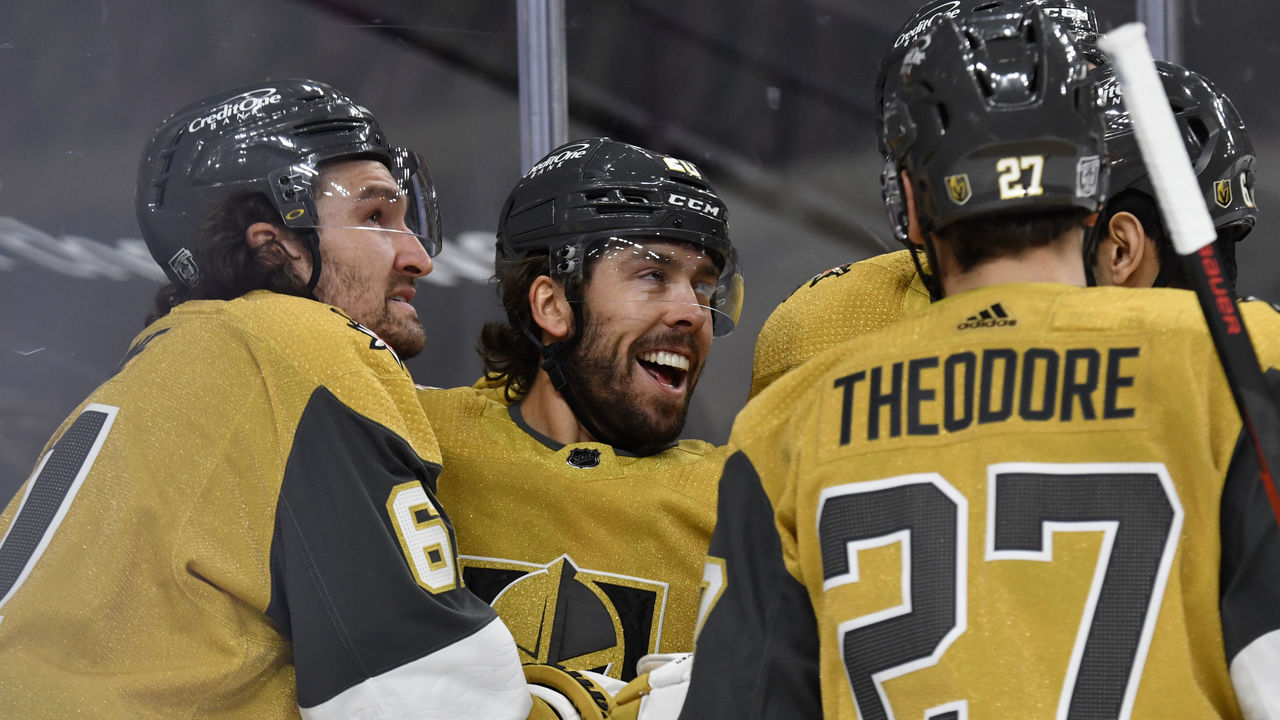 Previous rank: 2nd
Everybody pegged Robin Lehner as the Golden Knights' new No. 1 netminder, but Marc-Andre Fleury turning back the clock and posting a .935 save percentage through 10 starts is the unexpected story of the season thus far in Sin City.
8. Edmonton Oilers (12-8-0)
Previous rank: 23rd
It appears Darnell Nurse may have finally blossomed into the bona fide No. 1 defenseman the Oilers have been hoping for. He's tied for the lead among all defensemen in goals (6), tied for second in points (16), ranks sixth in time on ice (25:30), and is fifth in hits (52).
9. St. Louis Blues (10-6-2)
Previous rank: 13th
Jordan Kyrou has established himself as a key player for the Blues this season, ranking second on a team full of veteran stars with 17 points in 18 games despite averaging under 15 minutes per contest.
10. Winnipeg Jets (11-6-1)
Previous rank: 9th
Andrew Copp was predominately used as a bottom-six checking winger during his first five NHL seasons, but he's performed well with top-line minutes, driving play at a high rate and chipping in offensively.
11. Montreal Canadiens (9-5-3)
Previous rank: 5th
Many thought Jake Allen would provide Carey Price some breathing room to flourish in the crease, but the backup netminder has actually heavily outplayed the former Hart Trophy winner thus far. Allen's .932 save percentage and 2.14 goals-against average in seven games are dazzling compared to Price's .893 save percentage and 2.87 goals-against average.
12. Philadelphia Flyers (8-4-3)
Previous rank: 10th
Travis Konecny looked like a star in the making with a breakout 2019-20 campaign, but the Flyers' feisty winger has slumped to the tune of just eight points in 12 games so far. He's been held off the scoresheet in seven contests and was a surprise healthy scratch this season.
13. Pittsburgh Penguins (9-6-1)
Previous rank: 17th
If you thought Teddy Blueger would have as many points (10) as Evgeni Malkin through 16 games, you're a liar. Blueger has been excellent, posting strong underlying numbers despite an offensive zone start percentage of just 26.2% while centering Pittsburgh's checking line.
14. Washington Capitals (9-5-3)
Previous rank: 11th
Goaltending was the Capitals' biggest question mark entering the season, and that was with a duo of Ilya Samsonov and Henrik Lundqvist. With the former spending most of the campaign on the COVID-19 list and the latter sitting out due to a heart condition, Vitek Vanecek has been thrust into action. He's kept the team afloat with reliable play (.907 save percentage, 2.92 goals-against average).
15. Chicago Blackhawks (9-6-4)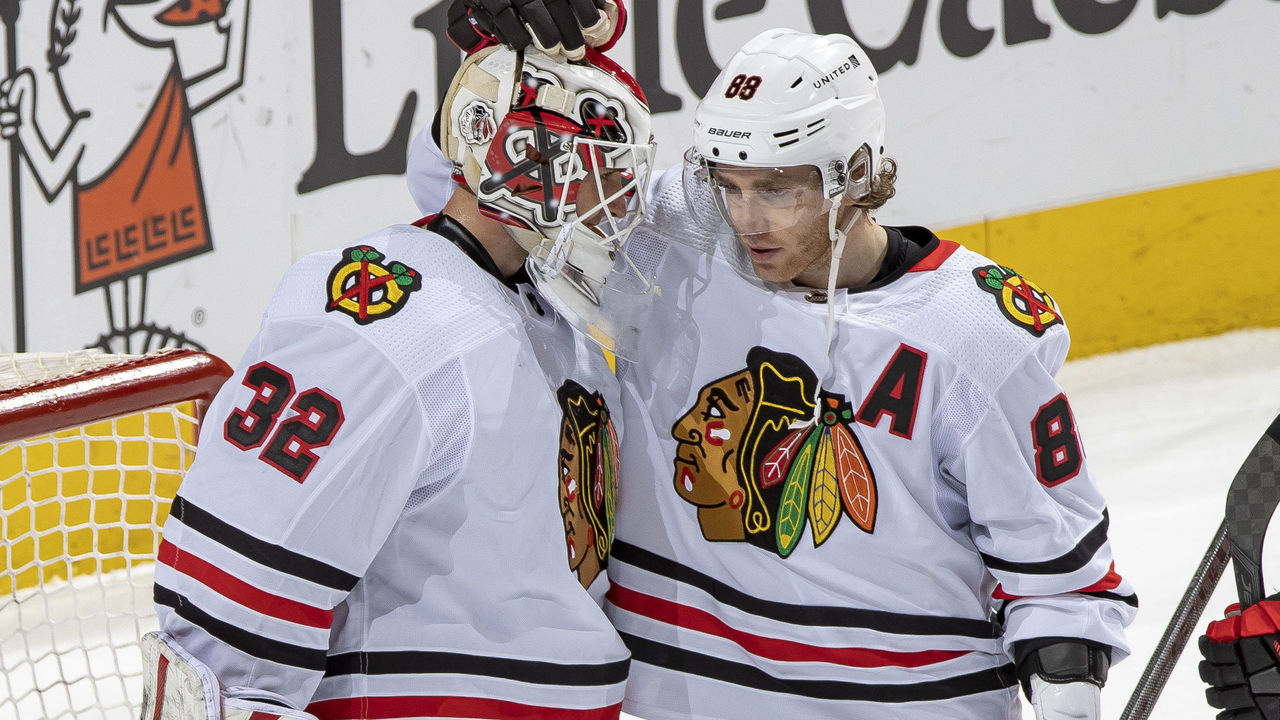 Previous rank: 25th
Undrafted rookie goaltender Kevin Lankinen has compiled a 7-3-3 record with a sparkling .927 save percentage and 2.43 goals-against average and has helped the Blackhawks remain competitive this season.
16. New York Islanders (8-6-3)
Previous rank: 20th
Many expected blue-chip goalie prospect Ilya Sorokin to make an instant impact on Long Island, but a .895 save percentage through four starts was not in New York's plans. We'll give the youngster some more time to figure out life in the NHL, though.
17. Minnesota Wild (8-6-0)
Previous rank: 16th
Minnesota's power play is clicking at an awfully low rate of 7.7% this season, having just scored four times so far.
18. Los Angeles Kings (7-6-3)
Previous rank: 29th
Calvin Petersen is quietly putting up some sparkling numbers in Tinseltown. The Kings' young netminder has only won three of nine appearances, but he owns a .926 save percentage and 5.3 goals saved above average - good for seventh among all goalies this season.
19. Columbus Blue Jackets (8-7-4)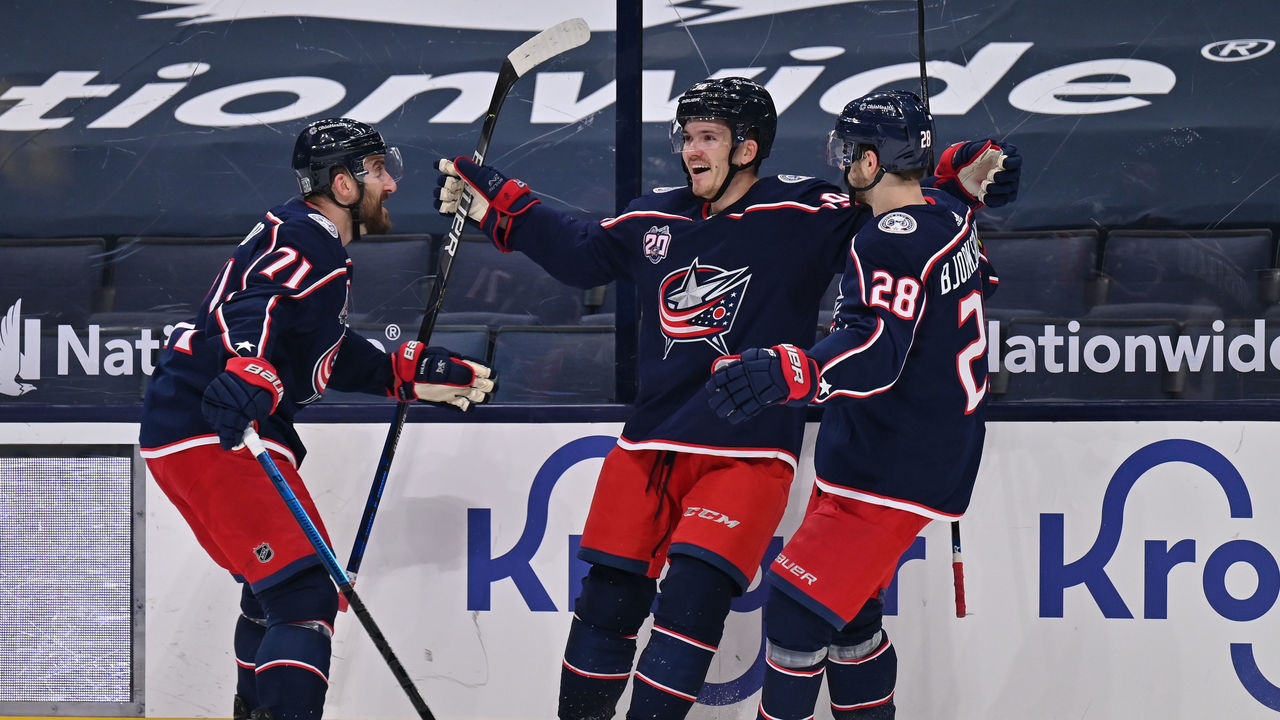 Previous rank: 14th
Jack Roslovic was viewed by many as an afterthought in the Pierre-Luc Dubois-Patrik Laine trade, but the former first-round pick has found his game with his hometown team, notching 10 points in 12 contests with the Blue Jackets.
20. Arizona Coyotes (7-7-3)
Previous rank: 21st
While his progression may not surprise those who follow the Coyotes closely, Conor Garland is establishing himself as a serious offensive threat every time he steps on the ice. The former fifth-round pick is playing at a 72-point pace (over 82 games) and his underlying numbers are tremendous.
21. Calgary Flames (8-9-1)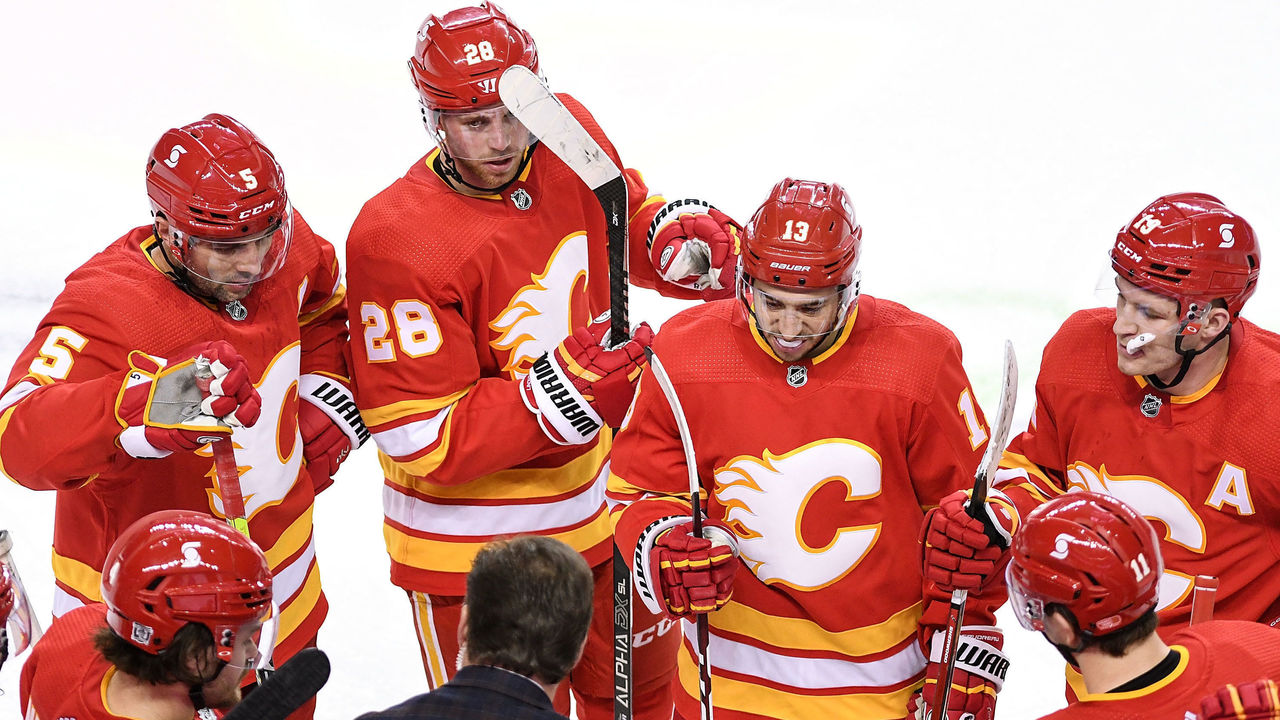 Previous rank: 15th
Even after bringing in Jacob Markstrom and reinforcing their blue line in the offseason, the struggling Flames rank 22nd in goals against this season and own a minus-7 goal differential. Not good enough for a team that was expected to be a contender in the North Division.
22. Dallas Stars (5-3-4)
Previous rank: 12th
Joe Pavelski had a quiet regular season in his first with the Stars last year but really came alive during the postseason. His magnificent play carried over to this campaign, as he's racked up 17 points in his first 12 games - putting him on pace to shatter his career-high numbers.
23. New Jersey Devils (6-5-2)
Previous rank: 19th
The Devils allow the fewest goals against per 60 minutes at five-on-five (1.54) in the entire NHL. The team ranked 29th in that regard a year ago, and starting goaltender MacKenzie Blackwood has been limited to just six games.
24. San Jose Sharks (7-7-2)
Previous rank: 27th
On a blue line full of aging veterans with big contracts, Mario Ferraro has been a pleasant surprise. The 22-year-old has not looked overmatched while averaging over 23 minutes per contest.
25. New York Rangers (6-7-3)
Previous rank: 22nd
Mika Zibanejad led the NHL with 0.72 goals per game last season, yet somehow only has two tallies and two assists through 16 games in 2021. His dreadful start is one of the biggest surprises league-wide, and it's hurting the Rangers.
26. Vancouver Canucks (8-12-2)
Previous rank: 28th
The Canucks' season hasn't gone according to plan, but rookie Nils Hoglander has been a bright spot. The 20-year-old is the only player chosen beyond the first round of the 2019 draft to play more than one NHL game. He also ranks fourth in the entire draft in career points.
27. Anaheim Ducks (6-9-3)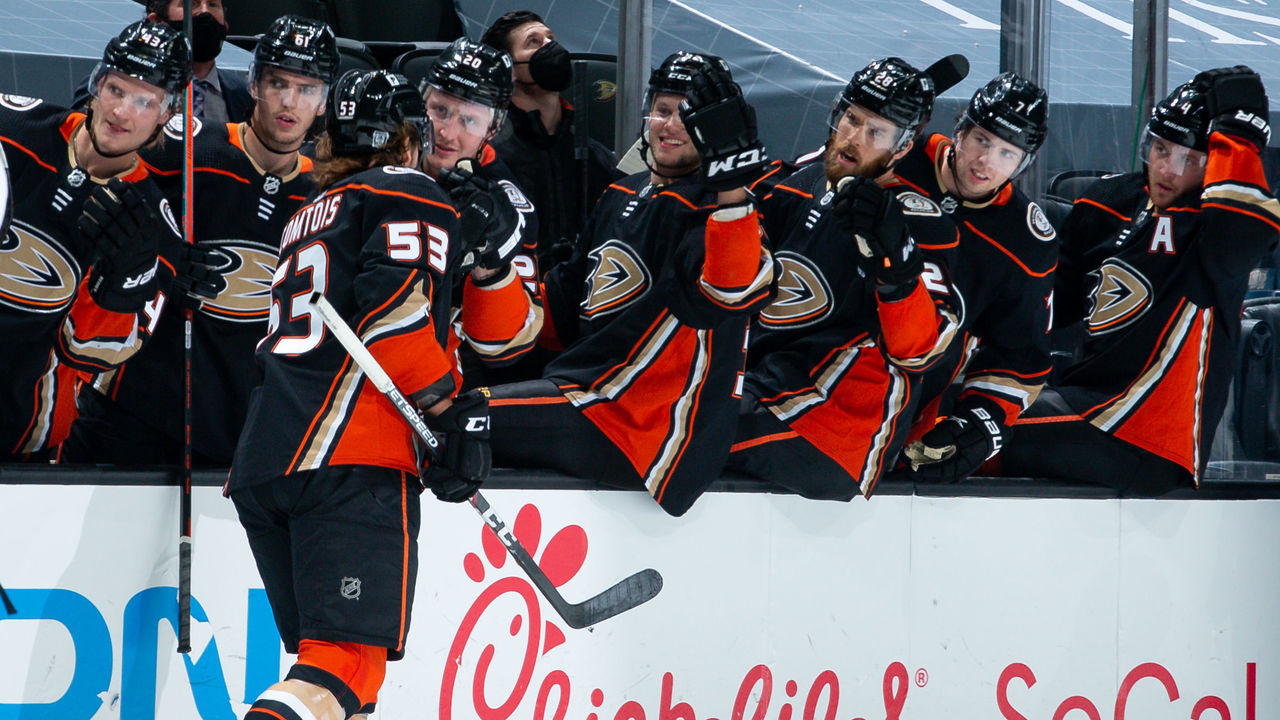 Previous rank: 26th
We knew the Ducks would struggle to score this season, but it's still quite shocking they're the only team in the league without a double-digit point producer.
28. Nashville Predators (7-10-0)
Previous rank: 24th
Only two Predators players (Filip Forsberg and Calle Jarnkrok) have scored more than three goals this season. The overall offensive futility from a team that won the Presidents' Trophy only three years ago is truly mind-boggling.
29. Buffalo Sabres (5-7-2)
Previous rank: 18th
Since inking an eight-year, $72-million deal with the Sabres, Jeff Skinner has been unable to get anything going. He finished last season with 14 goals and nine assists in 59 games and is faring even worse this campaign, with just one assist through 14 contests.
30. Detroit Red Wings (5-12-3)
Previous rank: 30th
The Red Wings are awful, but Jonathan Bernier's .910 save percentage and 2.74 goals-against average are impressive. Detroit allowed a league-worst 3.73 goals against per game last season but has improved slightly this year, reducing that to 3.20 - good for 23rd in the league.
31. Ottawa Senators (5-14-1)
Previous rank: 31st
The Senators are in for another long year, but Ottawa's up-and-coming outfit surprisingly ranks fourth in the NHL with 31.9 shots per game.
(Analytics source: Natural Stat Trick)
Comments
✕
NHL Power Rankings: Every team's biggest surprise
  Got something to say? Leave a comment below!