What you should know about the NWHL's 2021 bubble season
For 41 winters, Lake Placid, New York, has been synonymous with the United States' most treasured hockey triumph: the "Miracle on Ice" defeat of the Soviet Union at the 1980 Olympics.
This weekend at Herb Brooks Arena - of which the late namesake coached the underdog Americans to gold at that tournament - the National Women's Hockey League will make its own sort of history. The NWHL is gearing up to play for two weeks in a sealed bubble environment, its means of salvaging a 2021 season amid the COVID-19 pandemic.
Women's hockey wasn't contested at Lake Placid in 1980, nor at any Olympics until Nagano 1998. U.S.-Canada clashes have since been must-see, but the pro version of the sport is still trying to establish a foothold in both countries. The continent's 250 top players are split down the middle into two camps that have different visions for the future of the game, and each side has separately had to deal with the limitations on travel and crowding that the pandemic demands.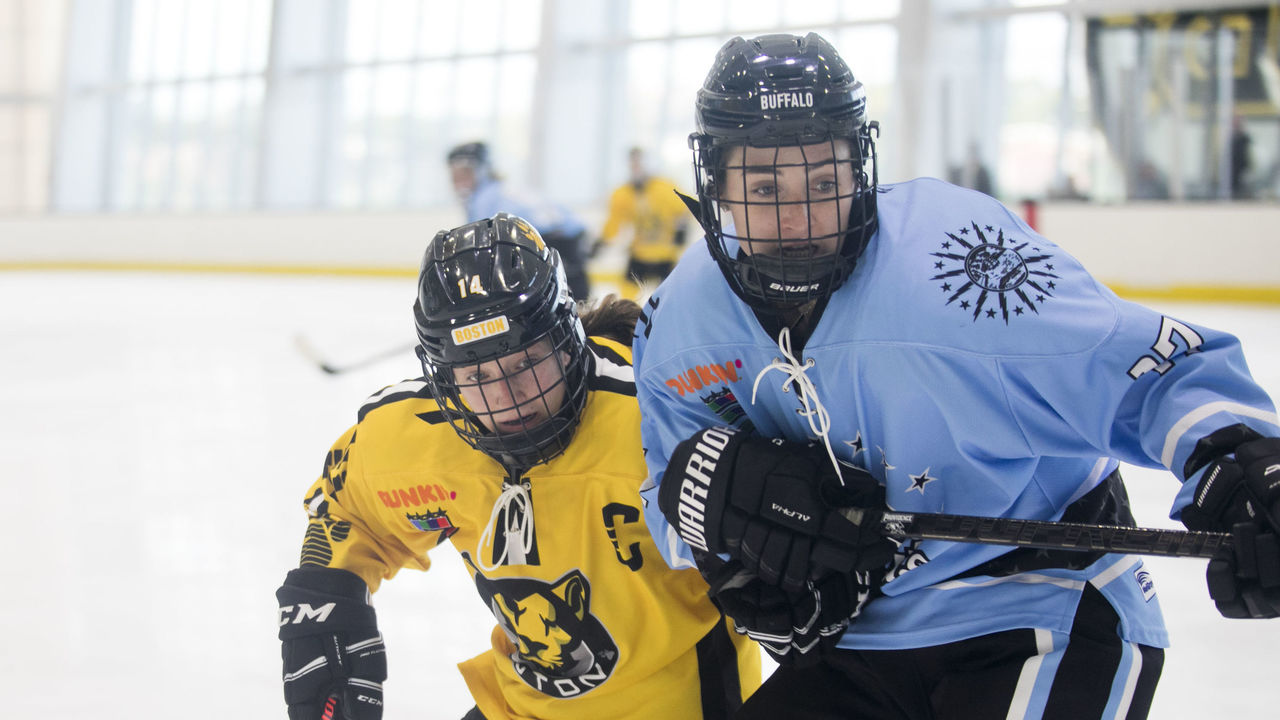 The NWHL's solution: sequester its six teams in a bubble, much like the NHL did on a bigger scale in Edmonton and Toronto last summer. In Lake Placid, each squad will play seven games to decide which four teams advance to the semifinals. The semis and title game are set to air live on NBCSN early next month, a first-of-its-kind nationwide showcase for the women's pro game.
Ahead of puck drop on Saturday afternoon, here's a rundown of what you ought to know about the NWHL in 2021.
What is the NWHL?
Let's cover the basics first. The NWHL opened play in 2015 and is the only women's pro hockey league operating in the United States or Canada. That's been the case since the Canadian Women's Hockey League folded under financial duress in spring 2019, which in turn spurred a group of elite players to form the Professional Women's Hockey Players Association.
In Lake Placid, six teams that represent traditional hockey hotbeds will participate in the NWHL's sixth season. Five are based in the northern U.S., and the aptly named sixth is a Toronto expansion club that launched last April.
| NWHL teams | Head coach(es) | Joined | Won Isobel Cup |
| --- | --- | --- | --- |
| Boston Pride | Paul Mara | 2015 | 2015-16 |
| Buffalo Beauts | Pete Perram | 2015 | 2016-17 |
| Connecticut Whale | Colton Orr | 2015 | Never |
| Metropolitan Riveters | Ivo Mocek | 2015 | 2017-18 |
| Minnesota Whitecaps | Jack Brodt and Ronda Engelhardt | 2018 | 2018-19 |
| Toronto Six | Digit Murphy | 2020 | Never |
Unlike, say, the WNBA, which since its inception has been part of the broader NBA ecosystem, the NWHL isn't affiliated with the NHL. The league operates the Buffalo, Connecticut, Metropolitan (which plays out of New Jersey), and Minnesota franchises, while Boston and Toronto each have private ownership.
The U.S. and Canada's very best players - the women who habitually compete for those mighty national teams - aren't part of the NWHL, but rather the PWHPA, in which members have organized themselves into regional training hubs while working toward the creation of a new, financially sustainable pro league.
The NWHL, however, believes it's in the midst of proving itself to be strong and sustainable, and the caliber of play remains high absent the likes of Kendall Coyne Schofield and Marie-Philip Poulin. Some former PWHPA and national team players are on NWHL rosters. So are plenty more women who excelled at the Division I level in college.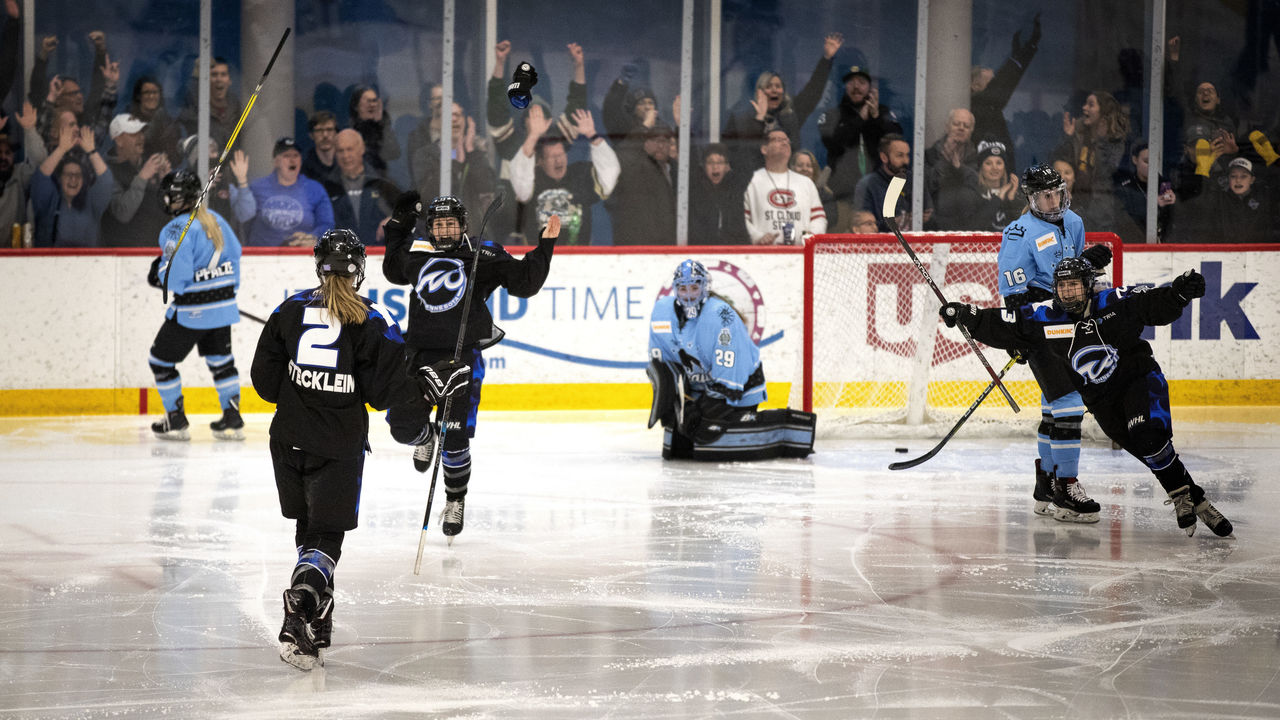 As in every NWHL season but 2019-20, when the onset of the pandemic forced the league final to be canceled, they'll get the chance to vie for the Isobel Cup championship. Isobel Garthone-Hardy was a pioneering women's player in Ottawa at the turn of the 20th century, and also the daughter of a certain Lord Stanley.
"Was it hard last season to survive without (the players who joined the PWHPA)? Sure, from a numbers standpoint, it was a struggle in the beginning. But I think that we put together good rosters. There was a quality product on the ice," Metropolitan captain Madison Packer said in a preseason media availability. "You'll see more of that this season. The rosters are, top to bottom, very talented. Regardless of who you're playing against, you're competing for a trophy."
What's the plan in Lake Placid?
In 2019-20, the NWHL schedule spanned 24 games and featured travel from city to city, which we might call sports' old normal. This season is starting months later than expected and won't run nearly as long, but the mere fact it's proceeding, even in an altered form, is a silver lining. Consider Lake Placid the league's attempt to make the best of uniquely tough circumstances.
Teams that have been practicing together since October finally traveled to New York late this week to get the season going. Since NWHLers aren't paid a living wage - a sticking point of the PWHPA's - players had to take time off their day jobs to stay for two weeks in the bubble. There, they'll undergo regular coronavirus testing facilitated by Yale University.
The regular-season schedule is balanced and compact, featuring in the span of eight days one matchup between every set of NWHL opponents. The entire tournament will be held at Herb Brooks Arena, but unlike the NHL playoffs - when games that ran as long as five overtime periods delayed or postponed the rest of the day's slate - ties are to be broken via five-minute extra frames and shootouts.
| 2021 schedule | Date | Time (ET) |
| --- | --- | --- |
| Toronto vs. Metropolitan | Saturday | 1 p.m. |
| Boston vs. Minnesota | Saturday | 4 p.m. |
| Connecticut vs. Buffalo | Saturday | 7 p.m. |
| Minnesota vs. Toronto | Sunday | 1 p.m. |
| Metropolitan vs. Connecticut | Sunday | 4 p.m. |
| Buffalo vs. Boston | Sunday | 7 p.m. |
| Minnesota vs. Metropolitan | Tuesday | 5:30 p.m. |
| Toronto vs. Boston | Tuesday | 8:30 p.m. |
| Boston vs. Connecticut | Wednesday | 5:30 p.m. |
| Metropolitan vs. Buffalo | Wednesday | 8:30 p.m. |
| Buffalo vs. Toronto | Thursday | 5:30 p.m. |
| Connecticut vs. Minnesota | Thursday | 8:30 p.m. |
| Connecticut vs. Toronto | Jan. 30 | Noon |
| Minnesota vs. Buffalo | Jan. 30 | 3 p.m. |
| Boston vs. Metropolitan | Jan. 30 | 6 p.m. |
Once the regular season settles seeding, each team will play two additional games to finalize the standings and semifinal pairings. NBCSN has arranged to broadcast the semis on Feb. 4 and the final the next night. Those will be the first women's pro - rather than international - games shown live on major U.S. cable TV; league commissioner Tyler Tumminia has hailed the breakthrough as "monumental for the visibility of the NWHL."
"As we have seen with the WNBA and (National Women's Soccer League in 2020), when women's major league sports leagues are given a strong showcase, viewership is increased and countless new fans connect with the teams and players," Tumminia said in the press release that announced the NBCSN telecasts.
Every game ahead of the semifinals will stream live on Twitch, and the NWHL has hired a 10-woman officiating crew to referee the action. Taking after the NFL and MLB's 2020 crowds, cutouts of prominent athletes will populate the stands in support of each market: David Pastrnak and some Bruins teammates for Boston, Vladimir Guerrero Jr. and fellow Blue Jays for Toronto, and so on.
Can anyone beat Boston?
The Pride were the class of the NWHL in 2019-20, though the pandemic scrubbed their scheduled Isobel Cup showdown with the Whitecaps. Boston went 23-1-0 and posted a plus-77 goal differential last season; one 4-3 loss to Minnesota is all that stunted its shot at perfection.
Boston's ownership group is headed by Miles Arnone, the managing partner of a local private equity firm, and the Pride's head coach is retired NHL defenseman Paul Mara. Despite losing U.S. Olympians Gigi Marvin and Haley Skarupa to the PWHPA a couple of years ago, Boston's lineup remains laden with NWHL stars, including last season's top goaltender (Lovisa Selander), defender of the year (Kaleigh Fratkin), and scoring champion and co-MVP (captain Jillian Dempsey).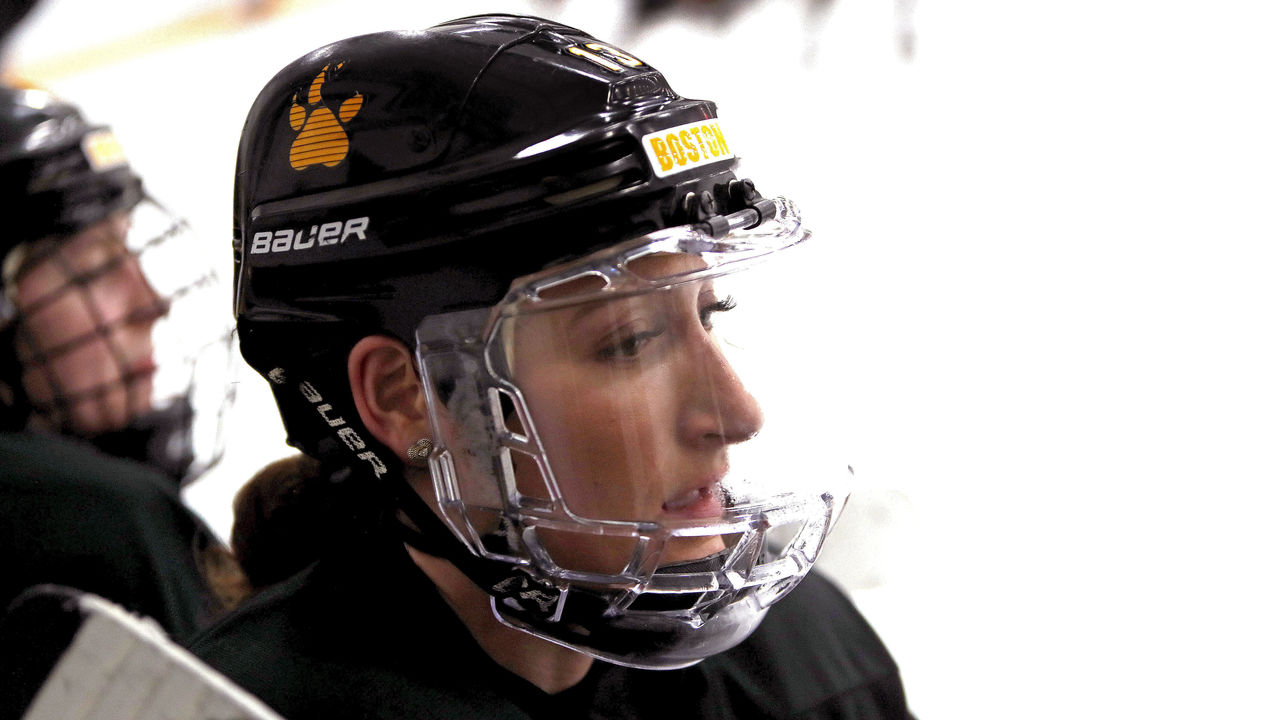 Led by Dempsey's 17 goals and 40 points in 24 games, eight Boston players were among the NWHL's top 16 scorers in 2019-20. Seven of them are back to guide the Pride in the bubble, as are Selander - who recorded a .941 save percentage in 18 appearances last season - and capable backup netminder Victoria Hanson. If the NWHL has a Tampa Bay Lightning comparable, Boston is it.
"It's one of those things out of our control: We didn't win the Isobel Cup last year, so that's what we're striving for this year," Mara told reporters this week. "We have an invigorated, intense attitude going up to Lake Placid. We're looking forward to getting started. We've had four months of practice and playing against each other, and I think we're all eager for 4 o'clock on Saturday to play Minnesota."
How will Toronto's debut go?
Toronto's team name is an admiring take on the nickname that Drake once coined for his home city. The Six's president and bench boss, Digit Murphy, is a towering figure in the game with vast coaching experience in the NCAA and CWHL. Their latest major acquisition, forward Emily Fluke, was the lone high scorer who left the Pride this offseason. Since the schedule is localized in Lake Placid, this club won't play its first true home game until next fall or 2022.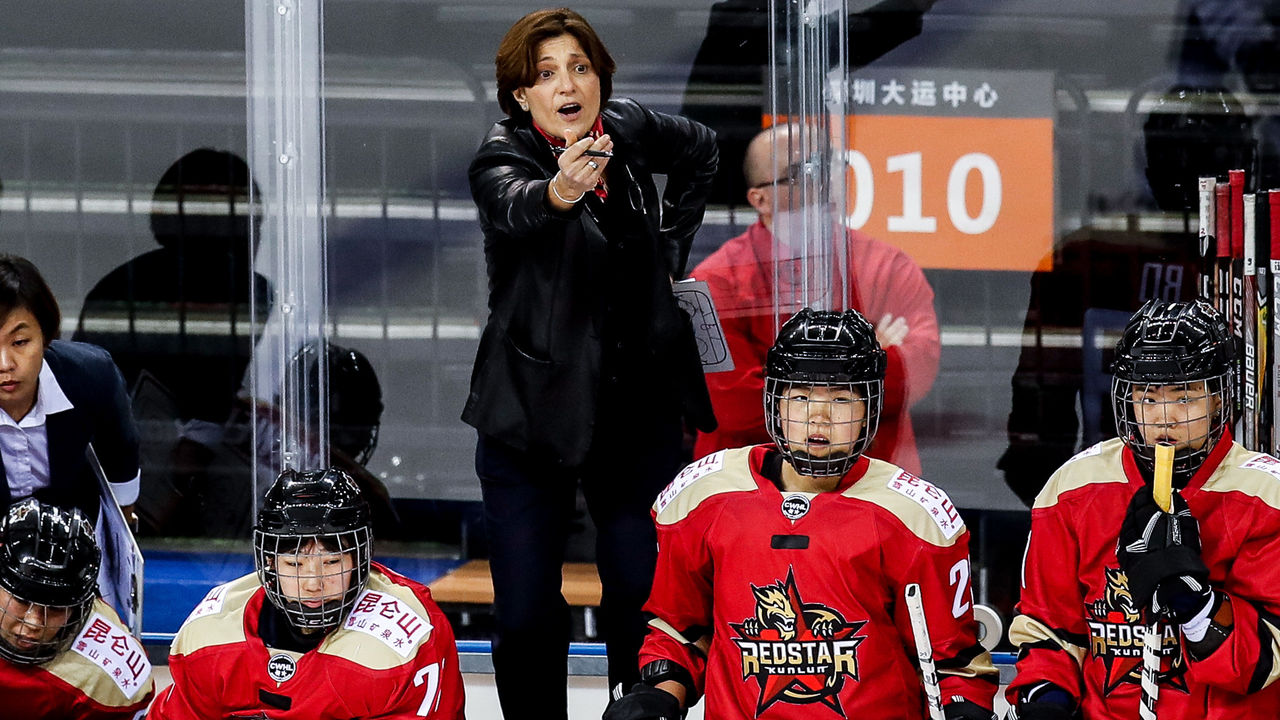 Befitting a franchise that came to life last spring while sports were shut down, Toronto's NWHL expansion season promises to look unusual. Whether the Six have darkhorse or wild-card potential - the capacity to complicate or thwart Boston's push for the title - is a separate matter. Toronto captain Shiann Darkangelo played for the U.S. at the 2016 world championships; she, assistant captain Emma Greco, goaltender Elaine Chuli, and several other established pros departed the PWHPA after one season to headline the Six's first roster.
Minnesota, a longstanding independent team that joined the NWHL in 2018-19, set a high standard for future expansion squads by immediately winning the Isobel Cup, a bar even the Vegas Golden Knights couldn't clear. Seven games in the bubble is a tiny sample, but if Toronto gets hot and embarks on a playoff run, that would constitute a pretty decent debut.
Quick hits
Here's a player or two to watch on each of the NWHL's other teams, plus one off-ice storyline that'll influence the league's trajectory beyond the bubble.
Buffalo: Technically, the Beauts have played in every Isobel Cup final ever held, a streak that endured last March when Boston-Minnesota was canceled. To return to the stage without captain Taylor Accursi, an Ontario police officer who couldn't travel to Lake Placid, Buffalo might need its goalies to dominate. Rookie netminder Carly Jackson, the No. 3 pick in the 2020 draft, posted a .934 save percentage at Maine last season.
Connecticut: The Whale have recorded just seven wins (out of 56 opportunities) over the past three regular seasons, including two in 2019-20, former NHL heavyweight Colton Orr's first campaign as head coach. Yet they actually beat Buffalo and troubled Boston for most of a knockout game in last year's playoffs. In the offseason, Connecticut added Alyssa Wohlfeiler - a point-per-game scorer in limited action for the 2019-20 Pride - to a forward corps that for a while now has sorely lacked offensive punch.
Metropolitan: Packer set career highs in assists (21) and points (34) last season to lead the Riveters in scoring, rank fifth in the league in both categories, and move into second place on the NWHL's all-time points list. (Dempsey is first, with 98 to Packer's 85.) Packer's wife, Anya, is a retired Whale defender who now directs the NWHL Players' Association.
Minnesota: Allie Thunstrom, a former U.S. Olympic speed skating hopeful, shared MVP honors with Dempsey in 2019-20, and deservedly so: no NWHL player ever reached the 20-goal mark until she netted 24 in as many games. Equally dangerous is Thunstrom's All-Star linemate Jonna Curtis, whose 22 assists and 36 points helped power a Whitecaps attack that was almost as prolific as Boston's.
The push for independent ownership: Dani Rylan, the NWHL's founding commissioner, ceded that role to Tumminia in October to focus on securing private ownership for each of the four non-Boston and Toronto teams. No such sale has happened yet, but the hope is that shifting to a decentralized operational model will help every franchise and the league grow and will safeguard their collective post-bubble future.
"You need (owners) who are going to invest in that team, in that market that they want to be successful in, so that they can build those relationships with the fans, with the communities," Murphy, the Six president and coach, told theScore shortly after her team was founded. "That's what it's really going to take to get people to come to the games."
Nick Faris is a features writer at theScore.