What Willie O'Ree wants you to remember about his trailblazing hockey story
Willie O'Ree's surname, the four letters that changed hockey for the better when they appeared on an NHL lineup card in 1958, derives from that of the American military officer who enslaved his great-great-grandfather. The officer was Peter Horry, pronounced unlike what you'd expect. He fought the British in the Revolutionary War, and in recognition of his service, he was given a Black man to own. The man was Paris O'Ree, as the name was later stylized, whose courage unlocked a future for his descendants.
Willie O'Ree isn't sure how Paris secured his freedom, but archival records he's read relate the enormity of what the man accomplished. Along with some family and at tremendous risk, Paris is believed to have escaped South Carolina, where Horry lived, late in the 18th century, becoming a farmer and father upon settling north of the border. He came to own a couple hundred acres in New Brunswick, Willie's future home province. Paris' son had a son who had a son who had a son, the trailblazing winger who's proud to share his ancestor's spirit.
A name is weighted with history, and Paris O'Ree rewrote his family's. Anti-racism protests gripped his great-great-grandson's sport this year, as they have North American society at large. Where Paris sought liberty, NHL players want their game to be inclusive and welcoming, full stop. They want to eliminate any remnant of the barriers and the hate that Willie O'Ree - the first Black man to play in the NHL - conquered when he debuted with the Boston Bruins.
Paris and his family "set goals for themselves, I guess the way I did," O'Ree said in a phone interview this week. "They wanted to make a better life for themselves. (Despite) the hardships and things they had to go through, they just made things happen."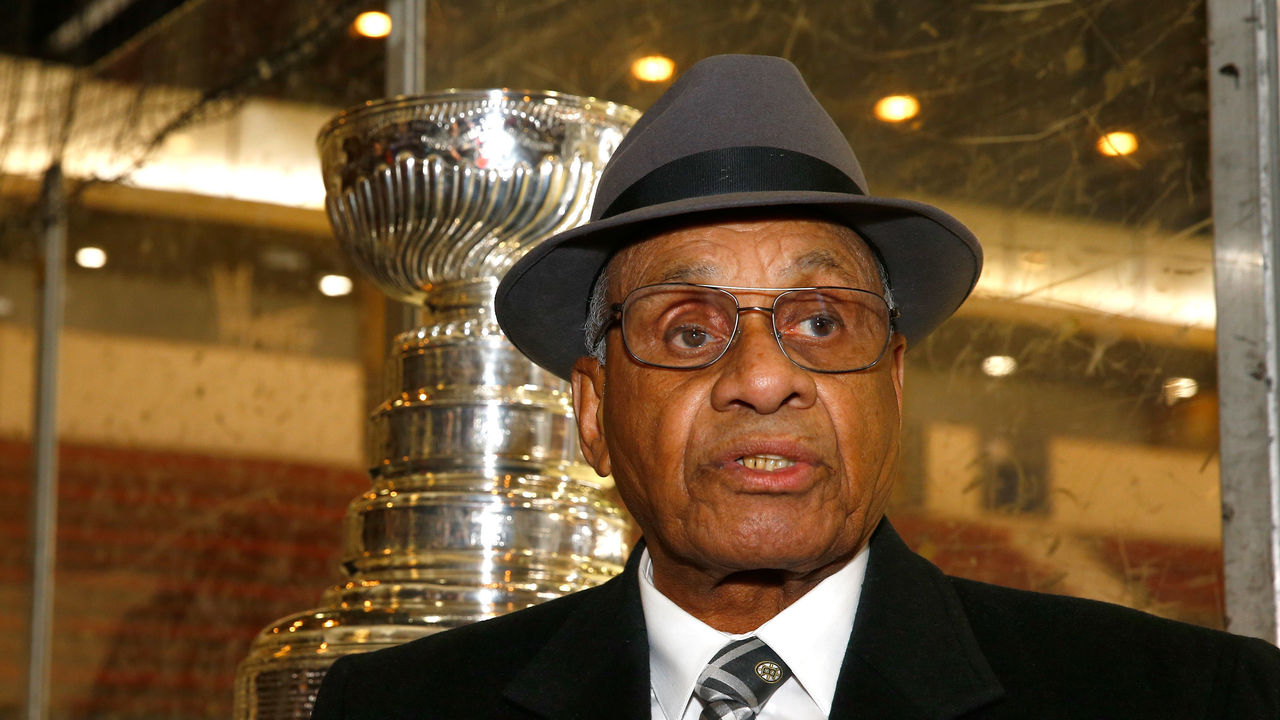 Together with author Michael McKinley, O'Ree has written a new memoir, "Willie: The Game-Changing Story of the NHL's First Black Player." The book, released in hardcover Tuesday, recounts his ascent to hockey history: how he twice dressed for the Bruins in 1957-58, tallied 14 points in 43 games for Boston in 1960-61 - no small feat in the Original Six era when NHL roster spots were in short supply - and skated in a further 785 games in the minor-pro Western Hockey League, from which he retired in 1974 as a top-20 career scorer. As it happens, 1974 was the year the Washington Capitals drafted and signed Mike Marson, the first Black player to follow O'Ree to the NHL.
O'Ree turned 85 last week, and his presence in the game remains cherished. He was elected as a builder to the Hall of Fame in 2018, and became that same year the namesake of the NHL's Willie O'Ree Community Hero Award, presented annually to a person who harnesses hockey to positively impact his or her part of the world. O'Ree lives near San Diego, his longtime WHL home, but he's a product of Fredericton, New Brunswick. It was there as a child that he listened by radio to Hockey Night in Canada. He idolized Maurice Richard, and Foster Hewitt's nasal, rousing commentary provided the soundtrack to his Saturday nights.
Without a TV at home, O'Ree never watched Richard play. Only later did he think about the upside of this constraint: how seeing no Black men on the ice might have snuffed his childhood ambition, and how instead he was empowered to visualize a sport and league in which he belonged.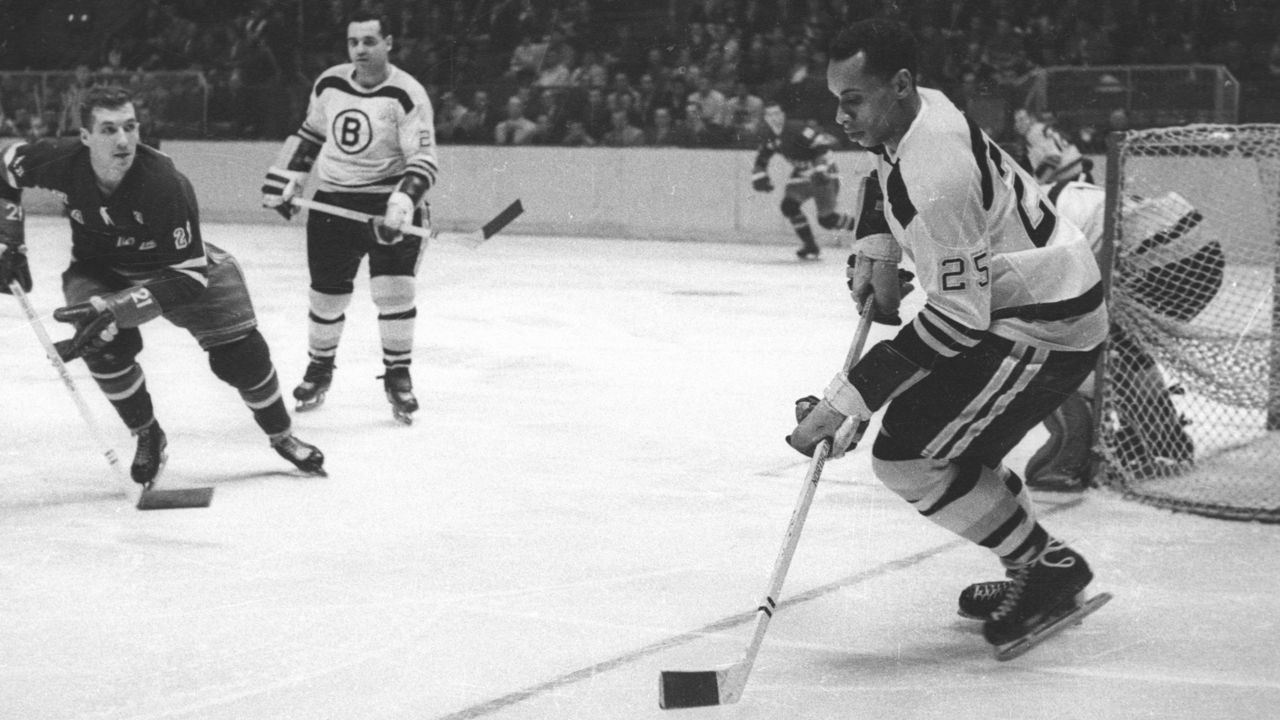 O'Ree's first hockey mentor was his oldest brother, Richard (nicknamed "Coot"), a regional light-heavyweight boxing champion 17 years his senior whose tutelage helped fine-tune O'Ree's best skills: the blazing speed, the stickhandling honed on choppy pond ice, the will to absorb hard hits and respond in kind. Booted off his high school team for hurting the coach's son with a clean open-ice check, O'Ree charted his own course through Fredericton's youth ranks to Quebec's top junior league. There, his coach - the former NHL star Phil Watson - endorsed O'Ree's towering potential, telling him he had the talent to become hockey's Jackie Robinson.
Emulating Robinson's breakthrough on the diamond required O'Ree to keep a troublesome secret: He was blind in one eye, the consequence of a deflected slapshot that had smashed his right retina in junior.
O'Ree told a single confidant, his older sister Betty, about the injury. To everyone else, he looked like the same fleet left-winger with scoring touch, and the Bruins, whose vetting process didn't include a sight exam, soon promoted him to the NHL. Squeezed out of the 132-player league after 1961, O'Ree went on to excel for 13 seasons in the WHL, where the Los Angeles Blades cleared a positional glut by shifting him to the right wing. The switch enabled his good eye to process more of the ice, powering him to five 30-goal seasons.
"It was a big move for me," O'Ree said.
The 13th and youngest child of one of two Black families in Fredericton, O'Ree writes in his memoir that he was never bullied for the color of his skin growing up. In adulthood, racism tailed him across the continent. O'Ree rode a segregated bus to attend a pro baseball training camp - he was a good middle infielder, too - in Georgia in 1956. Junior hockey fans in Chicoutimi, Quebec, chanted racial obscenities at him. Minor-league fans in Virginia hurled a black cat over the glass during one of his shifts. During an NHL road game in 1961, O'Ree writes, Chicago forward Eric Nesterenko called him the N-word, shattered his front teeth with a butt-end to the mouth, and repeated the slur. (Nesterenko has said he doesn't remember the oft-told incident.)
In 1965, O'Ree and a Blades teammate drove through the Los Angeles neighborhood of Watts in the aftermath of the area's six-day uprising against racial discrimination. He recalls breathing in the air and surveying burned-out buildings, processing the fury and sorrow that compelled Watts' Black residents to take to the streets.
Rage and the desire for justice - for George Floyd, Breonna Taylor, and other Black victims of U.S. police violence - moved millions of Americans to protest this spring and summer. In the absence of justice, O'Ree writes in his reflection on Watts, anger is an understandable response.
"People of color have always been targeted, way back since slavery," O'Ree said. "I'm all for protesting in a nonviolent way, and the marching to let people know that people's lives matter. They really do. I'm just hoping, and I keep my fingers crossed, that things are going to get better."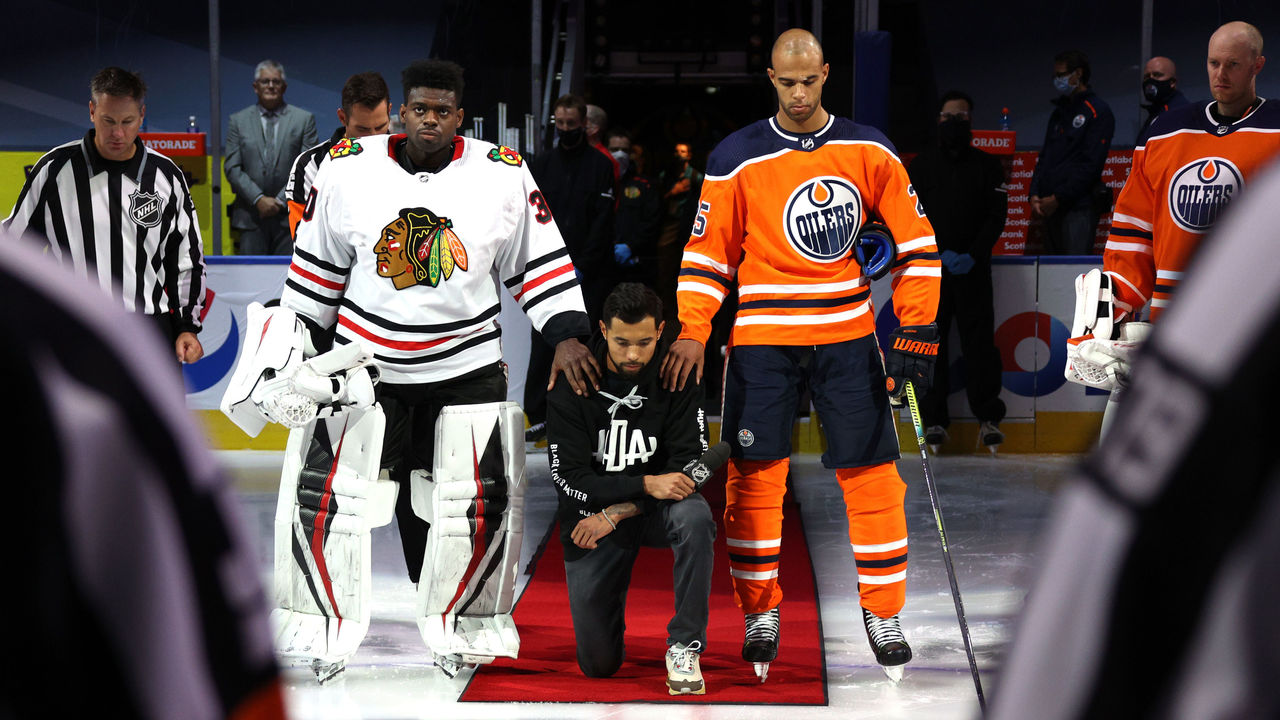 In hockey, Black players who followed O'Ree to the peak of the profession have taken it upon themselves to lobby for change. At the start of the NHL's bubbled postseason, Minnesota Wild defenseman Matt Dumba spoke at center ice on behalf of the nascent Hockey Diversity Alliance, exhorting his sport to take seriously the need to combat racism. The players who kneeled before a Vegas Golden Knights-Dallas Stars game - Ryan Reaves, Robin Lehner, Tyler Seguin, and Jason Dickinson - were among the hundreds who forced the playoffs to pause later in August, hockey's contribution to the athlete sit-out protests following the police shooting of Jacob Blake.
In effect, players such as Hockey Diversity Alliance co-founders Evander Kane and Akim Aliu now front the cause O'Ree has championed for decades. After his minor-league career ended, O'Ree recalls in his book, he took jobs spanning a wide gamut. He worked construction, drove a Pepsi truck, sold Pontiacs, and even supervised security at San Diego Chargers NFL home games. In 1996, not long after O'Ree turned 60, NHL executive Bryant McBride recruited him to the league's diversity outreach program; in the days before search engines were prevalent, McBride went so far as to ask acquaintances at the FBI to track down his phone number.
Before the coronavirus pandemic, O'Ree's ambassadorship kept him on the road 10 days a month, running hockey clinics and recounting his journey to youth of color from coast to coast. He said the fire to work - to make the game more accessible to kids who lack the means or opportunity to play - still burns within him. He hopes he'll soon get to travel for the first time since March and that he'll be able to stick with it for a couple more years.
In the meantime, hockey's best and most promising Black players continue to log major milestones. Blake Bolden, the first Black player in the National Women's Hockey League, joined the LA Kings last winter as an AHL scout. The Kings just drafted Quinton Byfield second overall, making him the highest-selected Black prospect in NHL history. The cast of standout players, present and past, with whom O'Ree keeps in touch - P.K. Subban, Wayne Simmonds, Anson Carter - includes Jarome Iginla, the newly elected Hall of Famer who wrote the foreword to "Willie."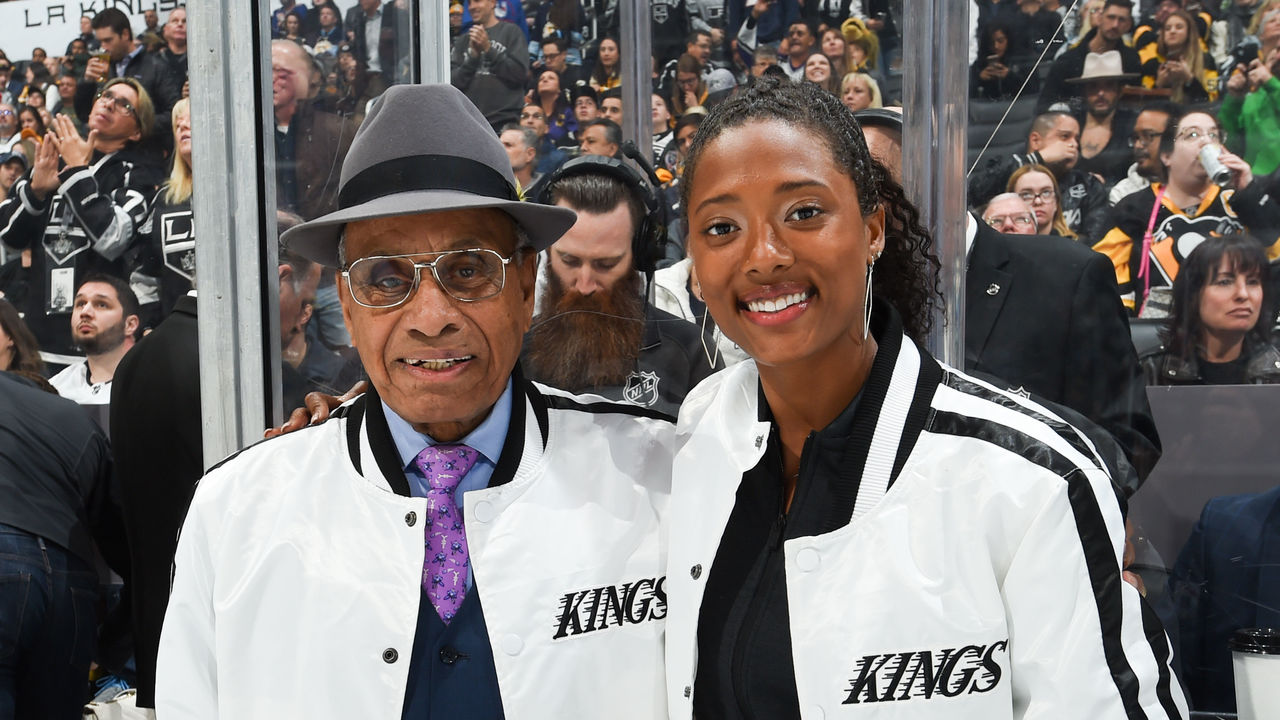 In his book, O'Ree makes clear that other Black men could have ascended to the NHL before him. He counts six predecessors or contemporaries who, in his view, were worthy of the honor: Herb and Ossie Carnegie, Manny McIntyre, Art Dorrington, John Utendale, and Stan Maxwell. If O'Ree's story is a testament to his own self-belief and persistence - "I stayed true to my goals (through) the things that I had to overcome," he said - it's also intertwined with a larger legacy.
O'Ree hopes his readers come to understand the magnitude of the challenges he endured, starting with the eye injury and recurrent bigotry. In Iginla's foreword, the legendary Calgary Flames captain contemplates the maltreatment O'Ree would have faced in the NHL: Every opposing agitator and prejudiced fan had a ready-made target to try to rile, knowing O'Ree, bearing a pioneer's burden, was out there alone.
All O'Ree did, Iginla marvels, was smile and proceed to prove he belonged. His example has uplifted generations.
"(Black players aren't in the NHL) because of their color. They're there because they have the skills and the ability to play in the National Hockey League," O'Ree said. "They've proven that. It's just a nice feeling to know that I was the person who made it possible for them to be there."
Nick Faris is a features writer at theScore.
Comments
✕
What Willie O'Ree wants you to remember about his trailblazing hockey story
  Got something to say? Leave a comment below!