Fleury's agent posts image implying DeBoer stabbed goalie in back
Ethan Miller / Getty Images Sport / Getty
It's safe to say Allan Walsh isn't happy about Marc-Andre Fleury's diminished role in the 2019-20 Stanley Cup Playoffs.
On Saturday, the prominent hockey agent, who represents the Vegas Golden Knights goaltender, tweeted an image showing a sword with head coach Peter DeBoer's surname inscribed on its blade stabbing Fleury through the back.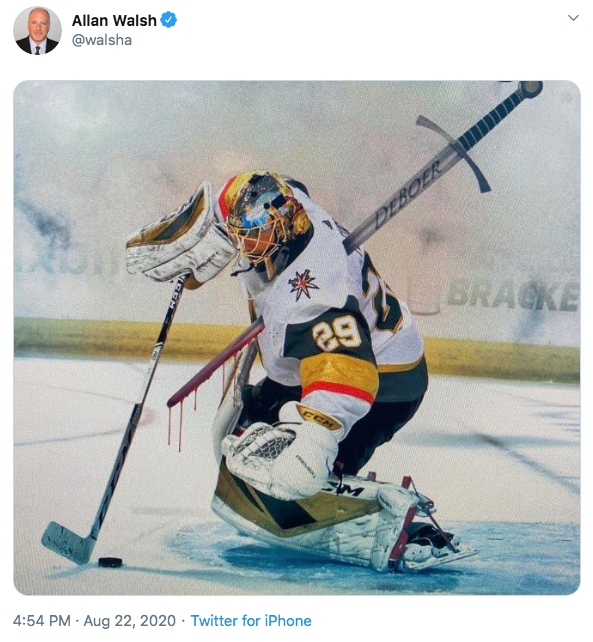 The team met with Fleury following the tweet Saturday and is confident it won't be a problem going forward, sources told Sportsnet's Elliotte Friedman.
DeBoer recently indicated the Golden Knights' other primary netminder, Robin Lehner, would continue to start when Vegas begins its second-round series against the Vancouver Canucks on Sunday.
Fleury played in only one of the Golden Knights' five games against the Chicago Blackhawks - a 2-1 Vegas victory in Game 3 - during the opening round. He also started in just one of the team's three round-robin contests.
The veteran puck-stopper was Vegas' unquestioned No. 1 goalie since their inception in 2017-18, helping the club make an improbable run to the Stanley Cup Final in its inaugural campaign.
Fleury is in the first season of a three-year, $21-million contract extension he inked with the Golden Knights in July 2018. He backstopped the Pittsburgh Penguins to a title in 2009 before ceding the crease to Matt Murray, who guided them to their subsequent championships in 2016 and 2017.
Lehner has usurped the starter's role from Fleury in the postseason. The Golden Knights acquired the former New York Islanders goalie from the Blackhawks at this year's trade deadline.
The pending unrestricted free agent went 3-1 with a .905 save percentage in Vegas' first-round series against Chicago after winning both of his starts in the round-robin stage.
Lehner went 16-10-5 while posting a .918 save percentage with the Blackhawks during the regular season before they dealt him. He then went 3-0-0 with a .940 save percentage in three regular-season games down the stretch with the Golden Knights.
Vegas hired DeBoer - who had most recently coached the San Jose Sharks for parts of five seasons - immediately upon firing Gerard Gallant in January.