5 takeaways from puck drop in the Western Conference playoffs
Andy Devlin / NHL / Getty Images
The NHL's bubbled postseason opened Saturday in Toronto and Edmonton, the latter the host city for the Western Conference bracket. Below are five takeaways from the hometown Oilers' 6-4 loss to the Chicago Blackhawks and the Calgary Flames' 4-1 win over the Winnipeg Jets.
Kubalik's five-star debut
One joy of the NHL restart will be getting to watch Quinn Hughes and Cale Makar, the dazzling young defensemen who finished first and second respectively in rookie scoring, build on the season-long showings that guaranteed one of them will win the Calder Trophy. So electrifying were Hughes and Makar in 2019-20 that the inclusion of a third finalist on the ballot last month registered as a formality. He may have had a great season, whoever he was. It's just that he was destined to be overshadowed.
No one should be especially surprised if Hughes or Makar command the spotlight when their postseasons begin Sunday. That said, both will be in tough to top the opening act put forth by Dominik Kubalik, their fellow Calder nominee who required only 13:56 in ice time to single-handedly dampen the favored Oilers' spirits.
The five points Kubalik racked up in Game 1 were the most any player's scored in his NHL playoff debut - and, in starker terms, were entirely unexpected. Before he signed a one-year deal with Chicago last summer, Kubalik, 24, had never reached the 30-goal mark in a season, as play-by-play announcer Chris Cuthbert noted on Saturday's Canadian telecast. Not in junior hockey, nor across six years as a pro in Switzerland and his native Czech Republic.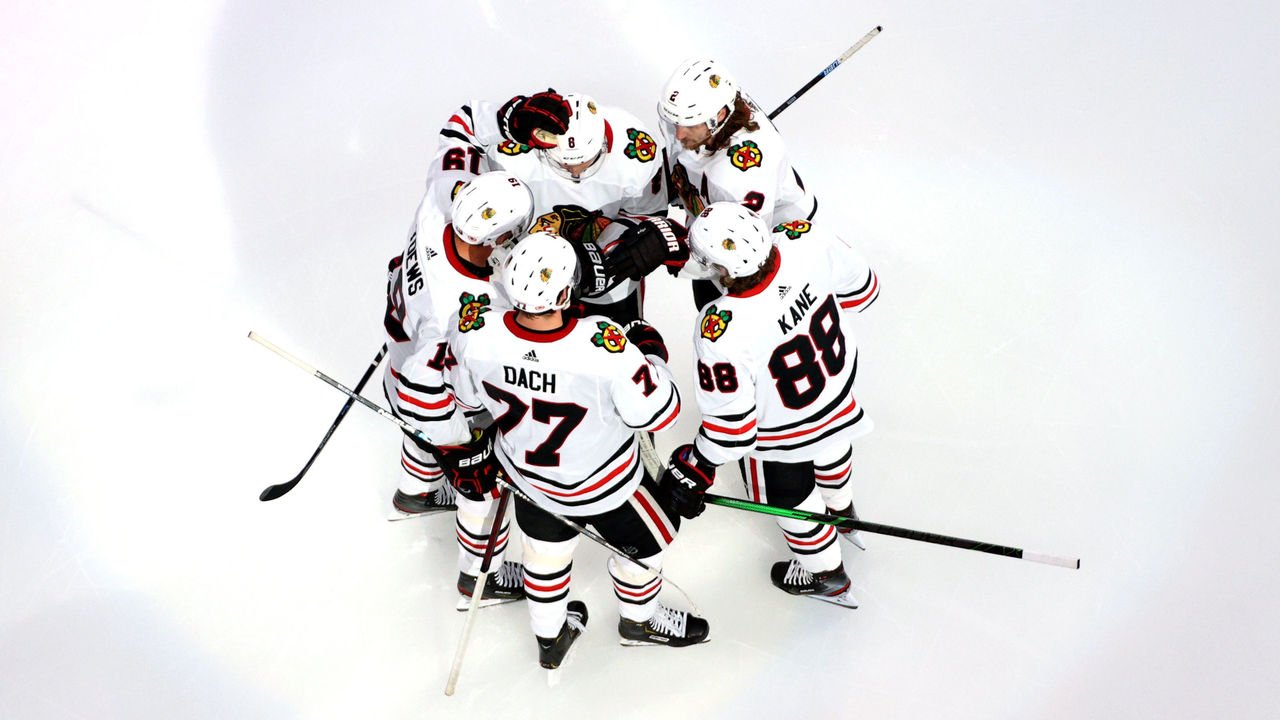 Riding shotgun on Jonathan Toews' left wing, Kubalik netted 30 goals on the nose in 68 games this season, a commendable figure that didn't quite foreshadow the magnitude of the tear he's been on in the Western hub city. First came his two goals and an assist in an exhibition upset of the defending champion St. Louis Blues on Wednesday. Kubalik was even better in the first playoff game that counted, earning full credit for the two goals and three assists he amassed on plays that included a one-timed blast, a netfront tip, and a pair of skillful passes to Toews.
The outcome of Game 1 is supremely important in a best-of-five series, amplifying the significance of any complementary player rising to the occasion to help out his team's stars. Connor McDavid was far from perfect on Saturday - his lost faceoff and giveaway behind his own net in the first period led to two Blackhawks goals - but he did his part offensively with three points on the power play. Support further down the lineup wasn't there to be found, which could mean a short series if someone on the Oilers doesn't start emulating or corralling Kubalik.
Clean it up, Oilers
On the subject of help for Edmonton's leading lights: we're officially one game closer to the funniest possible resolution to the qualifying round. It remains premature to float this scenario, but imagine coach Dave Tippett's club losing twice more to Chicago, winning Phase 2 of this year's creatively formatted draft lottery, and from here on out icing a forward corps that features McDavid, scoring champ Leon Draisaitl, and soon-to-be No. 1 pick Alexis Lafreniere.
After Saturday, it's evident that even the Rimouski Oceanic wunderkind might not move the dial sufficiently if the Oilers can't rectify the defensive woes - and general lack of fortitude - that perennially ail them. Nearly every Blackhawks goal resulted from shoddy defensive coverage, a crucial lost faceoff, or a glaringly inopportune turnover, including McDavid's aforementioned slipups and goaltender Mike Smith mishandling the puck in the trapezoid when Edmonton was up 1-0 early.
Tippett's decision to start Smith instead of Mikko Koskinen was another miscue. Koskinen was the superior goalie this season, and his .917 save percentage in 38 games - compared to Smith's .902 in 39 games - would seem a more pertinent number than the .938 mark Smith previously authored across 24 previous playoff appearances.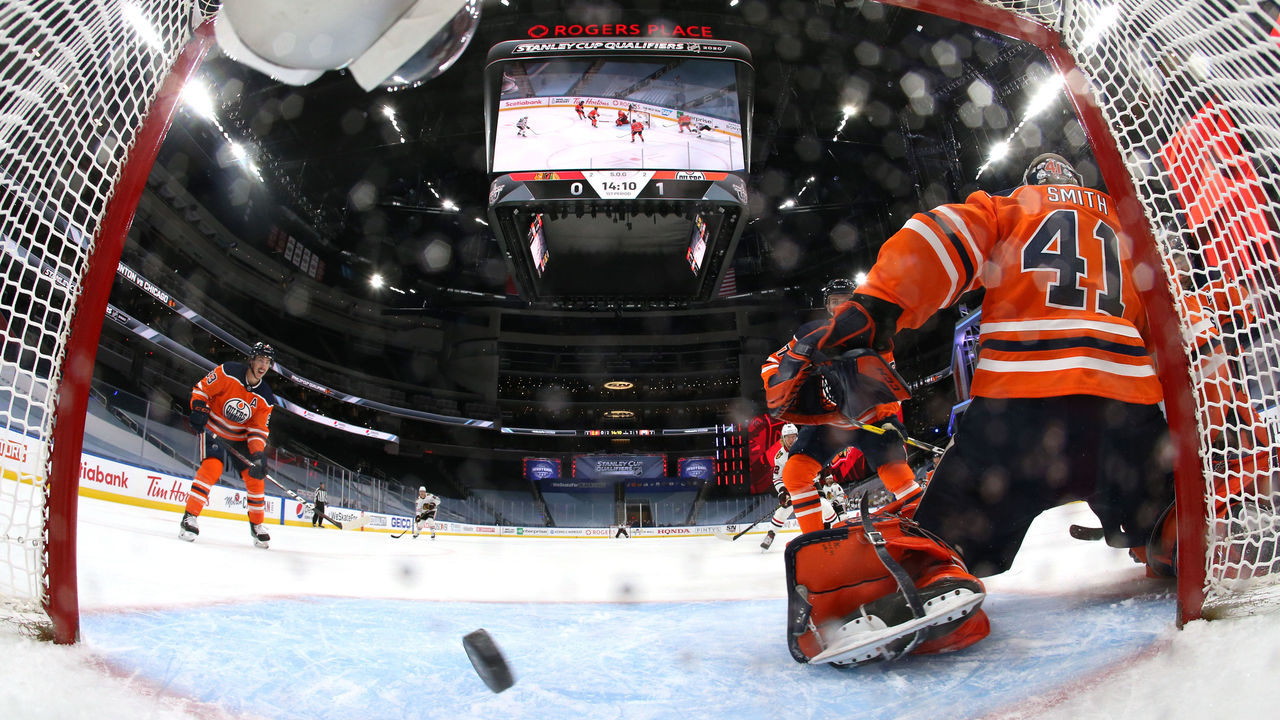 Most of Smith's experience and success in the postseason came in one run to the third round with the Phoenix Coyotes back in 2011-12. By allowing five goals to the Blackhawks on 23 shots, his career mark dropped to .934, demonstrating the drag effect a single stinker can have on a relatively sparse body of work. It also proved the primacy of making the right call when a coach is faced with a goaltending quandary, as Tippett now can only do by sticking with Koskinen in Game 2.
Faced with a similar choice later Saturday, Flames coach Geoff Ward was rewarded for starting Cam Talbot, statistically the better option this season than usual No. 1 David Rittich, in Calgary's opener against the Jets. Even before Talbot turned aside 16 of 17 Winnipeg shots, it constituted a victory for empirical decision-making. That's as good a basis as any to pick a netminder these playoffs, given that Rittich is no proven stud who merely endured a rare down season and that no goalie has preexisting momentum following several months of forced rest.
Can Edmonton's PP save the day?
Back to the Oilers, whose other lifeline in a 1-0 series deficit is their historically potent power play. Not even Wayne Gretzky's finest offensive units ever managed to score on 29.5% of man advantages, as McDavid and his mates did this season. The league's top-ranked unit converted three of four opportunities in Game 1, suggesting the Blackhawks would do well to avoid needless mistakes like the too-many-men penalty they took 87 seconds into the game.
Problematically, the Blackhawks' 28th-ranked power play scored on three of six tries, contradicting the imbalance between these teams that the regular season seemed to lay bare. The Edmonton penalty kill ranked second in the NHL this year (84.4%), but between Toews, Kubalik, Patrick Kane, and Duncan Keith, Chicago has the firepower to buck dire trends in small samples. Continuing to do so would make the Oilers' task that much harder.
Aside from killing penalties, the Oilers' play at even strength left ample room for improvement. Take as an example their top line's Corsi figure: McDavid, Ryan Nugent-Hopkins, and Zack Kassian generated a mere 28% of shot attempts when they were on the ice. Toews, Kubalik, and Brandon Saad, meanwhile, were responsible for 11 shot attempts to two against (84.62%) and scored twice at five-on-five. Chicago was the faster and sharper team in a fast-paced affair, and their big guns merit a lot of credit.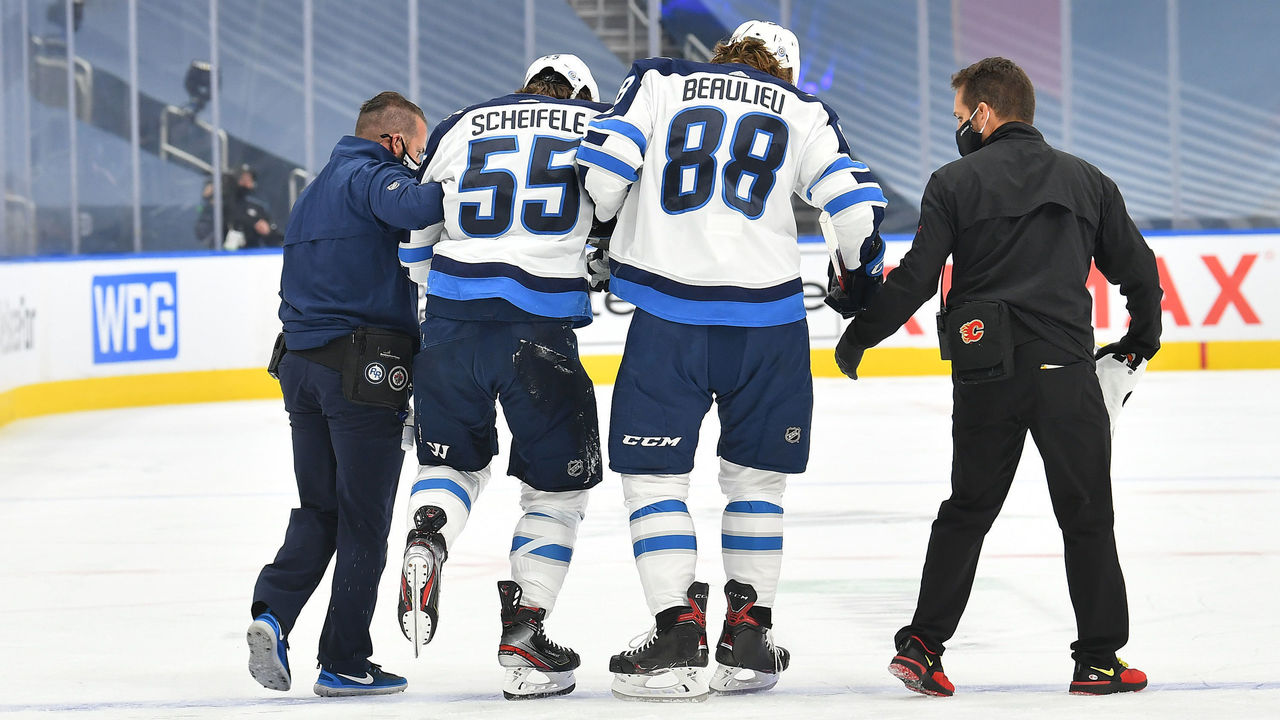 Scheifele injury highly worrisome
What a blow it would be for the Jets if Mark Scheifele's out the rest of the qualifying round or longer.
The first commercial break had yet to arrive in Saturday's final game when Winnipeg's top center dumped the puck deep during a line change and tried to dodge the brunt of Matthew Tkachuk's check by the boards. Scheifele's left leg was caught beneath him and he slumped to the ice in serious pain. He'd played a mere 2:59 when he was helped to the dressing room, placing no weight on that leg, and subsequently ruled out.
Scheifele's injury was the low point of a night in which much went wrong: Patrik Laine left the bench clutching his wrist, the Jets' power play was scoreless on seven tries, and Calgary outshot Winnipeg 32-11 over the final 45 minutes. Though captain Blake Wheeler fought Tkachuk later in the first period - seemingly responding to the hit and belatedly, perhaps, to a challenge Tkachuk appeared to issue off the opening faceoff - Scheifele's absence generally seemed to deflate the Jets, who now have to plot how to potentially move forward without him.
"It was intentional. It was a filthy, dirty kick to the back of the leg," coach Paul Maurice said postgame about the Tkachuk incident, arguing that the play could have ended Scheifele's career. Asked for updates about Scheifele and Laine's health, he said both players would see specialists Sunday.
Outside of Vezina Trophy finalist Connor Hellebuyck, Scheifele might be Winnipeg's best and most important player. He's been a point-per-game player for four seasons running and plays more than any Jets forward overall and on the power play, where his team-high 10 goals in that scenario this season were sorely missed Saturday. Winnipeg's other main offensive threats - Laine, Kyle Connor, Wheeler, and Nikolaj Ehlers - are all wingers, and the drop-off from Scheifele to No. 2 pivot Cody Eakin is steep.
Across the hall at Rogers Place, all appears dandy with the Flames, a stunning divergence in fortune after they and the Jets finished the regular season separated in points percentage by one-thousandth of a point. Sixty minutes later, Winnipeg's on the ropes and encouraging signs abounded for Ward's side. The spotless performance from the penalty kill. The stifling of the Jets in the neutral zone for much of the night. Talbot's steadiness. Johnny Gaudreau notching his first playoff goal since 2015 and leaping into Tkachuk's arms, the thought of his going scoreless against Colorado in the first round last year a distant memory.
NHL finally puts focus on combating racism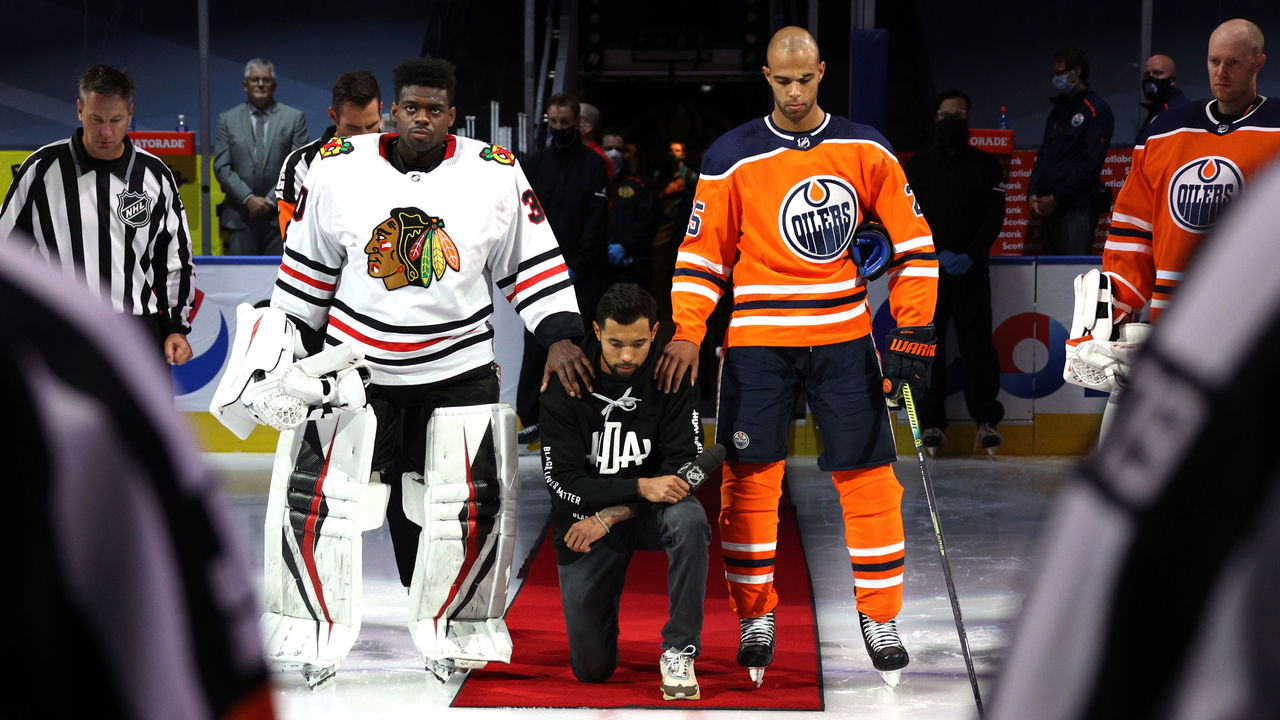 To conclude, let's salute Matt Dumba for the history he made ahead of Oilers-Blackhawks. The 26-year-old Wild defenseman became the NHL's first player to kneel during the U.S. national anthem, reprising the gesture that Colin Kaepernick made famous in the NFL - and that whole NBA teams are employing during the league's restart in Orlando - to protest racism and police violence toward Black people.
Dumba, a founding member of the Hockey Diversity Alliance who is Filipino Canadian, spoke at center ice on behalf of that nascent organization for a few minutes before the anthem. His entire speech makes for a worthwhile and important listen, especially the ending: "Black lives matter. Breonna Taylor's life matters. Hockey is a great game, but it could be a whole lot greater, and it starts with all of us."
Before the Wild's exhibition game against the Colorado Avalanche on Wednesday, Dumba stood shoulder to shoulder during the U.S. anthem with three fellow players of color: Nazem Kadri, Pierre-Edouard Bellemare, and his Minnesota teammate Jordan Greenway. Dumba was the lone player to kneel before Saturday's game, though Oilers defenseman Darnell Nurse and Blackhawks backup goalie Malcolm Subban stood by and placed a hand on his shoulders.
The messages "END RACISM" and "#WESKATEFOR BLACK LIVES" were displayed in the arena at points throughout the game on large screens that were visible from certain broadcast angles. Prior to Dumba's speech, the NHL committed, via a message from the PA announcer, to tell over the next two months the personal stories of racial justice advocates (and of frontline health care workers) who hail from cities represented in the postseason.
In acknowledging the significance of what Dumba did, it's also essential to recognize that the burden to spotlight the pervasiveness of racism in the U.S. and Canada - and to urge people to be better - shouldn't fall solely on himself, Kadri, HDA co-heads Akim Aliu and Evander Kane, or any other player of color. If this video that aired during the Eastern slate of games in Toronto is a start, white players and the league can continue to do more to demonstrate allyship and be anti-racist. At the least, here's hoping Dumba's courageous stand isn't the extent of the attention paid to the issue these playoffs.
Nick Faris is a features writer at theScore.
Comments
✕
5 takeaways from puck drop in the Western Conference playoffs
  Got something to say? Leave a comment below!