Injury-ravaged, goal-starved Blue Jackets fighting for each point
Jamie Sabau / Getty Images
BUFFALO - Nick Foligno was the first man in on the forecheck late in the second period of Thursday's Blue Jackets-Sabres game. He missed his check on puck handler Rasmus Ristolainen before smashing into the end boards at KeyBank Center, while Oliver Bjorkstrand blocked off Ristolainen's passing lane on the far side of Buffalo's net. Pierre-Luc Dubois, the final forechecker to arrive, swooped in to support Foligno's pressure point.
With Columbus' three forwards below the goal line, Ristolainen shuffled the puck to Sam Reinhart. He redirected it to Jack Eichel, who transported it through the neutral zone and into the Blue Jackets' end before rifling it top corner. Goal: Buffalo. Score: 2-1 Columbus. The Sabres went on to win 4-3.
Blue Jackets coach John Tortorella theorized postgame that if his squad had carried a 2-0 advantage into the second intermission, Buffalo would have been "dead in the water." Instead, the Sabres battled back and scored in overtime.
"It's just stupid and, quite honestly, selfish," Tortorella said of the fruitless forechecking sequence. He added, "Just a little bit of me-me-me instead of we-we-we. If we don't play as we, we're into some shit, I'll tell you right now."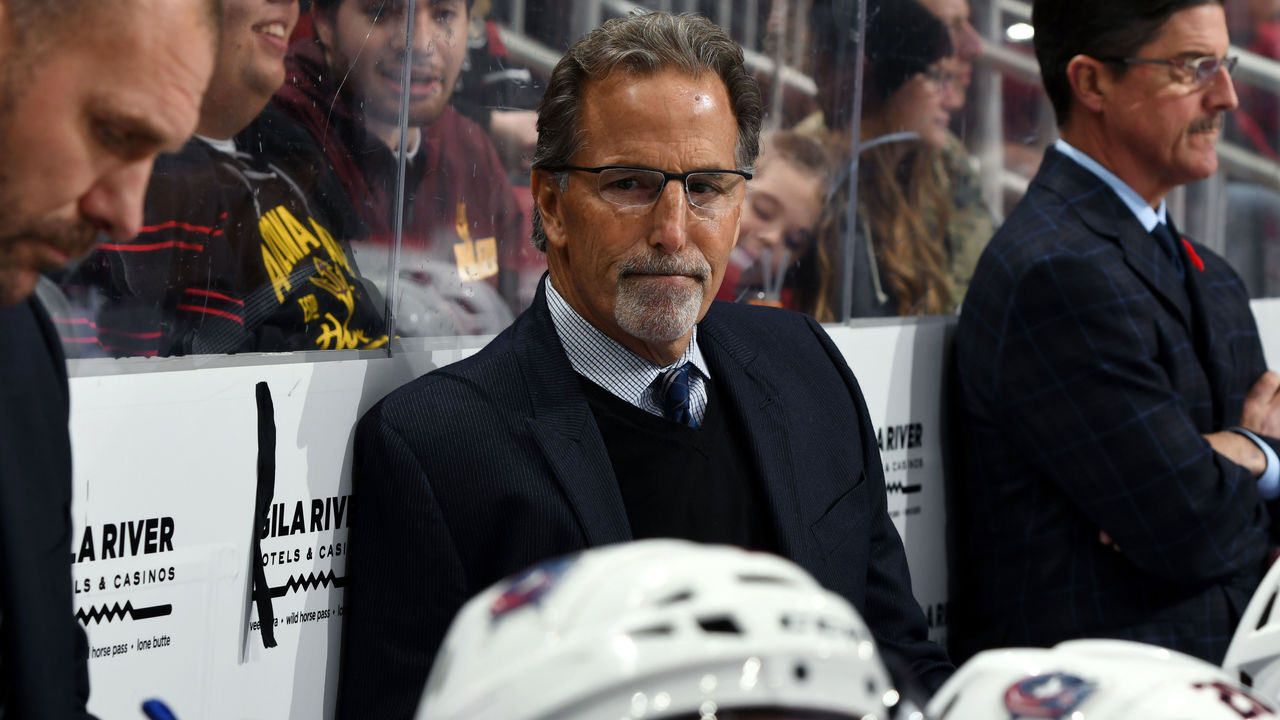 Tortorella wasn't putting on a show for the cameras. Calling out the Dubois line was appropriate seeing as, yes, the 2019-20 Blue Jackets tend to get themselves "into some shit" when they gloss over the Xs and Os. The margin of error is incredibly thin for Columbus, a defensively minded group that not only lost a boatload of talent in the offseason but has been ravaged by injury all year. The final scores from the Blue Jackets' past five games offer proof: a 2-1 loss to the Avalanche, a 2-1 overtime loss to the Lightning, that 4-3 OT loss to Buffalo, a 3-1 loss (empty netter) to the Rangers, and a 4-3 shootout loss to the Devils.
As of Monday afternoon, the Blue Jackets held down the first wild-card spot in the Eastern Conference with a 30-18-12 record. They've defied the odds. They're a fantastic story. Yet, it's fair to wonder if a shorthanded team that has difficulty scoring goals has begun a descent back to earth.
At the 60-game mark, let's assess what's brought Columbus to this point and what the future might hold for the NHL's feistiest franchise.
Weird season
The optimism Blue Jackets general manager Jarmo Kekalainen generated last season by going all-in on his club's playoff run - a mentality that paid dividends in the form of an opening-round sweep of the juggernaut Lightning - quickly faded in July. Artemi Panarin, Sergei Bobrovsky, Matt Duchene, and Ryan Dzingel all departed via free agency, with only 30-year-old Gustav Nyquist brought in to fill in the void.
Given the turnover, most preseason prognosticators pegged Columbus as a bubble playoff team with strong pieces in Tortorella and his 25-and-under studs - Seth Jones, Zach Werenski, and Dubois. If everything falls into place this year, analysts thought, the Blue Jackets could battle for a wild card. Not bad. But what if everything didn't fall into place?
The club leads the NHL in man-games lost to injury with 247 as of last week. Because of all the minor league call-ups to fill spots, Columbus has iced the youngest team in the league, according to Hockey Reference. Not helping matters is a lack of production (and availability) from two veterans. It's mid-February and Cam Atkinson and Josh Anderson - who combined for 68 goals in 162 combined games last season - have contributed just 13 goals in 70 games.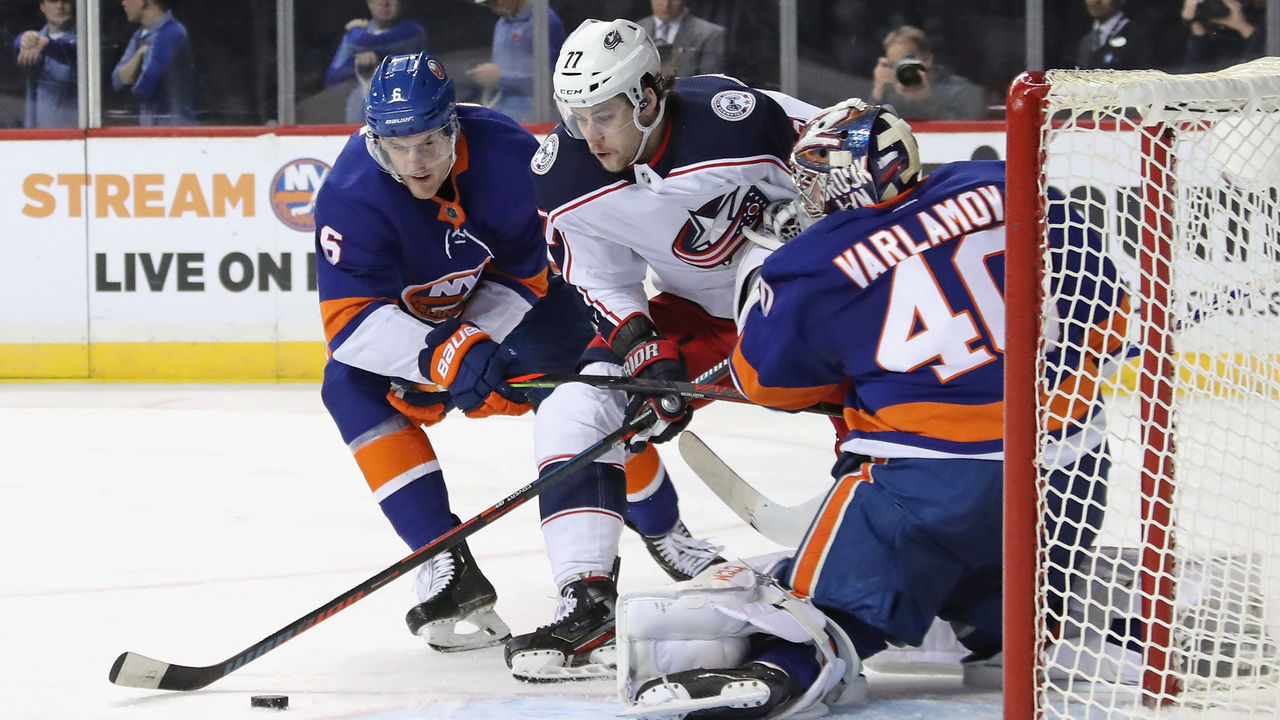 Despite all of this, Columbus has collected points at roughly the same pace as last year. The Blue Jackets had 69 points in 58 games for a .595 points percentage a week out from the 2019 trade deadline; this year, they have 72 points in 60 games for a .600 percentage. Though they've lost six of their last 10 games, the fact that the Blue Jackets remain in the playoff mix this deep into the season is borderline miraculous.
"It has definitely felt crazy," Foligno, the team's captain, said of the weird season. "It's been its own script in a lot of ways, where we've found ways through a lot of adversity - some of it self-inflicted, some unforeseen injuries - and that's just the way it's gone. We've found a way to persevere as a team."
The list of key contributors who have been sidelined doesn't stop at Anderson (34 games lost) and Atkinson (16). Defensemen Ryan Murray (36) and Markus Nutivaara (32), forwards Alexandre Texier (24) and Bjorkstrand (13), and goalie Joonas Korpisalo (out since Dec. 30) have also missed significant time. Jones, who will be sidelined until at least the start of the playoffs because of an ankle injury, is the latest and biggest blow. That leaves Nyquist, Dubois, and Boone Jenner as the only Columbus players to have appeared in every contest so far.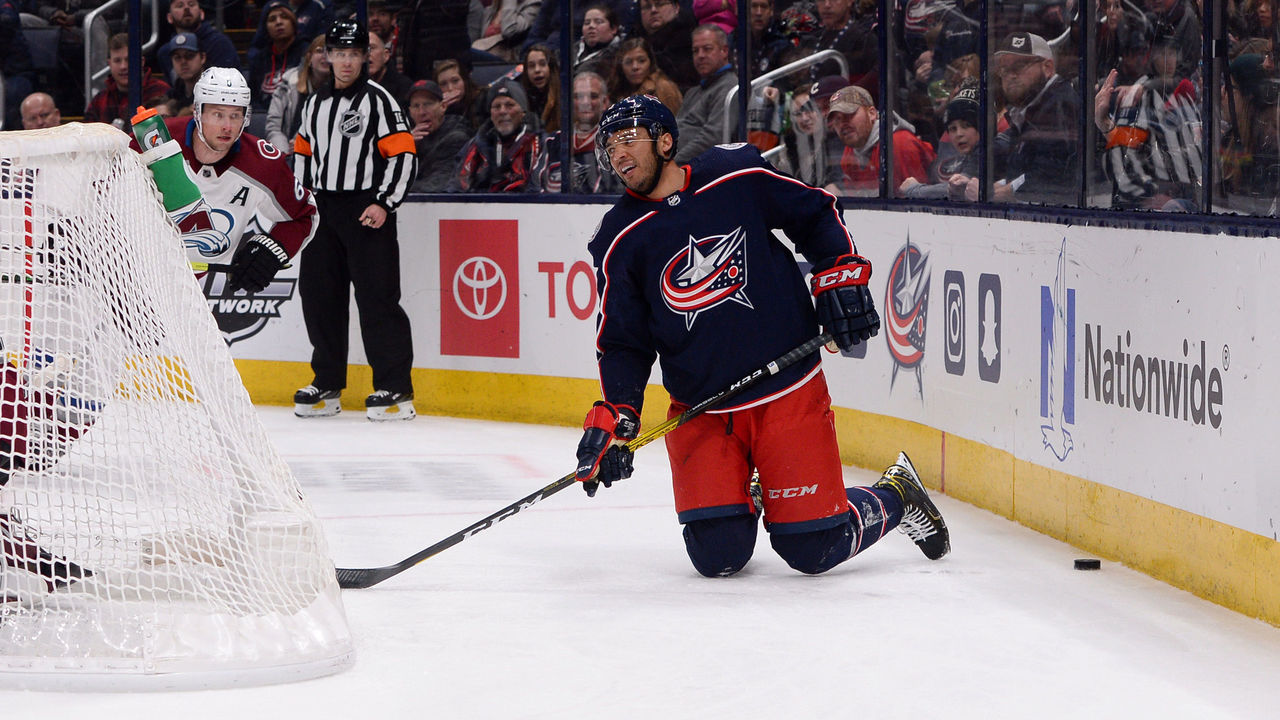 What's keeping this ship from sinking seems to be a combination of Tortorella's tactical genius and a buy-in from the parade of players slipping on a Columbus uniform. On a good night, when the forecheck's humming and no major defensive assignment has been missed, the Blue Jackets look like a quality hockey team. On a bad night, two points can be ripped out of their grasp rather easily. It's simple, really: A team that can't score goals must prevent goals at all costs.
Forcing lower-percentage shots by keeping the slot and crease areas clear of opposing players has been a top priority for one of the league's elite defensive squads. "Last year, it was 'safe is death' and 'let's go score some goals' and 'the best defense is offense,'" Dubois said, relaying Tortorella's biggest talking points. "This year, it's 'defense first' and then we'll counteract. Like, 'Let's protect our net, let's protect our zone, and then think about scoring goals.'"
The Blue Jackets and Wild allow the fewest inner-slot shots per game (5.4), according to The Point, while Natural Stat Trick has Columbus ranked second (8.56) to Minnesota in fewest five-on-five high-danger attempts per 60 minutes (HDCA/60). Based on this data, heat maps at HockeyViz, and the old-fashioned eye test, it's clear the players have been executing Tortorella's plan.
"If they're going to score a goal," Werenski said, "they're going to have to earn it and come through everybody."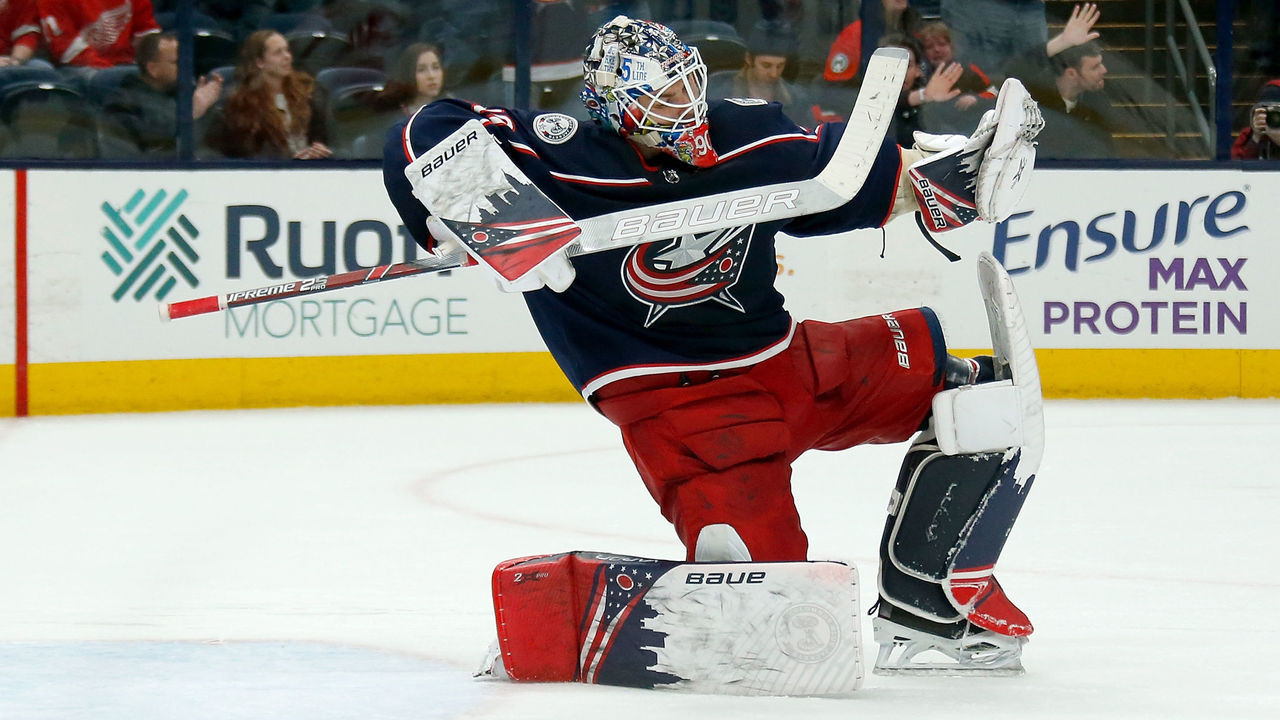 Elvis Merzlikins, Korpisalo's charismatic replacement between the pipes, has proved to be a formidable last line of defense. The 25-year-old Latvian rookie has earned his way into the Calder Trophy discussion through 27 appearances. He owns a .930 even-strength save percentage and has recorded five shutouts. When you loop in third-stringer Matiss Kivlenieks, Columbus' goaltending has blown expectations out of the water.
"Korpi: All-Star season, goes down. Elvis: Steps up and plays great," Nyquist said. "And now Kivi, whenever he gets a chance, he's been real good and given our team a chance to win every night."
When the puck isn't in the Blue Jackets' possession, they smother the other team. Despite the example from the Buffalo game, a frenzied forecheck can often be very effective. It's led to a positive penalty differential (27 more minutes on the power play than penalty kill) and just enough goals (2.6 per game) to produce 30 wins.
"They look up and there's always a five-man front from us," Foligno said. "That's something we pride ourselves on, because we know it works. A lot's been made of us not scoring a lot of goals, but it's still fun doing what we're doing."
Long view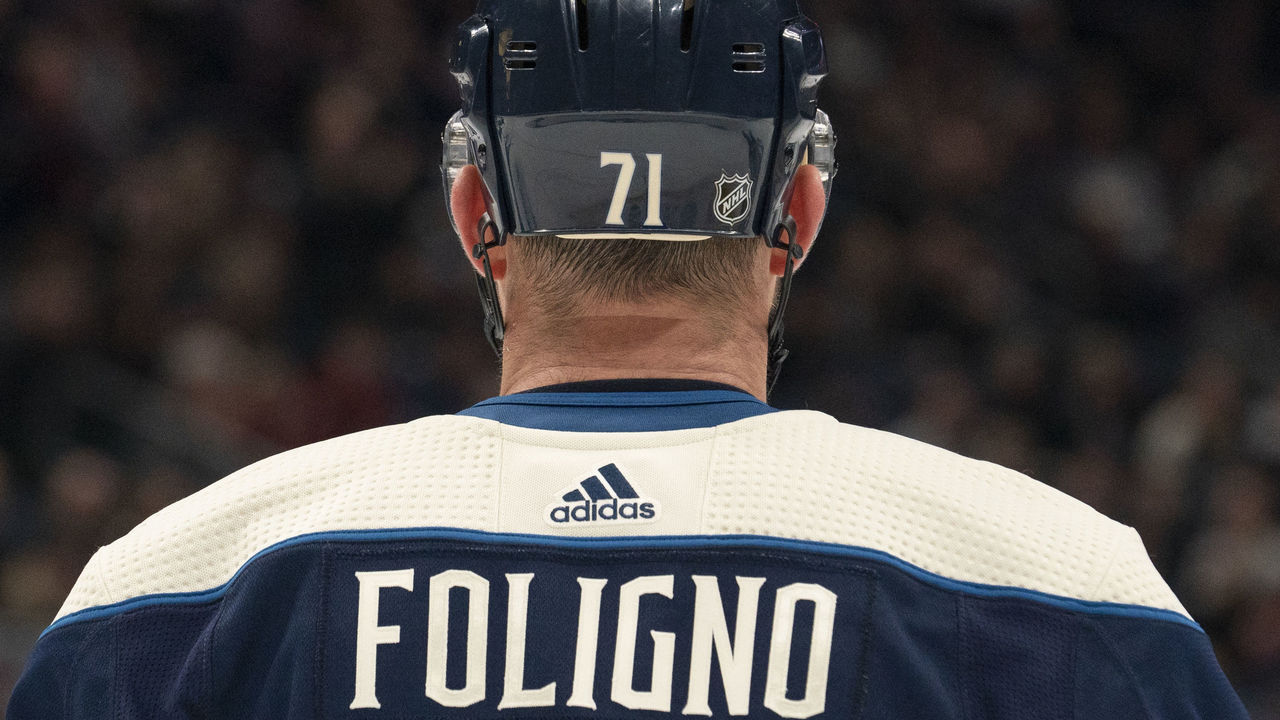 The most encouraging part of Columbus' bizarre season is the timing. Between last year's go-for-it mindset and this year's plug-and-play success, the small-market franchise has never been on such solid footing.
Kekalainen has, for the most part, played his cards right in terms of drafting, developing, and acquiring talent. Tortorella has instilled a strong belief system. Neither pillar was in place when Foligno arrived in 2012.
"I remember getting here and they had just come off the worst season. They were miserable," Foligno said, recalling his July trade from Ottawa. "I think (former star Jeff) Carter wanted out. There was all of this drama. (Ex-captain Rick) Nash left. It was a team that was just like, 'We're starting from ground zero and we're going to figure out how we're going to get to where we want to go.' That's what those teams were. It's almost like we were coming into the game and not even knowing who we were. Now we know who we are and we know what makes us successful."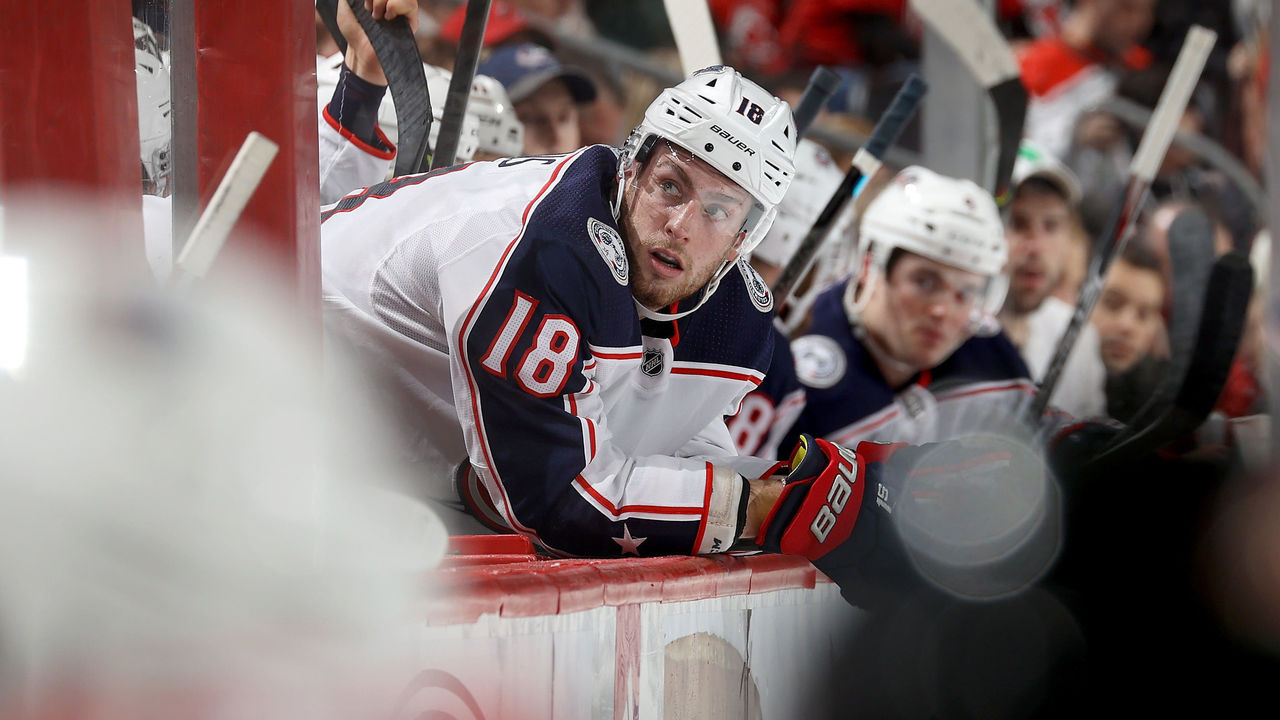 Only Foligno, Atkinson, David Savard, and Brandon Dubinsky remain from the 2012-13 squad that went 24-17-7 and missed the playoffs in that lockout-shortened season. Columbus hired Kekalainen in February 2013. Tortorella burst onto the scene in late October 2015. The Blue Jackets have made the playoffs in three of the coach's four seasons. And, though the margin of error is slim in his fifth campaign, a playoff berth is within reach.
Regardless of their fate this spring, the Blue Jackets seem confident they'll remain relevant.
"Respect comes with winning, comes with winning playoff rounds, comes with winning Cups," Dubois said. "Last year was the first year the organization won a playoff round. It takes time to build respect. I think we're on the right track to gain respect - not only in Columbus but in the entire league."
John Matisz is theScore's national hockey writer.
Comments
✕
Injury-ravaged, goal-starved Blue Jackets fighting for each point
  Got something to say? Leave a comment below!