Takes, thoughts, and trends is theScore's monthly spin around the NHL.
Watch for Kreider, Pettersson this weekend
The final tally: 12. Yes, a dozen All-Star Weekend participants turned over in the weeks leading up to the event in St. Louis - from Metropolitan Division superstar Alex Ovechkin opting for rest, to Pacific Division bench boss Gerard Gallant giving up his spot because he lost his job.
That's far too many changes - a bad look for the NHL - regardless of each dropout's rationale. It's amazing, though, how deep the talent pool is in this league. The festivities will still include plenty of marquee names and up-and-comers worthy of the platform. Just check out some of the assignments for the skills competition. There are some intriguing dark horses.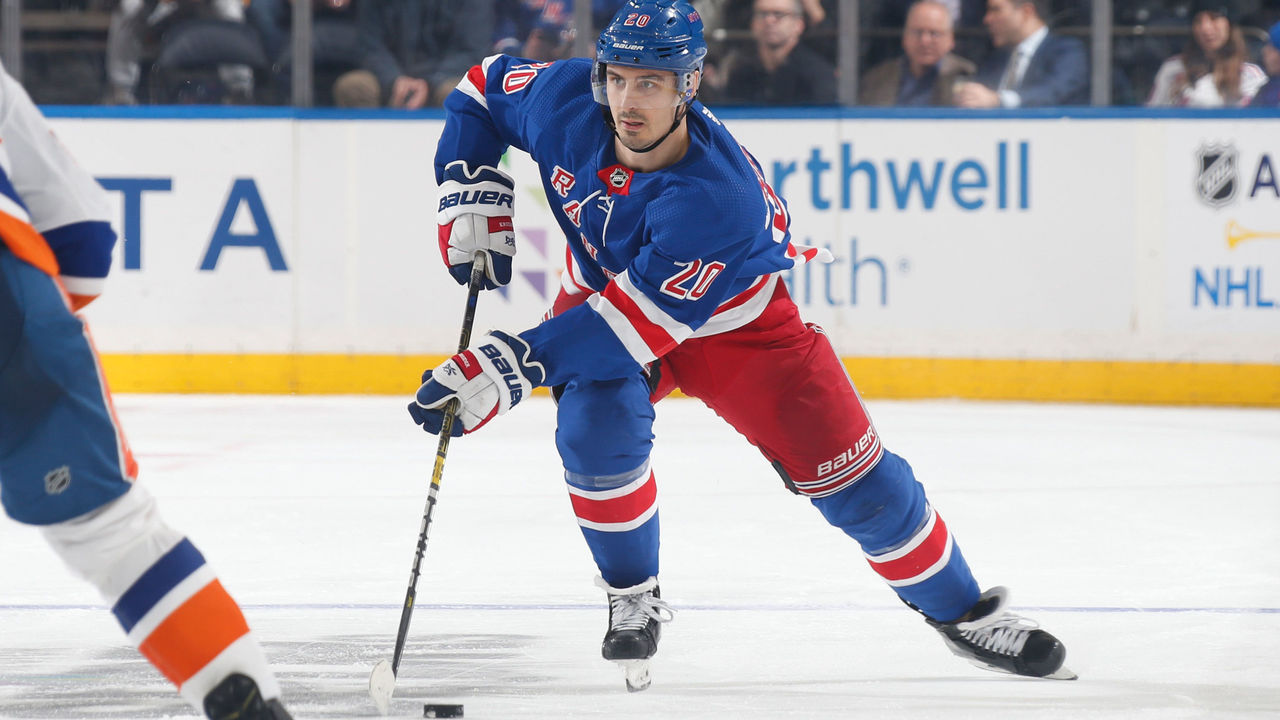 The fastest skater event is headlined by Connor McDavid and Nathan MacKinnon. Among the six other participants - Jack Eichel, Mathew Barzal, Chris Kreider, Anthony Duclair, Travis Konecny, and Quinn Hughes - I'm most fascinated by Kreider, who's quick with those long legs. Eichel and his nontraditional skating stride could surprise, too. The dude can fly.
The hardest shot competition, meanwhile, features Shea Weber. He's a virtual lock to win with that howitzer of a slap shot. But the rest of the field can hang. Seth Jones, Victor Hedman, and John Carlson are all capable of hitting triple digits on the radar gun. Elias Pettersson, a bit of an odd choice given his small stature and propensity to pass, is definitely the underdog here. I say he finishes in the top three.
Give 'em 7 minutes?
Ditching the five-on-five game for a three-on-three tournament in 2016 was a smart move by the NHL. It's made the All-Star Weekend's main event infinitely more entertaining and has given fans what they ultimately want, which is more offense.
Naturally, the topic of extending three-on-three overtime in games that matter was broached during Thursday's media availabilities with the All-Star players and coaches. The replies seemed overwhelmingly supportive of pushing the overtime period past five minutes in an effort to minimize the number of shootouts.
"I think I'd be a guy who would like to see it," Calgary Flames captain Mark Giordano said. "But I don't know if 10's the number or if it's seven, because three-on-three minutes are a lot harder to play in than five-on-five minutes."
Giordano noted that shift length is essentially cut in half in overtime, with players typically staying out on the ice for 20 seconds, versus 40 seconds in regulation. It's more taxing on the body, so there's a health consideration to keep in mind. Extending the extra period to seven or eight minutes would probably do the trick.
"I'd rather see a game decided in overtime at three-on-three than a shootout," he reiterated, before offering a hypothetical: "Are teams just going to hold the puck for five minutes and not take chances? I don't know what the answer is."
Jackets, Elvis rolling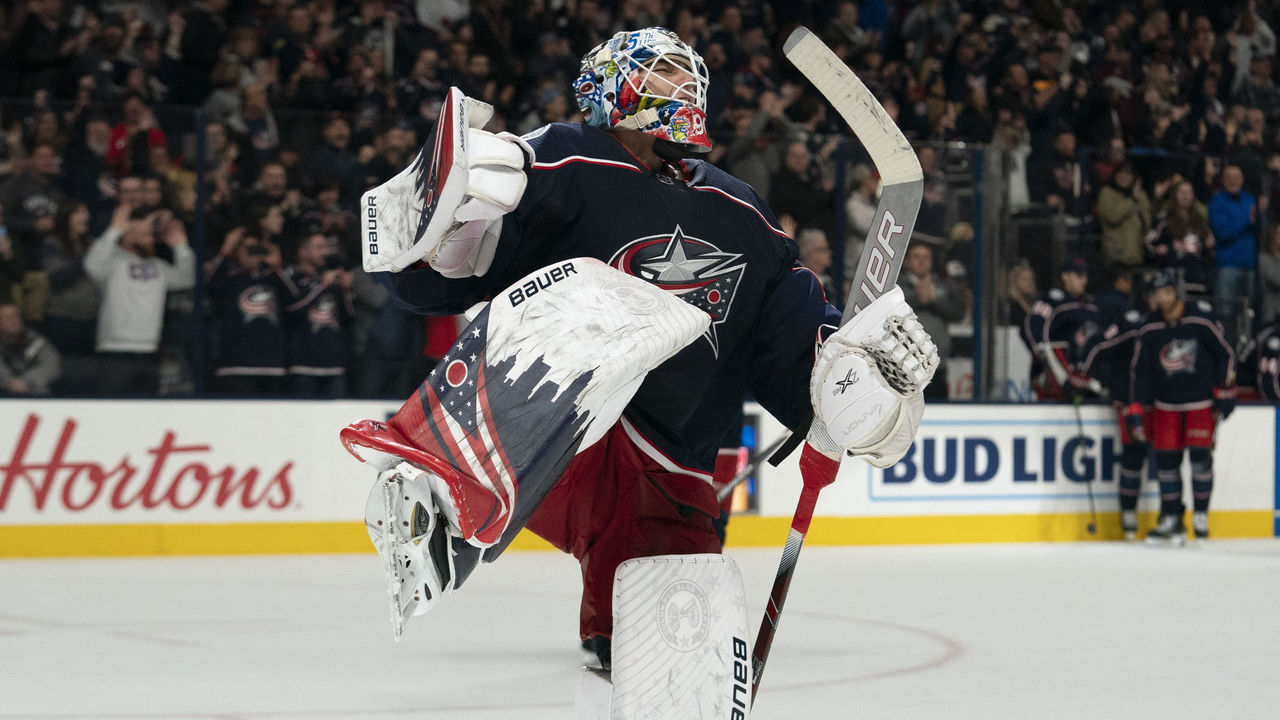 Everybody counted out the 2019-20 Columbus Blue Jackets. They lost too much talent in the offseason and returned to training camp in September with underwhelming options up front and in net. The Blue Jackets making the playoffs? Ha.
Yet here we are, in late January, and the John Tortorella-coached squad is holding down a wild-card spot in the Eastern Conference and sitting 10th among all teams in points percentage. All of this despite a rash of injuries.
"We had 10 guys on the IR at one point that were on our starting roster," said Seth Jones, Columbus' lone representative in St. Louis. "The guys who have come up from (AHL) Cleveland - (forward) Nathan Gerbe, to be specific, and a couple of other guys - have done a good job giving us energy every night."
Also of note: Elvis Merzlikins has been a revelation between the pipes. The Latvian rookie has filled in admirably for an injured Joonas Korpisalo, posting a .926 save percentage in 21 games. And he's looked steady in the process.
"He's calm as can be," Jones said. "He lets in a goal and keeps moving on. Hasn't let in many as of late. Knock on wood."
There's a strong chance Columbus keeps rolling after the break. Eight of the club's 15 games in February are against non-playoff teams, including bottom-feeders like the Detroit Red Wings and New Jersey Devils.
Sleep well, Mr. Wilson
The San Jose Sharks dropped significant news Thursday when owner Hasso Plattner gave general manager Doug Wilson a vote of confidence in a press release announcing changes to the club's business operations department.
Wilson - the team's GM since 2003 - may have a sterling reputation and might not have been on the hot seat anyway, but for Plattner to come out and say he's "supportive of Doug's plan to get our team back on track" is huge. Don't underestimate the importance of job security for GMs of struggling clubs. Wilson can now approach the trade deadline with nothing but the long-term view in mind. Plus, you can bet he's getting more sleep over the break now.
Priority No. 1 when normal NHL life resumes: finding a way out of that cringeworthy goaltending situation. "Back on track" means stopping pucks.
Isles feeling loss of Pelech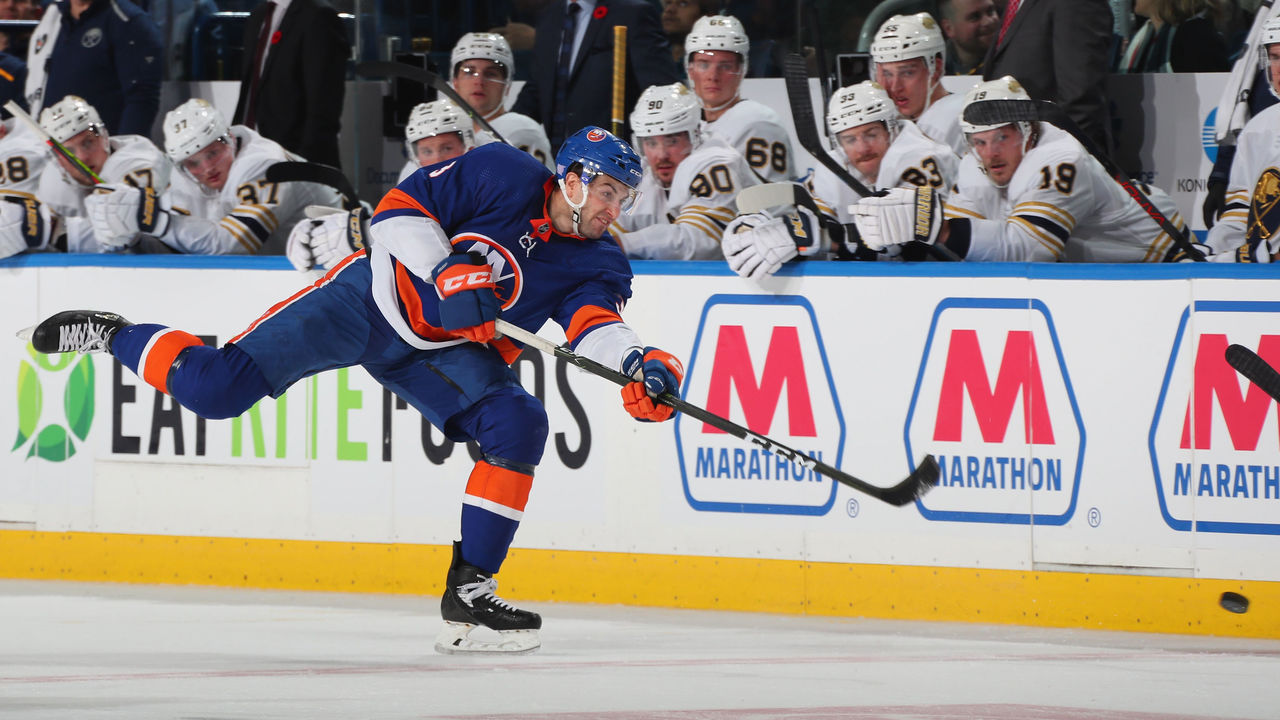 It can be difficult to pinpoint exactly how much one injury is affecting a team's results, yet it's obvious the New York Islanders miss Adam Pelech's presence.
Pelech, who was excelling on the Isles' top defensive pairing before being sidelined by an Achillies tendon injury, will remain out until at least the end of the regular season. In his absence, New York is 4-4-2. Not terrible, but not good. Either way, it underlines how crucial he is to Barry Trotz's program.
Hockey fans outside of Long Island wouldn't recognize Pelech if they passed him on the street. He's the definition of an effective modern-day meat-and-potatoes defenseman: tough to play against; master of the little details; rarely frazzled. If the NHL had an Unheralded All-Star team, he'd make it every year.
"He plays such a steady game. He's not flashy, but he does flashy things," Isles captain Anders Lee said a day after Pelech's injury became public. "He makes it look so easy that sometimes I think it flies a little under the radar."
Sniper settled in
Hands up if, prior to the start of the season, you had two seventh-rounders pegged as the rookie goal leaders by the break. Yeah, I didn't think so.
Dominik Kubalik, the 191st selection in the 2013 NHL Draft, has bagged 21 goals in 49 games for the Chicago Blackhawks while playing alongside Jonathan Toews for the bulk of the season. Five goals behind Kubalik is the Buffalo Sabres' Victor Olofsson, the 181st pick in the 2014 draft. He's had a spot on Jack Eichel's wing for the vast majority of his 42-game debut.
The speedy Kubalik has made a name for himself of late, potting 10 goals in nine January games. Fellow Blackhawks winger Alex DeBrincat labels Kubalik's shot as an "absolute bomb." It's quick and powerful.
"He's not scared to get in front of the net, too," DeBrincat said last week of Kubalik, a 24-year-old Czech who was originally drafted by the Los Angeles Kings. "I think that's how he's gotten a lot of his goals this year. Being right in front of the net, being ready to bang in the rebound. He knows where to be."
Cale Makar and Quinn Hughes - the lone rookie in St. Louis this weekend - were known commodities coming into the season. Kubalik, Olofsson, and the Pittsburgh Penguins' sixth-rounder John Marino - three fringe Calder Trophy contenders - have made sure to steal some of the spotlight.
Who ya got, guys?
The Professional Hockey Writers Association announced its midseason awards Wednesday. The most buzzworthy news: Connor McDavid, Nathan MacKinnon, and David Pastrnak were ranked first, second, and third in Hart Trophy voting, respectively.
On Thursday, I asked a handful of All-Stars to weigh in on the MVP discussion. Who's their pick at the unofficial halfway point of the campaign? The question garnered a mix of predictable and interesting responses.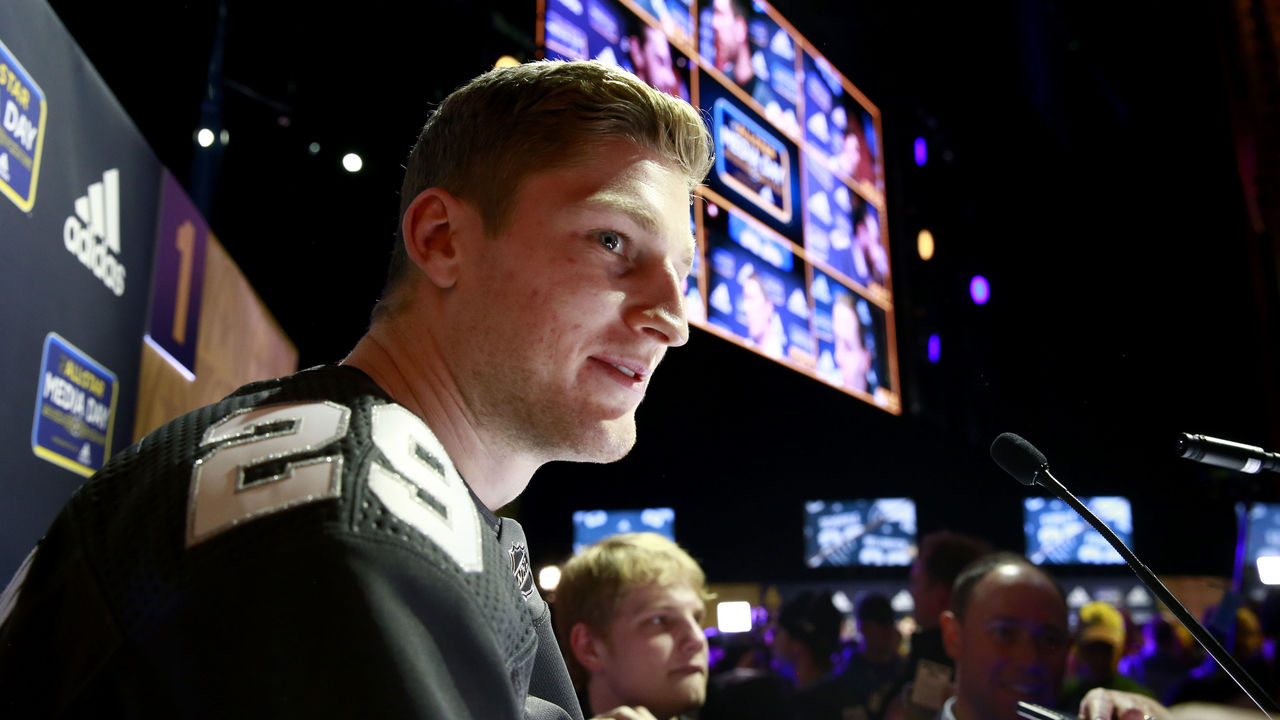 Victor Hedman: "The two guys in Edmonton (McDavid and Leon Draisaitl) are doing pretty good. What else? (Pastrnak) is having a great season. There's so many guys. It's tough to tell. Even John Carlson, with the season he's having so far, he's got to be up there. … I'd probably say one of the two in Edmonton."
David Rittich: "It's hard to say. Two names go through my head: MacKinnon and McDavid."
Mathew Barzal: "You can go with anyone. McDavid, obviously, is right up there. MacKinnon. I'd throw (Alex Ovechkin) up there, too. We play (the Washington Capitals) quite a bit. I get to see him every so often, and when he wants to turn it on, there's really no one that can stop him. I think those three guys are having really good seasons."
Nico Hischier: "I'd go with McDavid or MacKinnon. I think these guys are unbelievable. … It's not easy (to defend them). You don't want to give them much space. If so, they're going to make you pay for it."
Connor Hellebuyck: "That's tough. I'm glad I don't have to choose that right now. I think Nathan MacKinnon's been having a phenomenal year. Patrick Kane. Mark Scheifele's been phenomenal." (Hellebuyck said this with Scheifele, his teammate, within earshot. "Thanks, buddy," the forward said with a grin.)
Business as usual
Do you know who earned a few days away from the rink? Thomas Chabot.
Chabot leads the NHL in ice time at 26:27 a night. The 22-year-old defenseman has already broken the 30-minute barrier eight times this season - twice in October, four times in December, and twice in January. His career high is 37:50, which he set in a mid-December game against the Tampa Bay Lightning.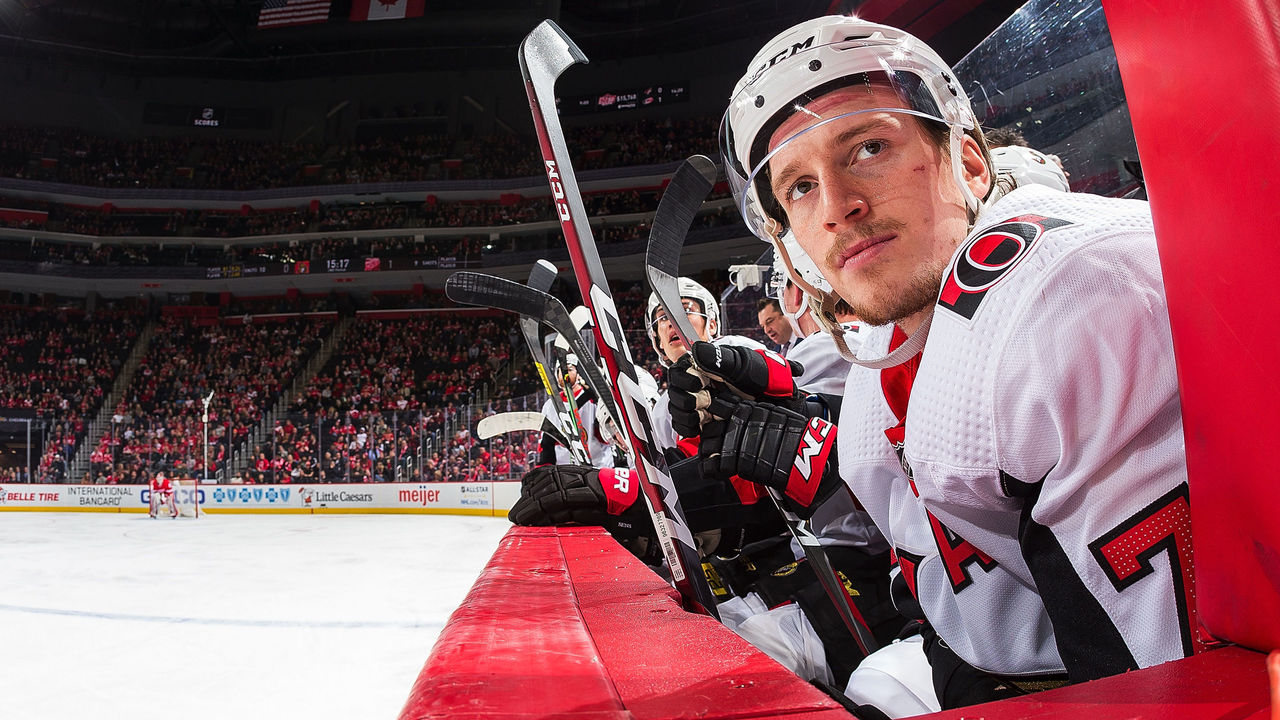 The crazy thing is, Chabot played 30 minutes a night in junior hockey fairly often. The most extreme case occurred in late 2016. With his Saint John Sea Dogs down to just five defensemen and a regular-season game against the Shawinigan Cataractes requiring overtime, it's believed he hit 40 minutes. (The QMJHL doesn't track time on ice, so nothing's official.)
"I have zero analytical data to back it up, but from memory, I thought he got better the more he played," Sea Dogs general manager Trevor Georgie said. "I think back to that (2017) World Junior Championship in Montreal. He was unbelievable. He was Canada's best player and he would barely sit down. When he got to the bench, he was out next."
So, what's the secret for the Ottawa Senators stud?
"His skating is effortless, and I don't want to say it's easy for him, but he gets around the ice without expending as much energy as most," Georgie said. "I think Chabot's smarts and skating allow him to play that much. He is very much in control and calm."
Red Wings in deep
One final thing: Holy crap, the Red Wings are terrible.
With a 12-35-4 record at the break, Detroit is flirting with infamy. The club's points percentage (.275) in Steve Yzerman's first season as GM is, so far, worse than some truly terrible squads - specifically the 2016-17 Colorado Avalanche (.293), the 2013-14 Buffalo Sabres (.317), and the 2014-15 Sabres (.329).
The Wings are allowing 3.88 goals per game, the salary cap era's highest rate. They're scoring 2.12 goals per game, the era's seventh-lowest rate. For context, there have been a total of 453 seasons played by NHL teams since the cap was introduced in 2005-06.
One glance at the Wings' roster and the All-Star teams - Tyler Bertuzzi is their representative - and you realize the free fall in Detroit isn't stopping anytime soon.
John Matisz is theScore's national hockey writer.