San Jose Sharks general manager Doug Wilson said he couldn't allow himself to repeat a mistake.
Five seasons ago, as his team struggled out of the gate, Wilson opted to keep head coach Todd McLellan employed through 82 games. The Sharks ultimately missed the playoffs. Wilson made it known he's learned a lesson, so he dismissed Pete DeBoer on Wednesday after a 15-16-2 start to the current campaign.
"Who knows what it's going to take, and where you're going to have to get to to make the playoffs, but we will never give up on this season," Wilson told reporters Thursday in San Jose, a few hours before the Sharks played the Rangers. "We know that if we play the right way, we feel ... that we can put ourselves in that position. How we perform will dictate what we do later in the year, but there is just something about our team (that's off)."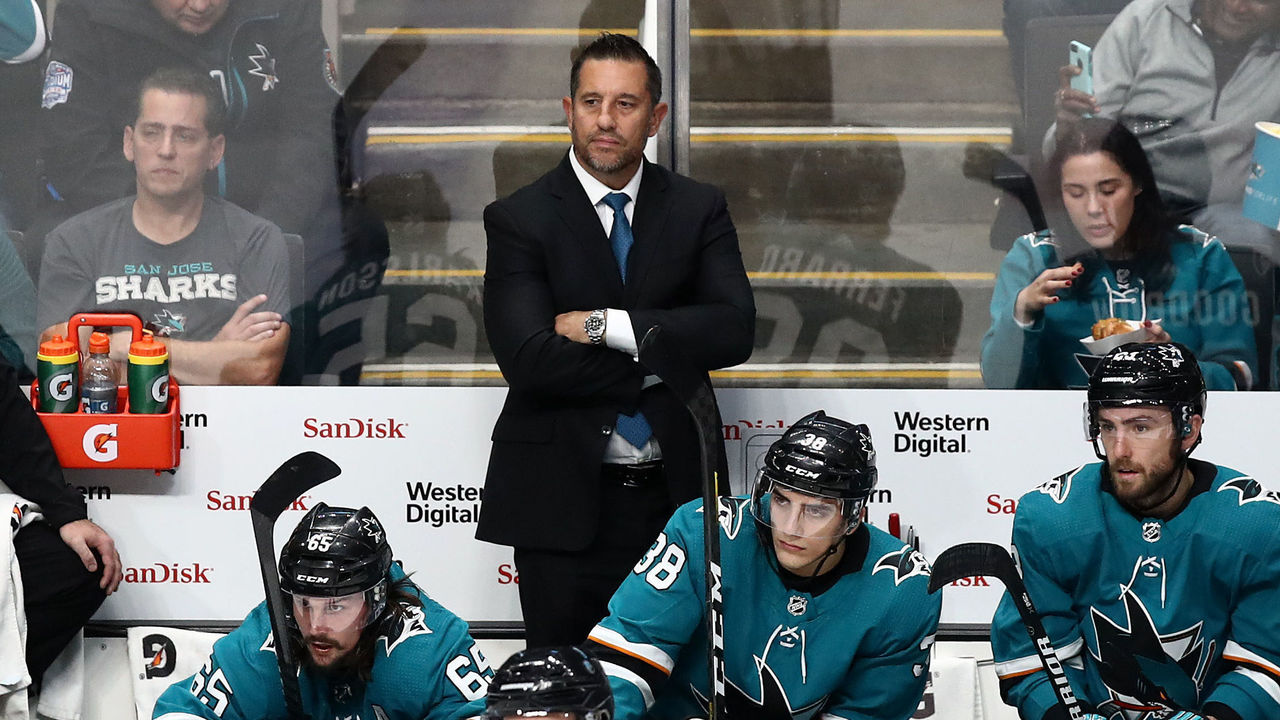 Wilson referred to this "off"-ness multiple times during his media availability, noting that the underachieving squad had developed an energy problem under DeBoer and should benefit from a new leading voice in the dressing room. Bob Boughner, in his first season as DeBoer's assistant, has taken over on an interim basis, inheriting a litany of problems and the league's seventh-worst points percentage one-third of the way into the schedule.
"I really do believe this team has more," said Boughner, the head coach of the Florida Panthers the last two seasons.
That's the crux of the coaching switcheroo: Does this veteran-laden, top-heavy team really have more to give, or is Wilson's first in-season coaching change during a 17-year stint as GM simply a shot in the dark?
Let's not forget the Sharks collected the sixth-most regular-season wins in the NHL during DeBoer's tenure, hitting the 45- or 46-win mark in the four previous seasons. They made the 2016 Stanley Cup Final and the 2019 conference finals. Despite failing to win it all, San Jose accomplished plenty. But the Sharks have already been trying to forestall the inevitable closure of their contention window for a couple of years. Based on the eye test and underlying numbers, they seem closer this season to an average team than an elite one.
"Have we played up to our expectations? No, we haven't," Wilson said. "Have we been inconsistent? Yes, we have."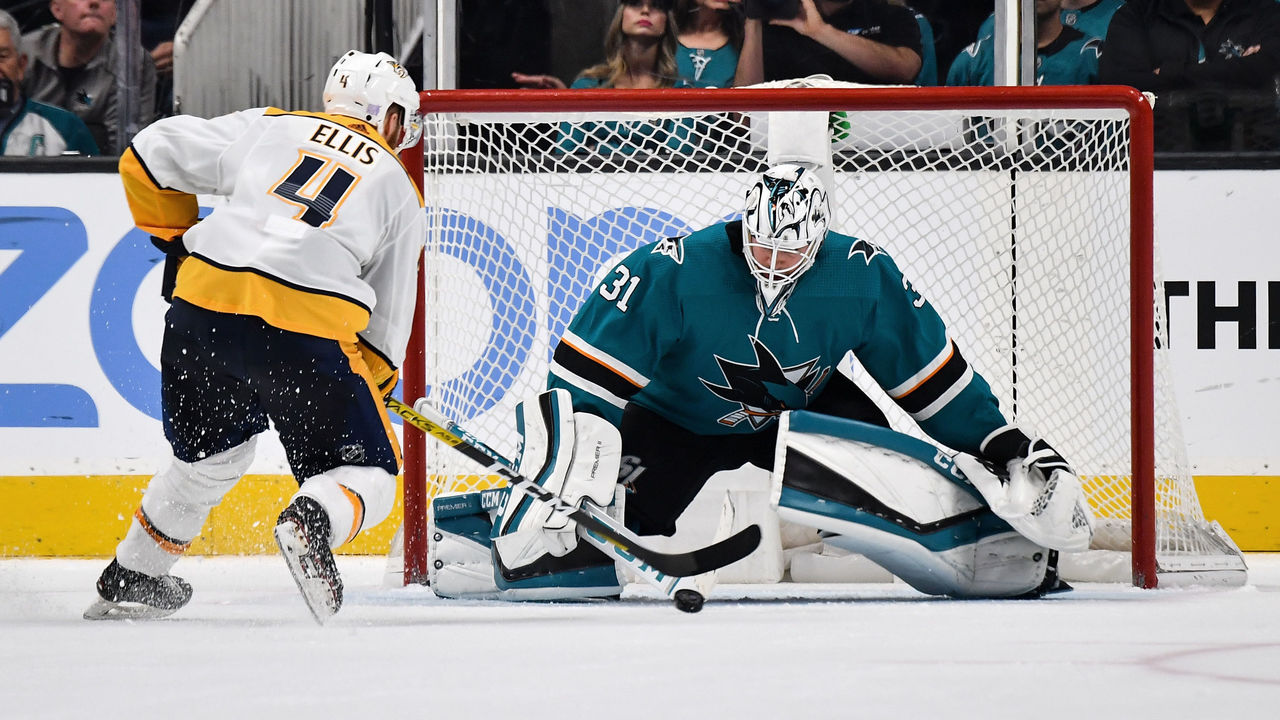 For starters, San Jose's goaltending has been atrocious. (The team has been horribly undisciplined, too, but luckily has the league's best penalty kill.) The Sharks also struggle to generate high-quality shots, leaving them 24th in goals scored (2.64 per game), and have trouble suppressing high-quality shots and goals against at five-on-five (2.67, 31st).
Here's a look at the even-strength numbers through 33 games:
| | Sharks | Rank |
| --- | --- | --- |
| Shot attempt % | 50.0 | 17th |
| Scoring chance % | 47.8 | 25th |
| Shooting % | 9.0 | 18th |
| Save % | .876 | 31st |
| Expected goal % | 47.7 | 26th |
(Source: Natural Stat Trick)
It's fair to suggest that unless Boughner can unlock something hidden beneath the surface, the era of franchise glory has probably ended. Captain Joe Pavelski, Gustav Nyquist, and Joonas Donskoi - three key contributors - left in the offseason. Successful Sharks teams have dined out on what Boughner calls "attack mode," and the current core may be too old to suddenly produce this brand of swarming offense.
Let's pretend that Wilson miraculously solves the goalie issue over the next year or so, and the Martin Jones/Aaron Dell duo is no longer a nightly liability. What then for this capped-out team? Not only is San Jose tied with Minnesota for the oldest roster in a young man's league, it has five players making at least $7 million a year for the foreseeable future. Evander Kane, Logan Couture, Erik Karlsson, Brent Burns, and Marc-Edouard Vlasic are still fine players in their own ways, but they're also aged 30, 28, 29, 34, and 32, respectively. Both Thornton and Patrick Marleau are 40 - way past their best-before dates.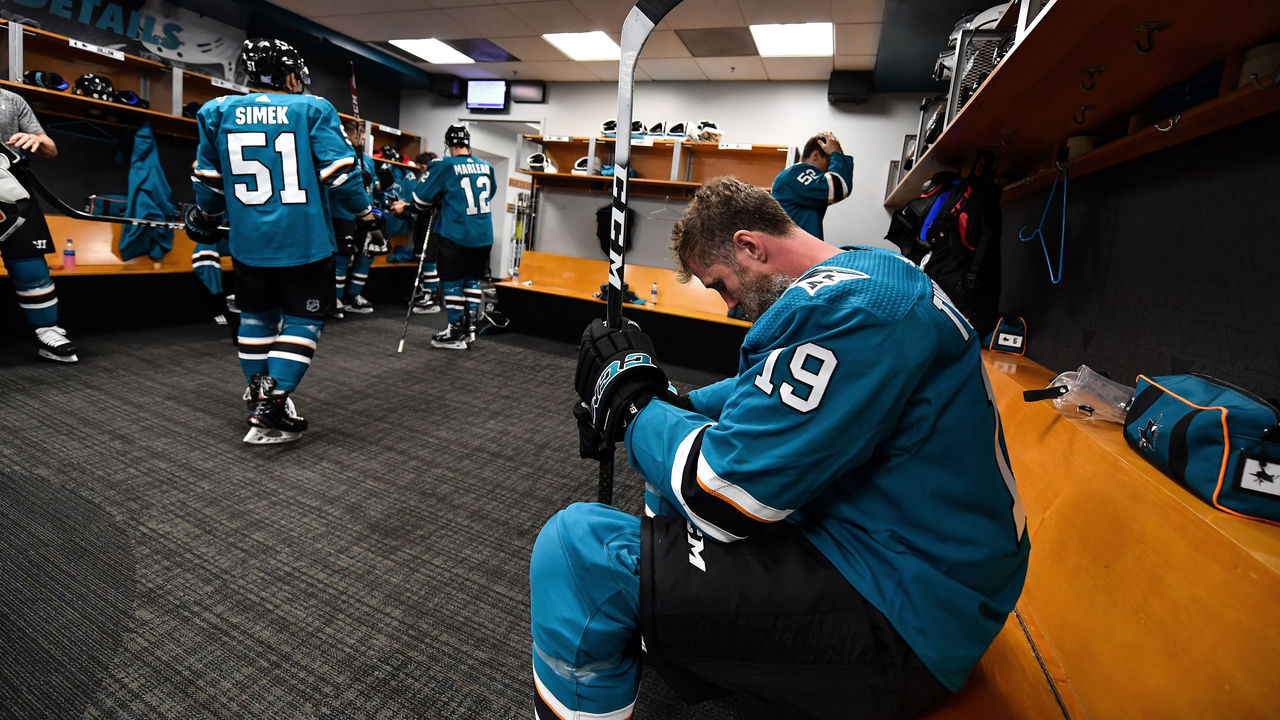 The Sharks' prospect pipeline isn't overflowing with blue-chippers, and the club doesn't own a first-round pick in the 2020 draft thanks to the Karlsson trade. A quick retool doesn't appear to be available. Even if Timo Meier and Tomas Hertl - 23 and 26, respectively, and oozing with talent - break through as dominant stars, which may still happen, it likely won't be enough to keep the Sharks in contention for division or conference titles in the near future.
Only one team wins the Cup each year. You can be a model franchise for decades, with an excellent culture and smart people in charge, and still lack a championship to show for it. Luck, timing, and other uncontrollable variables have a great effect on results. That's essentially what's happened with San Jose. Boughner will do what he can over the rest of the season, but it's up to Wilson to determine if this is the start of the end or the beginning of a resurgence.
At this point in the season and the core's collective career arc, the smart money is on this being the end of the road.
John Matisz is theScore's national hockey writer.