NHL Mock Draft: What happens after Hughes and Kakko go 1-2?
Hockey fans have been spoiled of late with seemingly deep drafts, but 2019 is a bit different. The strength of this class seems to lie mostly at the top, with a chunk of potential diamond-in-the-rough players in the middle.
Slots three through 15 could play out in any number of ways. Many overagers returning to the draft pool have made quite an impression and could skew things - Brett Leason of the Prince Albert Raiders chief among them.
Here's our first attempt at projecting what general managers and scouting staffs may do with this year's crop of players.
Editor's note: Draft order determined by NHL standings along with certain assumptions made by theScore regarding playoff results.
1. New Jersey Devils - Jack Hughes, C, USNTDP
It's difficult to imagine a world in which the Devils don't take American center Jack Hughes first overall. It's not impossible, of course (nothing is until the draft is done), but it's difficult. Everything about Hughes' game is designed for the modern NHL. He skates fast and thinks faster. He can make opponents look silly. If someone tells you he's too small or will get outmuscled by NHLers, remind them that the NTDP U18s play against college teams with some players as old as 24. Size won't be an issue for Hughes.
2. New York Rangers - Kaapo Kakko, RW, Liiga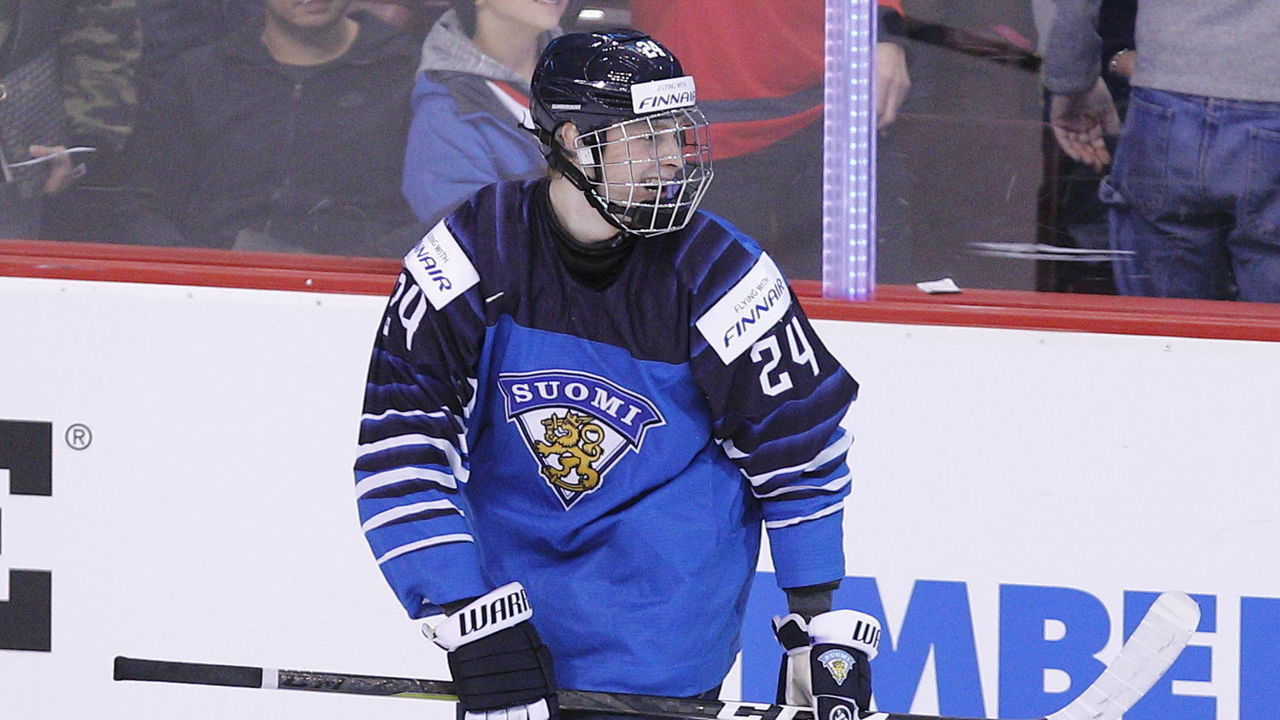 Kakko is more than a consolation prize for the Rangers. He's skilled to the point that some pundits argue he could potentially be selected first. While we're confident Hughes is going No. 1, there is a divide between Kakko and the next group of players in this year's class. He's strong on the puck and efficient away from it, and he uses his impressive puck skills and hockey sense to torment the opposition.
3. Chicago Blackhawks - Alex Turcotte, C, USNTDP
Top five is where I've wanted to rank Turcotte all season, and it's where I had him on our first couple Big Boards. Since our most recent Big Board, he returned from injury (though later missed a few more games due to a different one) and showed how consistently and truly good he can be. Turcotte's tenacity and hockey IQ may prove difficult to pass up for a Blackhawks team that is creeping ever closer to the end of the Jonathan Toews and Patrick Kane era. Bonus: If Turcotte manages to make the team while the two Chicago stalwarts are still playing, his style of play will slot in neatly alongside theirs.
4. Colorado Avalanche (via Ottawa) - Kirby Dach, C, WHL
The Avalanche may not be drafting first overall thanks to the Senators, but they still stand to walk away with a good player. Despite being 6-foot-4, Dach isn't unwieldy. He's not the best skater in the class, but it's a positive when a prospect that tall still has good agility and edge work. Dach pairs his size and skating with a high offensive ceiling, and he'll become a more consistent player as he develops.
5. Los Angeles Kings - Vasili Podkolzin, RW, MHL
There are enough high-end facets to Podkolzin's game to make him worth taking a chance on. His acceleration is above average, he's smart and tenacious with and without the puck, and he's got an excellent wrist shot. Don't let the bias against Russian players fool you - if Podkolzin's drafted by a team that's dedicated to his development, he projects to be a solid NHLer.
6. Detroit Red Wings - Cole Caufield, C/RW, USNTDP
Caufield is arguably the best goal-scorer in this draft class. A final tally of 72 goals in 64 games (1.12 per game) is difficult to debate, especially when you sit down and watch him score those goals - he's not just padding his stats by picking up passes from linemates (including projected No. 1 pick Hughes). Steve Yzerman is in charge in Detroit now, and we all know he's not afraid to take a chance on smaller skill guys. With the Red Wings in rebuild mode, there's very little downside to adding Caufield.
7. Buffalo Sabres - Bowen Byram, D, WHL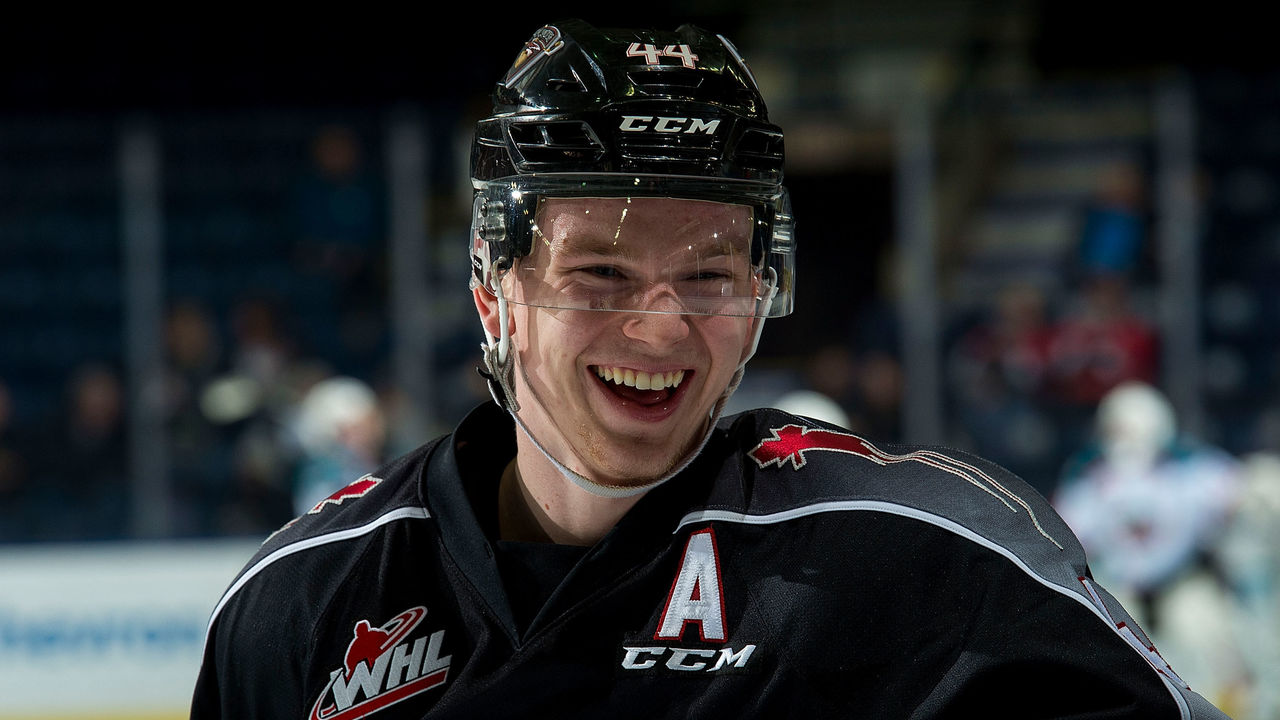 While this year's crop of defensemen isn't as strong as last year's, Byram is eye-catching. He's a fantastic skater with a fluid stride and very good top speed, and he's just as good skating backward. One of the best parts of his game is his vision - it lets him read the best options to get a pass to a teammate through traffic, or to find or create shooting lanes for himself.
8. Edmonton Oilers - Peyton Krebs, C, WHL
Krebs has passed Dylan Cozens on our list, and here's why: Despite playing on a dramatically bad team (the Kootenay Ice won 13 of 68 games this season), Krebs averaged more than a point per game, and over 70 percent of those were primary points. That's not easy to do, especially as a draft-eligible player. Underlying numbers, including but not limited to controlled entries, indicate Krebs drives play a bit more than Cozens. The Oilers are in a tough spot. Adding more young guys who can drive offense and, in Krebs' case, who aren't afraid to get involved physically can only be a good thing.
9. Anaheim Ducks - Trevor Zegras, C/W, USNTDP
After a bleak season, adding Zegras to the standouts already in their prospect pool could offer a light at the end of the tunnel for the Ducks. Zegras marries stellar hockey sense, which allows him to anticipate the flow of the game and create plays, with high-end acceleration and puck skills. He's also effective in his own zone, using that hockey sense to limit opponents' opportunities. He's headed to Boston University in the fall where he'll have the opportunity to add strength while continuing his development.
10. Vancouver Canucks - Dylan Cozens, C/RW, WHL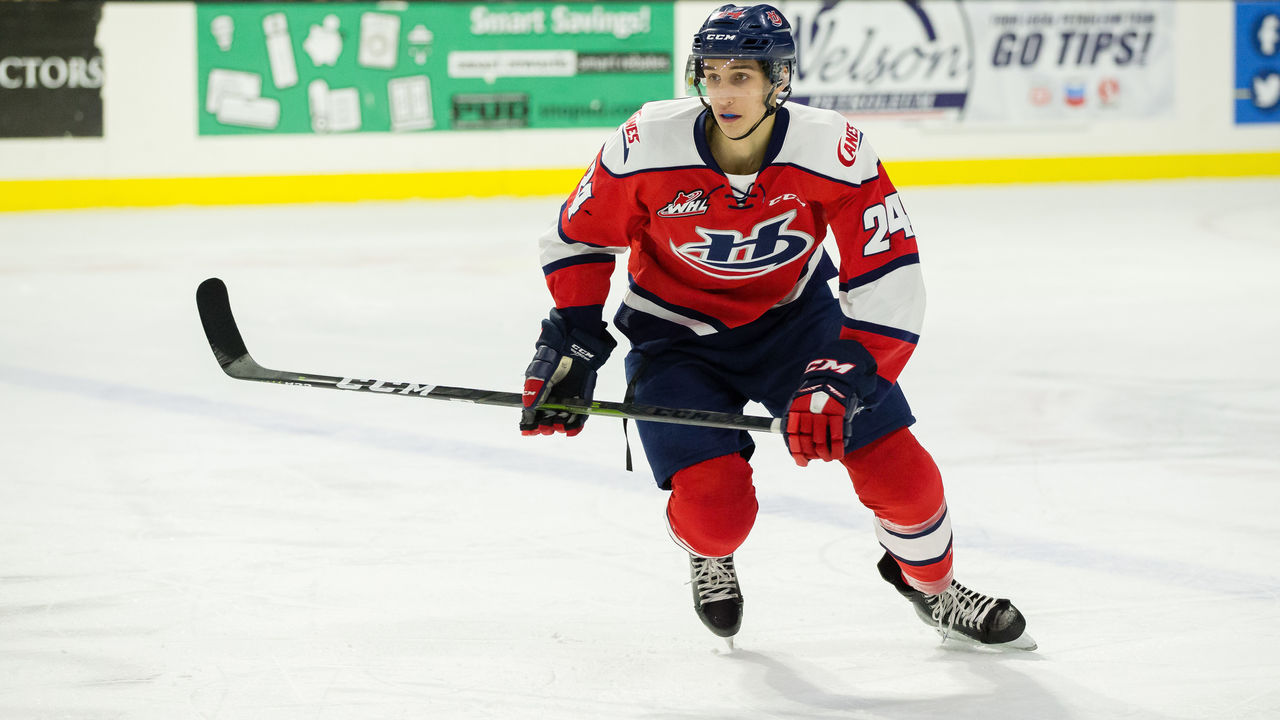 Canucks fans were likely hoping for that top lottery slot so that the Hughes brothers could be reunited, but Vancouver can still add a solid player at No. 10. Cozens is a very good prospect, despite the fact Krebs and Dach passed him in our mock. He comes with a high offensive ceiling and terrific goal-scoring ability. Any concerns about his ability to drive play can be addressed in his development. He reads his options on the ice fairly well, and while he can sometimes skate into trouble, his skating itself (including his first step and top speed) is high end.
11. Philadelphia Flyers - Matthew Boldy, LW, USNTDP
The last NTDP left winger the Flyers took has worked out OK so far, eh? While Boldy is a completely different player than Joel Farabee - not quite as relentless on the forecheck, for example, and perhaps more creative as a playmaker - there's a lot to like about the kid. He'd probably be a valid choice inside the top 10 as well as just outside it. He's got an NHL-level release, and he can set up his teammates as well as he can score himself. His vision allows him to read the play and know when to strike or when to hesitate. His defensive play noticeably improved over the course of the season, too.
12. Minnesota Wild - Alex Newhook, C, BCHL
Newhook is another player who could go just about anywhere in that No. 7-15 range, and he's likely underrated by some due to playing in the BCHL. His 102 points in 53 games this season stand out, but it's not just the numbers that make him a legitimate top prospect. He's fast and agile, and his high-end hockey sense allows him to make the right decision at top speed.
13. Florida Panthers - Philip Broberg, D, Allsvenskan
Broberg is down from his spot on our most recent board, but that has more to do with what the players ahead of him accomplished than his own performance. He looked good at the recent U18 worlds and impressed in the Swedish second-tier men's league this season. Hallmarks of Broberg's game include exceptional positioning, fluid skating, and elite hockey sense that allows him to see where the game is and where it could go. He can play in all situations, and while he could stand to improve his shooting accuracy, he has good offensive instincts.
14. Arizona Coyotes - Pavel Dorofeyev, LW/RW, MHL
Though Dorofeyev struggled to translate his scoring touch in the MHL to higher levels, he saw action in both the KHL and the Spengler Cup this season - valuable experience for a crafty young forward who shows lots of promise. He doesn't just drive play offensively; he's also active and perceptive in his own end. However, he needs to become a more explosive skater to grow into the dynamo he could be thanks to his creative puck skills and excellent vision. His top speed is good, not great, and he needs a better first step. Fortunately, those capabilities can be developed.
15. Montreal Canadiens - Arthur Kaliyev, LW, OHL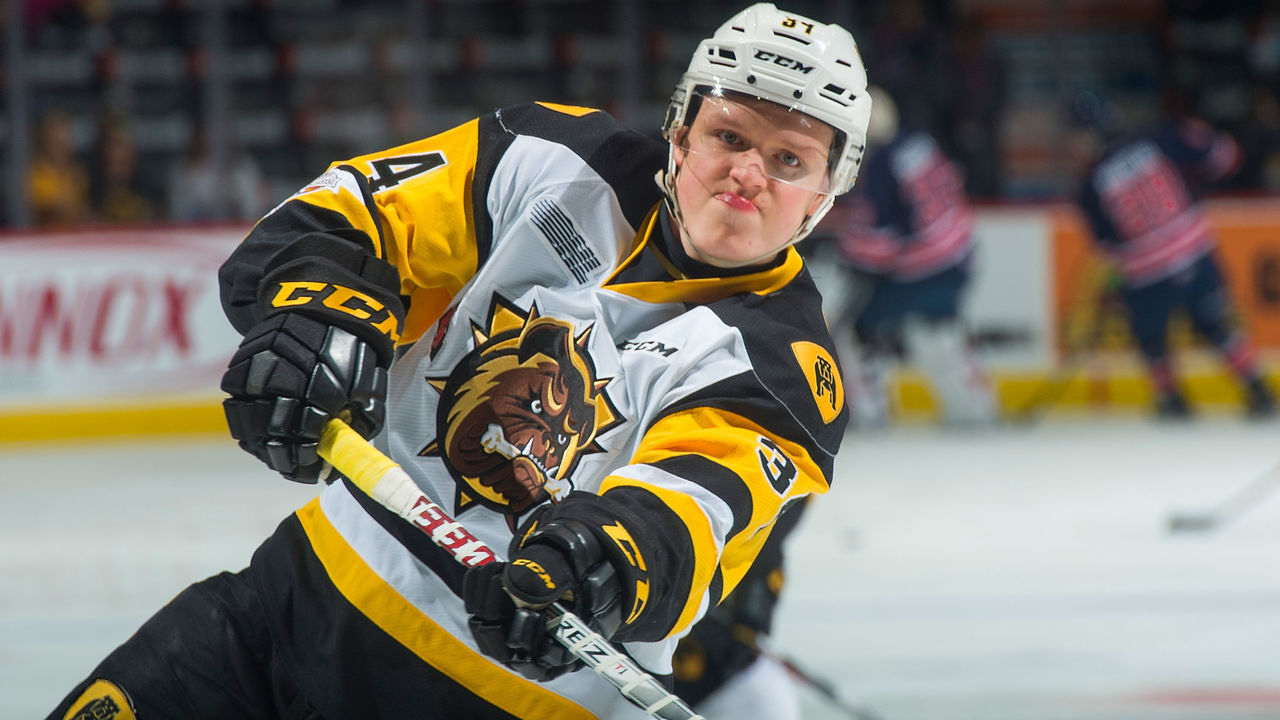 Kaliyev is right behind Caufield as the class' best scorer, with 51 goals in 67 games this season. He's got a terrific shot arsenal, and his puck skills make him difficult to defend. He needs to be better in his own end, but that comes with time, and his goal-scoring talent is elite enough to make him worth the risk. One thing he absolutely needs to improve, however, is his skating - specifically, his first step and top speed. If he does, he'll be a far more well-rounded prospect and will absolutely benefit the Canadiens.
16. Avalanche - Philip Tomasino, C, OHL
Tomasino has experience playing down the middle and on the wing, and he's sharpened the defensive aspect of his game enough that, with his hockey sense and skating ability (he's got terrific speed and edge work), he could very well succeed as a center at the next level. In order to do that, he'll need to improve both his positioning and upper-body strength, but his work ethic is strong enough that that's not as concerning as it might be for other prospects.
17. Vegas Golden Knights - Cam York, D, USNTDP
York is a solid, complete two-way defender. His hockey sense is high end, lending itself to smart decision-making under pressure and excellent passing ability, though he could stand to get his own shot on net more consistently. (That area of his game looked more promising at the U18 worlds, where he scored four goals in seven games.) One particularly useful aspect of his skating is his agility, which allows him to pivot and change direction at the drop of a hat. His top speed may not be great, but his quick reaction time helps him get off on the right foot, so to speak.
18. Dallas Stars - Bobby Brink, RW, USHL
Brink seems to make things happen every time he's on the ice. He's an explosive and agile skater who can make high-quality plays at his top speed. Brink is also good in his own end, anticipating the moves of opponents and using that knowledge to position himself to force turnovers. He's committed to the University of Denver, where he'll have the opportunity to round out his game against college competition.
19. Ottawa Senators (via Columbus) - Matthew Robertson, D, WHL
At 6-foot-4, Robertson is surprisingly mobile, with above-average speed in both directions. He's smart, maintains good gap control, and knows when to jump up into the play (and, more importantly, when not to). He can start the rush and make sneaky-good passes to his teammates, using his agility to create shooting lanes. While he may never put up high-end offensive numbers himself, it wouldn't be surprising to see Robertson help drive play.
20. Carolina Hurricanes - Ryan Suzuki, C, OHL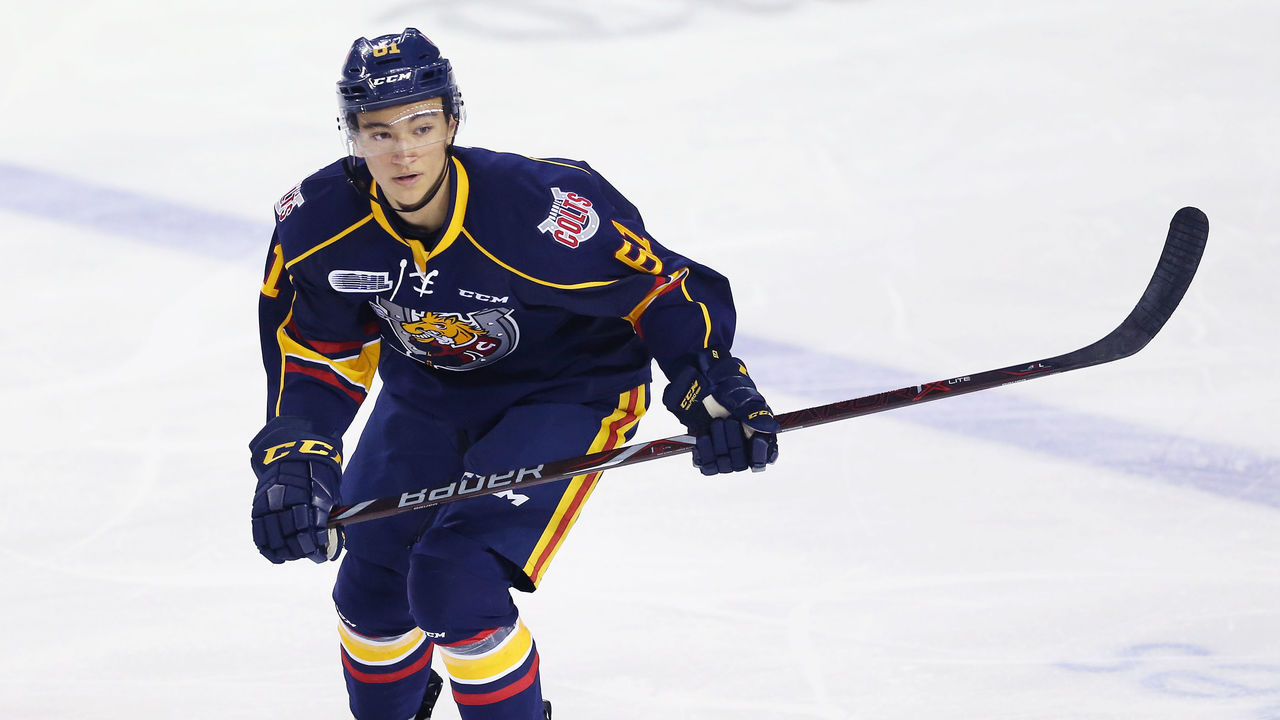 Suzuki is incredibly gifted offensively. The younger brother of Canadiens prospect Nick Suzuki, Ryan has terrific hands and is flashier with the puck than Nick. He also goes in hard on the forecheck, using his instincts to force turnovers that he can sometimes turn into opportunities the other way. He's got a burning top speed, thinks the game at a very high level, and is just plain fun to watch. He'd be a fine addition to the Hurricanes' group of young forwards, though he'll probably spend another year in the OHL first.
21. Rangers (via Winnipeg) - Victor Soderstrom, D, SHL
The Rangers got the forward their rebuild needed in Kakko. Now it's time to nab a defenseman. Soderstrom played in the top Swedish league this season, and his seven points were the most for any U18 player who appeared in the league this year. His elite skating allows him to pivot quickly and transition from offense to defense - crucial in today's NHL. His vision and puck skills are also high end.
22. Pittsburgh Penguins - Connor McMichael, C, OHL
Connor McWho? He's no McDavid, but Connor McMichael is a valuable prospect, and with more opportunity this season came more production. Last year, McMichael had six points in 28 games. This year, he put up 72 points in 67 games - and 63 of those were primary points. His production is driven by excellent hockey sense and puck skills, and he's strong in his own zone as well. It's time for Pittsburgh to stop trading away first-round picks and start restocking the cupboards, and a smart player like McMichael would be a great place to start.
23. Kings (via Toronto) - Ville Heinola, D, Liiga
Another draft-eligible defenseman who spent the season in a top European men's league, Heinola also won gold with Finland at the 2019 world juniors. A strong and agile skater, he could stand to improve his first step and get a bit quicker. Still, his mobility, combined with the vision to effectively start the transition game and create opportunities for his teammates, would make selecting him a step in the right direction for L.A.
24. Nashville Predators - Raphael Lavoie, C/RW, QMJHL
Lavoie has shown consistent offensive improvement over his three years with the Halifax Mooseheads, who seem to continually churn out NHL-caliber forwards. He's another prospect with NHL size, already standing 6-foot-4, and he's quite agile and fast considering. One of the highlights of his game is his quick release, but he's also got the vision to be an effective playmaker.
25. Washington Capitals - Egor Afanasyev, C, USHL
As Muskegon's top-line center, Afanasyev made a strong case for himself to be a first-round pick this year. He's got excellent hands, and his offensive production leaped from 14 points in 45 games last season to 62 in 58. More importantly, he has elite skating ability, with good edge work that allows him to be elusive and a smooth, fluid stride. While he could improve his decision-making in his own end, the rest of his game is appealing enough to take a chance on.
26. Calgary Flames - Samuel Poulin, LW, QMJHL
Poulin is another player with impressive primary point production: 62 of his 76 points came from either goals or primary assists. He's a power-forward type, with the size that more traditional scouts like to see combined with a killer shot, passionate work ethic, and good puck-protection skills. He needs to work on his first step to improve his quickness and be more explosive in his skating.
27. Tampa Bay Lightning - Moritz Seider, D, DEL
Keep an eye on Seider, who's been ranked anywhere from 11th to 27th this year. The German defenseman played in the top German men's league this season and helped his teammates win D1A world juniors gold. Seider is a great skater with good vision and strong shots. He sometimes gets out of position in his own end while looking for a hit, but that part of his game can be coached and developed.
28. New York Islanders - Jakob Pelletier, LW, QMJHL
At 5-foot-9 and 160 pounds, Pelletier is small by hockey standards, but in a draft with Cole Caufield, no one should care about that. Pelletier is an excellent skater (particularly when it comes to his first step and acceleration), and his hockey IQ allows him to read his options and make the best play for the situation, setting up his teammates for quality opportunities. His defensive positioning could use work, but he's got time.
29. Ducks (via St. Louis) - Brett Leason, C, WHL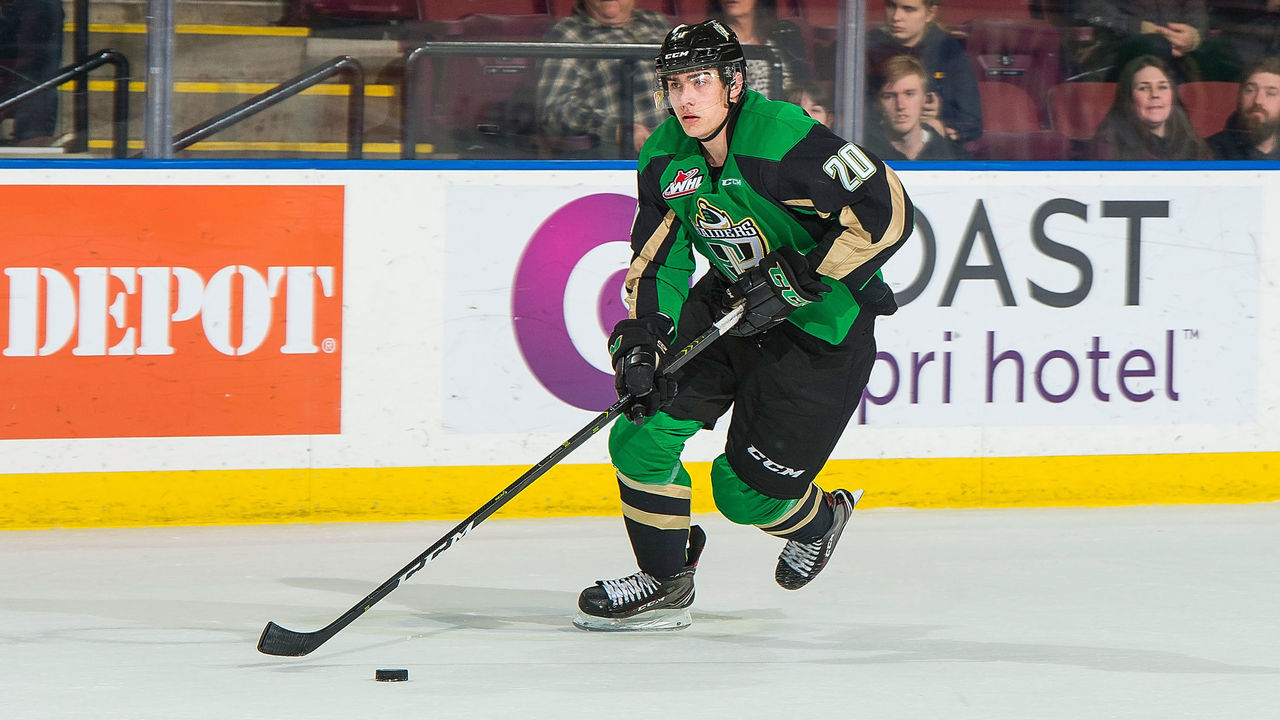 Leason will be 20 years old by the time of the draft - which would make it very unusual for him to be chosen in the first round - but he's consistently been ranked either inside or just barely outside the first round for good reason. He can score effectively thanks to his quick release, he's got quality vision that allows him to set up teammates, and he's dramatically improved his skating over the last season or so. Plus, scuttlebutt suggests that scouts just really like the guy. Realistically, Leason will probably fall to the second round, but the Ducks are in a position to take a chance with their second first-round pick.
30. Buffalo Sabres (via San Jose) - Albin Grewe, RW, SuperElit
Grewe is another prospect more likely to go in the second round than the first, but with the Sabres' second pick, they're playing with house money. Grewe's been a power-forward type in the SuperElit, with good vision and slick puck skills. His energy is relentless, and he's one of the hardest-working guys whenever he's on the ice. If he can translate his offensive production to a higher league, he'll be a solid addition to Buffalo's top six down the road.
31. Boston Bruins - Robert Mastrosimone, C, USHL
Mastrosimone is perhaps a slight reach at No. 31, but at this point in the first round, there's too much to like about his game, starting with the fact that 51 of his 60 regular-season points were primary. He's a goal-scorer for sure, and his skating improved over the season (though it could still stand to get better). Bonus: He'll be right in the Bruins' backyard at Boston University next season, where he'll have plenty of opportunities to keep developing his game away from the puck.