Raving about Rasmus: Dahlin's impact already extends past the obvious
BUFFALO - Turning around to face a reporter after sliding his helmet onto the top shelf of his KeyBank Center stall, it took Jack Eichel milliseconds to reply to a question about Rasmus Dahlin's adjustment to the NHL.
"I think he's been pretty good," the Sabres captain and No. 1 center told theScore. "You watch our games? He's been pretty good, eh?"
While it was a run-of-the-mill quote, Eichel's body language said something different. A straight face and suggestive eyes accompanied the second "pretty good," as if Eichel was downplaying Dahlin in an effort to keep the rookie's rising stock under wraps a tad longer.
It was the look a person gives when they know something and you don't.
"He's been as advertised. He's been tremendous," Eichel said following some prodding. "If he's not one of the best defensemen in the NHL in a few years, I'd be extremely surprised."
In selecting Dahlin with the No. 1 pick this past June, the Sabres - who have been entrenched in Rebuild 2.0 ever since Jason Botterill took over for Tim Murray as general manager a year and a half ago - landed the perfect piece to complement Eichel. Armed with an 18-year-old future franchise defenseman and a 22-year-old star center, second-year bench boss Phil Housley now has premier building blocks at two key positions.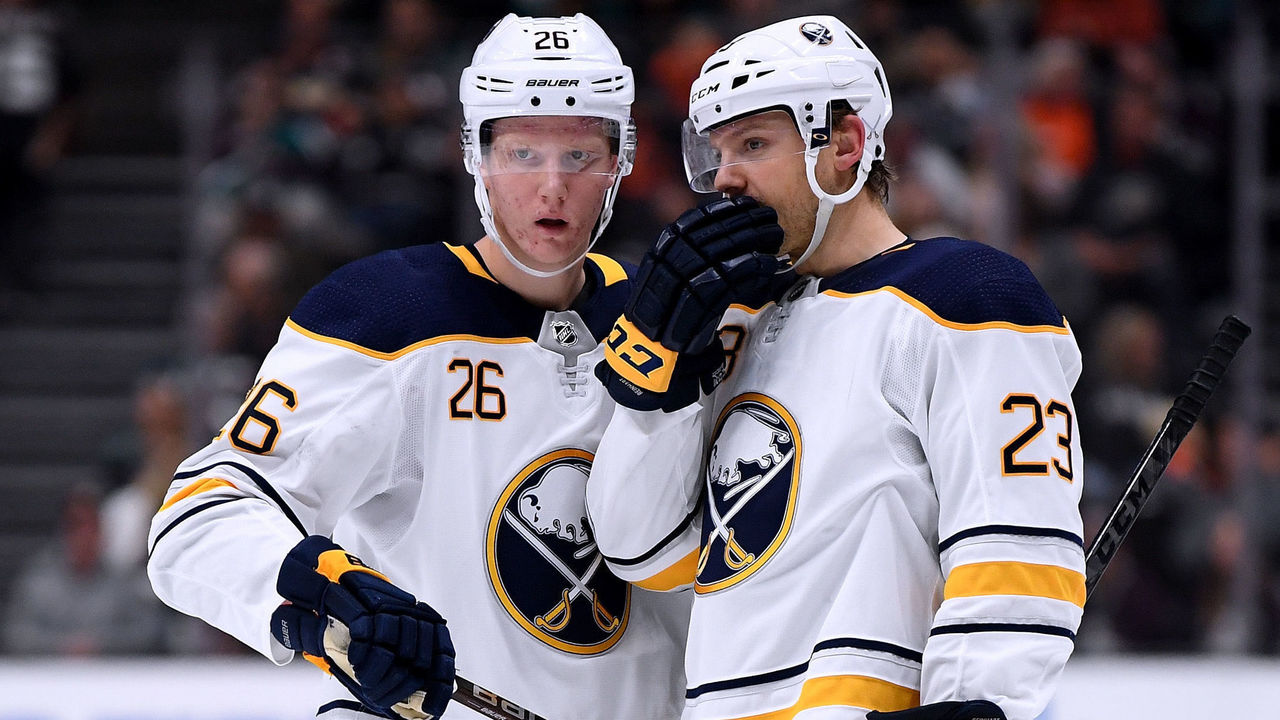 The early returns are promising, too. The Sabres recorded at least one point in eight of their 12 games in October, and Dahlin whistled past the nine-game rookie audition period. Appearing in every contest and earning 19 minutes per outing, he's been showcasing a diverse toolbox headlined by breezy skating.
"Effortless. Floating. At the same time, so fast, so powerful," veteran winger Jason Pominville said of Dahlin's trademark skill. "It doesn't seem like he's really breaking a sweat when he gets moving out there. It's fun to watch, but sometimes it's frustrating as players. You're like, 'How does he do that!?' He just blows by guys."
Pominville and the rest of the hockey world were acutely aware of Dahlin's tantalizing abilities long before the 2018-19 season began. Since opening night, the team has transitioned from drooling over his offensive wizardry to being enthralled by the nuanced contributions Dahlin brings. Yes, he's far from a finished product, but the big Swedish blue-liner, who's recorded a goal and three assists, is on his way to mastering the small things.
"Maybe in the first five games he was a little hesitant, didn't want to mess up, didn't want to turn the puck over," defenseman Jake McCabe said prior to a game against the Canadiens on Oct. 25. "But, with how much skill and talent he has, you can tell he's starting to go back to his instincts and let those take over. These next 10-to-20 games, he's really going to take off."
As for those subtleties - the plays you might not notice unless you're really glued into the action - well, for starters, Dahlin has flashed some impressive dexterity when handling the puck. He tends to shift his weight from one leg to the other and enjoys mixing in a head shake or two.
Below, focus on No. 26 in white, the guy holding the line at the bottom right of the screen. He's in constant motion, even while not skating forward:
Known for always playing with his head up and banking 80 Swedish Hockey League games before coming to North America, Dahlin says the shimmy-shake has been part of his arsenal for a while now.
"It's an old thing. It's helpful," said the modest, soft-spoken teen who spent part of his minor hockey career playing forward.
Center Casey Mittelstadt doesn't care if it's second nature to Dahlin, he's still impressed.
"It looks small, but it sends most guys in an absolute twirl," he said.
Similar to how young snipers Auston Matthews, Patrik Laine, and fellow rookie Elias Pettersson are finding new ways to score by firing the puck from different release points and angles, Dahlin is also incorporating an element of unpredictability to his game.
While less boisterous than, say, a quick-twitch snap shot from Matthews, those Dahlin fakes - which seem to emerge mostly when he's quarterbacking the first power-play unit - serve a similar purpose.
"Deception is one of his best assets - getting a forward leaning the wrong way and going around him, or making no-look passes on the tape, or getting pucks through guys' sticks," McCabe said, later praising the rookie's hockey sense.
"It's also a mental thing," added fellow defenseman Casey Nelson, stopping to snap his fingers. "He just comes on very quick to things, just gets it, you know what I mean? He's a very smart hockey player."
Dahlin's elite hockey brain has given Housley and assistant Steve Smith - who runs the defense - lineup flexibility. It's extremely rare for a defenseman his age to play regular minutes in the NHL, as entering the season Aaron Ekblad, Jakob Chychrun and Dahlin's teammate, Zach Bogosian, stood as the only 18-year-old rookie blue-liners to dress in more than seven NHL games during the salary-cap era. Even better, Dahlin can also be moved up and down the depth chart and not miss a beat.
| D PARTNER | TOI WITH DAHLIN |
| --- | --- |
| Jake McCabe | 84:18 |
| Casey Nelson | 51:25 |
| Rasmus Ristolainen | 19:42 |
| Zach Bogosian | 10:52 |
| Nathan Beaulieu | 10:18 |
| Marco Scandella | 3:25 |
Some might suggest the absence of a consistent partner reflects poorly on Dahlin, perhaps hinting he's difficult to play with. Housley and Smith would disagree.
Dahlin's seven-game stint with McCabe, for instance, illustrated the youngster's adaptability.
"Quite frankly, we asked Jake to go to the right side and Dahlin to go on the left," Smith said of the now-injured McCabe, who, like Dahlin, shoots left. "We found Jake was struggling a little bit on the right side, so we put him back on the left side and his game took off. It didn't matter where Dahlin was; he was playing just as well on both sides of the ice."
"I actually like the right side a lot," Dahlin said, eliciting images of Red Wings great Nicklas Lidstrom. "I can play both, so it doesn't matter."
The Sabres' defense has been struggling for years, finishing 29th, 21st, 15th, 29th, 25th, and 23rd in goals against since the 2012-13 lockout. In shots against, they've ranked 21st, 30th, 22nd, 30th, 28th, and 30th. Though part of the problem can be traced back to poor goaltending, the core issue has been defensive personnel.
Enter Dahlin, a spunky three-zone player from Trollhattan who genuinely cares about defending. Suddenly, Buffalo's defense has a second player worthy of top-pairing minutes. Over time, Rasmus Ristolainen, who's been tasked with carrying the group for the past few years, should be able to breathe a little easier.
Dahlin, who has a 52.2% Corsi rating heading into Thursday night's game against the Senators, asserted himself physically during his debut NHL shift, engaging with Bruins power forward Jake DeBrusk before he could hit the hash marks.
There's a difference between making a big hit for the sake of making a big hit, and making a big hit when the situation calls for physical force. Dahlin often opts for swiping at pucks with his stick while gaining a positional advantage through his efficient lateral movements.
"He's a guy who is reliable defensively because of his skating, because of how good his stick is," Pominville said. "He can get away with (riskier pinches) because of that - even if he gets caught, he can still get back."
Added Smith: "When we first drafted him here, everybody - of course - had an opinion. And I remember listening to a guy who I do respect an awful lot in the game, (NHL Hall of Famer) Denis Potvin. 'Teach this kid defense first, the offense will come.' The crazy part is, this kid is so sound defensively that we're almost pushing him in the other direction."
Here, Dahlin beats the Calgary forward to a loose puck along the boards and immediately hits teammate Tage Thompson with a clean backhand chip pass:
No edginess was needed, and the crisis was averted through subtle movement.
That combination of heads-up defense, quick decision making, and next-level skating makes Dahlin dangerous to the opposition. Excellent at anticipating what may happen a second or two down the line, the 6-foot-3, 190-pounder selectively activates, cruising through the neutral zone and into the far end of the rink to support Sabres rushes.
"When the situation comes up," Dahlin said, "I will try to do something. But (I try to) not force it."
That part of his game proved vital when Dahlin scored his lone NHL goal, a tap-in against Arizona. He weaved his way to the red line before dishing to crafty puck-carrier Jeff Skinner. Following Skinner's drive to the net, Dahlin buries the rebound amid a group of defenders.
Twelve games in, Dahlin is a work in progress. There are shifts when he looks precisely 18 years old (maybe that's why he wasn't named a finalist for Rookie of the Month in October?), and there's a chance he'll hit the dreaded rookie wall at some point, considering he's never completed an 82-game season.
Then again, no matter what transpires between the boards, whether it's during practice or a game, Dahlin wants to learn more. That aspect of his personality blows away Smith, who was an NHL defenseman himself from 1985 to 2001, and said the young D-man is showing a "thirst for knowledge."
"I find that his maturity is overwhelming for such a young player," he said, later adding, "It's after every shift. He's not adverse to turning around and saying, 'Hey, was I OK there? Should I have been there?' Sometimes I'm initiating, sometimes he's initiating."
A projected superstar with a willingness to learn after every shift? What a start.
"I think it's sorta scary to think about how good he's going to be in the future," Skinner said.
"We're super lucky to have him," Eichel said, this time cracking the slightest smile.
John Matisz is theScore's National Hockey Writer. You can find him on Twitter @matiszjohn.
Comments
✕
Raving about Rasmus: Dahlin's impact already extends past the obvious
  Got something to say? Leave a comment below!