If there were any doubt, there isn't anymore: Sidney Crosby is one of the top five NHLers of all time. Sorry, haters.
All grown up now with three Stanley Cups and two Conn Smythe Trophies to his name, No. 87 cemented his legacy as one of hockey's all-time greats Sunday night. You can fight it, but much like facing the Pittsburgh Penguins, you'll lose.
He's not even 30
It's been a rather remarkable 18 months for Sid:
Add another Stanley Cup and another Conn Smythe to the ledger. And all this a couple of months before "the kid" turns 30 on Aug. 7.
It's also crucial to remember that Crosby played only 99 of 212 regular-season games between 2010 and 2013 - his age 23-to-25 seasons, his prime! - and arguably remains one major headshot away from potentially having to consider retiring due to his concussion history.
When you take the long view, and the team view, things get even more impressive. Here's what the Penguins accomplished over the last 10 years:
| Penguins | Number | Rank |
| --- | --- | --- |
| Stanley Cups | 3 | T-1 |
| Stanley Cup Finals | 4 | 1 |
| Conference Finals | 5 | T-1 |
| Playoff Wins | 90 | 1 |
| Playoff GP | 152 | 1 |
| Regular-Season Wins | 467 | 1 |
Dominance. Dynasty. Plain and simple. And it's been done in the salary cap era, when goals have been practically impossible to score, when coaching and defense has never been better, and when goalies have mastered their position. With all due respect to the Chicago Blackhawks, what Crosby and his Penguins have accomplished is downright incredible, especially when you consider the defense corps they just won the Cup with.
Legacy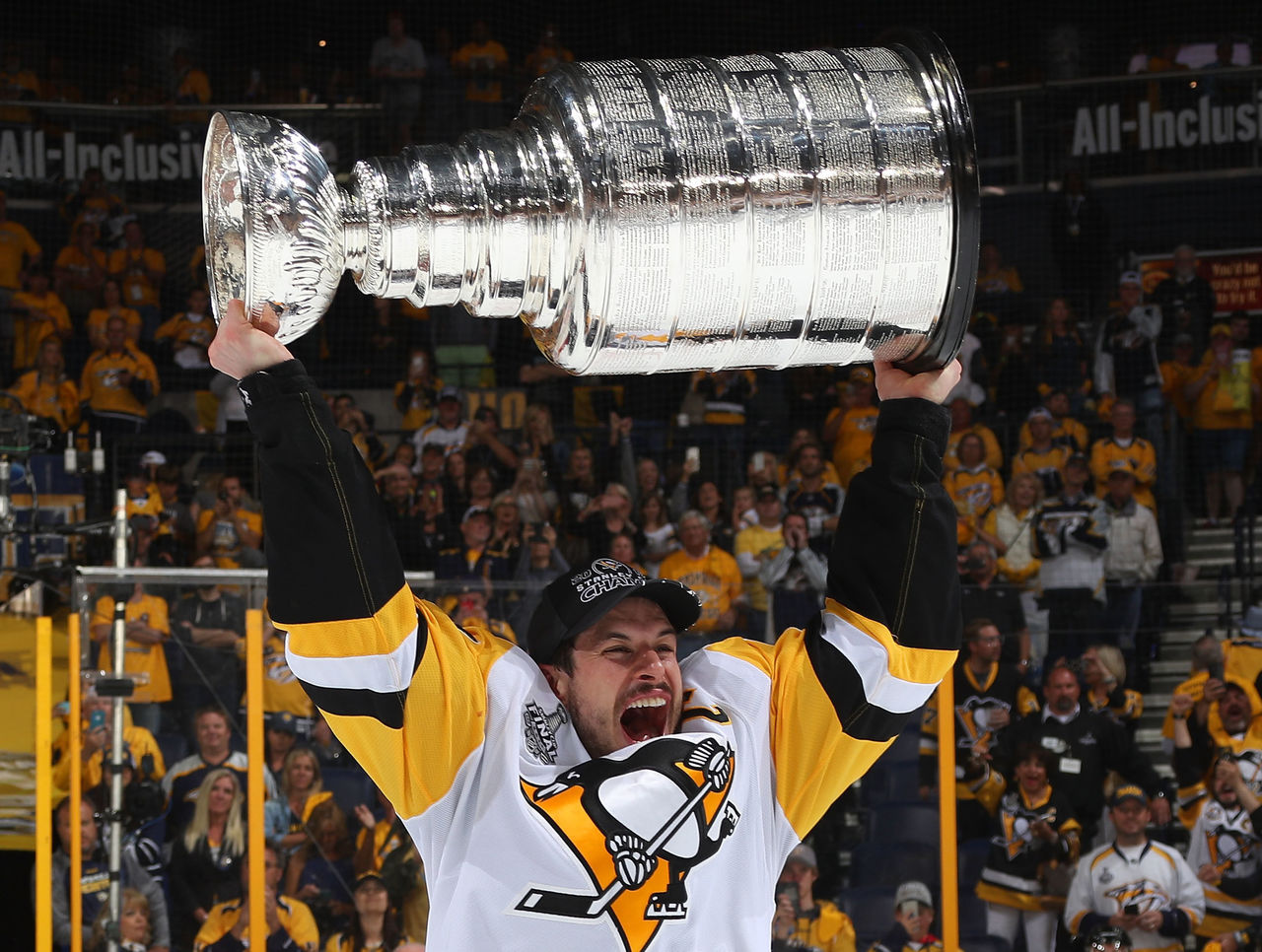 (Photo courtesy: Getty Images)
Crosby's a slam-dunk, first-ballot Hall of Famer. Even if he retired tomorrow. He's only the sixth player in NHL history to win two Conn Smythes, and only the third player to be named MVP of the playoffs in back-to-back seasons. The last player to do it? Penguins owner, Mario Lemieux, in 1991 and 1992.
Speaking of Lemieux, Crosby now has one more ring than No. 66 as a player. As The Tribune-Review's Kevin Gorman writes, Crosby and his running mate Evgeni Malkin will "go down as the greatest duo in the history of the City of Champions," no small feat when you consider Pittsburgh's legacy as a sports town.
There's more. Outside of Crosby, only one other player captained three teams to the Stanley Cup and won two Conn Smythe trophies, and you may have heard of him: Wayne Gretzky.
Rank 'em
Gretzky. Lemieux. Bobby Orr. Mike Bossy. Gordie Howe. That's five, and then there's Crosby, who very politely bullied his way into the group.
Bump who you need to bump, but, sorry, it's got to be Bossy or Howe, because Crosby - whose career 1.313 points per game in the regular season ranks sixth all time - belongs in the top five. Based on the era Crosby's played in, there's no longer denying the fact.
Crosby's done it all, won everything there is to win in hockey, and yet he remains as motivated as ever, because winning fuels him. He's addicted to it. That he's done what he's done in his age 28 and 29 seasons proves it. All things considered, these are the two best seasons of Sid's career. He's getting better, as unfathomable as that may be.
But perhaps the mistake is in doubting Crosby, in being amazed by what he's able to accomplish. This was his destiny, since before he was "the kid," since he was a little boy.
Up next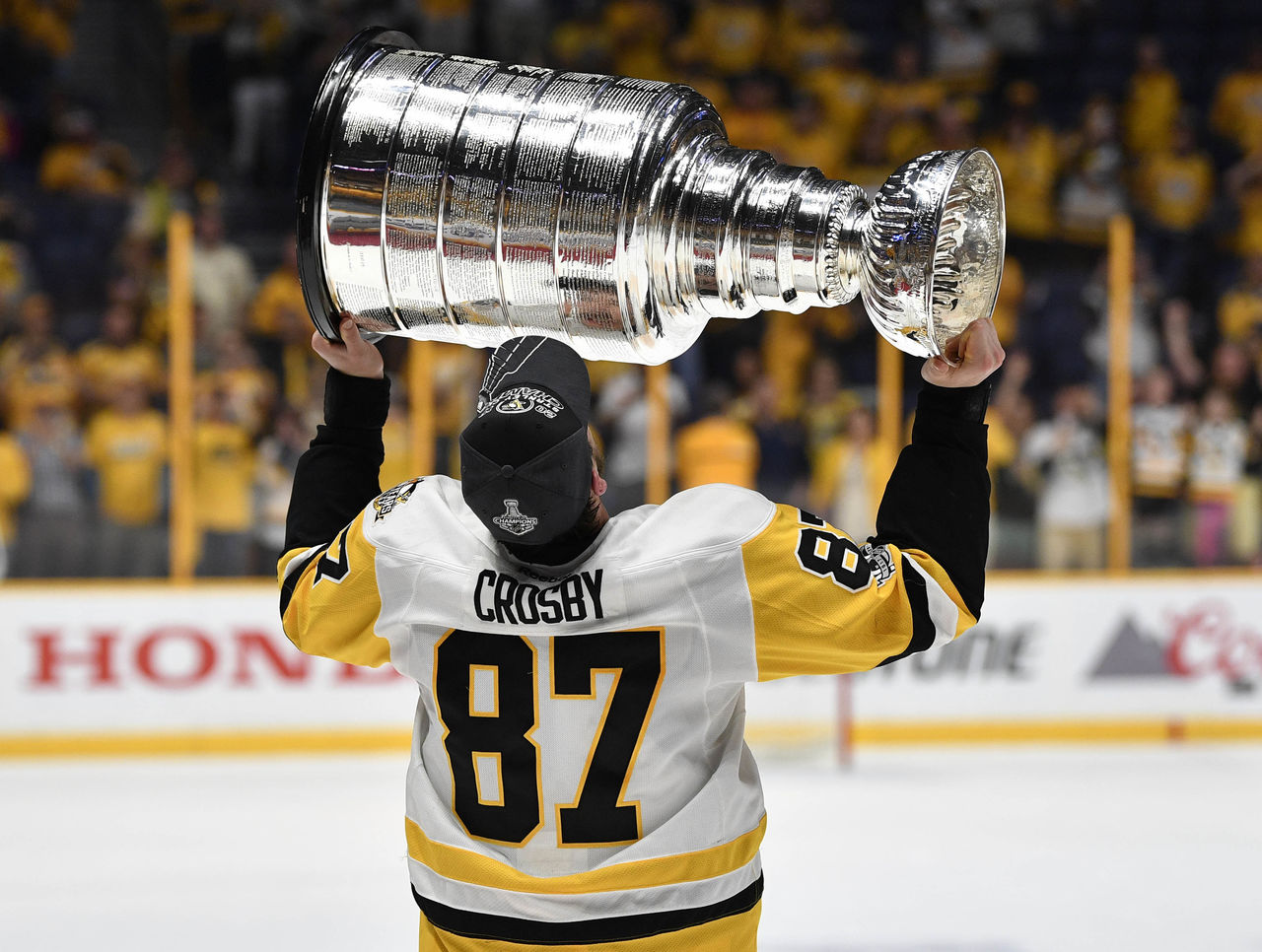 (Photo courtesy: Action Images)
Crosby is motivated by an unparalleled desire to succeed. And you know he's going to come into 2017-18 as if he's never won a Stanley Cup, or a Conn Smythe. He'll be all business, looking to three-peat, and make it four Stanley Cups.
You know who else won four Cups? Gretzky.
Forget about top five. As Crosby turns 30, his goal remains the same: win. And should he continue to do so - would you bet against this guy? - he'll be in the top-two conversation when it's all said and done.
Gretzky and Crosby. The best ever. It's no longer a stretch.
Much like there was only one Gretzky, there's only one Crosby. And that ain't fake news.