Watch: The NHL's 10 best hits of 2016
Scott Rovak / National Hockey League / Getty
The NHL's movement toward speed and skill has dramatically reduced fighting and diminished hitting, but the modern game still features plenty of devastating checks.
From heavy hits in open ice, to hip checks, to clean but crunching collisions along the boards, there were many memorable body blows in 2016.
Here are 10 of the biggest ones:
Emelin rocks Stastny
One of the year's biggest hits came less than three weeks in, when Montreal Canadiens defenseman Alexei Emelin sent forward Paul Stastny airborne right in front of the St. Louis Blues bench back in January:
Orlov flips Duchene
There's nothing like a hip check. Dmitry Orlov and Matt Duchene proved it - again - in October:
Check out this still: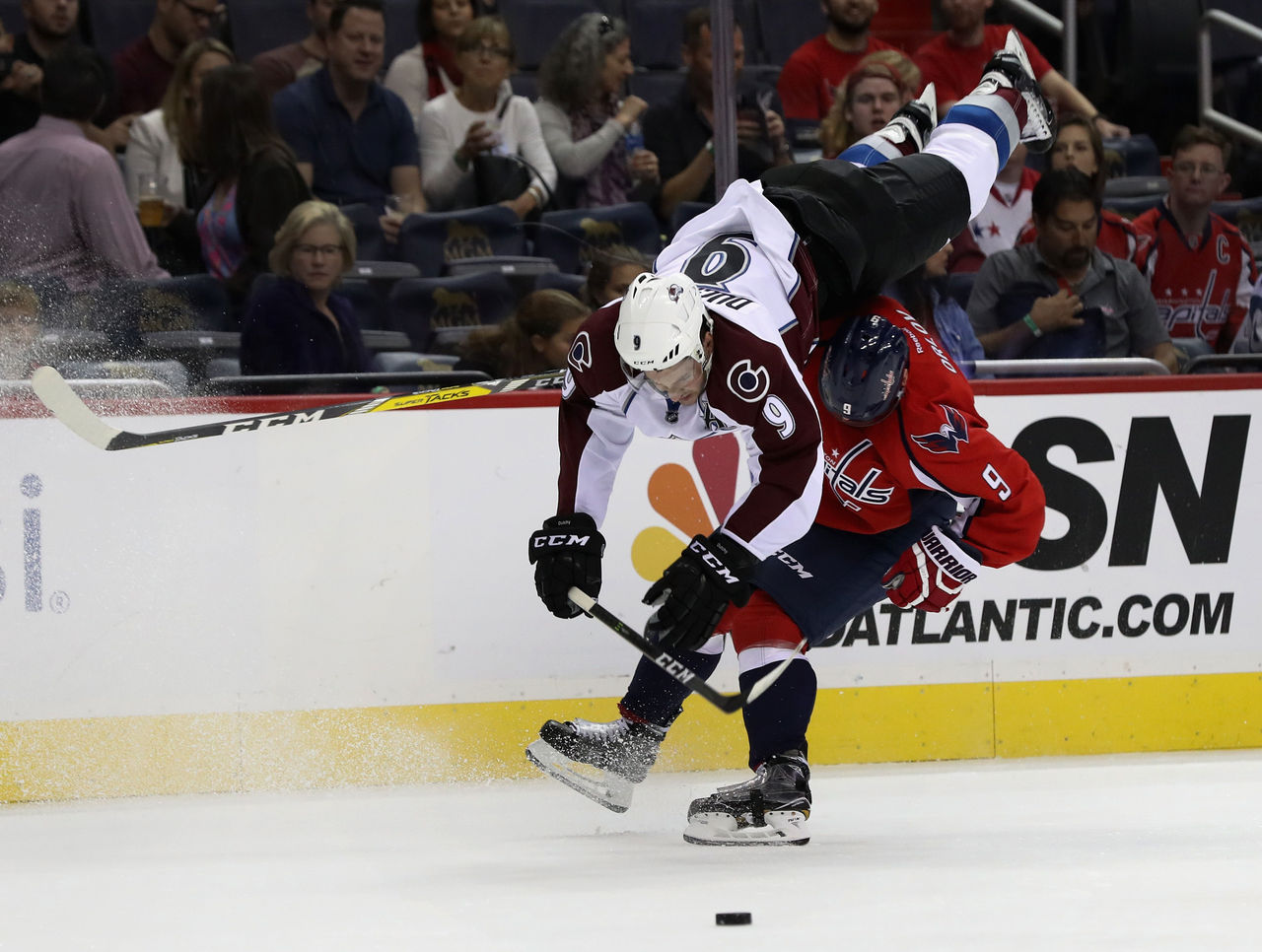 Byfuglien wallops Stone
Winnipeg Jets defenseman Dustin Byfuglien is no stranger to this list, having made it for multiple collisions in 2015, and the burly blue-liner is back on it in 2016 for this destruction of Ottawa Senators forward Mark Stone in March.
Stone missed the final five games of the season as a result, but it was arguably clean and there's no denying how thunderous it was, especially when viewed in slow motion.
Andrighetto meets Phaneuf
Dion Phaneuf is good for a couple of these a year.
In March, the Ottawa Senators defenseman rudely introduced himself to Sven Andrighetto, who had no idea No. 2 was coming:
Hickey ices Drouin
"Never cut across the blue line." - Jonathan Drouin
Russell steps up on Motte
In this case, Tyler Motte is advanced stats, and Kris Russell wants the world to know what he thinks of them:
Wilson obliterates Zadorov
Washington Capitals forward Tom Wilson plays on the edge. Ask Nikita Zadorov.
The Colorado Avalanche defender retrieved a dump in and proceeded to skate with the puck behind his net. The only problem: Wilson had just hit the ice on a change and came in with incredible speed, literally stopping Zadorov in his tracks:
Zadorov was concussed on the play, but luckily recovered quickly, missing only a game. Even he acknowledged the hit was clean.
"It wasn't the head or anything," he said. "It happened. I've been hitting all my life, and now it's probably time for me to get hit from someone."
Voracek's helmet goes flying
In October, Dmitry Kulikov woke up Jakub Voracek.
The Philadelphia Flyers forward had his lid go flying after the Sabres defender rocked him after a turnover at the Buffalo blue line:
Emelin flips Colborne
Emelin's back, and we've got another hip check. Colorado's victimized again, Joe Colborne this time. And in a 10-1 game. Emelin cares not for the scoreboard.
Tyler Johnson can fly
Last but not least, not so much a hit but a shove-hit, one that proved that Tyler Johnson can fly:
Comments
✕
Watch: The NHL's 10 best hits of 2016
  Got something to say? Leave a comment below!