A rundown of the best games and most interesting trends for Week 12 of the NFL. All times Eastern.
Division on the line
Titans (7-3) at Colts (7-3), 1 p.m.
The Titans are deeply weird. They began the campaign with five wins, only to lose three of four before salvaging their season with last week's overtime road victory against the Ravens. Who can say what they have in store for this one?
One of Tennessee's three losses came at home two weeks ago against these same Colts. The Titans gave up 430 yards and had a punt blocked for a touchdown in that outing. They're just 26th in defensive DVOA despite playing a schedule that's 28th in opponent DVOA, according to Football Outsiders, and their special teams rank 30th. Shrug.
In his last eight games against the Titans, Colts QB Philip Rivers has had at least one touchdown pass and a passer rating of 105 or better. He also hasn't thrown an interception in his last five versus Tennessee, a streak dating back to 2013. But Indianapolis will be without defensive tackles DeForest Buckner and Denico Autry, as well as inside linebacker Bobby Okereke. So who knows?
Too deep too often for Tommy?
Chiefs (9-1) at Buccaneers (7-4), 4:25 p.m.
Quick question: Which quarterback leads the league in deep pass attempts? Quick answer: Tom Brady.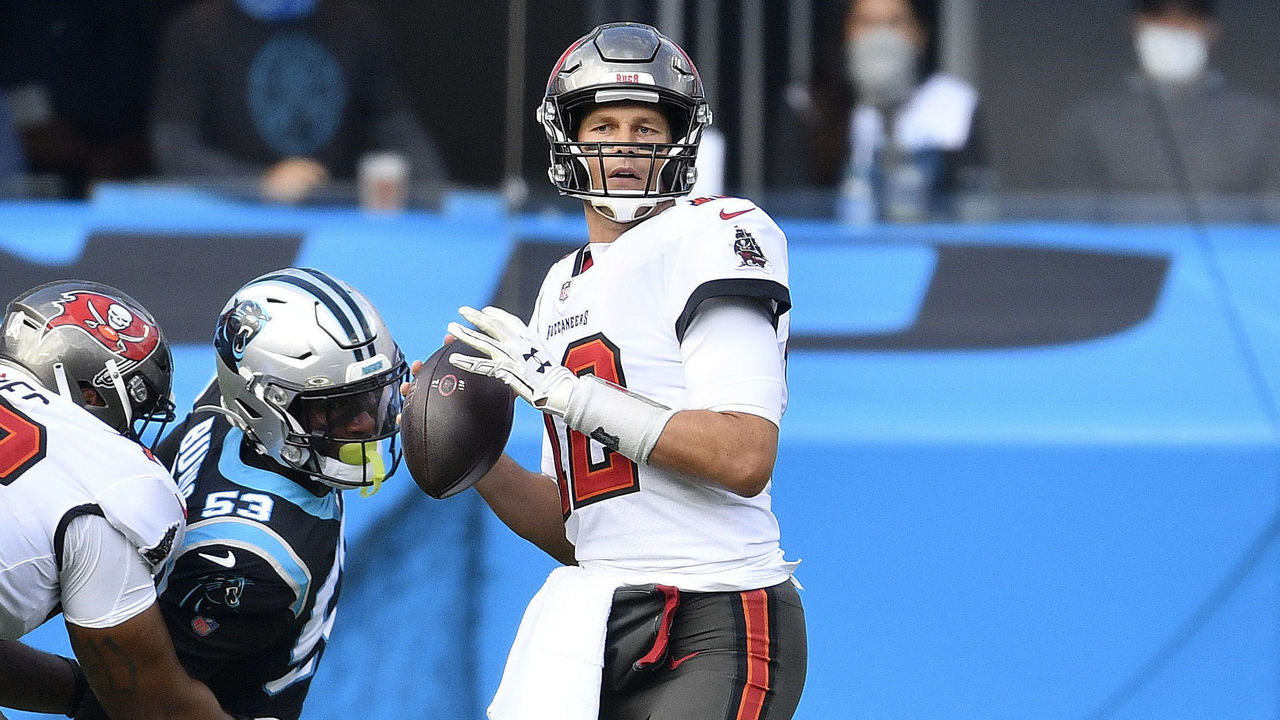 Brady has thrown 54 passes of 20 air yards or more this season, according to Sports Info Solutions. That's two more than anyone else, though the Buccaneers have yet to have their bye week. Why does this matter? Brady is chucking it deep more frequently than he has in recent years, which indicates Tampa Bay head coach Bruce Arians and his "no risk it, no biscuit" approach are influencing Brady even at 43.
Brady is on pace to throw it long 79 times this year. Sports Info Solutions only tracks data since 2015, but from 2015-19, when Brady was still with the Patriots, he averaged just 62.6 deep pass attempts per season. He set his career high of 79 in 2017, the year he had Brandin Cooks at his disposal. His usual formula involved striking with a lot of short, quick throws and then hitting opponents with the occasional deep shot. And it often worked.
Brady went 0-for-6 on deep tosses in Monday night's loss to the Rams, according to PFF. Two weeks earlier, he went 0-for-5 on long tosses in a blowout defeat against the Saints. His passer rating on deep balls is just 68.7 in 2020, according to PFF, good for 19th in the league. Heading into a showdown against Patrick Mahomes and the Chiefs, it's worth wondering if Arians is having Brady air it out too much.
Now what?
Ravens (6-4) at Steelers (10-0), 8 p.m., Tuesday
Unless this game gets bumped again because of COVID-19 concerns, Robert Griffin III will be the Ravens' starting quarterback instead of Lamar Jackson. Shameless plug alert: You can read more about the undefeated Steelers here.
The race is on
Giants (3-7) at Bengals (2-7-1), 1 p.m.
The Giants have won two straight and three of their last five, and they've lost by more than 10 points just once this season. New York is also coming off a bye week filled with reports about the firing of its offensive line coach, which is a very on-brand storyline for the 2020 NFC East.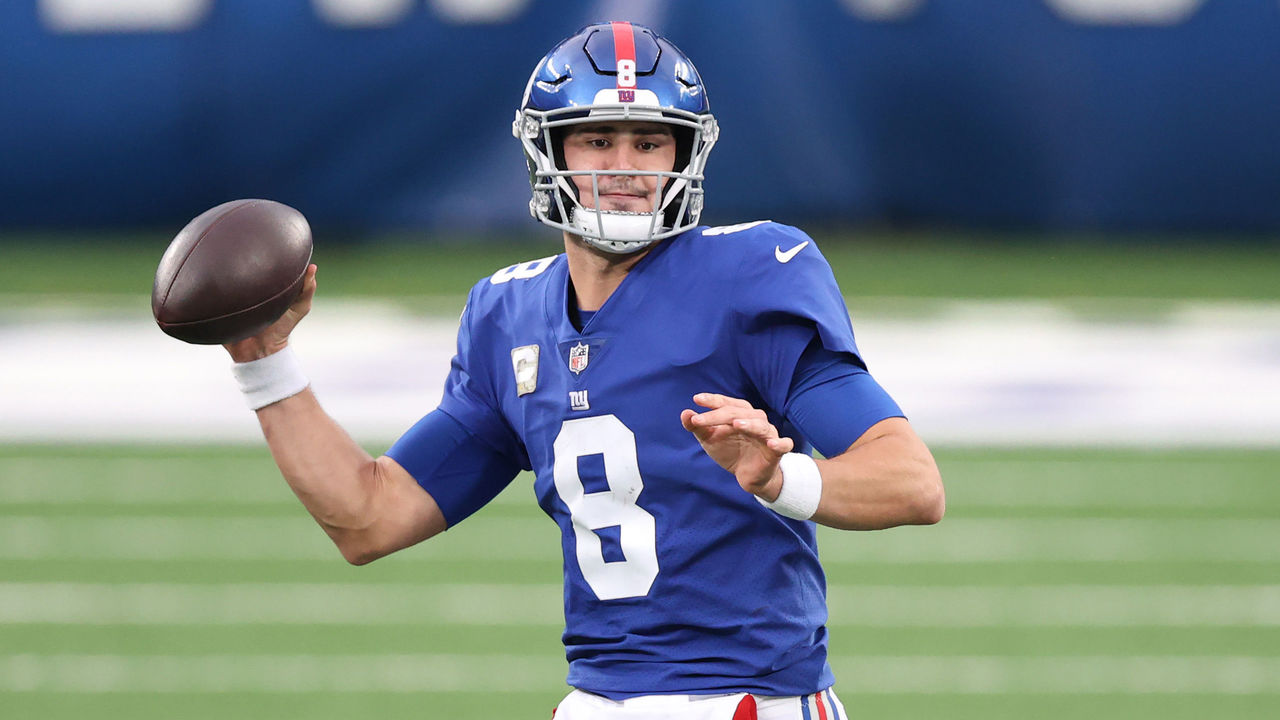 A win against the Bengals puts the Giants in first place by virtue of their two victories against Washington - unless the Eagles beat the Seahawks on Monday night, in case you're depraved enough to want an update on the saddest division race in league history.
The Bengals are starting Brandon Allen at quarterback instead of Ryan Finley after Joe Burrow tore his ACL and MCL last week. That's all anyone needs to know about the state of Cincinnati's season.
Just imagine
Bears (5-5) at Packers (7-3), 8:20 p.m.
After four straight losses and a bye, the Bears are going back to Mitch Trubisky at quarterback. What could possibly go wrong?
Chicago already decided against picking up Trubisky's fifth-year option. But ever since The Athletic's Sheil Kapadia presented a hypothetical scenario in which Trubisky leads the Bears to the playoffs - thereby pressuring them to sign him to a market-level contract next spring - I haven't been able to get the thought out of my mind. Chicago is still just one game out of a playoff spot in the NFC. How Bears would it be if Kapadia's vision came to pass?
Thanksgiving leftover
Washington 41, Cowboys 16
During the second quarter of Thursday's Washington-Dallas game, Washington faced a second-and-5 from the Cowboys' 16-yard line. The team picked up a first down by giving the ball to running back J.D. McKissic on this play:
Did you catch what actually happened?
Washington head coach Ron Rivera later acknowledged his team did indeed run the "Annexation of Puerto Rico" play from the movie "Little Giants." As the father of a 6-year-old who recently watched "Little Giants" and loved it, I can't wait to tell my son about this one.
Dom Cosentino is a senior features writer at theScore.