In the second part of a series in which we identify the best current NFL players across a number of categories, theScore selects the top talent at every age from 20 to 42. (Only players signed to a roster were considered.)
Best of the NFL:
20
Patrick Queen, LB, Ravens
It was a two-man race here between a couple of first-round rookie defenders. But while K'Lavon Chaisson may possess every elite pass-rushing trait as a modern prospect, Queen's NFL freshman ceiling might be higher due to his fit in the Ravens' defensive scheme.
Runner-up: K'Lavon Chaisson, EDGE, Jaguars
21
Chase Young, EDGE, Redskins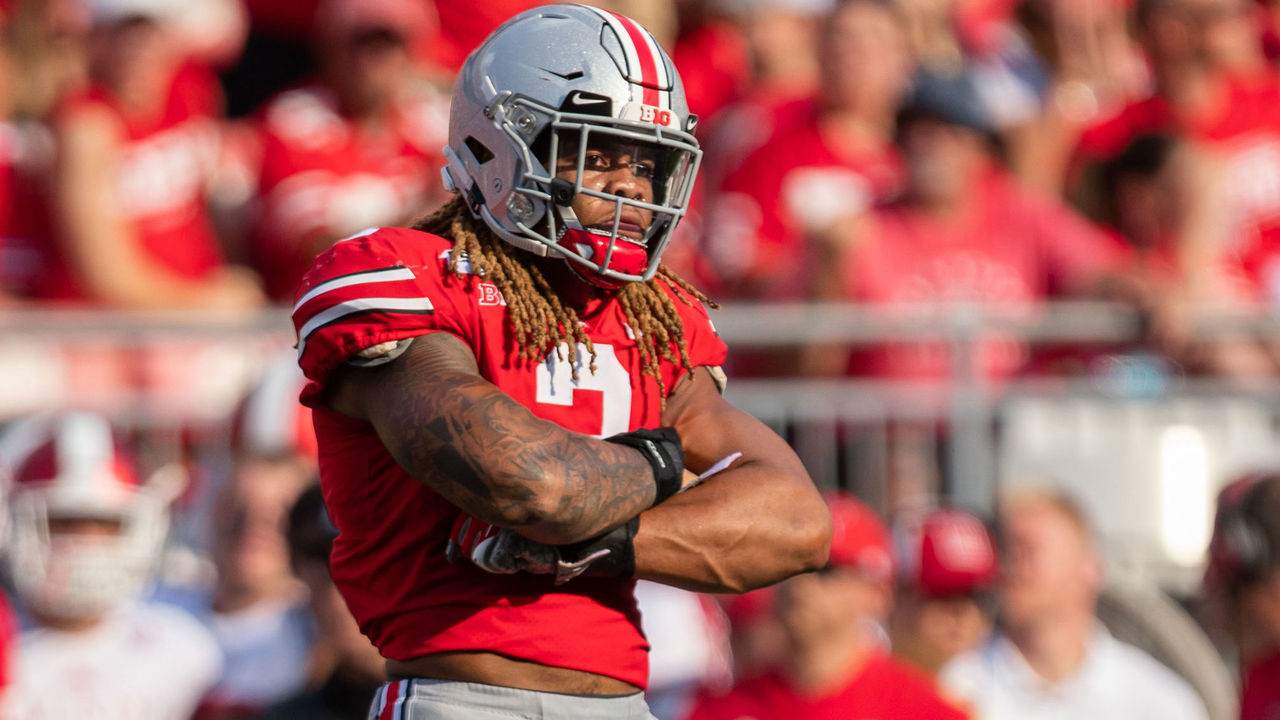 Irv Smith Jr. is the best current 21-year-old who has played in the NFL, and he posted a good rookie season in 2019, recording 36 catches for 311 yards and two touchdowns. However, though it's tough to predict debut campaigns, Young arrives in the NFL as one of the best recent prospects. We're assuming the former Ohio State standout will live up to his hype immediately, which seems safe based on what he did in college.
Runner-up: Irv Smith Jr., TE, Vikings
22
Nick Bosa, EDGE, 49ers
As a rookie, Bosa was a major piece in one of the league's best defenses, amassing 47 tackles, nine sacks, two forced fumbles, and one interception during the regular season, before recording 11 tackles and four sacks in three playoff contests. Yes, Kyler Murray is a heck of a player, and so is Buffalo Bills linebacker Tremaine Edmunds. But neither of them have registered an overall impact like the 2019 Defensive Rookie of the Year.
Runner-up: Kyler Murray, QB, Cardinals
23
Lamar Jackson, QB, Ravens
Jackson is the reigning MVP after leading the NFL with 36 touchdown passes while also running for 1,206 yards and seven scores. He has yet to achieve playoff success after two pro campaigns, but his tremendous playmaking ability has led the Ravens to a 19-3 regular-season record with him under center.
Runner-up: Saquon Barkley, RB, Giants
24
Patrick Mahomes, QB, Chiefs
The stellar age-24 group, which features the likes of Quenton Nelson, Deshaun Watson, Ezekiel Elliott, Christian McCaffrey, Joey Bosa, and Myles Garrett, should have led to a long best-player debate. But Mahomes easily ended that discussion. The reigning Super Bowl MVP has accomplished unprecedented feats in two seasons as a starter, tossing for 5,097 yards and 50 TDs one year before raising the Vince Lombardi Trophy.
Runner-up: Quenton Nelson, G, Colts
25
T.J. Watt, LB, Steelers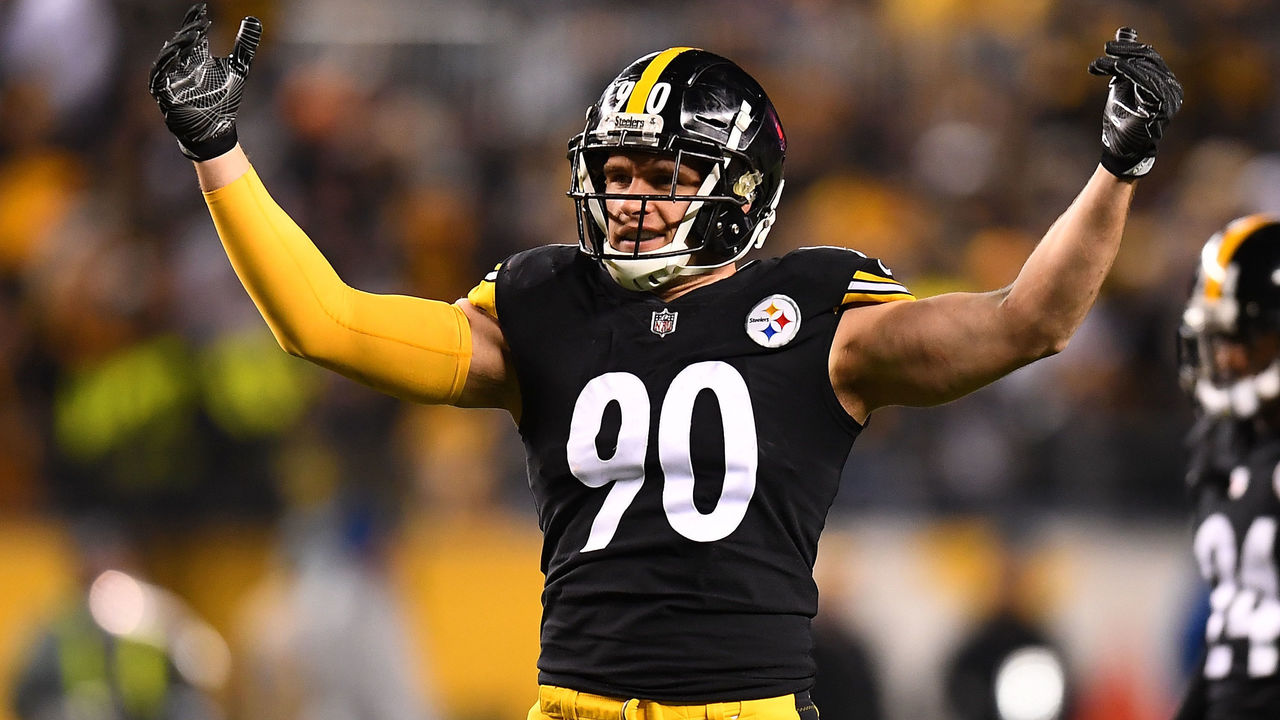 It's hard to go against Danielle Hunter, who's accumulated 29 sacks since 2018. However, Watt's impact has been off the charts over the last two seasons. Along with 27.5 sacks, the fourth-year defender leads the NFL with 14 forced fumbles and is second in quarterback hits with 57 in that span. He forced 10 turnovers in 2019.
Runner-up: Danielle Hunter, DE, Vikings
26
George Kittle, TE, 49ers
Kittle is arguably the NFL's best non-quarterback offensive player. A premier blocking tight end, he's racked up elite production after compiling at least 80 receptions, 1,000 yards, and five touchdowns in each of his last two campaigns. His 1,377 receiving yards in 2018 set a single-season record at the position.
Runner-up: Dak Prescott, QB, Cowboys
27
Michael Thomas, WR, Saints
Thomas has combined performance and reliability at such a high level that he's a no-brainer here, especially after a historic 2019 campaign. The star wideout broke Marvin Harrison's receptions record that stood for 18 seasons. Since 2018, he's the only wide receiver with a catch percentage higher than 80%, and his production during that stretch is absurd: 274 grabs for 3,130 yards and 18 touchdowns.
Runner-up: Carson Wentz, QB, Eagles
28
DeAndre Hopkins, WR, Cardinals
Hopkins has been among the league's best wide receivers since entering the NFL in 2013. But over the last three seasons, he became a top-three wideout while making the All-Pro team every year. The four-time Pro Bowler ranks second in receptions, third in receiving yards, and first in touchdown catches since 2017.
Runner-up: Tyrann Mathieu, S, Chiefs
29
Aaron Donald, DT, Rams
Many think Donald is both the NFL's best 29-year-old and the best defensive player. After six seasons, his accomplishments are unreal: six Pro Bowls, one Defensive Rookie of the Year Award, two Defensive Player of the Year honors, and five consecutive All-Pro nods. That's just unfair for great players like Khalil Mack and Stephon Gilmore, who are also in this age group.
Runner-up: Khalil Mack, LB, Bears
30
Bobby Wagner, LB, Seahawks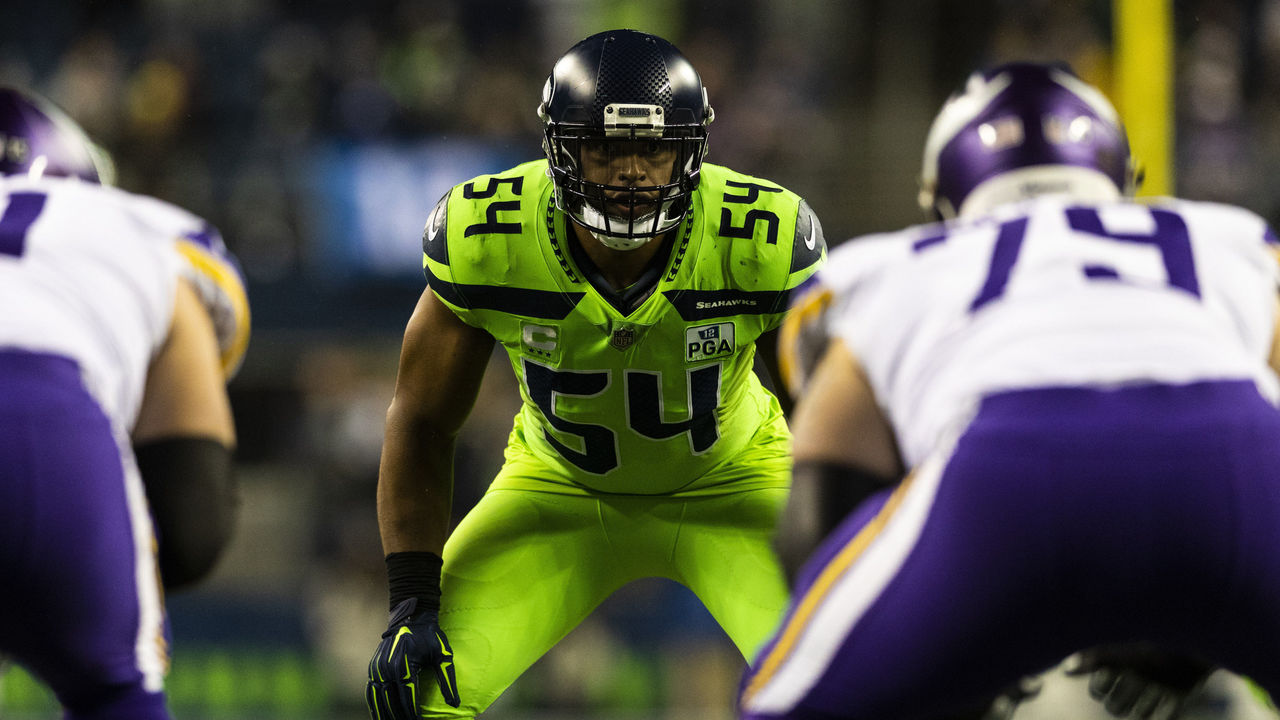 As spectacular as Kelce has been - topping 1,000 receiving yards in each of the last four seasons - Wagner's consistency at linebacker regardless of his supporting cast speaks louder. Despite losing his Legion of Boom teammates, Wagner stepped up and was the biggest reason for the Seahawks' recent defensive competitiveness. He's made six consecutive Pro Bowls while also being voted an All-Pro five times, which includes four straight campaigns.
Runner-up: Travis Kelce, TE, Chiefs
31
Russell Wilson, QB, Seahawks
For many reasons, Wilson has recently been given serious MVP consideration.
Yes, Julio Jones is an all-time great who's still playing at a high level. However, while both veterans continue to post top-tier production consistently, Wilson gets the edge because he plays with an offensive supporting cast that's less capable and stable, and yet he still almost annually makes Seattle a 10-plus-win team.
Runner-up: Julio Jones, WR, Falcons
32
Richard Sherman, CB, 49ers
The age-32 group provided an interesting debate because it features Devin McCourty, Geno Atkins, Jason Kelce, Matthew Stafford, and Richard Sherman. The top two were the only players who made the All-Pro team in 2019. Few believed Sherman could put up another great campaign after an average first season in San Francisco. However, the five-time Pro Bowler notched 61 tackles, three interceptions, and 11 passes defended, all while producing the second-best season of his Hall of Fame career, according to PFF.
Runner-up: Jason Kelce, C, Eagles
33
Calais Campbell, DE, Ravens
Campbell has been an elite defensive end for years, and although last season his 6.5 sacks were the veteran's lowest total since 2015, his poor campaign was likely a product of being part of a vulnerable defense, and not a sign of decline. His versatility and on-field impact are more significant than any of Campbell's 33-year-old challengers, such as Emmanuel Sanders, Ndamukong Suh, and DeSean Jackson.
Runner-up: Emmanuel Sanders, WR, Saints
34
Julian Edelman, WR, Patriots
There wasn't a threat to Edelman in the age-34 group. Alex Mack and Danny Amendola would occupy the other spots on the podium, but the latter is currently the third option for the Lions, and the former is coming off one of his worst campaigns in years. Meanwhile, Edelman caught 100 passes for six touchdowns and a career-high 1,117 yards in 2019.
Runner-up: Alex Mack, C, Falcons
35
Matt Ryan, QB, Falcons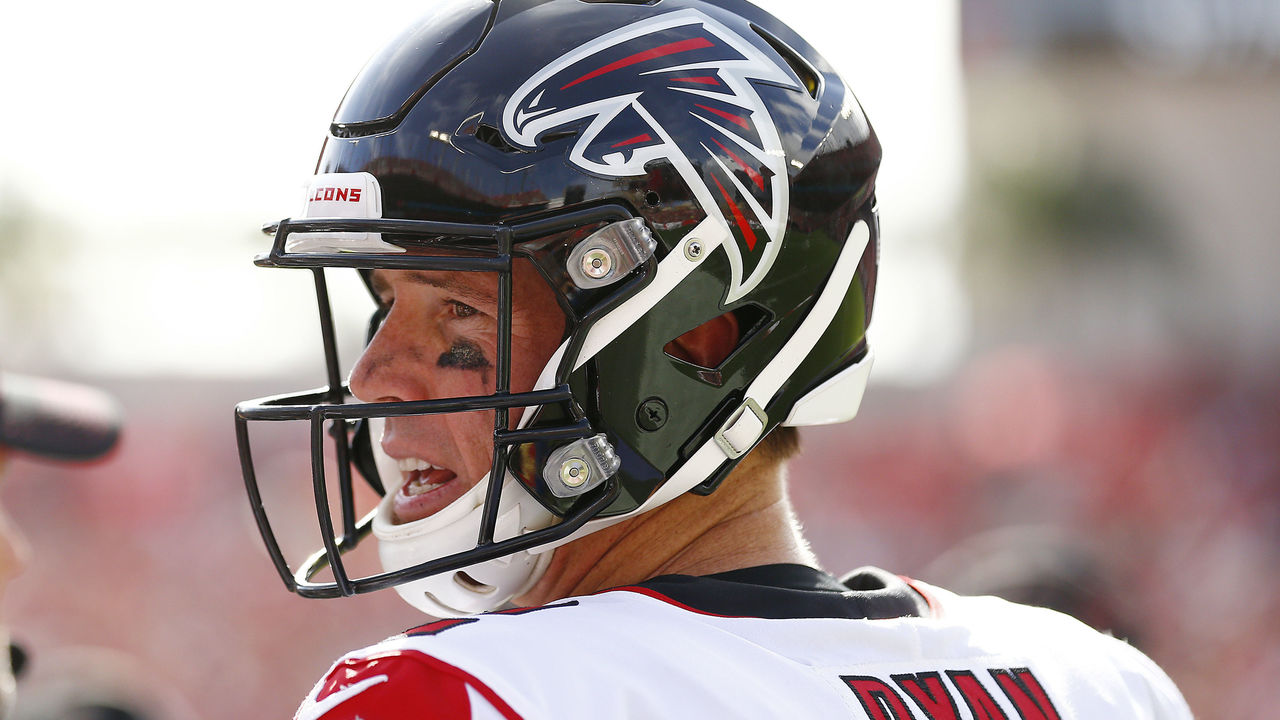 The list of 35-year-old NFLers also includes Adrian Peterson, Joe Flacco, Greg Olsen, and Ted Ginn Jr., among others. They're all distant from their primes and most aren't starters anymore, but Ryan is still among the league's top passers. Granted, his 2016 MVP form seems like a thing of the past, but a down year for Ryan in 2019 included a completion percentage of 66%, 4,466 passing yards, and 26 touchdowns.
Runner-up: Adrian Peterson, RB, Redskins
36
Aaron Rodgers, QB, Packers
Rodgers' last three seasons left some wondering if he's ever reaching his all-time great form again. However, even his unimpressive campaigns since 2017 are more than enough to give him the top spot in the age-36 group, which also features Larry Fitzgerald, Alex Smith, Johnathan Joseph, and others clearly multiple levels lower than their top seasons. A struggling Rodgers has posted the NFL's lowest interception-per-pass attempt percentage in each of the last two years.
Runner-up: Larry Fitzgerald, WR, Cardinals
37
Thomas Davis, LB, Redskins
Davis was a surprise for the Chargers last season. While producing one of his best statistical campaigns, the veteran showed there's still something left in his tank. Davis played a full regular season for the first time in three years and tallied 112 tackles, his best total since 2013. Fitzpatrick finished the last campaign on fire, but Davis' consistency won him the age-37 group.
Runner-up: Ryan Fitzpatrick, QB, Dolphins
38
Ben Roethlisberger, QB, Steelers
Roethlisberger almost missed the entire 2019 season with an elbow injury. However, his 2018 campaign, when he set career highs in completions, passing yards, and touchdowns, reminds us Big Ben can still produce at a high level. Additionally, Rivers, who's Roethlisberger's biggest rival at the age of 38, is coming off a disappointing year with 23 touchdowns against 20 interceptions.
Runner-up: Philip Rivers, QB, Colts
39
Matt Schaub, QB, Falcons
Last season, Schaub made his first start since 2015, and he played like the vintage 2009 version of himself. Filling in for Ryan against the Seahawks in Week 3, Schaub set a Falcons franchise record with 39 completions, and his 460 passing yards were the most Seattle has ever allowed. The 17-season veteran is a decent backup signal-caller.
Runner-up: N/A
40
There are no 40-year-olds signed to NFL rosters.
41
Drew Brees, QB, Saints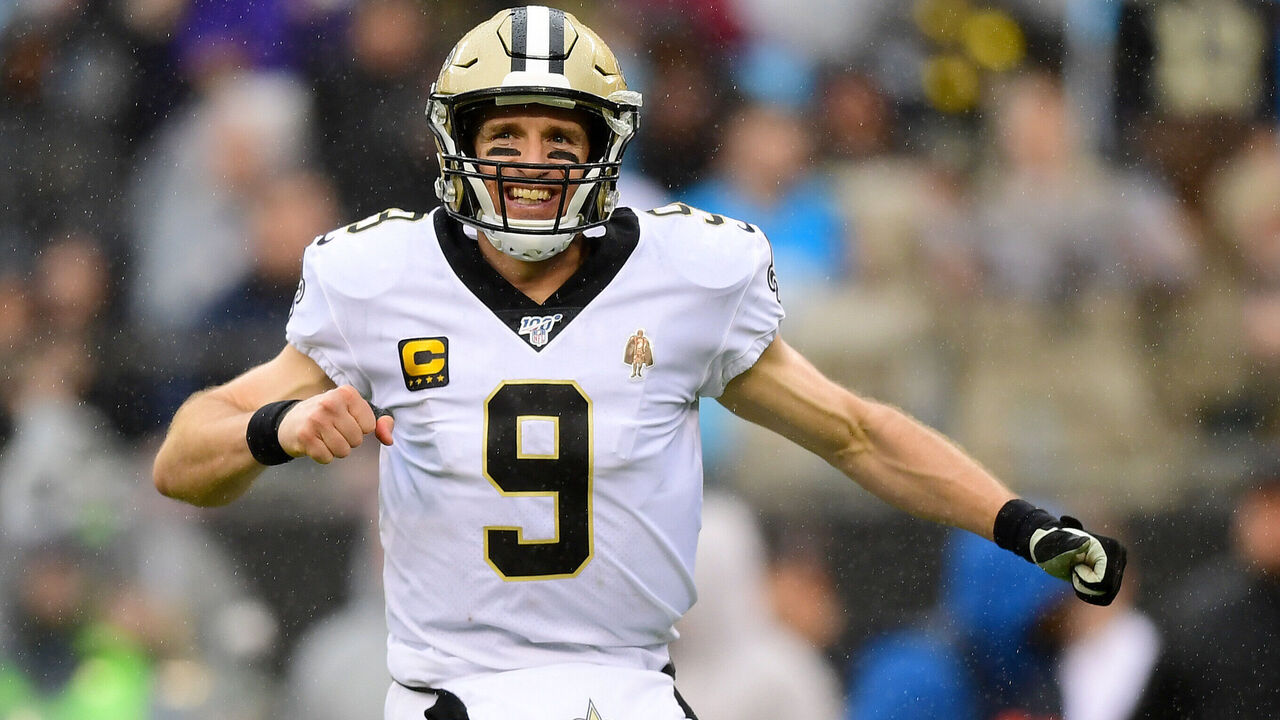 Brees might not possess the same arm strength he once did, and some recent playoff missteps may hurt his legacy eventually. However, his leadership and competitiveness are still intact, and he's been able to give the Saints' solid roster what it needs to win, posting a 32-10 regular-season record over the last three campaigns. Brees led the NFL in completion percentage last season (74.3%) for the third straight year, and his 7.1 touchdown-per-pass attempt percentage through 11 games in 2019, at the age of 40, was his best since 2011.
Runner-up: N/A
42
Tom Brady, QB, Buccaneers
Brady doesn't face competition here, but even if he did, it would be tough to outdo the six-time Super Bowl champion whose career longevity and accomplishments are unique in pro football history. Though his production might not be as outstanding as it once was, Brady's 36 wins rank first in the NFL since 2017. And he's still hungry for challenges while set to join the Buccaneers ahead of his age-43 campaign.
Runner-up: N/A