In the penultimate part of a series in which we identify the best current NFL players across a number of categories, theScore selects the top professional wearing each jersey number from 1 to 50. (Only players signed to a roster were considered.)
Best of the NFL:
No. 1
Kyler Murray, QB, Cardinals
Let's open this list with a bit of debate: Who's the best player currently wearing No. 1? Cam Newton owns an NFL MVP award, but we're siding with the reigning Offensive Rookie of the Year.
Runner-up: Cam Newton, QB, Patriots
No. 2
Matt Ryan, QB, Falcons
There's no question as to who owns No. 2. Ryan is the most accomplished player to wear the number, and the 13-year veteran was challenged mostly by kickers.
Runner-up: Mason Crosby, K, Packers
No. 3
Russell Wilson, QB, Seahawks
Wilson is still at his best nine years into his career and was Lamar Jackson's closest challenger for last season's MVP award. There's a steep drop-off from the Seahawks quarterback to the runner-up for No. 3.
Runner-up: Jameis Winston, QB, Saints
No. 4
Deshaun Watson, QB, Texans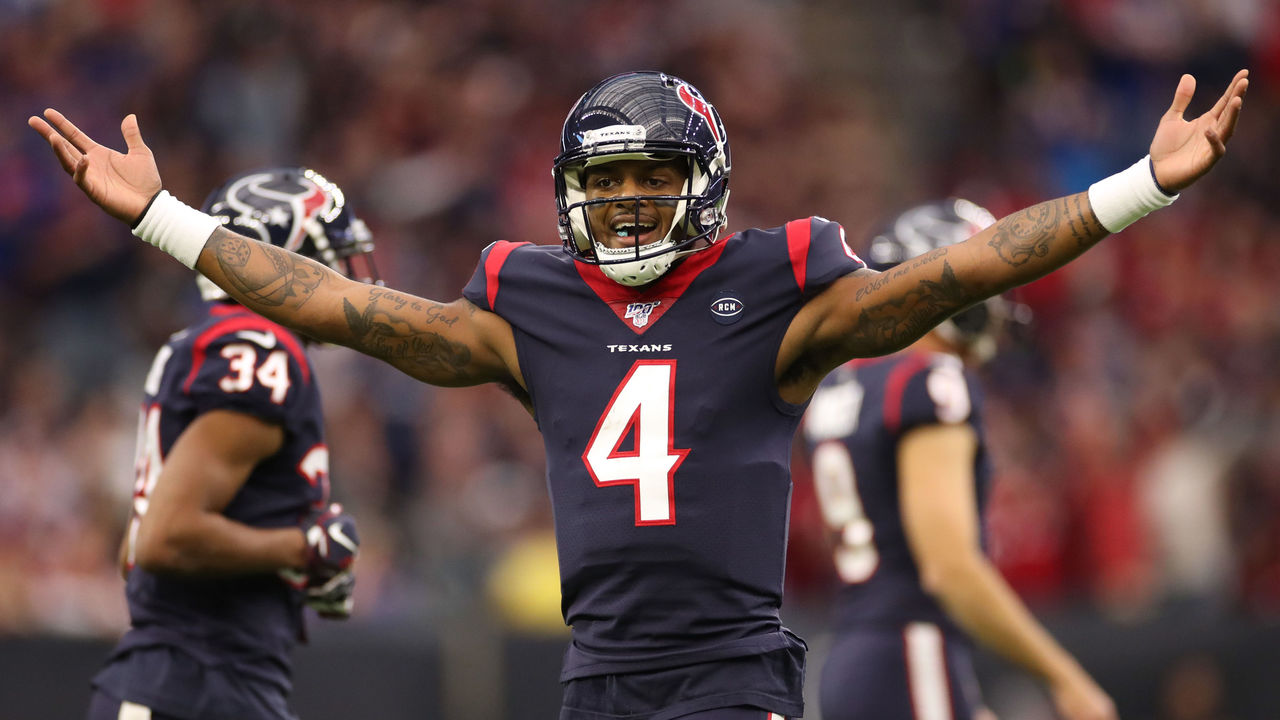 Two of the game's top quarterbacks rock No. 4. They're both considered top-10 passers, but Watson doesn't have the offensive line and running game the Cowboys provide Dak Prescott. The edge goes to Watson, who also boasts dynamic rushing ability.
Runner-up: Dak Prescott, QB, Cowboys
No. 5
Teddy Bridgewater, QB, Panthers
Teddy Two-Gloves and presumptive Chargers starter Tyrod Taylor are the only starting quarterbacks rocking No. 5. Advantage: Bridgewater.
Runner-up: Tyrod Taylor, QB, Chargers
No. 6
Baker Mayfield, QB, Browns
The 2018 first overall pick saw his play decline in 2019, but Mayfield remains the best pro sporting No. 6.
Runner-up: Thomas Morstead, P, Saints
No. 7
Ben Roethlisberger, QB, Steelers
Big Ben maintains a firm grip on No. 7 supremacy entering his 17th NFL season.
Runner-up: Dwayne Haskins, QB, Redskins
No. 8
Lamar Jackson, QB, Ravens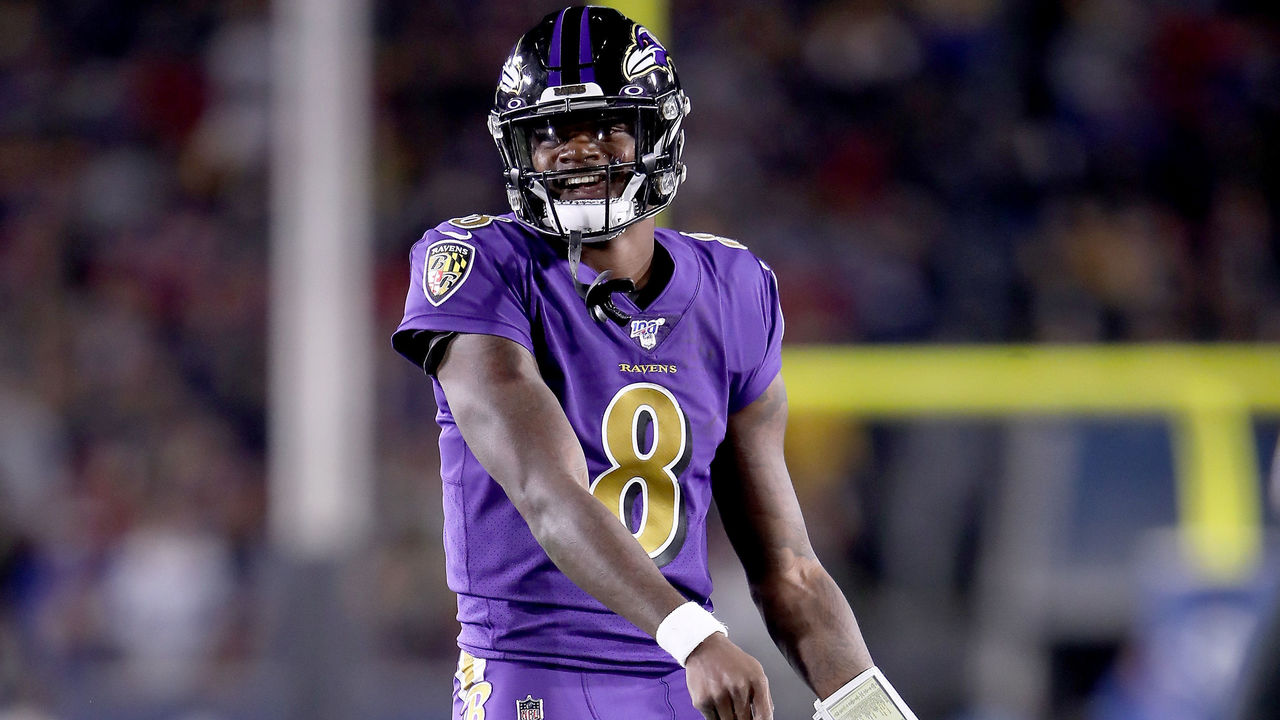 The most valuable player of the 2019 season is obviously the best player currently wearing No. 8.
Runner-up: Kirk Cousins, QB, Vikings
No. 9
Drew Brees, QB, Saints
Chasing an elusive second title as he enters the twilight of his career, Brees continues to perform at a level that has the Saints playing deep into the season.
Runner-up: Matthew Stafford, QB, Lions
No. 10
DeAndre Hopkins, WR, Cardinals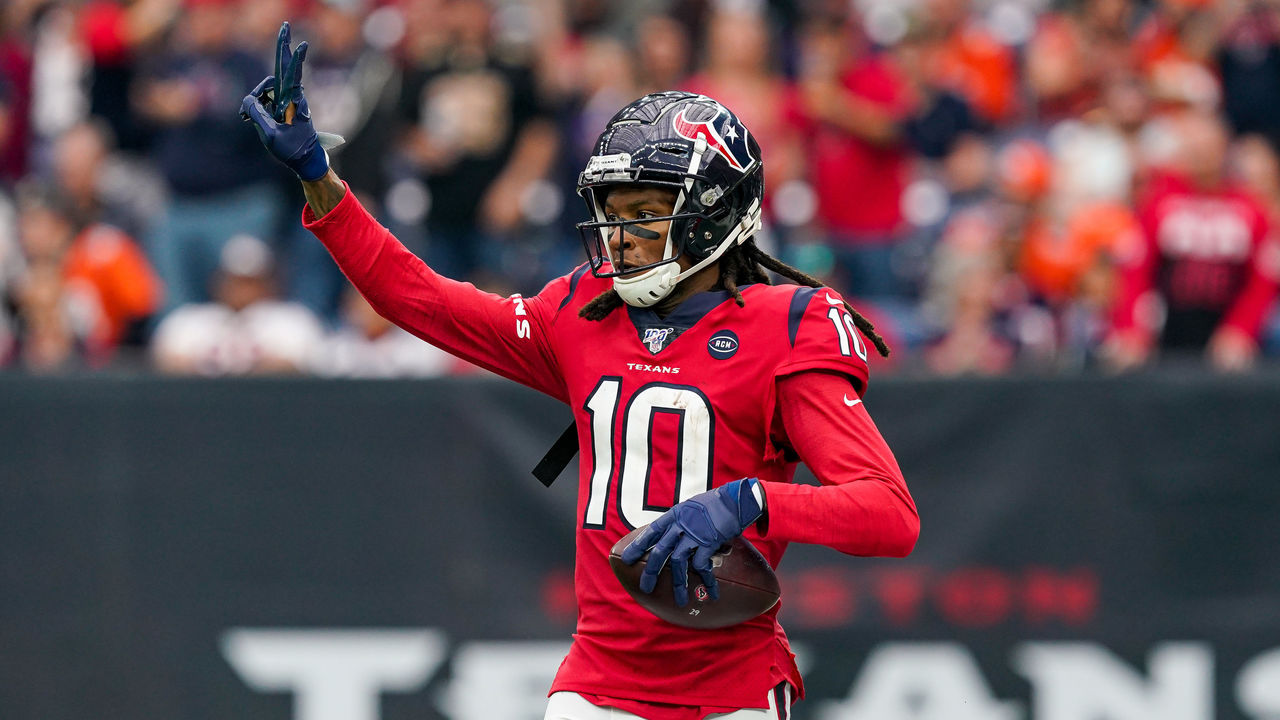 The first non-quarterback to claim numerical supremacy on this list is perhaps the best receiver in the league. Hopkins has earned three straight first-team All-Pro selections and posted a zero-drop season in 2018.
Runner-up: Tyreek Hill, WR, Chiefs
No. 11
Julio Jones, WR, Falcons
A number of superstars don No. 11, including future Hall of Famer Larry Fitzgerald and Super Bowl MVP Julian Edelman. But Jones remains the standard-bearer after putting up just under 1,400 receiving yards in his ninth NFL season.
Runner-up: Carson Wentz, QB, Eagles
No. 12
Aaron Rodgers, QB, Packers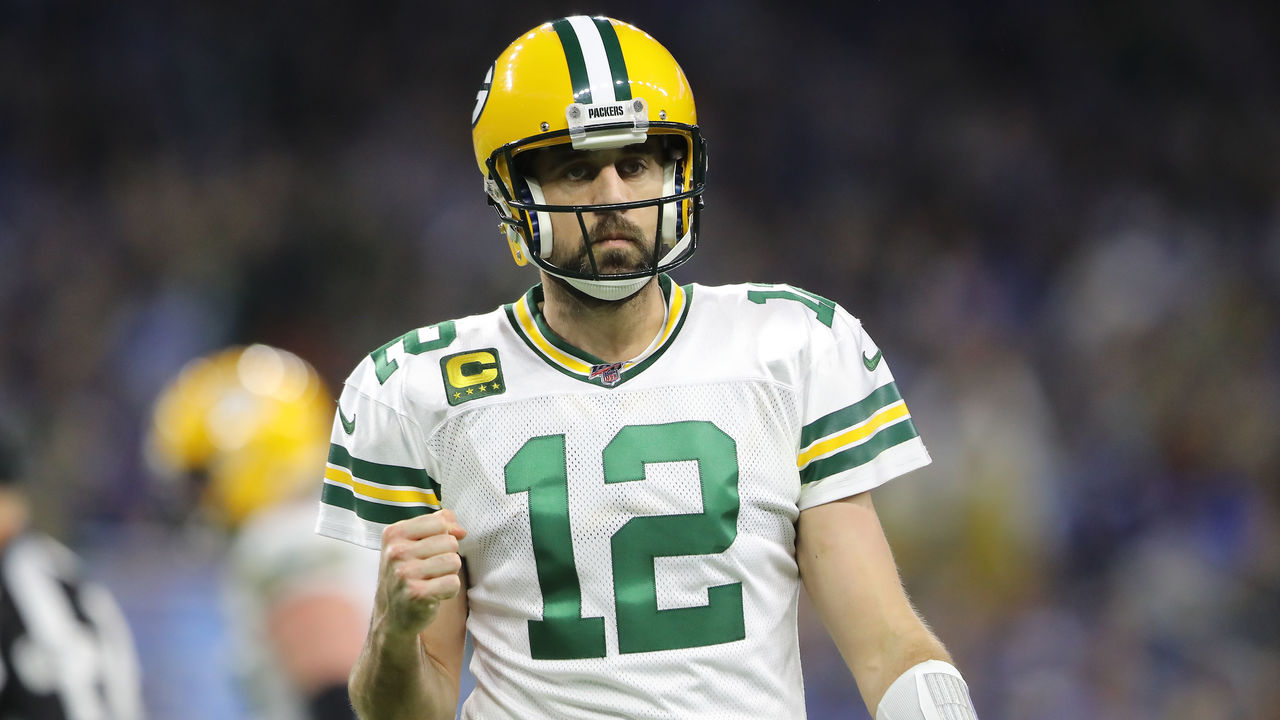 Two of the best quarterbacks to ever lace them up share the same number and era. But while Tom Brady is the all-time great, he's nearing his 43rd birthday. Rodgers is still insanely efficient at age 36.
Runner-up: Tom Brady, QB, Buccaneers
No. 13
Michael Thomas, WR, Saints
No. 13 is one of the most popular choices among superstar receivers: Odell Beckham Jr., Keenan Allen, Mike Evans, and T.Y. Hilton are all No. 1 wideouts who sport the number. Thomas, however, is the only one coming off a record-setting season with 149 receptions and 1,725 yards.
Runner-up: Odell Beckham Jr., WR, Browns
No. 14
Stefon Diggs, WR, Bills
Diggs has a couple more seasons of production on his nearest competitors, but Chris Godwin and Courtland Sutton already have Pro Bowl nods and are quickly gaining on the Bills receiver.
Runner-up: Chris Godwin, WR, Buccaneers
No. 15
Patrick Mahomes, QB, Chiefs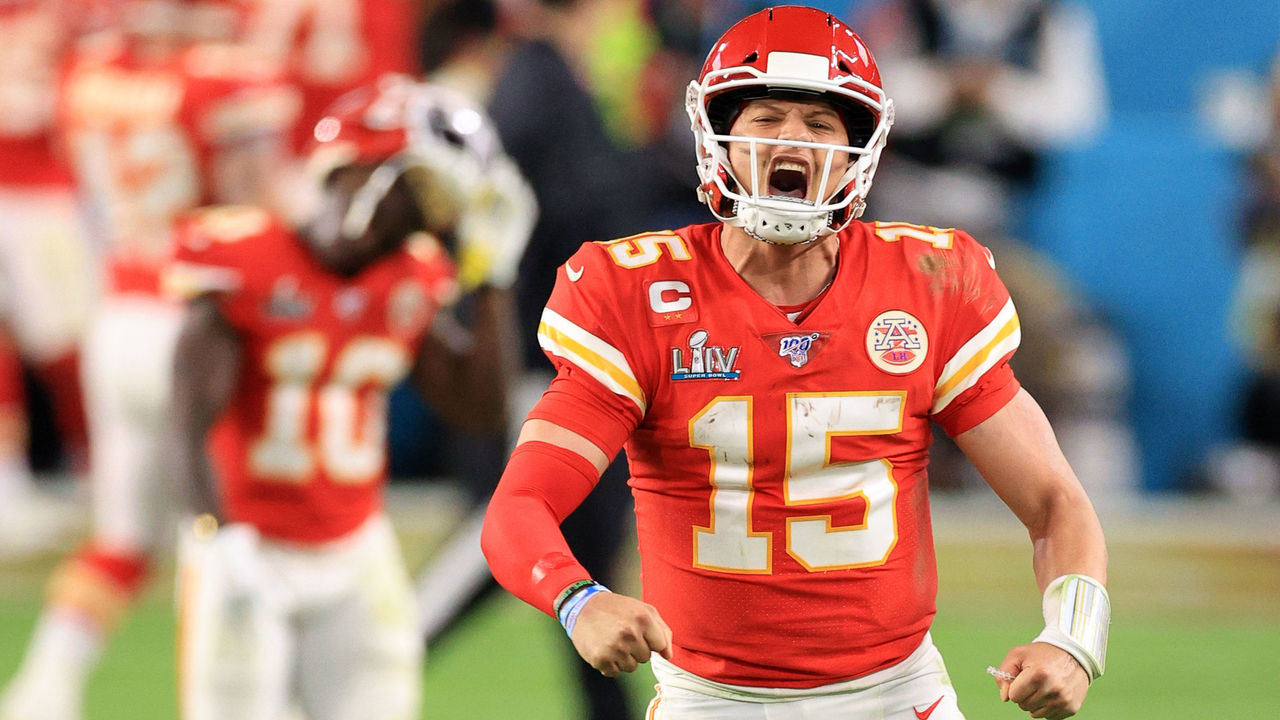 The $470-million man has already won NFL MVP and Super Bowl MVP honors as he leads the next generation of star quarterbacks.
Runner-up: Will Fuller, WR, Texans
No. 16
Tyler Lockett, WR, Seahawks
The diminutive receiver has become a household name over the past two seasons. The Seahawks' deep threat broke out for 10 touchdowns in 2018 and followed it up with eight scores last season.
Runner-up: Jared Goff, QB, Rams
No. 17
Davante Adams, WR, Packers
This spot would usually belong to Philip Rivers, but the 38-year-old is coming off an ugly 20-interception, five-win season. Adams, meanwhile, remains a top-10 player at his position.
Runner-up: Philip Rivers, QB, Colts
No. 18
Calvin Ridley, WR, Falcons
A.J. Green would normally be penciled in as the representative for No. 18, but he missed the entire 2019 season. Cooper Kupp has made a name for himself wearing the number, but he's switching to No. 10 this season. Ridley is the next man up.
Runner-up: Randall Cobb, WR, Texans
No. 19
Amari Cooper, WR, Cowboys
There are a handful of viable options at No. 19, but the best current player is the highest-paid receiver in football. Cooper just put ink to a $100-million contract. The race for second place is a tight one, featuring JuJu Smith-Schuster, Kenny Golladay, Adam Thielen, and Deebo Samuel.
Runner-up: Kenny Golladay, WR, Lions
No. 20
Jalen Ramsey, CB, Rams
Stars from other position groups begin taking center stage as we emerge from the quarterback numbers. Ramsey lays claim to No. 20 as one of the game's elite corners.
Runner-up: Landon Collins, S, Redskins
No. 21
Ezekiel Elliott, RB, Cowboys
Zeke has taken full ownership of No. 21. He's the latest in a long line of star NFLers to wear the number, succeeding the likes of Deion Sanders and LaDainian Tomlinson.
Runner-up: Mark Ingram, RB, Ravens
No. 22
Christian McCaffrey, RB, Panthers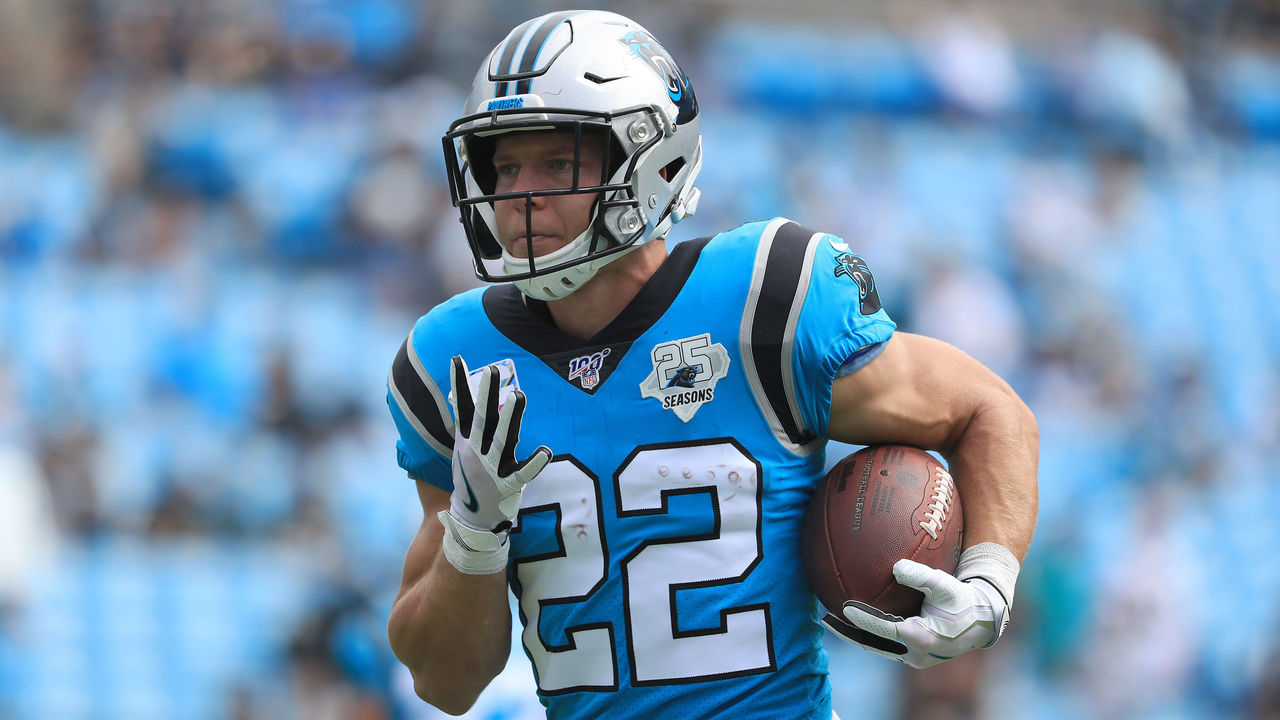 McCaffrey's numbers in 2019 were straight out of a video game: over 2,000 total yards, the second-most catches in the league, and 19 touchdowns. The Panthers running back has distinguished himself as one of the best in the league and the top player currently wearing No. 22.
Runner-up: Derrick Henry, RB, Titans
No. 23
Marshon Lattimore, CB, Saints
No. 23 is one of the most revered numbers in basketball. It's not nearly as sacred in the NFL, but it is shared by some of the game's best defensive backs, including Lattimore.
Runner-up: Kyle Fuller, CB, Bears
No. 24
Stephon Gilmore, CB, Patriots
The NFL's premier shutdown corner earns the nod over an ascendant running back. Gilmore won Defensive Player of the Year last season after sharing the league lead in interceptions (six) and pass breakups (20).
Runner-up: Nick Chubb, RB, Browns
No. 25
Richard Sherman, CB, 49ers
Three of the best corners not named Stephon Gilmore - Sherman, Chris Harris Jr., and Xavien Howard - rock No. 25 with pride. Sherman was PFF's top-graded corner in 2019.
Runner-up: Chris Harris Jr., CB, Chargers
No. 26
Saquon Barkley, RB, Giants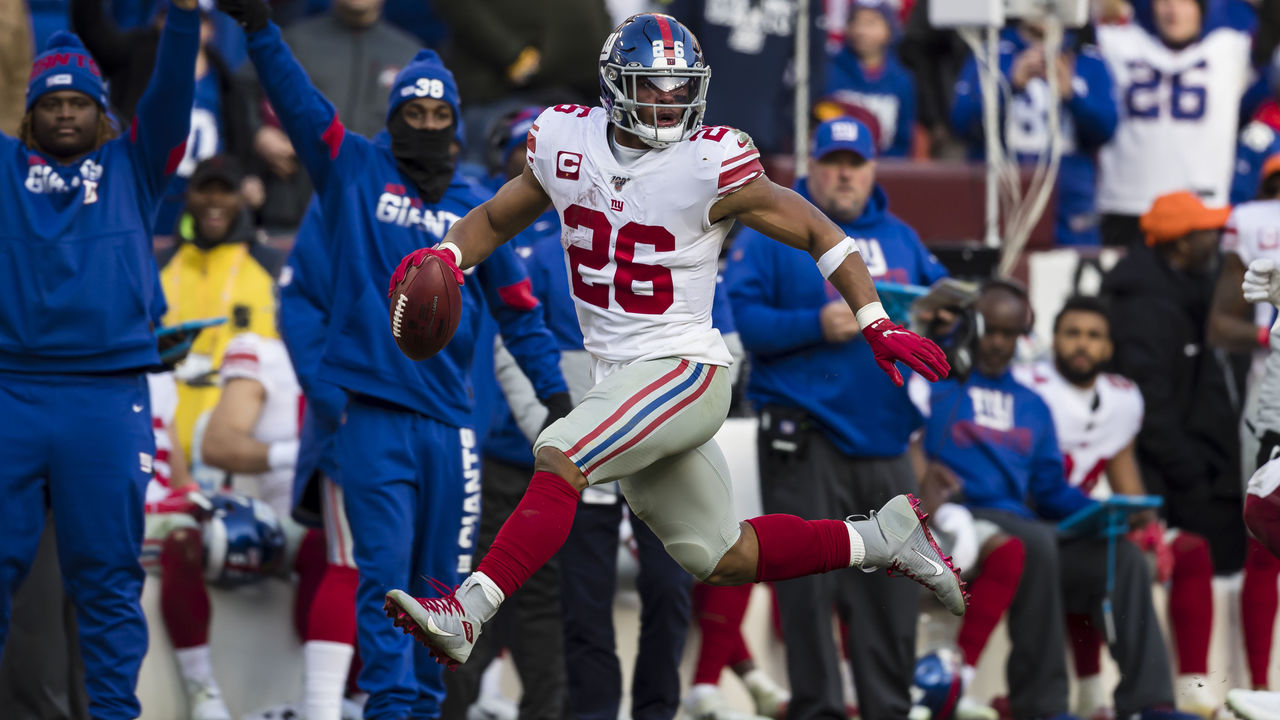 One of the most explosive and exciting players in the NFL, Barkley takes the mantle from Le'Veon Bell as the best player currently wearing No. 26.
Runner-up: Le'Veon Bell, RB, Jets
No. 27
Tre'Davious White, CB, Bills
White's play is garnering nationwide recognition. The Bills' No. 1 corner was an All-Pro in 2019 and leapfrogs Leonard Fournette as the league's top wearer of No. 27.
Runner-up: Leonard Fournette, RB, Jaguars
No. 28
Josh Jacobs, RB, Raiders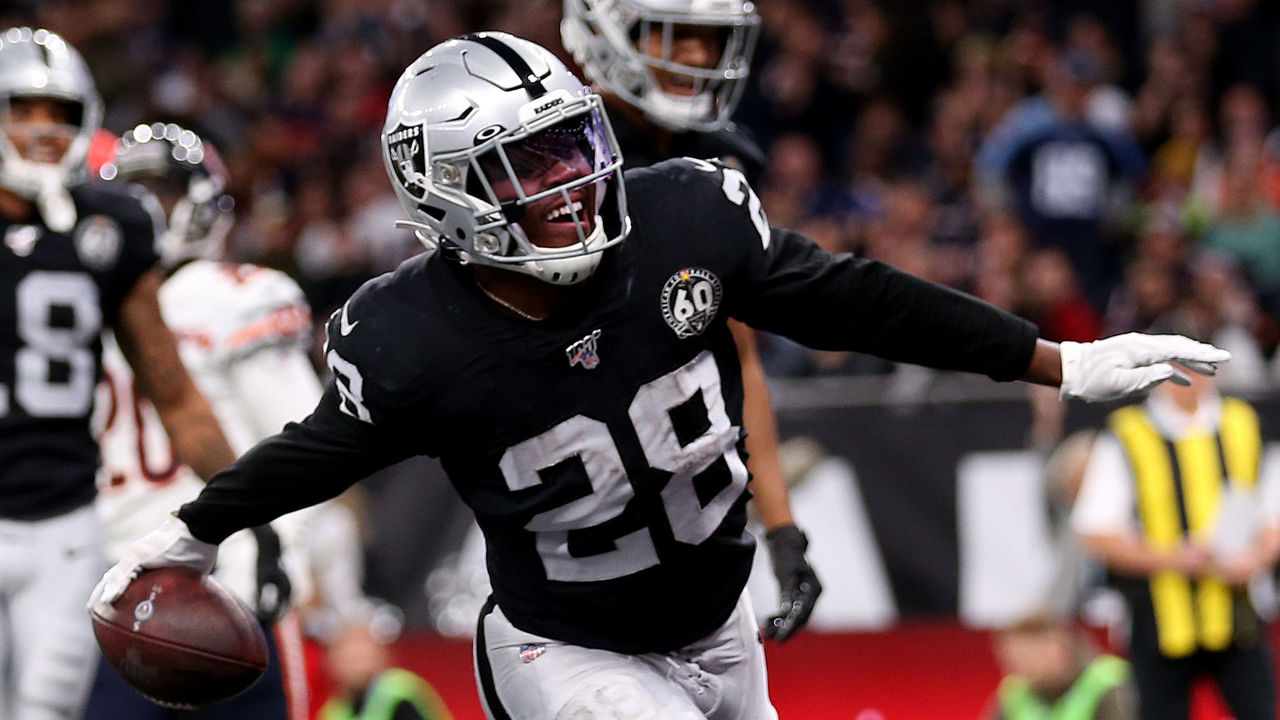 The nod for No. 28 goes to the youngster who managed to replicate his collegiate success during his first campaign in the pros. Joe Mixon also reached the 1,100-yard mark, but not until his second season.
Runner-up: Joe Mixon, RB, Bengals
No. 29
Earl Thomas, S, Ravens
One of the best players to ever wear No. 29, Thomas continues to get it done with the Ravens. The three-time All-Pro still strikes fear into the hearts of opponents.
Runner-up: Malik Hooker, S, Colts
No. 30
Phillip Lindsay, RB, Broncos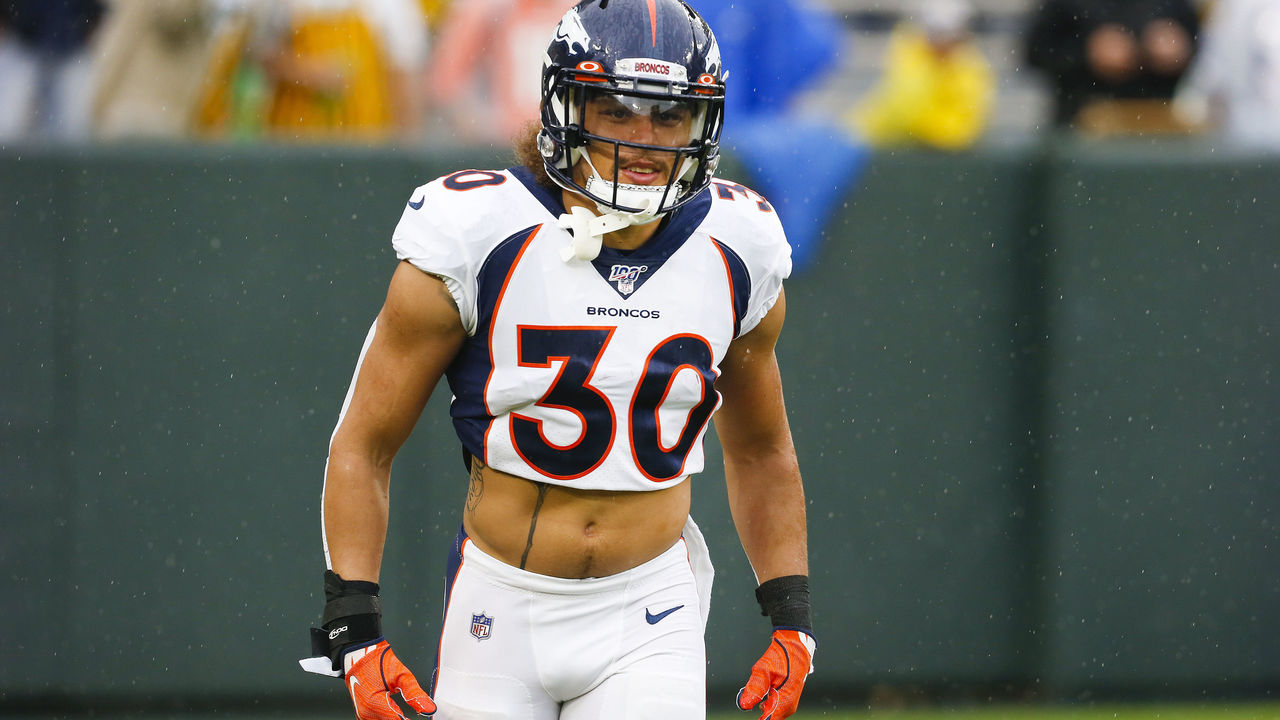 Todd Gurley likely comes to mind when considering No. 30, but he switched digits upon joining the Falcons. Lindsay earns the distinction over James Conner; he's twice eclipsed 1,000 yards and has a Pro Bowl invite on his resume.
Runner-up: James Conner, RB, Steelers
No. 31
Justin Simmons, S, Broncos
Simmons came into his own in 2019, finishing as PFF's second-graded safety in just his fourth season.
Runner-up: Kevin Byard, S, Titans
No. 32
Tyrann Mathieu, S, Chiefs
"Honey Badger" wore the famous No. 7 at LSU but is now the most recognizable name sporting No. 32 in the pros.
Runner-up: Chris Carson, RB, Seahawks
No. 33
Jamal Adams, S, Jets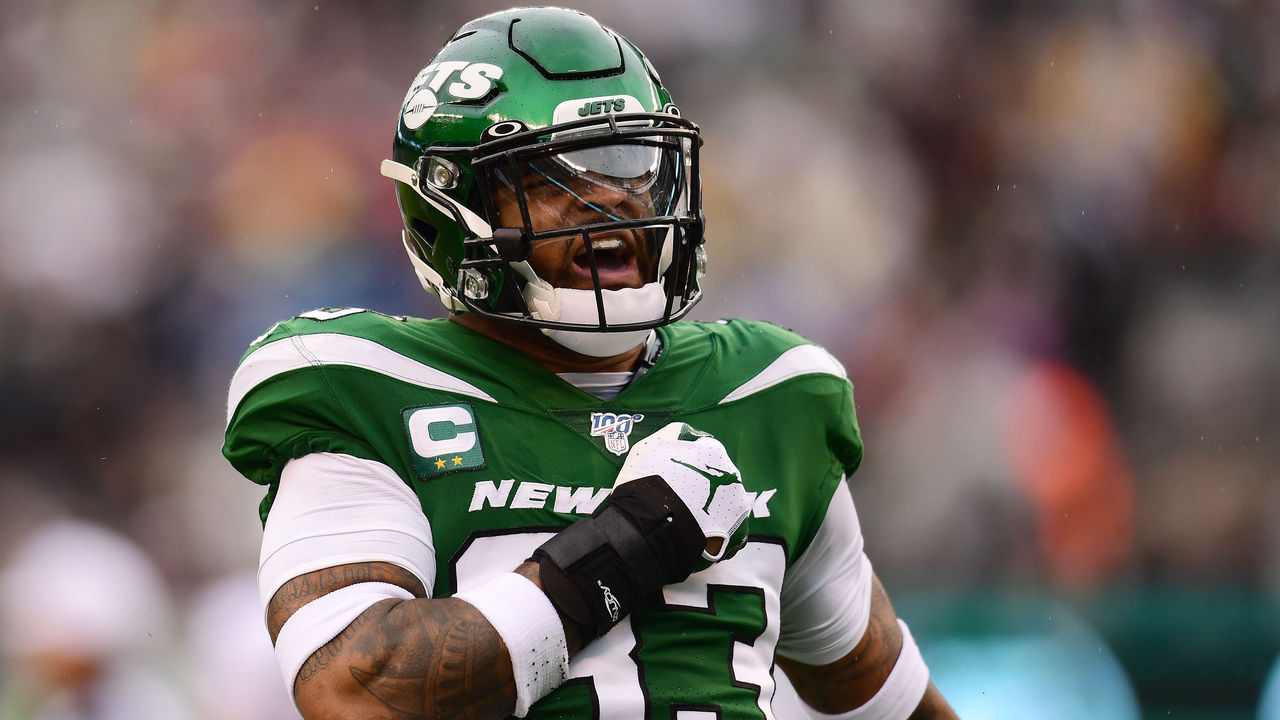 The options at No. 33 include the league leader in touchdowns (Aaron Jones), the most diverse safety in the league (Derwin James), one of the best running backs in the game (Dalvin Cook), and the NFL's hardest-hitting DB (Adams). Adams gets our vote based on his body of work and the fact that James missed most of the 2019 season.
Runner-up: Dalvin Cook, RB, Vikings
No. 34
Jordan Howard, RB, Dolphins
Some of the game's greats have donned No. 34, including Walter Payton, Earl Campbell, and Thurman Thomas. That is not the case in today's NFL, with many backs opting for sleeker, sexier numbers. Howard is our pick here.
Runner-up: Terrell Edmunds, S, Steelers
No. 35
Gus Edwards, RB, Ravens
The options continue to dry up. Edwards currently represents the best choice at No. 35.
Runner-up: Pierre Desir, CB, Jets
No. 36
Shawn Williams, S, Bengals
Safeties and backup running backs continue to populate the high 30s.
Runner-up: D.J. Swearinger, S, Saints
No. 37
Quandre Diggs, DB, Seahawks
Diggs reacted positively to a midseason trade to Seattle, recording three interceptions in his five games with the Seahawks.
Runner-up: Johnathan Cyprien, S, Falcons
No. 38
Jeff Heath, S, Raiders
No star wears No. 38. Heath, a seven-year pro, is the closest we can get.
Runner-up: T.J. Carrie, DB, Colts
No. 39
Minkah Fitzpatrick, S, Steelers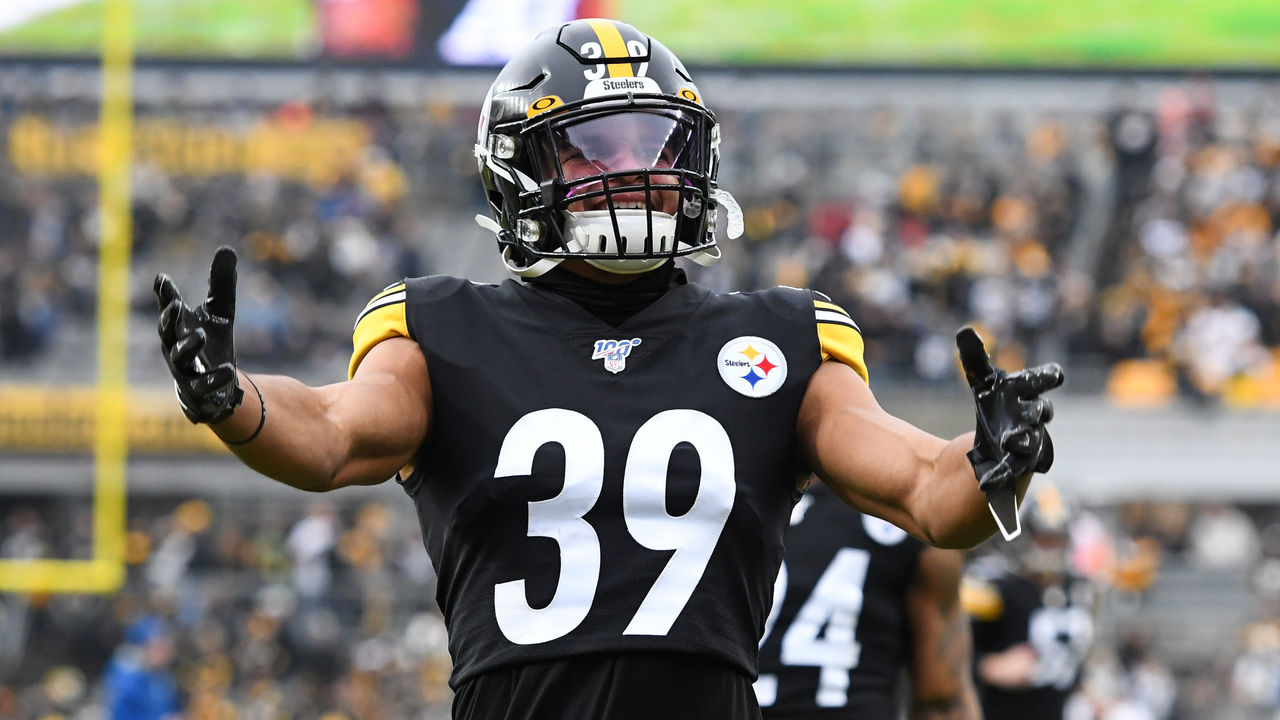 There weren't many NFLers playing at a higher level than Fitzpatrick in 2019. The safety was magnetized to the ball following a trade to the Steelers: He had five picks, two fumble recoveries, a forced fumble, and a touchdown in 14 games.
No. 40
Jarrad Davis, LB, Lions
Numbers in the 40s often belong to fullbacks and safeties, but it's Davis, a linebacker, who represents the best at No. 40.
Runner-up: Paul Worrilow, LB, Jets
No. 41
Alvin Kamara, RB, Saints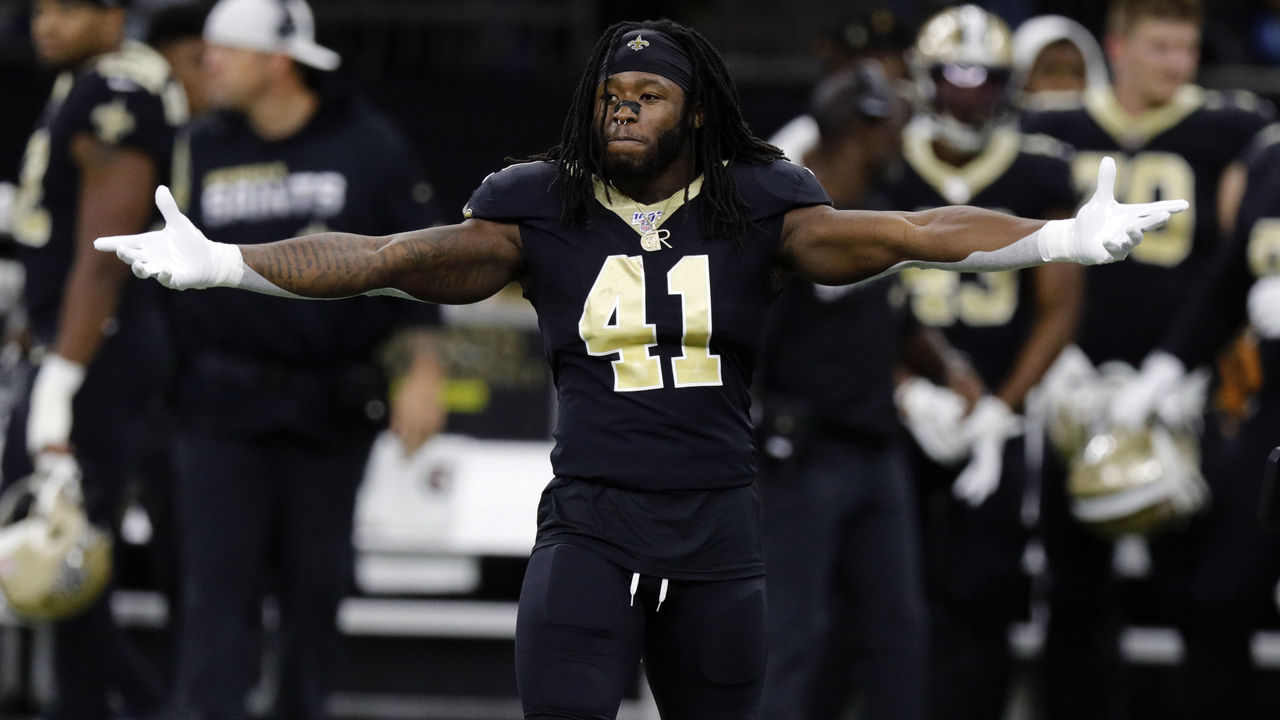 It's jarring to see a quick, skill-position player wearing such a high number, but Kamara certainly owns it.
Runner-up: Anthony Harris, S, Vikings
No. 42
Karl Joseph, S, Browns
The hard-hitting safety signed with the Browns this offseason after four years in Oakland.
Runner-up: Devon Kennard, LB, Cardinals
No. 43
John Johnson, S, Rams
Quietly, Johnson registered 119 tackles in 2018. He was on his way to more name recognition but missed most of last season due to injury.
Runner-up: Haason Reddick, LB, Cardinals
No. 44
Marlon Humphrey, DB, Ravens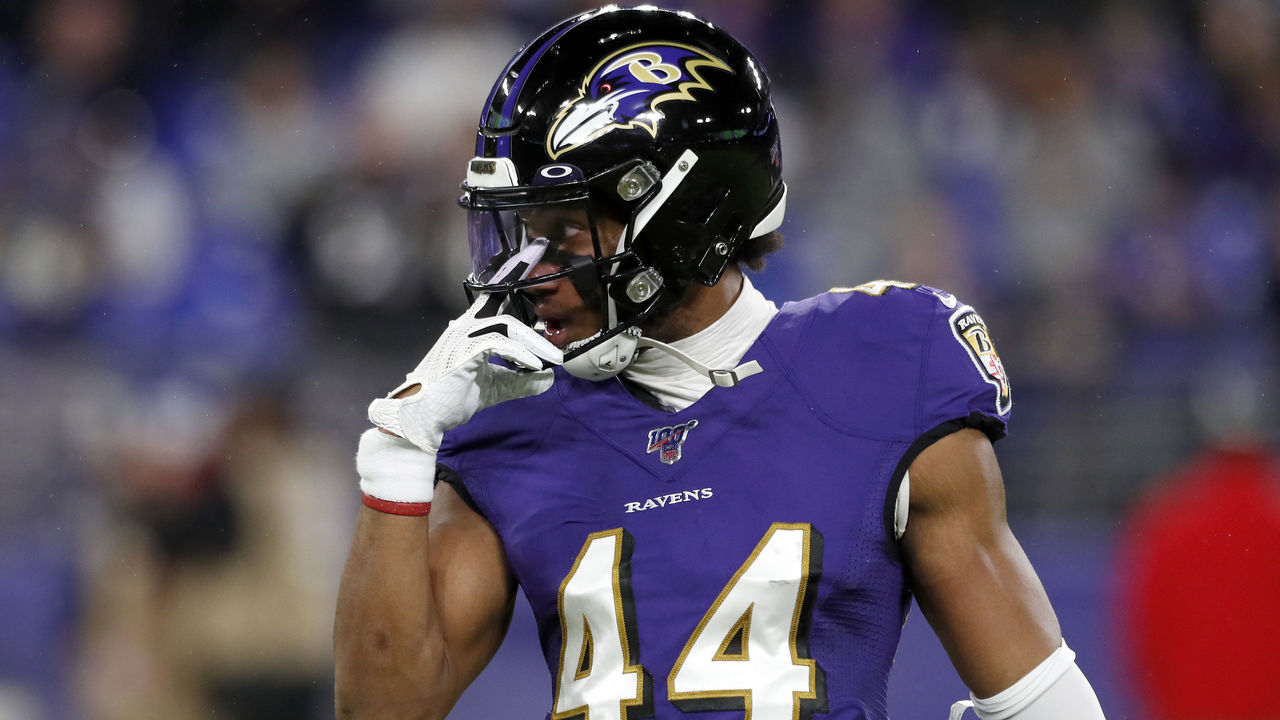 Humphrey was a first-team All-Pro defensive back and a Pro Bowler in his first season as a full-time starter. Kyle Juszczyk is considered the best fullback in the NFL, but that's a niche position in today's game.
Runner-up: Kyle Juszczyk, FB, 49ers
No. 45
Deion Jones, LB, Falcons
This spot belongs to Jones for the time being, but Devin White looks to be chasing the crown after a strong rookie season.
Runner-up: Devin White, LB, Buccaneers
No. 46
Neville Hewitt, LB, Jets
There are no household names currently wearing No. 46. Hewitt recorded 75 tackles in 2019.
Runner-up: Morgan Cox, C, Ravens
No. 47
Joe Schobert, LB, Jaguars
After four solid years with the Browns, the former Pro Bowl linebacker is changing teams and numbers after signing with the Jaguars.
Runner-up: Nate Gerry, LB, Eagles
No. 48
Bud Dupree, LB, Steelers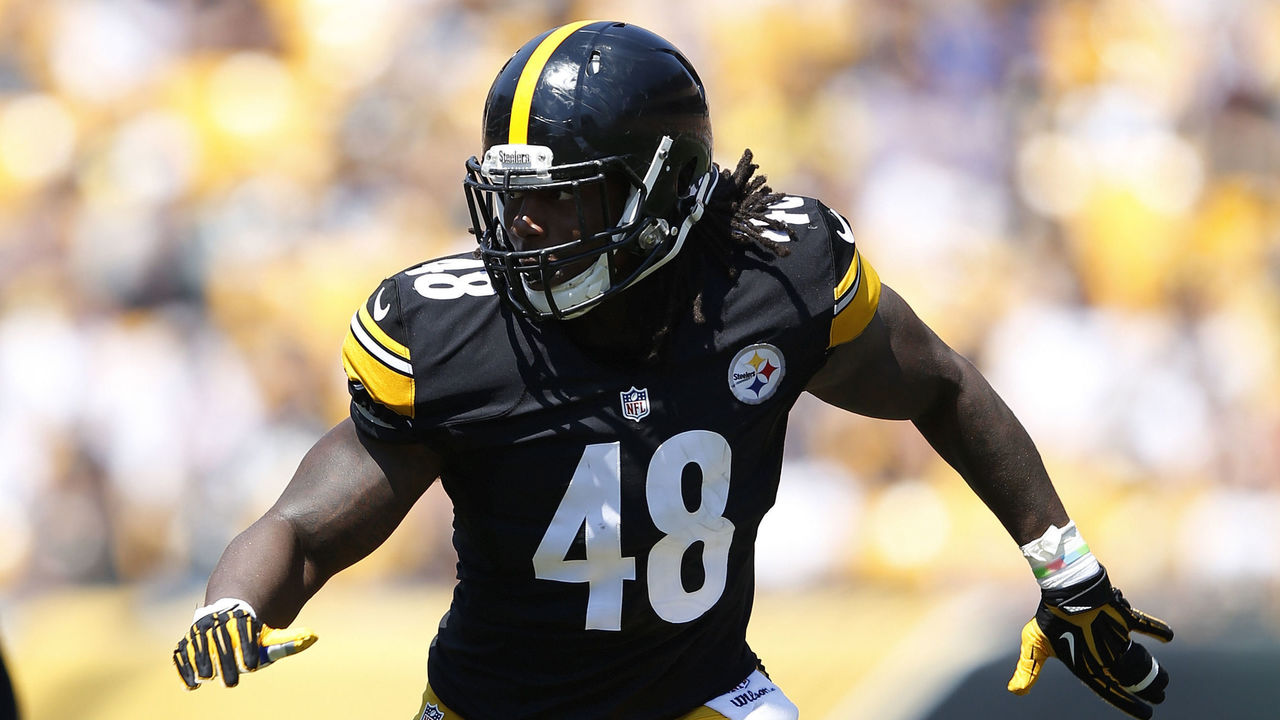 The Steelers linebacker had a career-high 11.5 sacks in 2019, earning a $15-million franchise tag.
Runner-up: Jordan Jenkins, LB, Jets
No. 49
Tremaine Edmunds, LB, Bills
The second Edmunds brother to feature on this list, Tremaine made the Pro Bowl last season after racking up 115 tackles.
Runner-up: Daniel Sorensen, S, Chiefs
No. 50
K.J. Wright, LB, Seahawks
A tackling machine, Wright continues to get it done as he enters his 10th season with the Seahawks.
Runner-up: Sean Lee, LB, Cowboys