In the final part of a series in which we identify the best current NFL players across a number of categories, theScore selects the top professional wearing every jersey number from 51 to 99. (Only players signed to a roster were considered.)
Best of the NFL:
50
K.J. Wright, LB, Seahawks
A tackling machine, Wright continues to get it done entering his 10th season with the Seahawks.
Runner-up: Sean Lee, LB, Cowboys
51
Alex Mack, C, Falcons
Mack's string of consecutive Pro Bowl appearances ended at four when he didn't get the invite in 2019. He remains one of the best centers in football.
Runner-up: Todd Davis, LB, Broncos
52
Khalil Mack, LB, Bears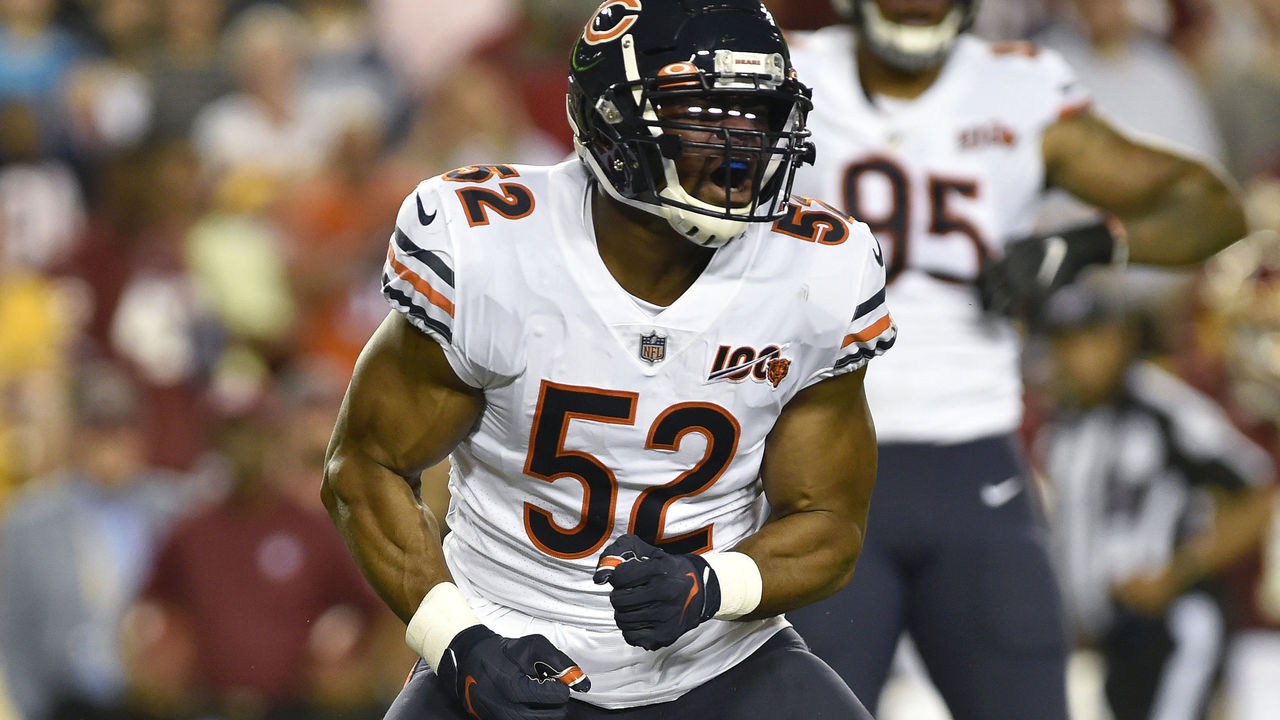 Back to the superstars. There's no equal to Mack at his position and the number he wears.
Runner-up: Christian Jones, LB, Lions
53
Darius Leonard, LB, Colts
Picking between Leonard, the Pouncey twins, Kyle Van Noy, and Joe Schobert wasn't easy. But while Maurkice Pouncey has earned numerous accolades throughout a nine-year career, the Maniac is currently in peak form after racking up 284 tackles in just two years.
Runner-up: Maurkice Pouncey, C, Steelers
54
Bobby Wagner, LB, Seahawks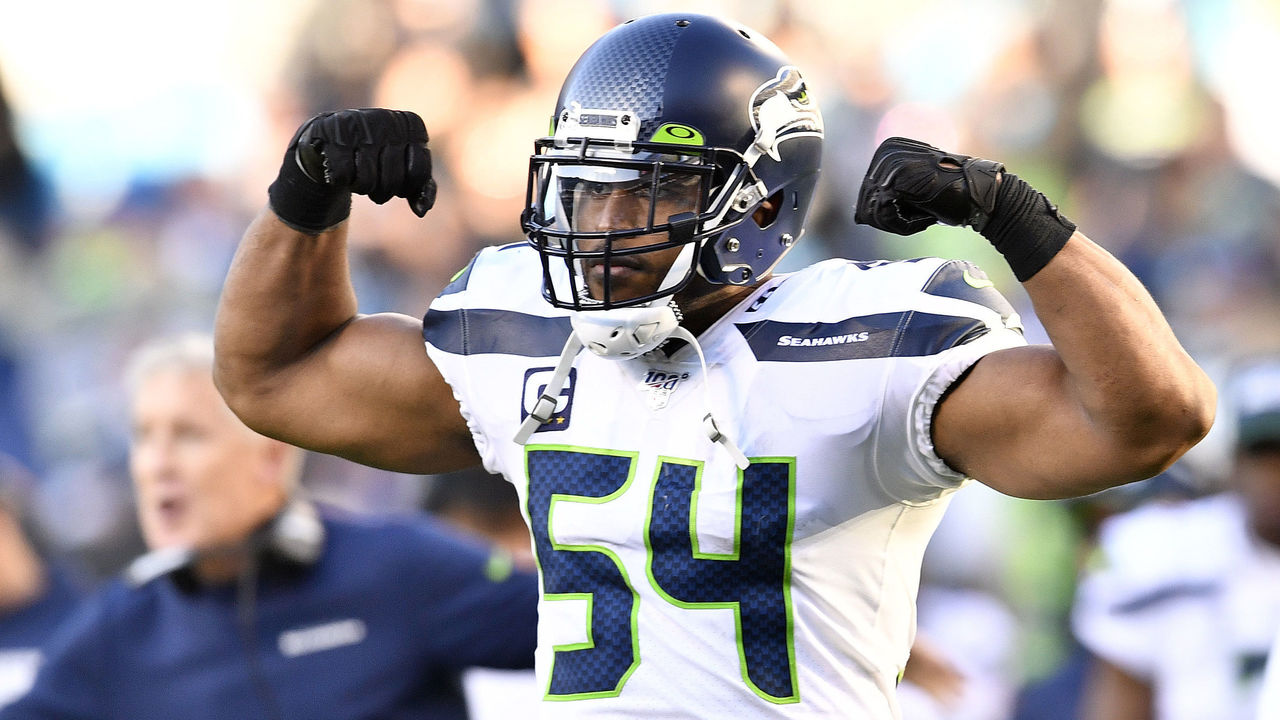 This jersey number is stacked with All-Pros, Pro Bowlers, and Super Bowl champions. Wagner, Lavonte David, and Dont'a Hightower are each 30 years old and still producing at high levels, but the Seahawks linebacker is the cream of the crop.
Runner-up: Lavonte David, LB, Buccaneers
55
Chandler Jones, DE, Cardinals
Many of the league's premier pass-rushers wear No. 55. Among them are Frank Clark, Dee Ford, Bradley Chubb, and Brandon Graham. However, Jones was in the running for Defensive Player of the Year last season with his 19 sacks, and Za'Darius Smith tallied 13.5.
Runner-up: Za'Darius Smith, DE, Packers
56
Quenton Nelson, G, Colts
Nelson is the league's best young offensive guard. The 2018 sixth overall pick has logged All-Pro nods following his first two seasons.
Runner-up: Demario Davis, LB, Saints
57
C.J. Mosley, LB, Jets
Mosley played in just two games last season, but he remains the best talent wearing No. 57.
Runner-up: Dre Greenlaw, LB, 49ers
58
Von Miller, LB, Broncos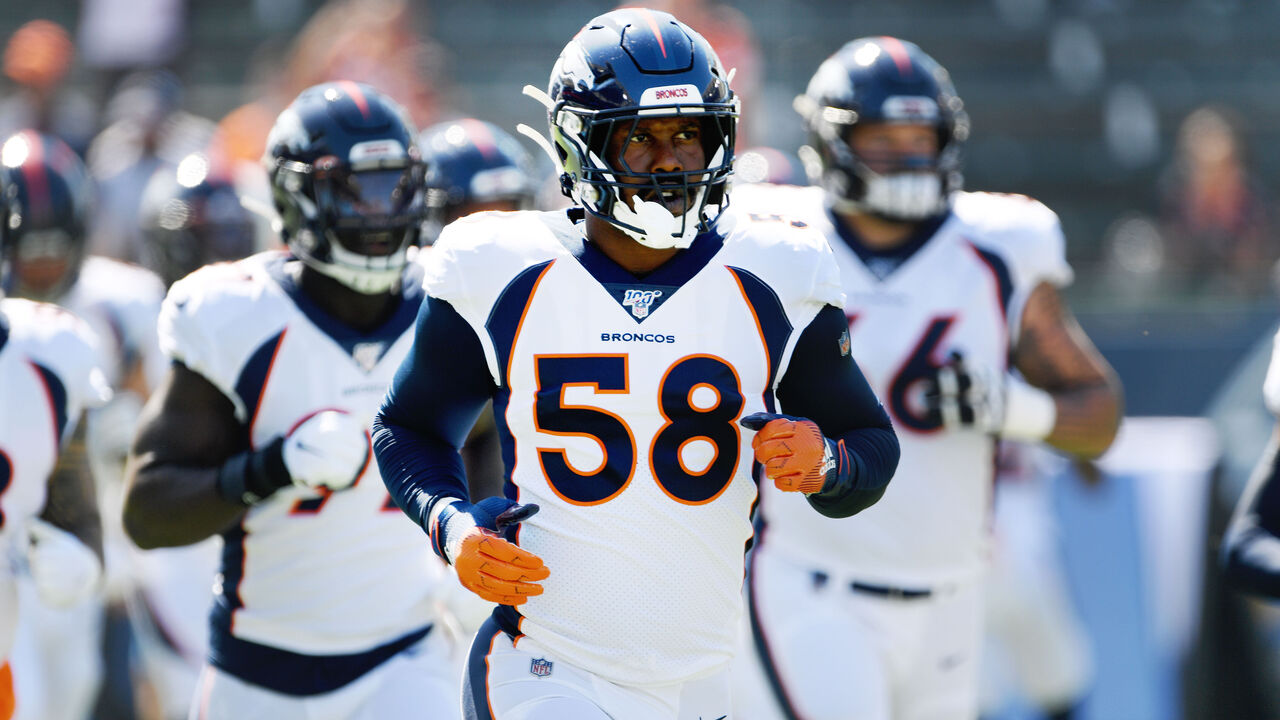 The Super Bowl 50 MVP is the latest in a long line of stud linebackers to wear No. 58, joining the likes of Jack Lambert, Derrick Thomas, Carl Banks, and Wilber Marshall.
Runner-up: Shaq Barrett, LB, Buccaneers
59
Whitney Mercilus, DE, Texans
Luke Kuechly was the player most associated with No. 59, but he abruptly retired after the 2019 campaign. Mercilus is now the best player wearing the number.
Runner-up: Tahir Whitehead, LB, Panthers
60
Ben Jones, C, Titans
We enter the offensive line-heavy numbers and open with Jones, PFF's second-ranked center in 2019.
Runner-up: David Andrews, C, Patriots
61
Rodney Hudson, C, Raiders
The veteran Raider made the Pro Bowl for the third time in 2019.
Runner-up: Marcus Cannon, T, Patriots
62
Jason Kelce, C, Eagles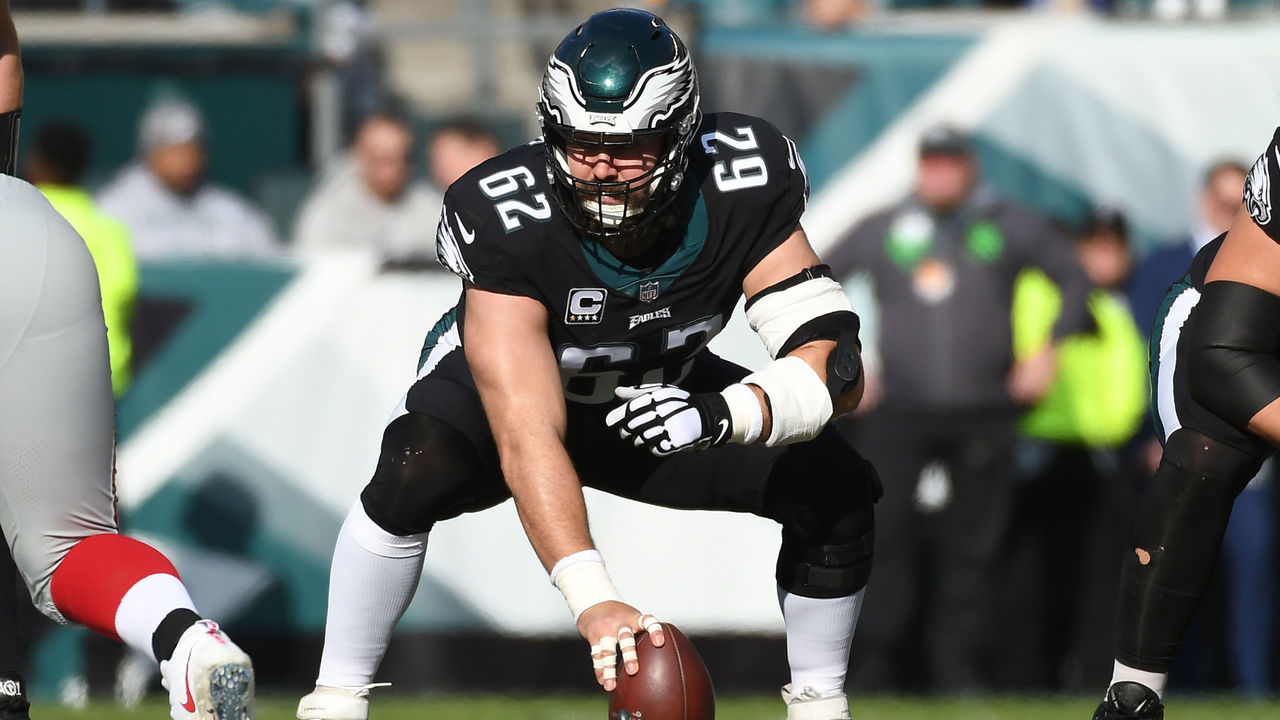 The 32-year-old is entering his 10th year and is still considered the standard at his position. Kelce was PFF's top-graded center in 2019.
Runner-up: Joe Thuney, G, Patriots
63
Corey Linsley, C, Packers
The Packers' starting center committed just two penalties in 2019.
Runner-up: Austin Corbett, G, Rams
64
Richie Incognito, G, Raiders
For all of Incognito's flaws - and there are many - he remains an effective offensive lineman. Particularly as a pass-blocker, an area in which he ranked second among all guards in PFF's 2019 metrics.
Runner-up: J.R. Sweezy, G, Cardinals
65
Lane Johnson, T, Eagles
Sensing a trend? The Eagles and Raiders field two of the league's best offensive lines, and Johnson anchors the right side of Philadelphia's unit.
Runner-up: Cody Whitehair, G, Bears
66
David DeCastro, G, Steelers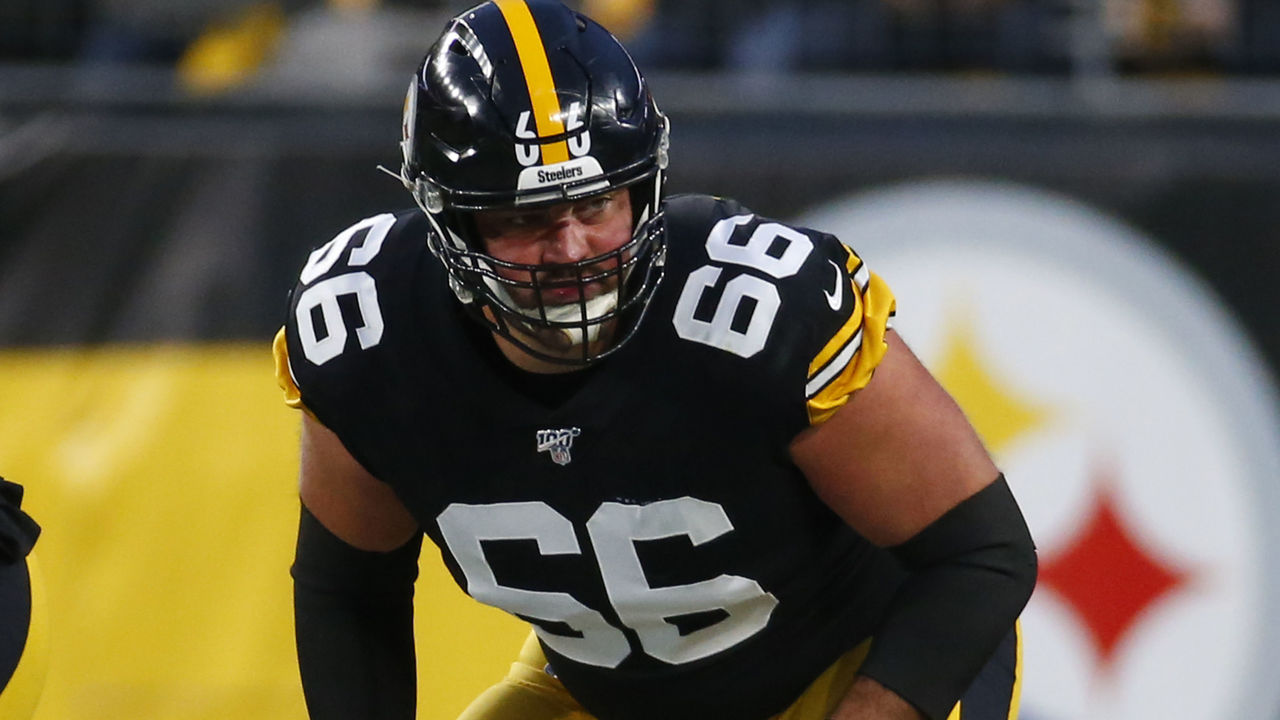 DeCastro has made two All-Pro teams and five consecutive Pro Bowls to edge out Gabe Jackson for this honor.
Runner-up: Gabe Jackson, G, Raiders
67
Brian Winters, G, Jets
This would normally go to three-time Pro Bowler Larry Warford, but the Saints released him in March as a cost-cutting measure.
Runner-up: Quinton Spain, G, Bills
68
Taylor Decker, T, Lions
A 2016 first-round pick, Decker hasn't exactly lived up to his high draft slot, but he's the best at No. 68.
Runner-up: Andrew Norwell, G, Jaguars
69
David Bakhtiari, T, Packers
A popular figure among offensive linemen, Bakhtiari - a former All-Pro and two-time Pro Bowler - wears the number proudly in Green Bay.
Runner-up: Shaq Mason, G, Patriots
70
Zack Martin, G, Cowboys
If Nelson is the best young talent, Martin is the standard-bearer at guard. He's reached the Pro Bowl in all six of his seasons and been named an All-Pro in four.
Runner-up: Jake Matthews, T, Falcons
71
Trent Williams, T, 49ers
Two of this era's top offensive tackles rock No. 71. But since Jason Peters remains unsigned, Williams gets the distinction of being the best with the number.
Runner-up: Ryan Ramczyk, T, Saints
72
Terron Armstead, T, Saints
A couple of solid left tackles lead the list of candidates at No. 72, and Armstead gets the edge over Eric Fisher after a strong 2019 campaign. Fisher missed eight games due to injury.
Runner-up: Eric Fisher, T, Chiefs
73
Ramon Foster, G, Steelers
Marshal Yanda, who spent 13 years in the league, would have been the selection here before his retirement. Foster is the next man up.
Runner-up: Zach Fulton, G, Texans
74
Anthony Castonzo, T, Colts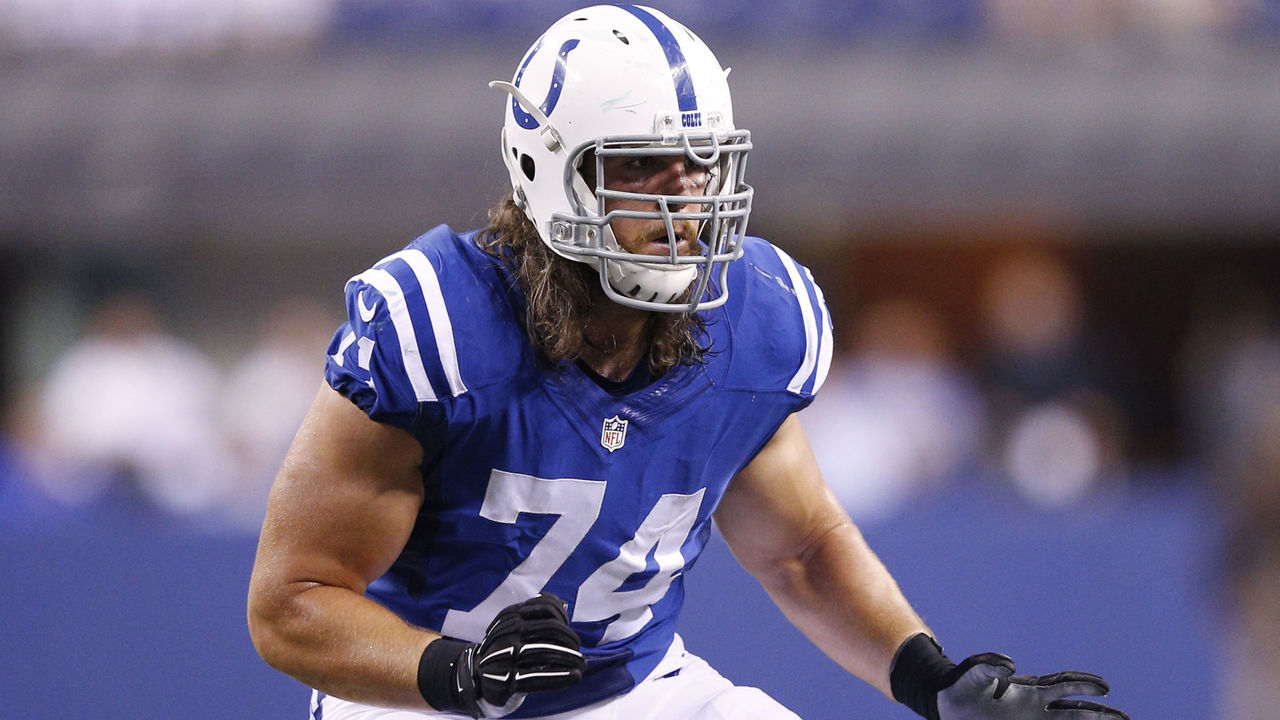 Much like with No. 73, Joe Staley's retirement opens up No. 74 to the next best player. Castonzo also considered hanging up his cleats before re-signing with the Colts this offseason.
Runner-up: Mike Remmers, T, Chiefs
75
Brandon Scherff, G, Redskins
Another standout guard, the 2015 fifth overall pick has reached three Pro Bowls in five seasons.
Runner-up: Bryan Bulaga, T, Chargers
76
Rodger Saffold, G, Titans
Saffold is currently producing some of his best career performances, whereas Russell Okung and Nate Solder are dropping off.
Runner-up: Laurent Duvernay-Tardif, G, Chiefs
77
Tyron Smith, T, Cowboys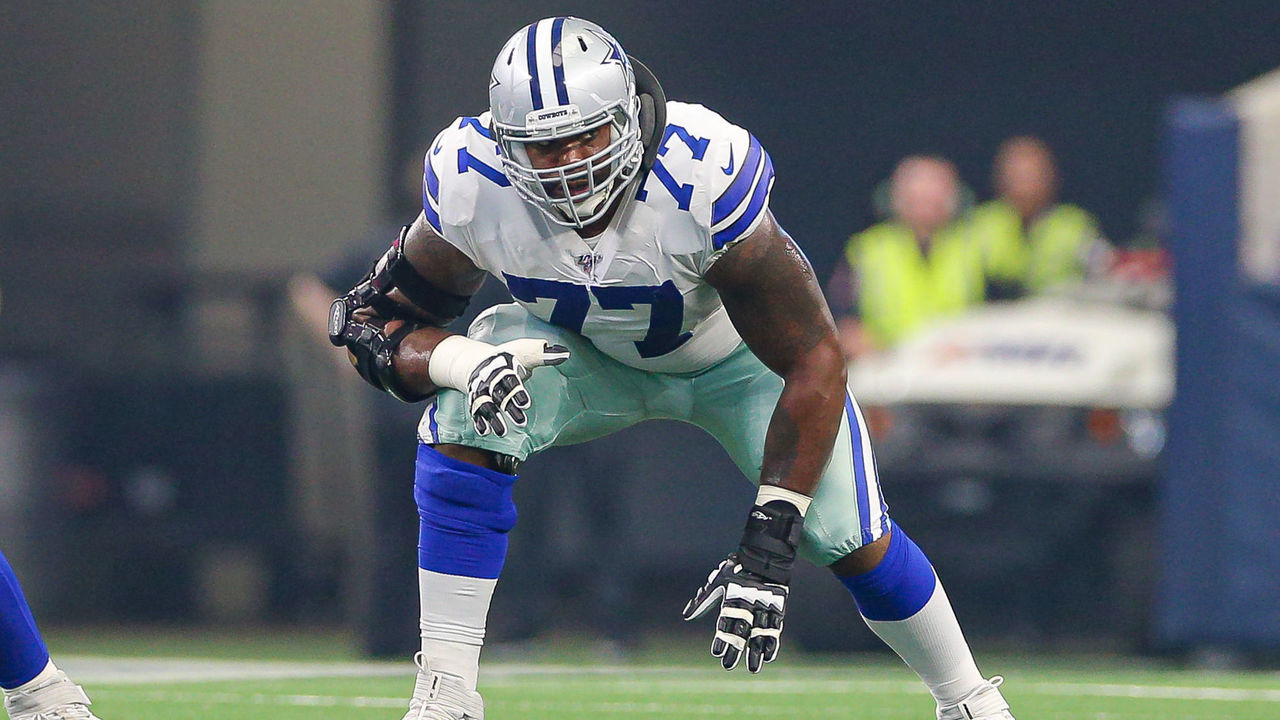 The gargantuan left tackle anchors the Cowboys' celebrated offensive line. It's hard to believe that after nine years, seven Pro Bowls, and two All-Pros, he's still just 29 years old.
Runner-up: Taylor Lewan, T, Titans
78
Laremy Tunsil, T, Texans
The Texans paid a hefty price to acquire Tunsil (two first-round picks and a second-rounder). But he helped turn around Houston's leaky O-line in 2019.
Runner-up: Alejandro Villanueva, T, Steelers
79
Brandon Brooks, G, Eagles
Brooks is coming off three straight Pro Bowl trips, but he'll miss the 2020 season with an Achilles injury.
Runner-up: Ronnie Stanley, T, Ravens
80
Jarvis Landry, WR, Browns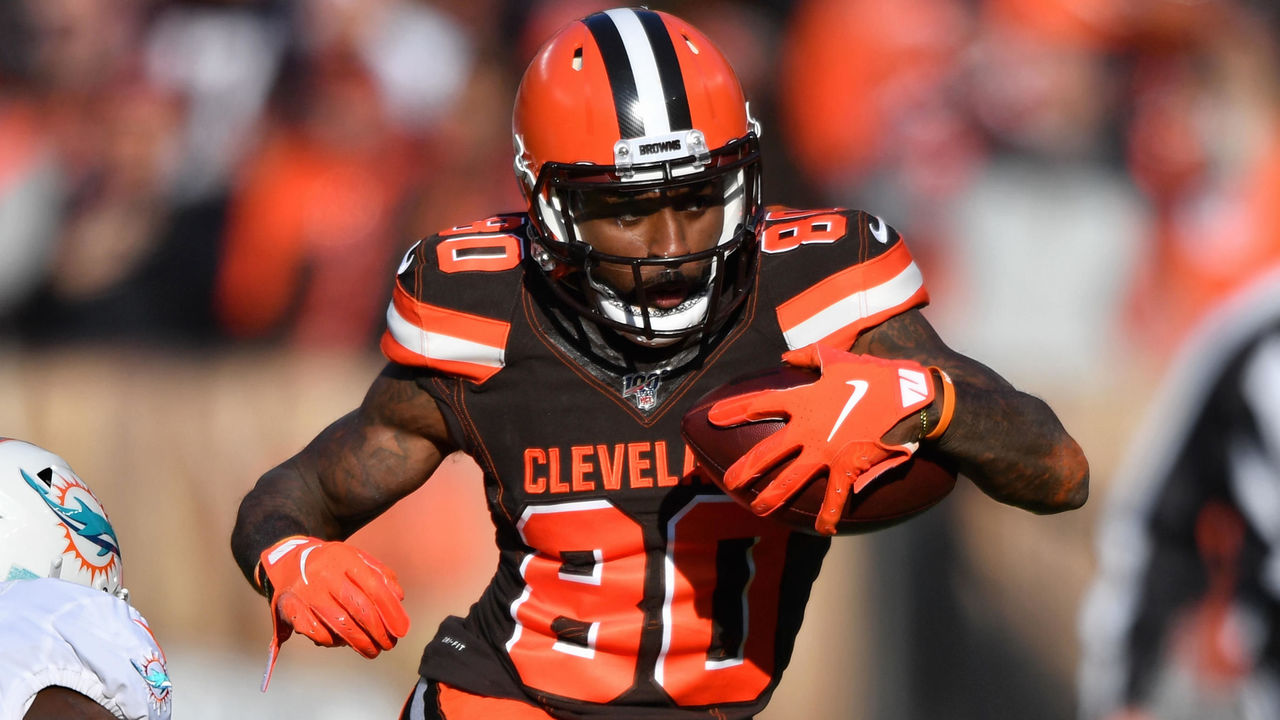 Despite the acquisition of his best friend Odell Beckham Jr., Landry somewhat surprisingly led the Browns in receiving in 2019 with 83 grabs for 1,174 yards and six touchdowns.
Runner-up: O.J. Howard, TE, Buccaneers
81
Mike Williams, WR, Chargers
The 25-year-old is coming off his first 1,000-plus-yard receiving season.
Runner-up: Austin Hooper, TE, Browns
82
Jamison Crowder, WR, Jets
Clearly jersey numbers in the 80s aren't as revered as in the past, as Crowder is the best at No. 82.
Runner-up: Kyle Rudolph, TE, Vikings
83
Tyler Boyd, WR, Bengals
The four-year pro is coming off consecutive 1,000-plus-yard seasons, and he compiled the Bengals' most targets (148) in 2019 with A.J. Green sidelined.
Runner-up: Willie Snead, WR, Ravens
84
Corey Davis, WR, Titans
An array of disappointing receivers and tight ends are currently rocking the number Randy Moss made into a hot commodity.
Runner-up: Keelan Cole, WR, Jaguars
85
George Kittle, TE, 49ers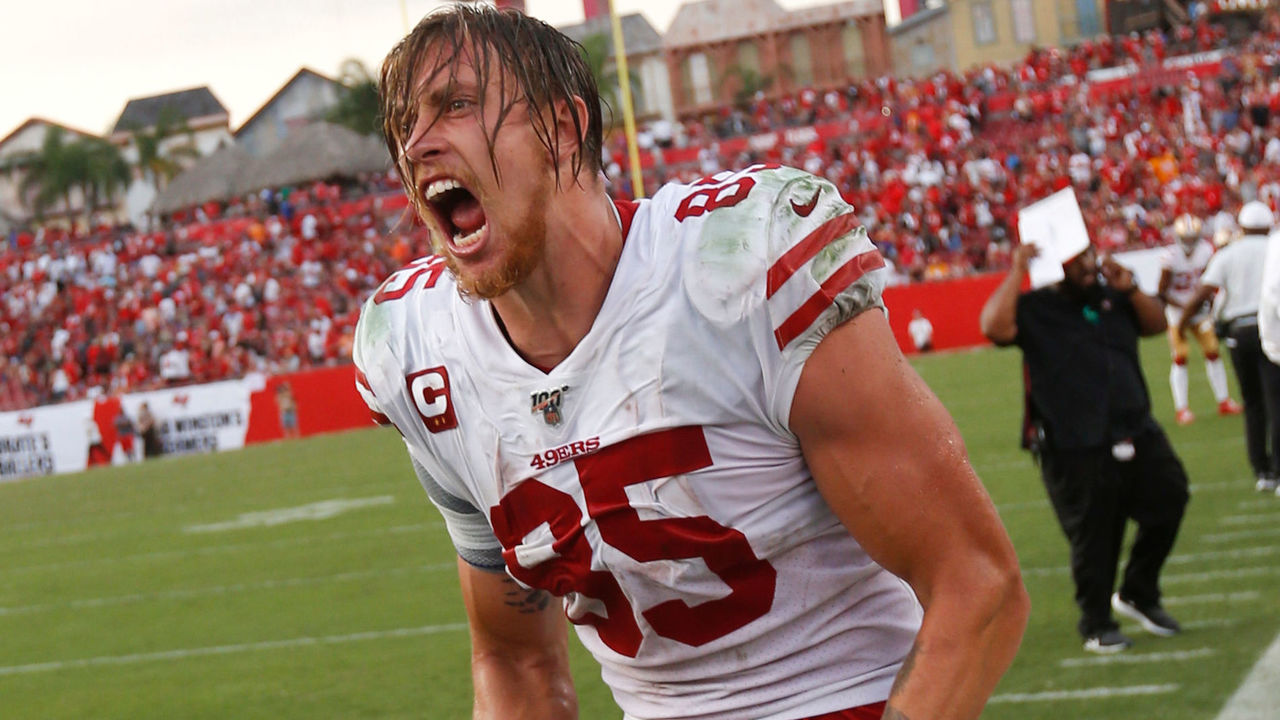 Kittle brings respectability back to the 80s. The 49ers tight end earned an All-Pro nod at his position after mauling opponents in 2019.
Runner-up: David Njoku, TE, Browns
86
Zach Ertz, TE, Eagles
Ertz remains one of the league's top tight ends. He's a season removed from an absurd 116-catch year.
Runner-up: Hunter Henry, TE, Chargers
87
Travis Kelce, TE, Chiefs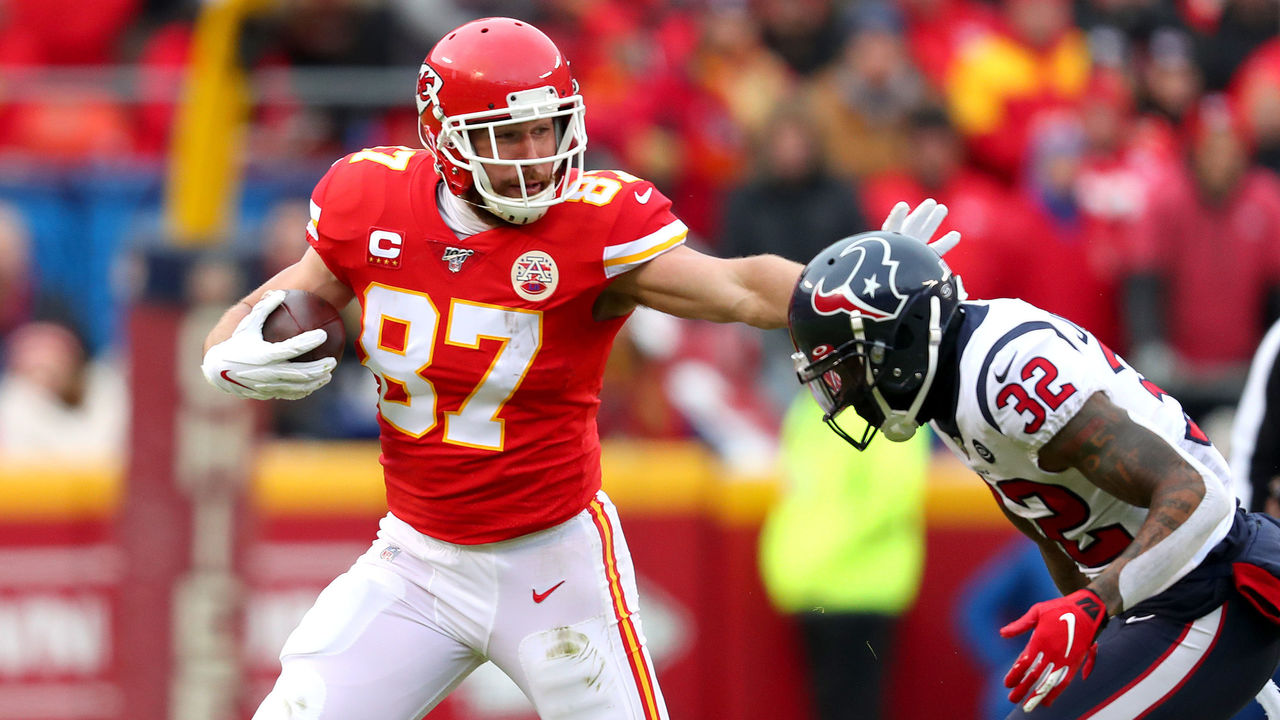 Mahomes' favorite target has snatched 200 receptions over the past two seasons. He completes the NFL's elite tight end triumvirate and assumes the mantle here ahead of the returning Rob Gronkowski.
Runner-up: Rob Gronkowski, TE, Buccaneers
88
Evan Engram, TE, Giants
CeeDee Lamb may soon ascend to this spot, but for now, tight ends continue to dominate the late 80s.
Runner-up: T.J. Hockenson, TE, Lions
89
Mark Andrews, TE, Ravens
If you needed any further confirmation that today's receivers prefer numbers in the teens, we wrap up the 80s with another tight end.
Runner-up: Tyler Higbee, TE, Rams
90
T.J. Watt, LB, Steelers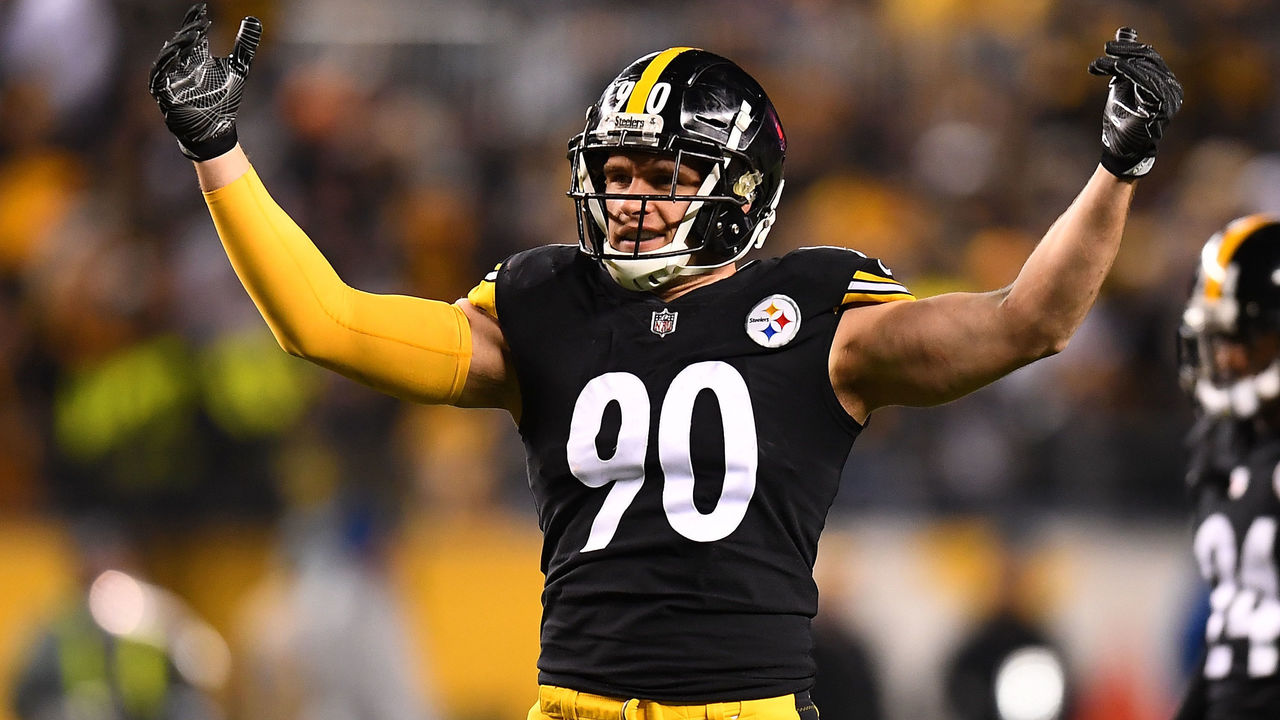 Back to pass-rushers. No. 90 is loaded with talent, including Jadeveon Clowney, Trey Flowers, and Jason Pierre-Paul. But Watt is currently the best of the bunch.
Runner-up: DeMarcus Lawrence, DE, Cowboys
91
Fletcher Cox, DT, Eagles
Cox has made the Pro Bowl five years running, and he's the solidifying force on the Eagles' defensive line.
Runner-up: Yannick Ngakoue, DE, Jaguars
92
Marcus Davenport, DE, Saints
Since Leonard Williams switched to No. 99 upon moving from the Jets to the Giants, this honor goes to the young Saints pass-rusher.
Runner-up: William Gholston, DE, Buccaneers
93
Calais Campbell, DE, Ravens
The 12-year vet and Walter Payton Man of the Year still knows how to get to the quarterback, notching 6.5 sacks in 2019 with the Jaguars.
Runner-up: Jonathan Allen, DT, Redskins
94
Cameron Jordan, DE, Saints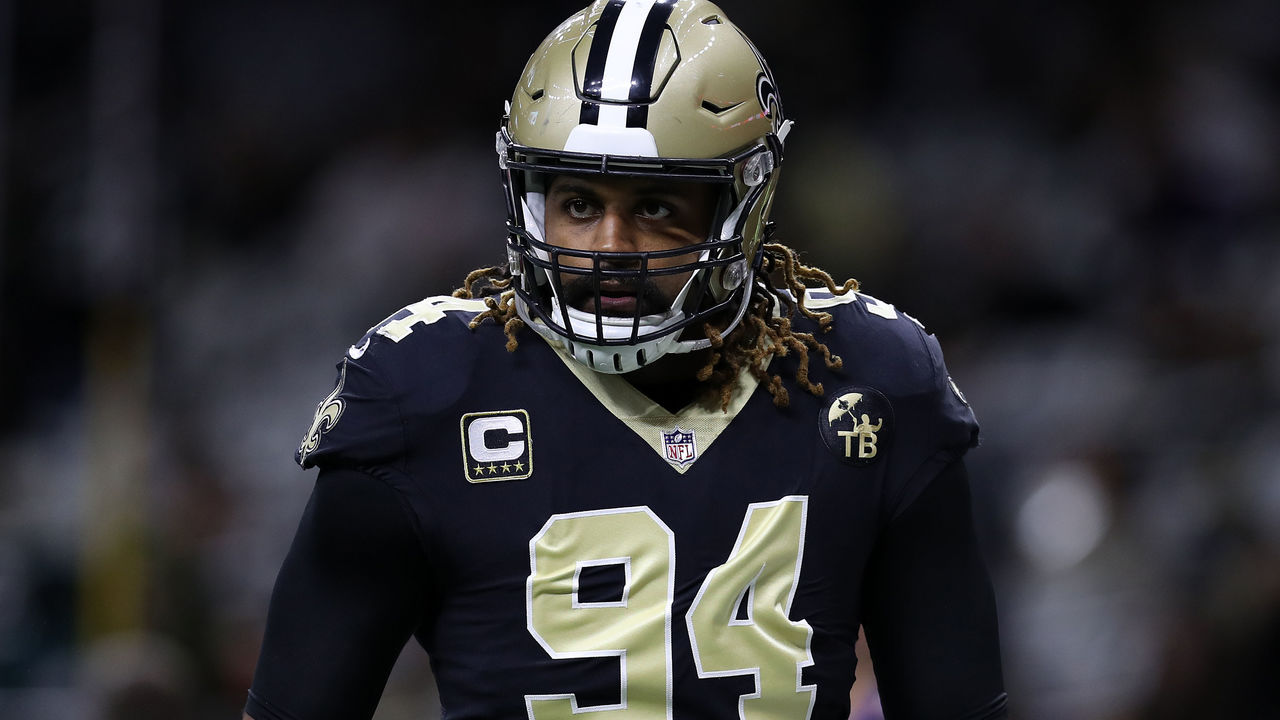 The Saints' defensive leader has put up double-digit sacks the past three years, including a career-high 15.5 last season.
Runner-up: Solomon Thomas, DE, 49ers
95
Myles Garrett, DE, Browns
You'd be hard-pressed to find two players playing better when on the field last season. Chris Jones was dominant during the Chiefs' postseason run, but Garrett was the favorite to win Defensive Player of the Year before his helmet-swinging incident. He had recorded 10 sacks in 10 games at that point.
Runner-up: Chris Jones, DT, Chiefs
96
Carlos Dunlap, DE, Bengals
Dunlap is now 31 years old, but he's showing no signs of slowing down. Over his 10-year career, he's averaging eight sacks per season.
Runner-up: Akiem Hicks, DE, Bears
97
Joey Bosa, DE, Chargers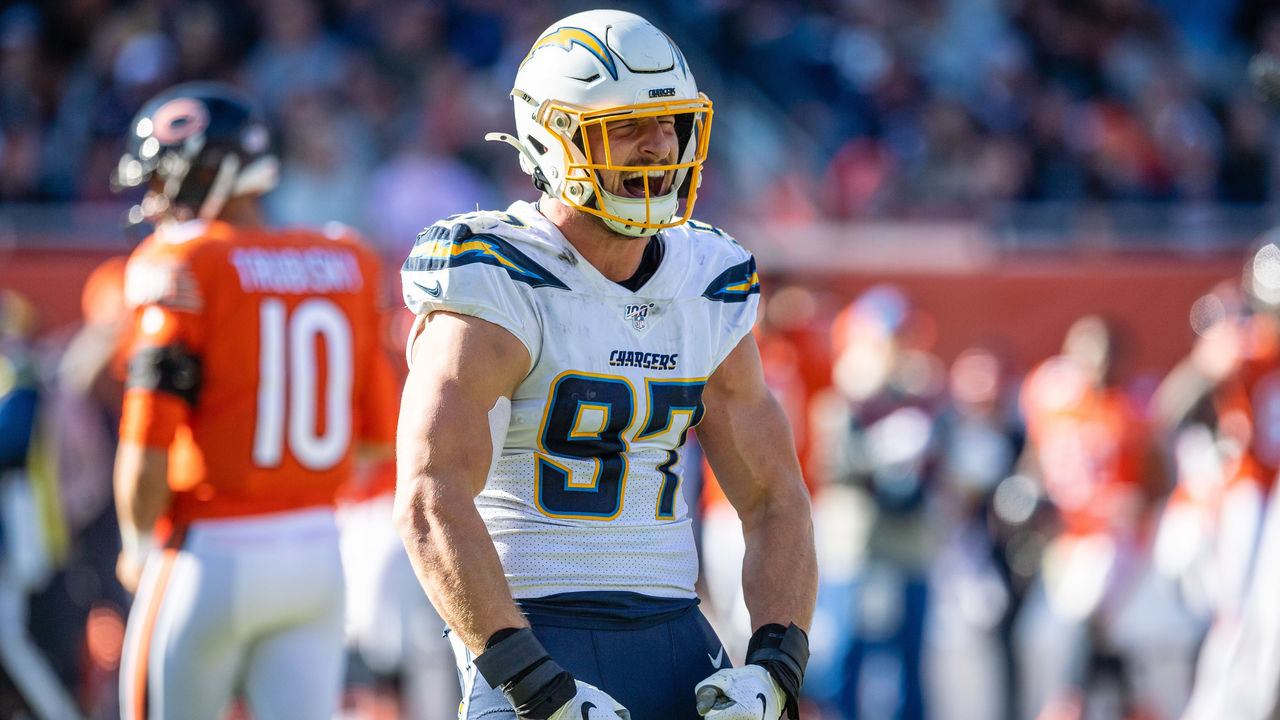 John and Cheryl Bosa can't pick between their two boys, but we certainly can. While Joey has admitted Nick is the better athlete, the Chargers rush end has been given a three-year head start. He's used it to compile 40 sacks in four seasons.
Runner-up: Nick Bosa, DE, 49ers
98
Brandon Williams, DT, Ravens
The 2018 Pro Bowler edges out his AFC North rival.
Runner-up: Vince Williams, LB, Steelers
99
Aaron Donald, DT, Rams
Five of the last eight Defensive Player of the Year award winners have worn the No. 99. J.J. Watt was the league's premier defender to begin the last decade, but Donald now owns that title.
Runner-up: Danielle Hunter, DE, Vikings