Ranking all 32 NFL QB rooms from worst to best
Julio Aguilar / Getty Images Sport / Getty
With the NFL draft and the major part of free agency in the rearview mirror, rosters around the league are taking shape. In a four-part series, theScore's football editors rank all 32 teams by their total talent at quarterback, pass-catcher, running back, and defense. Depth charts are projections of teams' post-training camp rosters.
We begin with the quarterback rooms.
Position Group Rankings
QB | REC | RB | DEF
32. New England Patriots
| QB1 | QB2 | QB3 |
| --- | --- | --- |
| Jarrett Stidham | Brian Hoyer | Brian Lewerke |
How the mighty have fallen. After two decades of elite quarterback play thanks to the presence of Tom Brady, the Patriots find themselves without a starting-caliber passer. Maybe Bill Belichick can transform Stidham - who's thrown three career passes - into a stud, but it's not a likely bet. Meanwhile, Hoyer's days of being a quality spot starter are long gone and third-stringer Lewerke just went undrafted. Is New England setting its sights on Trevor Lawrence?
31. Jacksonville Jaguars
| QB1 | QB2 | QB3 |
| --- | --- | --- |
| Gardner Minshew | Joshua Dobbs | Jake Luton |
For all the cult-like attention Minshew received as a rookie, his first season might still have been underrated due to its shocking efficiency. That said, Minshew needs to prove it wasn't a fluke, and the Jaguars have been open about the possibility of bringing in a veteran option. Ideally, Dobbs and Luton should be fighting for a roster spot instead of being one play away from getting into a game.
30. Washington Redskins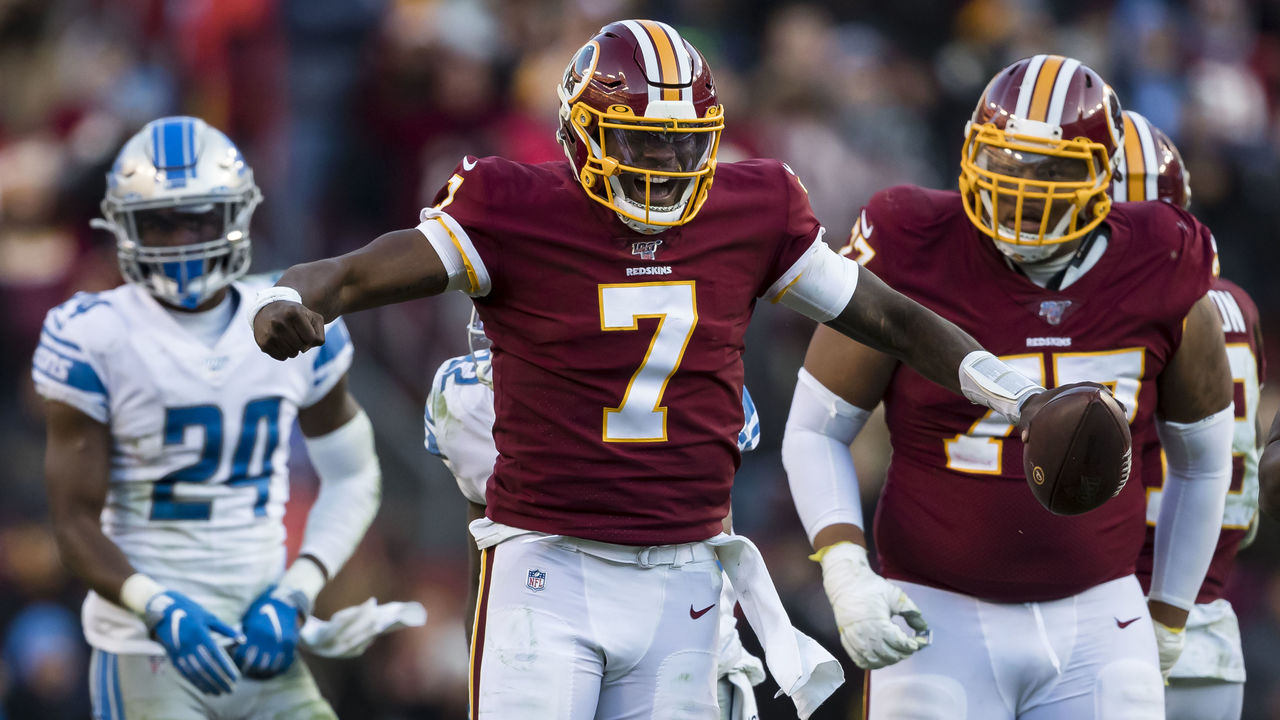 | QB1 | QB2 | QB3 |
| --- | --- | --- |
| Dwayne Haskins | Kyle Allen | Alex Smith |
Haskins looked like a deer in headlights for much of his rookie season, although he flashed potential in two solid starts to close out the year (four touchdowns against zero interceptions, 131.1 passer rating). Conversely, Allen started red-hot after stepping in for Cam Newton last year but then tossed 16 picks in his final eight appearances. It's likely he's found his role as a career backup. Smith, sadly, might never set foot on an NFL field again.
29. Carolina Panthers
| QB1 | QB2 | QB3 |
| --- | --- | --- |
| Teddy Bridgewater | Will Grier | P.J. Walker |
Bridgewater has won games when his supporting cast has provided enough help. But he's also averaged just 14 touchdowns per 16 games for his career and hasn't held a full-time starting job since 2015. Carolina also has Grier, who didn't look good as a rookie in 2019, and Walker, who rejoined the NFL after taking the XFL by storm.
28. Denver Broncos
| QB1 | QB2 | QB3 |
| --- | --- | --- |
| Drew Lock | Jeff Driskel | Brett Rypien |
It's easy to argue that the Broncos should be higher on this list after Lock won four of his first five career starts last season. But let's not jump the gun by calling him a reliable starter before he begins his first full campaign in the spotlight. After Lock, Denver's QB group has no depth: Driskel is 1-7 as a starter, while Rypien has never played an NFL snap.
27. New York Jets
| QB1 | QB2 | QB3 |
| --- | --- | --- |
| Sam Darnold | David Fales | James Morgan |
Darnold is arguably entering a make-or-break third season. He doesn't need to become elite, but the former No. 3 pick does need to prove that the potential he's teased at times isn't a mirage. If Darnold is lost to injury, the Jets will likely hope that fourth-rounder Morgan has more to offer than journeyman Fales, who's been in and out of the league since 2014.
26. New York Giants
| QB1 | QB2 | QB3 |
| --- | --- | --- |
| Daniel Jones | Colt McCoy | Alex Tanney |
Jones was better than many who bashed the Giants for drafting him No. 6 overall thought he would be. However, his poor downfield accuracy and turnover issues should greatly concern those who've already anointed him as a franchise-caliber quarterback. McCoy is far from a top backup, but with 39 appearances on his resume, he's also far from the worst.
25. Los Angeles Chargers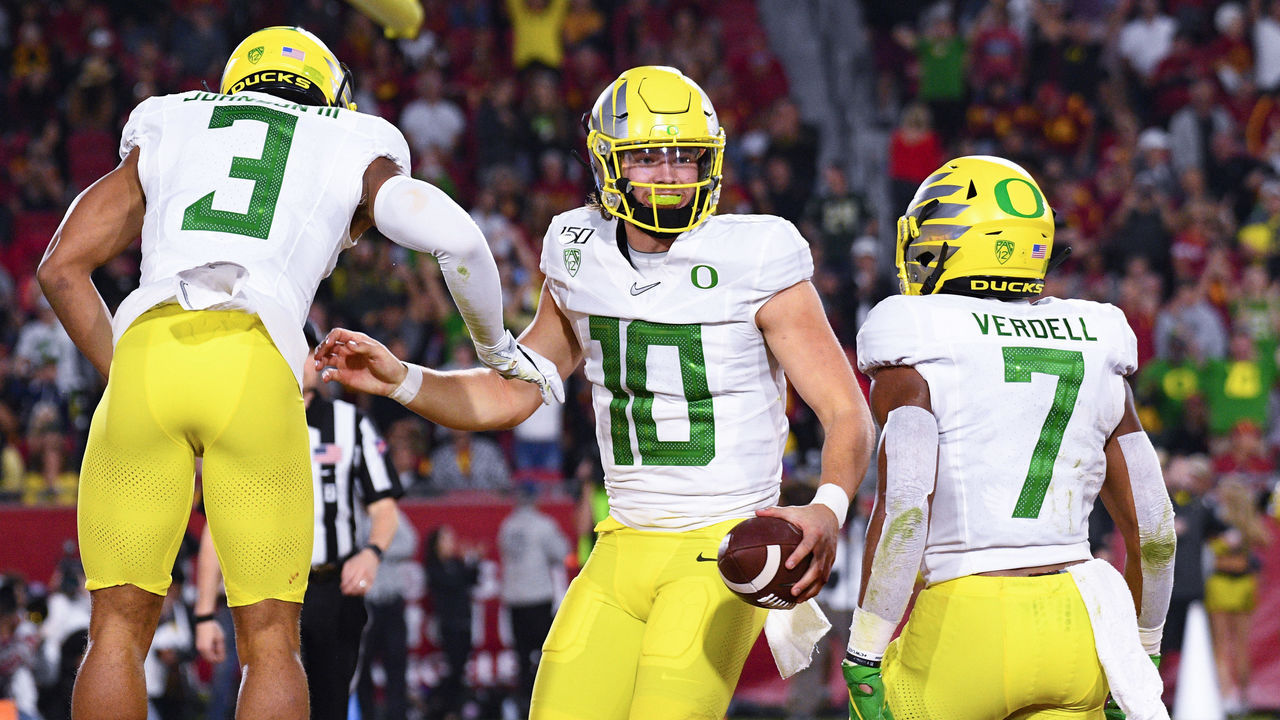 | QB1 | QB2 | QB3 |
| --- | --- | --- |
| Tyrod Taylor | Justin Herbert | Easton Stick |
It's unfortunate for the Chargers that their quarterback situation is so uncertain given the very strong roster around it. If Taylor remains the QB1, we all know what's coming: He'll take care of the ball, but the team's passing production will be limited. The other scenario for L.A. would see Herbert step up and win the starting job. That would come with even more uncertainty, but the rookie's talent would give the offense a higher ceiling.
24. Cincinnati Bengals
| QB1 | QB2 | QB3 |
| --- | --- | --- |
| Joe Burrow | Ryan Finley | Jacob Dolegala |
The Bengals will probably jump up this list when the regular season gets underway. After all, they just selected a player who produced perhaps the greatest college season in history from a signal-caller. However, any rookie is still unproven until they suit up, which limits this evaluation for Cincinnati. Behind Burrow, the Bengals have Finley, who completed just 47.1% of his passes in 2019 while losing all three of his relief starts.
23. Chicago Bears
| QB1 | QB2 | QB3 |
| --- | --- | --- |
| Nick Foles | Mitchell Trubisky | Tyler Bray |
Regardless of who wins the starting job, the Bears will have a solid backup but a question mark under center. Foles lost all of his four starts with the Jaguars in 2019, while Trubisky couldn't take the Bears to the playoffs despite having a top-10 defense. Owning two average QBs can be useful, but Chicago would probably be better off with a truly reliable starter.
22. Buffalo Bills
| QB1 | QB2 | QB3 |
| --- | --- | --- |
| Josh Allen | Jake Fromm | Matt Barkley |
The Bills believe in Allen, and his progress as a sophomore gave the team reasons for optimism. However, the 23-year-old still forced plays and committed mistakes that made you wonder whether Buffalo would have been a playoff team without its complete roster and elite defense. Adding Fromm in the draft might improve this QB group in the short and long term after Barkley threw zero touchdowns against three interceptions in his two appearances during 2019.
21. Los Angeles Rams
| QB1 | QB2 | QB3 |
| --- | --- | --- |
| Jared Goff | John Wolford | Bryce Perkins |
The Rams have a starting-caliber quarterback in Goff, who posted a 33-14 record over the last three seasons and amassed 60 touchdowns against 19 interceptions in 2017 and '18 combined. So, why isn't L.A. ranked higher here? Goff took a step back in 2019 - throwing 22 touchdowns and 16 interceptions - and though he's never been injured, neither of his backups have taken an NFL snap.
20. Tennessee Titans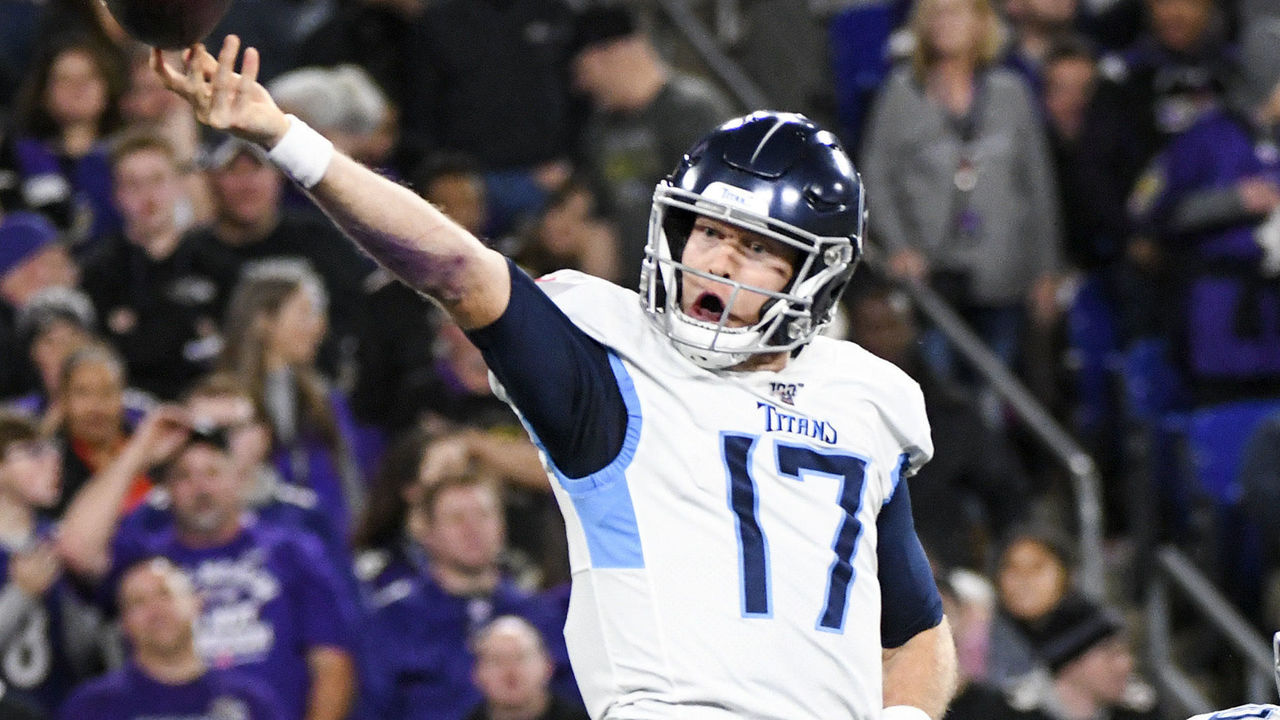 | QB1 | QB2 | QB3 |
| --- | --- | --- |
| Ryan Tannehill | Logan Woodside | Cole McDonald |
Tannehill arrived in Tennessee as a backup and finished the season one win away from starting in the Super Bowl. The veteran was rewarded with a four-year, $118-million extension, but the Titans better hope his breakout wasn't a fluke, with only 2018 seventh-rounder Woodside and 2020 seventh-rounder McDonald as depth options.
19. Miami Dolphins
| QB1 | QB2 | QB3 |
| --- | --- | --- |
| Tua Tagovailoa | Ryan Fitzpatrick | Josh Rosen |
Suddenly, the Dolphins might have a great quarterback situation. If Tagovailoa stays healthy and finds his game at the pro level, Miami will have a reliable starter (and a potential franchise QB), a veteran journeyman in Fitzpatrick who showed he still had something left in the tank last year, and a solid third option in Rosen, the 10th overall pick in 2018 who should have untapped potential.
18. Minnesota Vikings
| QB1 | QB2 | QB3 |
| --- | --- | --- |
| Kirk Cousins | Sean Mannion | Nate Stanley |
While Cousins has flaws that prevent him from being a top-tier starter, he doesn't deserve the disrespect he often receives from fans and the national media. The veteran has never ranked lower than 15th in QBR and owns two sixth-place finishes. However, he's carrying this QB room by himself, as Mannion has thrown three interceptions in just 74 career attempts and Stanley is a seventh-round rookie.
17. Las Vegas Raiders
| QB1 | QB2 | QB3 |
| --- | --- | --- |
| Derek Carr | Marcus Mariota | DeShone Kizer |
Carr's 2019 campaign wasn't spectacular, but he didn't get enough credit for finishing 10th in QBR despite a patchwork receiver corps. Mariota is unlikely to ever reach the potential many envisioned when he was drafted No. 2 overall in 2015, but few backups possess his experience and athleticism. If Carr gets hurt, a Tannehill-like resurgence is definitely possible for Mariota.
16. Cleveland Browns
| QB1 | QB2 | QB3 |
| --- | --- | --- |
| Baker Mayfield | Case Keenum | Garrett Gilbert |
Mayfield learned how quickly you can go from a star to a bust in the NFL last year. Of course, it would be ridiculous to write off the young passer after just two seasons, one of which was an all-time great rookie year. Behind him, Cleveland has one of the NFL's most proven backups in Keenum, who's just three years removed from a 3,557-yard, 22-touchdown season for the Vikings.
15. San Francisco 49ers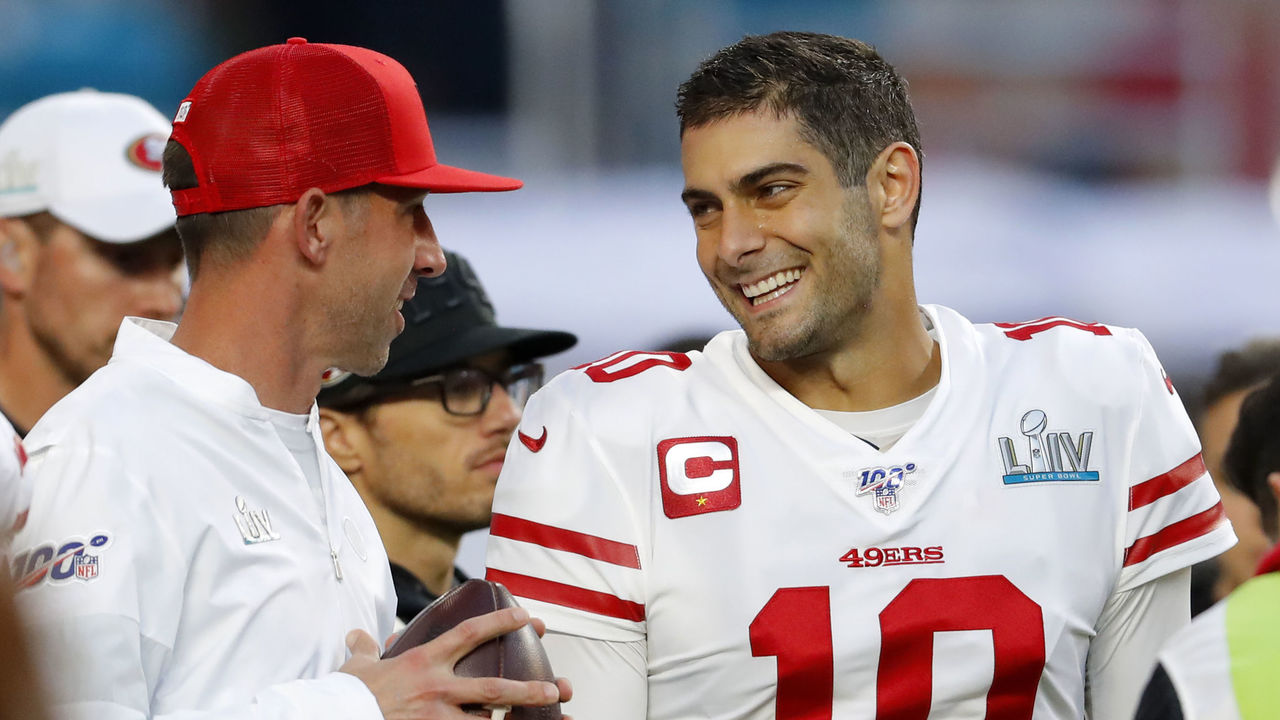 | QB1 | QB2 | QB3 |
| --- | --- | --- |
| Jimmy Garoppolo | Nick Mullens | C.J. Beathard |
Even as he helped lead San Francisco to the Super Bowl, many believed Garoppolo needed to do more to prove he's a true difference-maker. His passive fourth quarter against the Chiefs only fueled those fires. While Mullens and Beathard only have a combined four years in the NFL, they've started 18 games between them. Plus, the fact that both backups have put up decent numbers relative to their experience and draft pedigree is a testament to coach Kyle Shanahan's talent and offensive scheme.
14. Arizona Cardinals
| QB1 | QB2 | QB3 |
| --- | --- | --- |
|  Kyler Murray | Brett Hundley | Chris Streveler |
On his way to winning Offensive Rookie of the Year, Murray flashed high-level potential as a dual-threat quarterback in Kliff Kingsbury's Air Raid offense. The former No. 1 overall pick is poised to emerge as a top-ten passer, but Arizona has little to offer behind him. Hundley, through providing some athleticism, is a below-average backup at best, while Streveler is an unknown commodity from the CFL.
13. Detroit Lions
| QB1 | QB2 | QB3 |
| --- | --- | --- |
| Matthew Stafford | Chase Daniel | David Blough |
Stafford made the Lions competitive and enjoyed one of the best campaigns of his career during the first half of 2019 before going down with a back injury. His replacements (Blough and Driskel) proceeded to go winless in eight combined starts and amassed only eight passing touchdowns. After showing he's still among football's best quarterbacks, Stafford is set to play his 12th season in Detroit, and he'll have an improved backup in Daniel this time around.
12. Atlanta Falcons
| QB1 | QB2 | QB3 |
| --- | --- | --- |
| Matt Ryan | Matt Schaub | Kurt Benkert |
Ryan's career has been a roller-coaster ride over the past four seasons. He was named NFL MVP in 2016 but then saw his touchdown total plummet from 38 to 20 the next year. The veteran all but replicated his MVP stats in 2018, but his interception total doubled to 14 last year. While Ryan's best days are likely in the past, it's hard to name 10 better passers around the league. Schaub may be a punchline to some, but a 460-yard performance against the Seahawks last season showed he can sling it in a pinch.
11. Indianapolis Colts
| QB1 | QB2 | QB3 |
| --- | --- | --- |
| Philip Rivers | Jacoby Brissett | Jacob Eason |
Indy's quarterback group looks a lot different - and better - ahead of the 2020 campaign. Brissett proved he isn't a starting-caliber player in 2019, but he's still one of the best backups in the league. While Rivers will take over the top job following an inconsistent and turnover-filled year, he's a significant upgrade over Brissett and a far better fit in Frank Reich's scheme. Eason, a fourth-round rookie, will hopefully get at least two years to learn from the bench.
10. Seattle Seahawks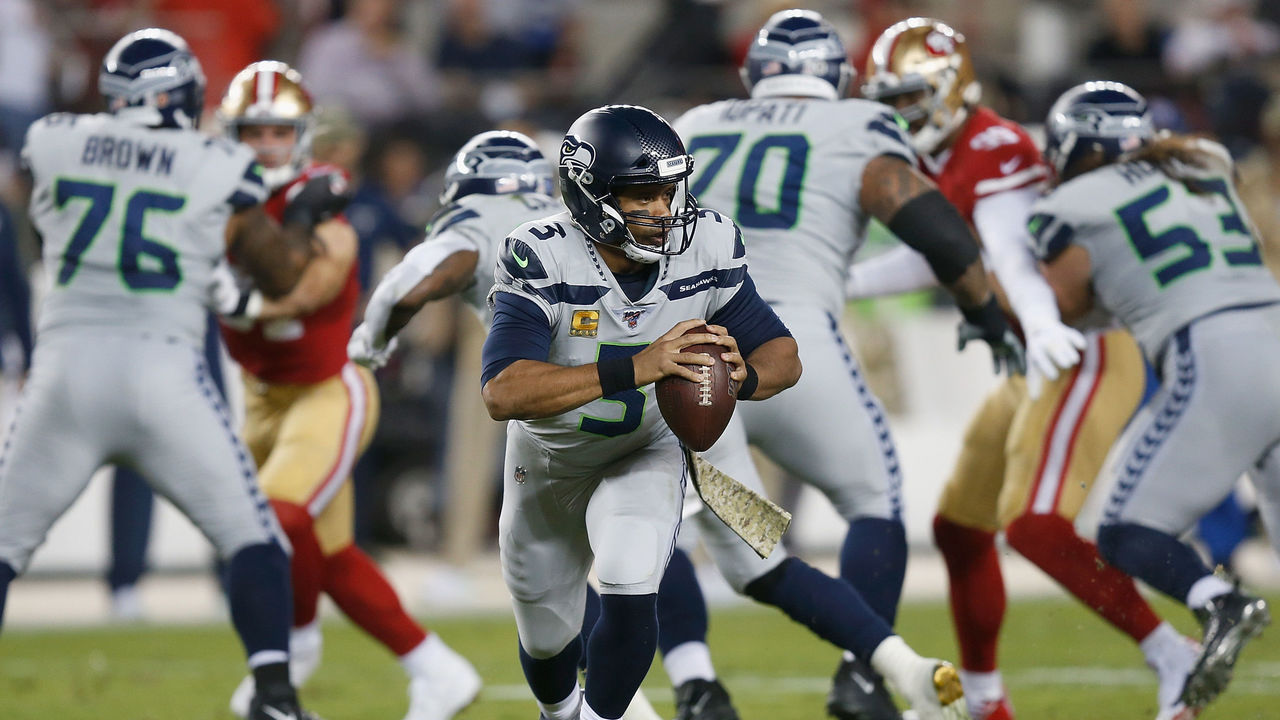 | QB1 | QB2 | QB3 |
| --- | --- | --- |
| Russell Wilson | Anthony Gordon | N/A |
The Seahawks' current plan for a situation where Wilson is lost to injury is essentially the shrugging emoji. Seattle is the only team without a projected No. 3 because its current roster only includes Wilson and undrafted free agent Gordon. Wilson is a top-three quarterback and has yet to miss a game in his eight-year career - which keeps the Seahawks from slipping outside the top 10 - but the team needs to find a veteran backup before its injury luck runs out.
9. Houston Texans
| QB1 | QB2 | QB3 |
| --- | --- | --- |
| Deshaun Watson | AJ McCarron | Alex McGough |
Perhaps no signal-caller does more with less than Watson, who's played at an elite level despite inconsistent blocking in front of him. The Texans are fortunate to have an elite quarterback, but they can't feel great about their chances if Watson succumbs to an injury due to that poor protection. McCarron didn't perform well in a 2019 spot start, and he'd thrown just 18 total passes in the three seasons prior.
8. Pittsburgh Steelers
| QB1 | QB2 | QB3 |
| --- | --- | --- |
| Ben Roethlisberger | Mason Rudolph | Devlin Hodges |
This quarterback room was on full display last season as Rudolph and Hodges started eight and six games, respectively, while filling in for Roethlisberger. Though Pittsburgh's offense was the main reason for its playoff-less campaign, Rudolph and Hodges produced an 8-6 record that was better than expected. It's unclear how Roethlisberger will perform in his return from injury, but until he fails to produce on the field, the list of the league's best passers will include his name.
7. Philadelphia Eagles
| QB1 | QB2 | QB3 |
| --- | --- | --- |
| Carson Wentz | Jalen Hurts | Nate Sudfeld |
It's fair to question whether the Super Bowl-hopeful Eagles made the best use of their resources by drafting Hurts in the second round. But if you look at Philadelphia's quarterback room in a vacuum, it's now among the most talented groups in the league. Wentz is a top-10 starter with MVP potential, while few second-stringers will scare defenses more than the playmaking Hurts, who finished second in 2019 Heisman Trophy voting.
6. Dallas Cowboys
| QB1 | QB2 | QB3 |
| --- | --- | --- |
| Dak Prescott | Andy Dalton | Clayton Thorson |
With a breakout 2019 campaign, Prescott emerged as a sure-fire top-ten quarterback who could be even better in 2020. Meanwhile, the addition of Dalton really boosted Dallas' ranking here. The former longtime Bengal was the definition of mediocrity as a starter, but he's now one of the league's most reliable backups. The Cowboys could still feel confident about winning games in the event that Prescott goes down for a few weeks.
5. Tampa Bay Buccaneers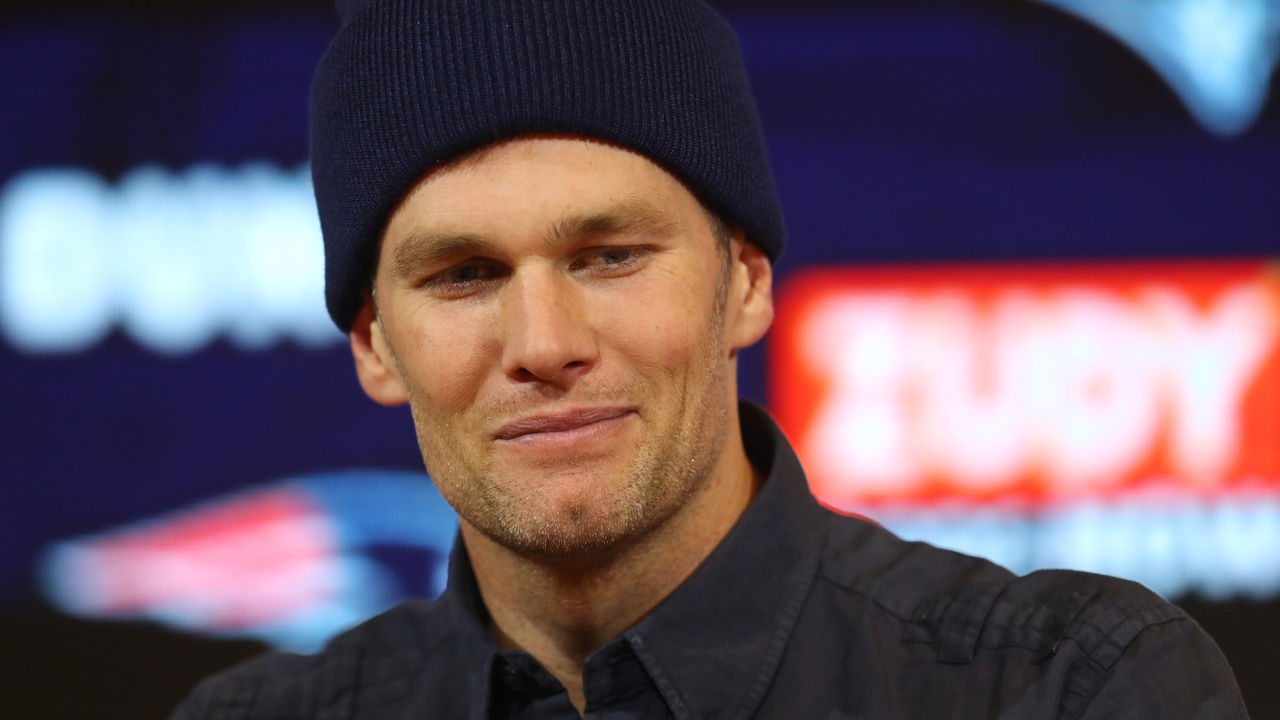 | QB1 | QB2 | QB3 |
| --- | --- | --- |
| Tom Brady | Blaine Gabbert | Ryan Griffin |
After an up-and-down decade, the Bucs appear stable at quarterback and have an opportunity to compete for the Lombardi Trophy thanks to the signing of Brady. Sure, the 42-year-old doesn't possess the arm of his younger days, but he should still be a significant upgrade over Winston with a plethora of dynamic weapons at his disposal and an offensive guru in head coach Bruce Arians on the sideline. Gabbert isn't the worst backup out there, either.
4. Green Bay Packers
| QB1 | QB2 | QB3 |
| --- | --- | --- |
| Aaron Rodgers | Jordan Love | Tim Boyle |
The last three seasons haven't gone as planned for Rodgers, but he's still a top-five quarterback who's a threat to win MVP. Whether it was the best pick or not, the Packers added depth and improved their QB room by adding Love, who could eventually become the team's next long-term starter.
3. Baltimore Ravens
| QB1 | QB2 | QB3 |
| --- | --- | --- |
| Lamar Jackson | Robert Griffin III | Trace McSorley |
Armed with arguably the most dynamic and athletic quarterback the league has ever seen, there aren't many squads more comfortable at the game's most important position than Baltimore. It's easy to argue Jackson is a top-three passer after his MVP campaign, and the Ravens also possess a potential dual-threat backup in Griffin.
2. Kansas City Chiefs
| QB1 | QB2 | QB3 |
| --- | --- | --- |
| Patrick Mahomes | Chad Henne | Jordan Ta'amu |
Mahomes' presence makes Kansas City a shoo-in for a top-three slot. The reigning Super Bowl MVP has quickly emerged as football's premier passer and - unfortunately for the rest of the league - should only improve with more experience. However, if Mahomes suffers an injury, it's difficult to be comfortable with journeyman Henne or former XFL starter Ta'amu leading the offense. Despite possessing the world's best QB1, the lack of a stable backup keeps the Chiefs from claiming our No. 1 spot.
1. New Orleans Saints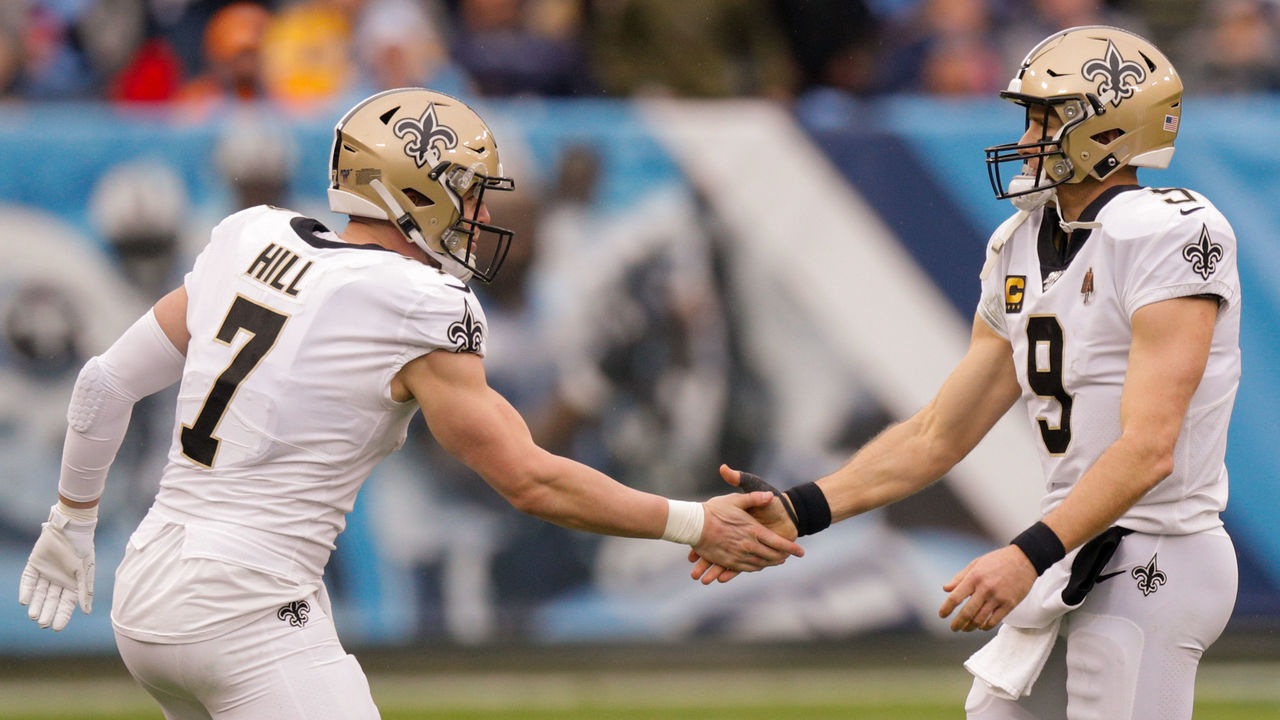 | QB1 | QB2 | QB3 |
| --- | --- | --- |
| Drew Brees | Jameis Winston | Taysom Hill |
The Saints are the only team to ever have two quarterbacks on the roster who've thrown for more than 5,000 yards in a season. Brees' arm might not be what it once was, but the future Hall of Famer is still a top-five quarterback. While Winston is definitely polarizing, most would agree he's better than at least a handful of projected starters around the league. Throw cult hero and human Swiss Army knife Hill into the mix, and it's clear the Saints' quarterback room is in a class of its own.