Get ready for your season with theScore's 2019 Fantasy Football Draft Kit and subscribe to push notifications in the NFL Fantasy News section.
Every game night during the preseason, theScore gets you caught up on the most important fantasy performances from around the league.
Luck's surprise retirement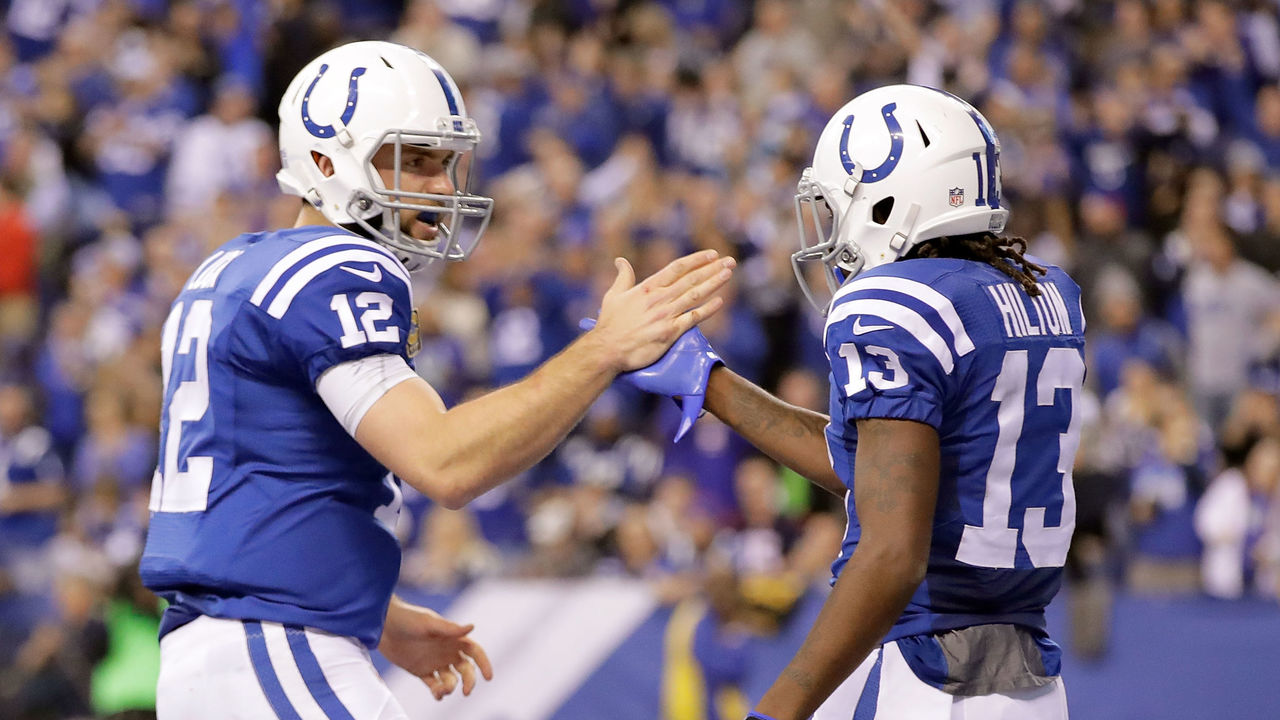 Andrew Luck's plan to inform his teammates about his retirement after the Colts' preseason game and then hold a press conference Sunday afternoon to announce it fell through when ESPN's Adam Schefter reported the stunning development Saturday night.
For as shocking as the news was, it was even more surprising to see some fans booing Luck as he left the field in Indy. A classless move by those in attendance and one that Luck admitted hurt him when he addressed the media after the game.
While many words will be written on Luck's career and his decision to walk away, we're here to break down what it means for fantasy managers, especially those drafting in the coming days. The next update to my rankings will be live on Monday, but until then, let's take a quick look at what this means for the Colts' skill position players.
Jacoby Brissett takes over under center and though he's one of the better backups in the league, the drop off from Luck is immense. Brissett himself will be a fringe QB2 in fantasy around the likes of Andy Dalton and Marcus Mariota. It's possible Brissett is more prepared for this moment than we realize, but he'll need to prove that in real games before he can be trusted.
Every member of Indy's receiving corps takes a hit, with T.Y. Hilton's value falling at least a full round into the fourth. Devin Funchess becomes nothing more than a touchdown-dependent weekly dart throw, and Parris Campbell's potential rookie breakout is now put on ice.
Eric Ebron was already slated for significant regression, especially with a deeper cast of pass-catchers around him, including a healthy Jack Doyle. Brissett's presence lowers the upside of the entire offense, meaning those scoring opportunities Ebron thrived in will be even fewer and farther between. Ebron is a fringe TE1 and Doyle remains a bye-week fill-in at best.
Marlon Mack's stock is also negatively impacted. His touchdown ceiling is lowered and there will be less second-half carries due to poor game scripts. However, the Colts still boast one of the top offensive lines in the NFL and Brissett might be willing to dump the ball off to his backs more than Luck would have, which is notable given Mack's increased role in the receiving game during the preseason. Consider Mack a low-end RB2 around the range of Leonard Fournette and Josh Jacobs.
Let's hope Brissett can step up and help keep this offense rolling overall. He is facing the fourth-easiest schedule for fantasy quarterbacks in 2019.
Miller out for the year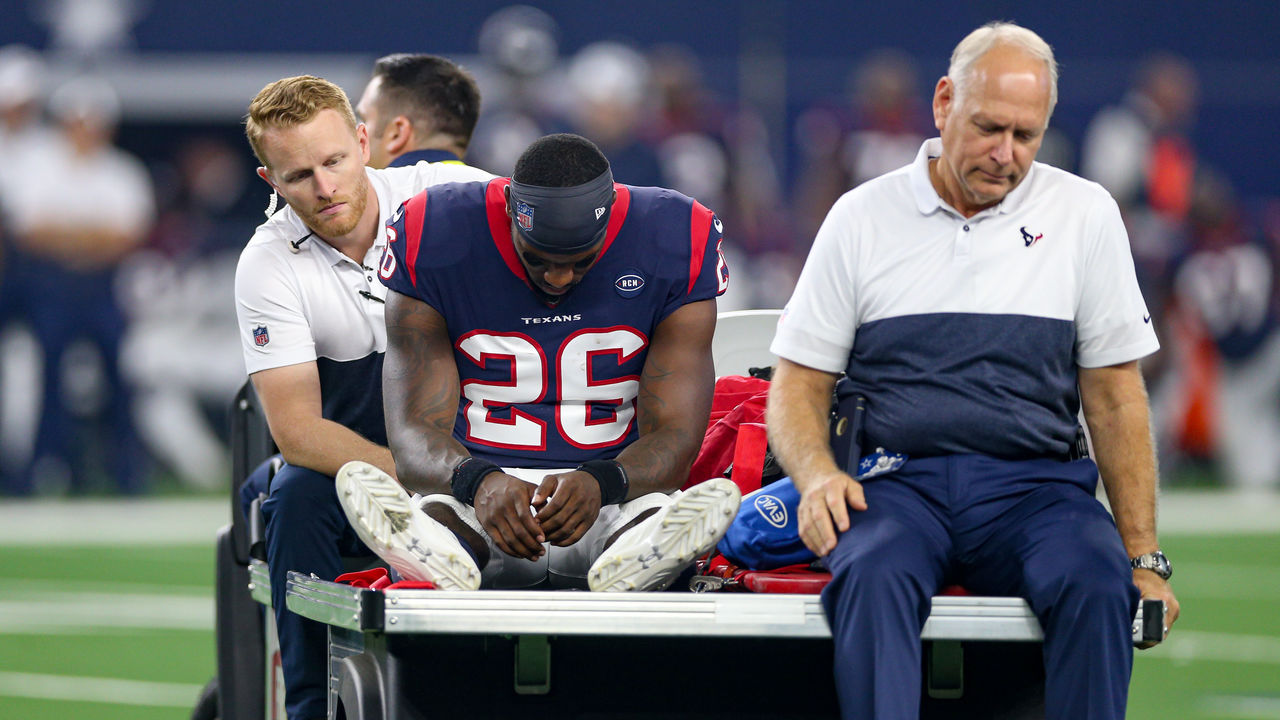 Since arriving in Houston, it felt like Lamar Miller always left meat on the bone in terms of his production, and if you don't believe me, just ask anyone who owned him in fantasy.
Even so, Miller was set up for another year as a borderline RB2/high-end RB3 given his status as the unquestioned lead back in a prolific offense.
On Saturday night, Miller's time in Houston may have come to an end as he suffered what the team fears to be a torn ACL, according to Schefter. We already expected the Texans would move on from the 28-year-old rusher when his contract finished after this season, and now with the injury, that scenario is all but guaranteed.
Fortunately, Houston did recently trade for Duke Johnson - a superb change-of-pace back who has always wanted his shot to be a full-time ball carrier. This sounds exactly like Miller, who left the Dolphins for a chance to be a workhorse.
We know now that Miller was far more suited for a committee role than a true lead back, as he tended to break down late in seasons. If the Texans attempt to deploy Johnson in a similar fashion, the results will likely be the same.
Johnson is an outstanding pass-catching back, but he'll need help carrying the workload. Whether that comes in the form of rookies Damarea Crockett and Karan Higdon or via a free agent like Jay Ajayi remains to be seen. Crockett is the more enticing of the young backs, but adding a veteran could be a smart move.
It's also possible the team once again delves into the trade market, though a major deal for a star like Melvin Gordon seems like a long shot.
For the time being, Johnson is moving up to Miller's former spot in my rankings, around RB30. If you want to stash one of the rookies, Crockett would be my choice.
Instant impressions
You can't overreact to one play, but Dalvin Cook breaking an 85-yard touchdown in the third preseason contest has to make fantasy managers feel good about his outlook. It's the first game action we've seen from Cook in 2019, who is a top-10 back in my rankings and one of my favorite targets in the second round. With Minnesota shifting to a more run-heavy approach, Cook could be a fantasy MVP - if he can stay healthy.
Assuming Kyler Murray sits out next week, the rookie completed the preseason with one strong performance, one weak outing, and one average display. It's been tough to assess Murray, since we know head coach Kliff Kingsbury isn't showing his cards before the real games in September and is running a basic offense. The first overall pick remains a high-variance fantasy option with an enticing top-five ceiling if everything comes together for him in Year 1. His offensive line is a concern, though.
We're clinging to the belief Ezekiel Elliott is likely to reach a new deal with the Cowboys at some point before Week 1 or at least early in the season. If he doesn't, Tony Pollard is going to smash in fantasy. The rookie has racked up 103 yards from scrimmage on 18 touches this preseason and deserves a role in this backfield even when/if Zeke returns.
Michael Gallup continues to flash in the Cowboys' offense. His box score may only show one 12-yard touchdown catch on the night, but he actually crossed the goal line again on the next drive for a 21-yard TD that was taken away due to a penalty. Amari Cooper's foot issues make Gallup an even more intriguing late-round target for fantasy owners.
Sam Darnold has been outstanding in August, completing 17 of 25 attempts for 211 yards, two touchdowns, and no interceptions. The sophomore often goes undrafted in fantasy, despite having breakout potential in a new offense with a better array of weapons around him. Keep him in mind if you're waiting until the last rounds to address quarterback. His emergence would be a boon to Robby Anderson's fantasy stock, as well. The duo connected on a 41-yard reception on Saturday, part of a two-catch, 60-yard night for Anderson, who has low-end WR2 appeal this season.
Jimmy Garoppolo responded to recent struggles in preseason and practice by going 14 of 20 for 188 yards and a score on Saturday. It's a relief to anyone associated with the 49ers, but Jimmy G is still a low-end QB2. We need Garoppolo to hold up his end of the bargain in order for the rest of the offense to thrive in fantasy. Dante Pettis had his best night of the preseason with three receptions for 36 yards and is an upside pick in the eighth round.
There's value to be had in the 49ers' backfield. Tevin Coleman and Matt Breida are being underestimated at their current ADPs in the fifth and 10th round, respectively. Coleman had a quiet night Saturday, but Breida went off for 44 rushing yards and 31 receiving yards, including a 20-yard diving touchdown. Both backs could potentially finish as top-30 fantasy options, which makes Breida a must-target.
Though Darwin Thompson has received most of the recent hype in the Chiefs' backfield, Damien Williams reminded everyone he's the lead back in Kansas City with a catch down the sidelines that he broke back into the middle of the field for a 62-yard touchdown. Williams will enter the year as an RB2 in fantasy and owners worried about Thompson can scoop him up as insurance in the middle rounds.
The Russell Wilson-Tyler Lockett tandem is one you'll be hearing about a lot this season. Fresh off a breakout campaign, Lockett is set to take over as the clear top target in Seattle as an increase in volume is guaranteed with the departure of Doug Baldwin and injuries to D.K. Metcalf and David Moore. On Saturday, Lockett hauled in two passes for 50 yards, which was just a taste of his looming production in 2019. I'm so confident in Lockett, I've been willing to wait until the fourth round and take him as the No. 1 WR on some of my teams. With the aforementioned injuries, Jaron Brown is a sneaky pickup or late-round selection who could be a flex option early in the year.
Previous takeaways