Blue Jackets eager to move on from 'bad luck' injury-plagued season
The Columbus Blue Jackets are hoping for better luck next time around.
Following a successful 2013-14 season that saw the club earn its second-ever playoff appearance, the Blue Jackets endured 508 man-games lost due to injury last season, with only the Colorado Avalanche - who also fell in the standings - coming even remotely close to matching that number.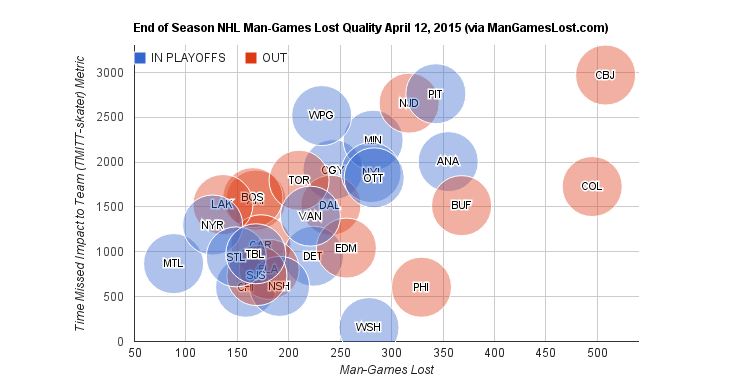 Despite the run of injuries, the team decided to retain Mike Vogt, who will return for his eighth season as the club's athletic trainer, and Kevin Collins, set to serve for a sixth season as strength and conditioning coach.
"We've studied our doctors, we've studied our trainers, we've studied how our players are conditioned," team president John Davidson told Aaron Portzline of the Columbus Post-Dispatch. "It's just flat-out bad luck what we went through last season.
"It's behind us now," he continued. "You hear what people say about our team, and a lot of people are excited to see what this group can do if we stay healthy. What we endured last season ... it's something I've never seen before, and I don't ever want to go through it again. But it's behind us now."
The Blue Jackets do indeed have the look of a team on the rebound heading into 2015-16, with a deep forward corps boosted by the additions of Brandon Saad and Gregory Campbell, a blue line set to benefit from a healthy Ryan Murray, and a net protected by Sergei Bobrovsky.
Injuries remain a part of the game and affect all teams to a degree, so all the Blue Jackets can do at this point is ensure players are as fit as possible come training camp.
"We're staying in touch with guys this summer, making sure they're getting rest and putting in the work," Davidson said. "But we're moving on from last season as far as the injuries are concerned. No looking back; just moving forward."
With a little luck, the injury bug will fly past Columbus in 2015-16, giving the team a fighting chance to prove what the roster can actually do on the ice.
Comments
✕
Blue Jackets eager to move on from 'bad luck' injury-plagued season
  Got something to say? Leave a comment below!