This could be one wild offseason for NFL quarterback movement
If you thought last offseason offered up a big ol' game of musical chairs for NFL quarterbacks, just wait.
Last year saw Matthew Stafford and Jared Goff switch places. Drew Brees and Alex Smith retired; Ben Roethlisberger probably should have. Carson Wentz, Teddy Bridgewater, and Ryan Fitzpatrick got new gigs. Jimmy Garoppolo's team traded the Coit Tower to move up to draft his replacement but chose to keep him around. Mitch Trubisky settled into the backup life. Andy Dalton and Joe Flacco still exist and have actually seen the field. Sam Darnold and Cam Newton somehow became teammates, and both have been benched for P.J. Walker. You get the idea.
Finding a good quarterback is the most difficult transaction in sports. So when NFL Media's Ian Rapoport reported Sunday morning that the San Francisco 49ers intend to trade Garoppolo after the season, it was a reminder that there again could be plenty of QB movement in 2022. Some of the prominent quarterbacks who could have gone elsewhere last year - Garoppolo, say - could be on the move this time. Maybe.
There are still six weeks remaining in the 2021 regular season, plus the playoffs, so a lot can still change. But fans love to think about next year - especially fans of teams that need to find a good quarterback. What the hell. Let's do it.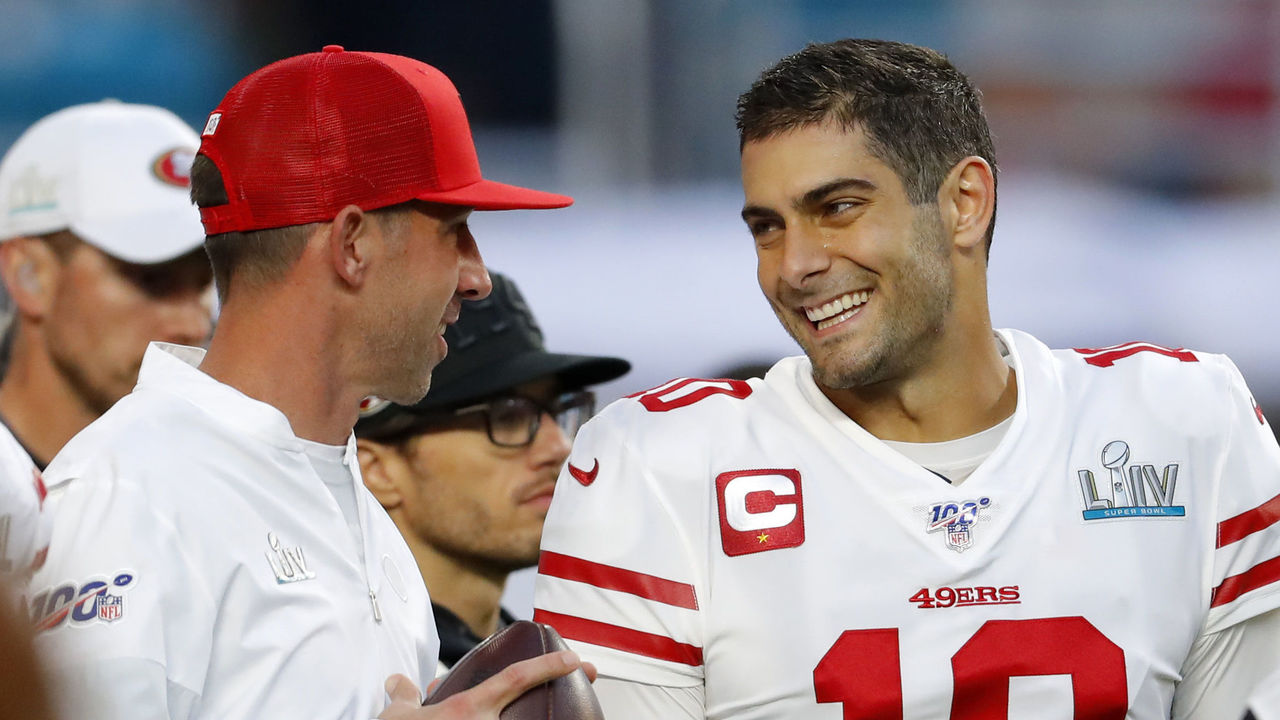 Jimmy Garoppolo
Rapoport's report on the Niners' intention to trade Garoppolo contained an important caveat:
Absent a Super Bowl run, which at this point is still theoretically possible, this is the 49ers' plan next season: start Trey Lance, trade Jimmy Garoppolo. Not a surprise there, they've been pretty up front about that. What Garoppolo is doing now is increasing the value of picks the 49ers get in a trade involving him, and they make it more likely that a place he wants to go would want to take him.
The knock on Garoppolo is that he's only capable of running an offense like Kyle Shanahan's, which is built to hide his inability to carry that offense. Well, that and his extensive injury history. Garoppolo has just one year left on a contract that calls for any potential trade partner to pay him $25.6 million in cash with an equal cap hit in 2022. Pricey, yes, but also well below the top of the veteran QB market.
As Rapoport indicated, Garoppolo's performance down the stretch will determine where he winds up.
Russell Wilson
Wilson made a stink last offseason about his circumstances in Seattle, and the Seahawks met him halfway. The team hired offensive coordinator Shane Waldron, traded for right guard Gabe Jackson, and drafted wideout D'Wayne Eskridge with their first pick. Things haven't worked out.
Seahawks GM John Schneider has some huge decisions to make this offseason. There are a bunch of roster holes to fill, and Seattle's potential top-five pick in the draft belongs to the New York Jets. A makeover is in order, and while it might seem easy to suggest trading Wilson and stacking some sweet draft capital, a move like that would also leave the Seahawks in a position to, you get it, find a good quarterback.
The biggest factor here may be Wilson himself. Will he demand a trade, and is he willing to do enough to force Schneider to deal him? Any discussion about Wilson's future in Seattle likely begins there.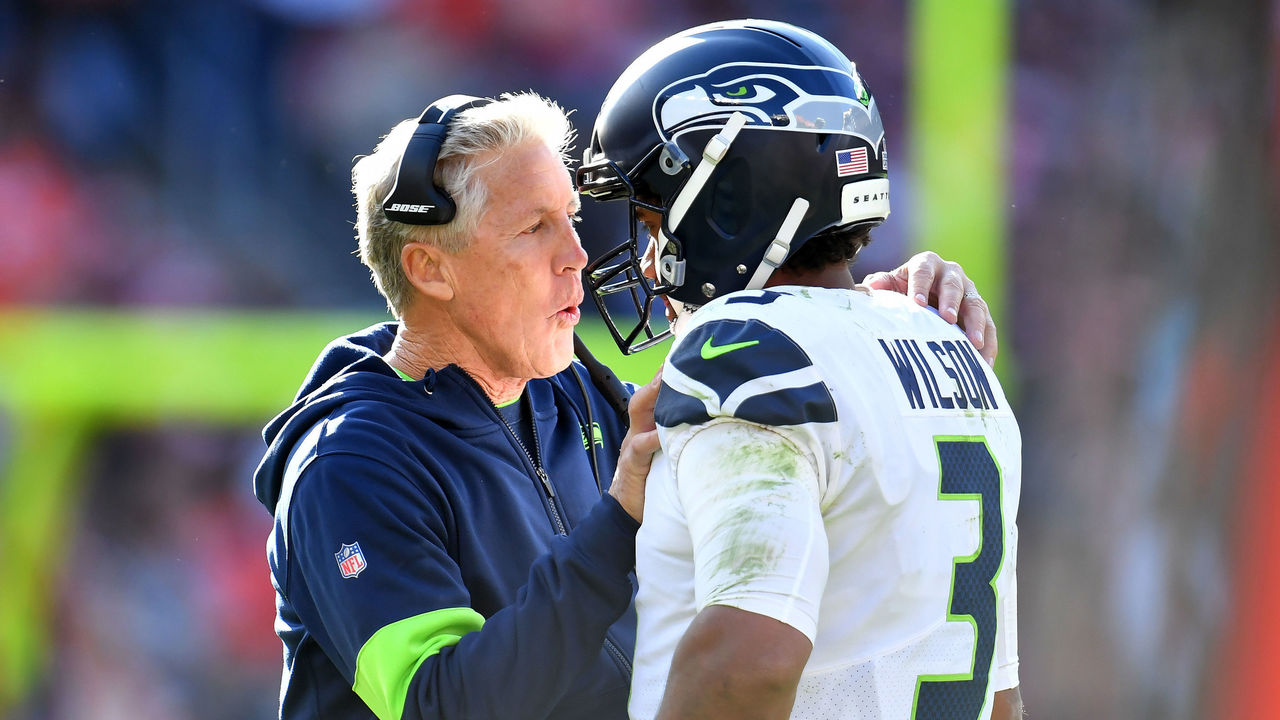 Deshaun Watson
The only detail worth knowing about Watson right now is that 22 women have filed lawsuits accusing him of sexual misconduct and that as many as 10 of those women have spoken to police. That's it. Any speculation about where the Houston Texans might trade him or when it might happen is no better than a guess, so don't bother.
Aaron Rodgers
The Green Bay Packers are 9-3 and just whipped the Los Angeles Rams without left tackle David Bakhtiari, edge rusher Za'Darius Smith, and cornerback Jaire Alexander. Another deep playoff run is probably in the cards. However, Rodgers might be somewhere else in 2022.
The Packers at this point probably want to do all they can to keep Rodgers for as long as possible, especially after they finally got to see what Jordan Love looked like on the field with QB1 sidelined with COVID. But, as with Wilson, Rodgers' future may be up to him and his willingness to play chicken with Green Bay's front office.
There's no guessing what Rodgers might insist upon doing after the season. But it's worth remembering he shook the tree hard enough last summer to convince the Packers to rework his deal so it voids after 2022, enhancing the likelihood of a possible trade.
Baker Mayfield
Mayfield still doesn't have the second contract he's been eligible to sign since the end of last season.
When asked by local reporters this week about his long-term future, Cleveland Browns GM Andrew Berry was non-committal. At the moment, he doesn't have to commit.
The Browns exercised Mayfield's fifth-year option for 2022 last spring, which was the deadline for doing so. That move means they're on the hook to pay Mayfield a fully guaranteed $18.9 million next year. Given his injuries and scattershot play this year, it behooves the Browns to hesitate on a new deal. The risk is that it could become more expensive to pay him later. However, waiting also comes with a greater degree of certainty that Mayfield is indeed worth top-of-the-market money.
On the flipside, the lack of a new contract probably makes it more difficult to trade Mayfield this offseason, as an NFL team executive explained to The Athletic's Mike Sando. In all likelihood, Mayfield will be back with the Browns to play out his option in 2022. Whether he joins Robert Griffin III, Jameis Winston, and Marcus Mariota as the only QBs not to receive a second contract from the team that drafted them after having their fifth-year option picked up will depend on how he performs.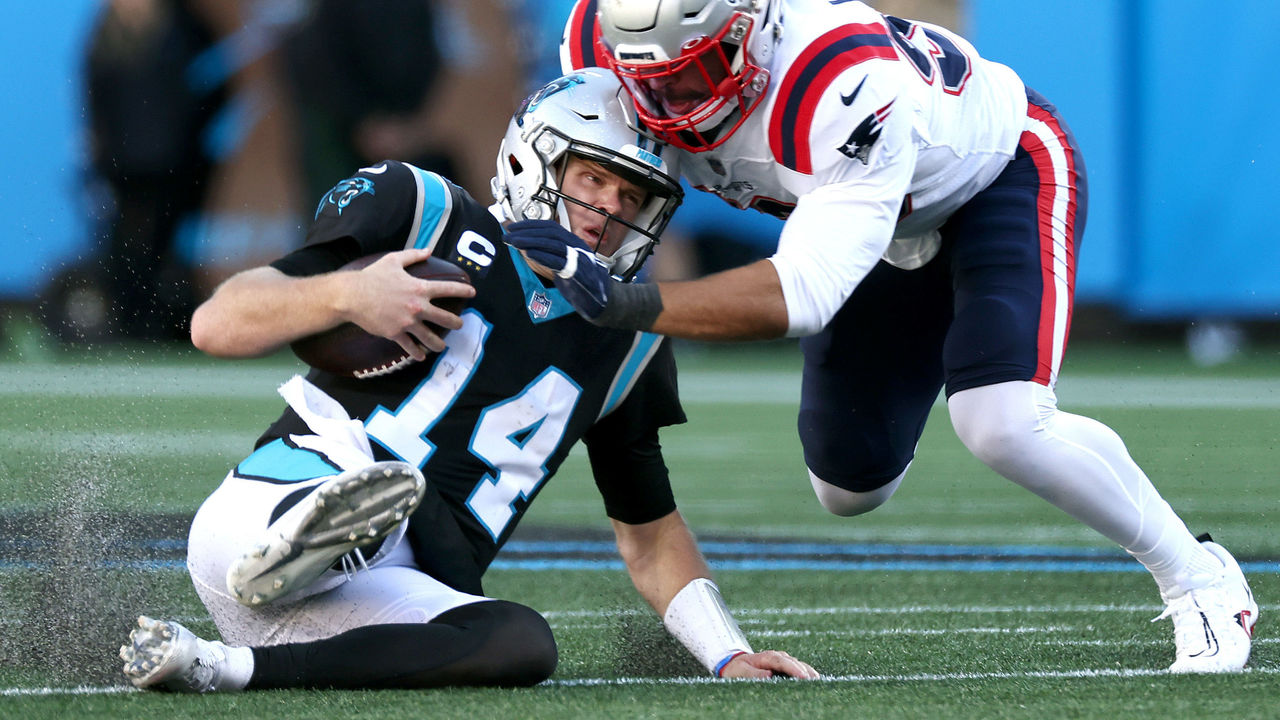 Sam Darnold
The Carolina Panthers exercised Darnold's fully guaranteed $18.9-million fifth-year option soon after trading for him last spring. They're pretty much stuck with him for another year since nobody will be trading for him at those terms. The only thing left to consider is what the Panthers do to keep chasing their mistake.
Lamar Jackson
Jackson's contractual circumstances are similar to Mayfield's. He's just in a much better position to command top dollar.
Jackson's fifth-year option for 2022 calls for him to earn $23.1 million fully guaranteed. The Ravens could play the franchise-tag game with him beyond that, but as the Washington Football Team once learned with Kirk Cousins and the Dallas Cowboys discovered last year with Dak Prescott, the tag route only drives up the negotiating floor and hands a good quarterback the leverage of potentially hitting the market and leaving. Washington let Cousins walk and is still searching; the Cowboys were backed into having to pay Prescott $40 million a year.
Jackson likely isn't going anywhere this offseason, but what the Ravens do with him remains an open question. One additional factor to consider: Cousins, Derek Carr, Matthew Stafford, and Tom Brady all enter 2022 with one year remaining on their deals. An extension for any of them could move the market in a way that affects what Jackson might demand and what the Ravens are willing to offer.
Jared Goff
Goff's set to count $31.15 million against the Detroit Lions' salary cap next year, according to Over The Cap. His $15.5-million roster bonus is fully guaranteed, and on March 19 an additional $10 million in salary becomes fully guaranteed.
Detroit can pull the plug on Goff before that March 19 deadline, but the team would only see $650,000 in cap savings with Goff still eating up $30.5 million in dead money on its 2022 cap.
Lions fans, I'm so sorry.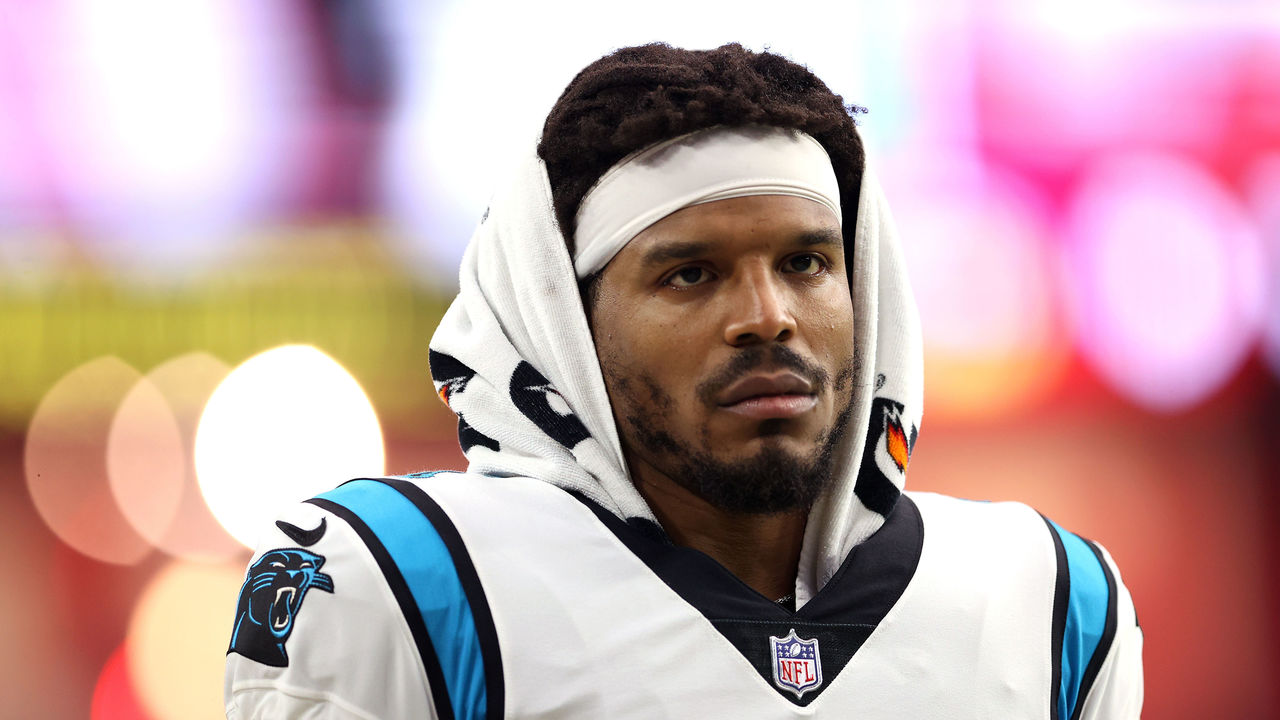 Cam Newton
For some reason, the Panthers gave Newton $6 million in November, more than two months after the New England Patriots cut him and no one picked him up. They did this after eating $17 million in dead money on Teddy Bridgewater and whatever it is they were thinking with Darnold. Newton will be a free agent next year, and he turns 33 in May. Shrug.
Ryan Fitzpatrick
Fitzpatrick just turned 39. He'll be coming off a season in which he attempted six passes before being shut down following a Week 1 hip injury. Maybe he comes back, maybe he won't. No matter what, there's no denying the Fitzcoaster's been fun while it lasted.
Ben Roethlisberger
The Steelers banked on their 11-0 start in 2020 to be an indicator of where they stood heading into 2021 over their 1-5 finish. They're 5-5-1 this year but skidding sideways, and Roethlisberger's performance has made it clear this is likely going to be it for him. The Steelers do have Mason Rudolph (don't laugh) under contract for another year, which is another way of saying they will have to, yes, find a good quarterback.
The rest of the field
Dalton, Winston, Jacoby Brissett, Tyrod Taylor, Trevor Siemian, and Colt McCoy all have contracts set to expire in March. If you're a fan of a team that needs to Find A Good Quarterback this offseason, consider yourself warned.
Dom Cosentino is a senior features writer at theScore.