As the Seahawks try to stop their tailspin, what happens if they crash?
Abbey Parr / Getty Images
Since drafting Russell Wilson in 2012, the Seattle Seahawks have not had a losing season. They've missed the playoffs just once, but they're 3-7 heading into Monday night's game at the Washington Football Team. Wilson has missed time with an injury for the first time in his career, but Seattle's problems seem to run much deeper. What's going on?
The obvious place to begin is the quarterback's broken finger. Wilson was sidelined for three games, plus the second half of a loss to the Los Angeles Rams. He clearly wasn't the same in his two starts after rushing back from an injury that was expected to keep him out for six-to-eight weeks.
But Wilson also hasn't performed consistently well since his red-hot, MVP-caliber start to the 2020 season. As The Athletic's Mike Sando noted, the Seahawks' offense averaged minus-2.9 expected points added per game in Wilson's last 17 starts, which is the equivalent of a full season. The defense, meanwhile, posted an EPA of 0.5, which is right around the league average, and the special teams have an EPA of 2.9, which is excellent.
This remains true even after the Seahawks made multiple moves to appease Wilson, whose frustration with the organization became a dominant offseason storyline. Seattle signed tight end Gerald Everett in free agency, traded for right guard Gabe Jackson, and replaced offensive coordinator Brian Schottenheimer with Shane Waldron (whose affiliation with Rams coach Sean McVay, it was hoped, would bring a dash of modernity to the attack).
The results haven't been there. The Seahawks have scored 30 points just once when Wilson has started. They're also last in third-down conversions (32.4%) despite being third-best in DVOA on second down. The difficulties set in when Seattle faces a third down and long (7 yards or more), which is when the Seahawks rank 31st in DVOA.
Collectively, Seattle's offensive line hasn't been terrible, ranking 10th in ESPN's pass-block win rate metric. Individually, however, five different linemen have surrendered at least 13 pressures, per PFF, and 36-year-old left tackle Duane Brown has earned a PFF grade of just 70.5 - the lowest since his rookie year.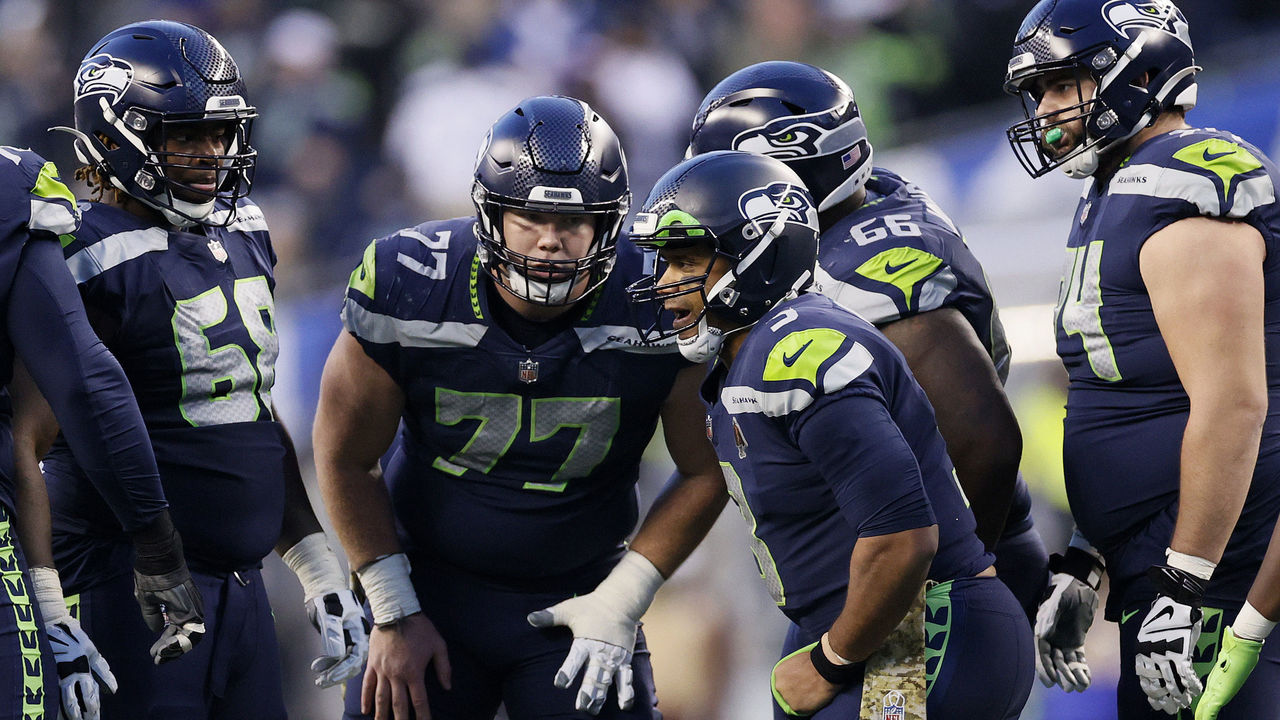 Wilson has been sacked 20 times, though that's largely the result of his tendency to hold the rock too long in an attempt to play hero ball, a longstanding feast-or-famine feature of his game.
Drilling down further, Seattle's biggest issue ironically might be traced back to Waldron, whose McVay-inspired scheme has required considerable adjustments to account for Wilson's skill set. McVay's Rams offenses, which utilized Waldron as the pass-game coordinator from 2018-20, were heavily predicated on play-action, working from under center, and attacking the middle of the field with in-breaking routes - three things Wilson is not adept at doing.
In his four seasons with McVay, Jared Goff used play-action 29.1% of the time in 2017, 35.8% in 2018, 32.8% in 2019, and 34% in 2020, according to PFF. Goff also attempted passes from under center 37.9% of the time in 2018, 35.1% in 2019, and 35.7% in 2020, per Pro Football Reference. In 2020, the Rams ranked 30th in the league in shotgun usage, per Sports Info Solutions.
That doesn't resemble Wilson's profile this season. He's used play-action on just 27.3% of his dropbacks, per PFF, and he's thrown passes from under center at a 21.5% rate - slightly higher than his career mark of 20.9%. The Ringer's Steven Ruiz dug deeper into Wilson's reluctance to attack the middle of the field and observed that his preference for working out of the shotgun is a mismatch for Waldron's outside-zone running scheme, which works best with the QB under center.
Wilson has a better career passer rating when under center than when in shotgun (111.4 to 99.5). His adjusted yards per attempt is also higher (9.49 to 7.91) when he's under center, per Pro Football Reference. And his big-time throw percentage (a PFF metric that quantifies pass location and timing into tight-window throws) is tied for fourth in the league (6.9%), even while his turnover-worthy throw percentage (1.7%) is third-best. That's a strong indication that Wilson can consistently deliver good throws.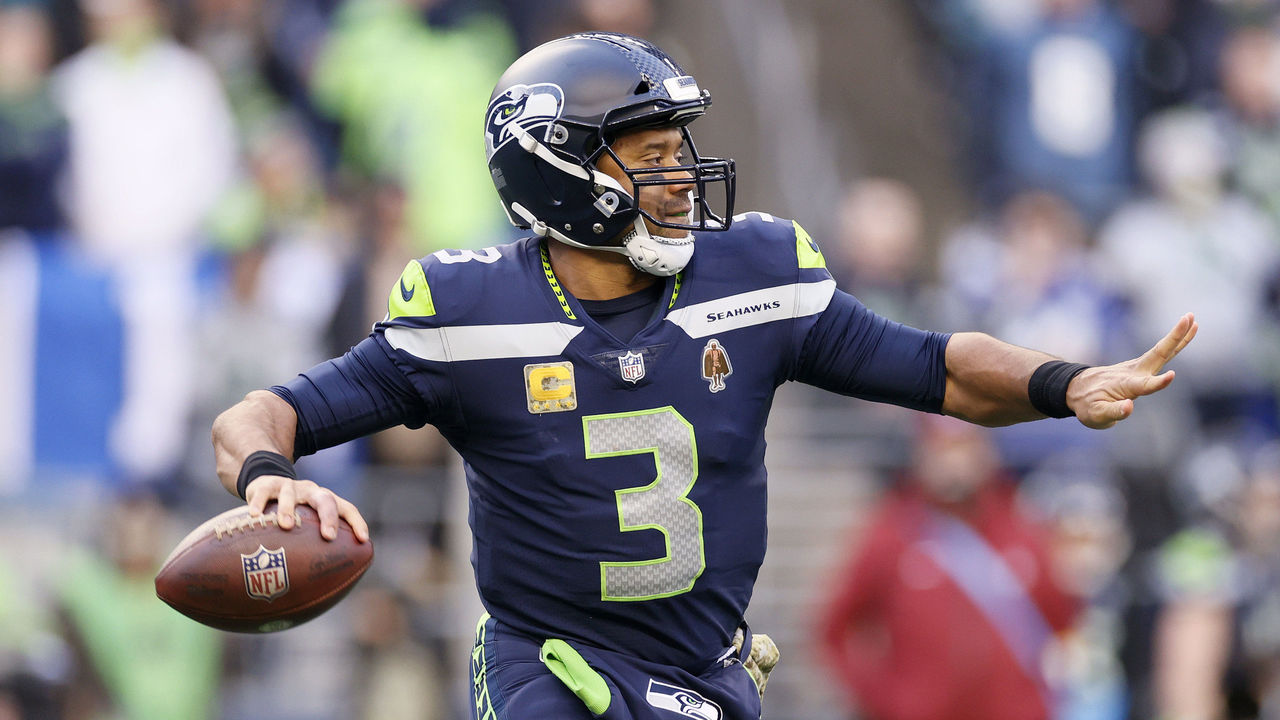 In addition, the Seahawks rank 20th in early-down pass rate, according to Ben Baldwin's database, and they rank second in dropback EPA on those early downs. This suggests they could be more aggressive on first and second down to avoid putting themselves into so many third and long situations. It also hasn't helped that the team's top draft choice in 2021, wideout D'Wayne Eskridge, missed seven games with a concussion and has played just 16 snaps the last two weeks.
The Seahawks still have a chance to play their way out of trouble. Only the winless Detroit Lions have a worse record in the NFC, but with a victory Monday night, Seattle can pull within a game of the conference's final playoff spot. And the team's remaining schedule is 12th-easiest based on opponents' DVOA, per Football Outsiders.
But if things don't improve, the Seahawks will have some serious questions to ponder in the offseason. They're currently fifth in the draft order, but their first-round pick belongs to the New York Jets (who somehow convinced Seattle to send them two first-rounders for Jamal Adams, a talented box safety notoriously lacking in cover skills).
Would the Seahawks choose to move Wilson, who turns 33 today, to amass draft assets to jump-start a rebuild? Quality quarterbacks remain one of the scarcest commodities in sports, and Wilson is still very much a quality quarterback. But after all the noise he made last offseason, Wilson may want out, and this time, Seattle may decide its best option is to pull that trigger.
Dom Cosentino is a senior features writer at theScore.