Big Ben is a big question hanging over the Steelers' season
Joe Sargent / Getty Images
The most enduring image of the Pittsburgh Steelers' 2020 season took place as the clock struck zero on a playoff loss to the Cleveland Browns:
That's quarterback Ben Roethlisberger, who was also seen in tears. He appeared to be contemplating an uncertain future. The image became a meme, but all these months later, that same portrait of Roethlisberger sitting alone with a faraway gaze remains representative of the Steelers' hazy present.
Pittsburgh is one of the NFL's most stable franchises. It's had just four losing campaigns in the last 30 years, and none since 2003, which was four seasons before Mike Tomlin took over as head coach. In the last 10 years, only the New England Patriots, Green Bay Packers, and Seattle Seahawks have more wins. Roethlisberger, a surefire Hall of Famer, has been to three Super Bowls, winning two. However, heading into 2021, he and the Steelers find themselves in a weird sort of holding pattern.
The Steelers seem to think their championship window is still open, even with the odds stacked against them. The defense was the league's best in 2020, according to Football Outsiders' DVOA metric. But after an 11-0 start that devolved into a 12-4 finish plus a first-round playoff exit, Pittsburgh made a host of changes to its offense - the unit most exposed during the season's dismal stretch run. Coordinator Randy Fichtner and his unimaginative scheme were replaced by quarterbacks coach Matt Canada; the offensive line was completely made over; running back Najee Harris was selected in the first round of the draft to provide a hybrid of rushing and pass-catching skills.
Roethlisberger, the team's longtime fulcrum, chose to return for what could be his final season. He even took a $5-million pay cut to help the team get salary-cap compliant. But he's 39 and entering his 18th season; his 2004 draftmates Eli Manning and Philip Rivers have both retired. And while Roethlisberger spent much of 2020 posting respectable numbers by traditional metrics - 65.6% completions, 3,803 yards, 33 touchdowns, 10 interceptions, a 94.1 passer rating - his actual performance was an alarming indicator of how inadequate those stats are in today's game. To consider the Steelers in 2021 is to wonder how on Earth they intend to run it back with him and to note they have no real succession plan.
Too often last season, Roethlisberger relied on short, quick passes as a crutch. Some of this was to compensate for inadequacies in a run game that finished 30th in DVOA behind an O-line that ranked dead last in adjusted line yards, according to Football Outsiders. Some of it was because Roethlisberger can no longer scramble as he did back when he was so masterful at using his 6-foot-5, 240-pound body to absorb hits and extend plays. Some of it was because he was a year removed from reconstructive elbow surgery.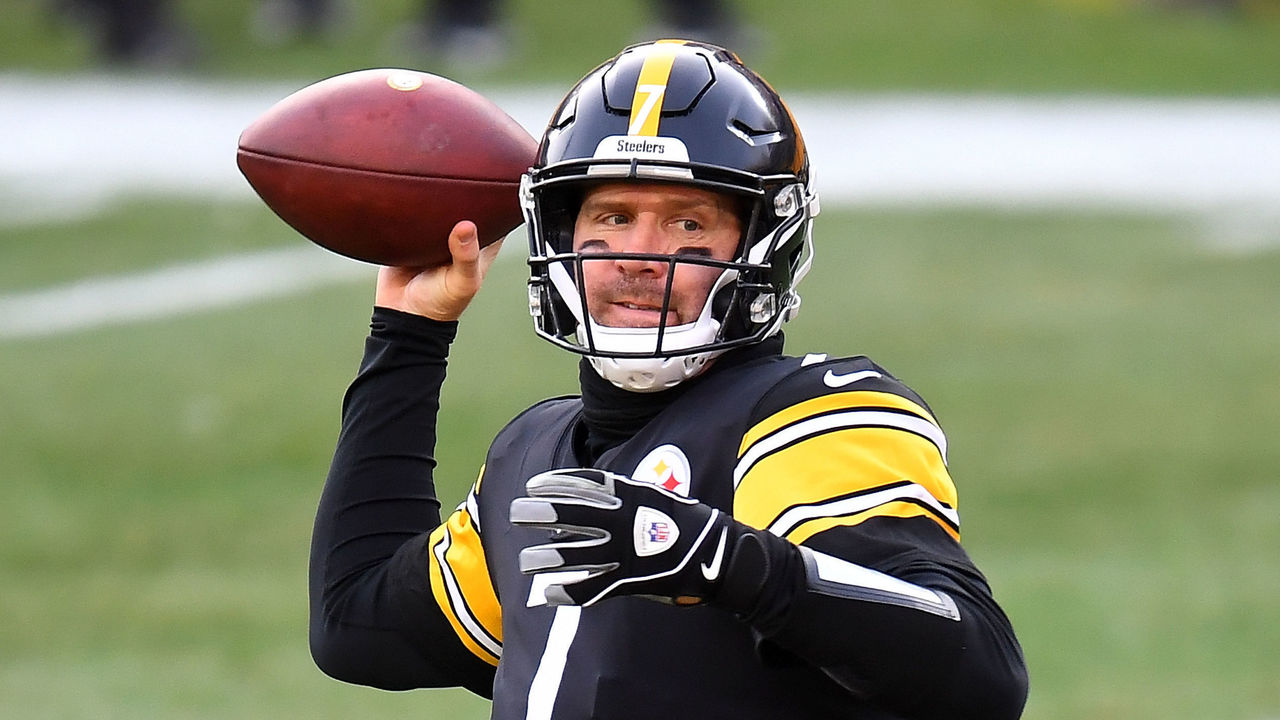 But even as the Steelers won their first 11 games, their reliance on having Roethlisberger take a shotgun snap and immediately toss a pass near the line of scrimmage made it easy for better defenses late in the season to scheme against them. The quarterback consistently saw his receivers jammed and teams crowd the short and intermediate parts of the field.
According to PFF, Roethlisberger's average time to throw during those first 11 games was 2.13 seconds, a stretch in the schedule in which the Baltimore Ravens were their only opponent with a defensive DVOA in the top 12. In his last four starts against three defenses in the DVOA top 12, that number was still only 2.16 seconds. Despite teams planning for his short, quick passes, he still kept trying them. For the season, no other qualified QB got rid of the ball faster on average than 2.35 seconds.
There's a trend to this. PFF's database on a quarterback's average depth of target goes back as far as 2006. From that year through 2017, there were only two seasons in which Roethlisberger did not rank in the top 10 in ADOT. By 2018, he was 18th with an ADOT of 8.1. He missed nearly all of 2019 with an injury. Last year, his ADOT was just 7.4, which ranked 25th.
All in all, Roethlisberger just wasn't that efficient: he finished the year 17th in DYAR, 20th in both QB DVOA and expected points added per play, and 22nd in Total QBR.
According to Warren Sharp's database, only the Jacksonville Jaguars (66%) passed more frequently than the Steelers did last season (65%) - and the Jags were constantly playing from behind en route to a 1-15 finish. The Football Outsiders Almanac is stuffed with data on how strikingly conservative the Steelers' offense was, even as it all but abandoned the running game:
66 wide receiver or tight end screens, far and away the most in the league
An average of 4.4 yards per pass and a DVOA of minus-6.7% on those WR and TE screens, well below the league averages of 5.9 yards and 12.3% DVOA
19 defensive pass interference penalties by opponents for 351 yards, second only to the Tampa Bay Buccaneers
Roethlisberger was 27th in DVOA from Week 13 through that wild-card loss to Cleveland, when Pittsburgh won just once
Luck: the Steelers managed to recover 14 of 19 offensive fumbles
The Steelers are counting on the addition of Harris, who is capable of lining up all over the formation, to boost both the running and passing game. The promotion of Canada, who made his bones scheming up a forward-thinking offense that helped Pitt QB Nate Peterman outgun Clemson's Deshaun Watson once upon a time, figures to bring plenty of modern elements to the Steelers' attack: motions, shifts, play-action, misdirection.
Some of this will be a marked change for Roethlisberger, who attempted just 35 of his 608 passes last year while under center, and who can't exactly stretch the pocket anymore with designed rollouts. The Steelers, per the Football Outsiders Almanac, also ranked 20th in pre-snap motion in 2020, and they've been dead last in play-action usage for six consecutive years. Canada is the right coordinator at the right time given the way football is now being played, but is Roethlisberger the right QB to execute what he can draw up?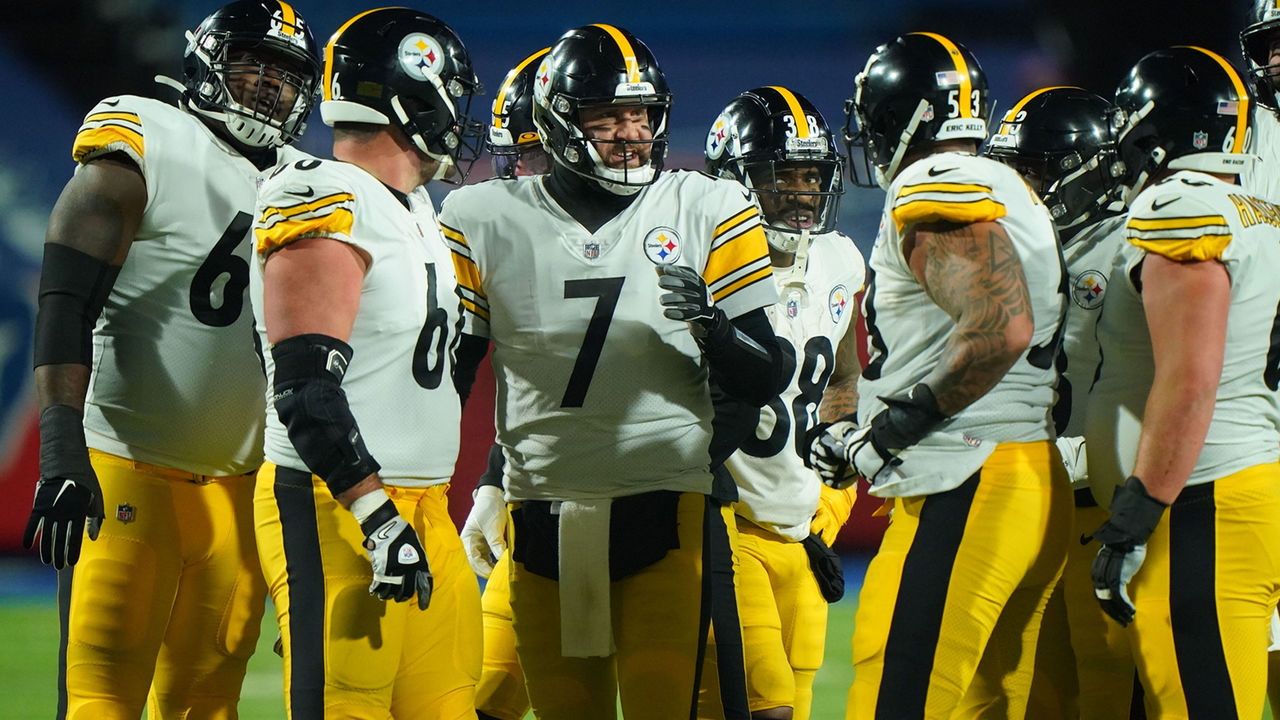 Then there's the O-line.
The ravages of time finally caught up to three longtime stalwarts: center Maurkice Pouncey, who retired, right guard David DeCastro, who was released, and left tackle Alejandro Villanueva, who signed with the Ravens. In their place will be rookie third-round pick Kendrick Green, veteran Trai Turner, who missed eight games last year with the Chargers due to injury, and Chukwuma Okorafor, who will move to left tackle after spending all of last season manning the right tackle spot.
Beyond that, right tackle Zach Banner tore his ACL in Week 1 of last season and has two career starts in four seasons with four teams; left guard Kevin Dotson has made four starts. Harris' all-everything presence and Canada's creativity are all well and good, but they - and Roethlisberger - are going to need these dudes to block for them to make the offense go. There's nothing to suggest the O-line will be awful, but there's likewise little reason to know it'll be solid, either.
Pittsburgh feasted on the league's second-easiest schedule last year, per Football Outsiders, and it still endured that late-season swoon. This year, with road dates against the Buffalo Bills, Kansas City Chiefs, and Green Bay Packers, plus a 17th game against the Seattle Seahawks at home, its slate might be the league's most difficult. Within the division, the Browns and Ravens appear to be on the ascent. By season's end, the Steelers might still be stuck, sitting there and staring.
Dom Cosentino is a senior features writer at theScore.