What's really behind James Harden's plummeting free-throw rate?
Rich Schultz / Getty Images
Five games into the new season, and the Brooklyn Nets - who engineered the most efficient offense in NBA history in 2020-21 - rank 28th in the league in offensive rating.
While that obviously has something to do with Kyrie Irving's self-imposed exile and some poor role-player performances, the Nets have no business languishing near the league's basement on that side of the ball when they still have Kevin Durant and James Harden in the fold. This team scored like crazy last season, even when one of its vaunted Big Three was missing. And because Durant has been outstanding, the microscope has naturally honed in on his superstar running mate.
Harden's start has disappointed in myriad ways, but the steep decline in his free-throw rate has been particularly glaring. He's virtually unmatched in the annals of league history for his ability to draw fouls from the guard position, but he's averaging just 3.0 free-throw attempts per game and only 4.2 per 100 possessions so far this season. That's nearly four times lower than the high-water mark (14.9) he established two years ago and well below his previous single-season low (7.1), which he set as a rookie.
Perhaps we shouldn't be all that surprised. TrueHoop's David Thorpe, for one, sounded the alarm on this during the preseason. We're coming off another abbreviated offseason, which meant less time for Harden to recover from the hamstring strain that hobbled him in the playoffs a few months ago. And, of course, the NBA has implemented a set of new rule interpretations designed to curb foul-baiting on "unnatural shooting motions," which has so far helped produce the league's lowest collective free-throw rate ever.
Both Harden and Nets head coach Steve Nash have pointed to those rule changes as culprits, going so far as to suggest that officials have been making an example of Harden in their efforts to set a precedent.
"I feel like he's unfairly become the poster boy of not calling these fouls," Nash told reporters after a loss to the Hornets in which Harden made just one trip to the stripe. "I get it, there's a line, but some of them are still fouls."
"I just ask every official, if they see a foul, just call it a foul," Harden said. "Sometimes I feel like, coming into a game, it's already predetermined, or I already have that stigma of getting foul calls. But I just ask for officials to just call what they see."
Those aren't totally baseless assertions. Even if referees aren't deliberately swallowing their whistles any time Harden looks to initiate contact, those non-calls are inevitably going to stand out more when they happen to him because of his penchant for grifting. But the bigger issue right now is that Harden just doesn't look very explosive as a north-south attacker.
That could be because he's still recovering from the hamstring injury, or simply needs to play his way back into shape. In a bleaker scenario, it could be because he's suffering from age-related decline. The Nets are obviously hoping it's the former and that Peak Harden will return once he has more game action under his belt. For now, though, his plunging free-throw rate is the product of far more than just a philosophical shift in the way the NBA is officiated.
Nash went on to say that Harden just needs to "stick with it" and "keep going to the basket." It would've been more accurate for him to say Harden needs to start going to the basket, or at least start going all the way to the basket, because Harden's current shot diet consists primarily of step-back threes and floaters.
Harden developed that floater as a vital counter to deep-dropping defenses designed to coax him into in-between spaces, positions where they knew he was reluctant to shoot. Now he's arguably over-using the shot he once kept in his back pocket in case of emergencies. While those floaters remain great counters to the defenses Harden regularly sees, they're also far less likely to generate free throws than at-rim shots are.
Just 21% of Harden's shot attempts have come at the rim this season, which puts him in the 29th percentile among point guards and is by far the lowest proportion of his career. By comparison, 30% of his shots have come from the short mid-range area (79th percentile and a career-high), per Cleaning the Glass.
It's a troubling trend not just for Harden individually but for a jumper-reliant Nets team that ranks 27th in rim frequency and 21st in free-throw rate.
It's also worth noting that Harden is shooting just 50% at the rim on the rare instances he gets there. His yo-yoing ball-handling skills can still gain him advantages against slower-footed defenders at the point of attack, and he's drawn help on a lot of those drives and created good looks for teammates. As a scorer, though, what seems to be missing most of the time is the burst on his finishing step - that ability to power through would-be deterrents at the basket.
You can see how his lack of horizontal propulsion and vertical lift at the end of his drives has made it tough to finish even over middling defenders like Kyle Kuzma, Deni Avdija, and Miles Bridges:
Even this successful possession from Brooklyn's season-opening loss in Milwaukee felt telling:
Harden dusted Thanasis Antetokounmpo with a nasty crossover but still had to make a very tough floater over Brook Lopez. That's a credit to Lopez, who's still one of the best rim-protectors in the game. But it also spoke to Harden's lack of trust in his ability to finish or draw a foul at the hoop.
There have also been instances when Harden's been burned by a combination of his hesitancy and the revised rulebook, like on these plays from last night's game against Miami:
Both of those plays almost certainly would've resulted in free throws last year. But an in-form Harden also could've easily just taken the ball to the cup instead of slamming into Kyle Lowry on the break or hooking Bam Adebayo's arm after getting a step on him.
Harden's step-back threes were also a reliable source of free throws for him in the recent past. His ability to create instant separation for his trademark shot induced plenty of panicked, overaggressive closeouts, which led to heaps of three-shot fouls and four-point plays. From 2016 through 2020, he was fouled in the act of shooting a 3-pointer an average of 90.2 times per season, or 1.2 times per game, according to PBP Stats. It's happened just twice in five contests this season.
Rule changes have played a part in that, too. Even before this year's mandate, officials started to make a point of calling certain 3-point flails either as charges or on-the-floor defensive fouls. And Harden's famed rip-throughs certainly suffered from the revised policies. But plenty of the three-shot fouls he used to draw still came via natural shooting motions. And if anything, referees have gotten far stricter in their enforcement of "landing zone" fouls that protect shooters - especially shooters like him who tend to jump away from their defenders rather than toward them.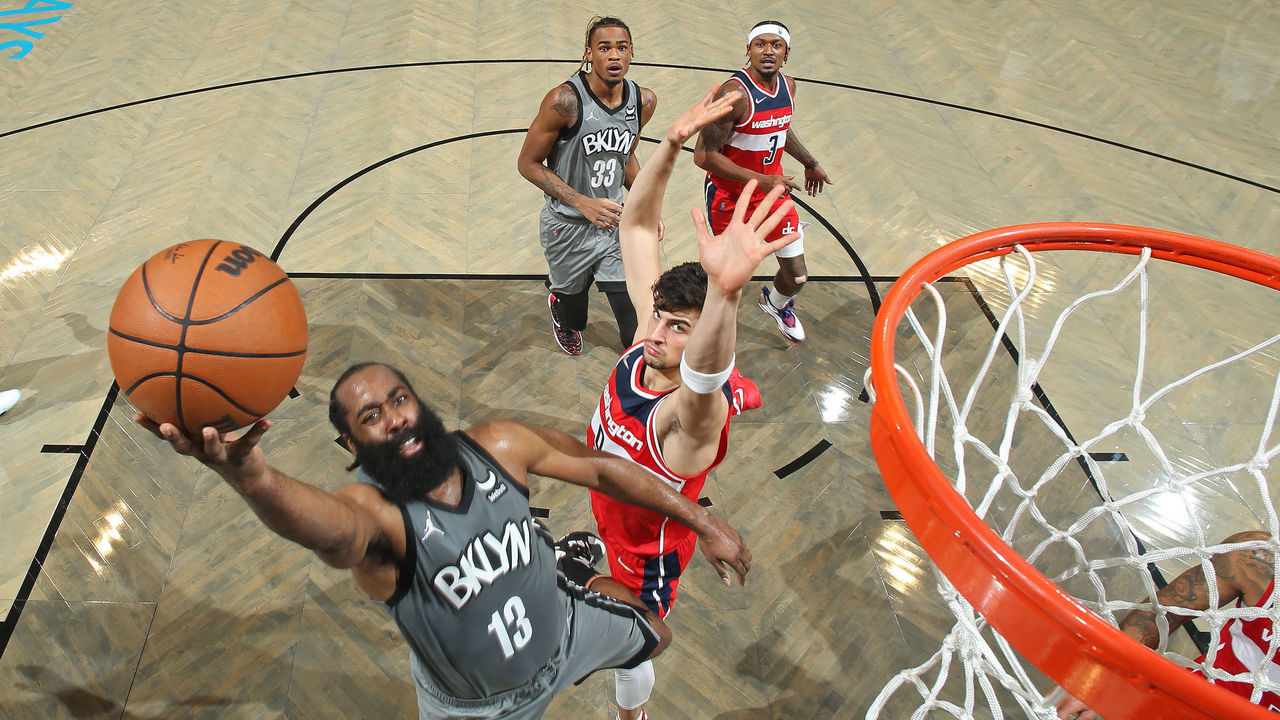 The fact that those jump-shooting fouls have also dried up has as much to do with Harden being a less explosive space-creator, and defenders being smarter about their closeouts, as it does with officiating.
In any event, the overall collapse of his free-throw rate feels less like the cause of Harden's early-season struggles than a symptom of them. He himself has admitted to being too tentative and needing to rebuild his confidence.
His passing remains an energizing elixir for Brooklyn, but he's been overly deferential and has particularly struggled to find his rhythm when playing next to Durant. In 119 minutes with both of them on the floor, the Nets have posted a paltry 93 offensive rating and been outscored by 16.2 points per 100 possessions, with Harden registering a ghastly 34.5% true-shooting mark. (His true shooting jumps to 64.5%, and the Nets' offensive rating to 108.6, when he flies solo.)
It's still too early to say whether any of this is legitimately worrying. But with Irving's playing status still in doubt, Brooklyn's margin for error has shrunk considerably. It'll vanish altogether if something close to vintage Harden doesn't return. That doesn't mean the Nets need him to average 10 free throws a game. But they do need him to be a more assertive scorer and to get to the rim more frequently, which should earn him more trips to the line as a matter of course.
A bit of adaptation may also be in order. If Harden is indeed no longer capable of being the self-creator and volume scorer he once was, it becomes that much more imperative for him to make himself more of an off-ball threat. Maybe his teammates can pass him into a few layups (he's registered just one assisted field goal at the rim this season), and maybe he can hoist a catch-and-shoot triple every now and then.
The road to the championship will bend in whichever direction his season travels from here.
Comments
✕
What's really behind James Harden's plummeting free-throw rate?
  Got something to say? Leave a comment below!